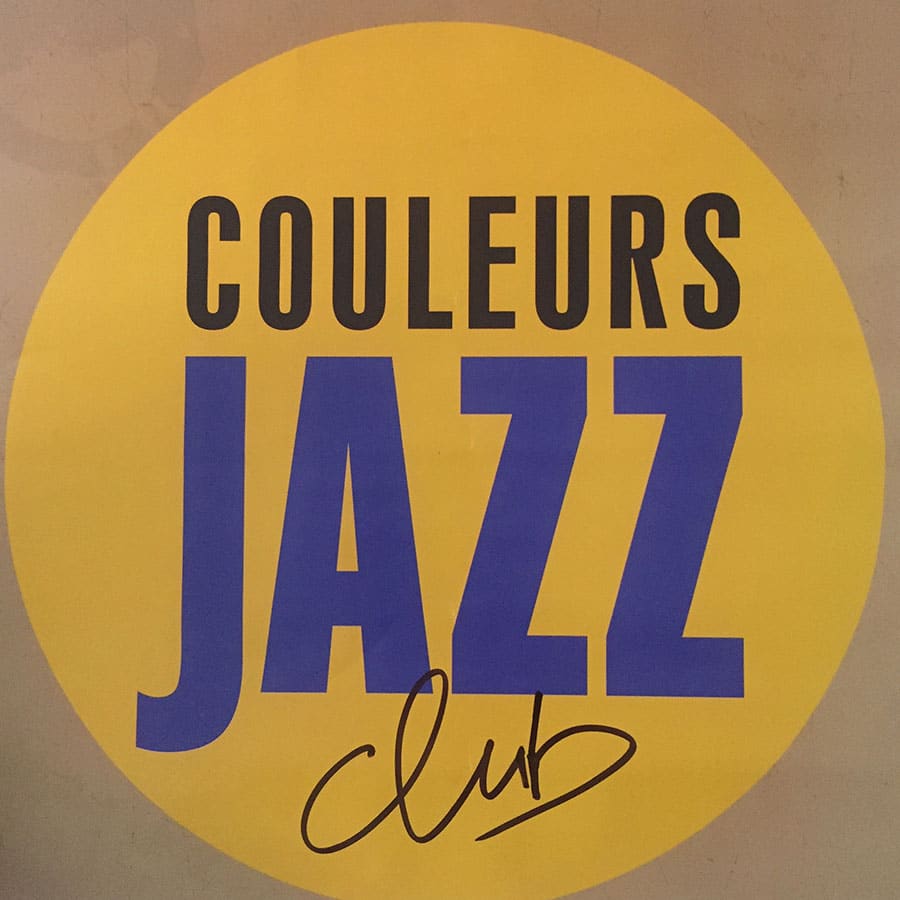 On this lovely W.E. in May, the festival of jazz and its greatest performers was in full swing on the stage of the Couleurs Jazz Club, on the Ile Seguin in Boulogne Billancourt.
Musicora exhibition? A unique event in France for all music lovers, and the only trade show for the general public dedicated to instrumental playing..
The Couleurs Jazz Club offered all visitors, from the opening to the closing of the show, hour-long showcase concerts, featuring 70 musicians on stage in 21 concerts, plus a jam to close this magnificent edition of Couleurs Jazz Club 2023.
The Couleurs Jazz Festival ! The real place to be…
Our musician partners you'll discover in this article,  Camille Production, l'Agence Phenyx, Le Petit Duc in Aix en Provence, Onde Music, Télégraphe, from the South of France for the occasion, as well as the association Zebrajazz and the dedicated volunteers who create Couleurs Jazz Radio every hour of every day.
Once again, an enthusiastic audience of all ages turned out to hear a highly representative selection of today's finest jazz.
The diversity of colors of today's jazz, that which Couleurs Jazz defends, with solo formations, duos, trios, quartets, quintets and sextets.
The generosity of the musicians, who gave off themselves without counting the cost. The exceptional welcome at the Couleurs Jazz Club, thanks to our partners: Scène Libre not lending all sound equipement, La Maison du Whisky, which enabled us to organize some fine tastings of their famous "Balblair 12-year-old single malt from the Dornoch Valley", which we had already been able to describe in our column « Jazz à la Cave » and Pianos Hanlet for their repeated attentions and for the loan of this fabulous FAZIOLI F278 concert grand piano. A work of art that delighted all the pianists who had the pleasure of playing it. They all paid it a tribute worthy of its reputation.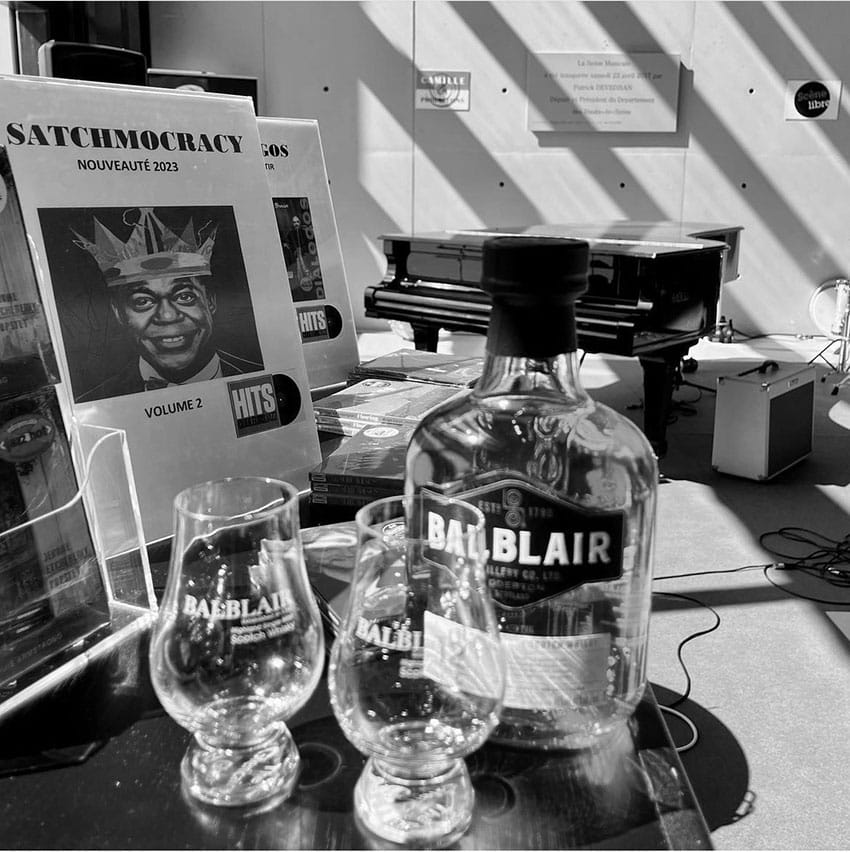 DAY 1, Friday MAY 26
–Pierre-François Blanchard & Thomas Savy, duet.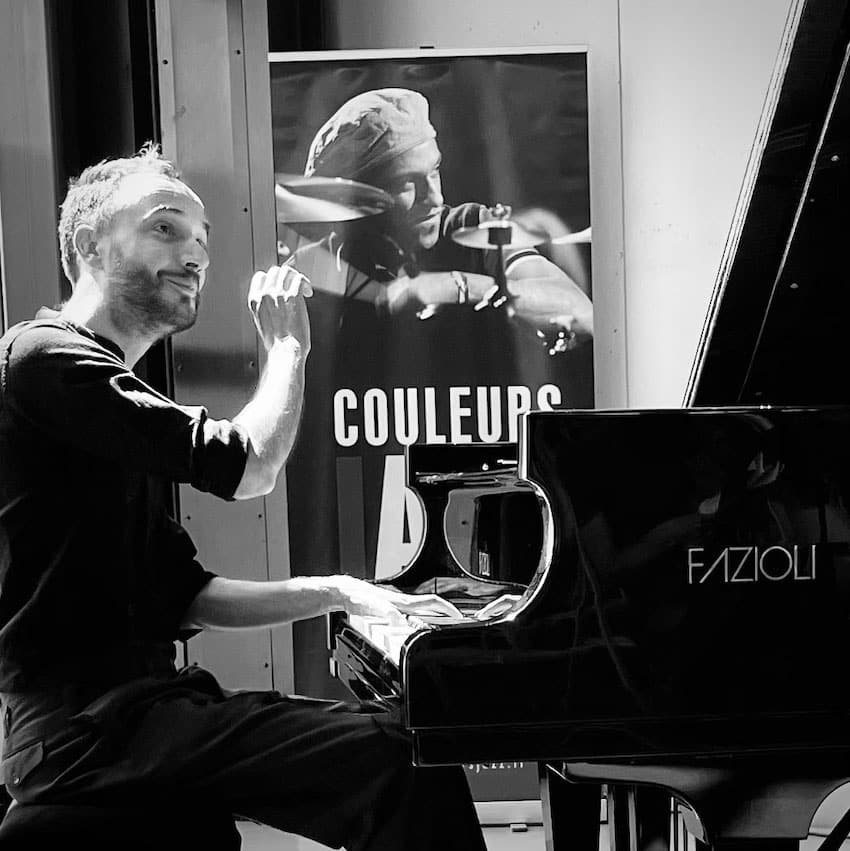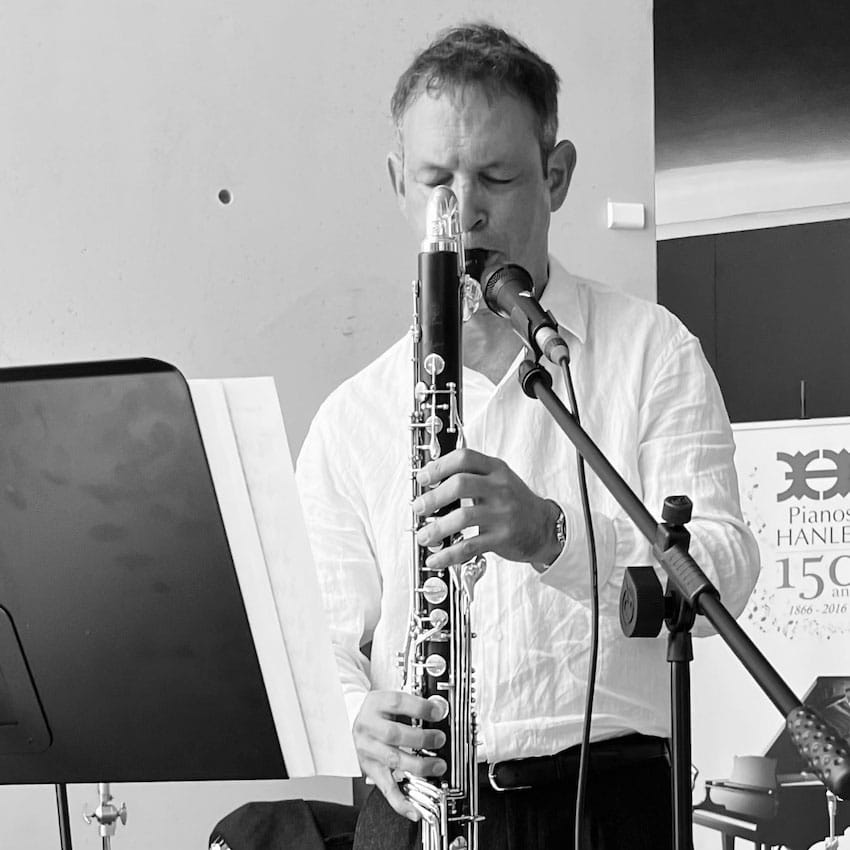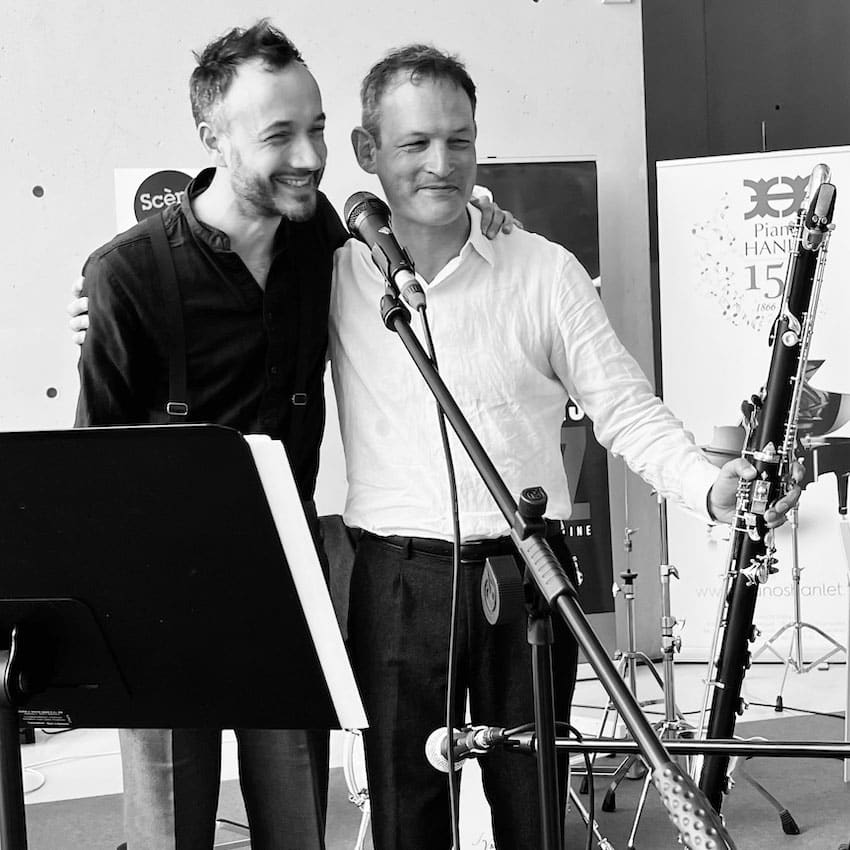 Compositions of Pierre-François Blanchard on piano, with Thomas Savy on clarinets.
The two men opened this Couleurs Jazz Club showcase with a masterly yet delicate performance.
They essentially performed tracks from their album project: "#puzzled", the diary on which loves, sorrows, memories, existential questions and musical reminiscences are written.
It's a modern form of music, at once highly written and in which improvisation plays an essential role. Thomas Savy's eyes sparkled with pleasure, as did ours. His bass clarinet choruses in particular moved the audience.
As for Pierre-François Blanchard, he's a pianist whose singular art of improvisation, accompaniment and counterpoint has been showcased for over ten years by such jazz and chanson greats as Archie Shepp, Pierre Barouh, Marion Rampal, Raphaël Imbert & Jean-Guihen Queyras, Zaza Fournier, Sandra N'kake, Jî Drû, Hugh Coltman…. To name but a few.
#puzzled is released by L'Autre Distribution on the Les Rivières Souterraines label. Premiered at Le Petit Duc, expected in February 2024. We can't wait!
– David Gastine 4tet feat. Samy Daussat, Sébastien Gastine & Vincent Bucher.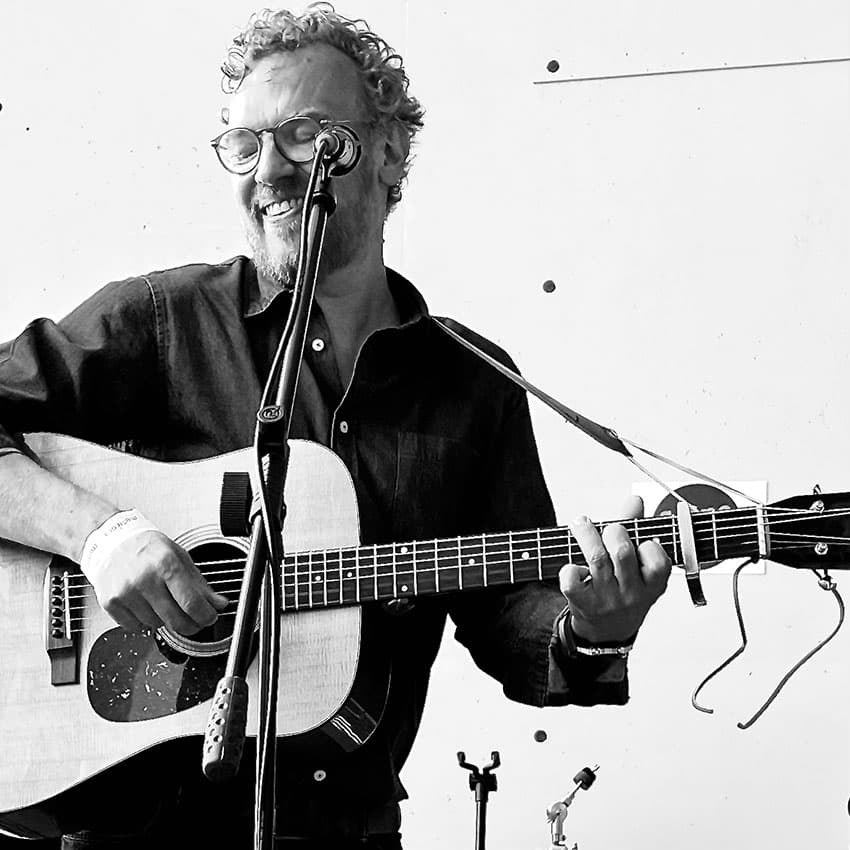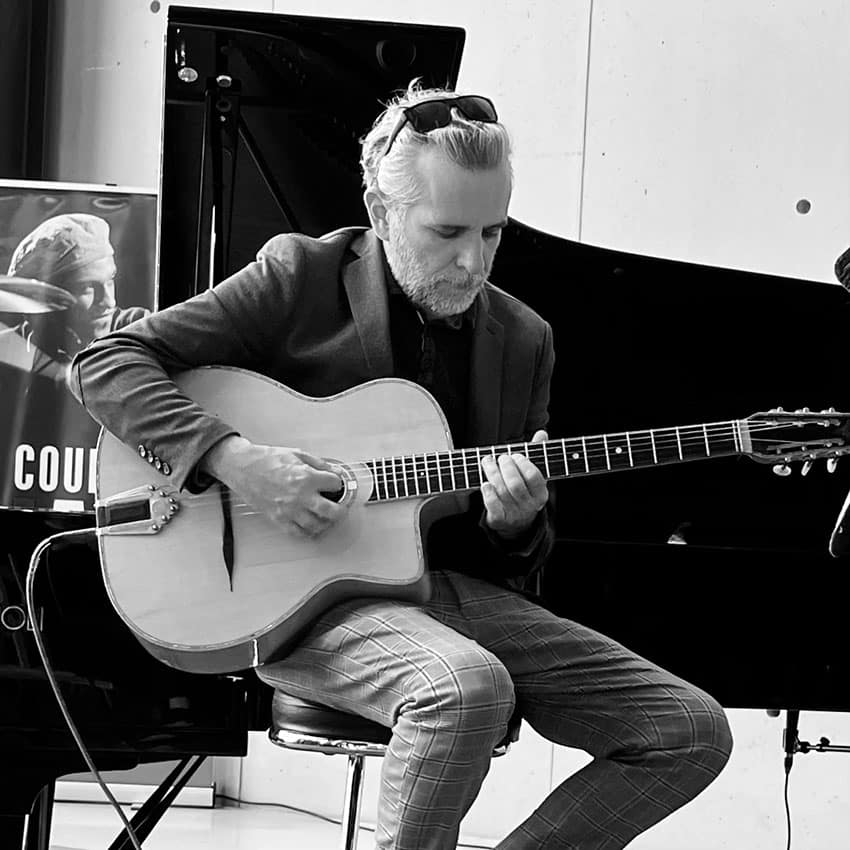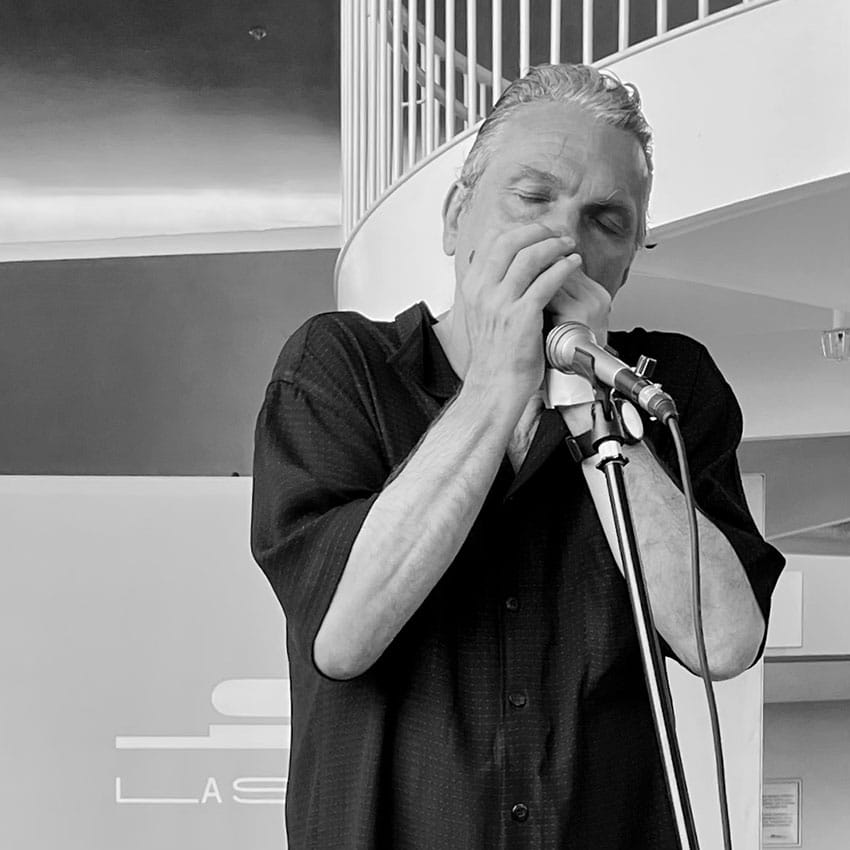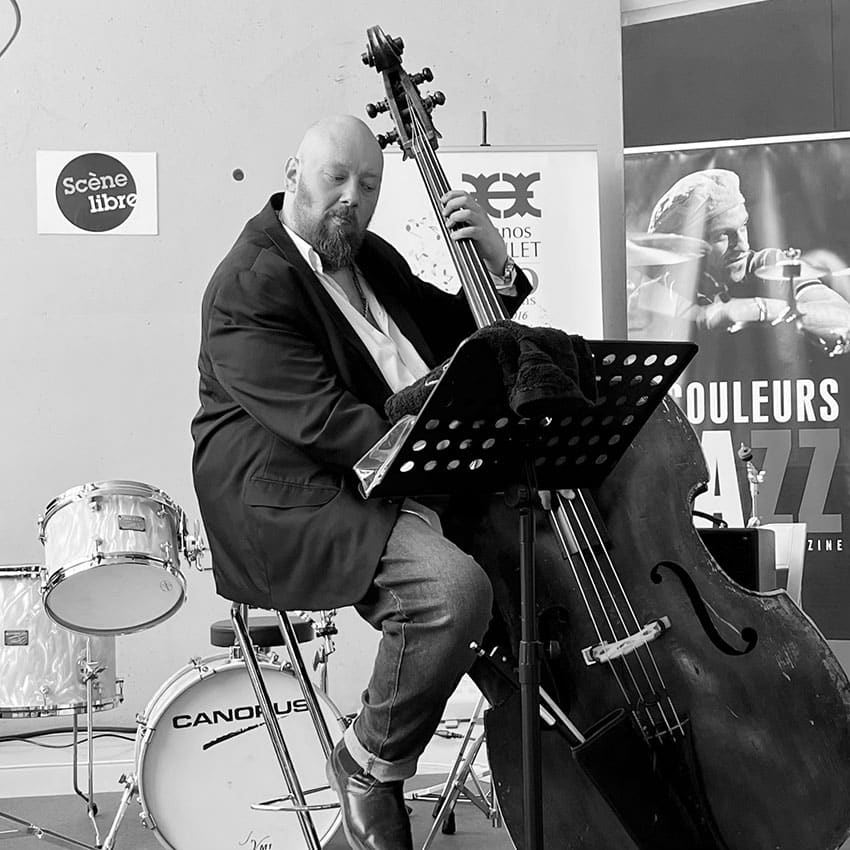 An imaginary encounter between Johnny Cash's world and the Django Reinhardt's swing. Backed up on guitar and harmonica by two first-rate soloists, and supported by his brother Sébastien on double bass, David takes us on a musical journey with his warm baritone voice, taking us to both sides of the Atlantic.  A showcase for his latest album, From Either Side, released on Label Ouest.
David Gastine : guitar, voice
Vincent Bucher : harmonica 
Samy Daussat : guitar
Sébastien Gastine : double bass
– Aneta George. Singer and Northern Makedonian pianist.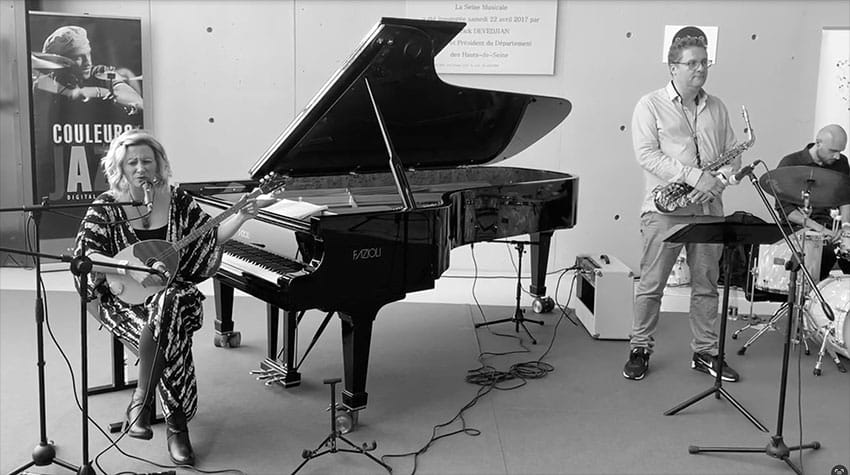 The jazz on her new album, whose release we celebrated at Couleurs Jazz Club, is modern, and has its roots and colors in the rich traditional music of Northern Macedonia.
Couleurs Jazz Club listeners were deeply moved by this magnificent discovery. 
Her album, "Melem, le Baume pour l'âme" is available since May 26.
Aneta has been touring the world's jazz scenes for 20 years. She has composed and recorded 5 albums, including three on the Moods and Modes label (London). She has also worked on numerous projects for other artists, performing in South Africa, India and the Balkans.
In addition to her work as a jazz artist and composer, Aneta George is a professor of music at the American School of Modern Music in Paris.
Nicolas Bauer was on doublebass, Denis Guivarch on saxophone and Hélios Mikhaïl on drums.
The jazz on this new album is modern jazz with roots and colors from Northern Macedonia. It is, of course, selected on Couleurs Jazz Radio.
– Ben Rando – Release Concert.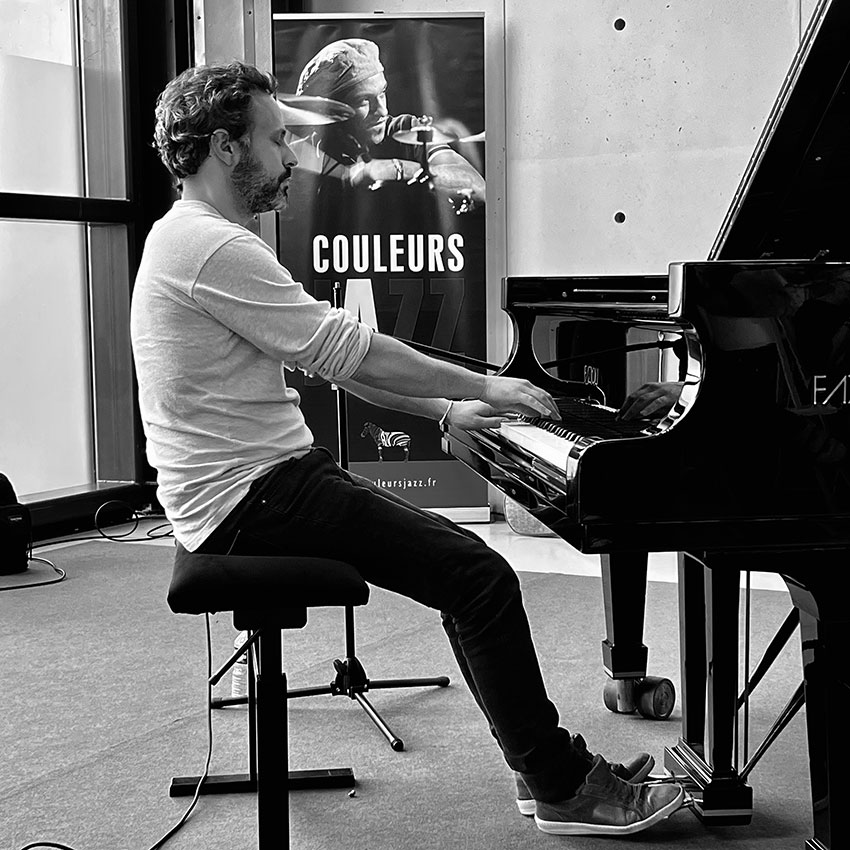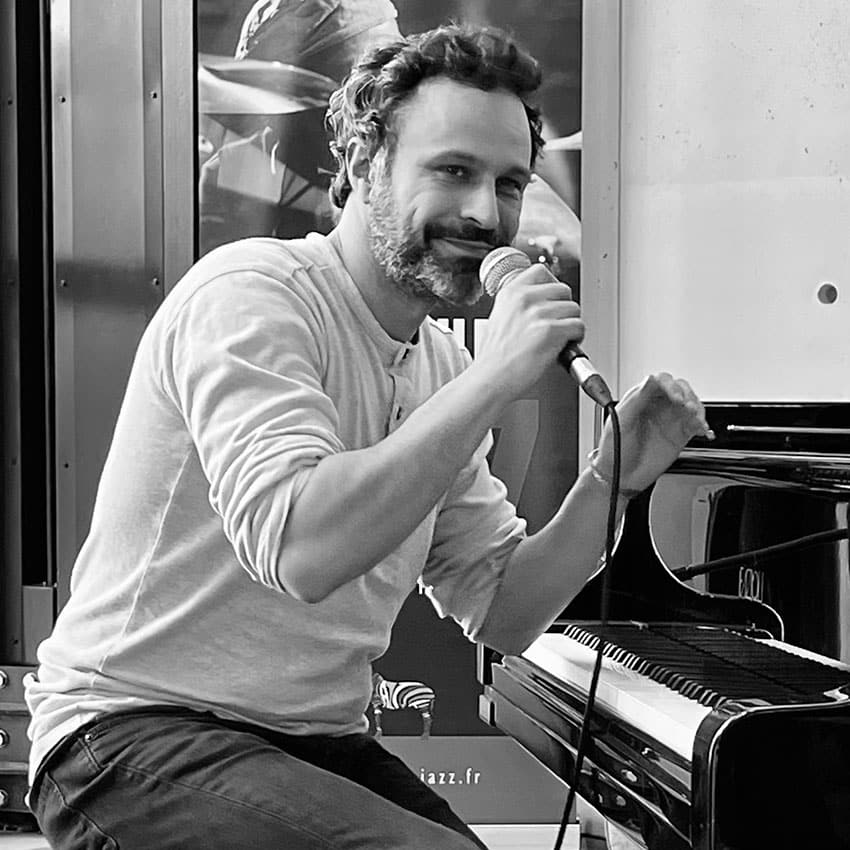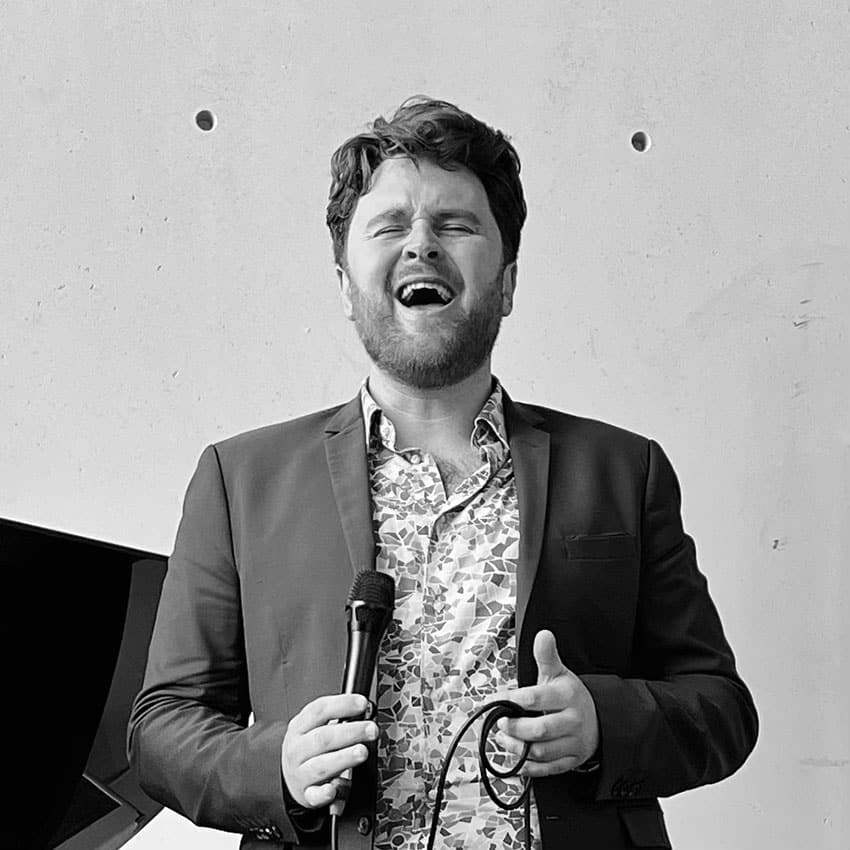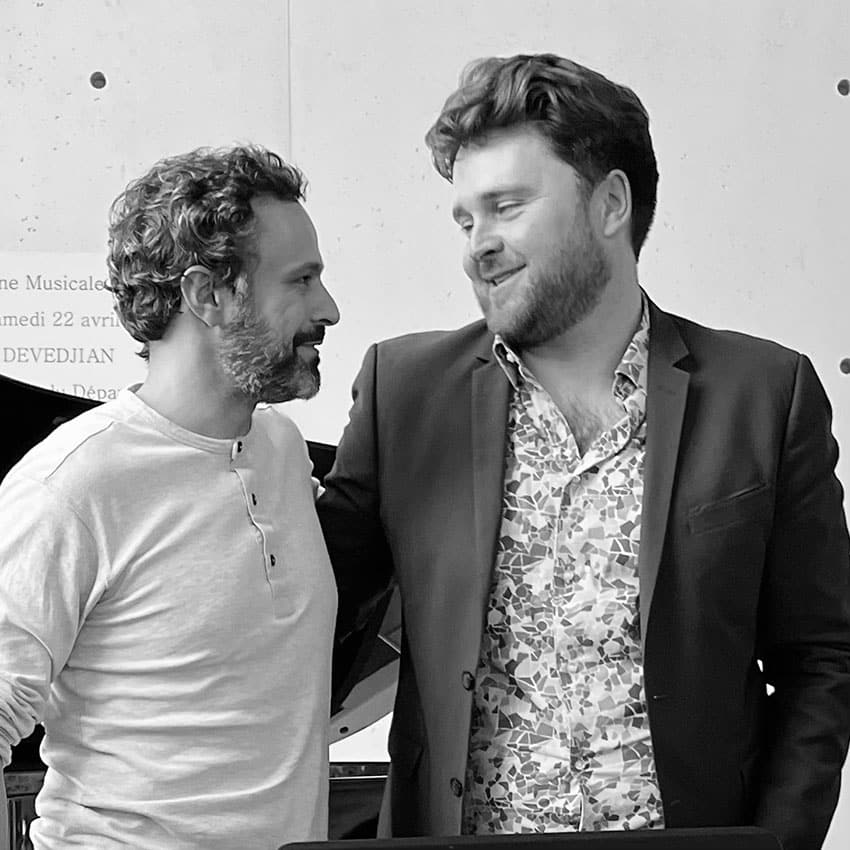 The pianist and composer presented his new solo piano album "Créatures", just released on the Onde Music label and distributed by InOuïe Distribution.
Ben Rando explores a new facet of his musical universe.
After an album written for six musicians, he chooses to put the piano back at the center of the frame.
Inspired as much by the minimalist music of John Cage as by the cinematic pop of Radiohead or the sonatas of Scarlatti, Ben Rando's piano is poetic or percussive, mutating at times into lyrical flights of fancy and giving way to surprising improvisations with rich harmonies and captivating rhythms. The Fazzioli F278 concert grand vibrated in unison with the audience.
Then, not content with having delighted us to the utmost, Ben Rando invited jazz singer Kevin Norwood, with his incredible voice and placement! It's not so much the vocal technique and perfect mastery, but the emotion that emerged from this momentary duo that leaves us with a memory we won't soon forget! Of those magical jazz moments.
His album Hope had already won us over, and was included in the Best of records released this week in November 2021 on Couleurs Jazz Radio. But live, just a few dozen meters from the artist, we experienced a great moment. Thanks again to our two artists.
One question: What are we waiting for to program such talents more often at jazz festivals?
–

Ramona Horvath duet with Nicolas Rageau.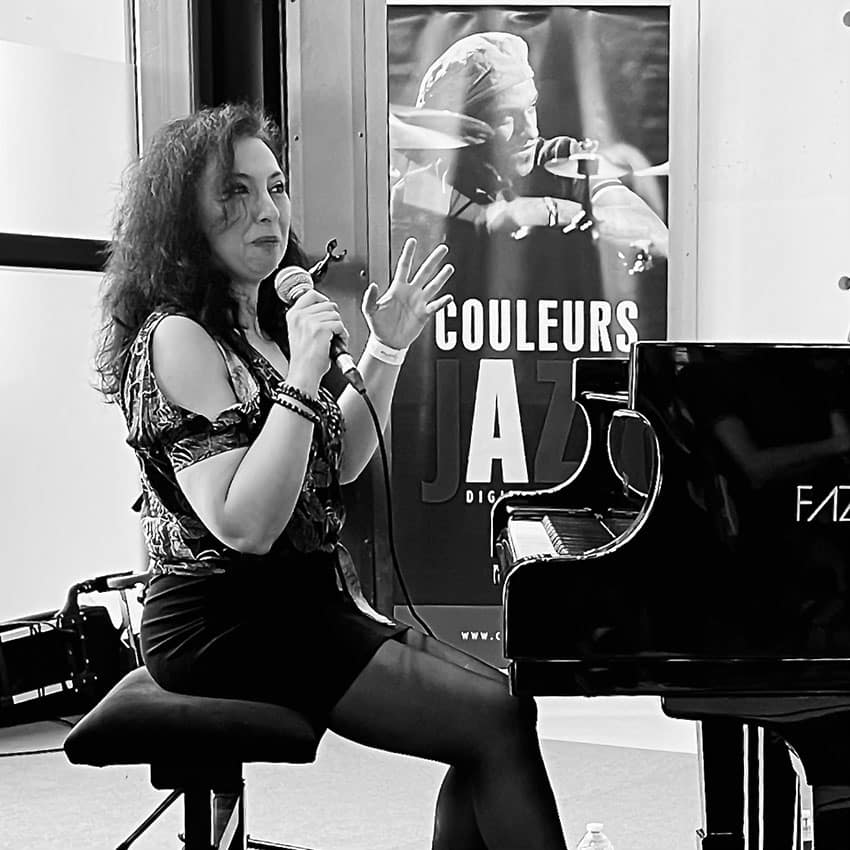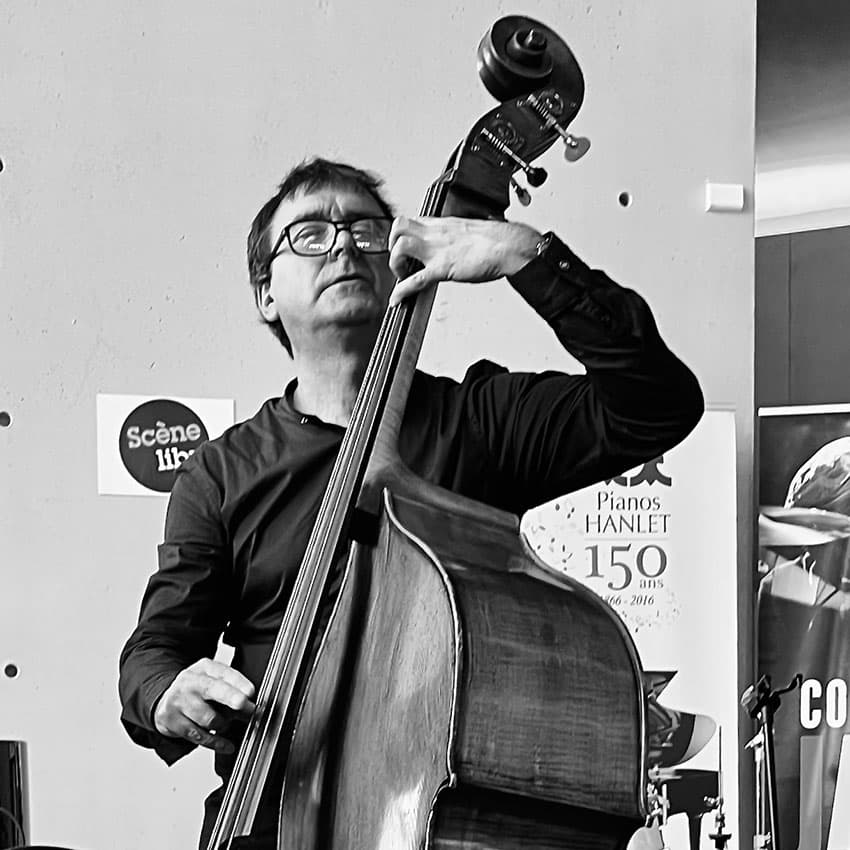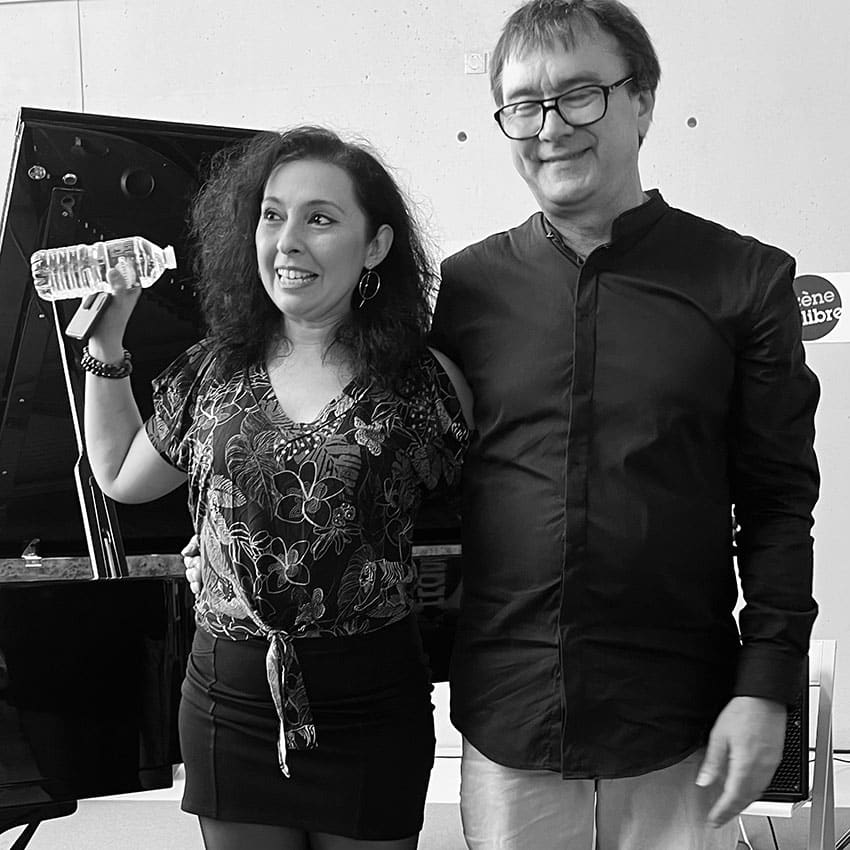 These two artists, who are well known to us, were welcomed to the Couleurs Jazz Club for the first time. They know each other well, and their interplay and complicity are immediately obvious.
They offered us "Impressions de Voyage en Jazz", their duo project already presented with great success a few months ago in Romania, Spain and Portugal, with personal-but obviously jazz-adaptations of pieces inspired by Debussy, Ravel, Enesco, Bartok and Tchaikovsky, as well as a few pieces by Duke Ellington, of whom Ramona is recognized as a formidable interpreter.
A 3/4-hour showcase went by like 5′!
Ramona Horvath, piano 
Nicolas Rageau, double bass
– CONNECTION 3  Feat. Baptiste Herbin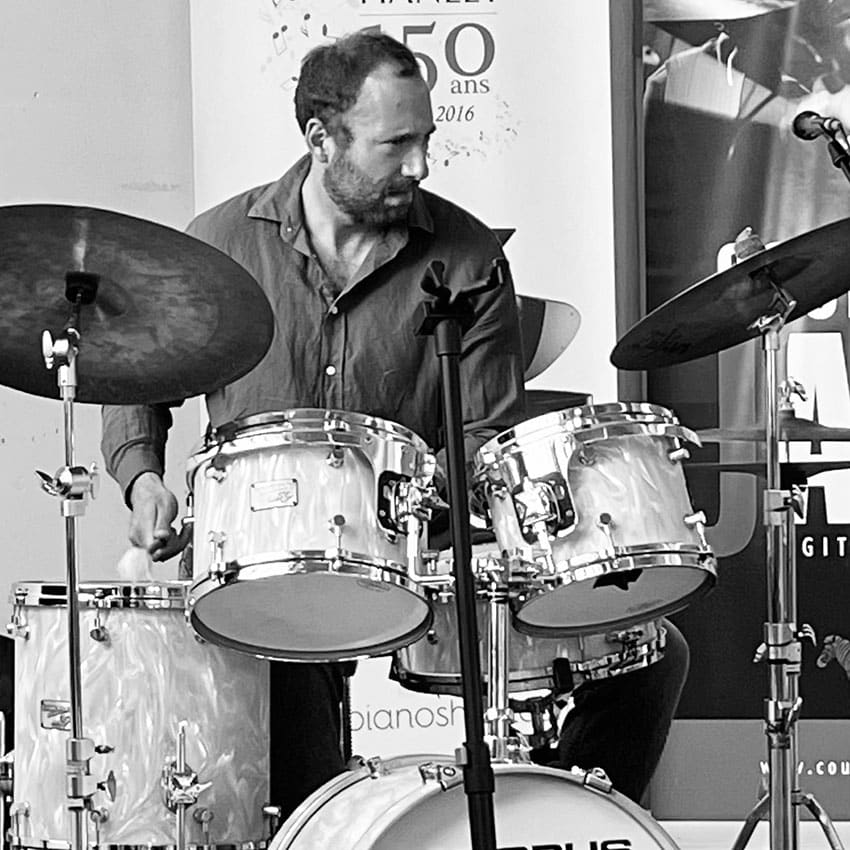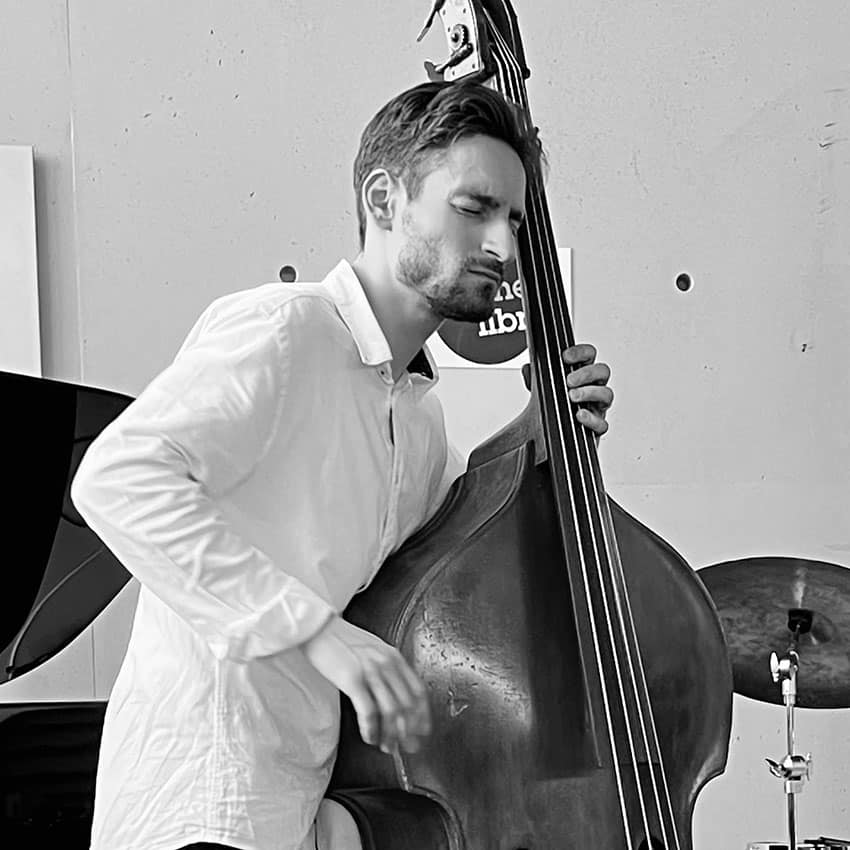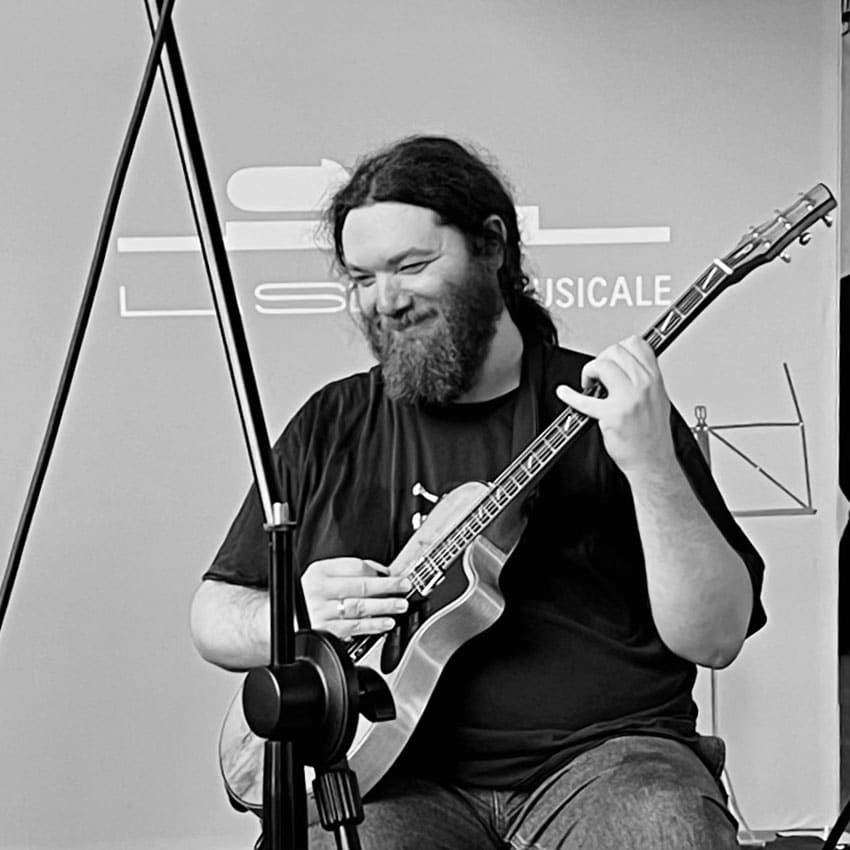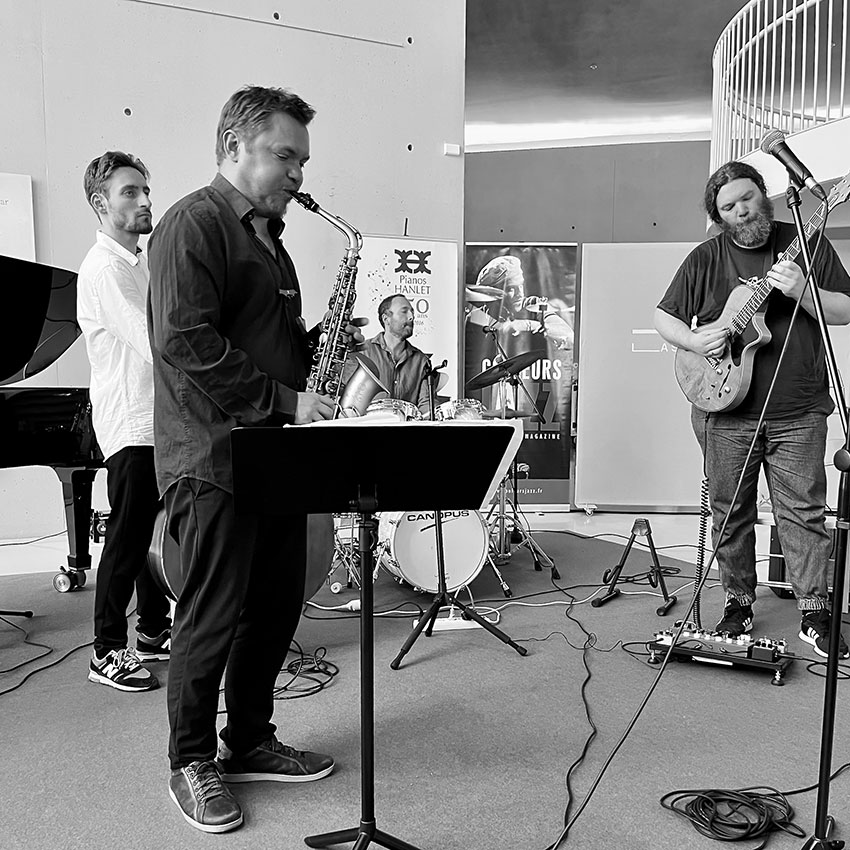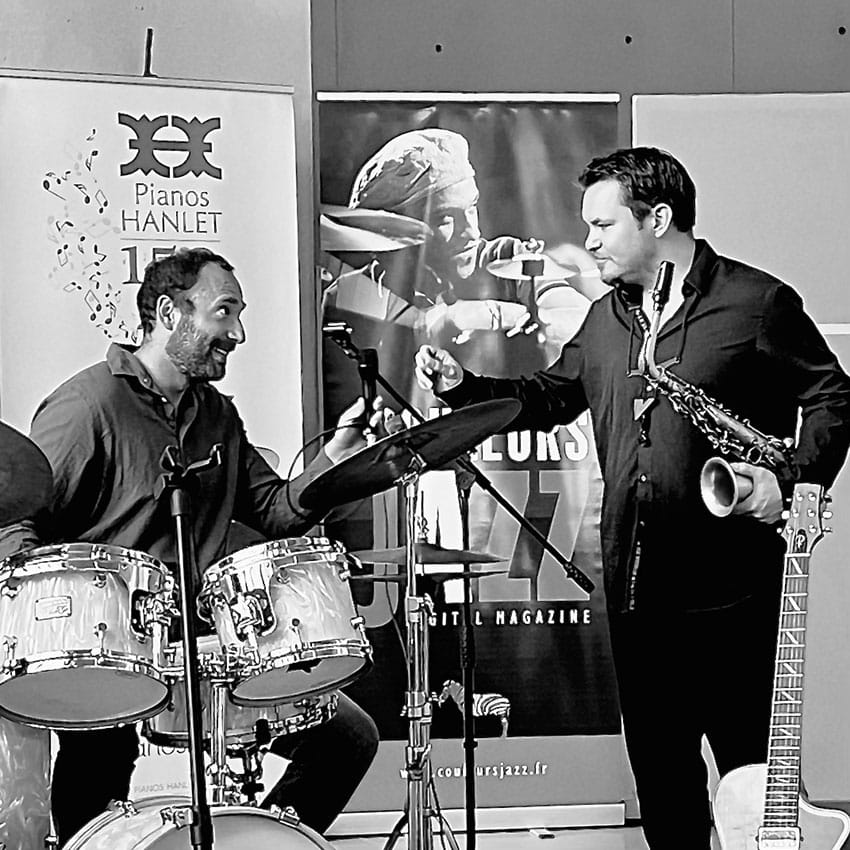 Connection 3 is a jazz trio featuring Berlin-based Montenegrin multi-instrumentalist and composer Ivan Marovic on guitar and piano, Croatian Tin Dzaferovic bassist in Vienna, Austria, and Montenegrin leader Slaven Ljujic on drums, living in Podgorica, Montenegro. Virtuoso saxophonist Baptiste Herbin joined them a few months ago at the Festivals J.A.M de Podgorica in Monténégro and Jazz Factory Festival at Bitola in Northern Makedonia. The augmented trio this band is making headlines. 
Currently in preparation is Connection 3's debut album, recorded live at the DEUS festival in Podgorica, Montenegro, in December 2022.
Each time they perform, these artists try to elevate their expression and sound to a higher level, using the method of spontaneous composition, feeling each other's energy and using imagination as their main driving force. 
Styles range from bebop to americana to heavy backbeat. Their compositions tend to possess a powerful mojo that connects the audience with the trio. 
"No boundaries" is Connection 3's motto, giving them the freedom to constantly compose new material from show to show. Playing with music and creating something from scratch on the spot, allows their performance to push boundaries.
The choruses by Baptiste Herbin, who confides that he takes great pleasure in meeting these magnificent Montenegrin musicians, were breathtaking. The ever-growing audience at the Couleurs Jazz Club at the end of the day was totally enthusiastic!
The Jazz in Noyon Festival had the foresight to program them next October! You'll have to wait a little longer, people of France, to hear them again.
– Laurent Coulondre and his merry men.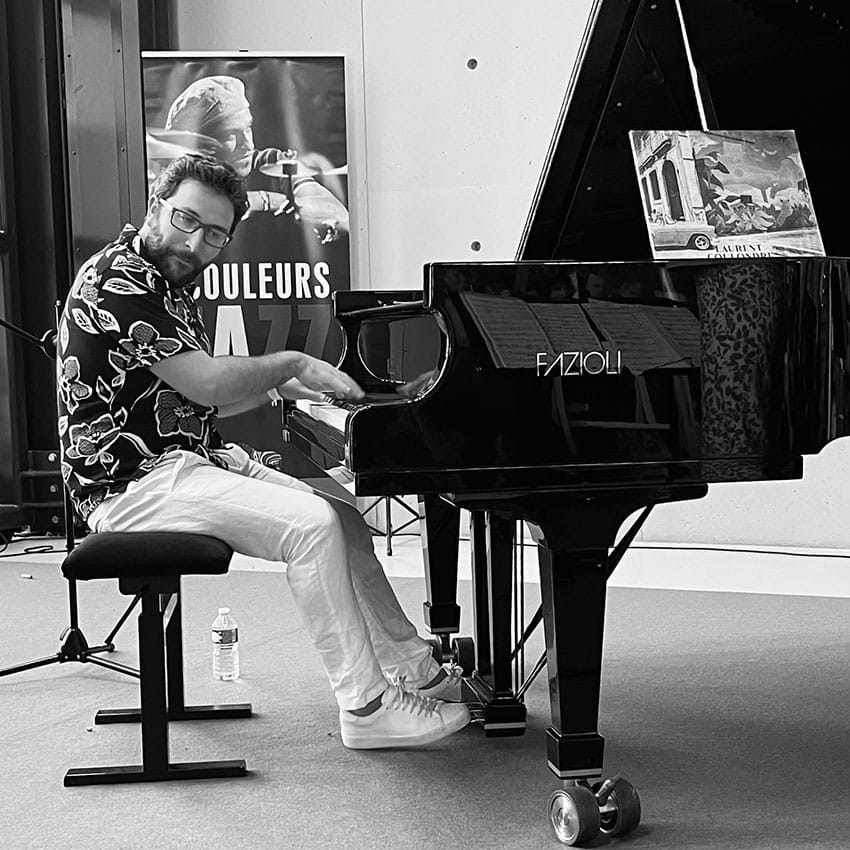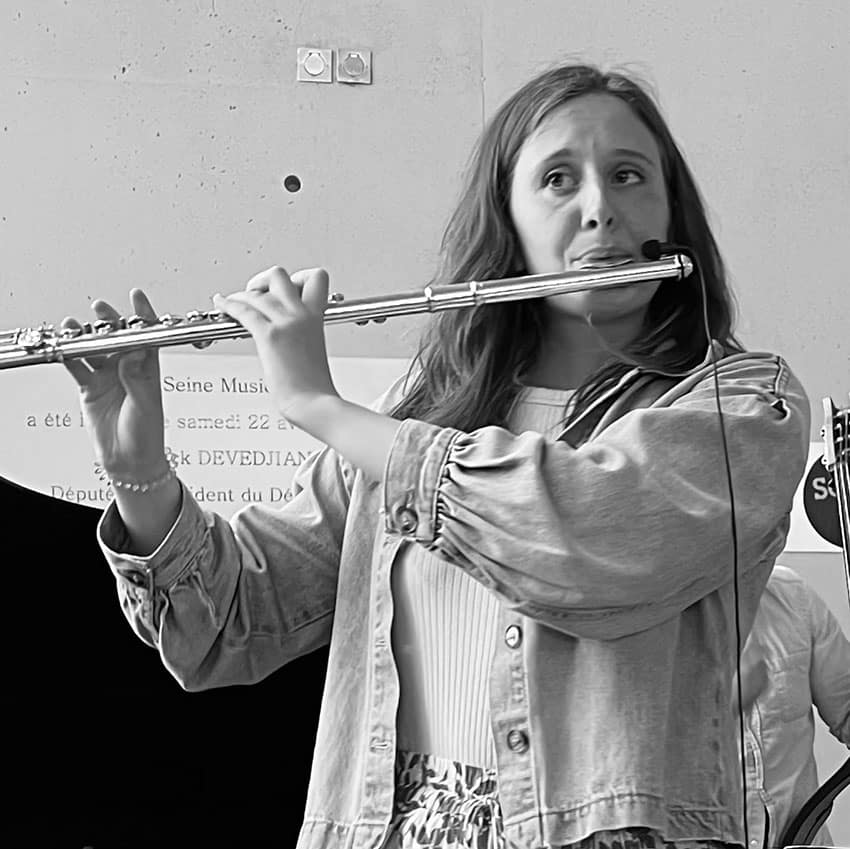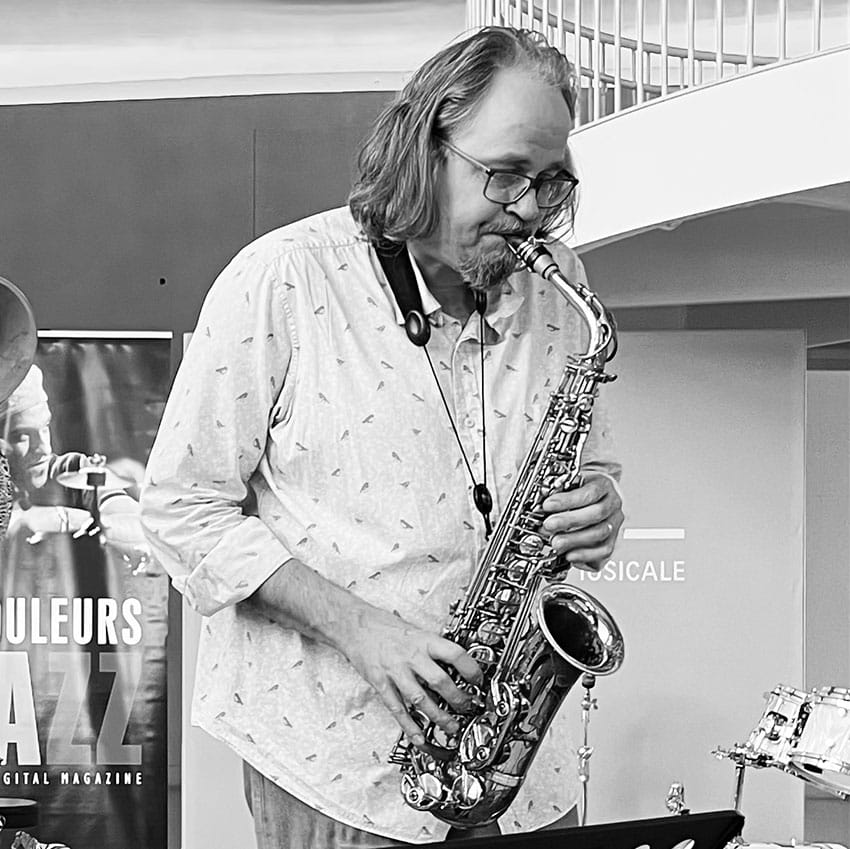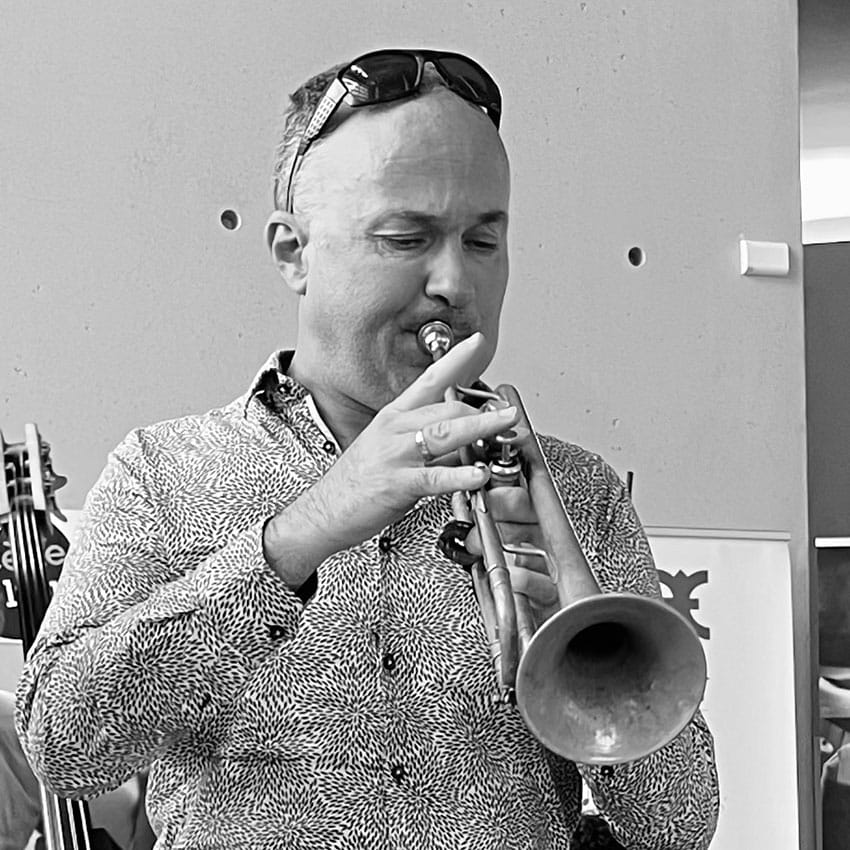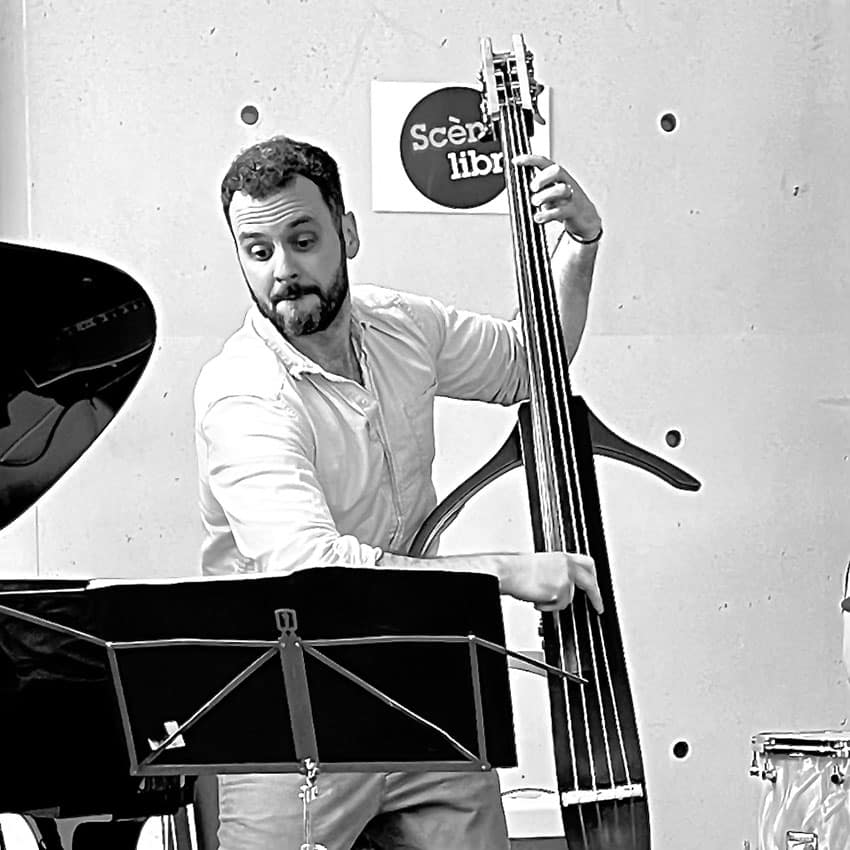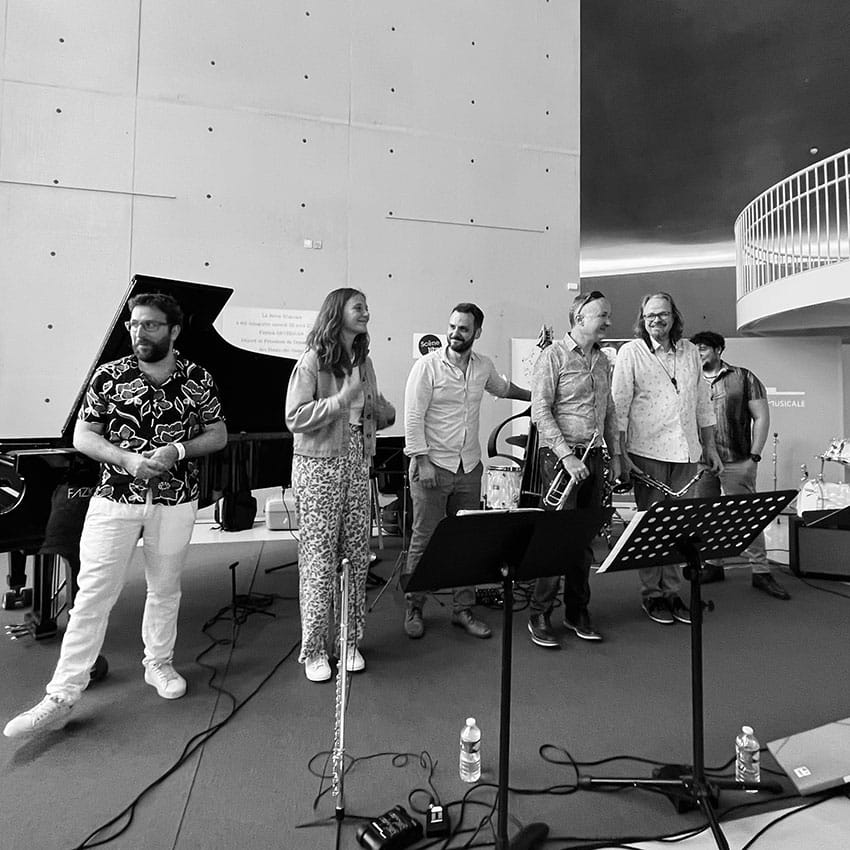 Pianist, keyboardist and composer Laurent Coulondre continued to set the Couleurs Jazz Club alight with a killer line-up, presenting his latest album Meva Festa!
Laurent Coulondre had already impressed the Académie du Jazz, which awarded him the Prix du Disque Français de l'Année for his tribute to Michel Petrucciani: "Michel On My Mind" two years ago.
Since this well-deserved success, the musician has been working on the album of his dreams (…I'm sure he's got other dreams in his bag!).
And so this new project is entitled: "Meva Festa" – his party! A sort of invitation to join him. All you have to do is listen to this record and you're ready to start dancing and celebrating. Joy, enthusiasm, Latin rhythms. It's been in the Best of Couleurs Jazz Radio releases ever since, of course.
Flashes of melodic genius, Latin rhythms as if that's all he'd done all his life.
Simply excellent.
It has to be said that the accompanists are all first-rate knives, perfectly honed for the occasion and for cutting a fine slice.
His band at Couleurs Jazz Club was made up of :
Laurent Coulondre: Piano and compositions.
Adriano DD Tenorio Dos Santos: percussion
Jeremy Bruyère: double bass
Christelle Raquillet: flute
Stéphane Guillaume: saxophone
Nicolas Folmer: trumpet
The audience had long since outgrown the chairs allocated to the Couleurs Jazz Club. Another great moment for this 2023 edition.
Joy and happiness could be seen on all faces, from the musicians who stayed to listen to their colleagues, to the spectators, and even the security guards and firemen who came closer and closer to enjoy the party.
Laurent Coulondre's music is not only top-notch, it's also catchy. No one can resist it.
– Viktorija Gečytė trio – "Vik Sings the Blues"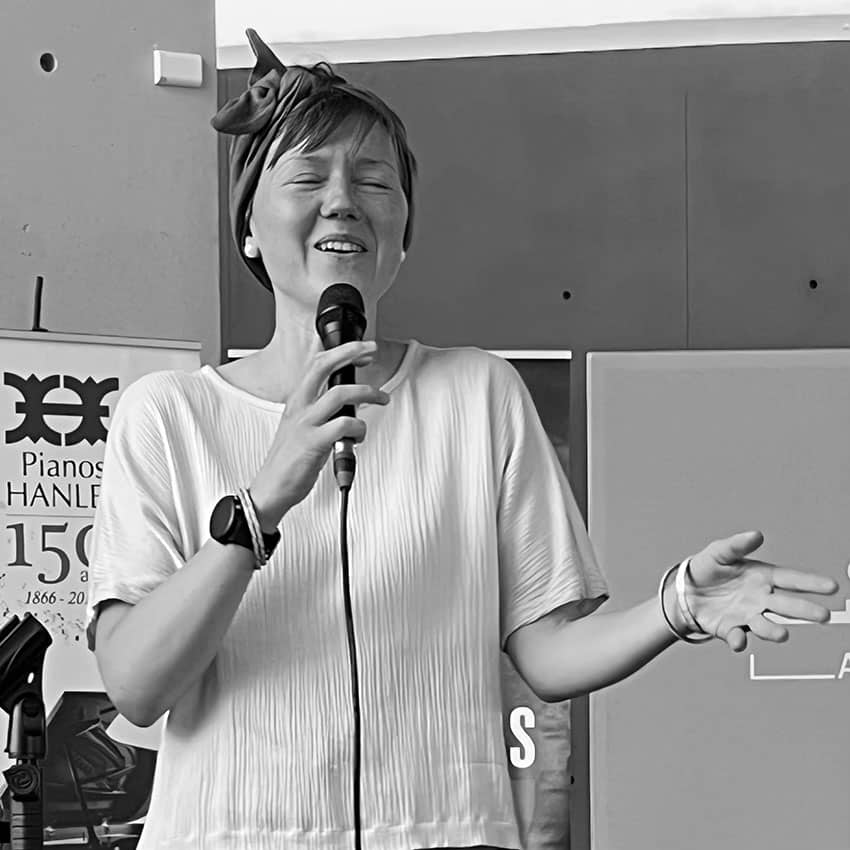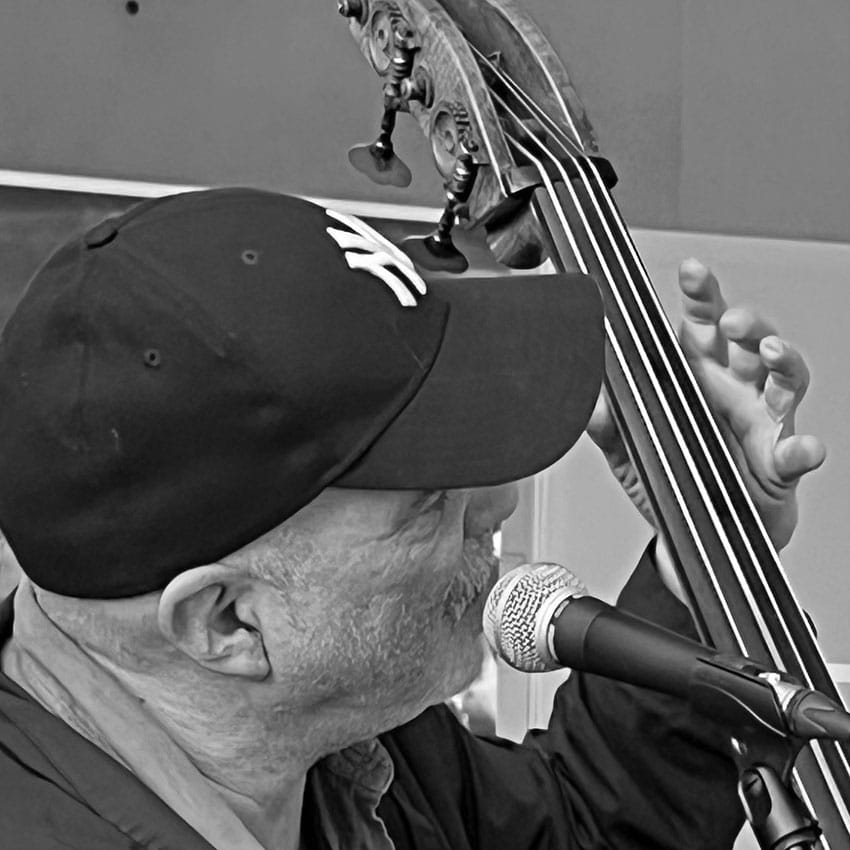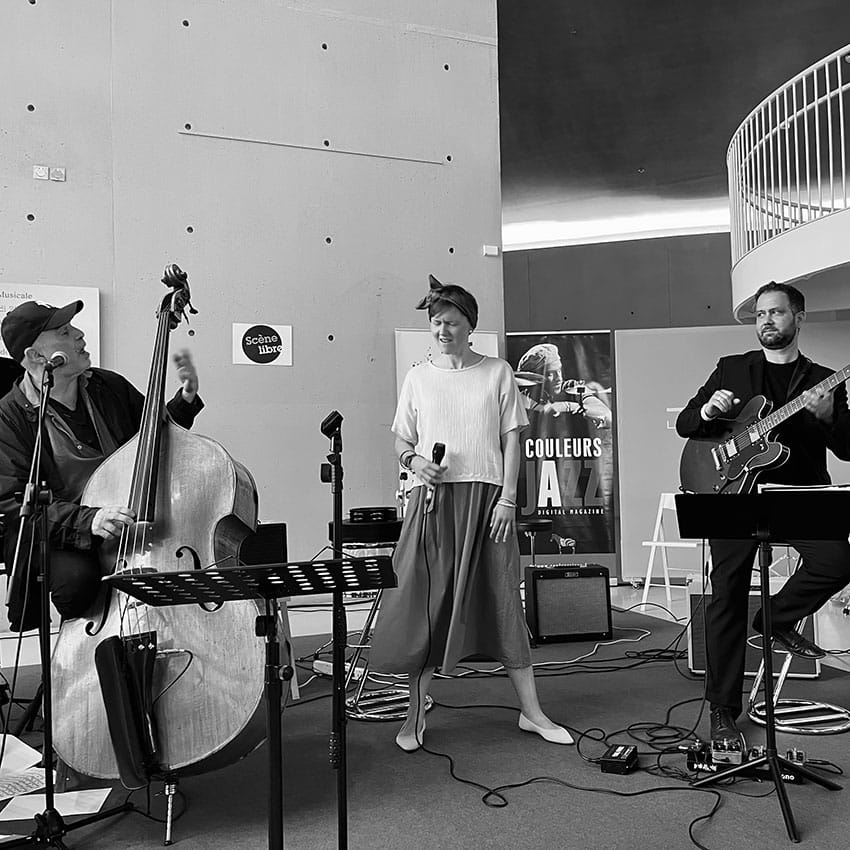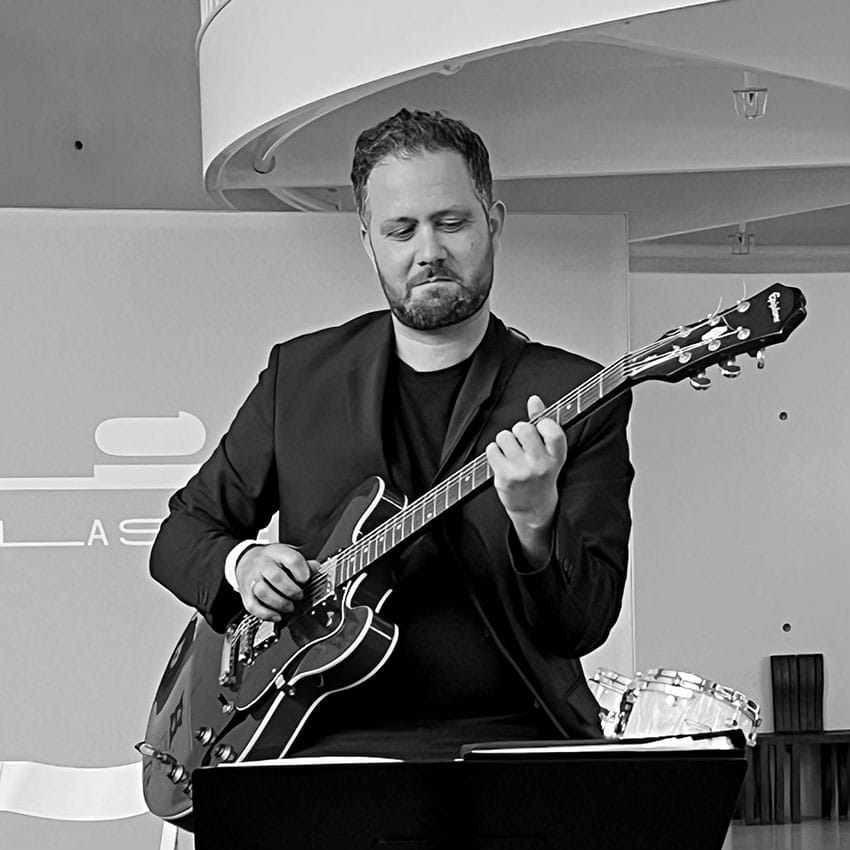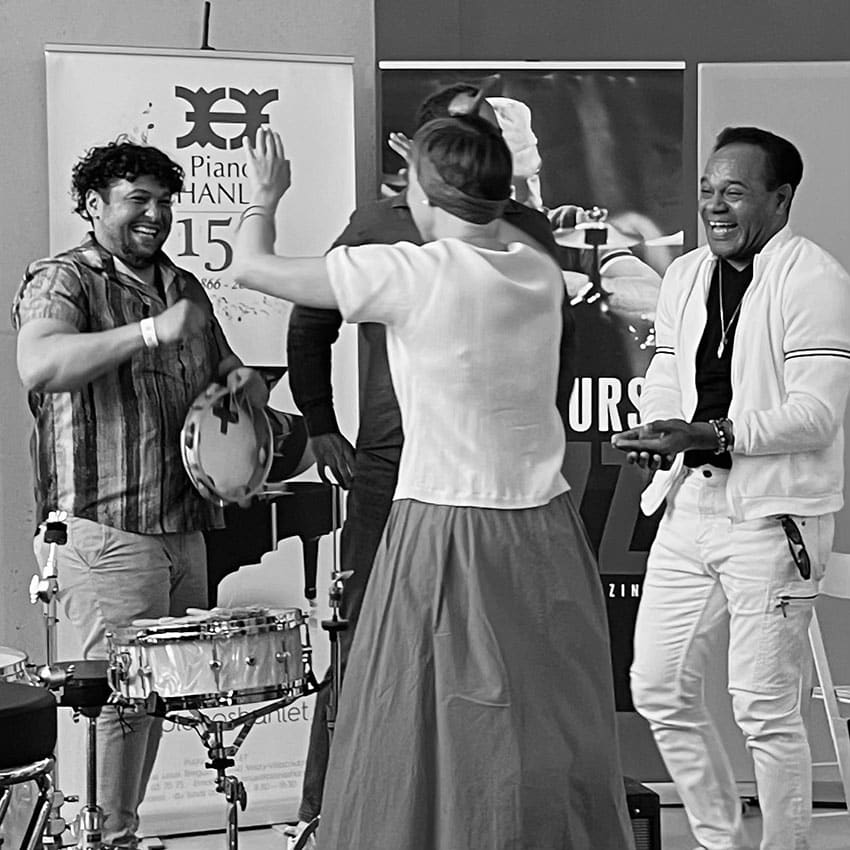 Lithuanian-born jazz and blues singer Vik Gečytė rivals some of the greatest voices in jazz (finalist in the Sarah Vaughan Vocal Jazz Competition in the USA with Samara Joy, not long ago). Unjustly under-programmed in France, her velvety phrasing, swing and perfect sense of tempo have won her unanimous praise from international critics and audiences alike.
Vik Gečytė now lives in Paris, but it was on the jazz stages of New York that she trained and progressed, during her student years in the USA. As a result, she has become a worthy heir to the great American jazz singers, with a particular emphasis on rhythm. Her scat is fluid, rhythmic and balanced. 
Her trio boasts one of the best rhythmic bands in Paris today: Peter Giron on double bass and Yoan Fernandez on guitar…
To close this wonderful day, she decided to sing us some Blues! A warm, round voice, all velvet and strength at once… Magical!
And the success was beyond all expectations. The first day ended in a jam, with Slaven Ljujic on drums with Adriano DD Tenorio, Laurent Coulondre, then Dave Bristol on piano, Nicolas Folmer on trumpet and Baptiste Herbin on saxophone.  Many an "Oh la la!" (Oh my god!) was heard from the audience, who couldn't believe their ears. 
A rare moment of spontaneous jazz, just as we love and create at Couleurs Jazz Club.
Musicora's management showed a little concern for the crowd, who showed no eagerness to leave the premises and wished to continue enjoying this rare moment, under the benevolent and amused gaze of the security staff, who also seemed in no hurry for the party to end so soon. 
DAY 2, SATURDAY MAY 27 
– MONIKA KABASELE duet with STEPHANE TSAPIS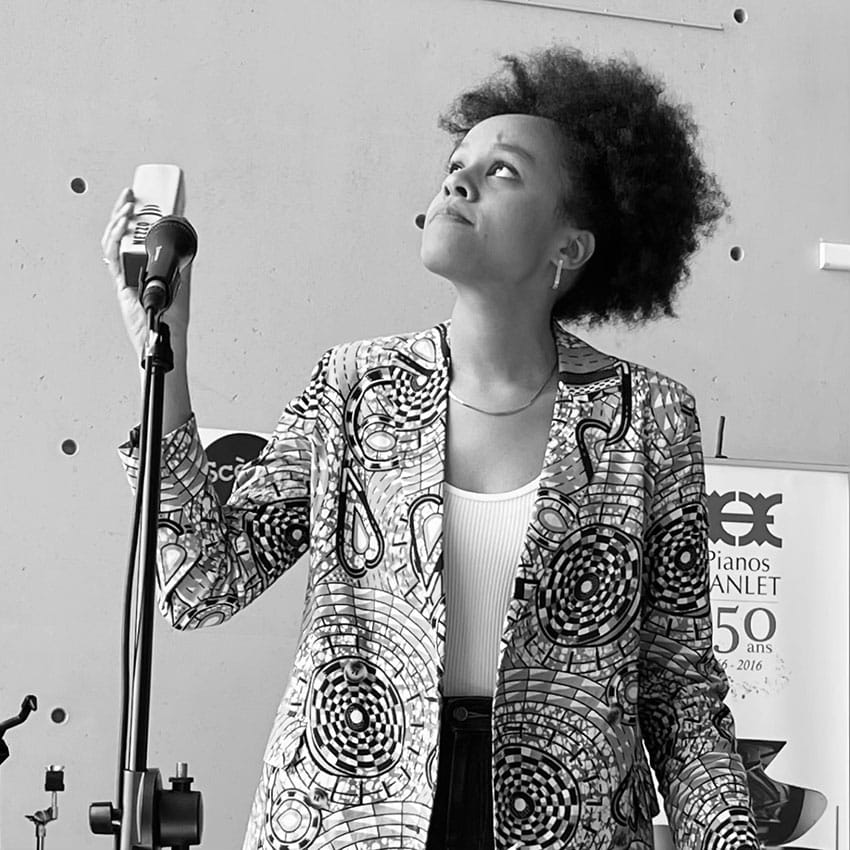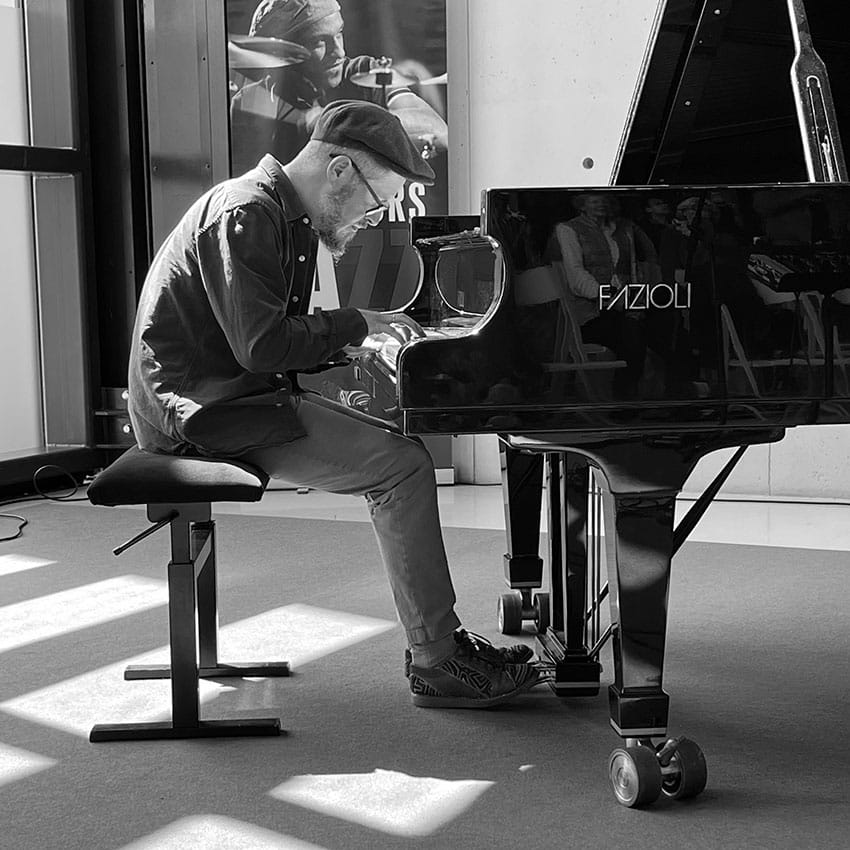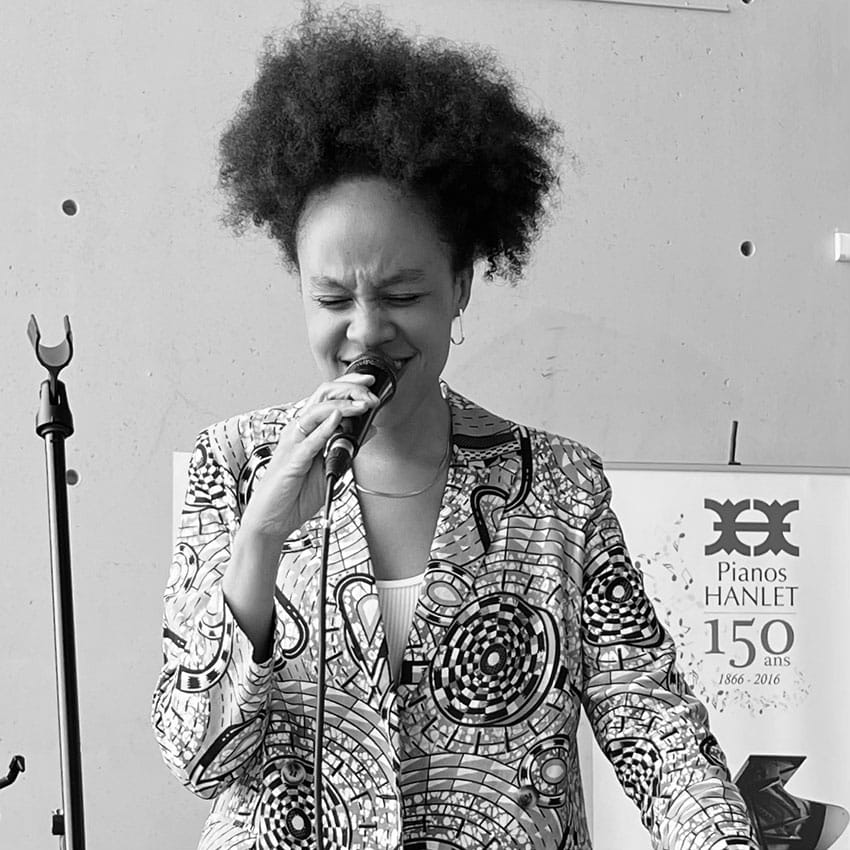 The singer, who moved to Paris a few years ago, comes from northern Greece, where her mother lives, and has the other half of her roots in the Congo, thanks to her father. She already performed on the Couleurs Jazz Club stage at Musicora last year.
She will shortly be releasing her first album under her own name, and came alone with her loop to present it to us.
Solar, frank and hauntingly tender, Monika Kabasele's voice is always just right, as her press release announces. On her debut album, she sculpts an original blend of traditional Greek music and Congolese rhythms, paying homage to her family roots. A fusion of jazz and world music that works like a balm. 
The album's title, "Grecofuturism", evokes the concept of Afrofuturism, the essence of which is to construct an aesthetic that projects the culture of the African diaspora into contexts that blend science fiction and new technologies. With this term, Monika Kabasele vows to sublimate her Greek-Congolese musical roots in the spaces of jazz arrangements and improvisation, in order to transcend tradition. 
The excellent Stéphane Tsapis accompanied her at the Fazioli, on several pieces ideally arranged for the occasion.
– STEPHANE TASPIS, piano & JONATHAN ORLAND, saxophone.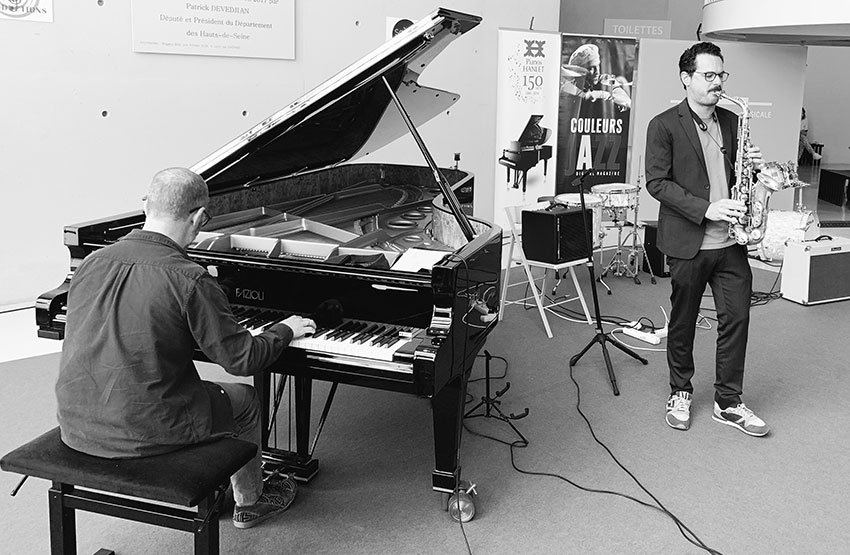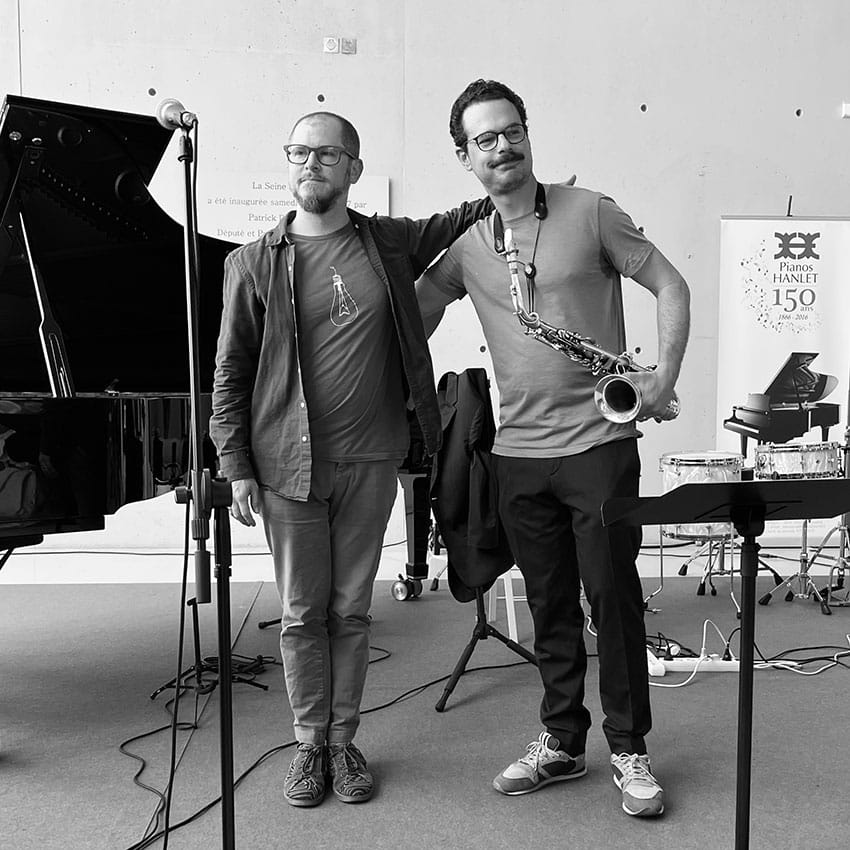 Stéphane Tsapis and Jonathan Orland have one thing in common: they like to cross sonic boundaries to free themselves from stylistic constraints and assert their own space for freedom.
The result is a dreamlike universe of varied landscapes, reminiscent of Chagall's paintings, where joy and melancholy coexist unabashedly. The duo's format allows for a musical conversation, sometimes intimate, sometimes unbridled, during which the listener is invited to give free rein to his or her imagination, to let themselves travel, soar and dream…
In their "Youkali" album "Hit Couleurs Jazz", released by Cristal Records last year, Stéphane Tsapis and Jonathan Orland draw inspiration from Yiddish music, Balkan and Greek island music, avant-garde jazz of the 60s and pop music.
Pure joy!
– Marc BENHAM, piano solo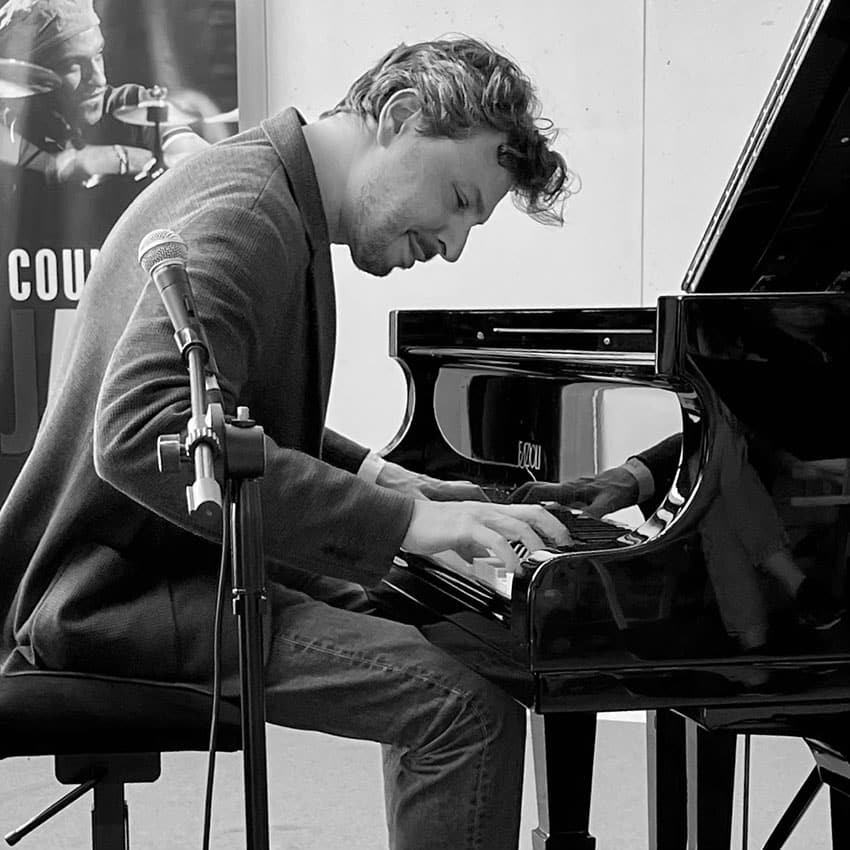 Marc Benham, Atypical pianist and composer, self-taught, learned jazz by listening to records, reproducing them, and then performing this music on stage at a very young age.
After making a name for himself (and being endorsed by Martial Solal) with two solo piano albums (Herbst – 2013/Frémeaux & Associés, Fats Food – 2016/Frémeaux & Associés) followed by a duo album (Gonam City – 2018/ Neuklang/Pias, with trumpeter Quentin Ghomari, Marc Benham continues to sculpt swing material with the refined harmonic elements and playfulness that characterize him.
In 2020, he released his 4th album, "Biotope", recorded as a trio with American musicians, becoming the first French pianist to be signed to the historic SteepleChase Records label (home of Chet Baker, Dexter Gordon, Lee Konitz, Paul Bley etc.).
"Truly nourished by the entire history of jazz music, Marc Benham possesses at a very high level all the qualities expected of an authentic musician: technique, feeling, harmonic sense and melodic invention. He has been able to incorporate into his language, steeped in tradition, all the advances of subsequent styles. A truly beautiful pianist, as I like them" Martial Solal.
Among fellow pianists like Stéphane Tsapis, who precedes him on the Couleurs Jazz Club stage, he is unanimously recognized as one of the very best jazz pianists today. Stéphane Tsapis tells him so publicly. I confirm it. 
Despite this pressure, Marc Benham gave us a beautiful recital. The packed audience couldn't believe it. A mini-concert worthy of Salle Gaveau or Salle Pleyel…
Thank you for coming on short notice, Mr. Benham at Couleurs Jazz Club 2023 !
–

JERÔME ETCHEBERRY & PIERRE CHRISTOPHE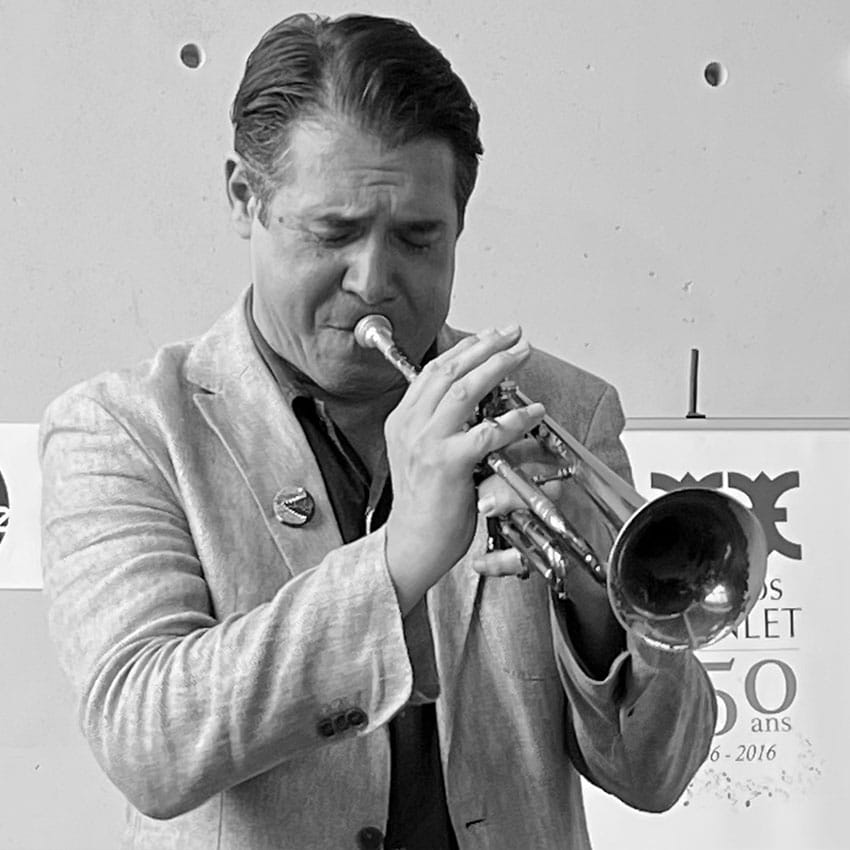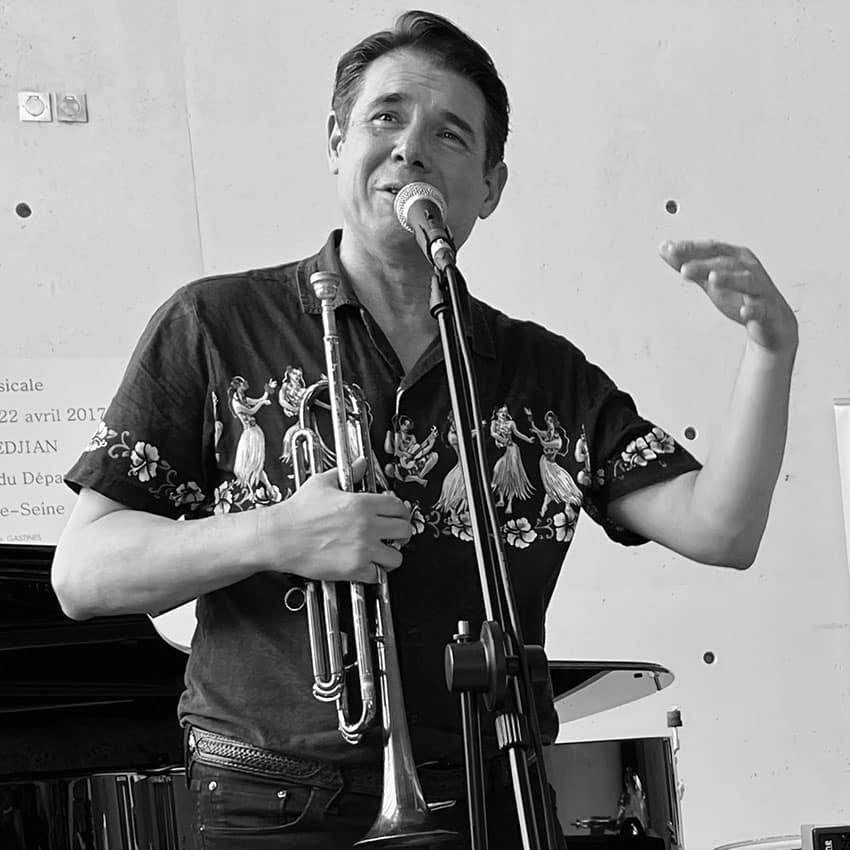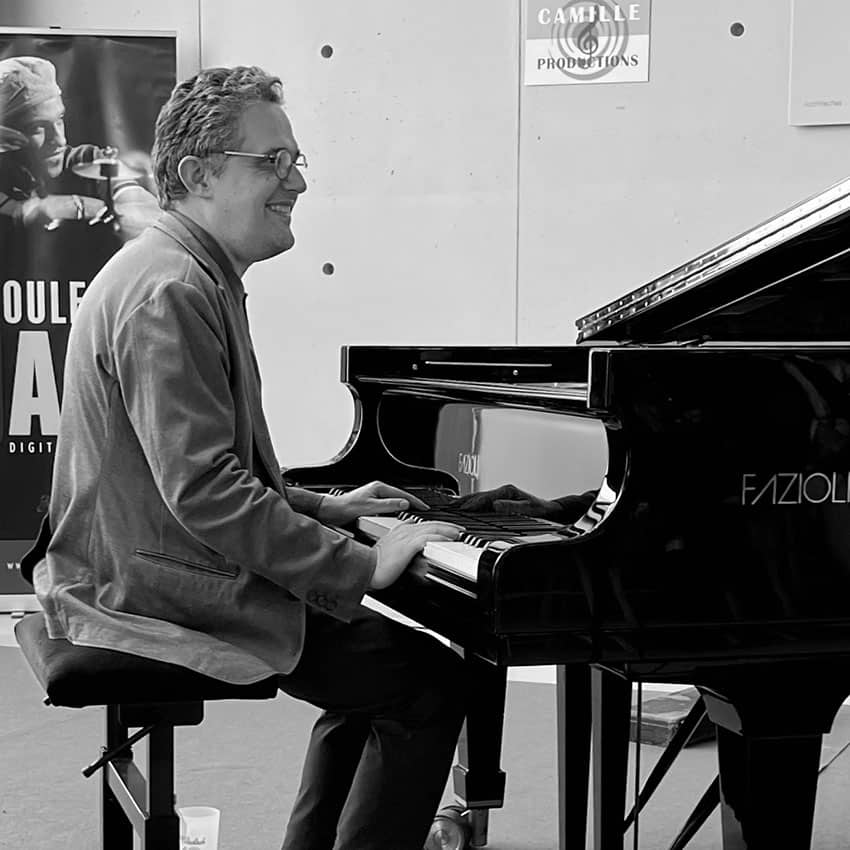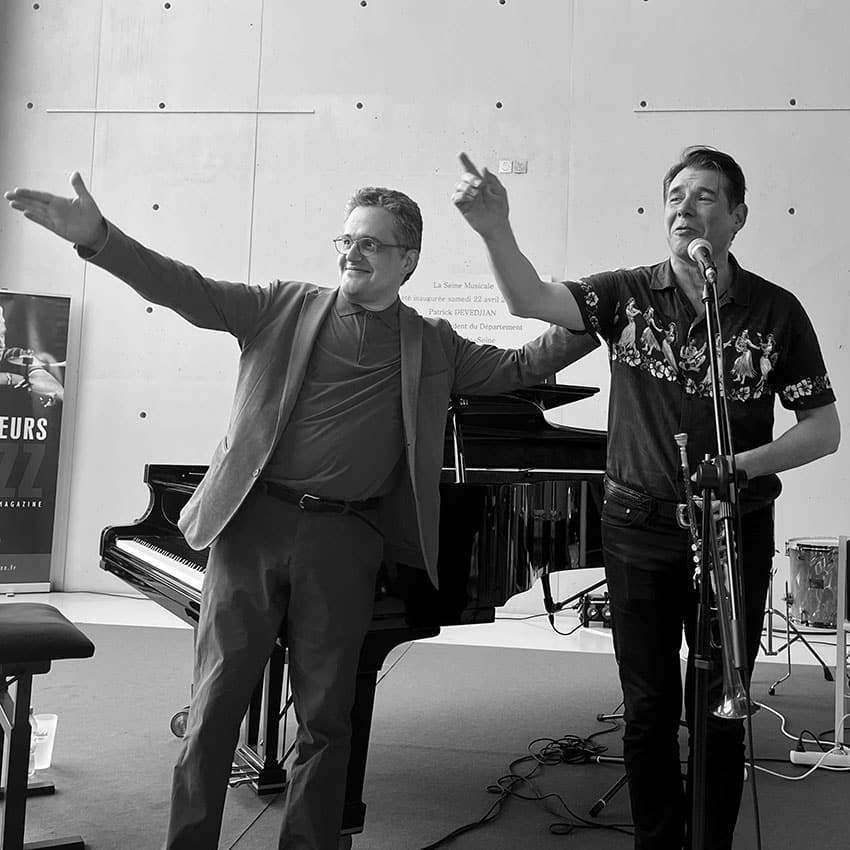 This is the realm of Satchmocracy! Trumpetist Jérôme Etcheberry is at it again, and just as happily (for him and his musicians, as for us, his listeners and admirers), with his album Satchmocracy vol II, dedicated to King Louis Armstrong of course.
In 2021, for Volume I, Jérôme Etcheberry enchanted us with the album "Hit Couleurs Jazz", which continues to delight the ears of our listeners. So much so, in fact, that we regretted that it wasn't a double album.
Well, it's a done deal, since Vol. II has just been released by Camille Productions, and now boasts a second album,  Hit Couleurs Jazz !
For this show case ,
Jérôme Etcheberry
invited the excellent
Pierre Christophe
on piano. From the outset, we were all the happier to be able to listen to this one-day duo, as we had the pleasure of welcoming Pierre Christophe at the piano last year. He was then in a duo with Hugo Lippi on guitar. What a performance!
The audience's enthusiasm! The magic of intense moments when musicians of such high calibre give us the impression that they've been playing this repertoire for several months, even though they haven't had time to rehearse. The lucky ones present will remember it.
–

BEN ART Sextet – Special Creation  Couleurs Jazz Club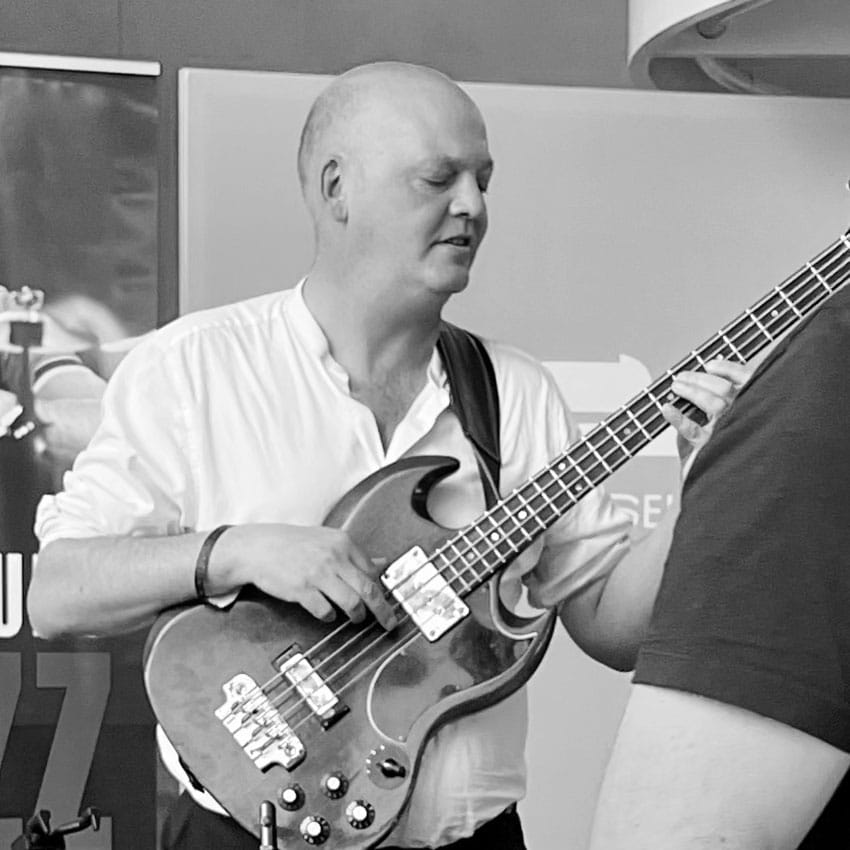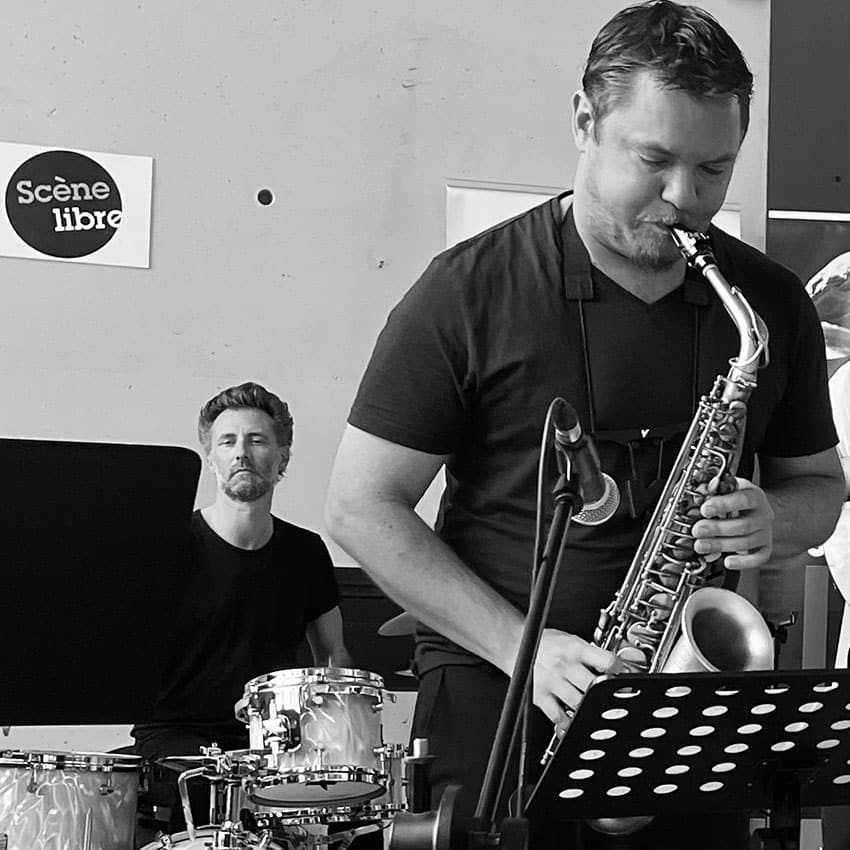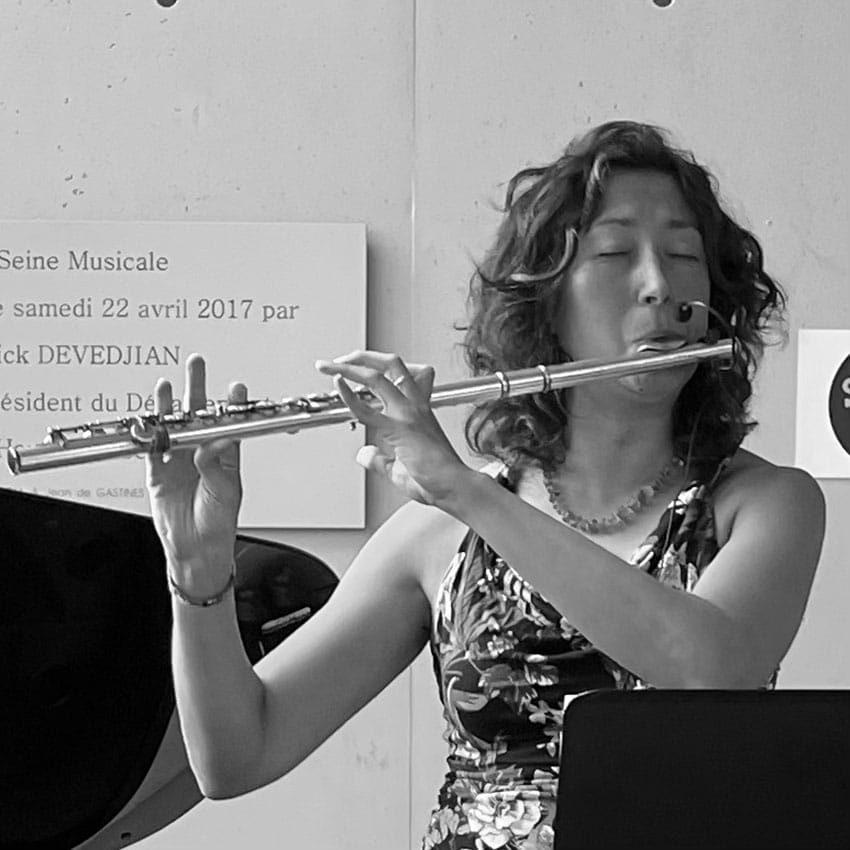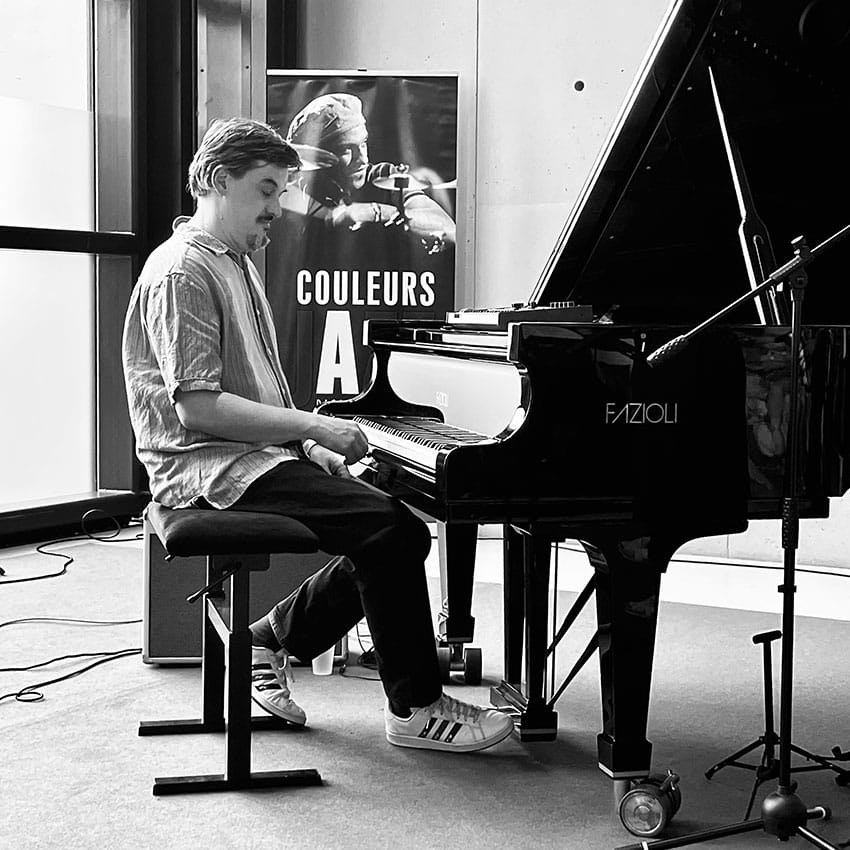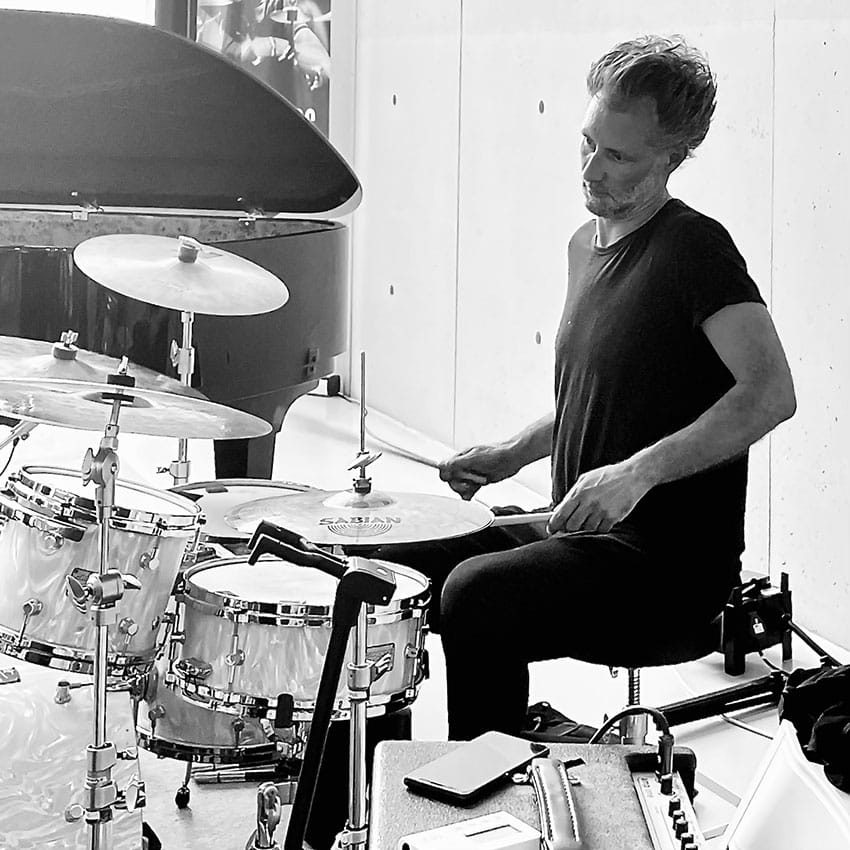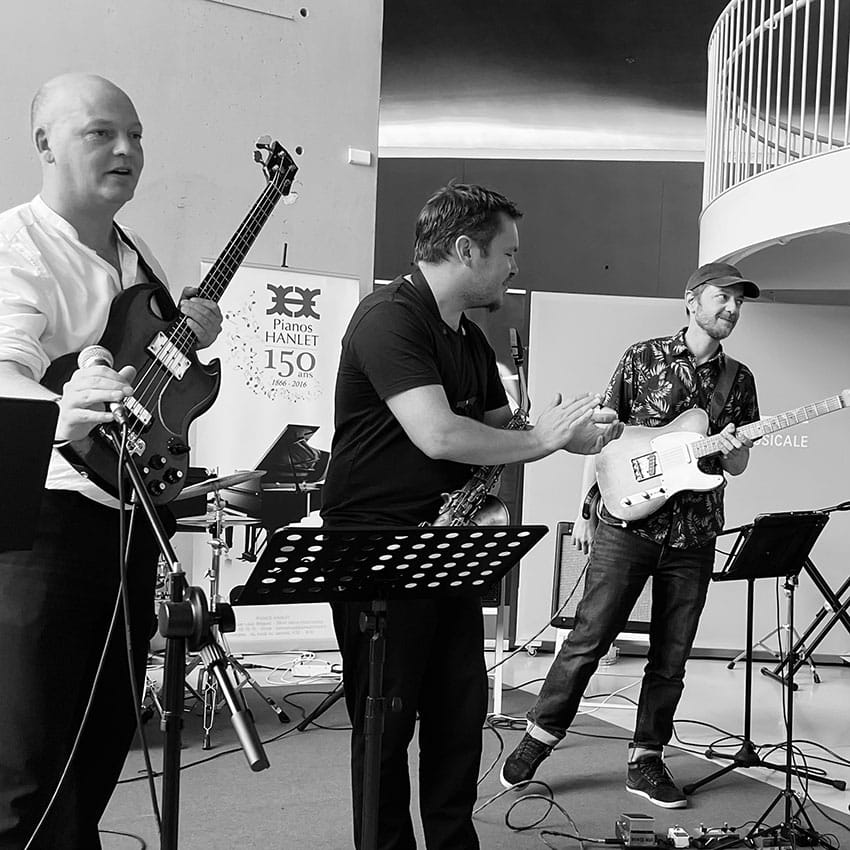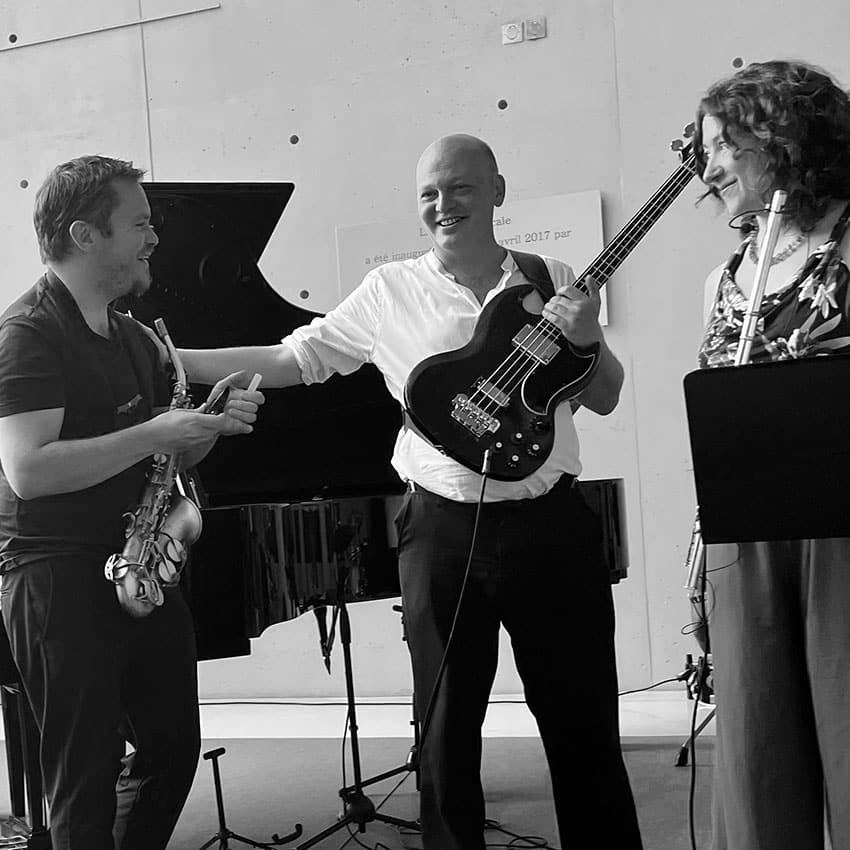 An original sextet, initiated by our partner "Scène Libre" and its founder, the excellent Ben Art, on electric bass.
The sextet performed groovy compositions on themes by Omer Avital, Louis Matute, Shaolin Afronauts, Daile Romeo and Ezra Collective, featuring top-class musicians, including flautist-composer Amina-Mezaache, accompanied at the last minute by virtuoso Baptiste Herbin. Their criss-crossing choruses and ball exchanges were well worth the atmosphere of the Roland Garros clay court that was kicking off that day.
A concert full of great energy and an invitation to get moving.
Line up: 
Sebastien Lété: drums
Amina Mezaache: transverse flute
Laurent Avenard: guitar 
Baptiste Herbin: tenor sax   
Juliano d'Horta Beccari: piano/keyboards
Ben Art: electric bass
– Lior Krief 4tet feat. Baptiste Herbin – album release on works.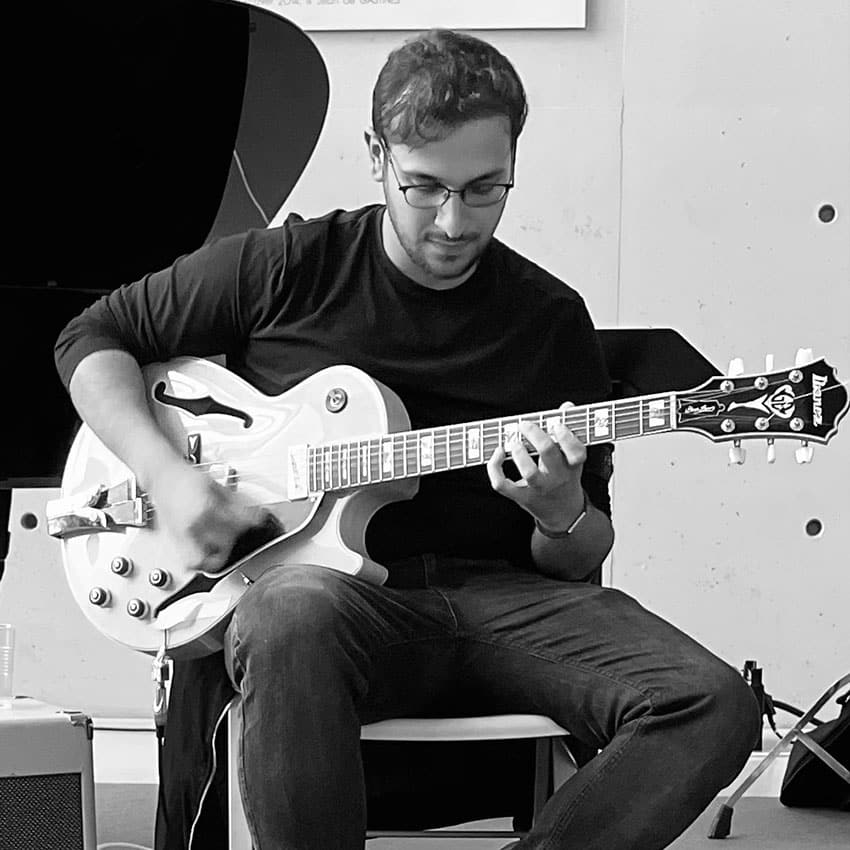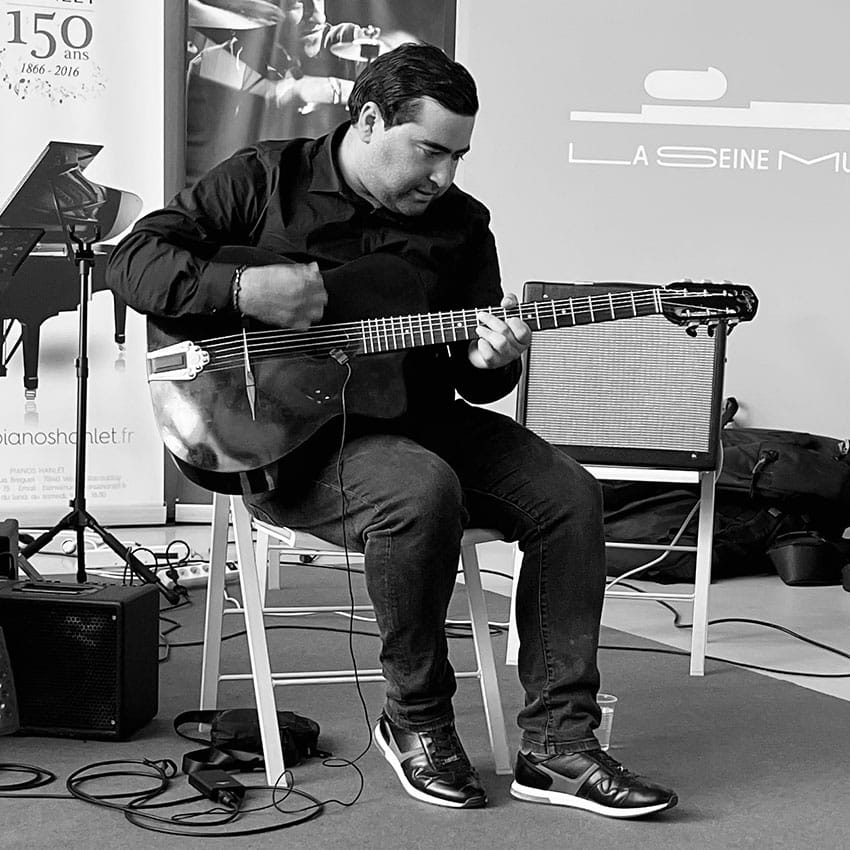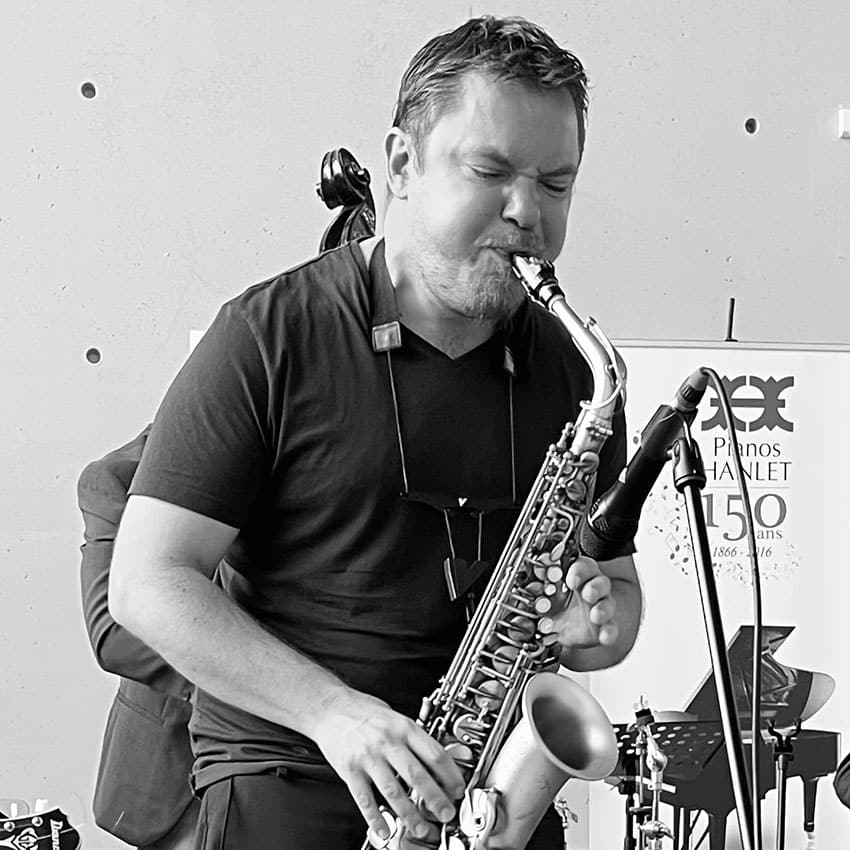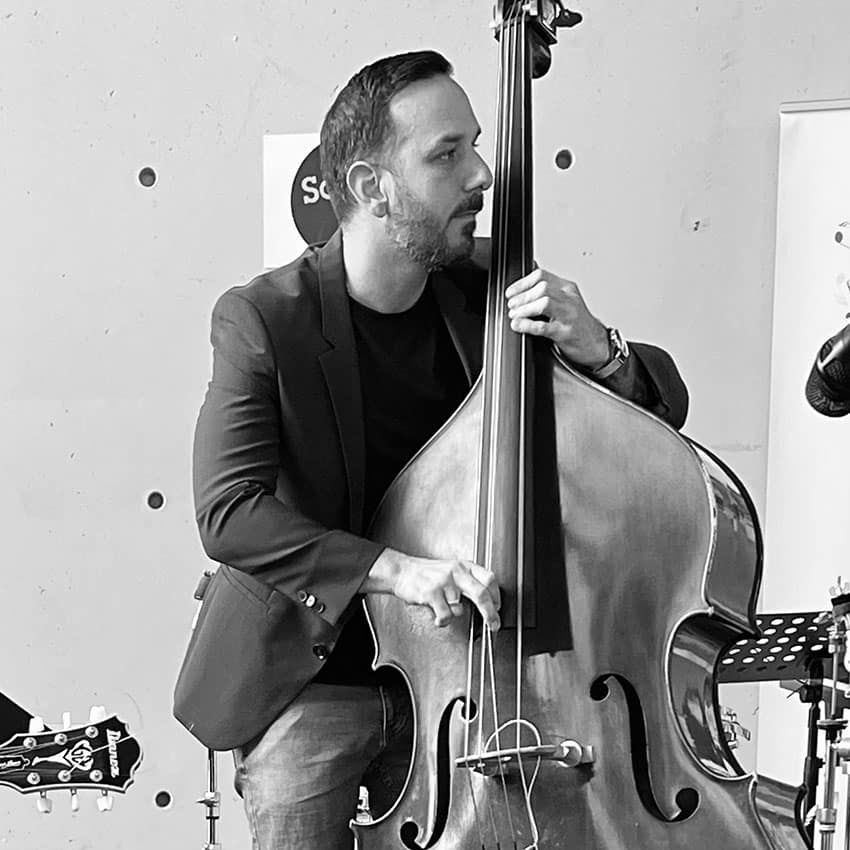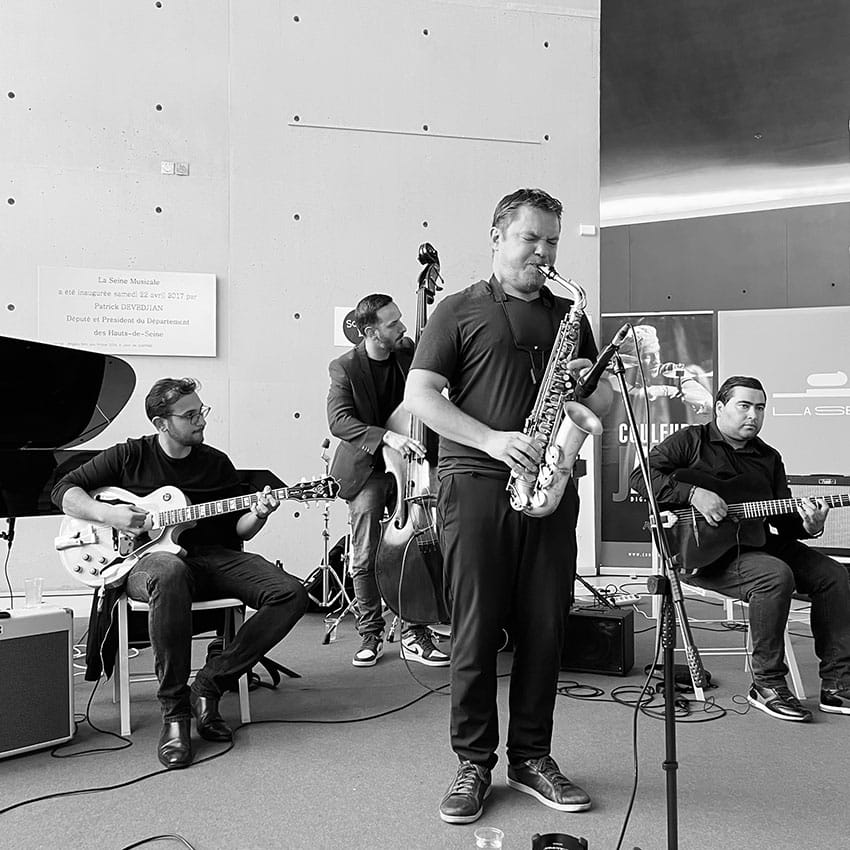 Born from the encounter between Lior Krief and Baptiste Herbin, the New Light project brings together the fiery spirit of gypsy jazz and the bebop improvisation of the saxophone.
Accompanied by Simba Baumgartner, Django's great-grandson, and double bassist Pierre Marcus, who arrived as luxury reinforcements, the Lior Krief Quartet took us on a jazz journey with a lightning rhythm!
It was during a recording session in 2021 that Lior Krief and Baptiste Herbin met. It was musical love at first sight. Lior played with Simba Baumgartner, and they decided to create a project combining modern jazz, bebop and traditional gypsy music. After a year of playing the Paris stages, they decided to record the project with double bassist Esteban Félix.
Couleurs Jazz has supported this project since its inception, and programmed them at Jemmapes, last April as part of the Couleurs Jazz au Canal concerts, and at Jazz in Noyon. 
You'll be able to hear them again at Jazz in Noyon in October, since Couleurs Jazz is the artistic director.
Magnificent Couleurs Jazz Club showcase before closing this second day at Musicora.
– Conti Bilong trio. New album.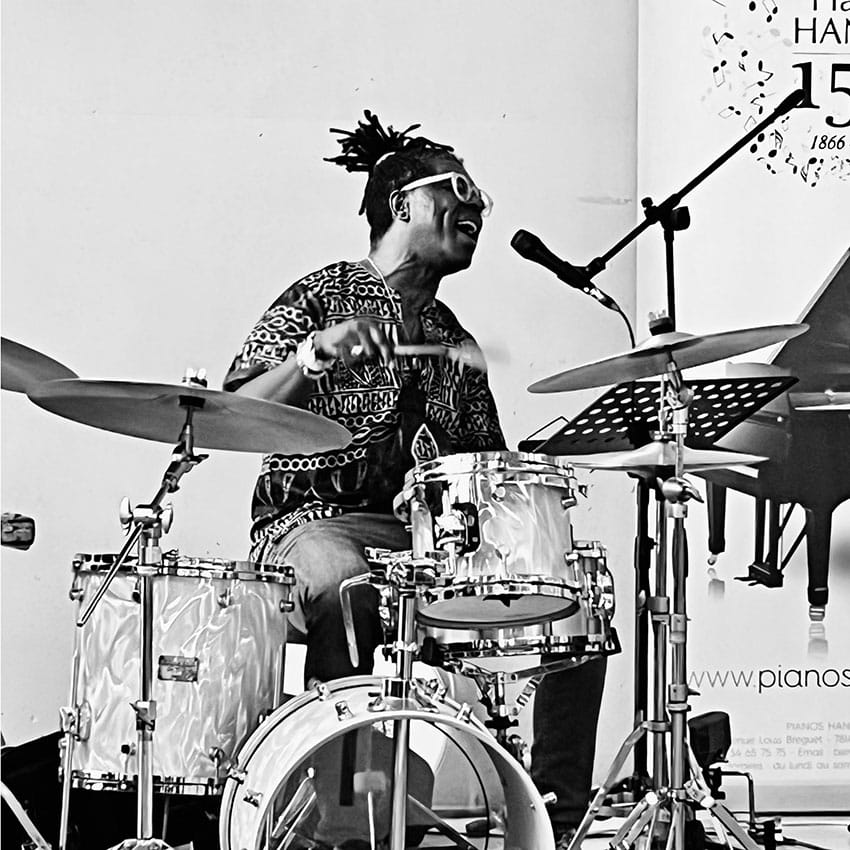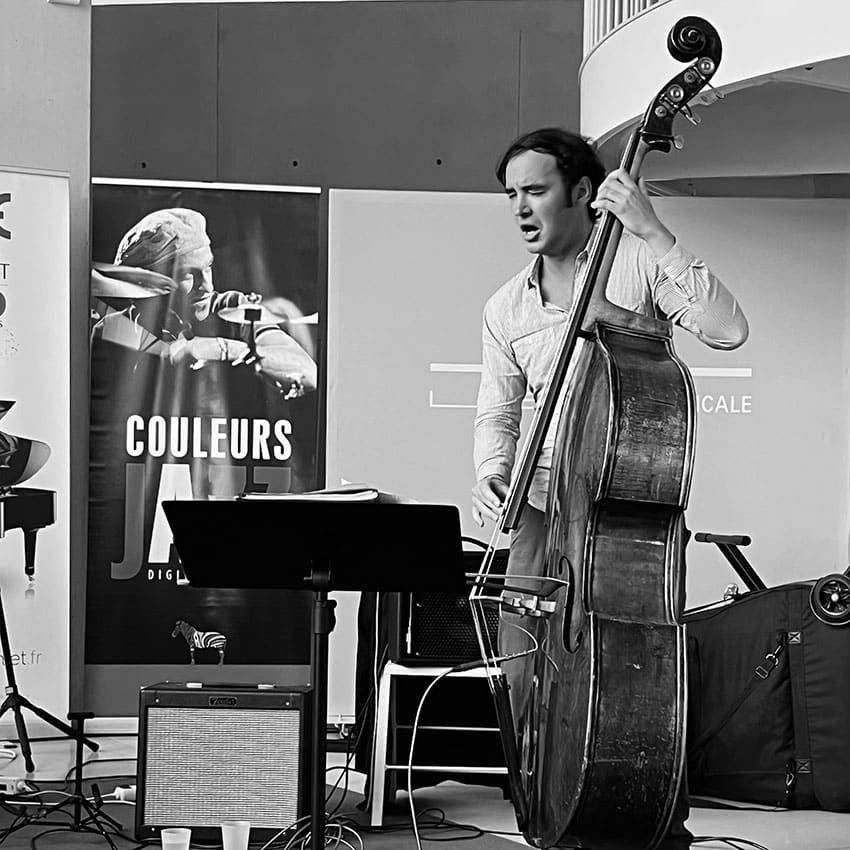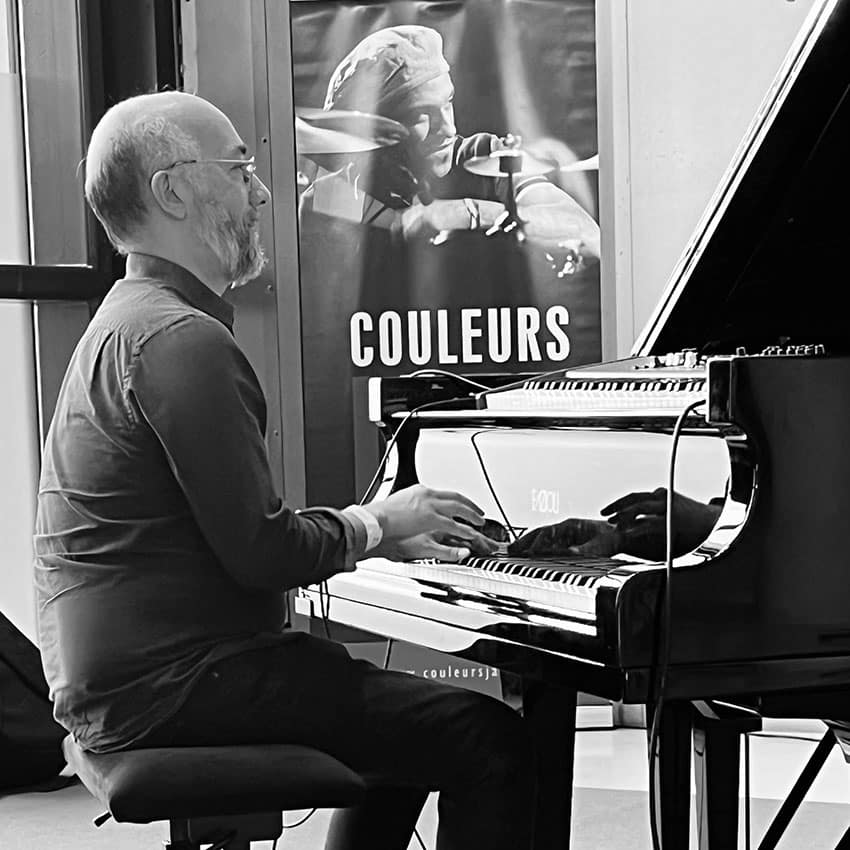 Following on from his already long career with the greats, including Manu Dibango, Oumou Sangaré and Cheick Tidiane Seck,
Conti Bilong decided to create a truly Jazz album, with the famous classic trio: piano, bass, drums.
 "Jazz Explorer" is an album of meticulous arrangements. It is selected on Couleurs Jazz Radio. 
(Read the article we dedicated to him)
Compositions range from makossa to latin jazz, visiting afro-pop, funk, reggae, jazz-rock, bolobo, maloya, salsa and samba.
Alongside Conti Bilong, the pulse is provided by a master of the genre, double bassist Gabriel Pierre, and by a virtuoso Franco-Japanese pianist, Eric Montigny, who is still too rare on Couleurs Jazz Radio.
Although Conti Bilong doesn't define himself as a jazz drummer – his horizons are broader – with Jazz Explorer he makes a very fine record with unmistakable jazz colors.
Line up :
Conti Bilong: drums and vocals
Eric Montigny: piano
Gabriel Pierre: double bass 
"Jazz Explorer" was released on April 28, 2023. 
As in every concert, the 3 musicians thrilled the audience and the musicians who stayed to listen at the Couleurs Jazz Club.
Couleurs Jazz was honored to have these wonderful musicians on hand to round off the day.
DAY 3, SUNDAY MAY 28
– Srdjan Ivanovic feat. Noé Clerc – Xénos – album release.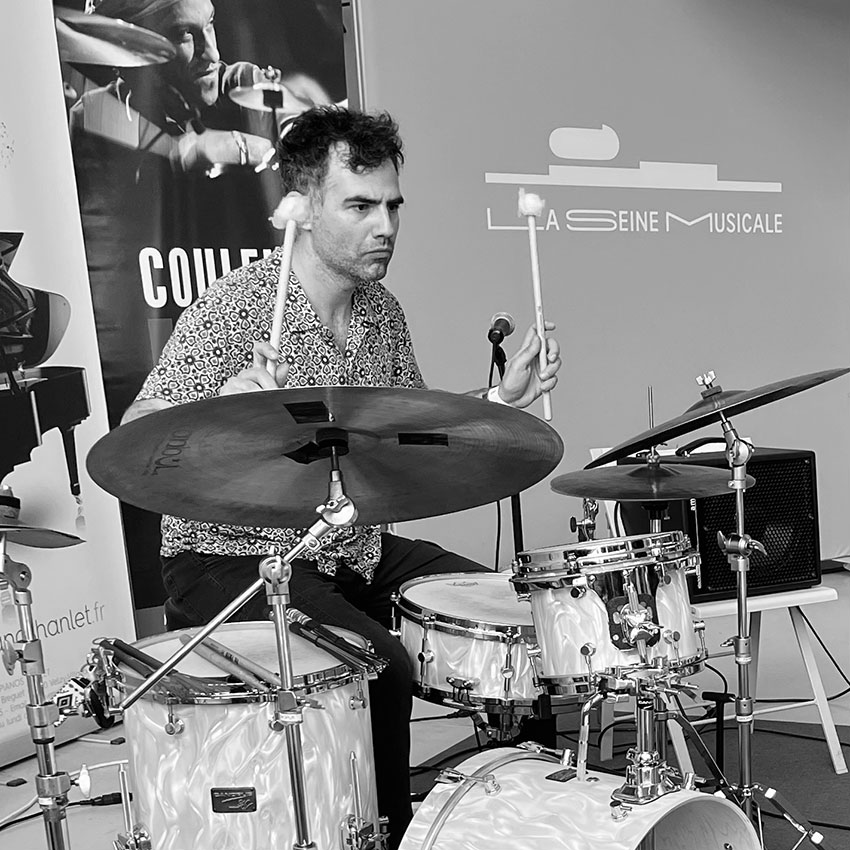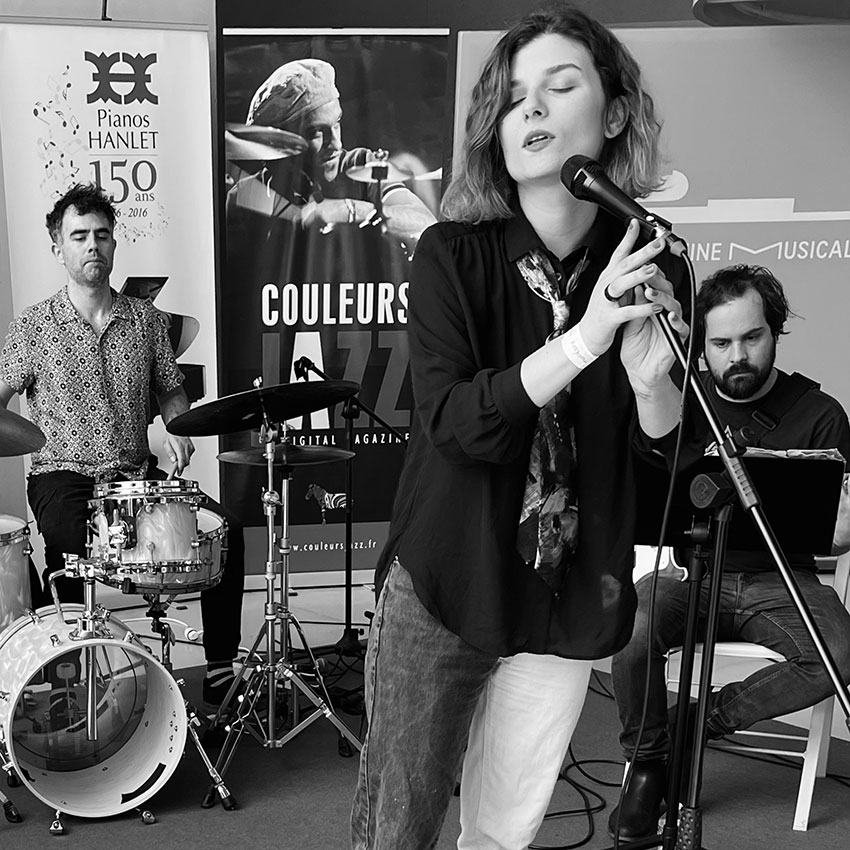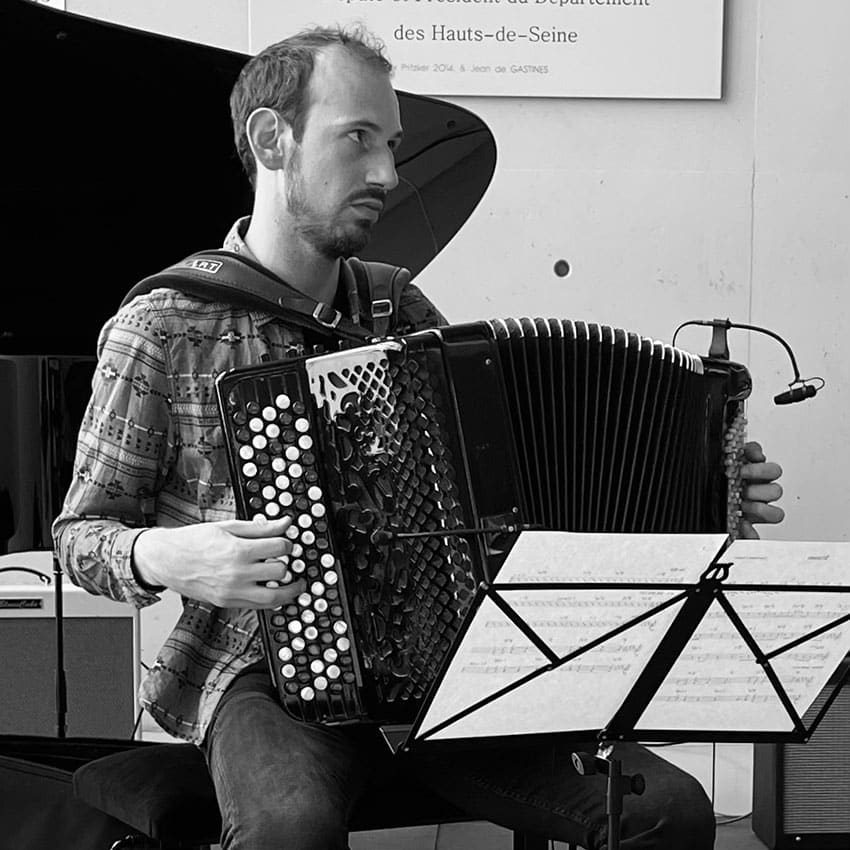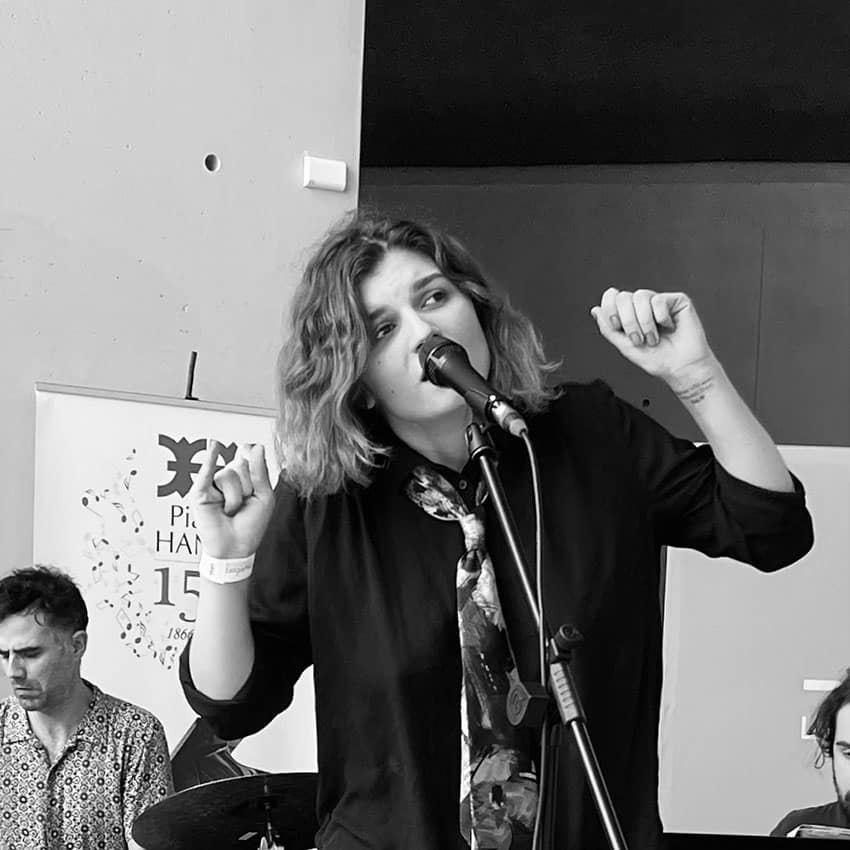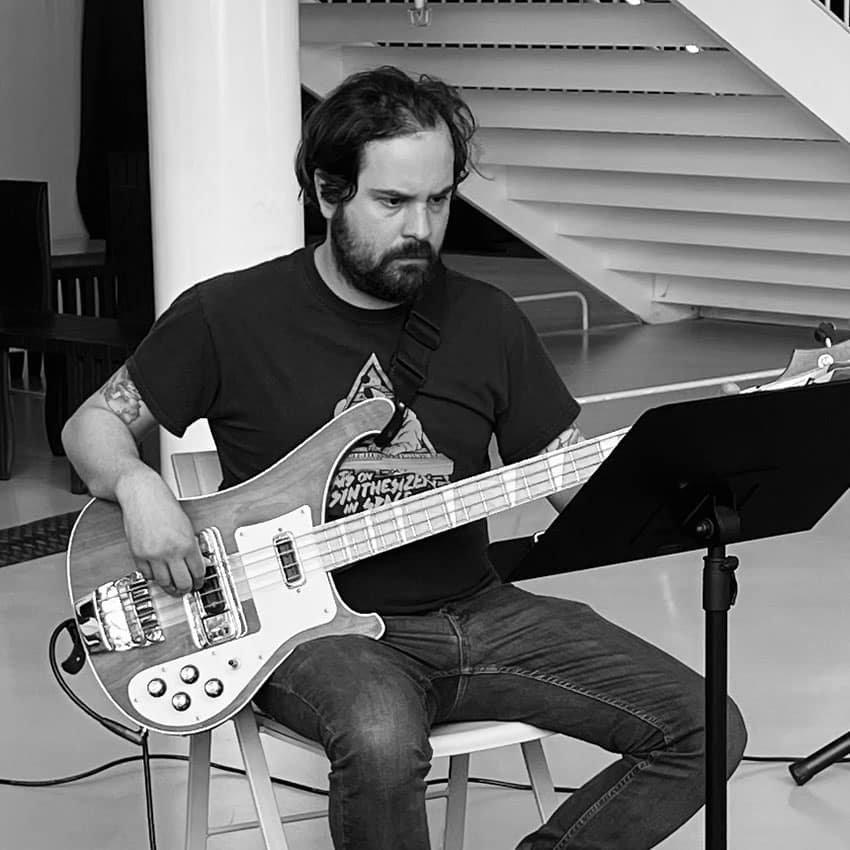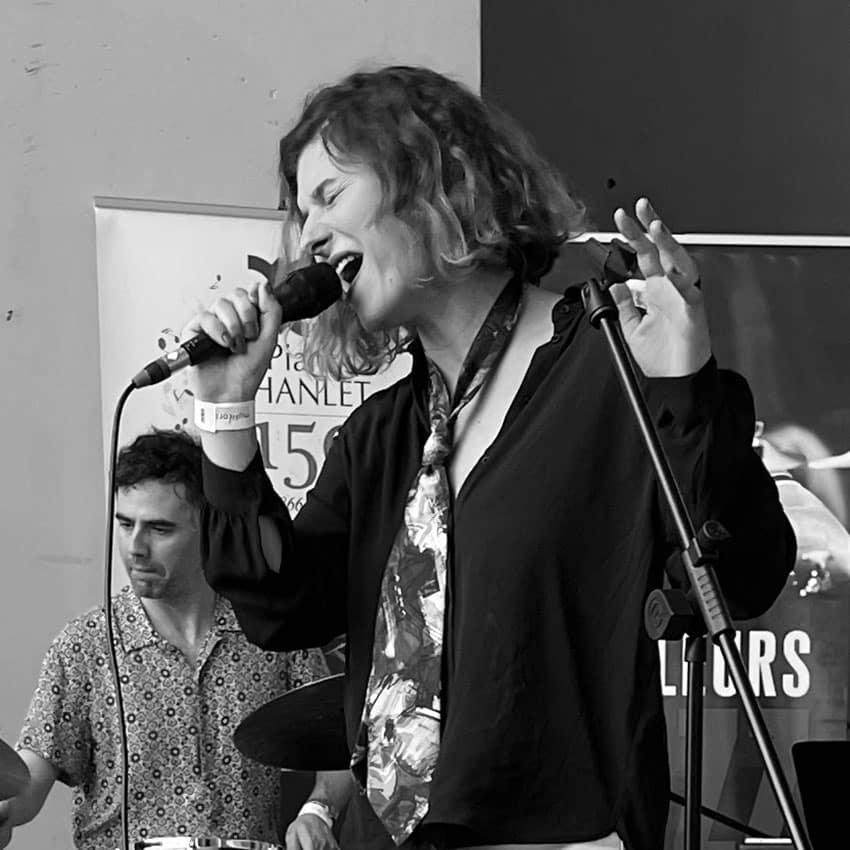 Led by North-Macedonian singer Jovana Krstevska, Xénos*, "foreigner" in Greek, is a band inspired by stories and experiences of exile and immigration. Their debut album (self-titled) will be released in June 2023 on the label, Rue Des Balkans (Absilone-Socadisc).
Having fled the Bosnian war as a child, Srdjan landed in the Greek capital, Ahenes, and was immersed in an eclectic mix of music, from Byzantine chant to Greek folk to Italian pop.
His discovery of jazz enabled him to develop his own style as a drummer and composer.
Jovana Krstevska, a gifted mathematician and, like Srdjan, a regular on the Couleurs Jazz Club stage at Musicora, brings incredible energy and a new voice to the world of jazz.
All the musicians in this band are leading composers of the highest calibre. Most of them were already engaged on Sunday May 28. Hence the idea of inviting the brilliant Noé Clerc, a revolutionary accordionist in the tradition of Vincent Peirani.
The Couleurs Jazz Club audience was seduced by the eclecticism and positive energy of this original new album, with its resolutely Balkan jazz colors. 
Line up:
Srdjan Ivanovic: drums
Jovana Krstevska: vocals
Noé Clerc: accordion,
Philippe Burneau: bass
(*) Xénos, often used in French in the form, xenophovia. Literally, fear of foreigners (cf. extreme right-wing parties in particular). Much more rarely used in the form, xenophilia. Surprising, isn't it?
– Duo PAMINA BEROFF, voice & MARK PRIORE, piano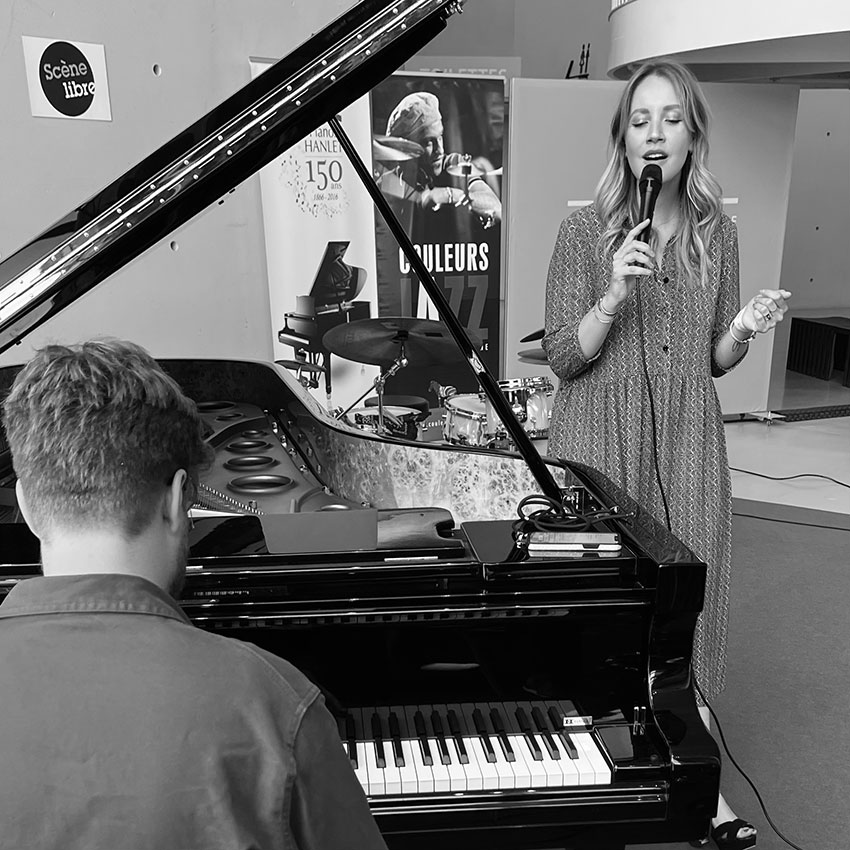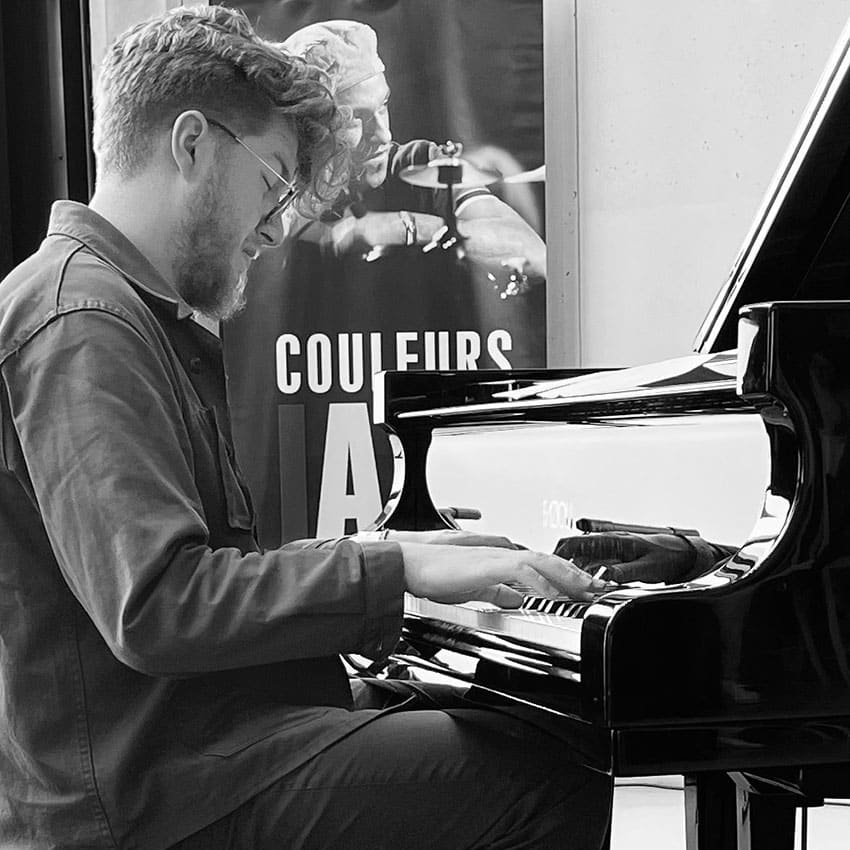 The label Jazz Eleven, a long-standing partner of our Couleurs Jazz club, was able to present her new signing, Pamina Beroff, at Couleurs Jazz Club 2021. Since then, she has released her first EP, "Sides", followed by her debut album, "Unfolding", last autumn.
Pamina tells us: "Unfolding is the fulfillment at the end of the road that leads us to adulthood. We go through breakups: in love, in the family… You learn to make choices, to use your voice. There are experiences, encounters, disappointments that shape us, that transform us. " 
With "Unfolding", Pamina Beroff explores this moment of transition to adulthood and the unfolding of the self, as an individual building herself, and above all as an artist.
"Unfolding" is still selected on Couleurs Jazz Radio.
Her performance, from one year to the next, is in a state of flux. How far will she go?
Another dazzling artist and up-and-coming jazz piano figure we'll be hearing more about in the future is Mark Priore, who accompanied Pamina and, as a bonus, graced us with a beautiful solo on the Fazioli Grand Concert. One of those moments when you could almost hear a fly flying.
– Alimé Bébégué – Bulaga – Album Release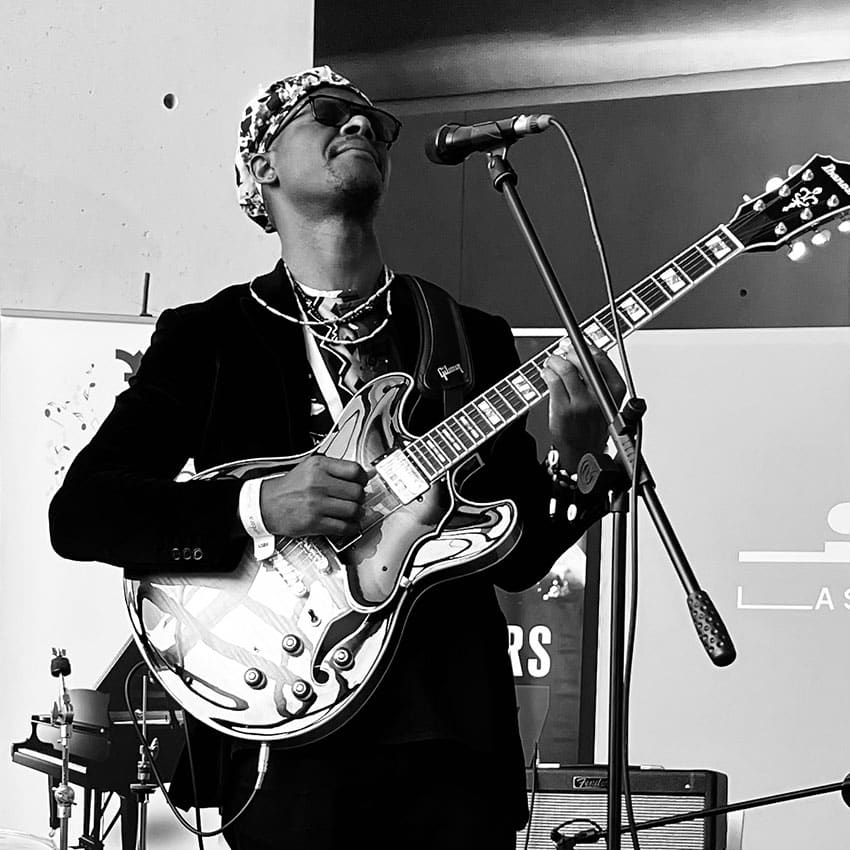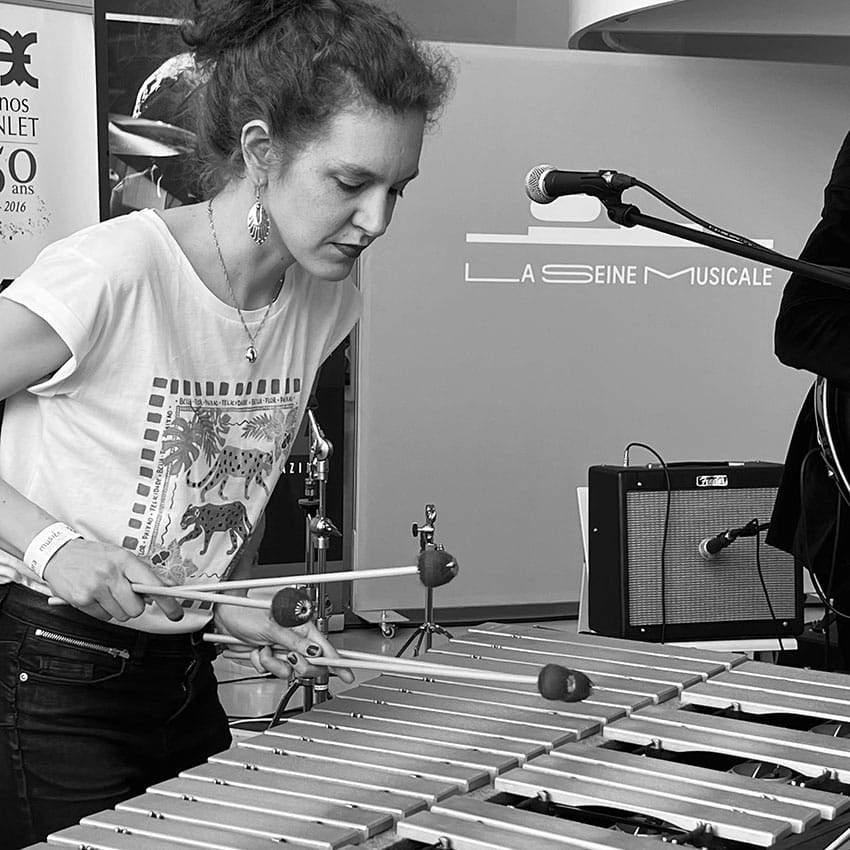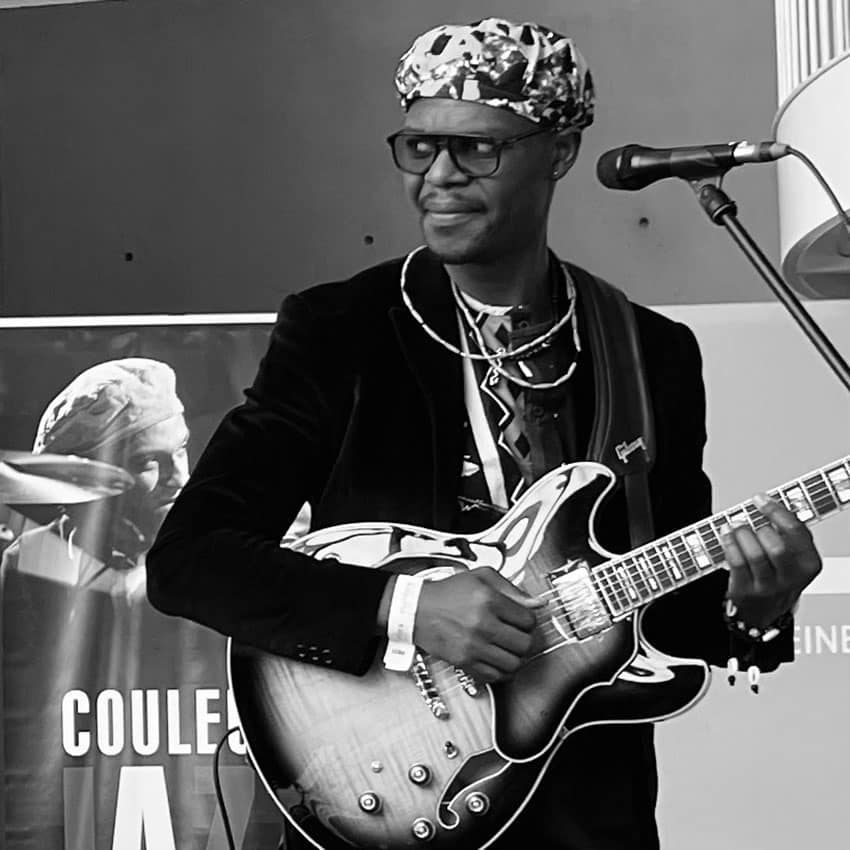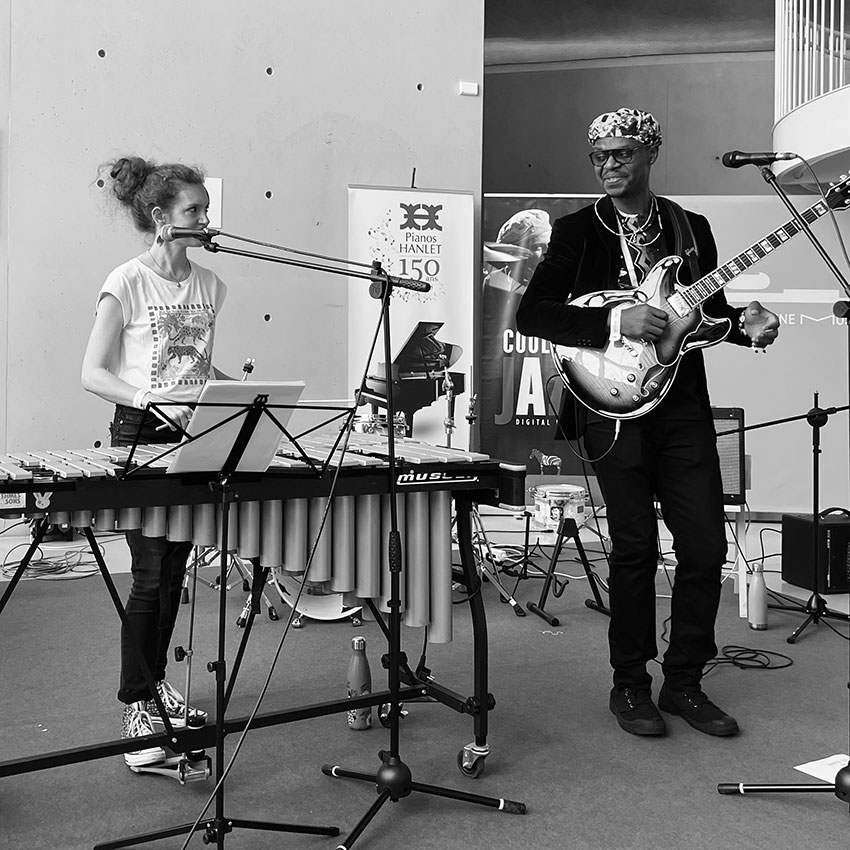 Alimé Bébégué, composer, guitarist, singer and percussionist, releases his debut album entitled Sita on December 07, 2018 through Inouie Distribution a project whose compositions reflect an incredible cultural diversity influenced by jazz, African and Latin music. To interpret this multicolored jazz, he is accompanied on the album by Nicole Adjabé on vocals, Aurélie Carrilho on vibraphone, Marc Bollengier on double bass, and Michael Tissier on percussion.
Alimé Bébégué was kind enough to present his new album Bulaga, on May 26, on the Couleurs Jazz Club stage at Musicora, in a duet with Aurélie Carrilho.
A number of historic freedom fighters were celebrated. 
Time to celebrate different Couleurs du Jazz!
Bulaga is selected on Couleurs Jazz Radio.
Bulaga's official release concert in full formation took place at Sunset on June 2, 2023.
Alimé Bébégué: Guitar and vocals 
Aurélie Carrilho: Vibraphone and vocals
– MARC LONCHAMPT  – album release- "On a Sweet Mode"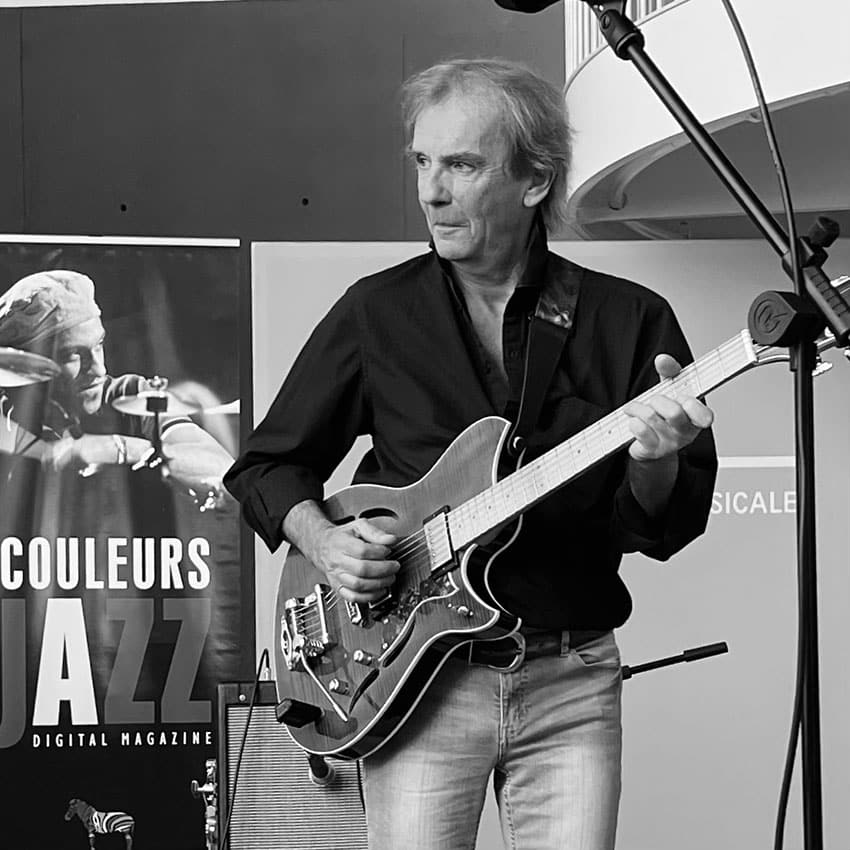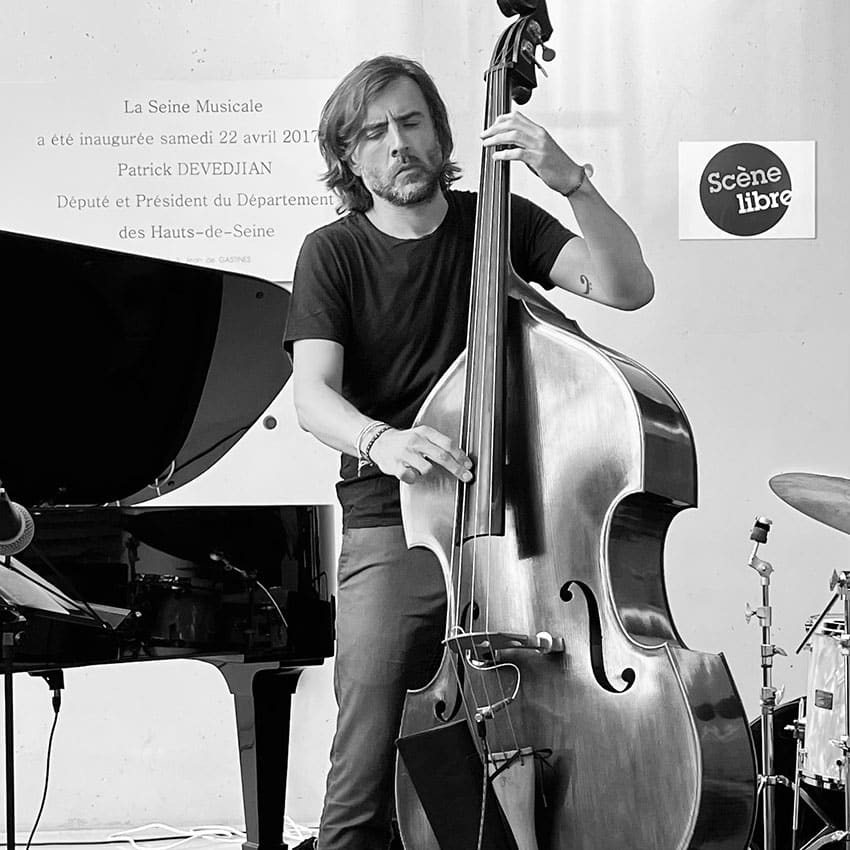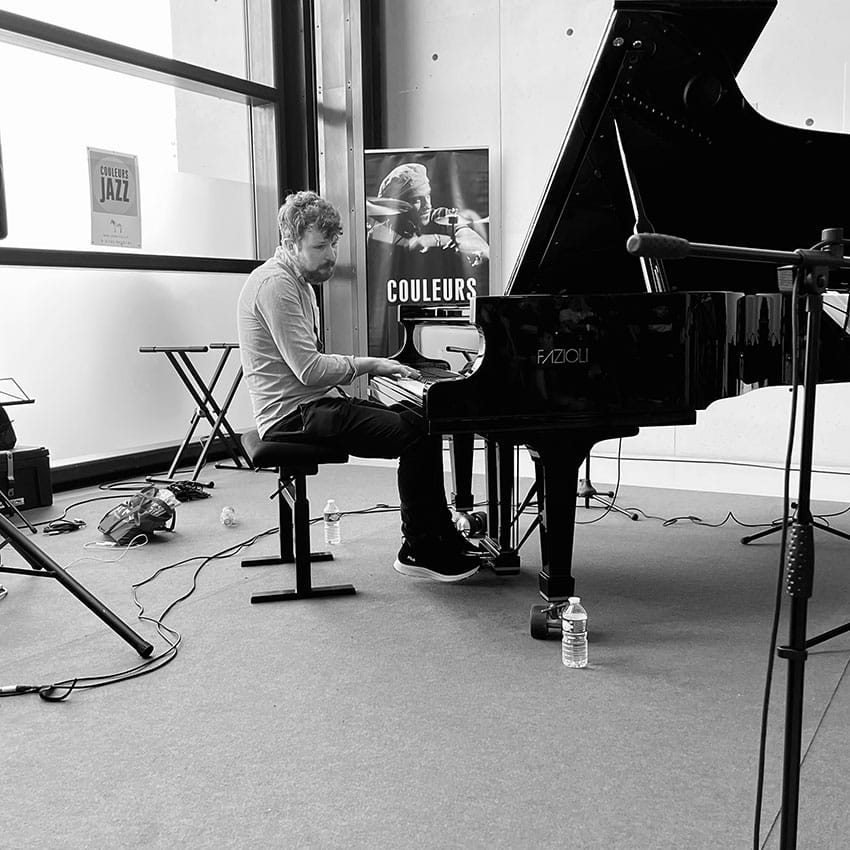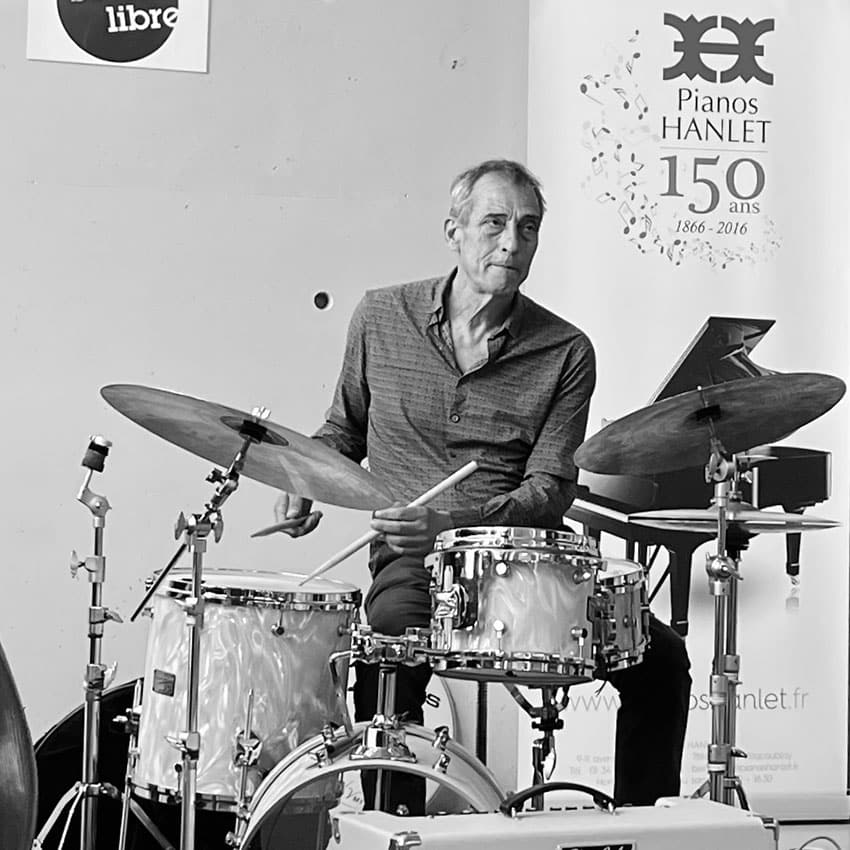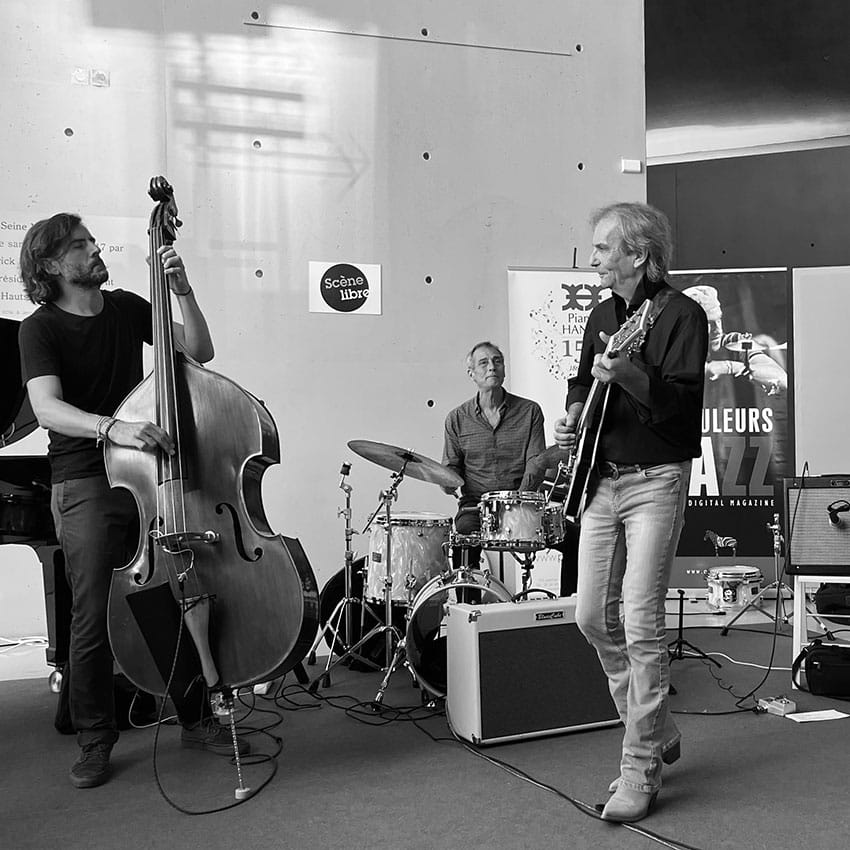 Marc Lonchampt's albums, Night Wings, Sunny Days, Waves, are often played on Couleurs Jazz Radio. Marc is one of the most loyal musicians to perform at Musicora's Couleurs Jazz Club as sideman or leader.
This year, for the occasion, he has assembled a killer team and presented us with standards and tracks from his latest opus, "On a Sweet Mode", along with other Couleurs Jazz Club regulars: Frédéric Sicart on drums and François Poitou on double bass… The essentials are thus assured, with a young English pianist who is increasingly in demand and also in the running with his debut album, (Unknown, Unknown) on Couleurs Jazz Radio, the original Dave Bristow.
– The Couleurs Jazz Club' jam.
And as usual, a jam rounded off the Couleurs Jazz Club at Musicora 2023, featuring Lucas Dorado (Argentina) in vibraphone, Slaven Ljujic (Montenegro) on drums, shared with Minino Garay (Argentina), Dave Bristow (England, Jovana Krstevska (North Makedonia) and others…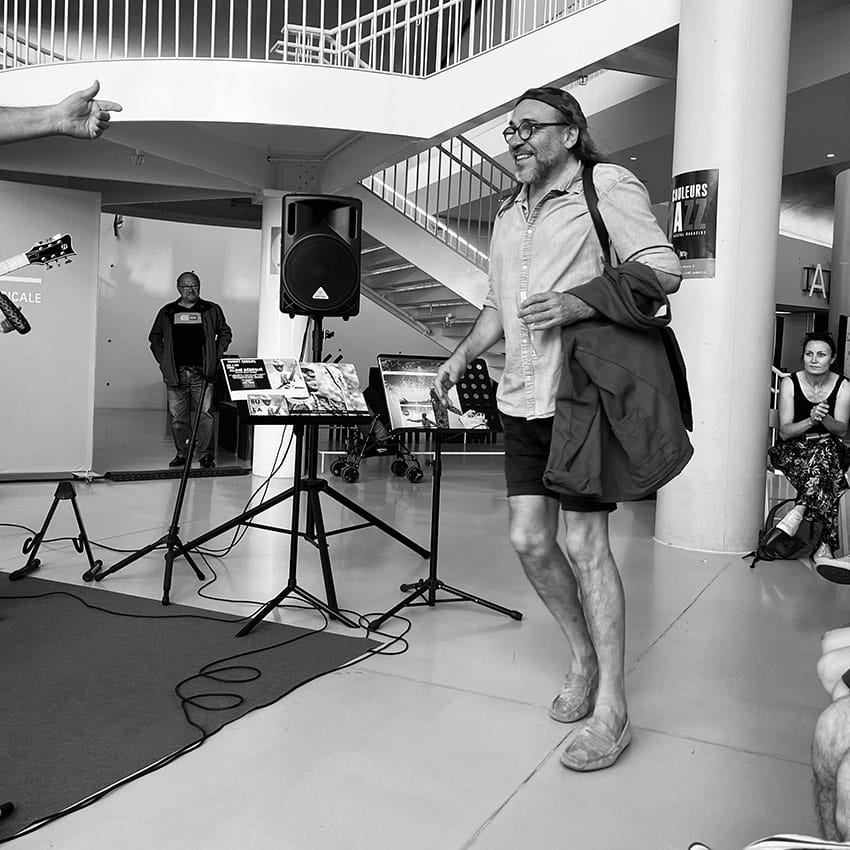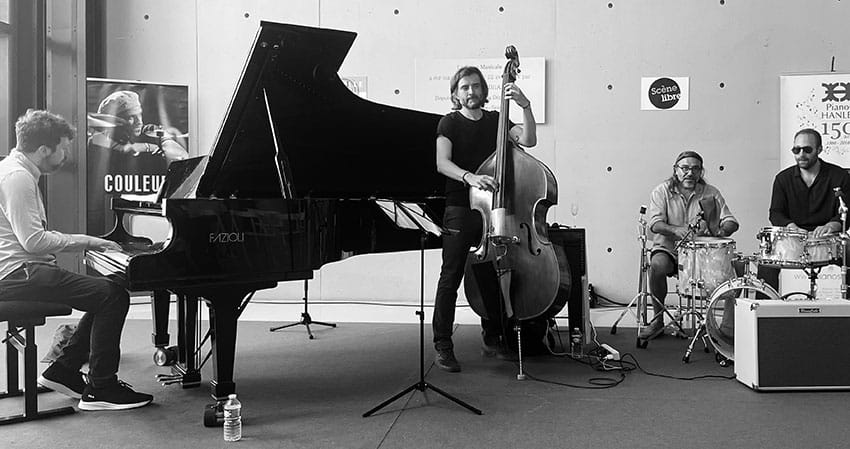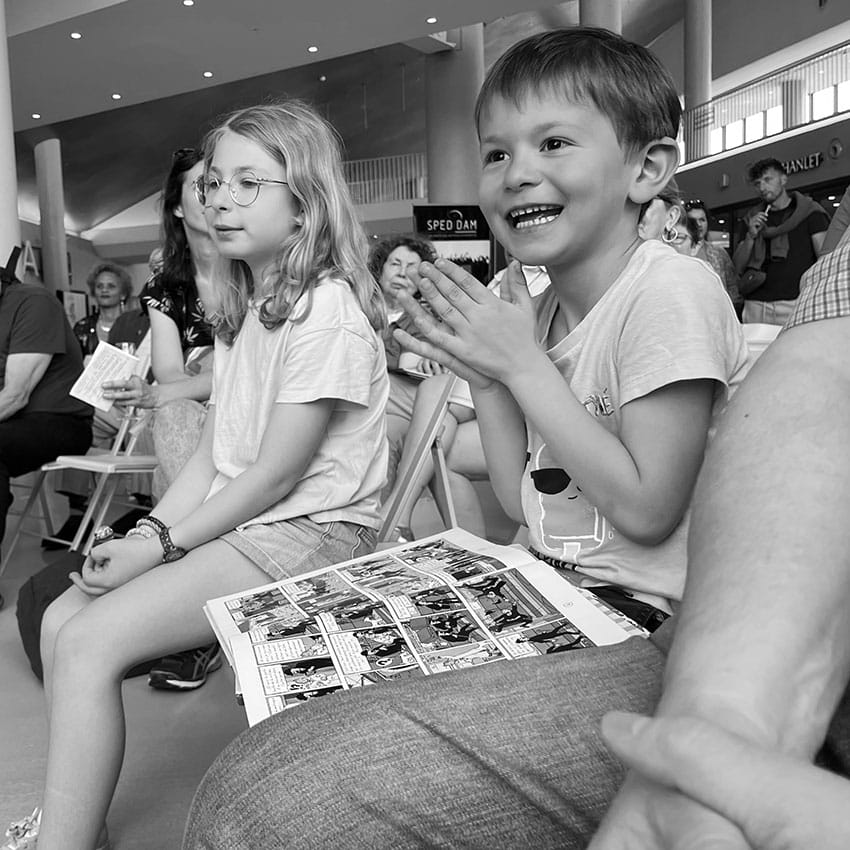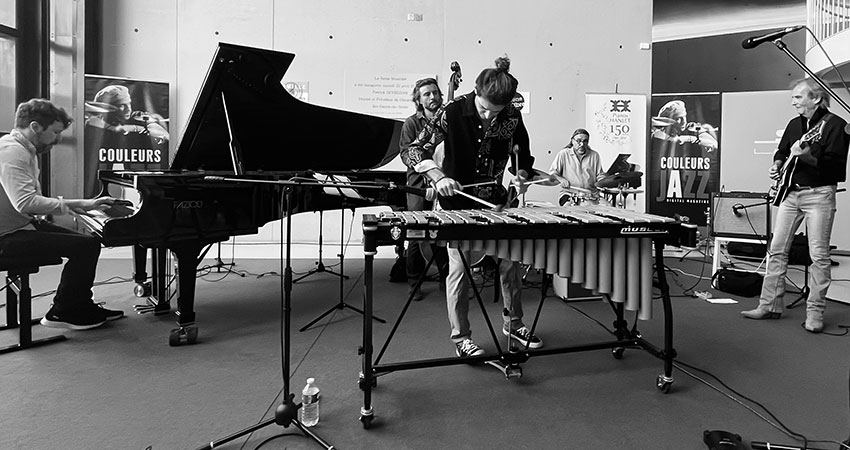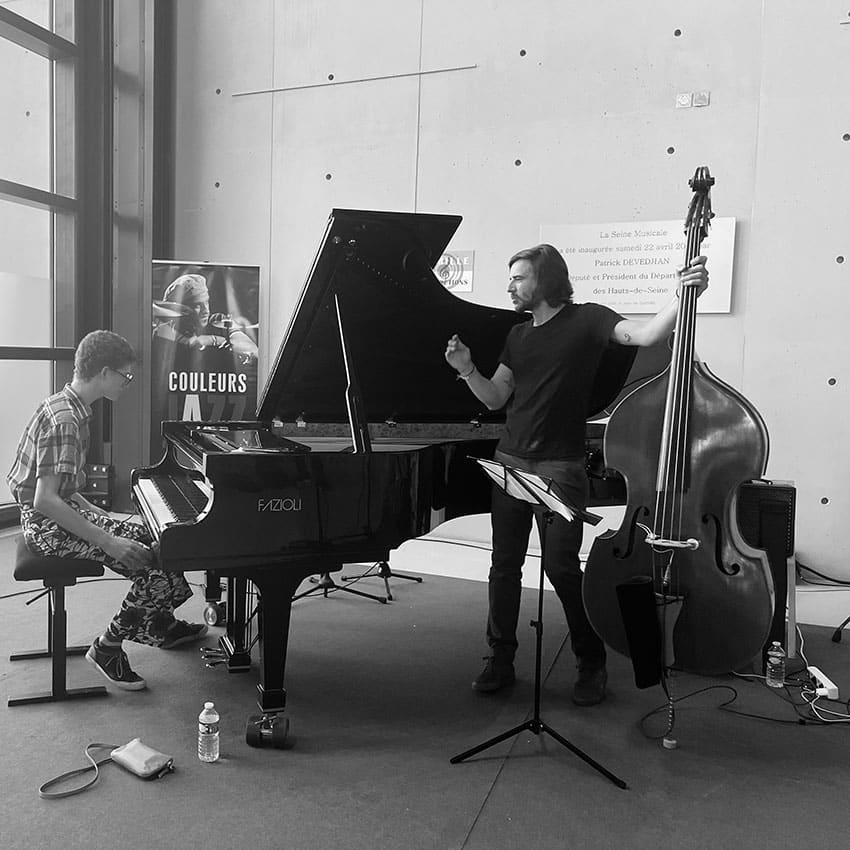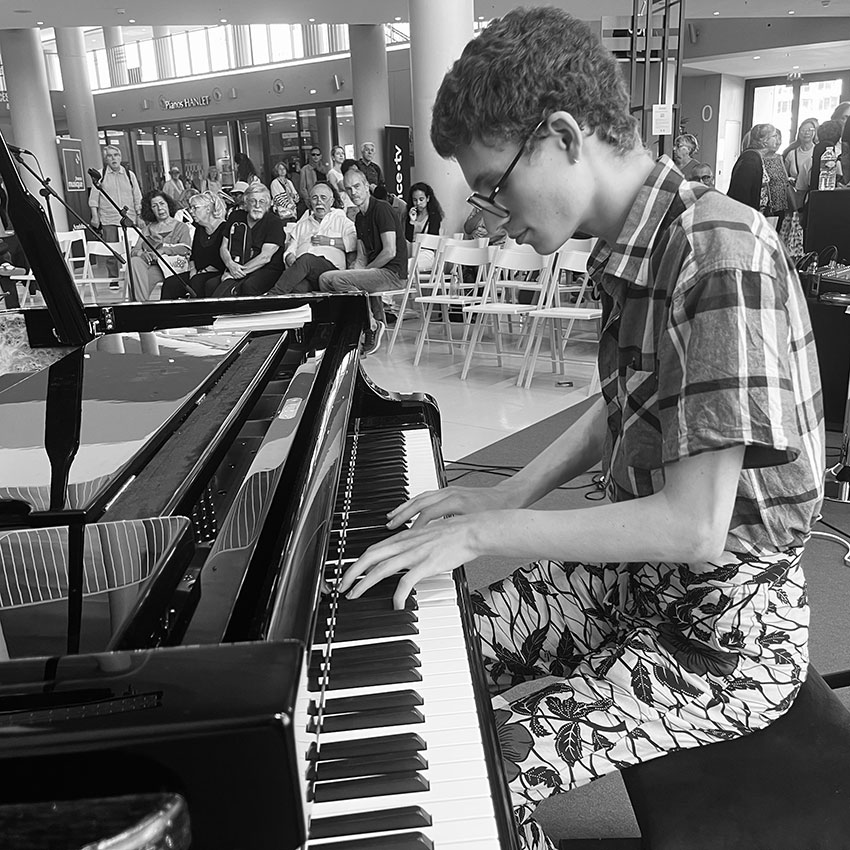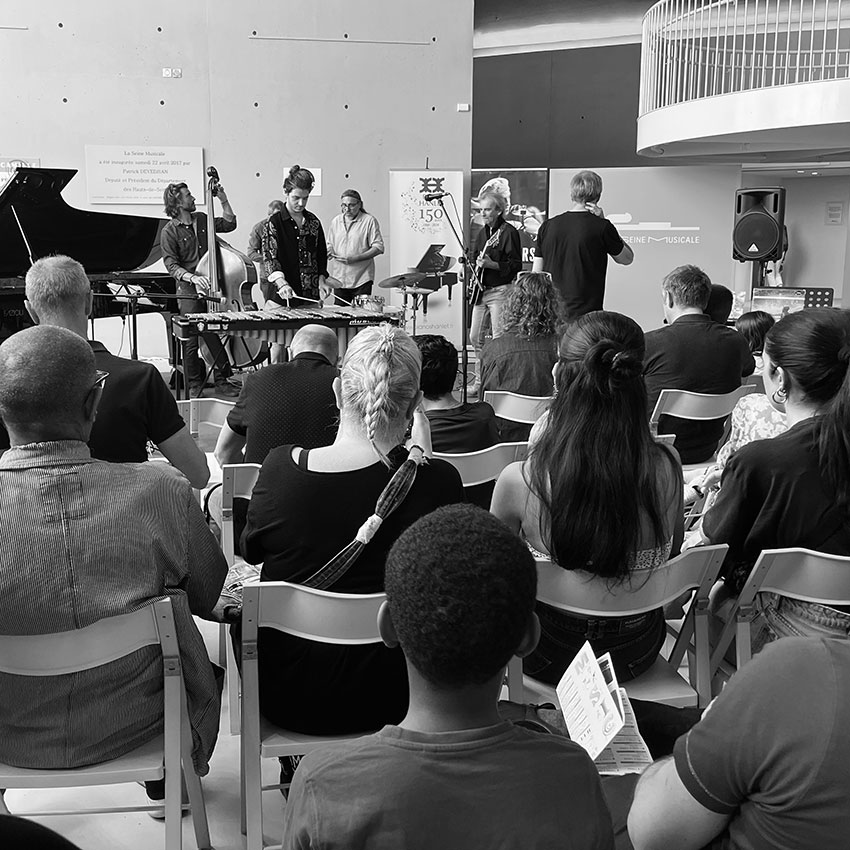 A huge thank you to the Zebrajazz and Couleurs Jazz teams for their support and loyalty! Didier, Roland, Ben, Thomas, Jean-Christophe… to the Network… and to all our supporters, especially the musicians! 
… And to all the Musicora staff who put their trust in us 🙂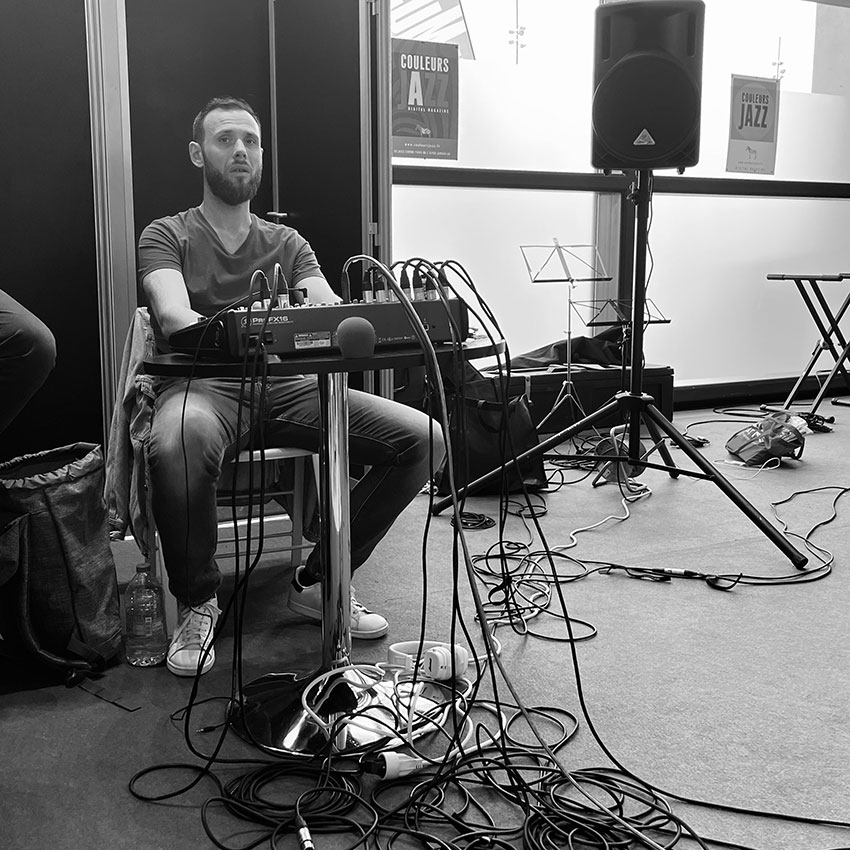 Another superb edition! See you soon!
Translated with the help of DeepL
Photos ©Gaby Sanchez pour Couleurs Jazz