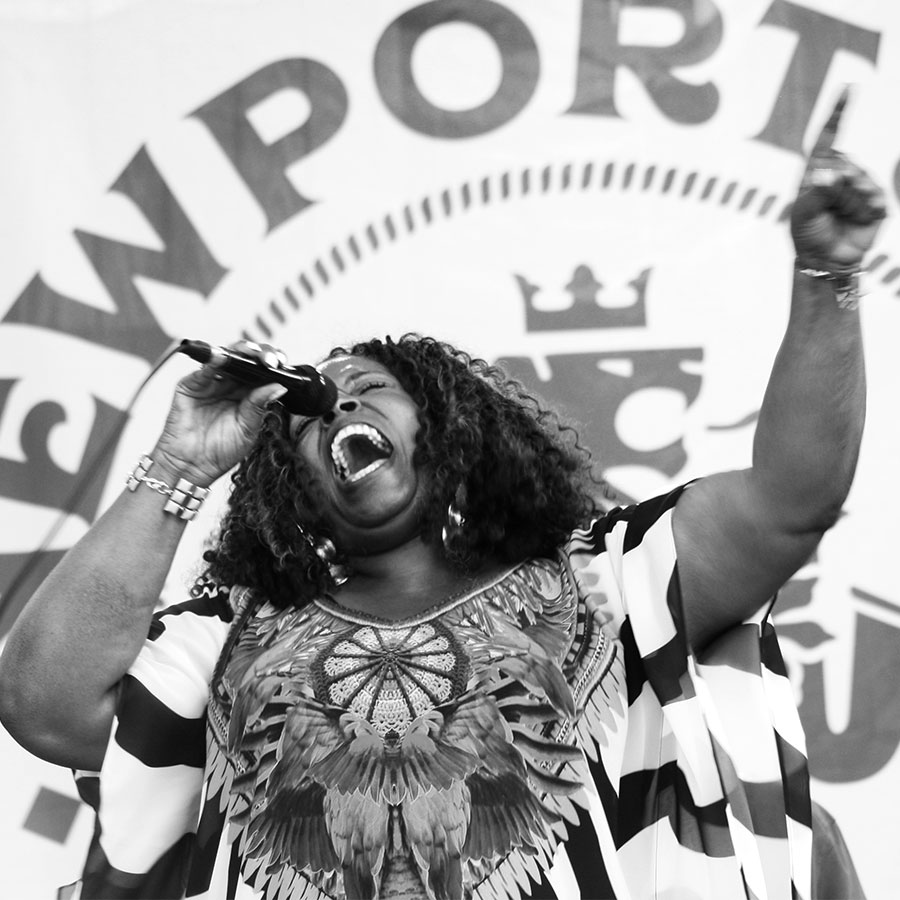 Newport, Rhode Island – It was hard to tell which radiated with more brilliance at the 65th annual Newport Jazz Festival: The early August sun or the stars that performed on the four stages around Fort Adams State Park.
Without a doubt, illumination was all around the 22,800 festival attendees where nearly 60 acts brought together by Artistic Director Christian McBride contributed to a remarkable three-day event that celebrated music from around the globe and reached back into jazz's the past, celebrated its present and hinted at its potential future.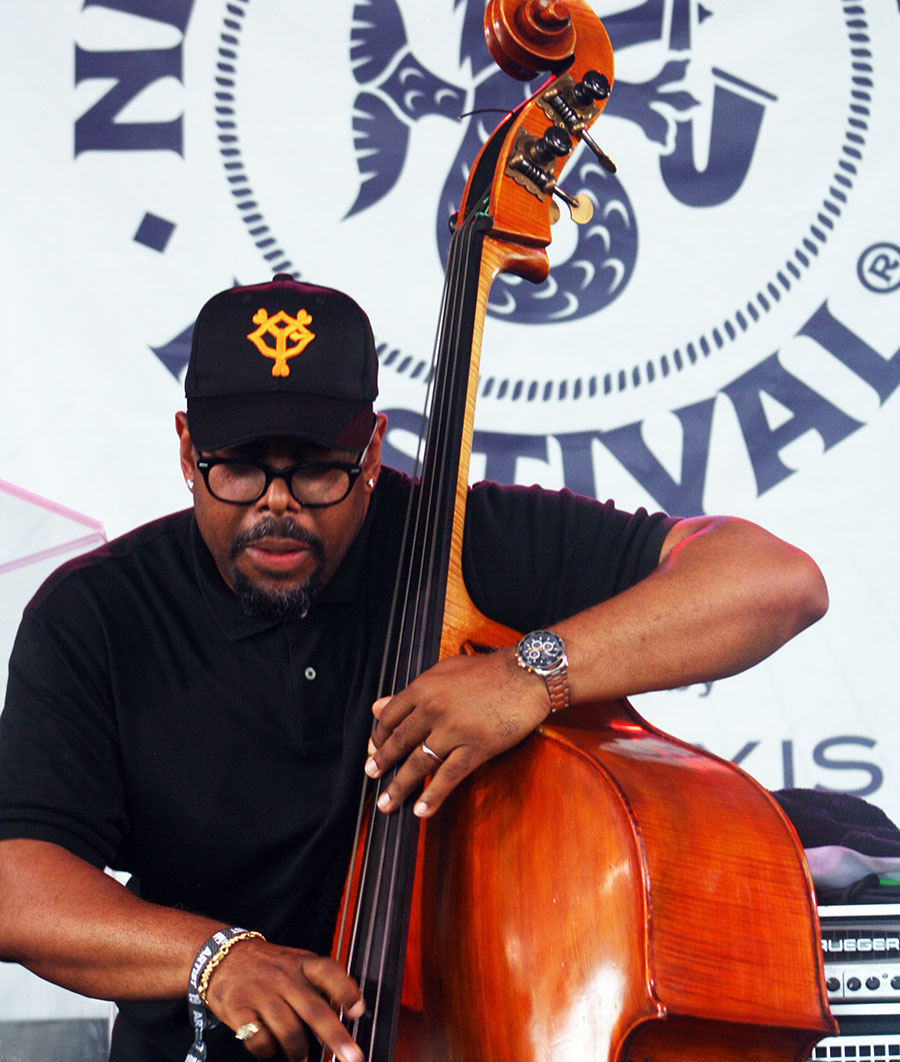 Herbie Hancock
As headliners go, the festival couldn't do much better than to feature Herbie Hancock. As McBride said when introducing Hancock, his influence on the genre is enormous: "He's the reason we're all here." Hancock closed the first day of the festival with a driving band that included Hancock on synthesizer and piano, James Genus on bass, Lionel Loueke on guitar and vocals, Terrace Martin on keyboards and sax, and the teeth rattling drums of Vinnie Colaiuta. Hancock delivered the goods reaching back into his Headhunter days with Chameleon and other classic tunes that demonstrated the vibrancy his earlier music still has nearly 50 years since its first release.
And how do you top Herbie Hancock as a headliner to close the first day of the festival? Well, have him back to play on day two with a "triumvirate" including drummer Colaiuta and McBride himself on bass. The chemistry, artistry and pure joy were apparent as Hancock called the first tune: Wayne Shorter's Footprints. "For any aspiring jazz musician this song is a must to know [… ] And Wayne Shorter happens to be one of my best friends."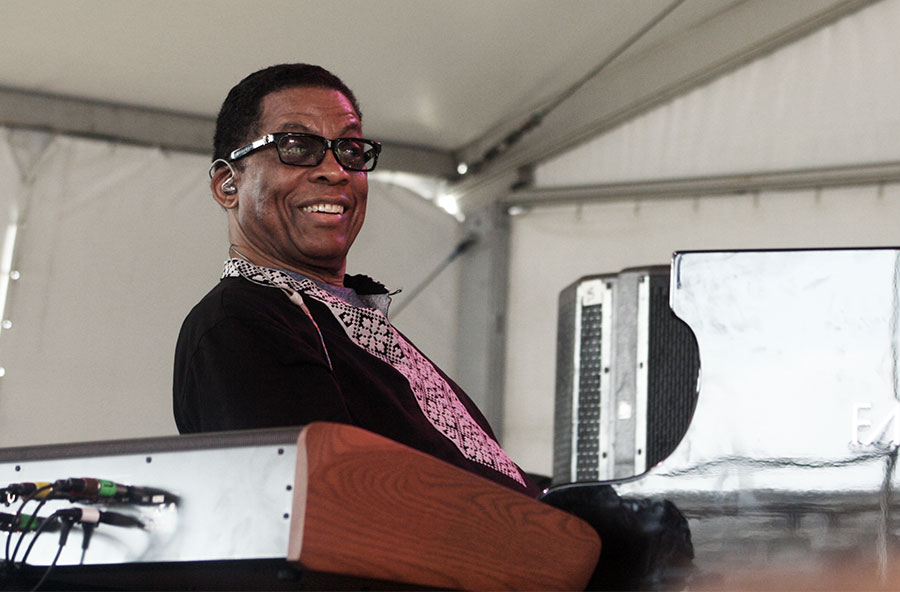 Hancock can't lay claims to be the father of jazz, but he may be able to lay claims to being its son or spirit. As he played and basked in the performances of his fellow musicians at Newport, one couldn't help but to think of how he contrasted with his mentor Miles Davis. Miles' presence on stage was brooding, dark and menacing. He often played with his back to the audience. His direction to fellow band mates sparse and cryptic ("Don't play the butter notes," he once told to Hancock). Davis released an album Miles Smiles, but he seldom did. Hancock at Newport, however, possessed a wide gleeful smile or affected a wince of pleasure at hearing what McBride or Colaiuta threw down. Hancock, now 70-years old, clearly enjoys rediscovering the music he loves on stage and seeing what new things it can still teach him with the musicians he enjoys playing with.
The Triumph of the Tried & True
While McBride did an excellent job of bringing emerging and current popular jazz performers to the festival, the 65thannual Newport Jazz Festival showed that the forebears of the genre continue to have a lot to offer. Ron Carter, Sun Ra Arkestra, Ravi Coltrane, Spanish Harlem Orchestra, and Ralph Peterson and the Messenger Legacy all brought jazz's lasting imprint and ever-evolving potency to the festival.
Sun Ra Arkestra: "Space is the Place"
Opening the festival on the Fort Stage on Friday, Sun Ra Arkestra seemed to blow in from an alternate universe. The music draws much from familiar classic jazz riffs and rhythms and then integrates it with electronic and far out sounds. Dressed in ethnic robes, the band recalls the ancient and evokes the futuristic. Marshall Allen, 95-years old, played the alto saxophone and an electronic valve instrument, a synthesizer, which could have been plucked from the soundtrack of a science fiction movie.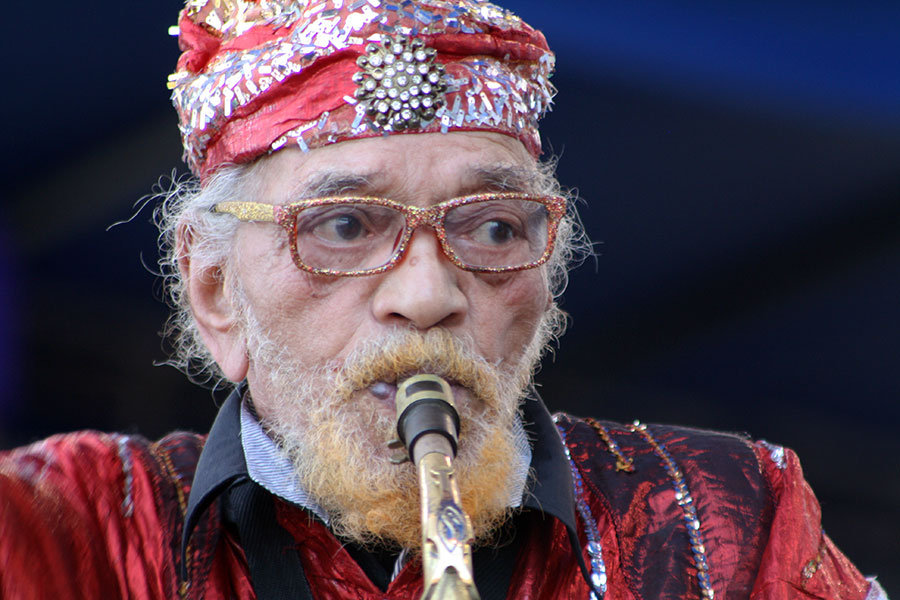 Sun Ra Arkestra offers a timeless otherworldly vision of jazz—the one that is forever searching for a new horizon and experimenting with what could be. As Allen sang "There is no limit to the things that I can do."
Ralph Peterson & The Messenger Legacy
As McBride announced Ralph Peterson and The Messenger Legacy, he acknowledged the pedigree. "No one swung like Art Blakey," he said. Drummer Ralph Peterson and many in the Messenger legacy band had the pleasure of playing with Blakey, who has become more of a revered icon than a mere band leader that gained popularity more than half a century ago.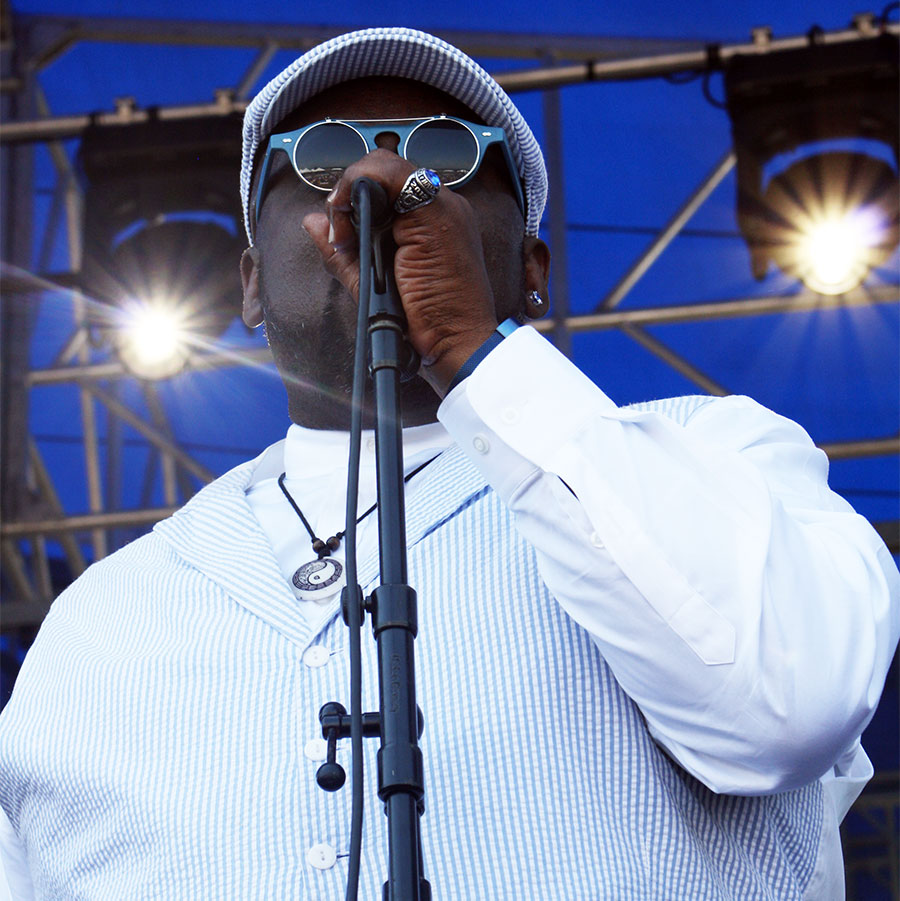 And even though pianist Geoffrey Keezer was born after Blakey's passing in 1990, the Newport performance underscored that this music would never be a forgotten artifact as long as there are musicians and audiences with red blood flowing through their veins and a desire to find that cool, cool groove.
Women Singers Offer Soul, Sacredness, Synchronicity
While many music festivals are striving to find a balance between male and female performers, McBride doesn't seem to have that issue. At Newport, women's contributions as leaders, influencers and performers were showcased.  These women celebrated life's beauty and reminded festival goers that the power of love and hope (and music) can cure the current political and social ills facing the US and the world today.
Dee Dee Bridgewater's Festival Debut
As her band The Memphis Soulphony secured a beachhead with the groove-heavy "Soul Finger," Dee Dee Bridgewater hit the Fort Stage with all the sexual energy, power and dignity of a "Godmother of Soul." For her Newport Festival debut, she showcased the songs she heard on her transistor radio growing up; the songs that shaped her youth and provided a soundtrack to her life. She delivered on such classics as "Going Down Slow," "Can't Get Next to You Babe," "Why (I'm Treated So Bad?)," and "Are you Ready."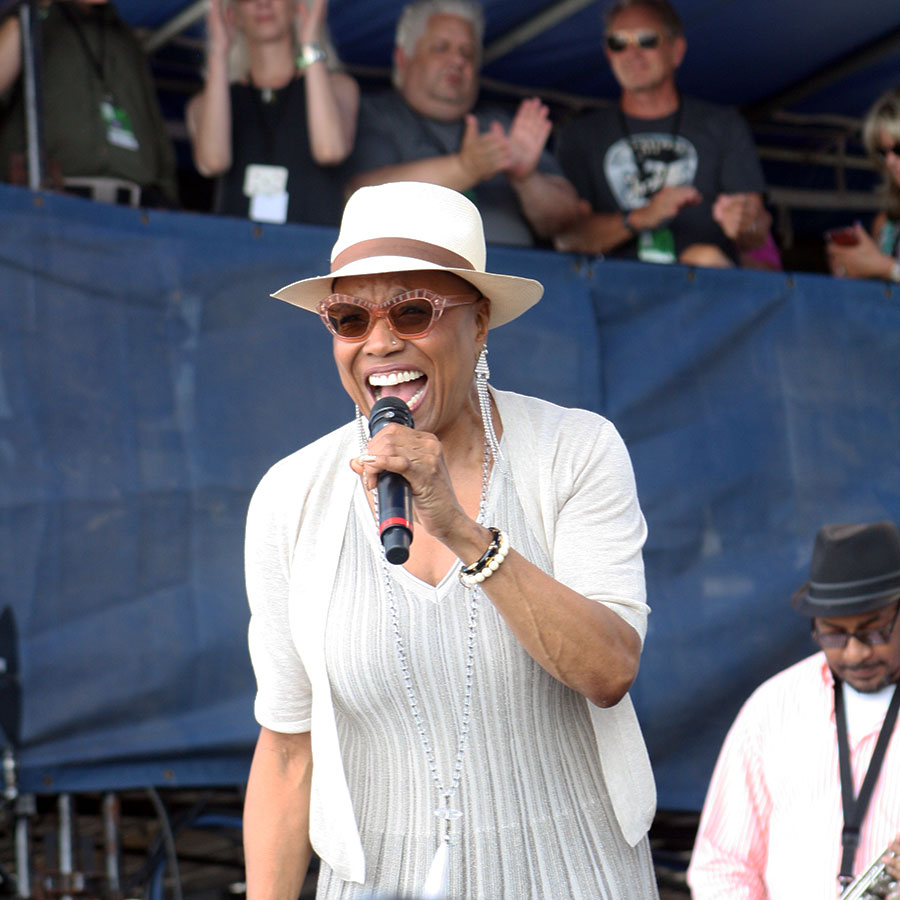 Her performance had the ability to change your heartbeat and raise your blood pressure. Her monologues made you think about social injustice and the injustice of love. By the end of her set she didn't need to play any aces, but instead laid down two kings: "Don't Be Cruel," usually attributed to the King of Rock n Roll Elvis Presley and BB King's "Thrill is Gone" ("BB is my king," Bridgewater stated). For Bridgewater and her fans the thrills still lie ahead.
Buika
Buika's voice possesses the ability to wrench passionate, tortured phrases that would be the envy of any Spanish flamenco or Portuguese fado singer. Far from being sad, her music is uplifting. Supported by a young, talented, all-female band that included Yoon Mi Choi on keyboards, Porcia Angelina on bass, Nicole Glover on sax and Yissy Garcia on drums. Buika embraces world music infused with Afro-Latino beats and traditional jazz influences.
It was the first time the band was playing Newport and while they professed nervousness, no signs were on display visibly or audibly. Instead the band moved with agility through Buika's set. Buika's music takes you up river to where love first springs and back down river to where hearts drown. Her performance was sublime. Her delivery expresses submission to love's pain but never being its slave. "Let's talk about lies," she stated before sweeping the crowd away with her passion and mastery of heartache once again.
Kandace Springs
Kandace Springs's voice is as smooth as a kitten's chin.
With the ability to whisper and purr lyrics, she's the kind of singer that can make clearing her throat sound musical. A double threat, Springs is also an adept pianist influenced as much by Oscar Peterson and Bill Evans as she is by Sade, Billie Holiday and Ella Fitzgerald. Her fingers jump around the piano keys with the prowess of a panther playing with its prey.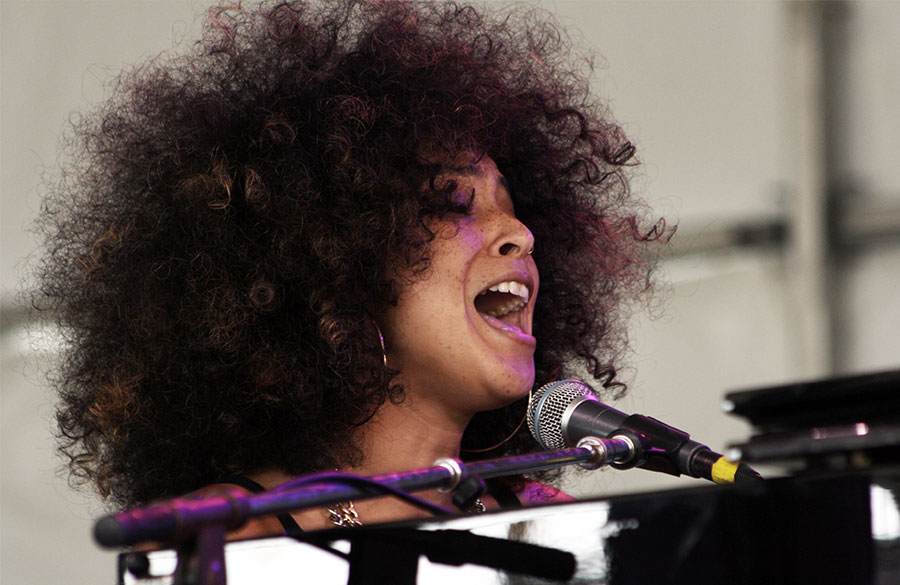 For a young musician, Springs has the maturity to wrap a song around her finger and bend it to her will. Supporting Springs on the Quad stage was Chris Gaskell on bass, Connor Parks on drums and Elena Pinderhughes on flute. (Pinderhughes also joined Hancock on stage to close the first day of the festival).
Dianne Reeves
The old saying "those who sing well pray twice" could be used to describe Dianne Reeves. When Reeves delivers a song she digs down deep. She sings with her whole body. She sings with her whole heart and the entirety of her soul. She reaches out and pulls you inside the sweet warmth of her voice and the glow of her being. Her band consisting of Peter Martin on piano, Romero Lubambo on guitar, Reginald Veal on bass and Terreon Gully on drums supplied a magic carpet on which Reeves's vocals rode.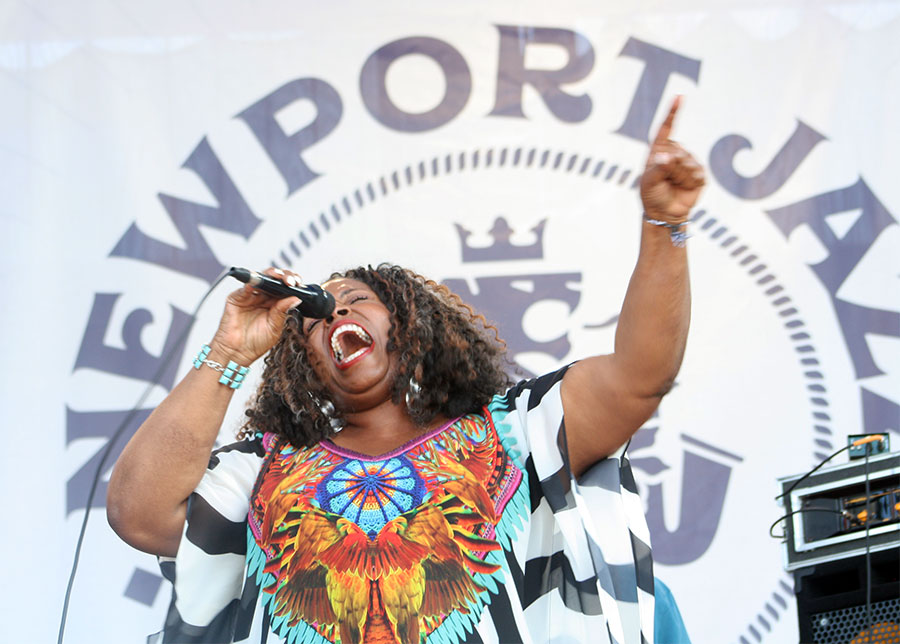 Her reworking of Fleetwood Mac's "Dreams," for example, provided ample room for her and her band to explore rich textures and rhythms for her Newport opening number. Reeves' vocal calisthenics hark back to African mystic sounds and to be honest, no one really does it better. There is a grace about Reeves' presence. She calls us to the light with love and urges us forward. She is a grand dame of the jazz sisterhood and during her set sang her pleasure at being able to experience the beautiful performances of Dee Dee Bridgewater and Buika, who took the stage earlier in the day.
Corrine Bailey Rae
Relax jazz purists. Corrine Bailey Rae wasn't there to rain on your parade. Her jazz-infused pop and enthusiastic performance was infectious and as bright as her smile. She was just what a sun-soaked summer day by the water ordered. Bailey Rae sang and played guitar with her backing band of  John McCallum on guitar and Myke Wilson on drums, Steve Brown tripling on piano, bass synthesizer and backing vocals were tight, bright and on a point. By the end of her set, the audience was singing along and basking in the light emanating from the stage.
Newer Guard Makes Presence Felt
Some of the most powerful performances of the weekend came from a newer guard of jazz impresarios and like Kamasi Washington, Thundercat, Tia Fuller, The Bad Plus, Ghost Note and Mwenso & The Shakes. These musicians brought energy, commitment and a new creativity proving that jazz is ever improving, ever evolving, and an art form that moves forward with intellectual and physical force.
Feel the Magic. Hear the Roar. Thundercat is Loose.
McBride took off his art director hat for a moment and put on his bassist hat when he announced Thundercat (aka Stephen Bruner) to the Fort Stage. "I have to admit. I have mixed feelings about this next act," McBride told a chuckling audience already in on the joke. Then Thundercat with his six-string bass in hand took a stance behind the microphone. "Are you ready to jump right in?" Thundercat then attacked the strings of his bass and banged his head while his band consisting of Dennis Hamm on keyboards and Justin Brown on drums kept pace and drove on his frenetic, awe-inspiring performance.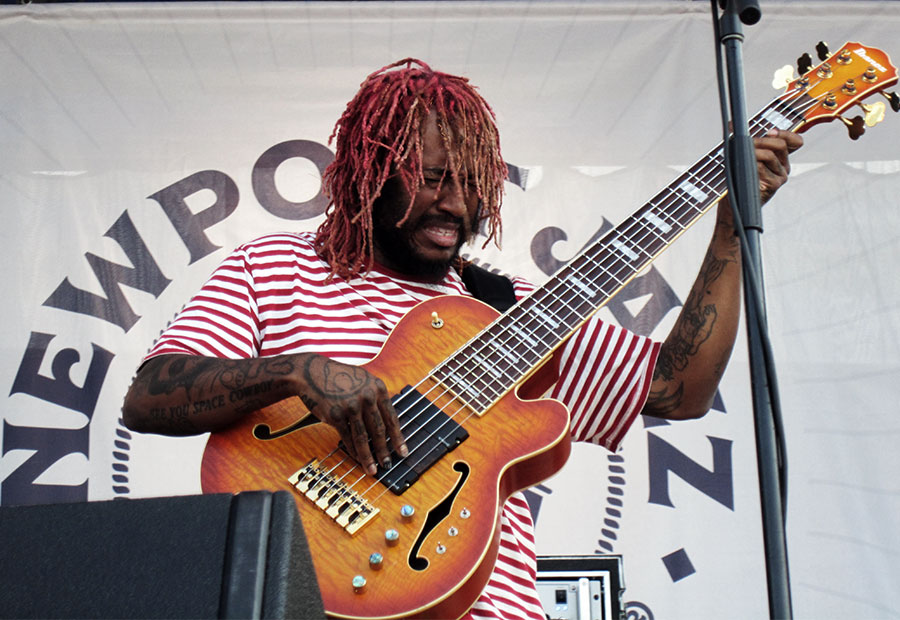 Thundercat drew a younger and enthusiastic crowd comfortable with the world of video games, electronic sounds, and progressive fusion. Thundercat's bass at times employed a badass, funky-whah sound that stood in contrast to his sweet falsetto voice and melodic lyrics. Thundercat harnesses an enormous amount of sound and energy. At times his playing explodes with tremendous fretboard acrobatics accentuated by Brown's dimension splitting drum fills and supported by Hamm's keyboards.
Thundercat brought it and brought it and brought it.
Kamasi Washington
Kamasi Washington commands a presence.
No stranger to the Fort Adams State Park stage where he closed the second day of the festival, the soft-spoken Washington acknowledged his good fortune at being able to take the stage at Newport and having the ability to travel the world, playing the music he loves with his friends and family. When he brought his father on stage, Ricky Washington (flute and soprano sax), he introduced him as the man who taught him everything he knows about music. Kamasi Washington's first album was a triple disc tour de force and it was Epic in name and epic in scope. He mined it for this opening numbers at Newport this year.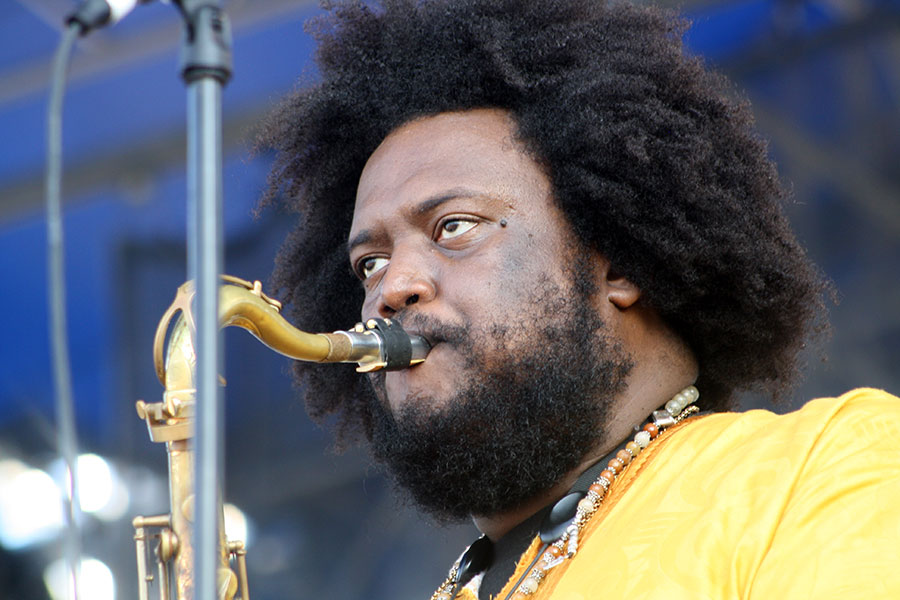 Confident, colossal, cool and controlled, Washington and his band, which consists of Ryan Porter trombone, Brandon Coleman on keyboards, Ronald Bruner Jr on drums, Tony Austin on drums, Miles Mosley on bass, and Patrice Quinn on vocals have a way of projecting their music to the audience while seemingly living deep within the groove of each beat and sound of each note.
The respect and affection they show one another while they trade solos is only matched by the respect they show their audience and the Gods that permit them to travel the path they have chosen together. Washington's second album released last year, Heaven & Earth, continues the arc begun by The Epic. His performance at Newport proves that Washington will be a creative, powerful force in jazz for years to come.
Tia Fuller – Journey of the Diamond
Get ready for Tia Fuller to show you how diamonds are made and just how bright they can sparkle. She plays with clarity and commitment and brought her forceful and melodic style to the Harbor Stage at Newport. Fuller, who was once a member of Beyonce's all-girl band, is an artist who is only beginning to mine the diamonds of her talent.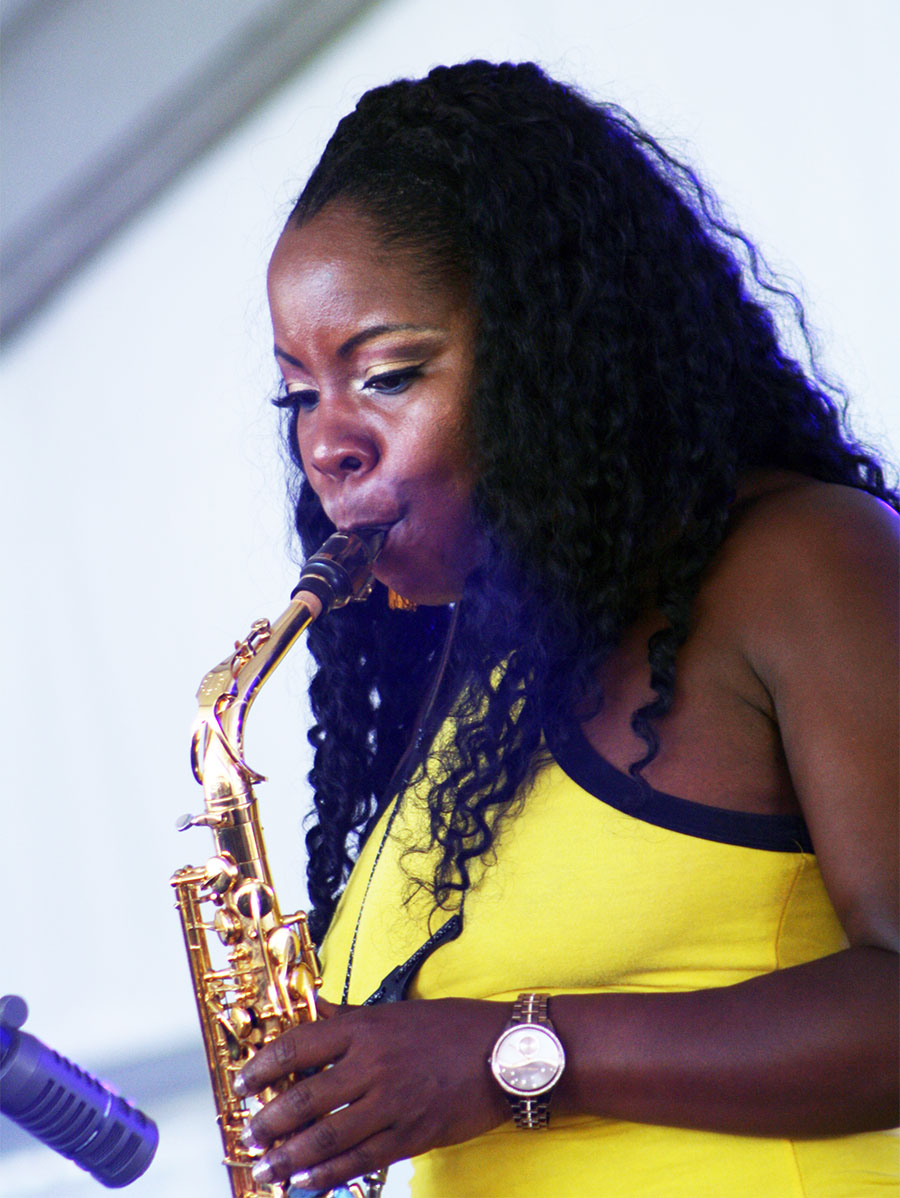 Mwenso & the Shakes
Opening the Quad Stage on the first day of the festival on Friday morning was the high energy, high velocity, and high reaching Mwenso & the Shakes. Drawing from a myriad of influences from the R&B delivery of Sly & the Family Stone to Afro-Latin beats to the complicated, offbeat narratives of Frank Zappa, Michael Mwenso hasn't assembled a band he has created an experience. Mwenso's journey has crossed three-continents and embraced all the music the world has to offer. Born in Free Town, Sierra Leone, Mwenso then moved to London where he found his musical legs. He now calls Harlem his home where the ghosts of local music greats infuse and inform his musical vision. On stage, Mwenso conducts his band through tightly choreographed music and dance numbers that evoke the familiar and venture into unknown sound-scapes. Mwenso & the Shakes can't be put into a box (how many bands have a tap dancer in the line up?) and can't be contained. The underlying vibe of the music is to not only entertain. It is to vibrate the air with fun, positivity, and light. Let the healing begin.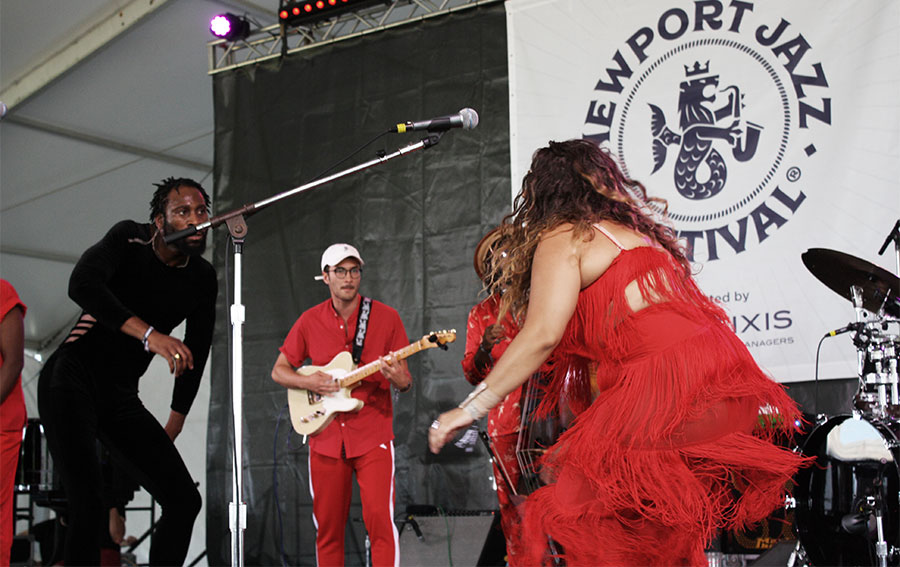 Mwenso and the Shakes are Mwenso on vocals, Kyle Poole on drums, Russell Hall on bass, Mathis Picard on piano and keyboards, Gabe Schnider on guitar, Julian Lee and Ruben Fox on tenor sax, Michela Marino Lerman on vocals and tap dance, and Vuyo Sotashe on vocals.
The review of the 65thNewport Jazz Festival represents the first two-days of the event and only captures the musicians the author had the privilege to see perform. The Newport Jazz Festival takes place every year during the first weekend of August. For jazz musicians and enthusiasts around the world, it is a premier event on the jazz festival calendar. For more information please go to www.newportjazz.org.
All Photos ©Thomas Marsh