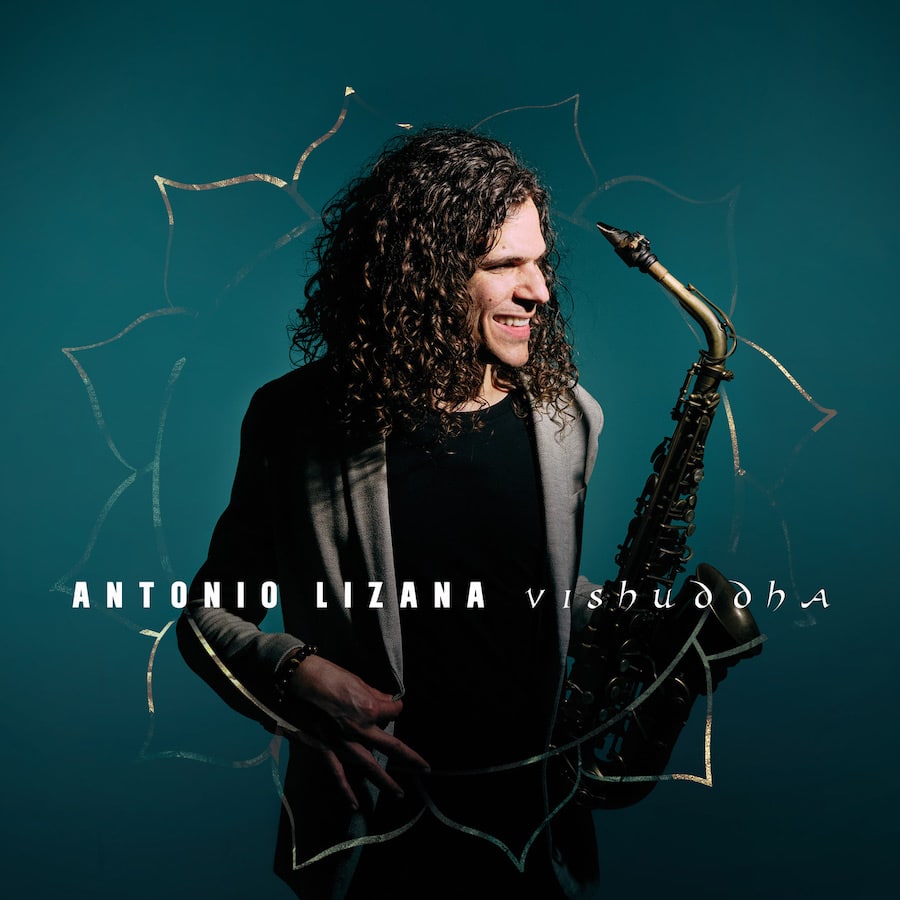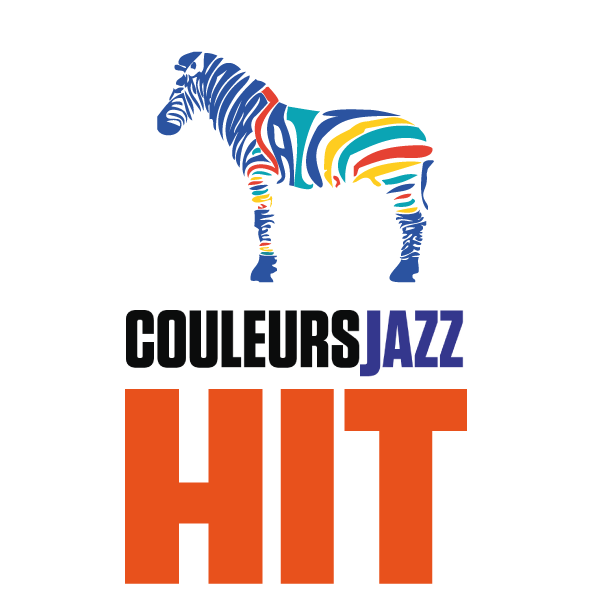 Vishuddha, the new album and Antonio Lizana, the author, saxophonist-composer and singer, defy description, so much so that they astonish us with their modernity, as much as with their fusion of two powerful musical traditions, jazz and flamenco.
In this album, we find improvisation, creativity, dance, songs, the soul of Andalusian Flamenco, but also Jazz, through the subtle interplay of saxophone and piano, supported by a high-level rhythm section. The fragrances of Andalusia and those of Brooklyn or New Orleans mingle, fuse and then detach themselves to take us on board.
Each time, the audience during the performances (I've already been lucky enough to attend 3 concerts by this group) is first dumbfounded, then captivated, and finally unanimous in saying that we've rarely seen a show like this, because it's not just a concert, thanks to the dancing, among others, of El Mawi de Cadiz.
This album is the opposite of a marketing product; it's a creation that comes from a deep creative desire. Its excellent reception, both from the public and the press in general, is obviously due to the sincerity of the message, as we can see in the exclusive interview with Antonio Lizana, but also to the virtuosity of the musicians, in particular the excellent Daniel Garcia on piano, who has also been mixing jazz and flamenco in his own projects for several years. For Vishuddha, he and Antonio Lizana could only understand each other.
On rhythm, we also discovered two magicians from another planet (actually Iran), Arin Keshishi on bass and Shayan Fathi on drums.
It's this quintet that keeps on touring, scouring the jazz festivals and clubs of major cities in France and elsewhere (see, for example, the report by our photographer Philippe Colliot.
The album also features a number of guests, not the least of whom add their colors:
Montse Cortés : voice (03)
Sheila Blanco : voice (07)
Louis Winsberg : electric guitar (02)
Ana Salazar : chors (01, 02, 03, 05, 06, 08), taconeo (6)
José Manuel León : flamenco guitar (03, 06)
Cepillo : palmas (01, 03, 06)
Miron Rafajlovic : trumpet (01)
Pablo Martínez : trombone (01)
Juan Carlos Aracil : transverse flute (01)
Ruven Ruppik : percussions (02, 08)
ITV Antonio Lizana
 (October 11 2023, in Couleurs Jazz Radio, office, Paris X)
Couleurs Jazz: First, dear Antonio Lizana, buenas dias or buenas tardes. We just heard before our conversation started, The first tune of your new album :.
Listening to the 1st tune of your just released album Vishuddha, the piece called Camino. 

We are clearly, because of the Hands clapping,  las palmas ! and the voices into the Flamenco traditions and you singing,  and then comes your saxophone phrases which makes us travel direct to the Jazz lands and countries. So the fascinating in your music I believe  is the mix of Jazz and flamenco. A jazz and flamenco fusion, What do you think about this?
Antonio Lizana : Yes, the result can be classified like this, but for me, how I experience it, jazz is the music that comes naturally through me, while Flamenco is my roots, it is where I come from. I am a jazz musician because of my studies, so when I try to play jazz, it comes with Flamenco rythms, with flamenco melodies and when I think, this could be a beautiful song we could say that this is jazz played with flamenco elements.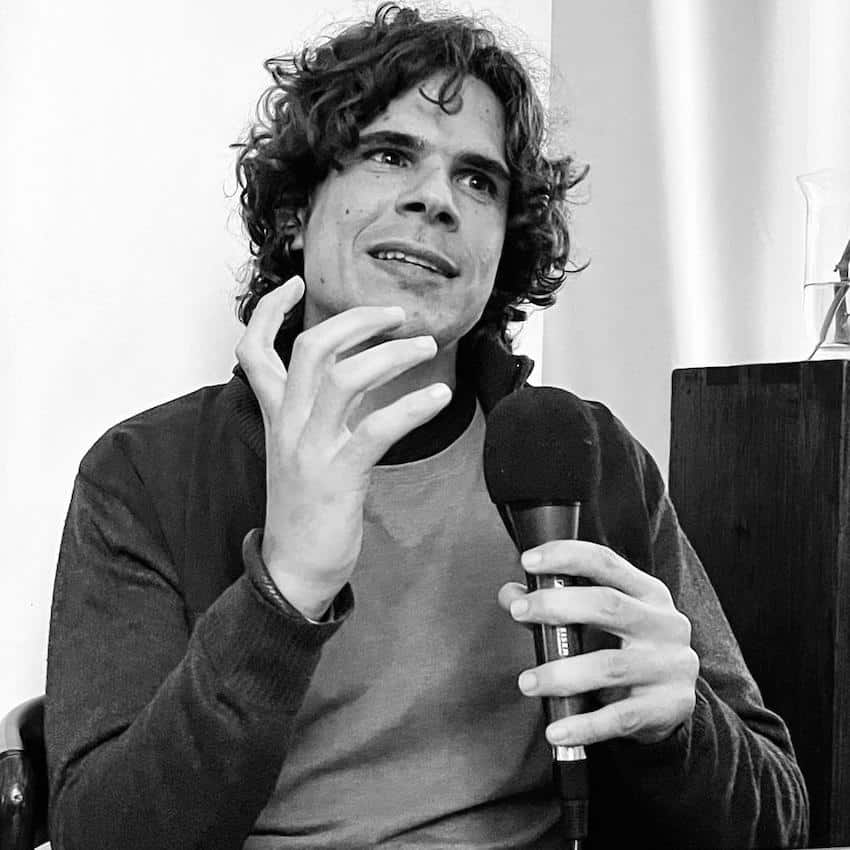 But in your music it is not just an effect, a try to put a flamenco flavour into jazz… Can you explain how it fits so well together ?
Yes, certainly because we are not trying from our mind to do a mix of jazz and flamenco. There are melodies with flamenco roots, that comes naturally.
So it comes from your guts, or your brain, or your heart?
It comes from my guts ! And the first filter is the heart, to make it finer and then comes the arrangements to make it sound better and when the solo comes, it becomes more abstract and more creative. But when I am composing, I do not want to lose the smell, the landscapes of my place. So I am always aware of keeping my feelings. I play Jazz, but I want to show where I come from.
What came first in your music, flamenco or jazz?
When I was a child, I started listening all sorts of musics because my father had a huge collection of musics, but my environment was 100% Flamenco : Paco de Lucia, Camaron de la Isla, who is a flamenco singer heroe… I am from the same town. (San Fernando, in Cadix, south of Spain.
Let's talk about another aspect. The Title of the album Vishuddha, surprised me. Where does it come from?
Vishuddha inspired me because it is the 5th shakra who is located in the throat. It relates to bringing out you own voice. So after having done several albums in collaboration with other people in different styles, I wanted to create this album with the sound of the music which is inside me with no much influence from outside, without the thoughts that I have. It gave me the strength to connect with that. This album has to be honest with what I am, with no fear.
But nothing to see with Indian music even if it is such a rich music… Is that right ? … And where does this title, Vishuddha come from?
I adore Indian music of course. The Vishuddha shakra inspired me.
It is my fifth album, we play in quintet and vishudha is the fifth shakra. Number 5 (The quintet)? is the meaning…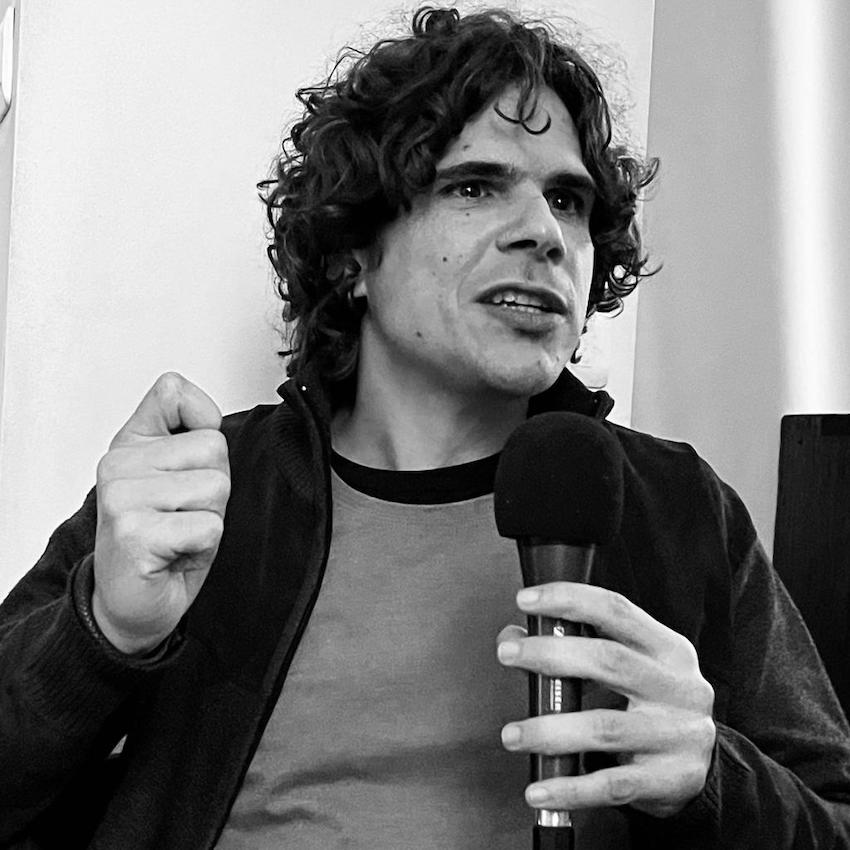 So how do you manage to put together these two strong cultures : Flamenco and Jazz ?
Personally I love both. In Flamenco you have Palos, we have dozens of different rythms we can do with the hands. Different Palos. For example I want to use a Buleria rhythm. Then I look what kind of melody can fit on that, And when I a m satisfied I look for some traditional Buleria songs. And sometimes, when I see that I never composed a dong on 11 rhythm, then I try to do that : putting flamenco lyrics on this rhythm which does not belong to flamenco tradition.  playing the saxophone on top of this rhythm for instance.
Sure, It is completely a game! Sometimes people come to me and are amazed because I seem happy doing that. I can assure you that I am the one having the more fun.
True ! We can feel that while listening to you. It is deep sometimes but we feel that you are really enjoying and you communicate that feelings to the people.
Yes, Flamenco has this strong energy. We can be in a deep moment.
Yes exactly. Flamenco has its own blues and suddenly you can bring without any shame a flow of happiness.
Sometimes in an intellectual environment it is curious to bring happiness. Intellectuals do not like happy songs generally, no?
But with flamenco you can use these two opposite energies without complex…
(And Antonio begins to sing a flamenco that starts out deep, a blues-like lament, then suddenly transforms into a joyful, optimistic song full of hope.).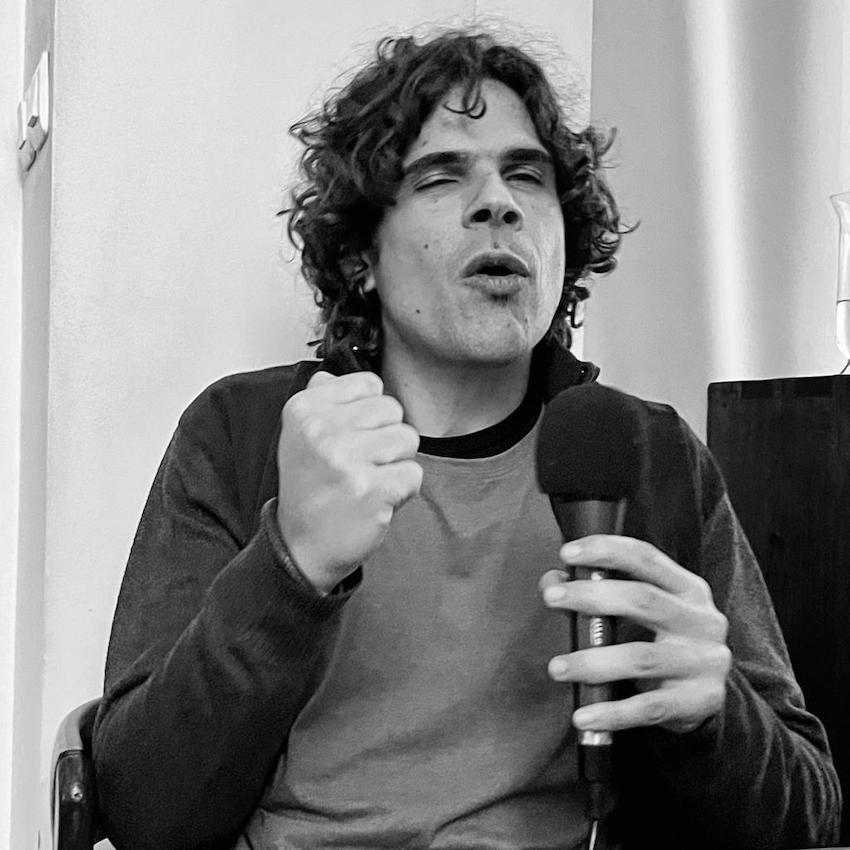 So I really like your kind of fusion.  But Flamenco does not need jazz to be great and Jazz does not need Flamenco… What do you think ?
 Yes this is true but let me tell you how it worked for me. I wanted to study jazz in a Jazz  school. After a certain point, if you want to be a jazz musician, you have to compose. Certain jazz melodies that you compose and then, improvised solos have to come. So I was trying to do that, according to the jazz traditions.  But for me it was like a limitation. All my compositions finally sounded like flamenco, or a Spanish melody, you know. I was trying to avoid that…
Yes but I wanted to be a good jazz player! I was really into that.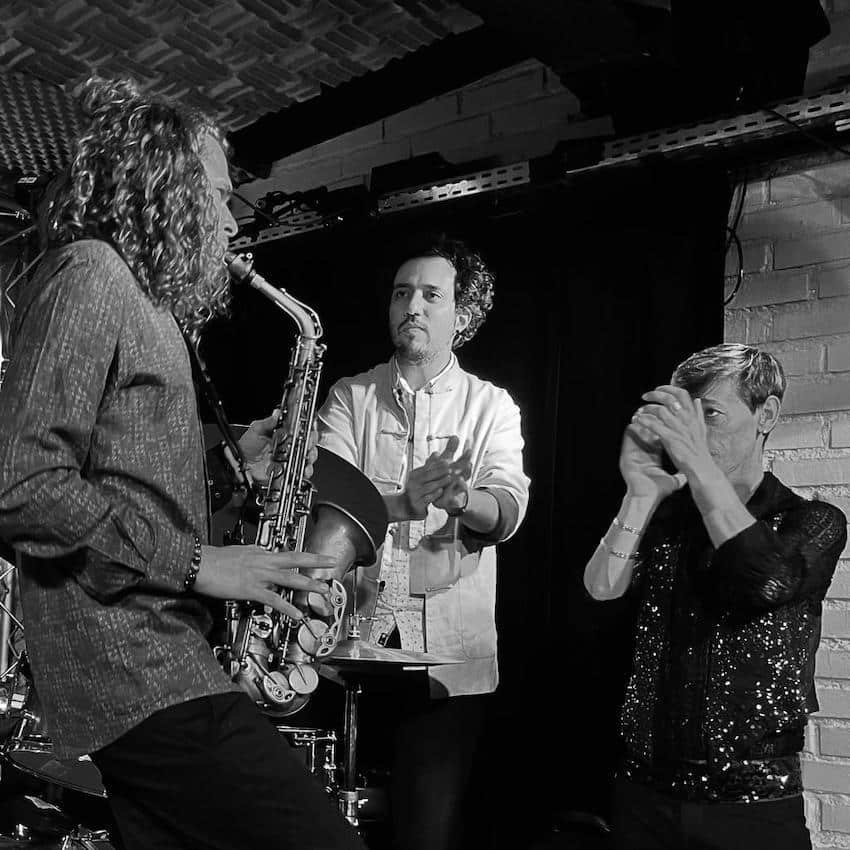 Jazz has this ability to absorb all kind of musics, from everywhere. It is just how you play these melodies that makes it jazz, no?
Yes this is what I learnt later. Not to fight against my nature…
Can you say a word about your fabulous band ?
I have a regular quintet that I tour with, most of the time. It started when I was playing in Madrid. I met them there as they belonged to that jazz scene. I am from the south of Spain and in the band there are two Iranians, two guys from Cadix, included myself, the other one being the dancer. And one from Salamanca, in the Norh of Madrid : Daniel Garcia, our piano player. A fabulous pianist who knows the flamenco traditions. He has like me these two sides : Flamenco and jazz. So Jazz improvisation and flamenco traditions.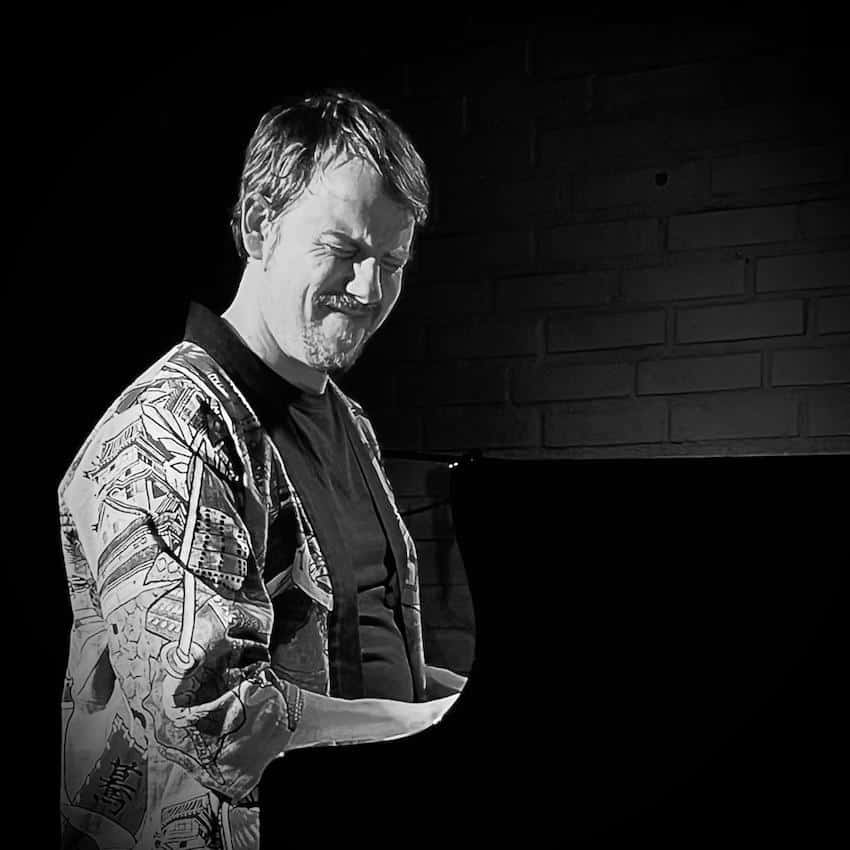 The rythmic with Sahyan Fathi, our drummer, he has been living in Spain for the last ten years now. He came to Spain to study flamenco. He was previously a fusion jazz player.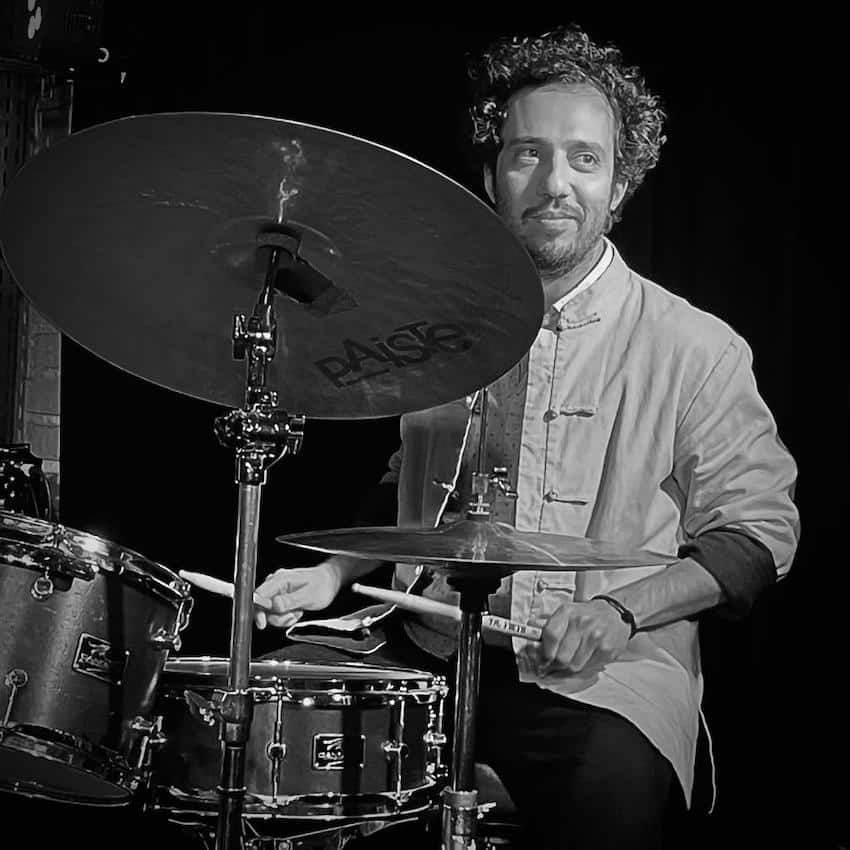 El Mawi besides me, is my real flamenco element. He comes from Cadix like me. We have been always around together, he was singing, dancing… We are really good friends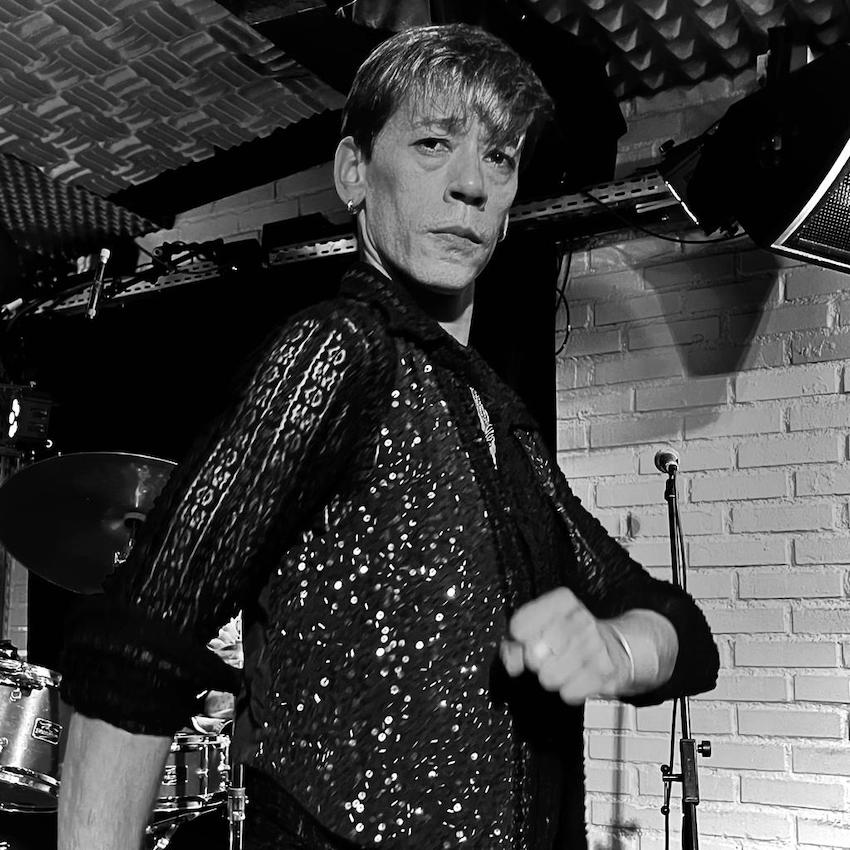 And last, our Bass player, also Iranian, Arin Keshishi.
He is a recommendation from Sahyan, they are a good pair together. They like playing together.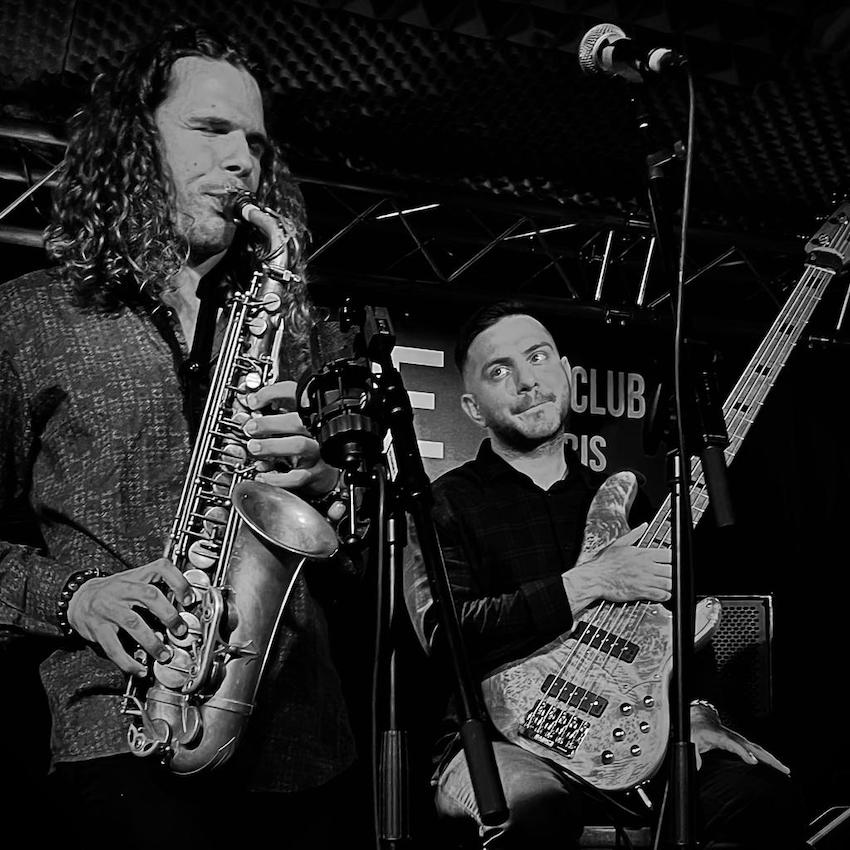 And who are the special guests ? A great list!
First is Luis Winsberg, a great French guitarist. He is so kind and generous. We met him in a concert in south of France. He came to listen to us when we played near his place. Then, when  we decided to record the album, we invited him to come and he accepted it. The second great guitarist, is a flamenco master, Jose Manuel Leon. He is my buddy also, I know him for many years now. He is one of the greatest guitar flamenco player. 
And you have also a wind section ?
Yes, we have Miron Rafajlovic, he comes from Bosnia. All are leaders who have their own projects.
We have Pablo Martinez who is a trombone player. He knows about flamenco eventhough he is not in the singing thing like I am. I always encourage him to sing with us…
On the percussions we have Ruben Robic. A German Flamenco percussionist. He is amazing because he can play Flamenco. But when I tell him we are gonna play this tune in 11, he says just ok, no problem! We have also Sheila Blanco who is a guest on one of the songs. She is an amazing singer! We also have one of the greatest flamenco singer who was with Paco de Lucia, Montse Cortez,  she is also in the album.
Finally you can have whoever you wish, no ?
Well, I don't know but I a lucky to have them all in the project.
As usual, I have to ask you : What is your definition of Jazz ?
My definition of jazz is that it is the contemporary music which defines the best that it is the common language which allows us to communicate all over the world. That is the beauty of jazz. Jazz is the language of the modern music in terms of harmony and rythms. If you understand harmony and if you understand rhythm, then you can talk to anybody. That is the beauty of jazz.
This is what we think too. This is visible in Couleurs Jazz name : to communicate with different cultures all over the world through jazz. 

Great and now a special question for you ! What is your definition of Flamenco?
Flamenco is a way to living your life. It defines how you live. I do not think that you can learn Flamenco through Youtube… I do flamenco in the morning preparing breakfast in the kitchen while clapping with my hands… When I have lunch or dinner with friends, it is a possible way to finishing the meal! We take the guitar and we just sing… or we play percussions on the table… And we start singing, and we start playing again. Flamenco is a way of staying here. 
(And Antonio starts clapping different rythms… And singing.)
Just Fantastic! Thank you for this great moment ! 

Let's ask to

Vincent Thomas

, your manager, what are the next dates of the concerts…
Vincent Thomas: Here are a few dates we have in the future :
30/11 Festival Villanos del Jazz Festival, Madrid (SP)
2024
25/01 Toulon
26/02 Chiclana (SP)
01/02 Festival Au Fil des Voix Festival, Paris
02/02 Scène Nationale de Bourges
07/02 Tournefeuille
08/02 Île d'Oléron
09+10/02 Pau
(Antonio Lizana 5tet + Chano Dominguez)
11/02 Eauze
23/02 Dubai (UAE)
09/03 Murcia (SP)
17/03 Théâtre des franciscains Béziers
05/04 le Thors
06/04 Digne-les-Bains
Thank you so much guys to have come at Couleurs Jazz office. It was a great pleasure for us to welcome you.
Thank you so much too!
All the Best to Couleurs Jazz!
PS : Antonio Lizana also gave us the gift of recording a jingle of his own, which you can listen to regularly on Couleurs Jazz Radio.
Vishuddha was released in October 2023 by the label Cristal Records
©Photos report (Black & White) @ Sunset-Paris, and during the ITV, by Gaby Sanchez for Couleurs Jazz.