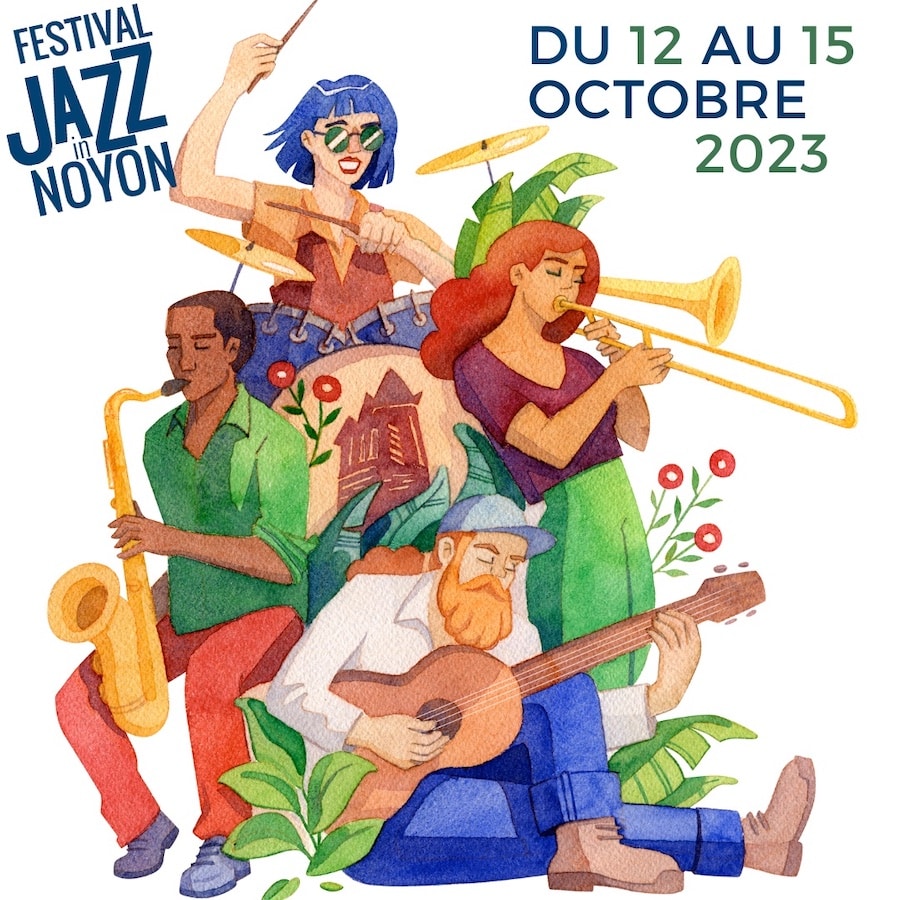 The 3rd edition of this young and brilliant Festival will be held this year in mid-October in the City of Calvin, with a resolutely Jazz program that doesn't give in to the sirens of pop, but respects Jazz in all its Colours.
Couleurs Jazz Media and Couleurs Jazz Radio are proud to be the main media partners of this Noyonnais Indian Summer event.
Here's the program:
Thursday 10/12 à 07:00pm at the  CENTRE CULTUREL
Damian Nueva
A Cuban double bassist and bass player living in Paris, he was born in Cuba into a family of musicians.
He began learning percussion at an early age, before discovering bass at the age of 13, in the hands of his first mentor Orlando López "Cachaito". He later joined the Alejandro Garcí school in Caturla, and later the Cuban National School of the Arts.
Today, he is one of Cuba's most sought-after double bassists.
He draws his inspiration and influences not only from Afro-Cuban rhythms, but also from jazz, funk and soul music.
His album Orisun, Hit Couleurs Jazz, released in 2020, is still selected on Couleurs Jazz Radio.
Line Up:
Damian NUEVA: doublebass
Diego LIPNISKY: guitar
Arnaud DOLMEN: drums
Natascha ROGERS: percussions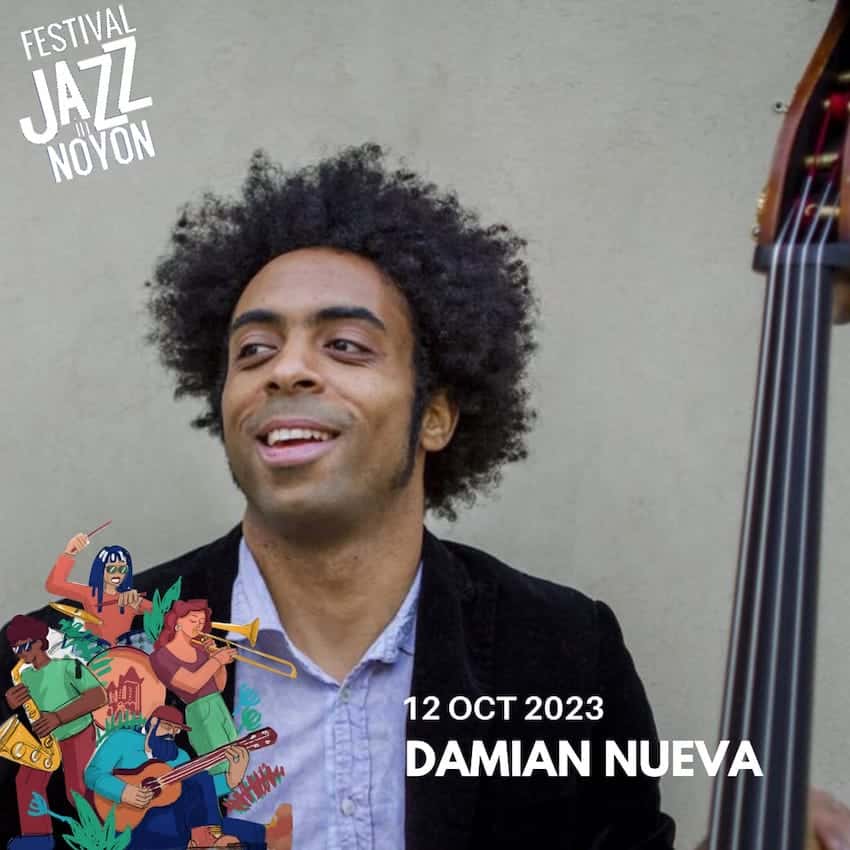 Thursday 10/12 à 09:00pm at the  CENTRE CULTUREL
Xénos
At Couleurs Jazz, we are of course, Xénos-philes. Xénos is the new band of Serbian drummer Srdjan Ivanovic, well known to us, with the incredible Macedonian mathematician Jovana Krstevska as co-leader, a concentrate of positive energy.
The band draws inspiration from their own stories and experiences of exile and immigration, producing rock-tinged jazz with Balkan rhythms. Their album Xénos has been featured on Couleurs Jazz Radio since its release in June this year.
There's a beautiful connivance between the five musicians, who know each other well and whom you'll hear in various formations on Couleurs Jazz Radio.
Line Up:
Srdjan IVANOVIC – Drums
Jovana KRSTEVSKA – vocals
Robby MARSHALL – tenor sax, clarinet, kaval
Hugo CORBIN – guitar
Philippe BURNEAU – bass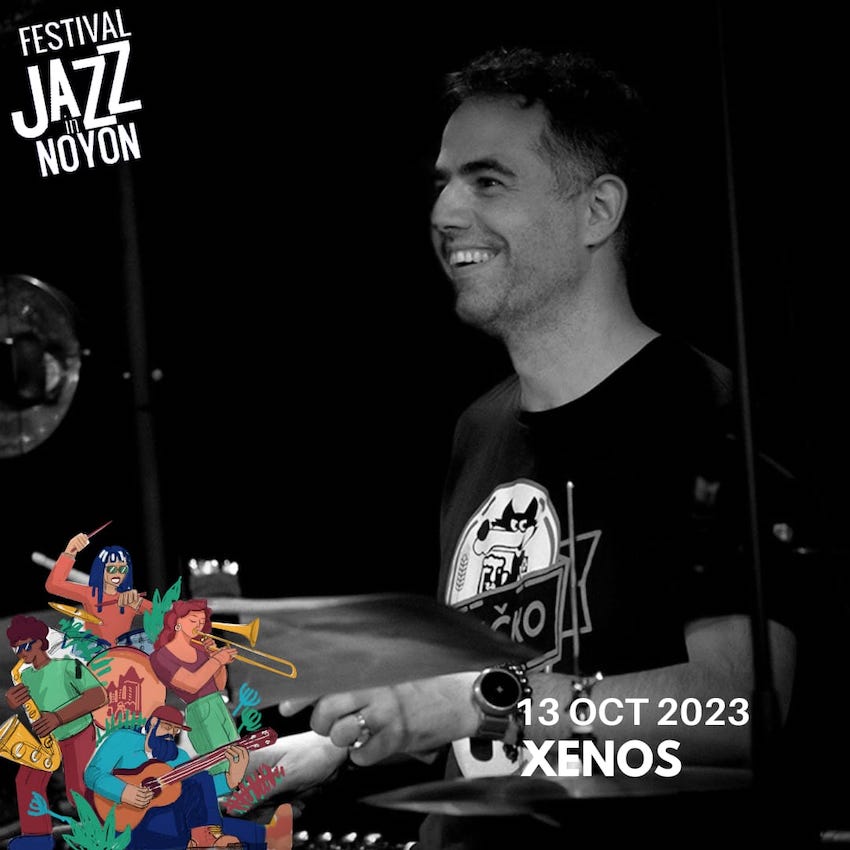 Friday 10/13 à 07:00pm at the  CENTRE CULTUREL
Bloom
Bloom is a vocal trio with a serious rhythm section, double bass and drums.
This choice of a minimalist rhythm section lends a surprising and singular sound to these three artists' vocal and acoustic project: the voices, free of all originalities, dare to venture where they are not expected.
The musical universes of each then intermingle to give birth to a jazz that is at once exalted, swinging, and refined.
Musicians :
Mélina TOBIANA: vocals
Laurence ILOUS: vocals
Léa CASTRO: vocals
Arthur HENN: double bass
Ariel TESSIER: drums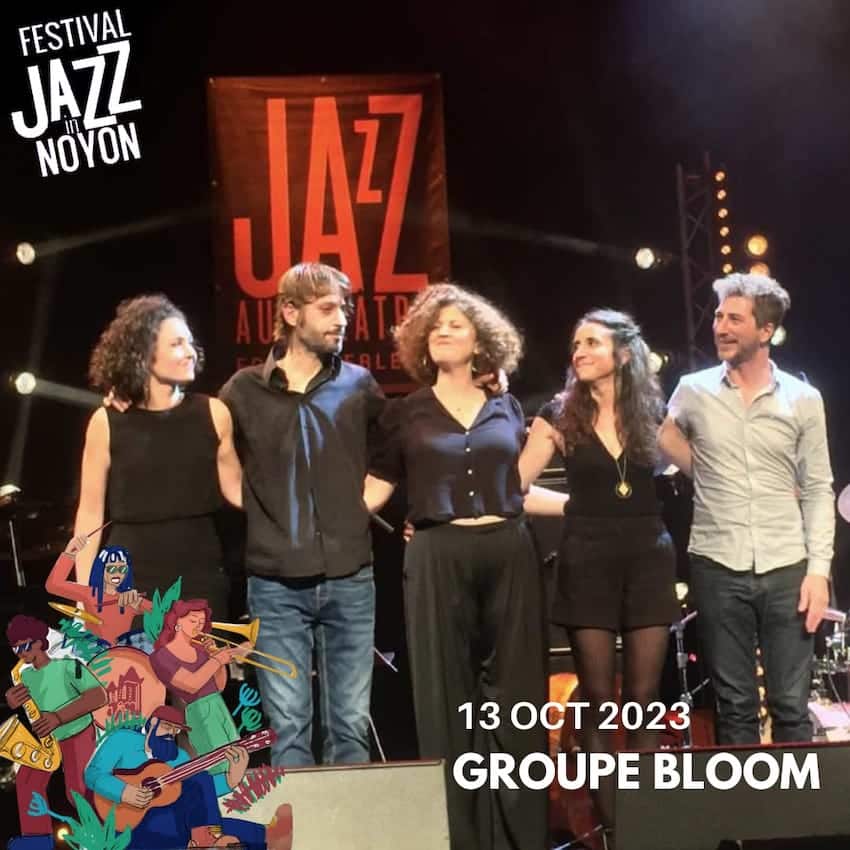 Friday 10/13 à 09:00pm at the  CENTRE CULTUREL
François Poitou and Pumpkin
François Poitou, already present with his two previous albums, returns with "Arômes Complexes", a totally different project, fascinating with delightful sonic discoveries, for a resolutely modern and bewitching jazz.
The main "find" is to integrate rap, not as a fusion to look modern and capture a certain audience, but to use this clearly established aesthetic, just as jazz knows how to integrate all types of music. Here, rap vocal choruses are used in the same way as any other instrument, trumpet for example, double bass, drums…
The group's jazz instrumentalists are not at the service of rap singer Pumpkin. Pumpkin is treated in the same way as her fellow musicians.
A very interesting and innovative approach. Pumpkin was previously invited to practice this type of exercise by the godfather of Couleurs Jazz Radio, the hilarious Médéric Collignon! She took a liking to it.
François Poitou explains: "With Pumpkin, I appreciate the rhythmic precision, the quality of the lyrics and the themes tackled….
And the fusion took place… Read more here
LINE UP:
PUMPKIN: rap
Olivier LAISNEY: trumpet
Maxime BERTON: tenor sax
Stéphane ADSUAR: drums
François POITOU: double bass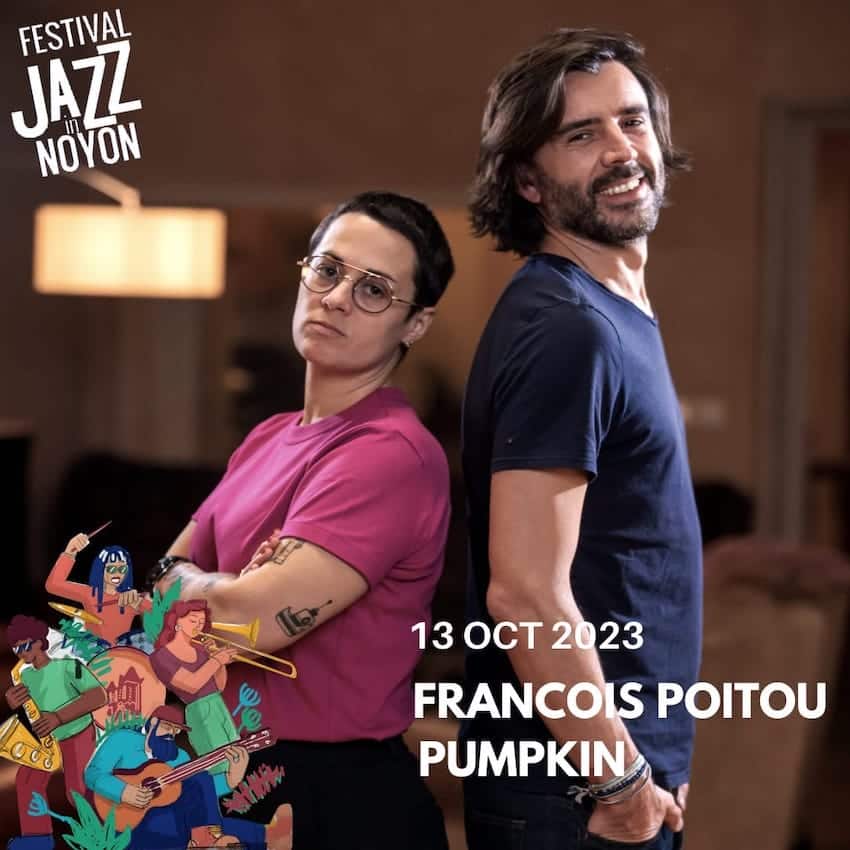 Saturday 10/14 at 07:00pm at the  CENTRE CULTUREL
Slaven Ljujic trio – Connection 3
Slaven Ljujic trio (Connection 3) is a jazz trio featuring Berlin-based Montenegrin multi-instrumentalist and composer Ivan Marovic on guitar and piano, Croatian Tin Dzaferovic in Vienna, Austria, and Montenegrin leader Slaven Ljujic on drums.
Connection 3's debut album, recorded live at the DEUS festival in Podgorica, Montenegro, in December 2022, is currently in preparation.
Each time they perform, these artists try to take their expression and sound to the next level, using the method of spontaneous composition, feeling each other's energy and using imagination as their main driving force.
Styles range from be bop to americana to heavy backbeat. Their compositions tend to possess a powerful mojo that connects the audience with the trio.
"No boundaries" is Connection 3's motto, giving them the freedom to constantly compose new material from show to show. Playing with music and creating something from scratch on the spot, allows their performance to push the boundaries. (Couleurs jazz Radio).
We've already heard them in Podgorica (Montenegro) and Bitola (Northern Macedonia) as part of our "Jazz France-Blakans" network, before programming them in the Couleurs Jazz Club at Musicora last May and again at Espace Jemmapes in Paris.
A trio to discover!
Line Up:
Ivan MAROVIC: guitar & piano

Tin DZAFEROVIC: double bass

Slaven LJUJIC: drums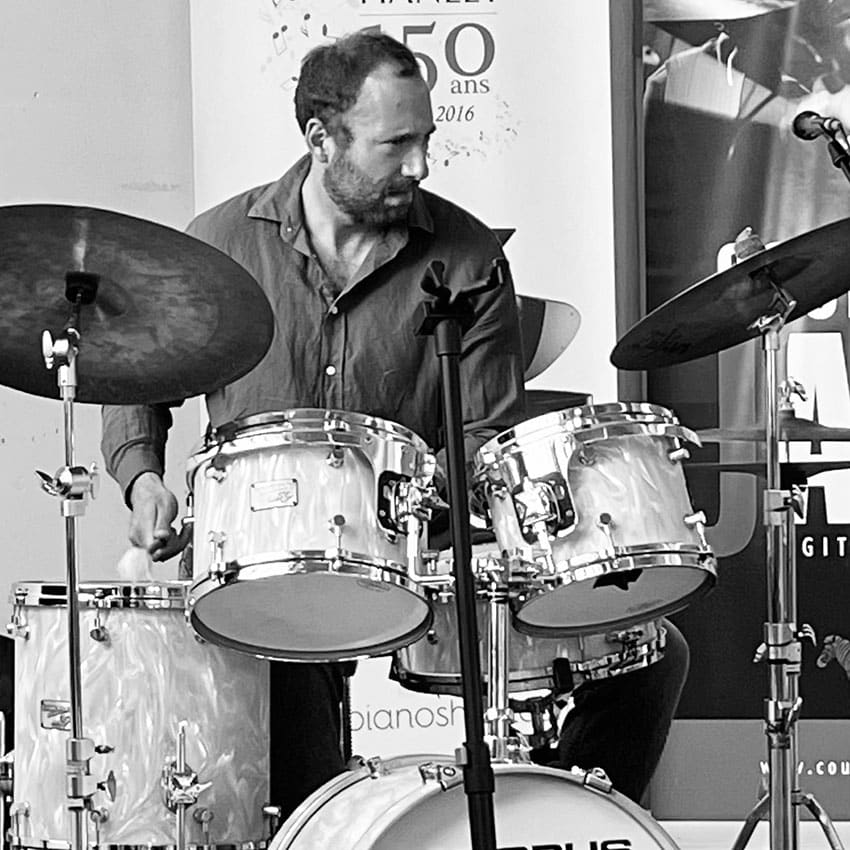 SATURDAY 14-10 AT 7PM AT THE CULTURAL CENTER
Daniel Zimmermann
We've been following the formidable trombonist for a long time now, and his latest opus, "L'Homme à Tête de Chou in Uruguay", won him a "Hit Couleurs Jazz" award.
A work of art! That's what I thought after listening to the latest album by the trombonist who has been a fixture on the jazz scene for some twenty years now.
Daniel Zimmermann is a historic member of Le Sacre du Tympan, founded DPZ with Thomas de Pourquery, created a trio with Vincent Peirani, and was trombonist for Nougaro, Manu Dibango, Tony Allen, Archie Shepp, Wynton Marsalis, Michel Legrand, Bernard Lavilliers, Jacques Higelin, Aznavour…
Dear Couleurs Jazz Radio listeners, Daniel Zimmermann's previous albums as leader were celebrated on their release, and are still being listened to (Montagnes Russes & Dichotomie's).
This 3rd Label Bleu album is a rereading of a Serge Gainsbourg era, a genuine creation that reveals the full talent of the trombonist-composer-arranger.
"After recording a lot of original compositions since I've been making records as leader or co-leader, I wanted to make a tribute album. There were only two possibilities for me: Claude Nougaro, with whom I was lucky enough to play for a long time, and Gainsbourg. And the one who is most a part of my identity, to whom I feel closest, in my approach and in particular my approach as a composer, the one who was a shock to me, one of those you never forget, is Gainsbourg."
The result is creative, moving music, the kind we really love. Many winks are borrowed from the original work of Gainsbourg avant Gainsbarre, the singer-songwriter's still pink period. The quartet's team of "killers" is reminiscent of the cohesion and energy of a rock band from the blessed years, with the virtuosity of the best jazz bands.
"I have the ideal group to do what I want to do: accomplices and friends. Brilliant instrumentalists, well-versed in improvisation, but with enormous experience of chanson, pop and contemporary music. Musicians without blinkers but with their own identity, who know how to appropriate this music without betraying it. Finally, Erik Truffaz is an ideal guest for this project. An inventive musician who is identifiable from the very first notes he plays".
Listen to Bonnie & Clyde, Comic Strip, New York USA, Ballade de Melody Nelson for moments of looping, twists and turns as mischievous as they are irreverent. Swinging and grooving to the max. Pure joy. Without doubt one of the best albums of the year.
To get an idea, have a listen to the two jubilant tracks we've chosen for our show: "Chez les Yéyés" and "SS in Uruguay", then go and get the record!
Personnel:
Daniel Zimmermann: trombone
Pierre Durand: guitar
Jérôme Regard: bass
Julien Charlet: drums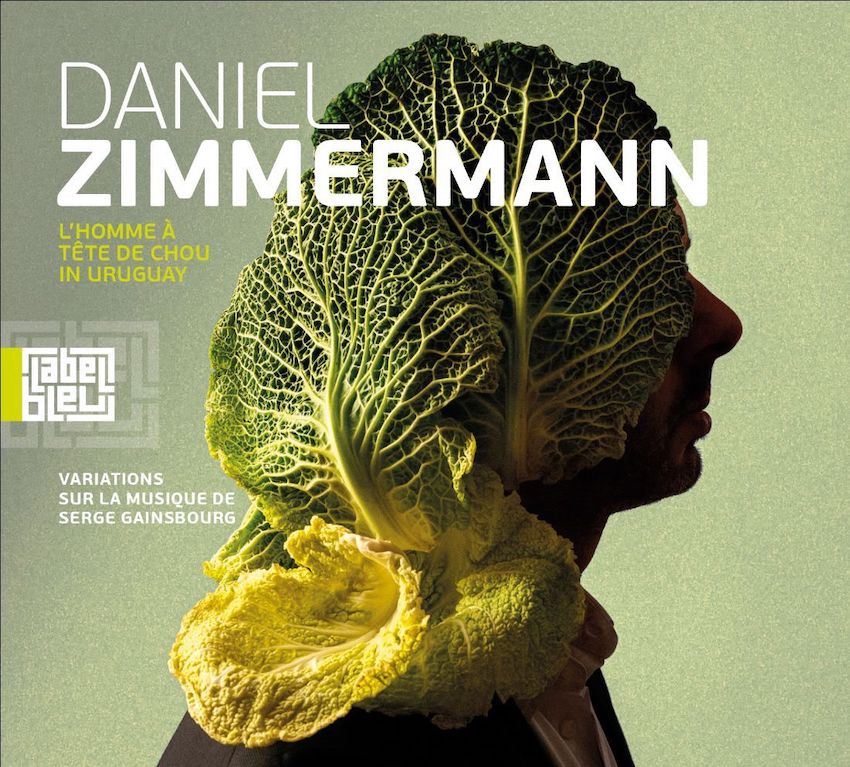 SATURDAY 10/14 at 09:00pm at the  CENTRE CULTUREL
Lior Krief feat. Baptiste Herbin
Born of the encounter between Lior Krief and Baptiste Herbin, the New Light project is the meeting of the ardor of gypsy jazz and the bebop improvisation of the saxophone. Accompanied by the excellent Simba Baumgartner, Django's great-grandson, and double bassist Esteban Felix, the Lior Krief Quartet takes us on an explosive jazz journey!
Line Up:
Lior KRIEF: guitare
Baptiste HERBIN – saxophone
Simba BAUMGARTNER: guitar
Esteban FELIX: double bass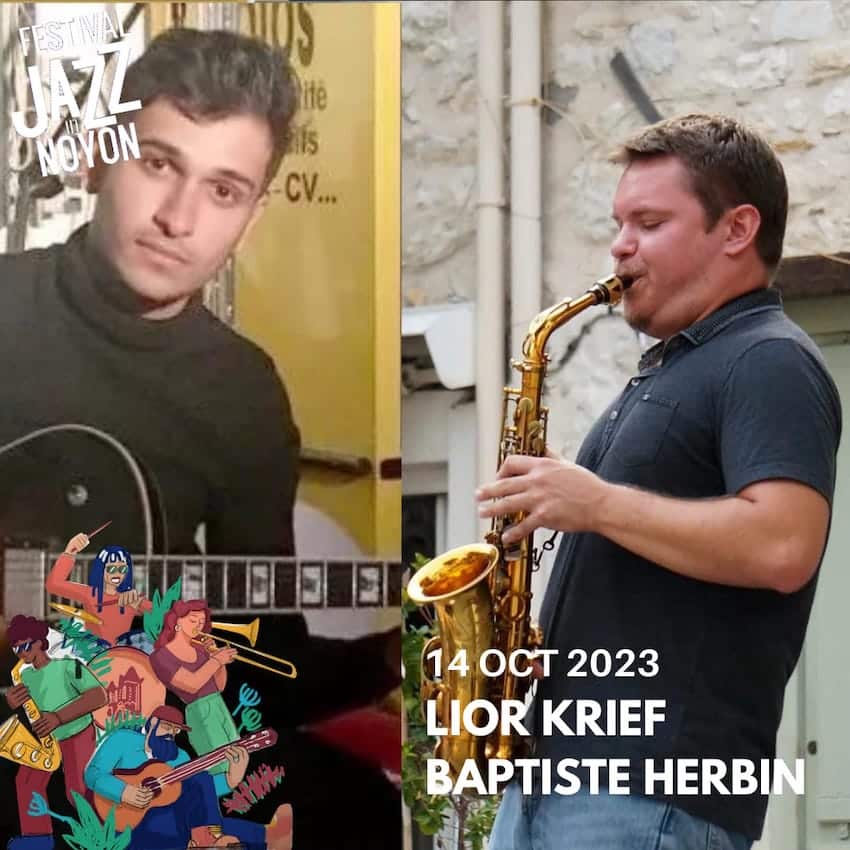 SUNDAY 10/15 at 02:30 PM at THE  CHEVALET
Claude Tissendier – Duke For Ever
Claude Tissendier has written extensively for saxophone ensembles. In 1987, there was his Saxomania (2 altos, 2 tenors), then more recently, the New Saxomania (soprano, alto, 2 tenors, baritone).
For "Duke For Ever", the continuation of this wonderful adventure, Claude was inspired by the leading role played by the alto and baritone in the arrangements conceived by Duke Ellington for the saxophone section of his big band (2 altos, 2 tenors, baritone).
The tour de force here is to restore the fullness of these arrangements by skilfully reducing the original five voices to just two, those of the alto and baritone. This is what the listener feels when listening to Take the A Train and Happy Go Lucky Local, which give the impression of being performed by a larger sax section.
(read on Couleursjazz.fr Alain Tomas' paper)
Line Up:
Claude TISSENDIER: alto saxophone, clarinet
Philippe CHAGNE: baritone saxophone, bass clarinet
Jean-Pierre REBILLARD: doublebass
Alain CHAUDRON: drums
Laurence ALLISON: voice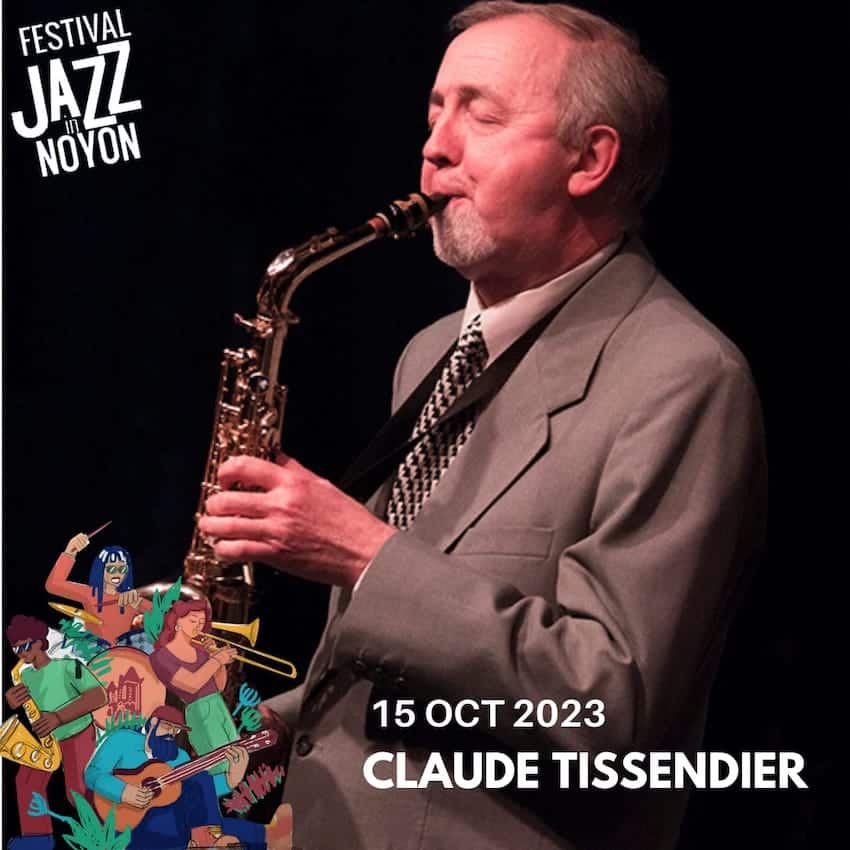 SUNDAY 10/15 at 04:30PM  at THE CHEVALET
Daïda
Daïda brings a different color to today's jazz. Resolutely modern, leaning towards rock and electronic music, jazz remains the bedrock of this energetic music that appeals enormously to a young audience.
This music expresses the paroxysmal feelings of the "Passion(s)" that punctuate this "Kyrielle" of stories. At times rebellious and tormented, Daïda's musical journeys are also tinged with dream and nostalgia, like a great epic. Driven by this energy, Daïda's music is rooted in frantic rhythms that flirt with the trance of techno music, blending with lyrical themes and harmonies as the soloists soar.
(Read more about their summer performance at this year's Gran Canaria Jazz Festival)
Line Up:
Auxane CARTIGNY: Synthesizers
Arno de CASSANOVA: trumpet
Samuel F'HIMA: doublebass
Antonin FRESSON: guitar
Vincent TORTILLER: drums