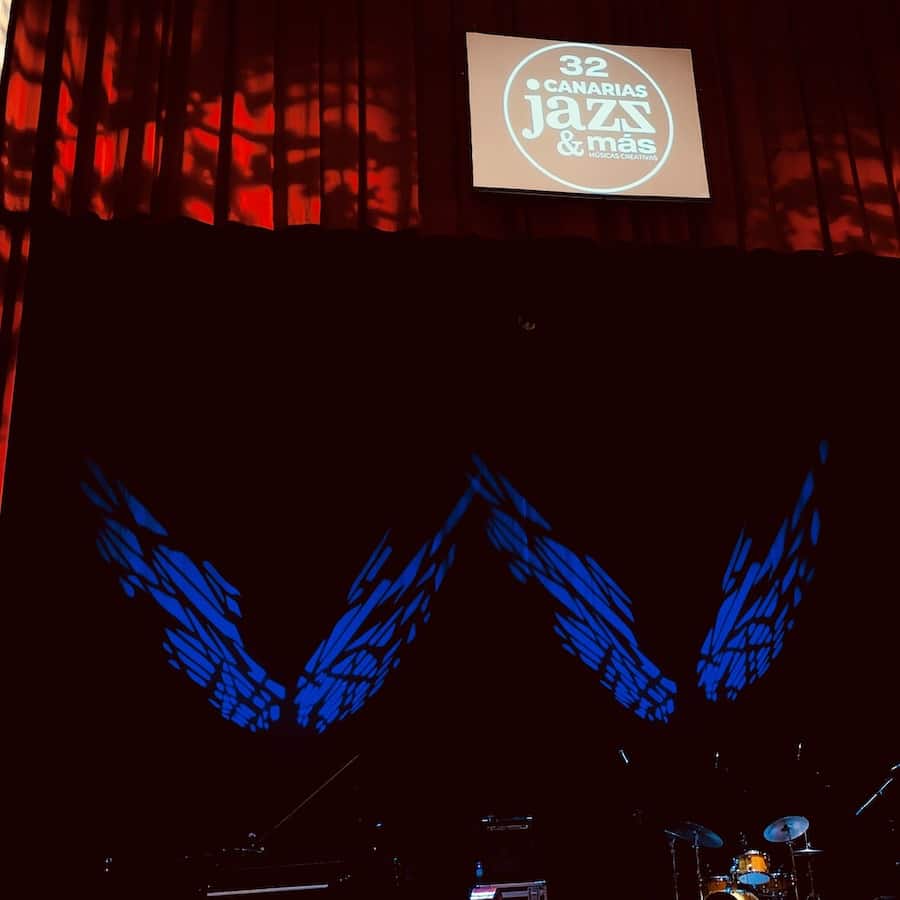 An invitation from the Turismo de Gran Canaria (Cabildo de Gran Canaria) enabled us, along with some of Europe's most influential jazz media, to attend several magnificent concert evenings on the island of Gran Canaria.
Our report covers the four evenings from July 12 to 15, 2023 on the island of Gran Canaria.
It's worth noting that the guest bands generally give two concerts in a row, one on the island of Gran Canaria and the other on the island of Tenerife.
Unfortunately, we won't be able to report here on the magnificent line-ups of the previous days:
Jazzmeia Horn, Kurt Elling & Charlie Hunter, Richard Bona & Alfredo Rodríguez feat. Michael Olivera or after our departure, Carmen Souza, or the magnificent trio of Daniel Garcia, to name but a few.
in a nutshell, Canarias Jazz & Mas is a great Jazz festival, which is firmly rooted in local culture and attracts a growing number of tourists who enjoy both the breathtaking scenery of the Canary Islands during the day and the jazz concerts, some of which are free of charge. 2023 celebrated the 32nd edition.
On the evening of our arrival, we headed for the Alfredo Kraus Auditorium, Rincon del Jazz.…  of Manu Katché's quartet, the godfather of Couleurs Jazz when it was created on iPad in 2012. The man still has the same great energy, authenticity and honesty in his creative approach. The project he is presenting that evening is his "Scope" project, released in 2019 by Anteprima Productions / Bendo Music, a mainstream electro-jazz-pop soul mix in the finest acceptance of these fused genres.
Say what you will, but with a drummer like this at the helm, it sounds like the local cathedral chimes on a resurrection day. It's been several years (before Covid) since I've had the chance to see Manu Katché live on stage. What's striking (that's the right word) is the rigor, in tempo, in touch, in precision, in dazzling, dance-like virtuosity.  The joy of officiating is obvious and infectious. Inevitably, the audience is taken by the hand and follows the 4tet in its sonic peregrinations, almost with eyes closed.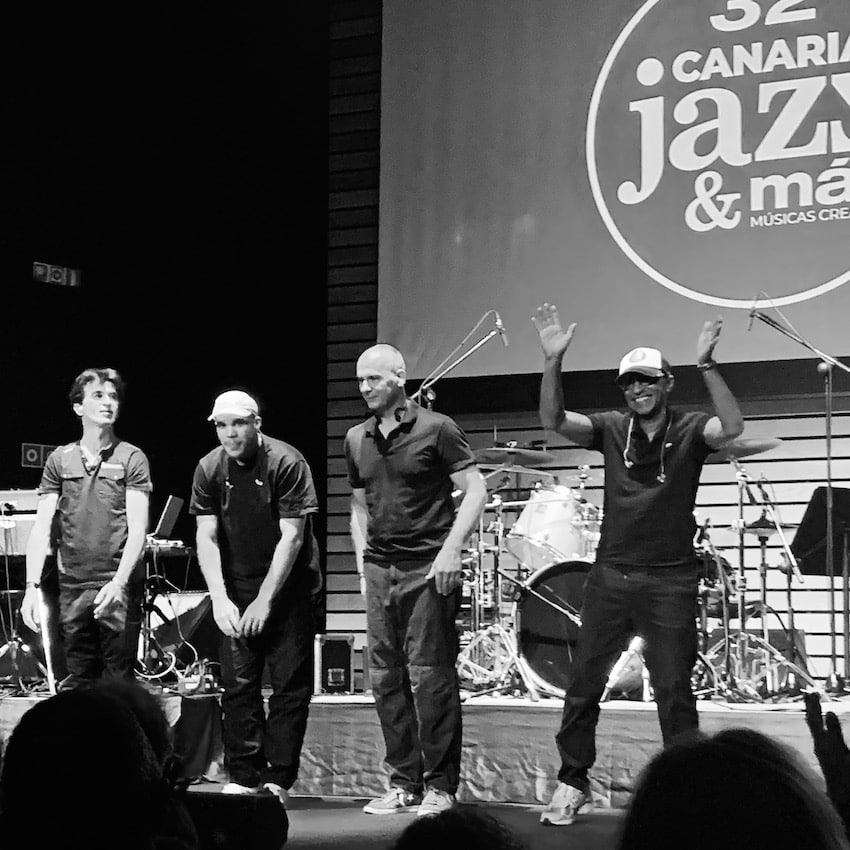 Manu Katché really does share, taking the time to explain his approach to the audience between songs. His sidemen are killers! Experienced in all kinds of trials and tribulations, listening to them makes everything seem easy and effortless, with their cheerfulness and their singing. Jérôme Regard is a master watchmaker on electric bass, Patrick Manouguian colors the musical tableaux with his groovy electric six-string, and Evin Galland completes the picture on keyboards.
On several tracks, the show is enhanced by beautifully produced videos projected on a screen above the musicians, who are all at the same height, thanks to a platform that raises the seated musicians (keyboard and drums) to the level of the standing musicians (electric bass and guitar).
The videos feature the vocals of Faada Freddy on Vice and Jazzy Bazz on Paris me Manque.
The warm, enthusiastic audience was there in force. Standing ovation!
Second evening, second concert for us: Salvador Sobral
Totally unknown to our services, and for good reason! The man surprised the world, it seems, by winning Eurovision (you know that weird thing, the ultimate in bad taste and all that can be found in the most raunchy and long-winded programs, where nothing happens on television screens. "Espagne 3 points, Spain 3 points…). So it was with a little perplexity and dragging our feet that we made our way to the Teatro Perez Galdos in Las Palmas. The hall is full. The man certainly has his fan base.
We later learn that this incredibly charming singer with a superb voice and excellent stage presence recently underwent a heart transplant. So this is a miracle, a very real mirage.
Listening to the first few tracks, it's clear that this is not really jazz, but high-level artistic expression. Astonishing vocal abilities backed up by a delightful stage presence.
Salvador Sobral, with his obvious charm, makes several incursions into the hall, right in the middle of the audience, and sings superb melodies without a microphone.
At times, he even starts up some quite astonishing scats… I'm sorry he doesn't go further in this direction. I'm sure he'll try his hand at modern vocal jazz soon! He could surprise many.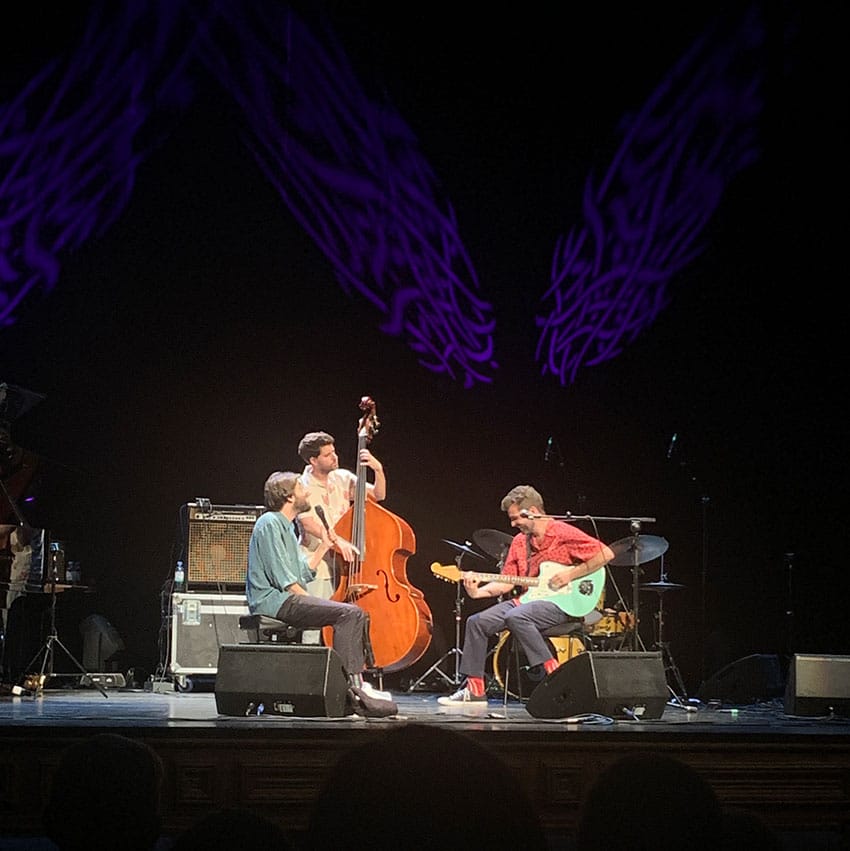 I had a wonderful evening, having discovered a fantastic artist.  Judging by the Hurrahs and the standing ovation that filled the Perez Galdos Theatre, I'm not the only one who thought so.
I wasn't at all convinced beforehand, but then I was won over!
Interlude.
Tour organized by the Official Gran Canaria Tourism office  with Marc*, a former journalist turned guide, who specializes in exclusive personalized tours for small groups, with a particular focus on the environment and wine tourism. We're going to get along just fine.
A brief detour through some magnificent villages, a far cry from the rather concrete north coast around Las Palmas.
The trade winds bring a flow of freshness. A wind from the Moroccan Sahara has the locals apologizing for the slightly warmer-than-usual climate. This comes as a surprise to us, as arriving from continental Europe we suffer far more from summer heatwaves. No, the climate in the Canaries is wonderful all year round!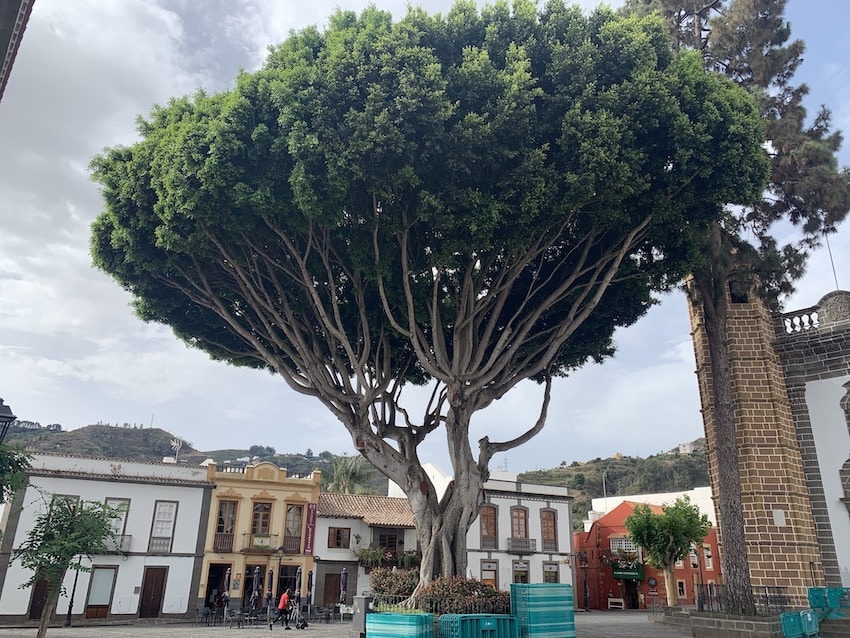 The village of Teror, with its typical facades, its old balconies carved in Canary pine, reminiscent of the facades of Mexico City or Puerto Rico, its soft, fragrant air, its trees and plants so varied, is a holiday destination to be discovered without delay.
It is said that this small island is a world in miniature, with its many micro-climates and extremely varied landscapes. 
We then climb up to Tejeda to discover a remarkable viewpoint over almost the entire island. From here, we can discover the steep slopes and deep valleys of the island and the much more arid vegetation of the west coast, which benefits less from the salvific humidity provided by the Atlantic breezes.

Part of the way back down is via the Wine Route, another exceptional Canarian product.
Native grape varieties, including Malvasia, grown on several of the Canary Islands, produce wines of the highest quality.
We have lunch at the home of Domaine Vandama, a winegrower and innkeeper who has been cultivating vines on the steep, tiered slopes of his small valley on volcanic soil for at least four generations.
With an excellent meal, made with local products, we can enjoy a 100% Listan Negro with plenty of fruit and enough body to enjoy with grilled meats in summer. And a 100% Negramoll, lighter than the Listan Negro, with good acidity and enough roundness in the mouth to be enjoyed with local tapas like gofio, for example.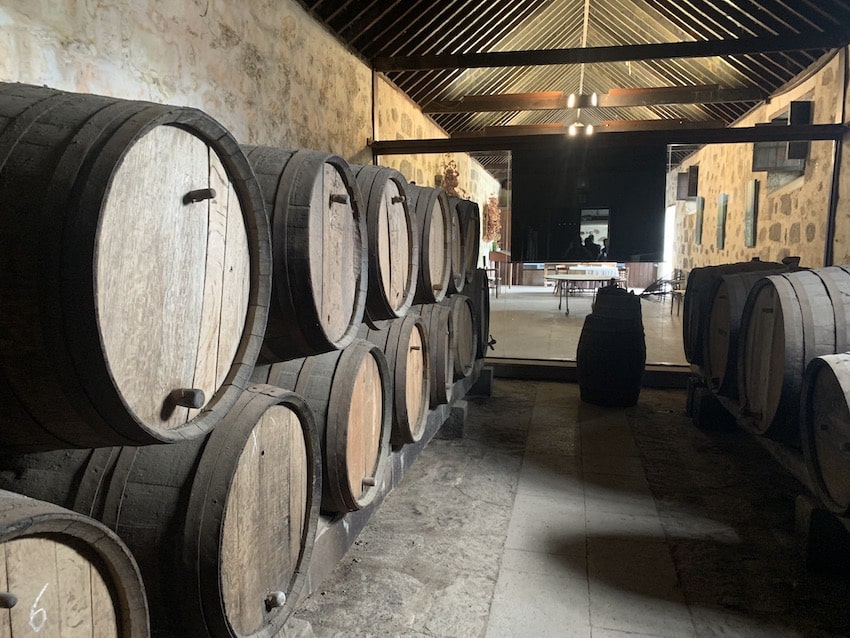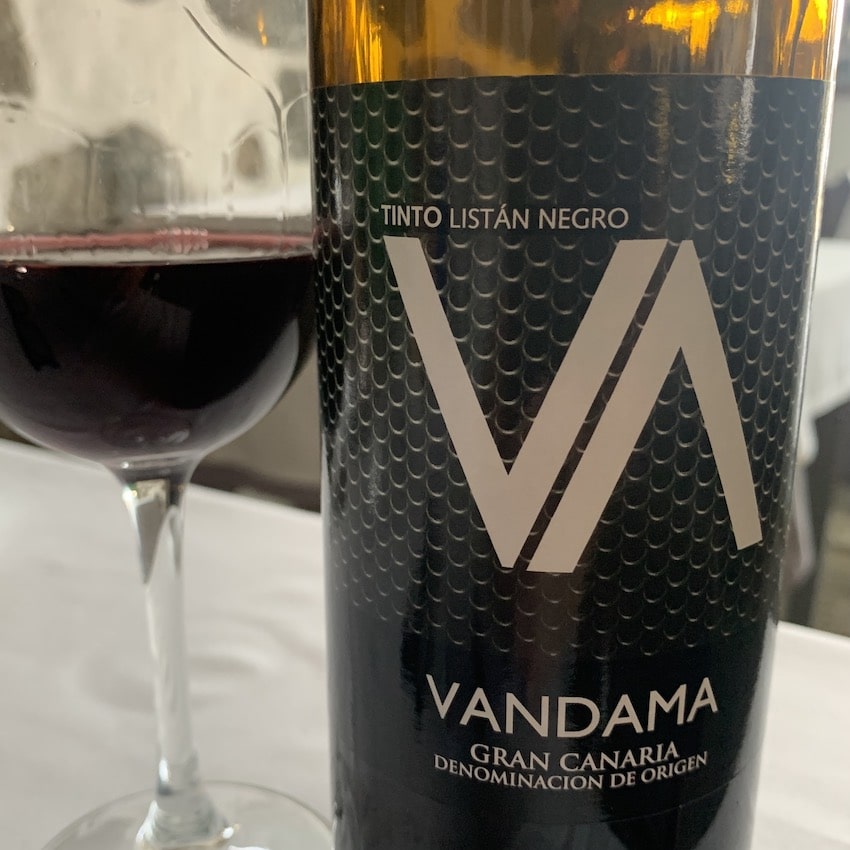 In the evening, in the charming village of Villa de Santa Brigada, the theater of operations takes place outdoors in the Parque Municipal. A merry crowd has gathered in front of the stage, where two groups will liven up the evening.
First up is Daïda, well known to Couleurs Jazz Radio listeners since the release two years ago of their astonishing album "La Passion du Cri".
The group is making a name for itself, and has been invited to play at a number of festivals. They'll be at Jazz in Noyon in mid-October this year. And, notoriously in the jazz world, they are winning over a younger audience.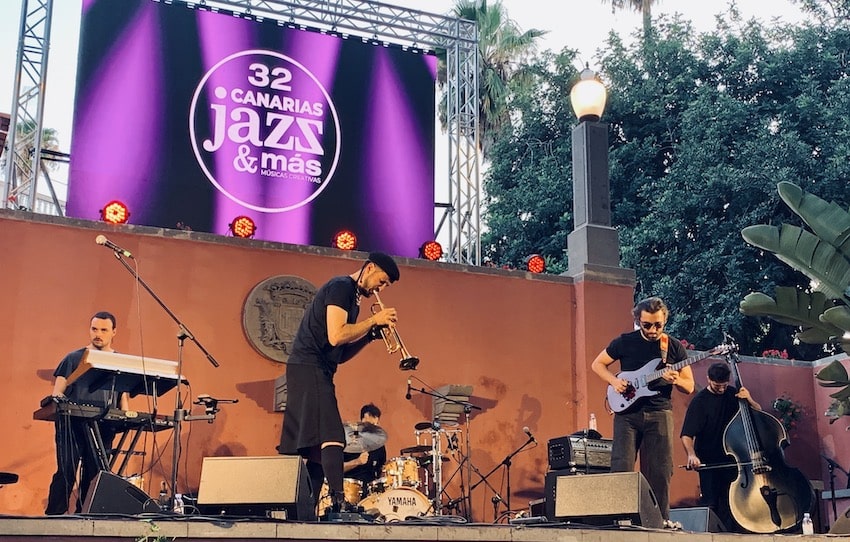 In Villa de Santa Brigada, all age groups are in fact represented.
This music expresses the paroxysmal feelings of the "Passion(s)" that punctuate this "Kyrielle" of stories. At times rebellious and tormented, Daïda's musical journeys are also tinged with dreaminess and nostalgia, like a great epic. Driven by this energy, Daïda's music is rooted in frantic rhythms that flirt with the trance of techno music, blending with lyrical themes and harmonies as the soloists soar. This new kind of French jazz borrows its energy and effectiveness from contemporary music. New tracks in the spirit of the first album are played here, and enthuse the audience, who are definitely won over.
Remember these names: Auxane Cartigny, keyboards; Arno Casanove, trumpet; Samuel F'hima, double bass; Antonin Fresson, guitar; Vincent Tortiller, drums.
Was it essential to saturate the sound system? I don't mind that this type of music invites you to listen at a higher volume. But my saturated ears won't last the whole evening. Thorbjørn Risager & The Black Tornado, the Danish band that follows, will have to pay the price. But that's probably not the only reason: I'm not convinced by their old-school country-rock style, yet the audience seems to embrace it.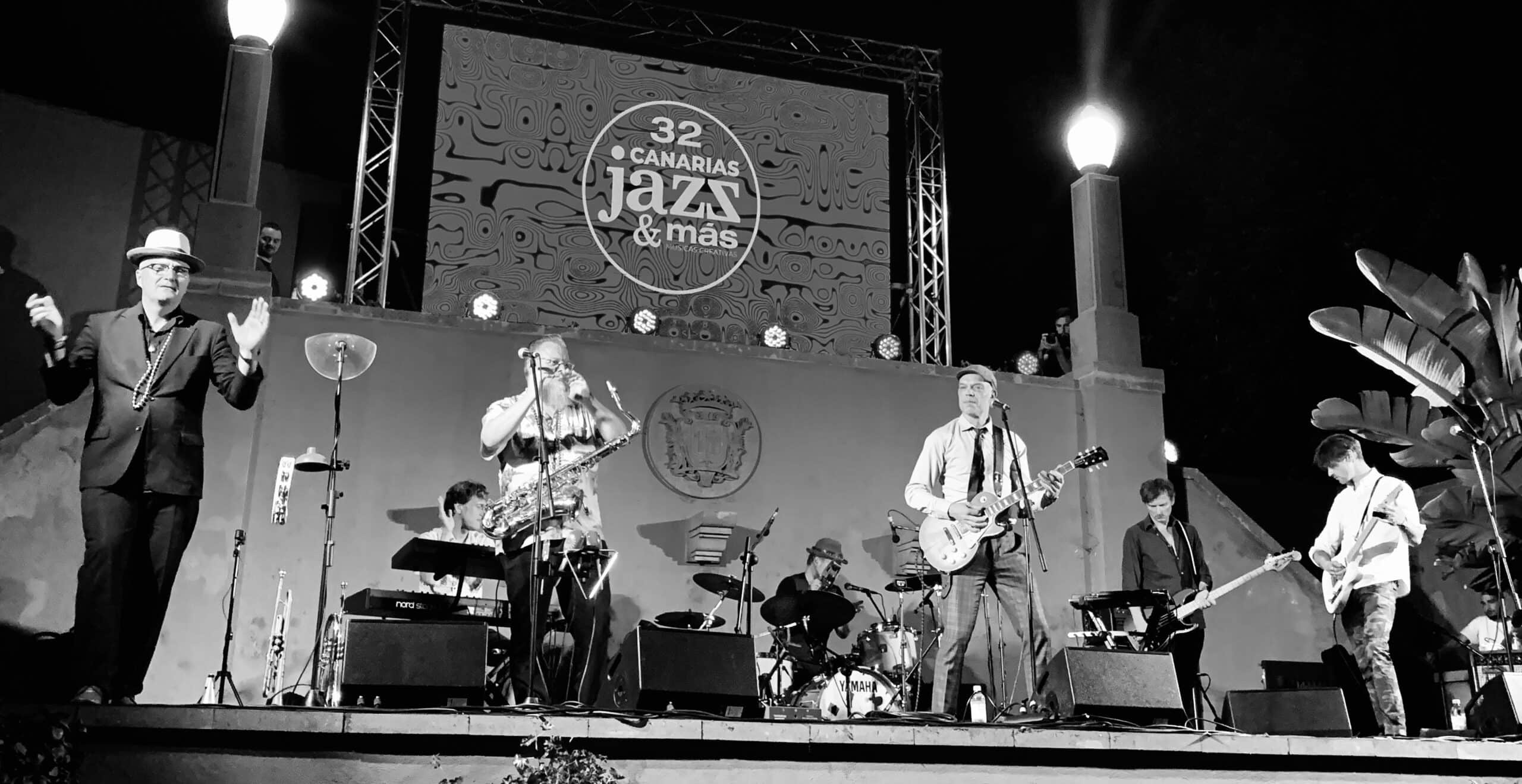 Saturday July 15, our last evening (this stay is going by too fast…!) is a bit of a showstopper, the climax of a festival that's just over halfway through. (June 30 to July 23, 2023): the Metropole Orkest, Dutch jazz-pop orchestra.
Based in the Netherlands, the Metropole Orkest (Metropole Orchestra) is the world's largest permanent XXL ensemble. It's a hybrid orchestra, part jazz, part big band, part symphony orchestra. Comprising between 52 and 97 musicians, it is versatile in many musical forms and has a "double rhythm section", one for pop and rock, the other for jazz.
That evening, at Las Palmas' Téatro Cuyas (another fine venue), the band filled the entire stage. They came in a reduced format: 50 people all the same! The very slender conductor Miho Hazama, 36, with her natural authority and very flexible, precise way of leading her orchestra, was born in Japan and now lives in New York.
During the concert, she will interview the evening's star guest, singer and pianist Kandace Springs, between pieces.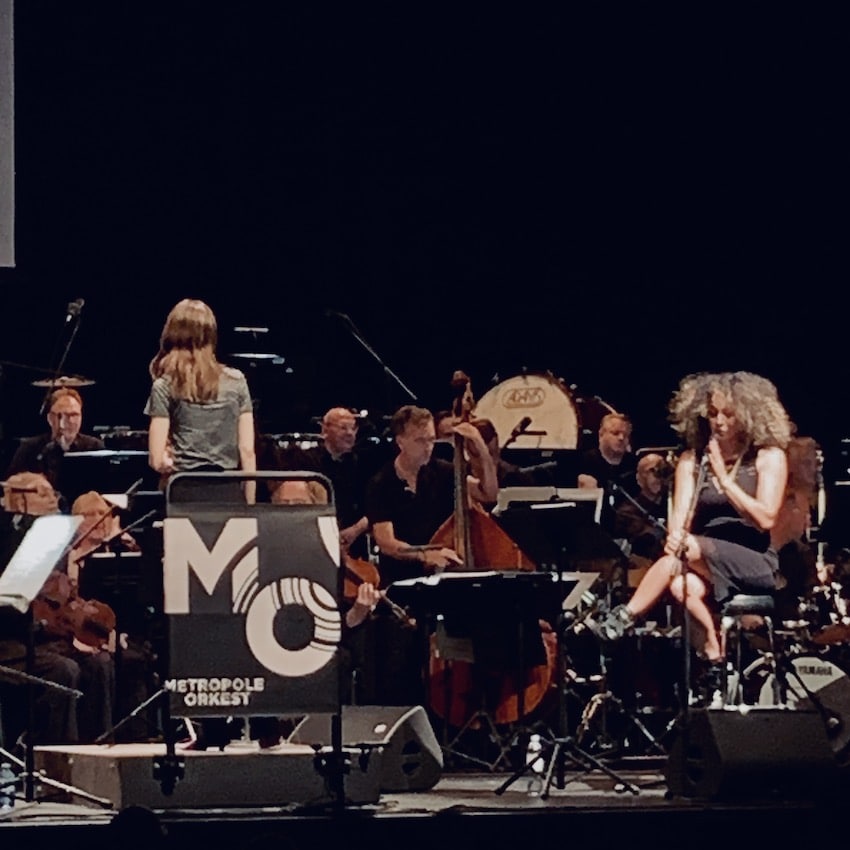 This is a very high level of execution for the interpretation of standards and selected pieces.
This orchestra, which I'm hearing live for the first time, is impressive in its placement and accuracy. The choruses (a little short for my taste) are all of excellent quality.
The names of Peter Tiehuis, guitar; Martin van den Berg, bass trombone; Marc Scholten, saxophone, Ray Bruinsma, trumpet, … to name but a few. May they forgive me.
Kandace Springs is very moving in all her interventions, in the interpretation of her personal compositions, as well as standards, the set list being mainly based on her album Indigo released in 2018 on Blue Note.
 She possesses that supple, warm voice, as well as that remarkable expressive mastery in her piano playing. The 2nd "Encore" allows us to listen to her alone at the piano, scatting on "Simple Things".
Standing ovation again for this superb evening with a connoisseur audience, in a magnificent venue in downtown Las Palmas.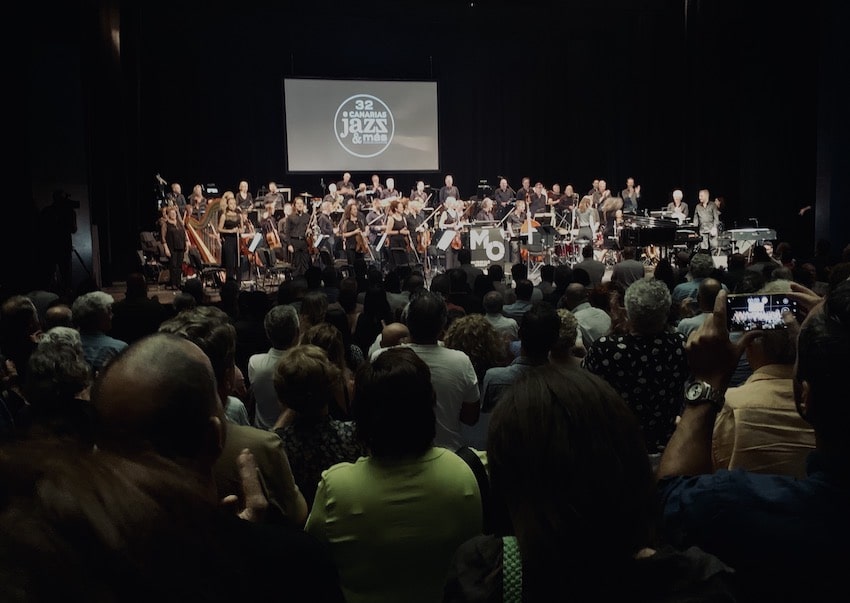 Le Festival Canarias Jazz & Mas, with its diverse, top-quality program, deserves to be better known. The island of Gran Canaria, with its wonderful micro-climates, its gastronomy and its many natural riches, is a must. We advocate jazz tourism. The best way to enjoy all the Jazz Colours, in the mildest conditions.
In Las Palmas, book a table at "La Marinera". There's no improvisation here, just real savoir-faire and hospitality. Another great moment!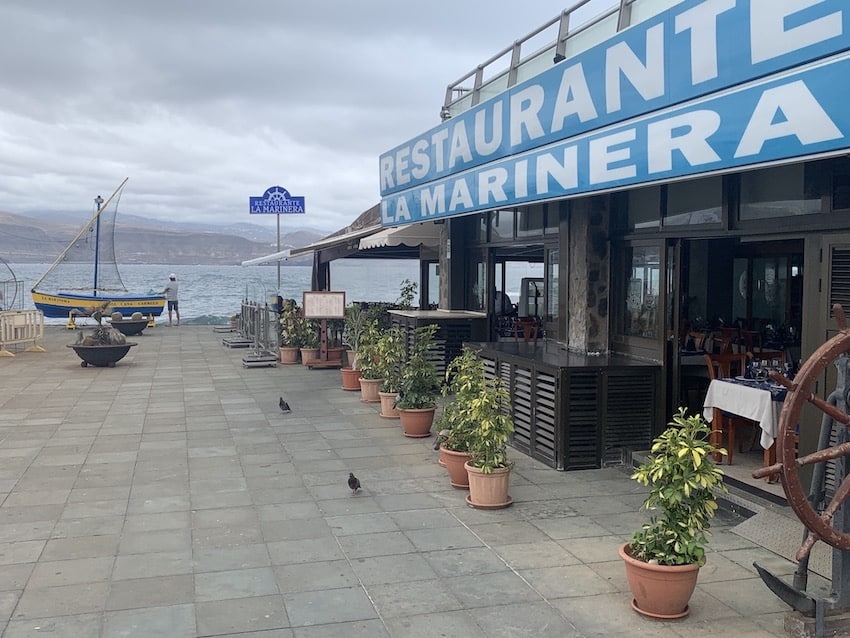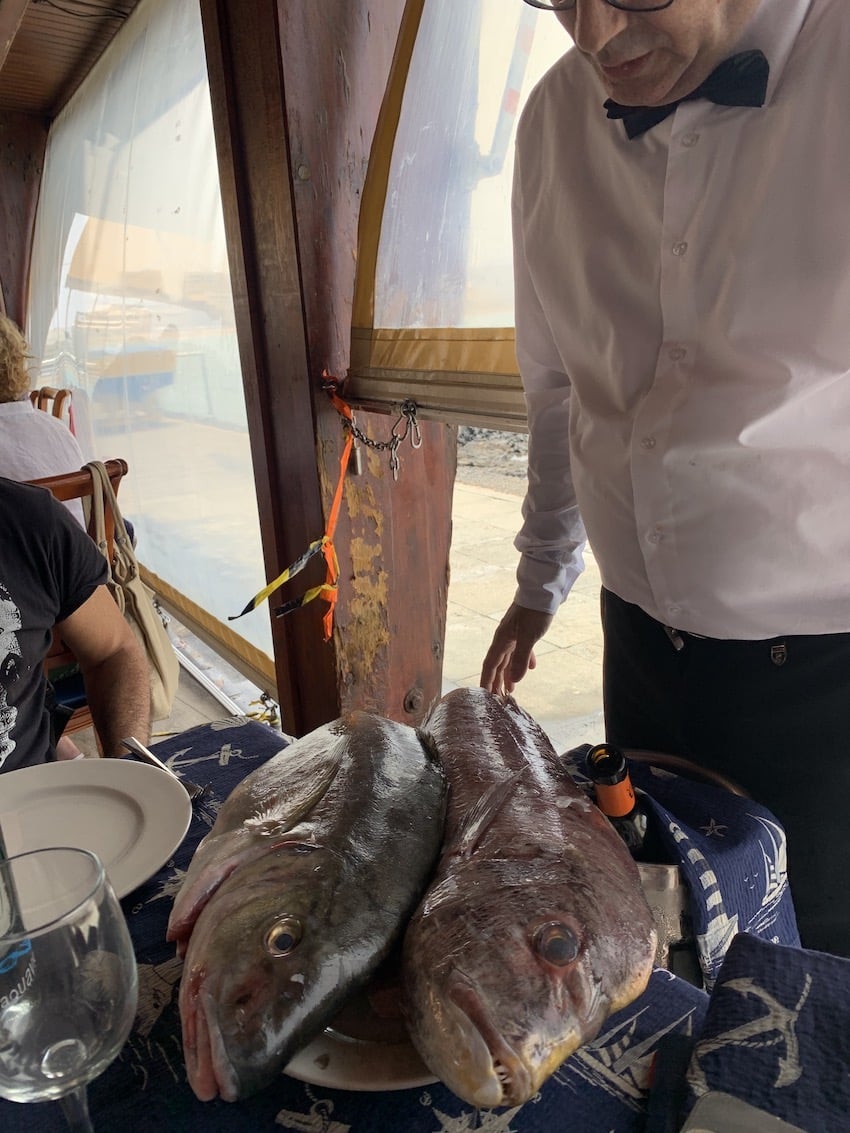 Thank you to Miguel Ramirez,Festival Director and all his team for another magnificent discovery! 
Canarias Jazz & Mas must be part of your next vacation around Jazz.
(*)Marc Llorens. Private & Tailored-Made Tours. Tours Privés sur Mesure
Translated with the help of www.DeepL.com/Translator.