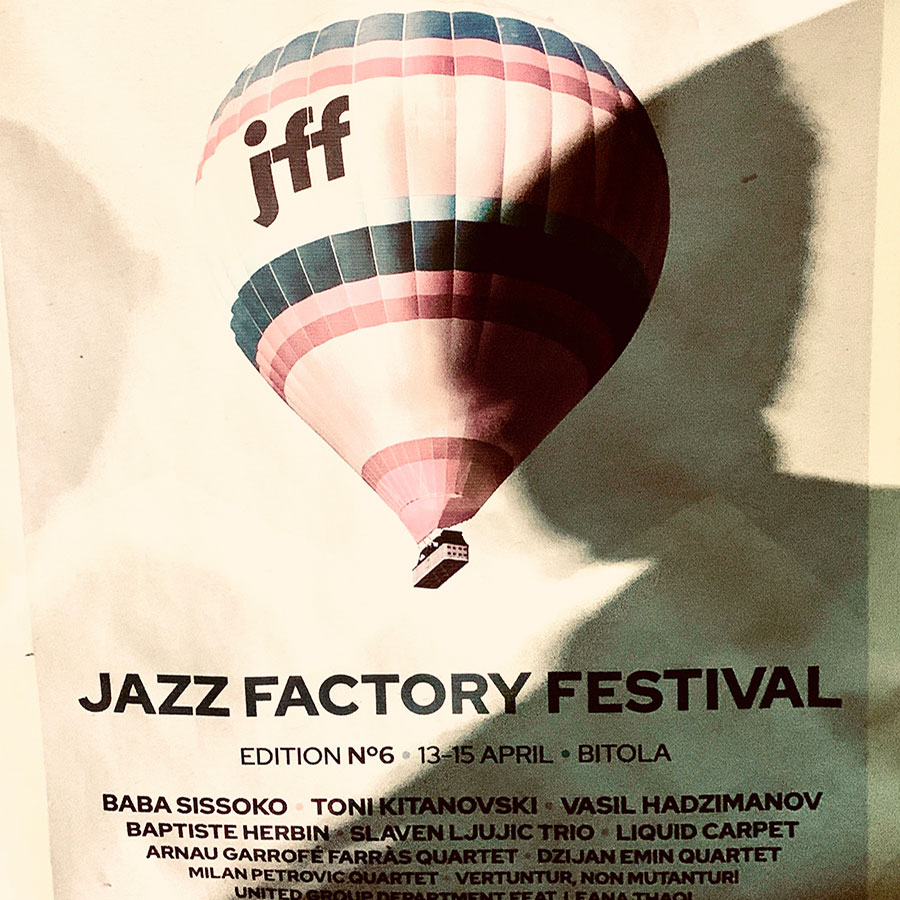 As part of the Jazz France-Balkan network, after the J.A.M Festival in Podgorica, Montenegro, and a road trip that took us across Albania to Northern Macedonia (see the photo header of this article), here we are in the pretty town of Bitola (Monastiri in Greek, since it's only 15 km from the border and boasts a number of monasteries).
Bitola is an important cultural and university center, situated on the Pelagonian plain on the Via Egnatia, the Roman road that crossed the Balkans from west to east, passing through Bitola, Thessaloniki and Constantinople. A road that linked the Aegean Sea to the southern Adriatic Sea and Central Europe.
Thanks to its strategic location, the city has always been home to numerous foreign consulates.
In turn, we were warmly welcomed by the Mayor of Bitola and his staff, who are very committed to the « JAZZ FACTORY FESTIVAL », whose artistic director is guitarist-composer Saso Popovski, whom we heard perform at the last Nisville Jazz Festival.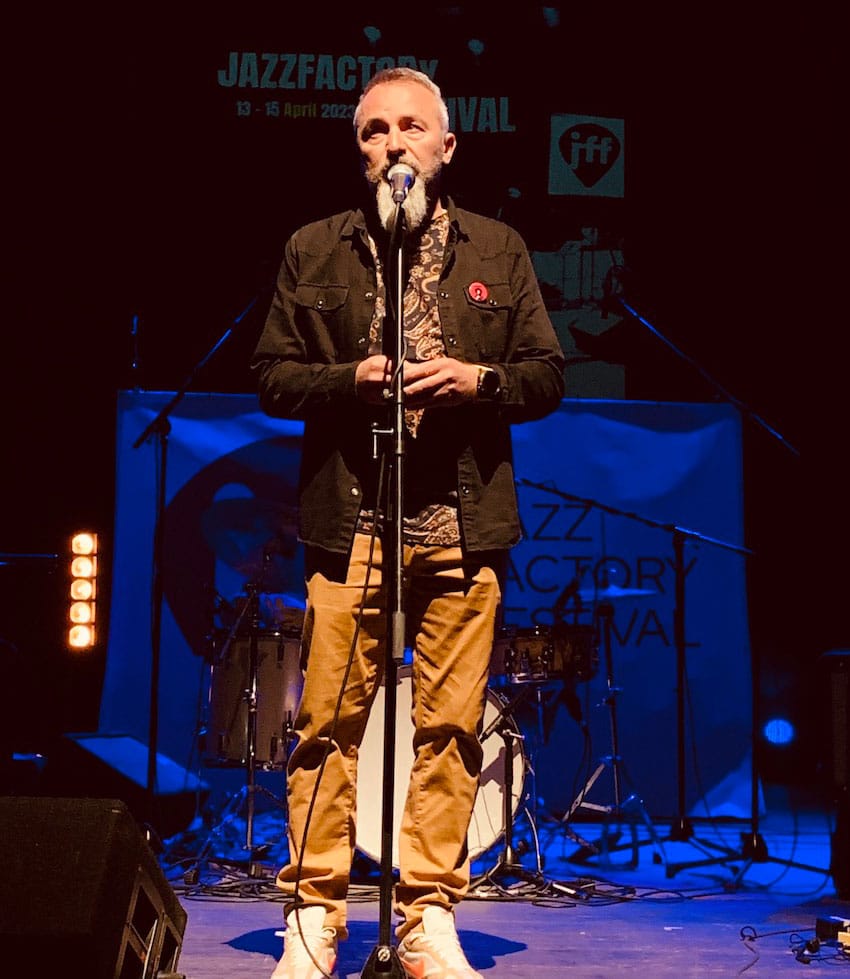 So our first evening in Bitola was shaping up to be an auspicious one. The evening would take place in the Grand Theatre, at Bitola's Ni National Theatre.
First Part:
Baba Sissoko trio.
Baba Sissoko, drummer and percussionist from Mali, specializing in the Ngoni and the Tama, the talking drum.
He performed in a trio with Toni Kitanovski, a Skopje-born guitarist, and Vasil Hadzimanov, a Serbian pianist experienced in combining traditional Balkan rhythms and folklore with Western musical styles, in particular jazz and funk, but also world music and African music in particular.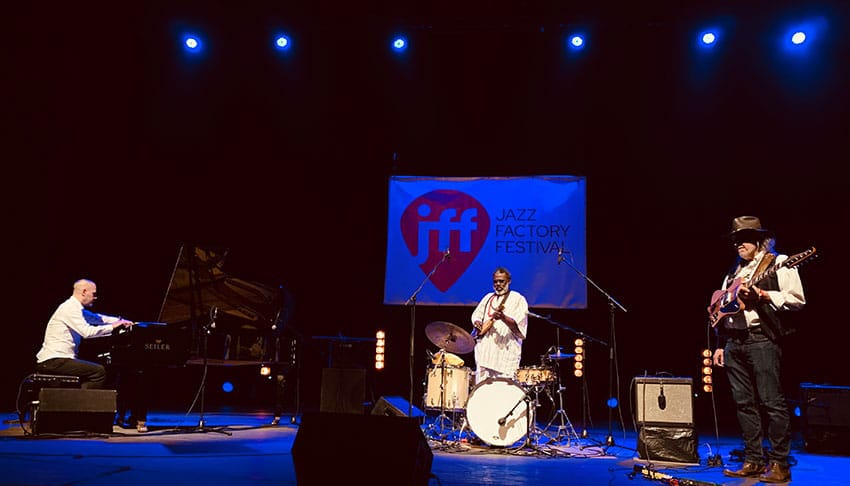 We're right at home here, in the midst of the jazz colors we've always championed.
This one-night concert with the incredible Baba Sissoko and his two accomplices gave the impression that the three men had always understood each other and spoken the common language of jazz.
Baba Sissoko's name is associated with a wide range of musicians, from world music productions by Youssou Ndour and Salif Keita to rock artists such as Sting and Ry Cooder. He is always open-minded when it comes to jazz, adding his ancestral rhythms to complex compositions to which he gives African colors. From the Art Ensemble of Chicago, to Dee Dee Bridgewater and Laurent Blondiau's Al Majmaa project, his many contributions are countless. Today, Baba Sissoko composes his own music and leads various projects. 
 This world music jazz quickly won over the audience, who left delighted.
The Ni Theatre was sold out!
Intermission.
During the intermission, the audience had the opportunity to taste local wines from the Stobi Winery, with a red blend of Vranec, Pinot Noir and Cabernet Franc.
These are well-made, typical wines, purple in color, with a nose rich in tannin and fruity notes. They age very well, developing aromas of cinnamon, chocolate, licorice and sometimes oak after 2-3 years. The taste remains round and subtle, and loses its initial dryness.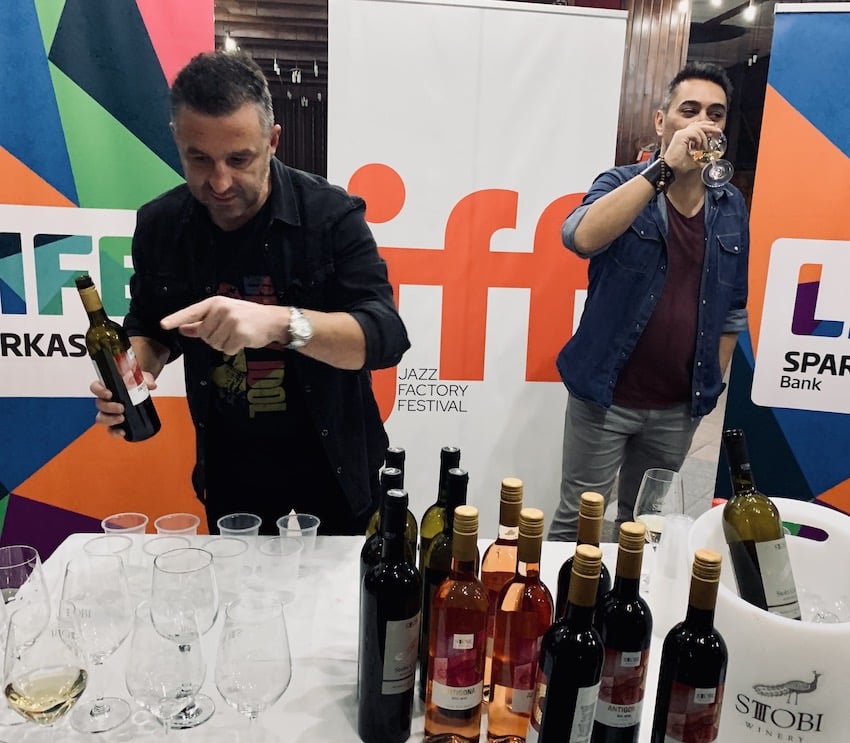 For whites, the local Smederevka grape produces white wines often blended with Riesling. The wines are drunk young. Dry, they have apple and pear aromas. In summer, they are often served with sparkling water as a refreshing drink. Smederevka is also used to produce rakija brandy. It is customary to offer it as an aperitif. На здравје! (Na Zdereaveyé)
Second Part:
Connection 3 of Slaven Ljujic feat. Baptiste Herbin
The jazz offered by this augmented trio was its 3rd performance in 3 days, and the only three up to that point, before they met up again at the Couleurs Jazz Club de Musicora, some 5 weeks later.
Having listened to their Podgorica premiere two days before, the perfect symbiosis was immediately obvious to me. To think that it only took two concerts and three creative and recreational rehearsals for the mayonnaise to take hold and for the spectators in Bitola that evening to believe that the band had been filling concert halls and jazz clubs for years. Let's bet that it will soon be so. In fact, a record should be made to seal all this beautiful original music. Here's a suggestion.
Slaven Ljujic, the band's leader, was even more delighted to be back with his bandmates. Right from the start, his groove was exemplary, full of subtle nuances. Ivan Marovic on guitar, immersed in his extraordinary world, multiplied ingenious riffs, while Tin Dzaferovic literally danced around his double bass. A great deal of musicality emerged from the various pieces.
Finally, guest Baptiste Herbin, perfectly at home in his art and in perfect symbiosis with the audience and his fellow players, produced a series of choruses of unprecedented virtuosity and intensity.
The whole audience felt as if they were witnessing a "great jazz concert", a rare moment, a moment suspended in time.
To conclude the evening, Slaven Ljujic had the excellent idea of fetching Baba Sissoko and his trio, who had remained behind the curtain, to end in a frenzied jam with the two bands of the evening, reunited on the stage of the Ni National Theatre.
That's jazz !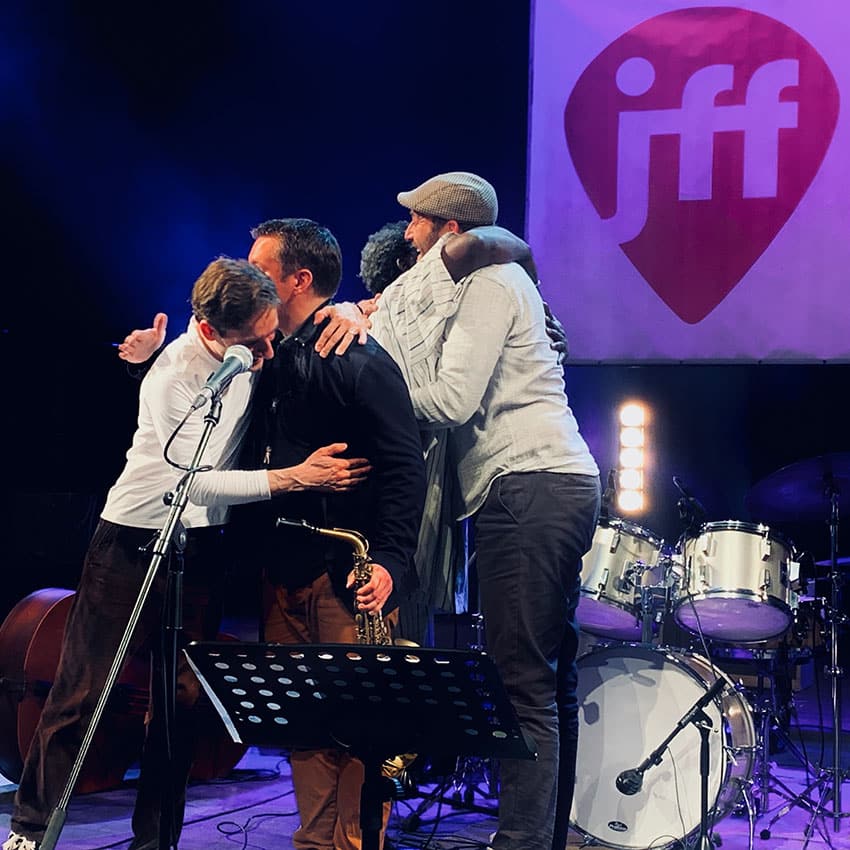 The magic of jazz concerts, as we sometimes experience them, as we always dream of them. Thank you, gentlemen.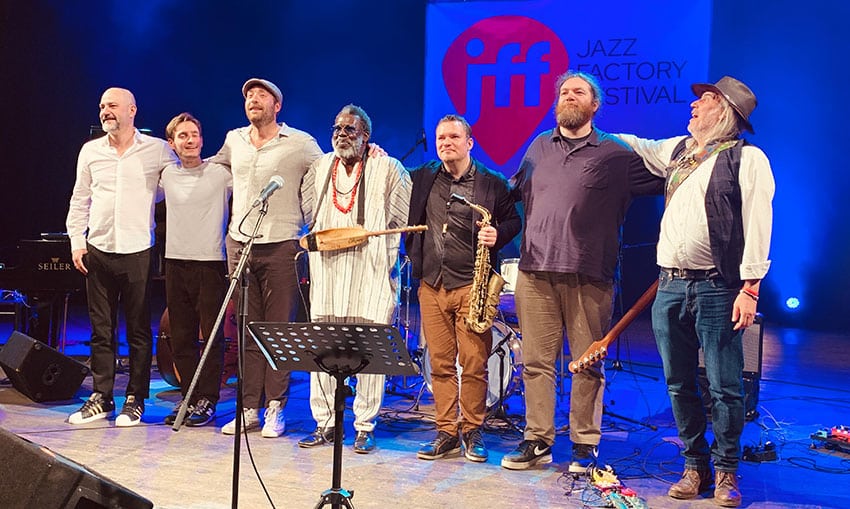 The third half of the evening was played in an incredible venue: Porta Jazz.
A jazz club in an old mansion, typical of Macedonian architecture, with a mezzanine overlooking the stage. Excellent musicians formed a 4tet, which included our heroes of the evening, in particular Slaven Ljujic and Baptiste Herbin. It was a terrific atmosphere, with a young audience there to party well into the night.
I don't think I've ever seen a jazz club of this quality, with such an atmosphere, even in the biggest European capitals. You really have to go to Bitola, in Northern Macedonia, to experience this!

Day 2 in Bitola – April 14, 2023.
It was a beautiful day, starting in the rain to discover more of the pretty town of Bitola, and the Roman ruins of Heraclea, with some of the most beautiful mosaics in the world, and a well-preserved Roman theater, then to taste the local gastronomy (the famous Macedonian Salad among others, and its famous grilled meats) accompanied by some fine wines.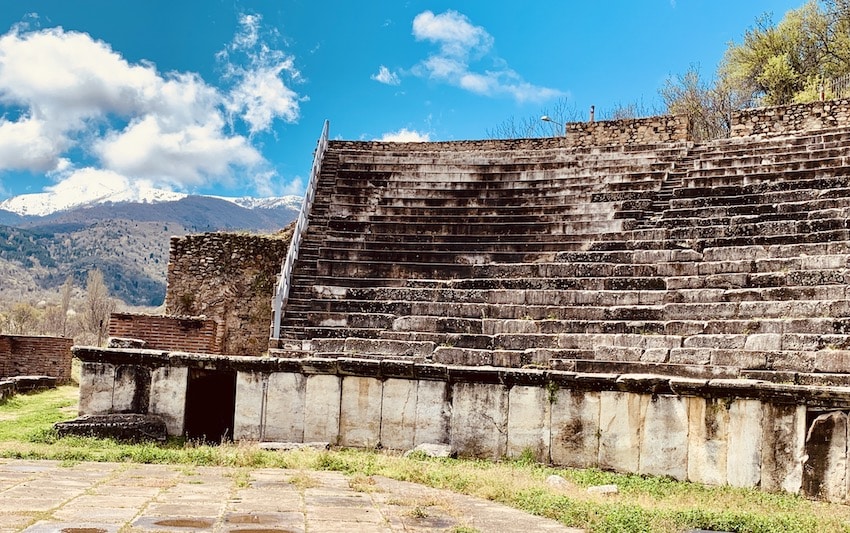 Jazz festivals have one thing in common: they can't be relocated. They are rooted in the heritage of the regions that host them. They are an opportunity to practice cultural tourism. They're a way of showcasing the diverse riches of a city or region. Discover its sites, cuisine and culture in general.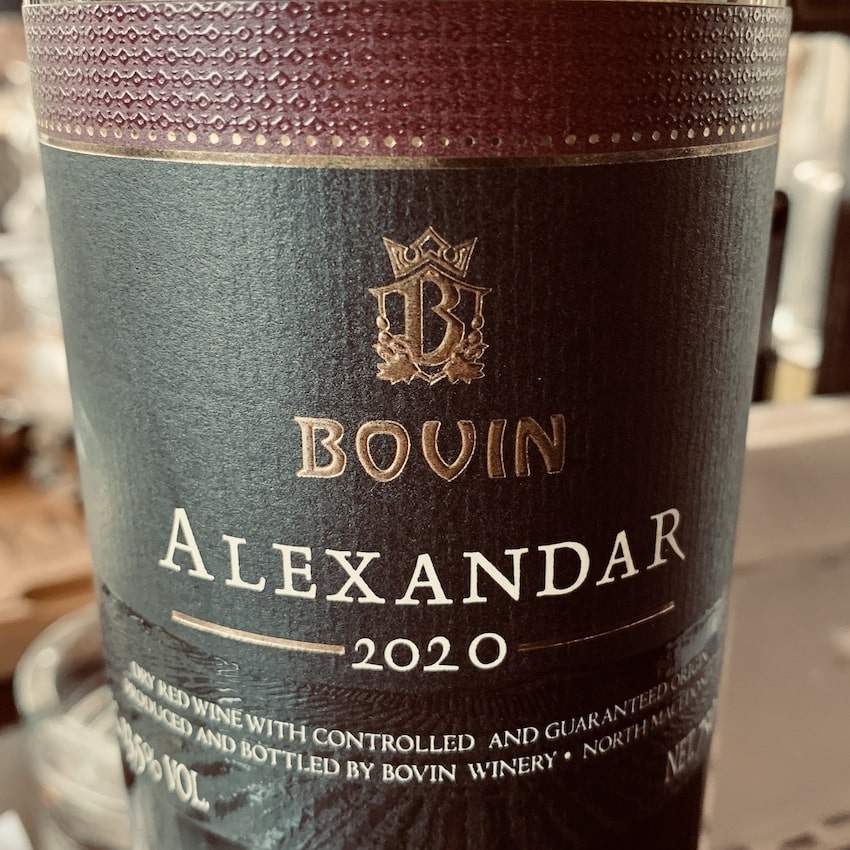 As in Nisville, Tirana, Podgorica, Dijon or Chambéry, it's a wonderful opportunity to travel in every sense of the word. Every jazz festival is unique. That's also why it's essential to get local artists on stage and create cross-cultural musical encounters.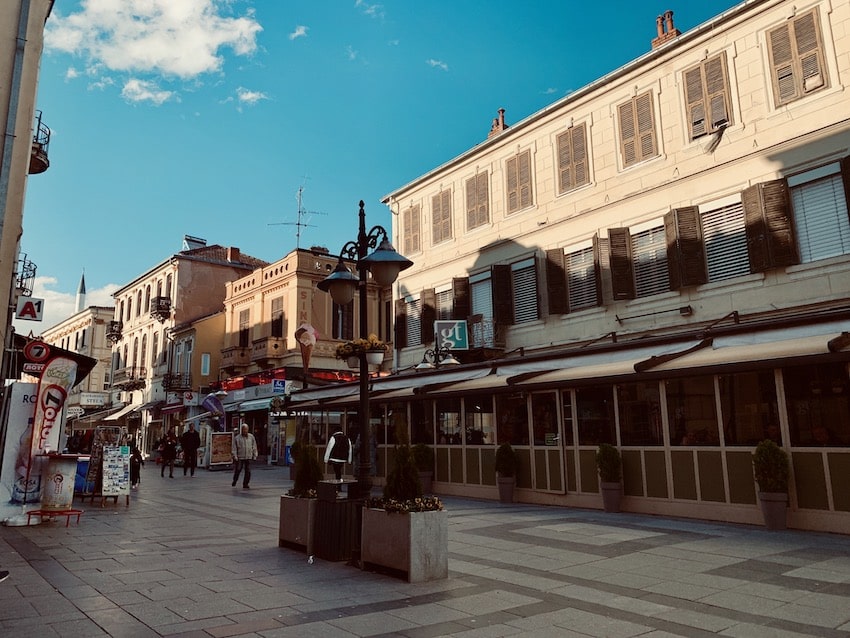 In the evening, back to the Ni Theatre of Bitola.
Milan Petrovic 4tet
Here's a tasteful jazz funk. The rock side remains discreet, and the jazz can prevail with its harmonies and groove driven by Philip Kelevic's bass.
Milan Petrovic's piano playing is very loose and full of lovely strength.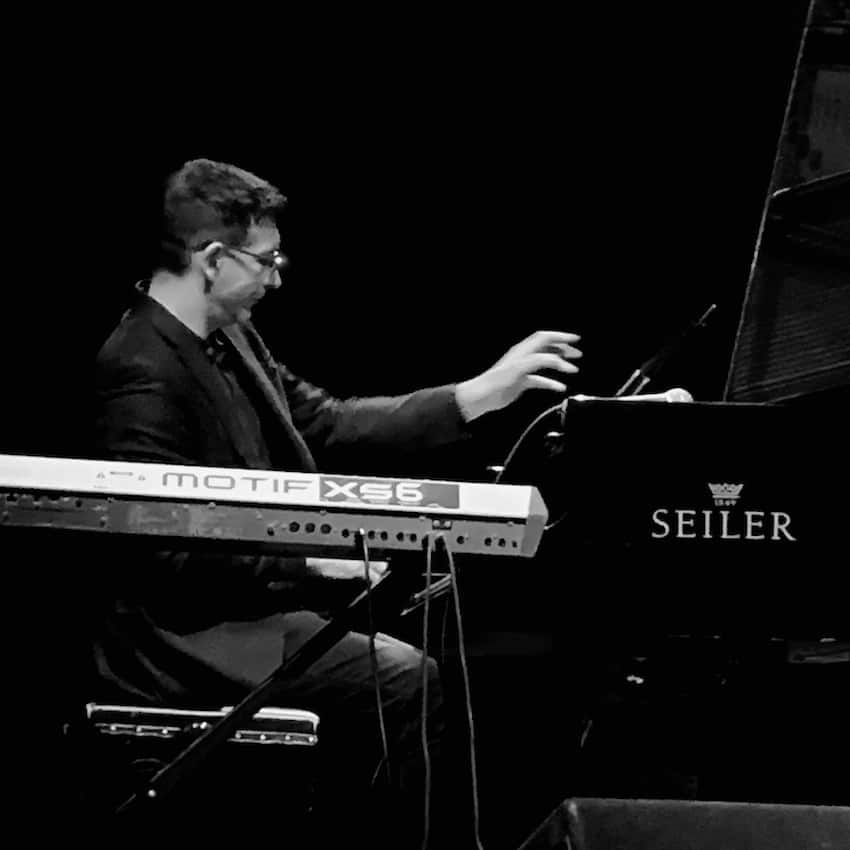 The audience also enjoyed Lehel Nagy's excellent saxophone choruses. Dimitrije Mojsijević was on drums and Filip Keljević on bass.
A repertoire with very funky pieces that won over a fairly young audience who turned out in large numbers on Friday evening. Pieces taken from the 4tet's latest album, "Emotions", as well as traditional Balkan tunes "Hajde Jano", and great covers of Metallica tunes such as "Enter Sandman" or Doors tunes like "Riders on the Storm".
Another excellent evening at Bitola's Ni Theatre!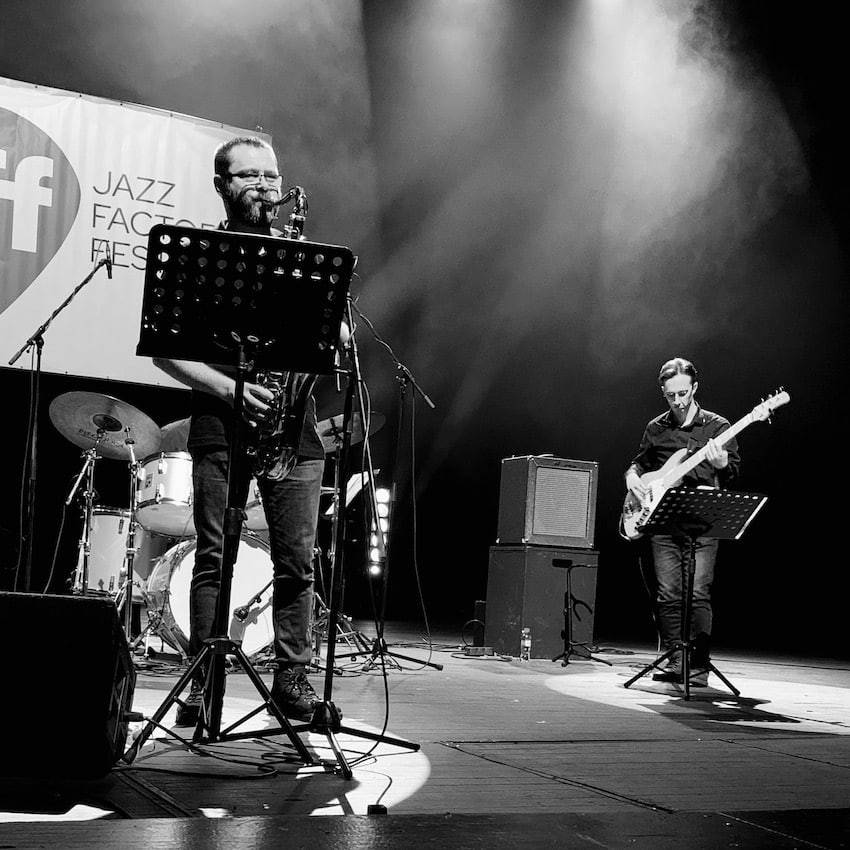 Liquid Carpet (Slovenia)
This Jazz-Rock fusion band featured:
Jure Praper : guitar
Matic Cresnik : drums
David Novak : bass
Mathias Mlakar : saxophone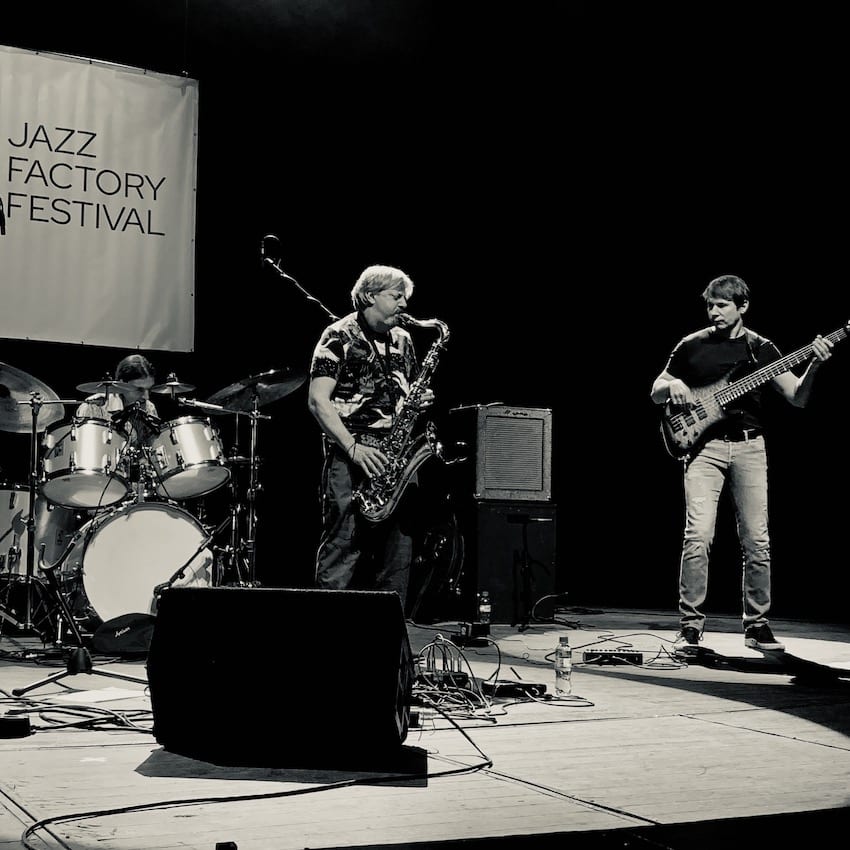 This very rock aesthetic, imprinted above all by Jure Praper's guitar and David Novak's bass, appealed enormously to the audience gathered on this Friday evening of Orthodox Easter.
…The energy of Rock 😊
To finish off this superb evening, we went to try and celebrate our departure at the Bourbon Street Pub. Another happy gathering place for those who love music and pubs.
A DJ and saxophone duo performed. Great atmosphere. A victim of its great success, it was impossible to get a seat when we arrived late, so we only stayed for a drink to find somewhere more suitable for dinner and conversation.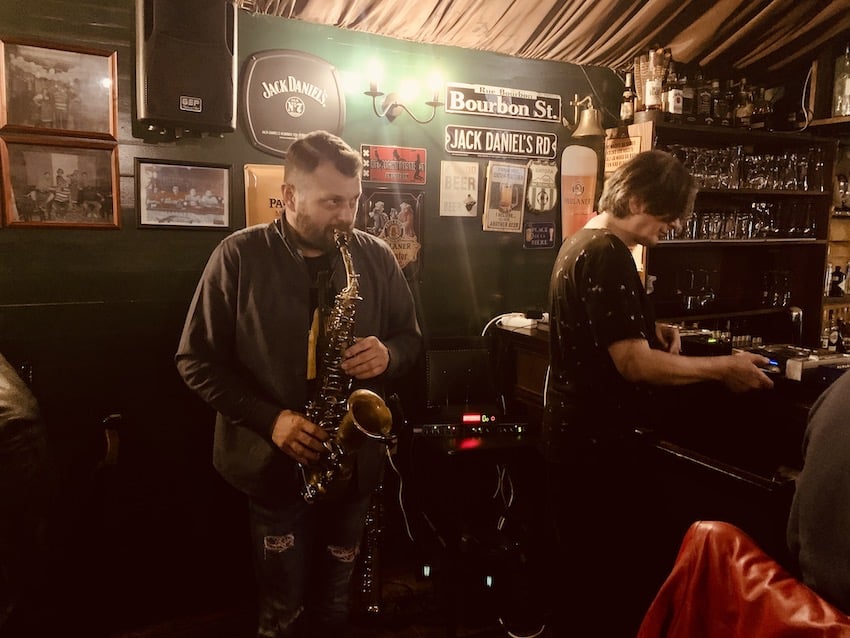 In short, the Jazz Factory Festival is a magnificent jazz festival far from the usual paths, and well worth the detour.
Couleurs Jazz warmly recommends it to jazz lovers looking for a change of scene.
©Photos jacques Pauper pour Couleurs Jazz
Translated with the help of DeepL