Release Concert of the album at the Studio de l'Ermitage in Paris, October 3, 2019.
It is for discoveries such as this "Mediterranean Quartet" that we do this job!
Your media claims the defense all the colors and shapes of Jazz, since we are offered a music that can be written but also improvised, innovative, learned in the elaboration … So we went to discover this quartet led by Matia Levrero and Tcha Limberger and we came back, conquered.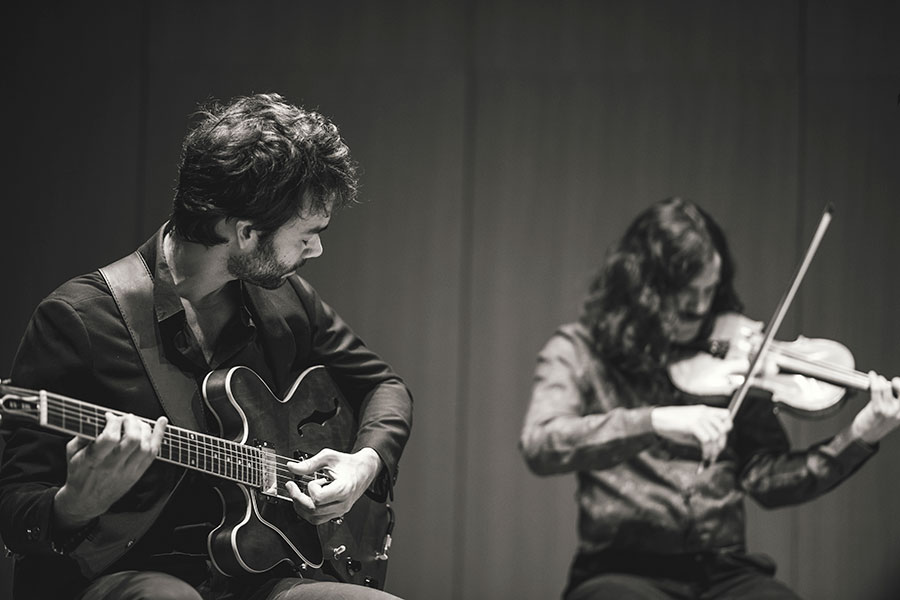 These two musicians accidentally crossed one day on a station platform. Since they multiply the meetings and the exchanges in order to elaborate during the sessions, this magnificent project, at the foot of an olive tree, symbol of the wisdom and the Mediterranean.
Tcha Linberger first: he's an artist right to your fingertips. Multi-instrumentalist, blind from birth, Manouche, based in Belgium but whose reputation already exceeds the borders. He collaborates on various musical projects, from traditional Bulgarian music to Greek Rebetiko – listen to this poignant "Manes Tis Avgis" – to the most contemporary jazz (he collaborates on the projects of Aka Moon, Birlli Lagrene, or Magic Malik …)
Oh! An he sings too … And very well!
Matia Levréro, the guitarist, composer, arranger comes from Montpellier. He is interested in all musical styles, from Mediterranean and African music to jazz, especially during his collaborations with saxophonist Julien Loureau or the Koa Big Band.
The two co-leaders then surround themselves with two brilliant accomplices: the saxophonist and accordionist Guihem Verger, passionate about improvised music, so jazz, but also classical or traditional. He multiplies the collaborations with Riccardo del Fra, Daniel Humair, Roy Hargrove …
And finally Simon Leleux a Brussels percussionist keen on oriental, Turkish or Indian percussions. His favorite instrument is the darbuka.
Once the 4 members of the quartet are briefly presented, let's put them together and here's what it gives: a "Mediterranean Quartet" to get urgently!
Listening to the album, we feel a lot of musical cohesion between the performers. Imagination and creativity are present at every turn of inspired and warm choruses. A perfect technical mastery in the service of emotion.
Music enjoying freedom and warmth between men.
The album is also in Jazz Radio Colors selection.
Mediterranean Quartet is produced by Printival.