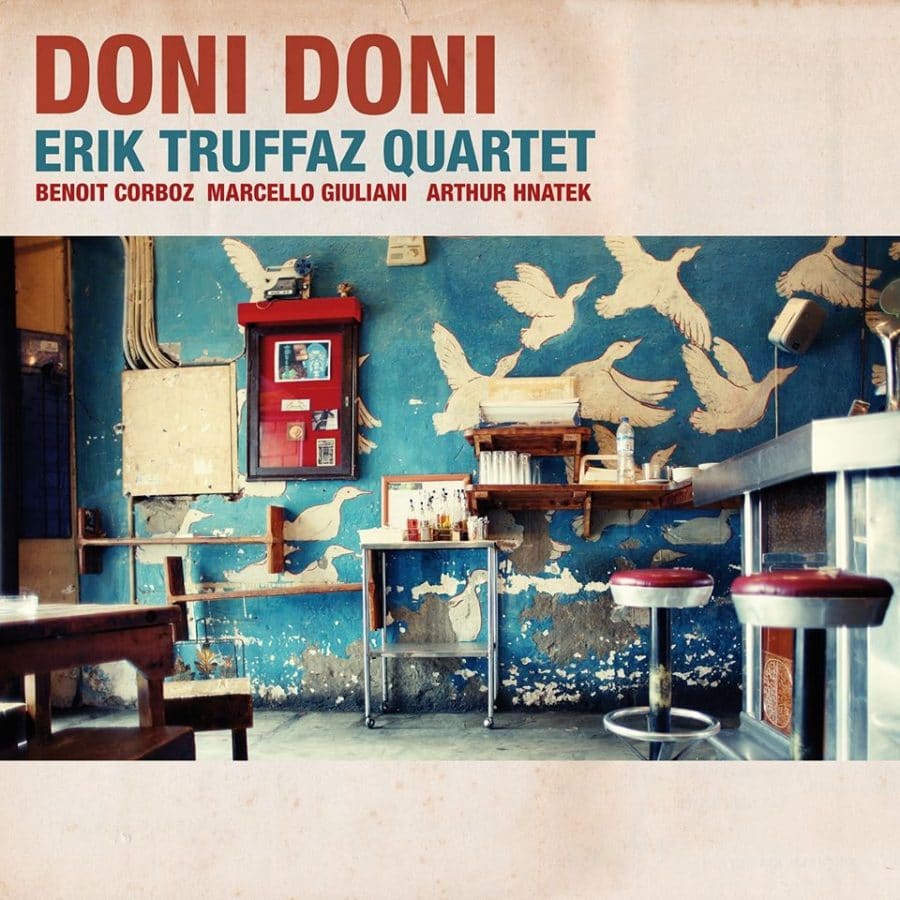 Erik Truffaz returns to the Montreal Jazz Festival 15 years after his first time in the Quebecois city, accompanied by his quartet (Marcello Giuliani on the bass, Benoit Corboz on piano and Arthur Hnatek on drums, who takes the place of the historic drummer of the ensemble, Marc Erbetta). The Salle Ludger-Duvernay, at the Monument National, is the chosen spot for the presentation of this French quartet's last album, Doni Doni, which features new influences coming from their collaboration project with the South-African dancing company Vuyani and two voices: Rokia Traoré and Oxmo Puccino
https://youtu.be/2Vydmn1HCqg
Man in black. White hair. Hat.
Old noise, echoes, floating sounds. Psychedelic playing.
Spirals, loops, never-ending stories.
Puts a hand on his forehead, tries to see beyond the spotlight.
A hint of a smile.
The trumpet does not shine. His eyes do.
He plays. Bell pointing at the sky, as if he was drinking from some sacred goblet. Progressively getting higher. Progressively bending his back to the rear.
"The first time we were here it was about 15 years ago."
Dragged, soft, low voice. Sounds like his trumpet.
"It feels great to be back. We are now going to play some tracks from our last album, called Doni Doni, which means little by little."
Little by little do the rest of the musicians incorporate themselves into the music.
Benoit Corboz creates an atmosphere. Difficult to pinpoint a style, to paint a list of influences. A journey through rock, blues, funk, old-school jazz, avant-garde music. Three different keyboards on the stage. A magnificent, shiny black grand piano waits, patiently observing the scene, from the back. Corboz sits in the middle of two other keyboards, slightly giving his back to the public. He does a lot of things at the same time – controlling electronics, background sounds, his own playing. Divides his attention, throws all his energy onto the keys, beating them with fire, jumping on the bench, standing up and sitting down and up and down and up and down and nodding and sitting on one of his legs and lifting it up again and pushing the bench with his knees unexpectedly while he goes up and up and up with the music.
While Arthur Hnatek follows, perfectly weaving his drums with those string sounds, loudly crashing with the toms, the cymbals. He goes from some kind of tribal sound, to Arabic reminiscences, to hip-hop-ish noises. All perfectly tied up, all for a reason, all meant to be there even if it is still sometimes an improvisation. A little too loud sometimes, the crescendos are felt both through his percussion and through his faces. How he grows and grows, in parallel to Corboz.
At the same time, Marcello Giuliani is the silent but very necessary observant. His playing is more camouflaged, not so evident, not so big, however utterly important, crucial and touching. Serious, at the back of the set, red shiny bass reflecting the focus of the lights. But when his solo comes, his technique flourishes, his heart glows, the music shows the love Truffaz has for him, he looks at his fingers, tickling the strings and he smiles and Giuliani keeps growing and growing.
Their music is powerful in terms of building a state of trance, an interesting combination of good technique, good knowledge of the tricks available and a desire to experiment – using electronics, loops, repetitions, strange sounds. Contrast between their ages –none of them is young- and the technology they use. It is not conventional and they embrace it.
Surrounding electric sounds, specific volume requests, sudden speed rhythm changes, echoes, repetitions, fake endings.
Communication through the music, very few smiles, very few words, hardly ever a look. But there's a good feeling. There's the mutual admiration, how they look at each other briefly during solos, how they contribute to make each other sound good, not just building a sound as a group.
Erik Truffaz stands on the edge of the stage. As if looking at the audience carefully, scrutinizing it. He plays away from the microphone, his lungs filling the room, while everybody else stays silent. He approaches the microphone, then goes away, then takes his hat off, goes to the mixing table, plays on a loop, uses a mute, making the sound even older, more mystical.
The concert finishes but the energy is high. The power is up. They do not stop playing. Truffaz asks for everybody to stand up, clap hands to the rhythm, dance. He, himself, is dancing all over the stage.
"You are great" He shouts, smiling.
The feeling is mutual.