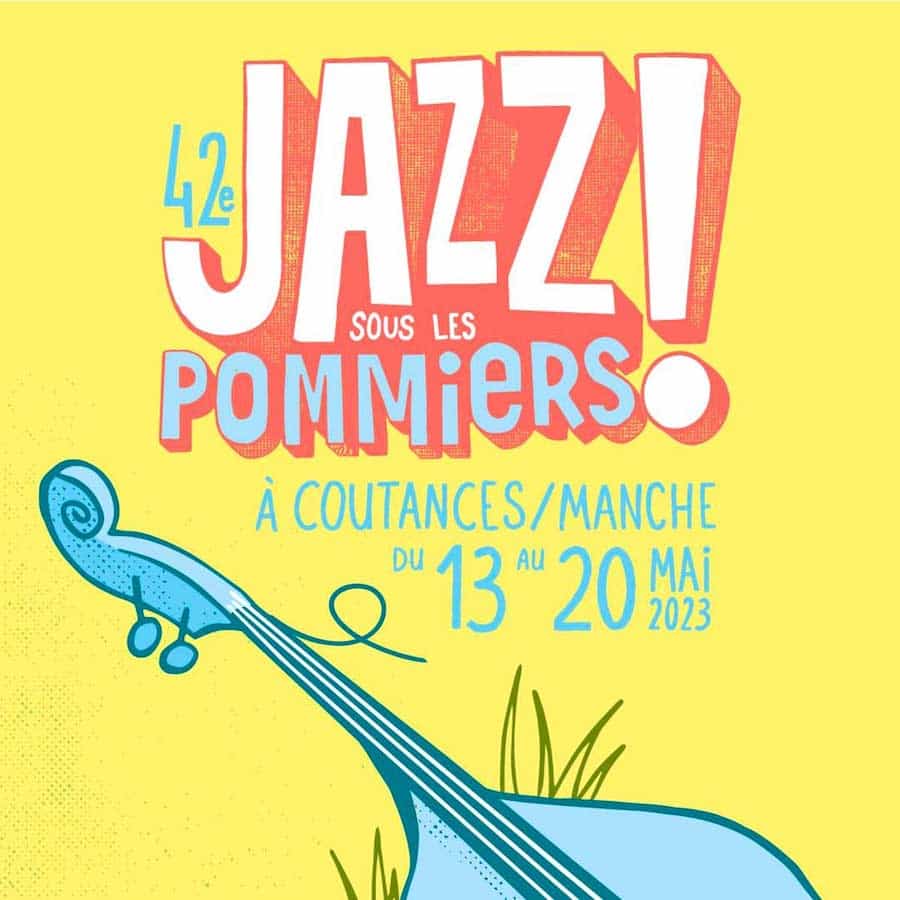 You'd think that Jazz sous les Pommiers would have reached cruising speed and would be content to maintain its momentum and stay the course. This is clearly not the chosen option. The desire to open up new horizons is obvious, as is the desire to propose innovative directions.
Examples of the 42nd edition include:
Co-organized with the Centre National de la Musique (CNM), the aim of these days was to present the diversity and quality of the French jazz scene to 30 professionals from all continents, who were likely to invite these bands to their respective countries. A jazz market!
Eight showcases were programmed: Nout, Laurent Bardainne et Tigre d'Eau Douce, Théo Girard trio, Ishkero, Red Desert Orchestra, Camille Bertault, Rouge and Arnaud Dolmen quartet. And in the role of "Monsieur Loyal", Alex Dutilh, host of the Open Jazz program on France Musique.
One of the highlights of the Jazz Export Days was an evening at the Abbey of Mont-Saint-Michel, where the Vincent Peirani/Emile Parisien duo performed as part of the millennium festivities. The impression was overwhelming!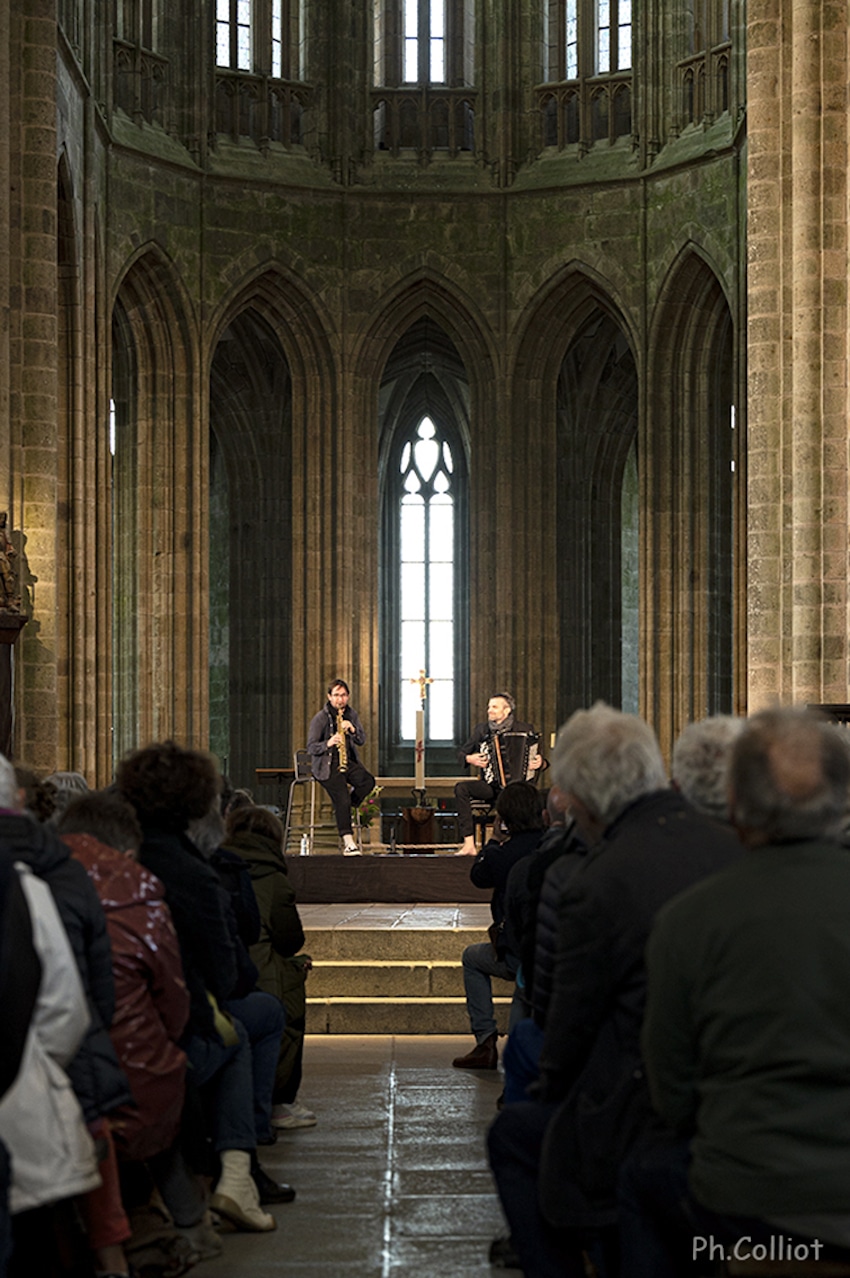 – Confirmation as a National Jazz Reference Center: local authorities will contribute to the financing of artist support.
As for the concerts attended by Couleurs Jazz Média, it's impossible to give an exhaustive account: 36 bands were seen and heard out of the 61 concerts on offer.
So I'm offering you a completely subjective, but assertive, sample.
In these days of the Cannes Film Festival, no ranking, but a Palme d'Or nonetheless awarded to what was, for me, the major event of the 2023 edition of the festival: the meeting of two great jazz personalities, Cuban pianist Gonzalo Rubalcaba and alto saxophonist Pierrick Pédron, on the Théâtre stage.
A World première at Coutances !
After recording with Mulgrew Miller in Brooklyn in 2005, Pierrick Pédron now crosses paths with the Cuban pianist on viola in a duo. The result is a recording with only their two names on the title track (an album which also won Hit Couleurs Jazz on its release).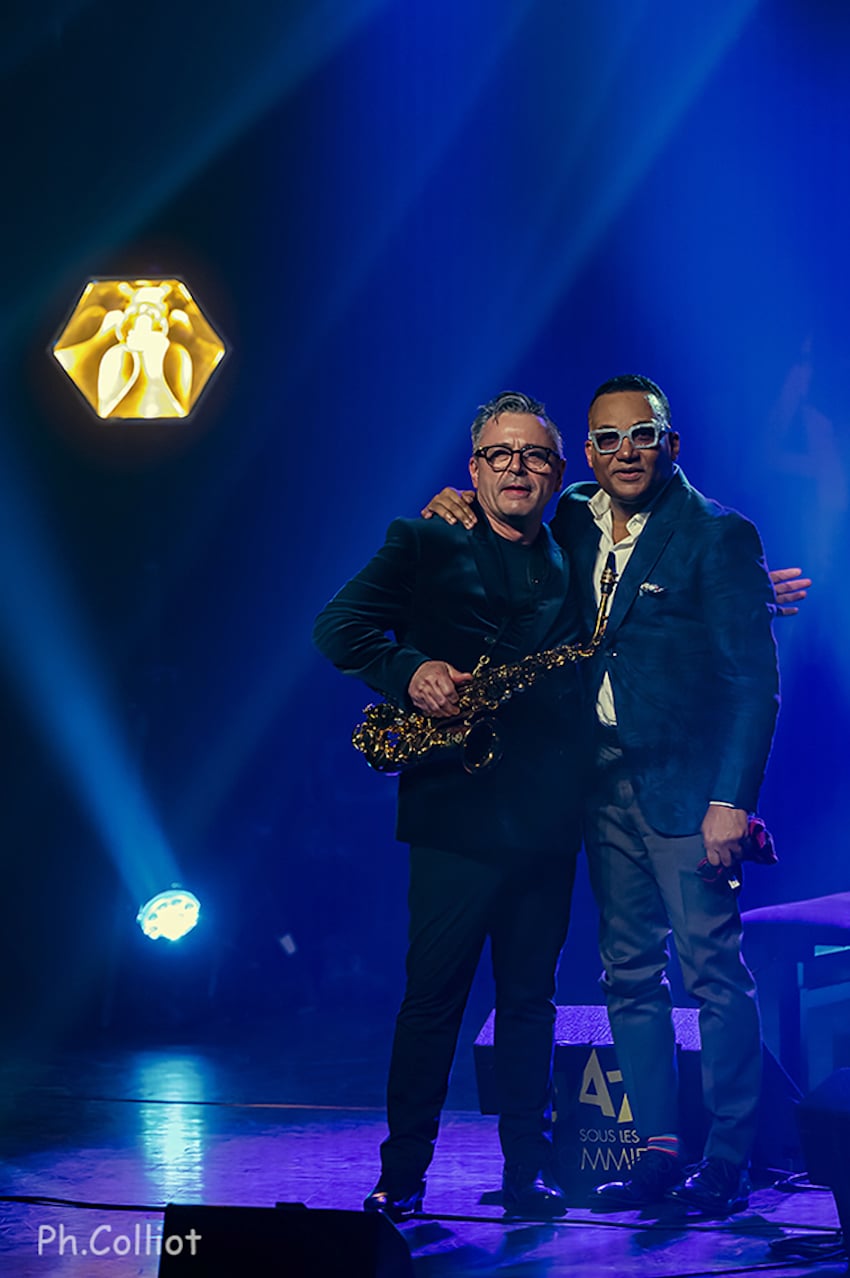 And it's the audience at Jazz sous les Pommiers who have the honor of this stage premiere.
Extreme concentration on the part of the musicians, palpable emotion that in no way detracts from the inventiveness, swing, lyricism and fluidity of their playing… These are the ingredients that will make this concert an exceptional moment of the highest order.
Completely revisited covers, from Sydney Bechet's "Si tu Vois ma Mère" to more modern pieces such as Georges Russell's "Ezz-Thetic", and Carla Bley's superb ballad "Lawns".
A summit meeting, a moment of grace! The embrace the two musicians gave each other at the end of the concert revealed both their musical communion and their human relationship.
Other concerts will delight my ears to the full:
– The first concert I was able to attend for this edition: that of guitarist Julian Lage with Jorge Roeder on double bass and Dave King on drums. Awesome! …quite simply. It was a first for me. It was, as they say (in French), a slap in the face!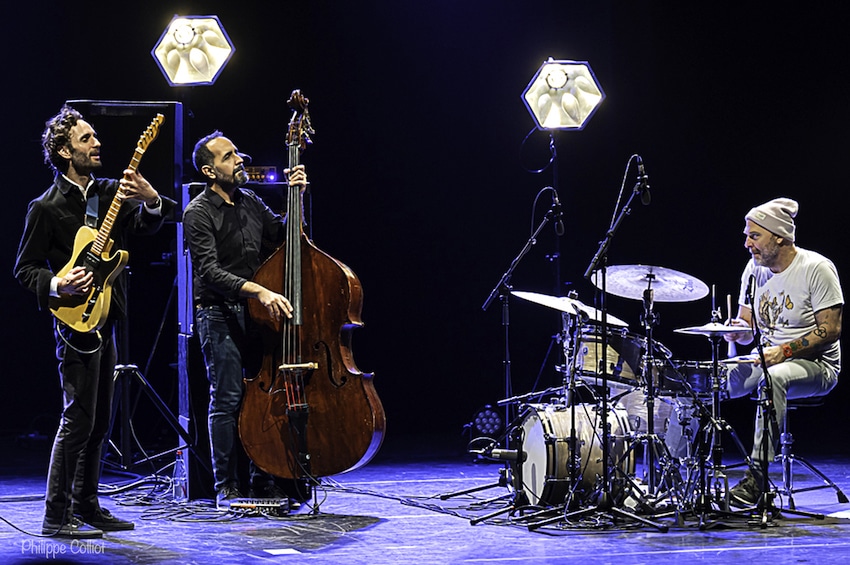 –
– The infectious energy of Papanosh and their dancing master Amélie Affagard.
– Steve Coleman : …settle into the rhythm and let yourself be carried along.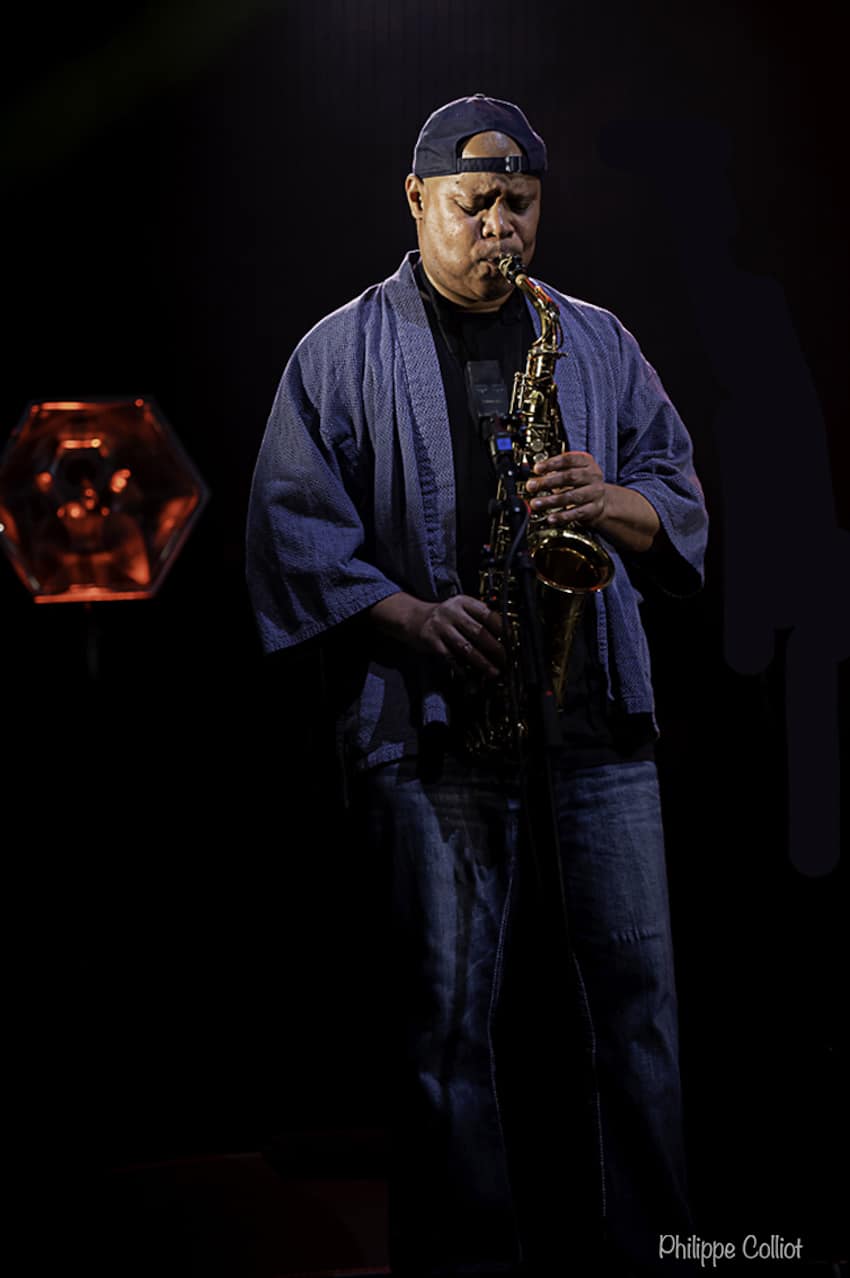 – Dee Dee Bridgewater & The Amazing Keystone Big Band : for Dee Dee !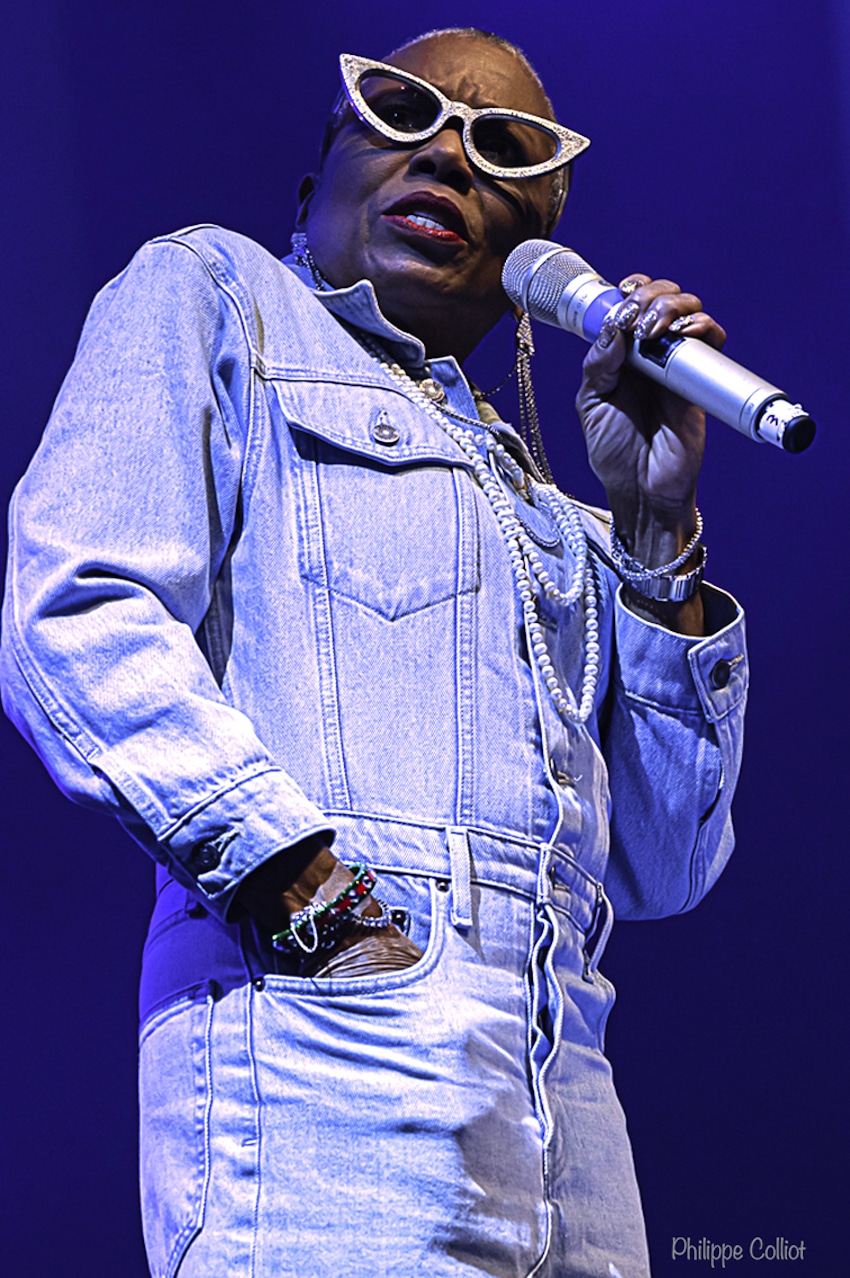 –
Triumviret : family osmosis in the cathedral.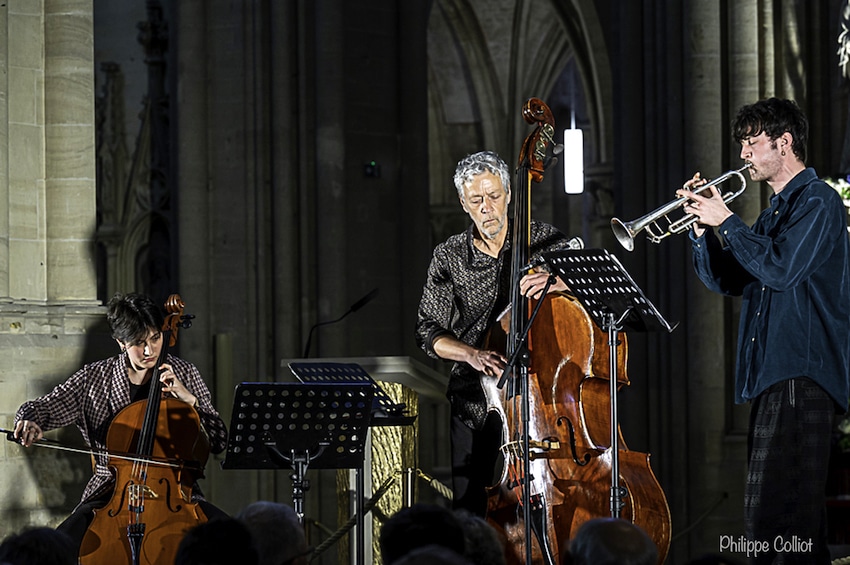 – Elie Martin-Charrière:  the "poet of drumsticks" accompanied by four jazzwomen, including Olga Amelchenko on saxophone and flute, who is beginning to be seen and heard more and more. Elie Martin-Charrière in top form, bubbling with creativity.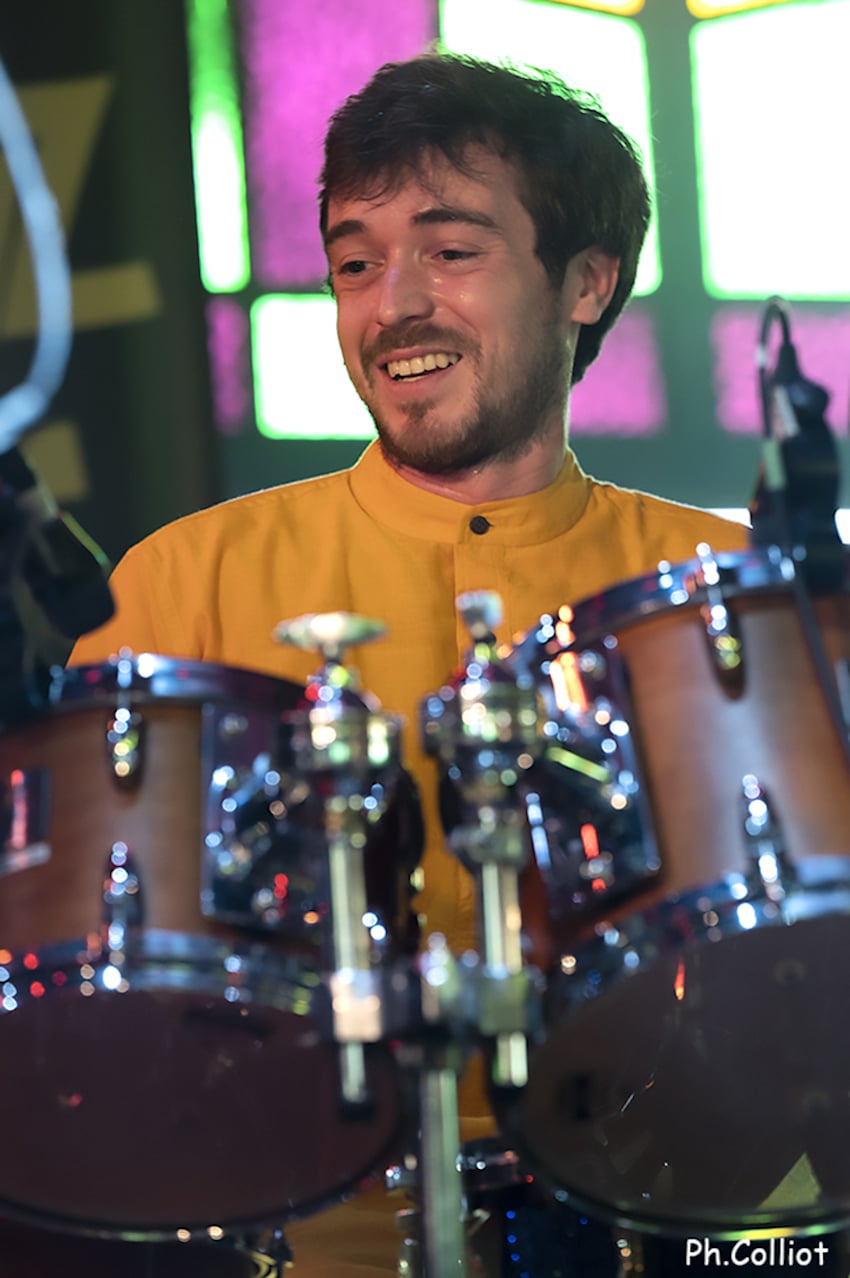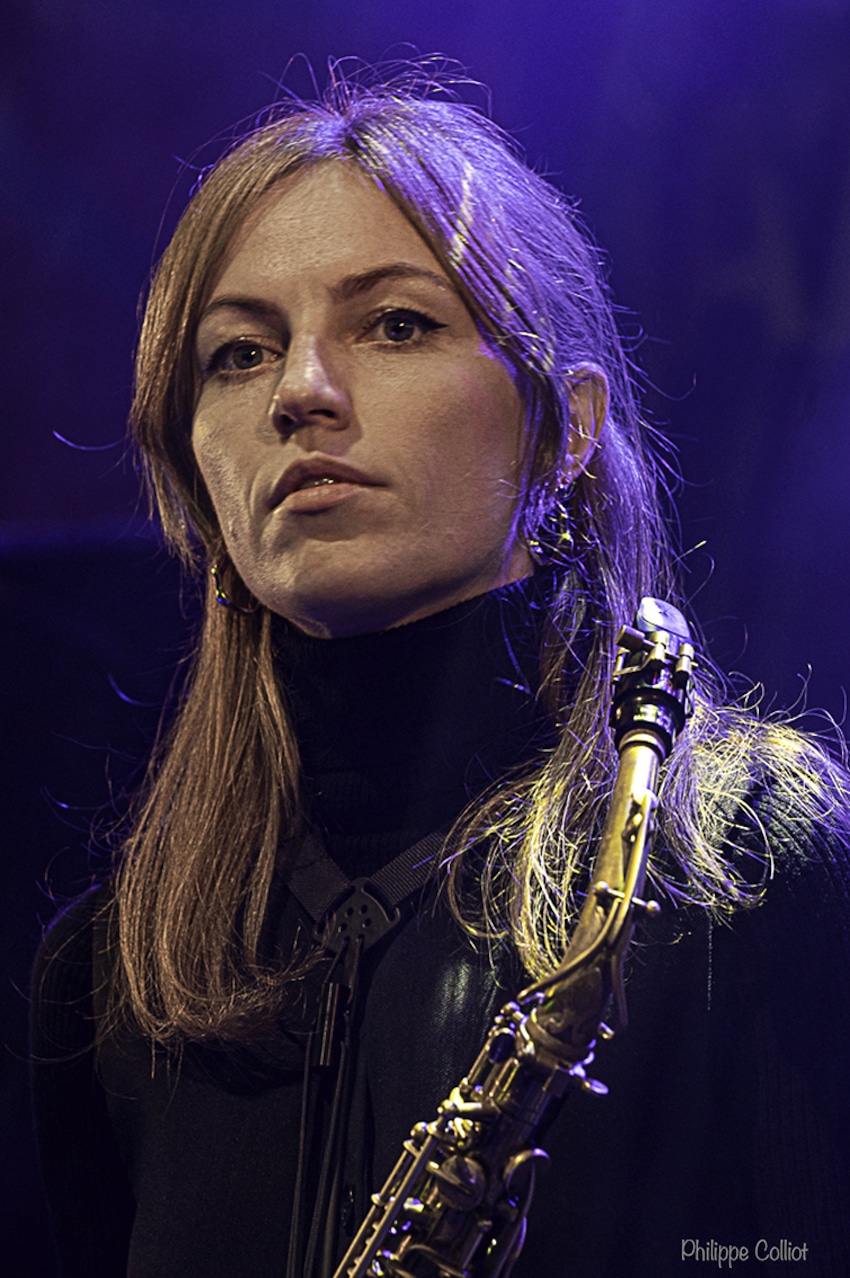 – Erik Truffaz and the Choir Emelthée : Gregorian chants composed by the trumpeter and performed in the cathedral setting. "La voce della Luna".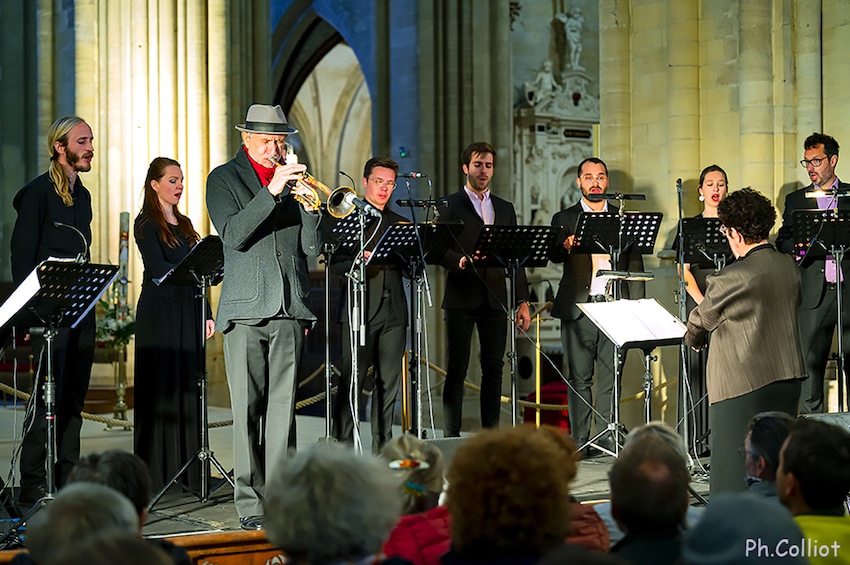 – Sixun : for its 40th anniversary, a huge rhythm section (Michel Alibo, Stéphane Edouard, Paco Séry) that transcends Louis Winsberg, Alain Debiossat and Jean-Pierre Como.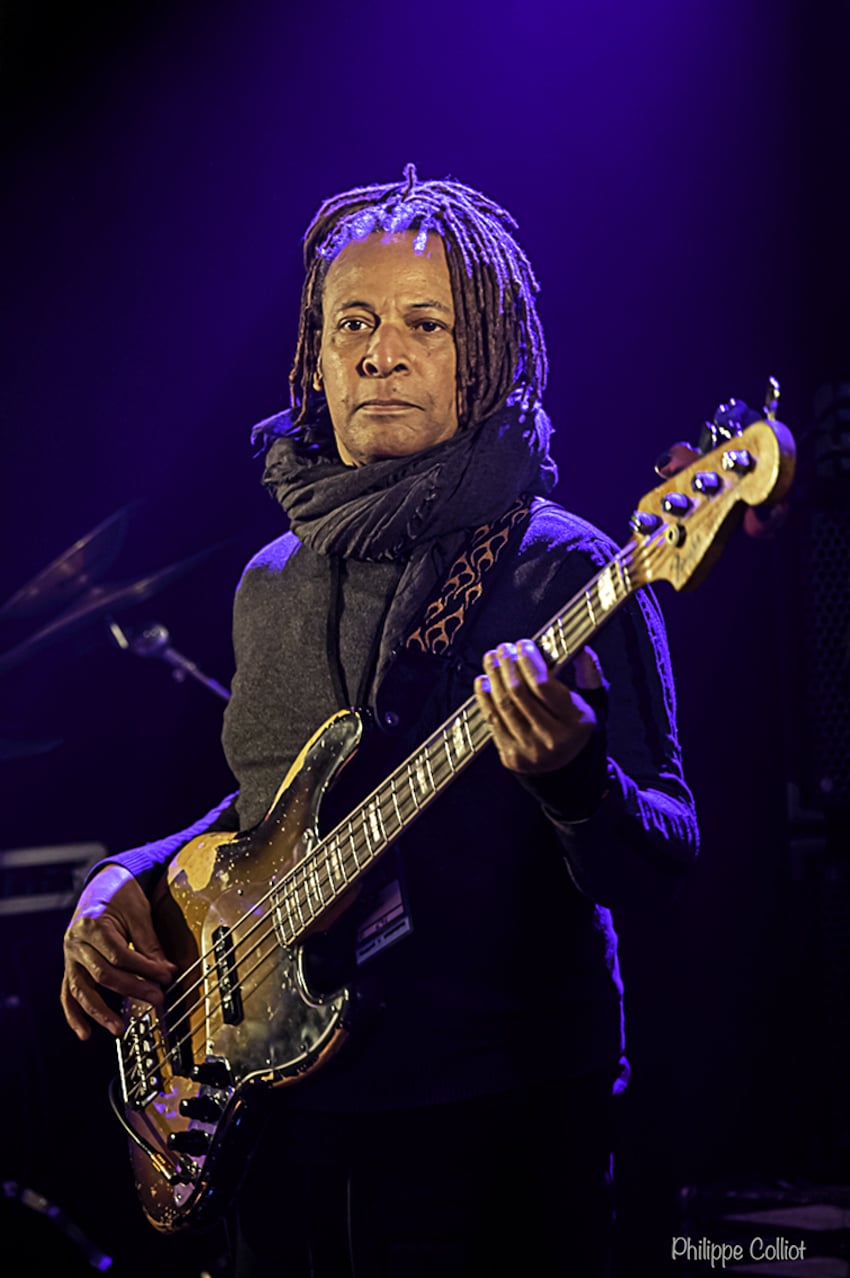 – As Part of the Jazz Export Days:
 – Double bassist Théo Girard's trio wins the day for the quality of its compositions.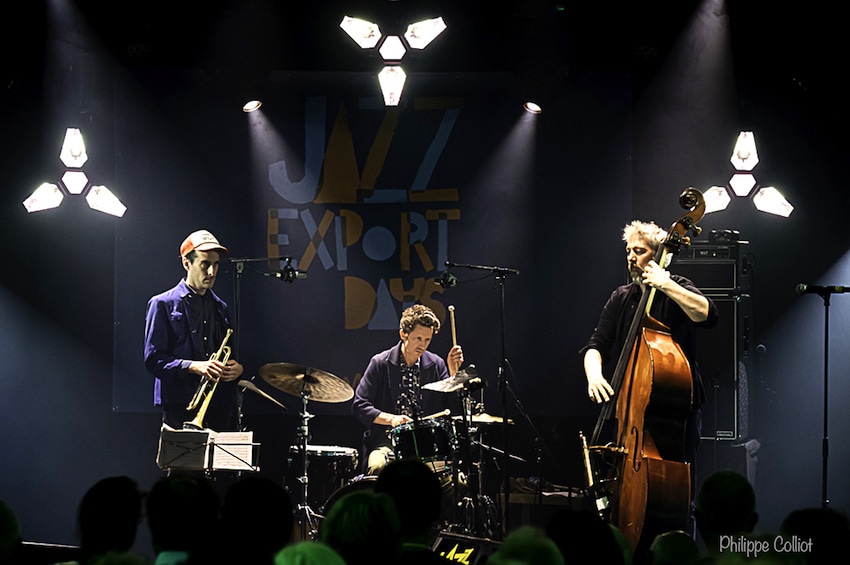 – Camille Bertault for her aura and sense of rhythm.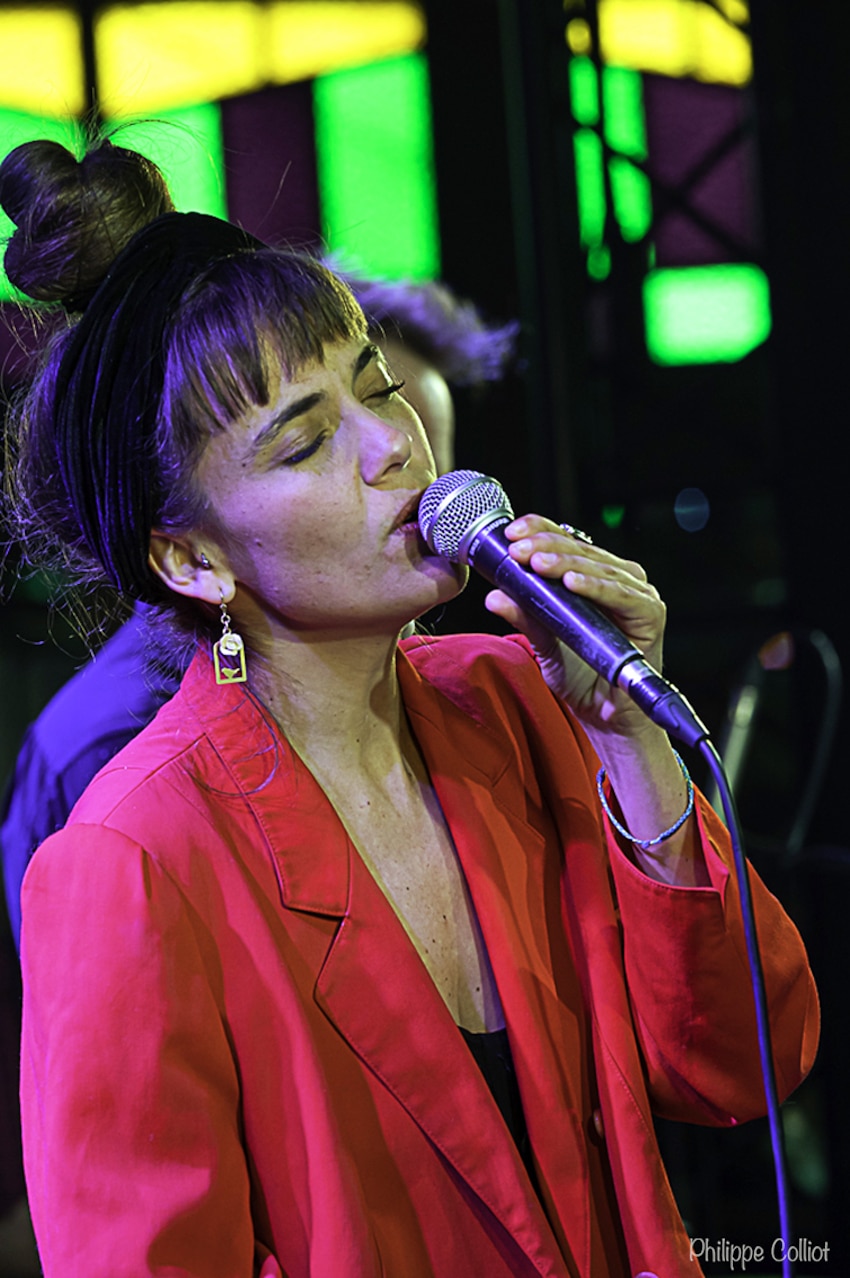 – Arnaud Dolmen Quartet, a must for drummers, with resolutely modern jazz compositions.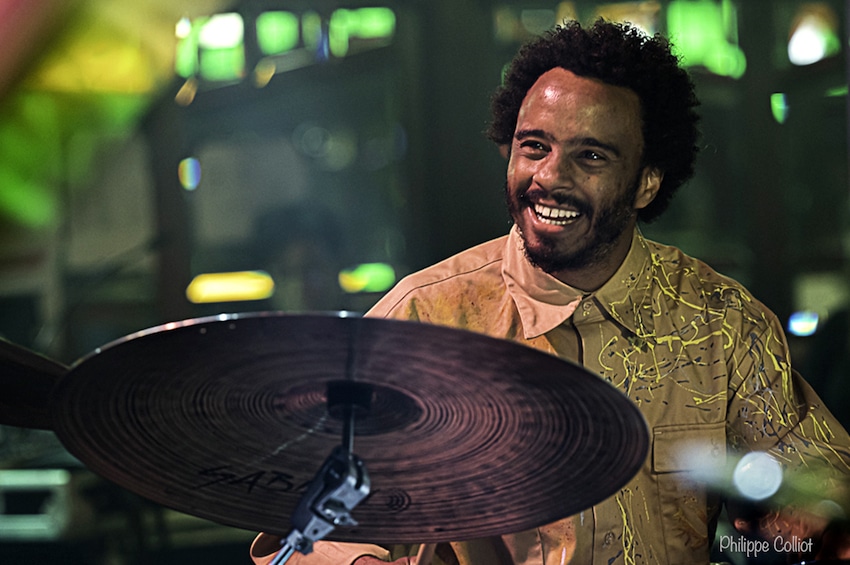 Some concerts didn't quite live up to my expectations:
– Birelli Lagrène's carte blanche: impressive virtuosity, but the emotion just wasn't there. His duet with Ulf Wakenius was a model of its kind, with the 2 guitarists conversing wonderfully.
– The performance by Youn Sun Nah (who has unfortunately distanced herself from jazz since she left Act label), but whose vocal qualities and those of the musicians accompanying her, including trumpeter Airelle Besson and cellist Guillaume Latil, cannot be called into question. But her tendency to simper tarnished the promise of a great concert.
– The same applies to Ana Carla Maza's concert.
There were other concerts I wasn't able to attend. But a quick look at the soundcheck for two of them made me regret it:
– Daniel Humair trio invites trombonist Samuel Blazer with Stéphane Kerecki and Vincent Lé Quang.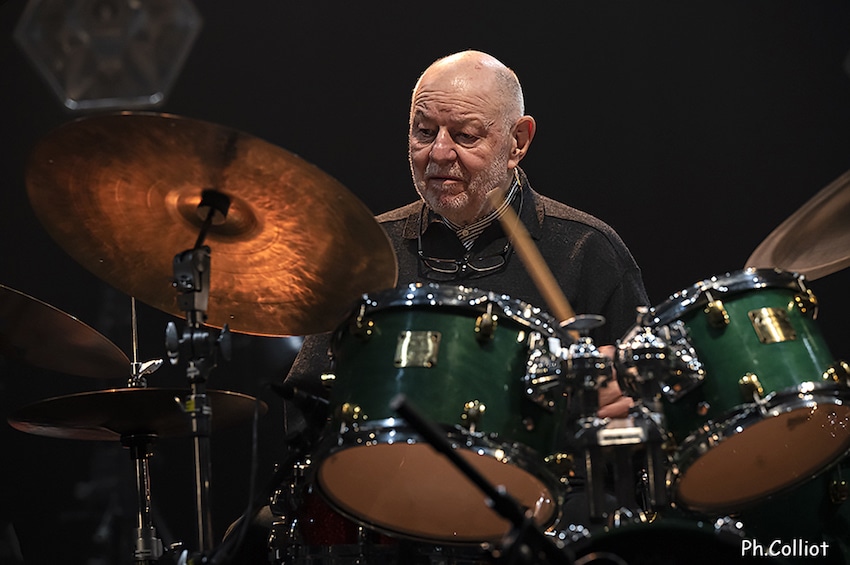 –
Antonio Lizana  (voice, saxophone) with the flamenco danser, also on choirs El Mawi de Cadiz.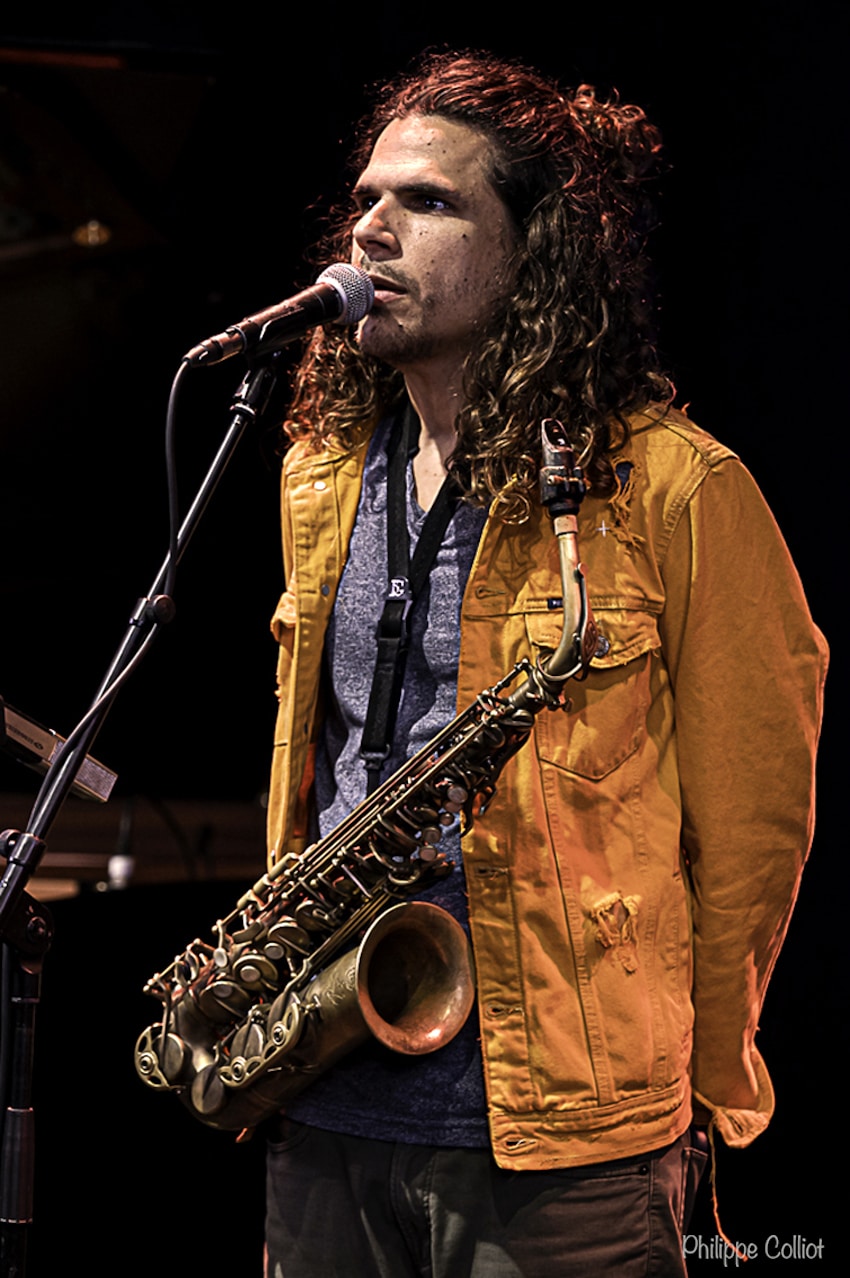 Residences.
Two artists will complete their three-year residencies at the end of 2023: Théo Ceccaldi and Fidel Fourneyron. Each of them has proposed a number of activities during their residencies: concerts in local homes, work with schools, with disadvantaged audiences (prisons) or remote audiences (Ehpad), creations during the festival… An end-of-residency concert will take place on November 18 at the Théâtre de Coutances. The next residents are not yet known.
And to close the festival on a high note, Marcus Miller invited the talented young French guitarist Tom Ibarra – who had already been his guest in 2016, when he was just 17 years old – to join him in his fiery quintet for an over-the-top finale, during which Marcus Miller distributed the choruses, although he did keep a few for himself.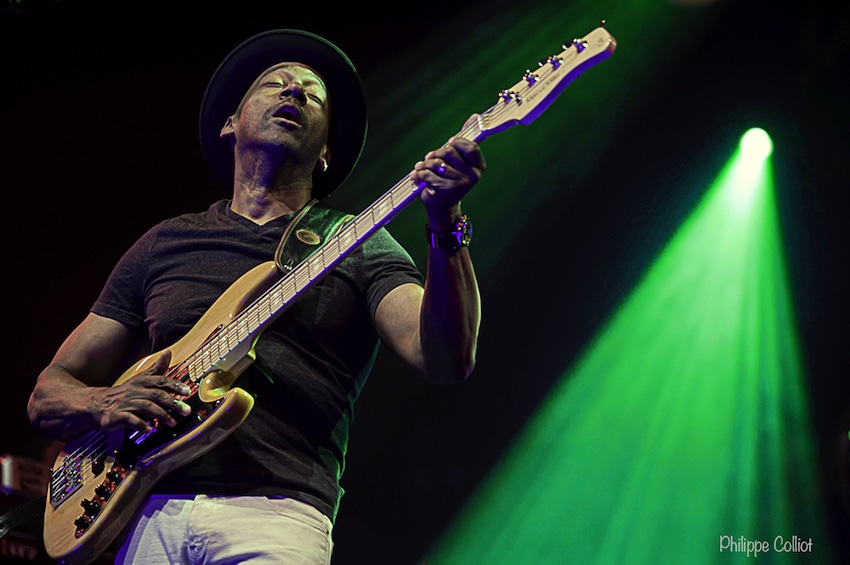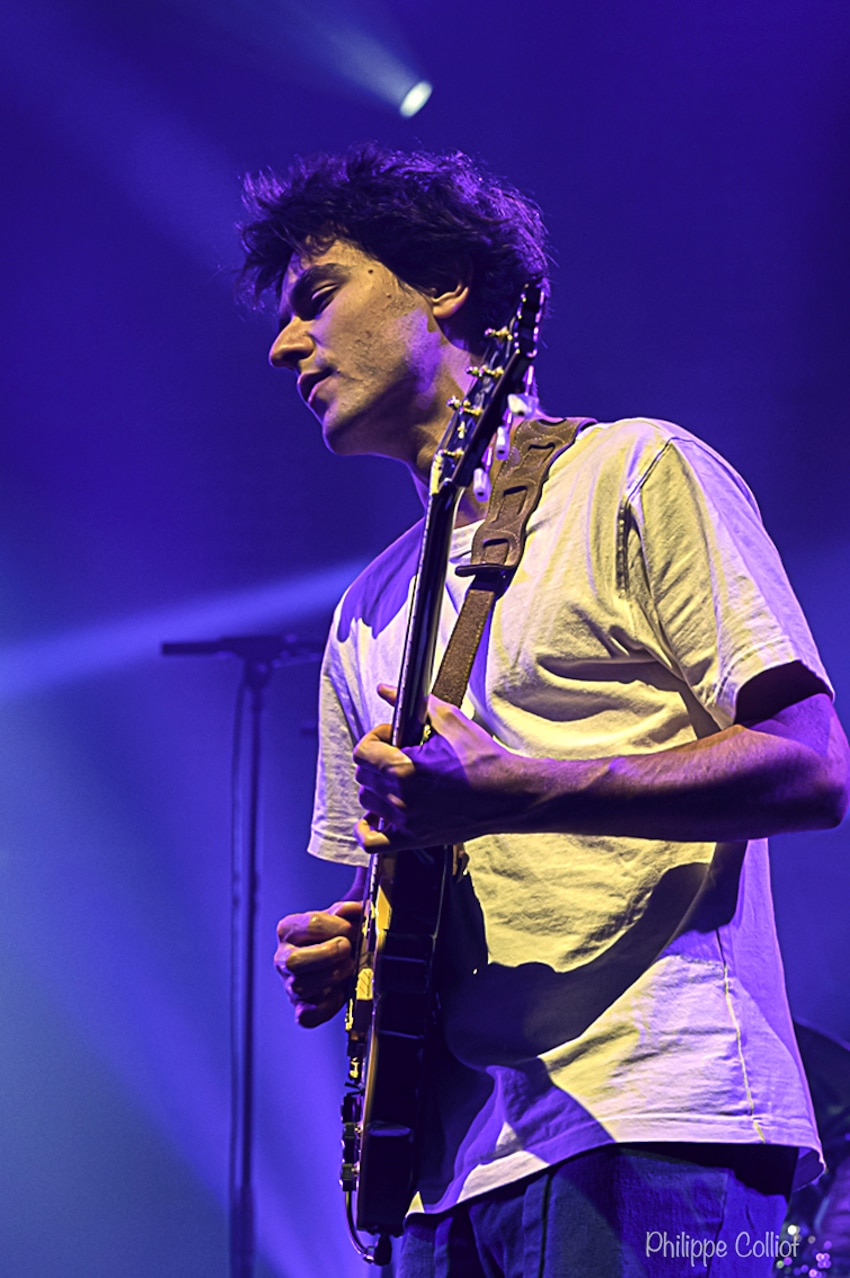 The festival also includes street shows, strolling concerts, Sunday with brass bands, and the "Avis aux amateurs" stage…
An initial report from the festival's communications department shows that 70,000 people attended the festival, with 93% of the venues full, and 47 of the 61 concerts sold out!
This 42nd edition has at least regained its pre-pandemic vitality, and Jazz Sous Les Pommiers is not the 3rd most important jazz festival in France for nothing.
See you from May 04 to 11, 2024 for the 43rd edition!