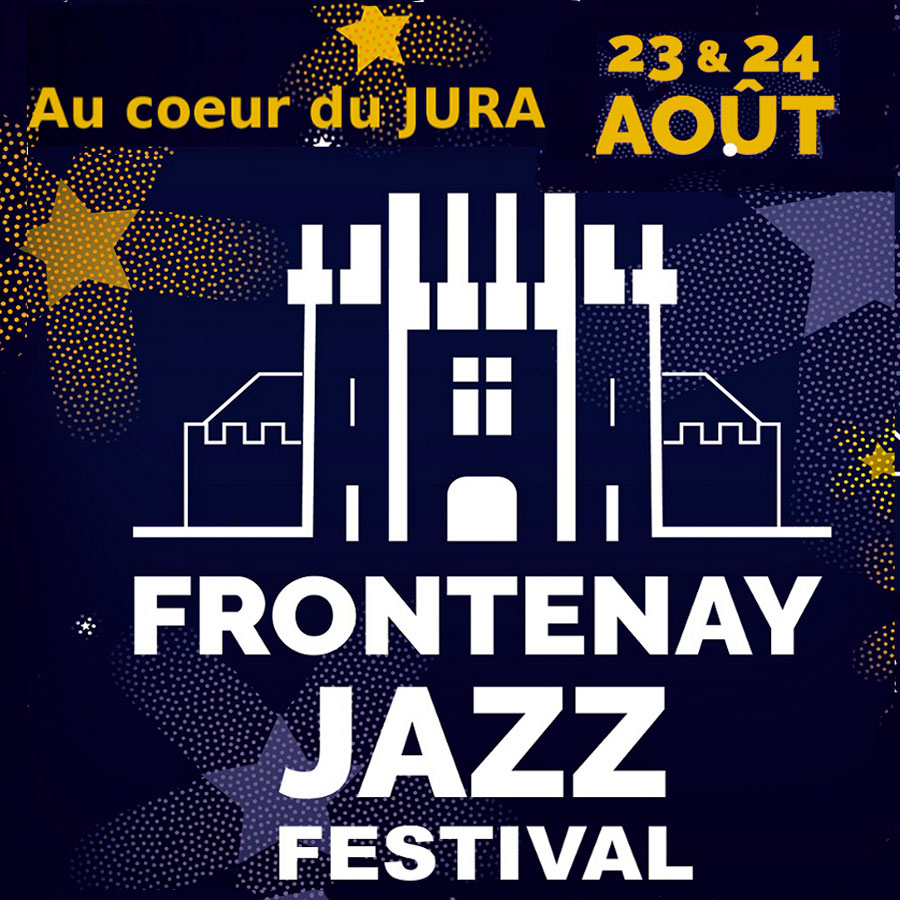 The Jazz à Frontenay festival's 7th edition will happen on August 23rd and 24th on the Château de Frontenay grounds for a total of no less than six exciting concerts over two days. Don't miss it!
The Yannic Seddiki Trio will kick of this year's festival on Friday Aug. 23rd at 8:00 pm with a style of jazz fragrant with Arabic and Andalusian overtones. The first evening will continue with the duo 'Continuum' at 9:30 pm. . The young pianist will be accompanied by Yoann Bellefont on bass and Dimitri Delporte on drums.
The evening will continue with at 21:30, the duo Continuum.
Continuum is a nice complicity between Jean-Marc Larché on saxophone and Yves Rousseau on double bass.
Improvisation, elegance, lightness and musical poetry with original compositions or Baroque music themes.
This concert is supported by the Regional Jazz Center of Bourgogne Franche-Comté.
To end this first very dense evening, the singer Tricia Evy, godmother of Couleurs Jazz Radio, will be in a quartet with three great renowned musicians: David Fackeure on piano, Thierry Fenfant on bass and Francis Arnaud on drums to interpret a good part from the original repertoire of Tricia's latest album (Hit Couleurs Jazz) "Usawa", as well as standards.
Saturday, August 24 at 8 pm, to open this second evening, the stage will welcome Bruno Angelini's Quartet who will perform the last album of the pianist composer: "Open Land"
An album that offers a tribute to pianist John Taylor, with a lot of lyricism and finely crafted melodies. Pretty connivance between the musicians:
Bruno Angelini – piano, compositions; Régis Huby – violin, tenor violin, electronic;
Claude Tchamitchian – double bass; Edward Perraud – drums, percussion.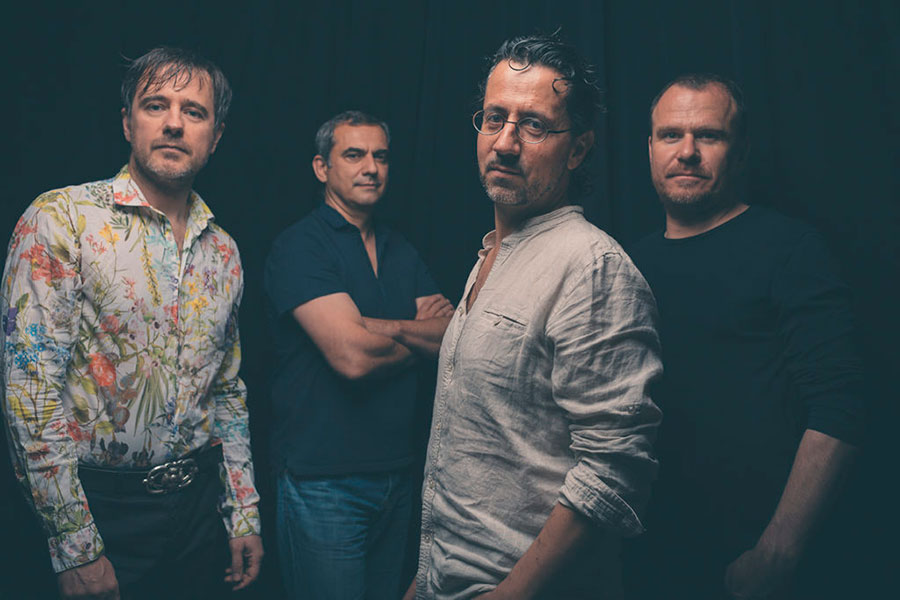 ©Photo all rights reserved.
At 9.30 pm, the Jazz Eleven's "dream team" will come on stage with Sarah Lancman's quartet performing songs from the album "à Contretemps", also "Hit Couleurs Jazz".
Sarah Lancman, one of the most beautiful voices of the current jazz will be accompanied by maestro Giovanni Mirabassi on piano, and a rhythmic dream: Thomas Bramerie on bass and Lukmil Perez on drums.
And for the closing concert, at 23H, we can join the stars with: Guillaume Perret and his project "Elevation" designed around the astronaut Thomas Pesquet's mission. The inspiration is resolutely orbital, cosmic and stellar!
Guillaume Perret will be on saxophone and will be accompanied by Yessaï Karapetian on keyboards, Julien Herné on bass and Martin Wangermée on drums.
Festival Off …
Samedi 24 août inter afternoon, Frontenay et Passenans's caves will open their doors for  6 concerts with:
In la  maison Vuillaume situated inVau quarter : "Funny Funky"
With Marc Étienne Géry on piano and voice,  Pierre Leroy on drums for a « Funny » & « Funky » jazz which gives way to total improvisation.
at Prudent's, rue de la mairie : « Poulpe Noir »
Between free jazz and contemporary improvisation, the 4 members of the quartet give free rein to the expression of their musical history combining with the intensity of the present moment. The result: an intense and always renewed music where patiently elaborated narrations are mixed as well as moments of sound storm sculpted by the pulsation.
maison Bidot  Viseney quarter, "AA'IN"
The soul of Venezuelan and Colombian traditional music: an encounter between the music of these two neighboring lands, two countries with intertwined histories but with very distinct identities. AA'IN means soul in the native language wayuu – a people whose ancestral territory straddles the two countries. Venezuelan singer Rebecca Roger, Colombian guitarist Sergio Laguado and Colombian bassist Felipe Nicholls reveal through their music what their cultures have in common.
maison Petitot town quarter at 04:00pm : Damien Groleau Trio
With his piano, Damien Groleau justifies the poet: pastel colors arise here and there; others explode and burst like oranges; others are sparkling under a strange layer of delicacy. In short: all the colors of Jazz!
With the support of the Regional Center of Burgundy Jazz Franche-Comté
Passenans maison Grand: "Intitial" Vladimir Torres trio
After 20 years as sideman on projects as numerous as various, Vladimir Torres, proposes his Trio, with a musical universe borrowing musical influences in which he bathed all his life, as well as the influences carried by its various origins.
castle caves: Bugala quartet
For a trip to Africa, India, Latin countries, Slavic countries, Gypsy cultures (gypsy, flamenco) … aboard the improvised ship that is jazz.
The instrumental mastery of these musicians, for some former students of the Boston Berklee, is led by Caroline Bugala, disciple of Didier Lockwood.
©Photo Header : Continuum by Florence Ducommun
Editing with Eliz Corbet's precious help.