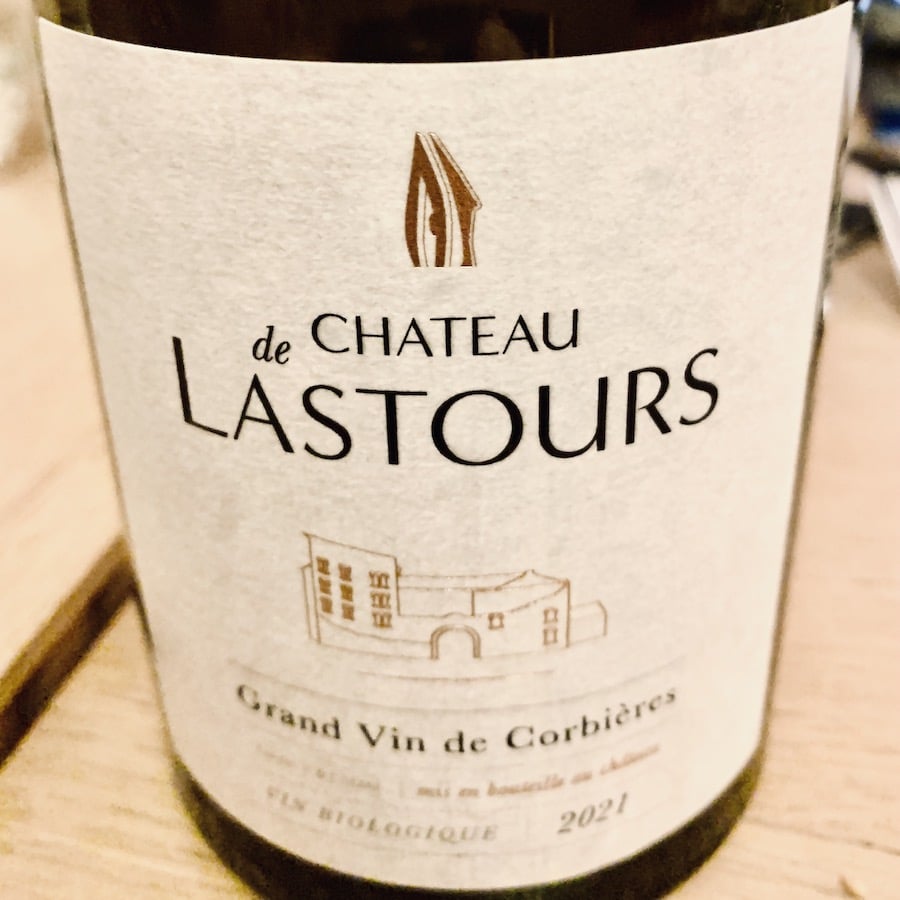 To find your way around, Château de Lastours is located in the Corbières, close to the village of Portel-des-Corbières, at an altitude of 300 yards and 7 miles from the Mediterranean Sea.
This privileged location gives the terroir climatic conditions that would make more than one Parisian dream: 300 days of sunshine a year, which makes it easy to bring the grapes to maturity, but also 300 days a year of the famous Tramontane. A fairly strong and cool wind that blows from the northwest, which naturally cleans the vines and grapes.
The terroir consists of a predominantly clay-limestone subsoil, favourable to the freshness and minerality of the wines.
The nearby Mediterranean Sea softens everything. It gives the wines good body, freshness and minerality.
The vines are planted on a hundred hectares, in an undulating estate of more than 850 hectares, including 10 hectares of olive trees and more than 3,000 trees. A sort of Garden of Eden.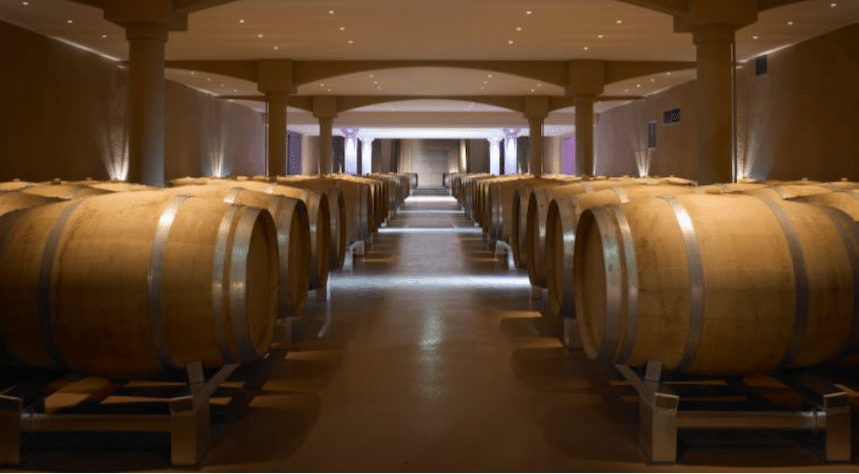 The choice of grape varieties is typical of the Languedoc region: syrah, carignan, grenache, mourvèdre, cinsault, vermentino and roussanne. For many years, the winegrowers have adopted healthy and environmentally friendly practices. In line with this, Château de Lastours has been converting to organic farming since August 2017 (CAB) and the 500,000 bottles per year are certified AB since the 2020 vintage.
The wines are known and exported all over the world. They are great wines, both full-bodied and complex, fine and elegant.
The wine tasting took place at Restaurant Pa, near the Invalides in Paris.
–       Château de Lastours Grand Vin blanc 2021 – AOP Corbières
Composed of Vermentino and Roussane, from 5 to 10 year old vines located on clay-limestone and stony slopes. Cold pressed, fermented in 500 litre barrels to obtain a perfect balance of fruit and wood.
The nose is complex, deep with notes of apricot and peach with a nice minerality. Lots of freshness on the palate.
A gastronomic wine, suggested here with a sea urchin coral in the shell, with a soft quail egg and an emulsion. You can plunge the spoon in deep… and then taste another sip of this beverage. A perfect match!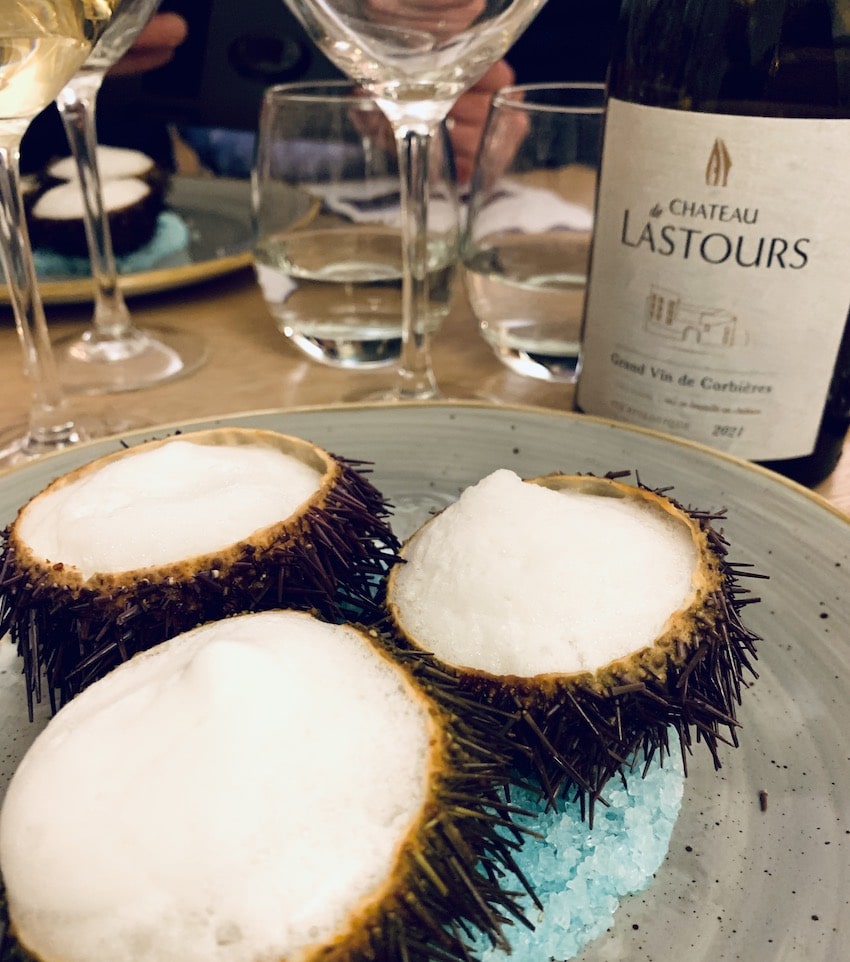 I closed my eyes for a moment while my table neighbours praised the evening and the wines on offer, as well as the table at Pasco, and I felt like pairing this wine with :
"Catamaran" a track by Ben Rosenblum that I had just discovered and which begins with divine piano notes that match perfectly. (See our review of it). Let's hoist the sails, and let us be carried by this famous Tramontane wind on board of Catamaran.
We were also able to taste at the same time:
–        Château de Lastours Grand Vin Rosé 2022 – AOP Corbières
The grape varieties of this rosé are : Grenache, Syrah and Vermentino. The grapes are selected from the most beautiful plots, on terroirs favouring freshness and minerality. Each grape variety is vinified separately in order to respect its balance and fully express its potential. The grapes, harvested early in the morning to preserve their freshness, are pressed to extract the first juices, the most qualitative. The colour is soft, light pink with bluish tints. The bouquet offers citrus aromas, where grapefruit is combined with softer notes of white flowers. On the palate, white fruits such as peach bring sweetness and elegance, enhanced by more acidic notes of redcurrant. Elegant, well balanced, this wine combines delicacy and freshness.
A complex and aromatic wine that goes very well with summer meals.
But it can also be enjoyed while listening to "Song For my Daughter" by the brilliant Russian guitarist, Evgeny Pobozhiy.
– Château de Lastours Grand Vin Rouge 2018 – AOP Corbières
A very nice balance brought by the three typical grape varieties of the region: Syrah, Grenache and Carignan in vines between 10 and 20 years old on clay-limestone and stony slopes exposed to the rising sun. The grapes come from the highest quality terroirs. Maceration for 3 weeks. The wines are aged for 12 months, 40% in 500 litre barrels of 1 or 2 wines.
On the nose, acidic red fruits appear immediately. After aeration in the glass, one can detect black fruits such as blackcurrant.
The palate is straight and mineral, with a silky and melted grain of tannins. Ripe black fruits (cherry) and sweet spices (cloves) combine with the toasted notes of the maturation. A beautiful length, elegant and fresh, on the spices reveals all its potential of guard. A wine full of finesse and balance.
Like a strong desire to listen to "Dzemic" by the Montenegrin Kuhinjazz Quintet.
All 3 wines can be purchased at the property for 15€ per bottle in boxes of 6.
Let's group together Couleurs Jazz epicurean readers and send boxes to Paris!
– Château de Lastours Grande Réserve Rouge 2018 – AOP Corbières
The grape varieties for this wine are classic for the region, the same as for the previous red, but with a touch of Mourvèdre added. This time the vines are between 20 and 30 years old. They take root deep in the soil on clayey and stony slopes that are exposed to the rising sun. The grapes for this top-of-the-range wine (€24.5 per bottle) are from the oldest vines, from the freshest terroirs. Maceration lasts 3 to 4 weeks. The extraction is soft and precise, on a perfectly ripe matter. 70% is aged 12 months in new barrels.
The top note is intense and reveals black fruits (blackcurrant) and red fruits (raspberry). After aeration, the vanilla and toasted aromas of the ageing process can be detected as well as a hint of chocolate.
The attack, elegant and dense, gives way to a structured mouth with melted tannins. The aromas are rich with jammy black fruits on the attack, to which are added notes of garrigue (thyme) and then roasted and chocolate flavours on the length.
We had the pleasure of tasting these two wines with a parmentier of cheek and oxtail, mashed potatoes, fresh black Melanosporum truffles, short juice.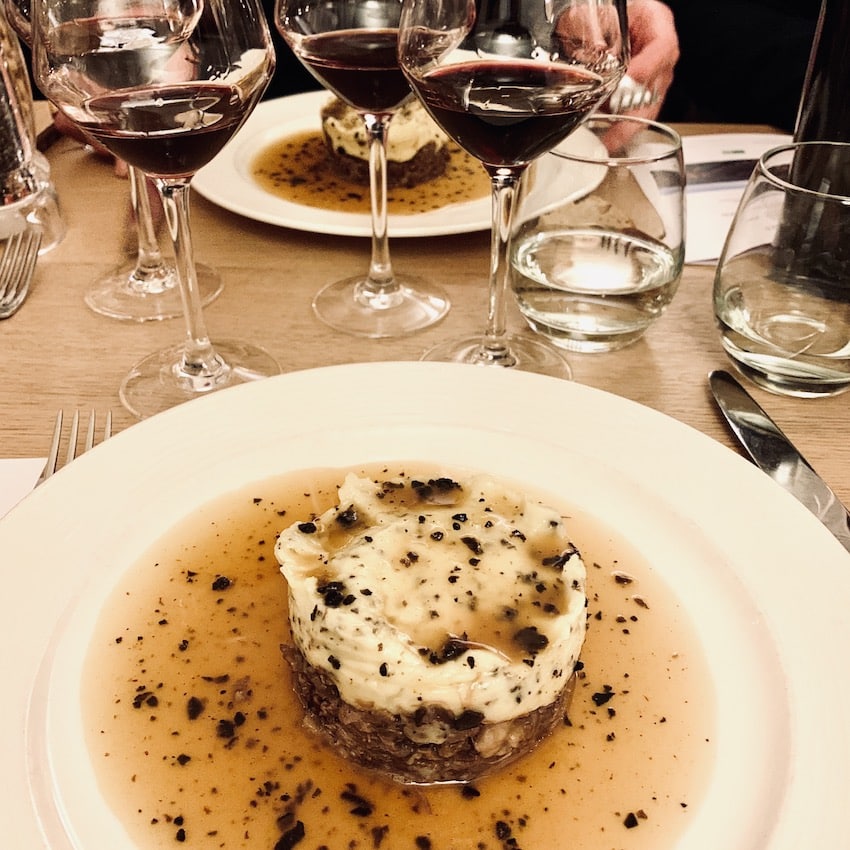 A dish rich in perfectly balanced flavours and textures, which prepare the palate for the tasting of fine wines.
I talked about it with Thibault and Célia, our hosts, and told them that I would appreciate listening to "Arômes Complexes", taken from the latest album by the double bass composer François Poitou with the singer Pumpkin.
An astonishing and explosive combination, which I leave you to appreciate.
We finish by sipping a wine brought to Paris from the reserve for this meal.
We are dealing with a wine from another era, with another know-how.  Wine, like jazz, is a matter of transmission.
– A Château de Lastours Cuvée Spéciale Simone Descamps, millésime 2 000.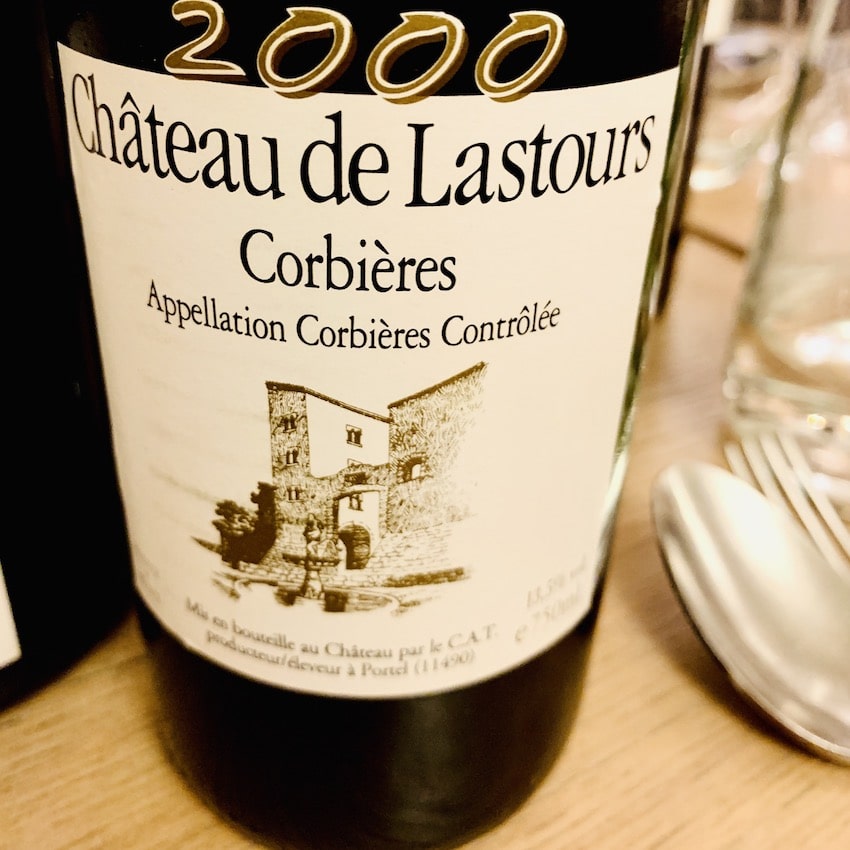 What if we were to listen to some very dignified and recent music, in contrast, to honour this exceptional beverage?
« Out of The Silence » from an album by another bassist: Stephane Kerecki.
A title to loosen the tongues at the end of the meal, to appreciate at the same time, the dessert based on chocolate macaroon, caramel and cherries…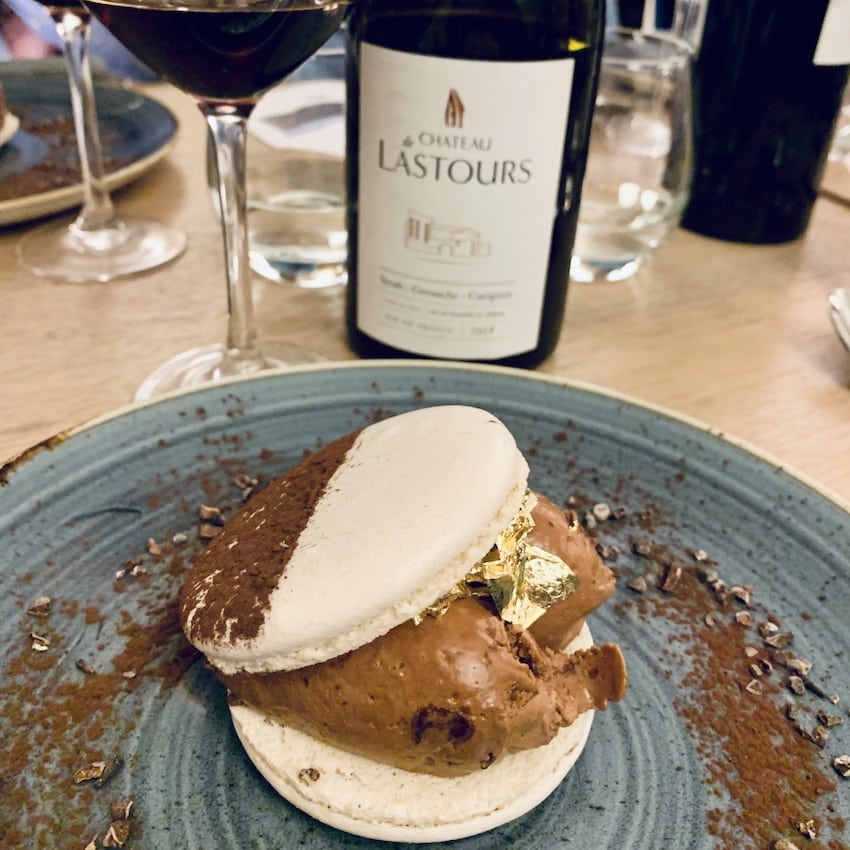 Translated with the help of DeepL