We are still in winter, and already, the Festival season is coming, for our great happiness. At the start, "La Biennale de Jazz" opens at the "Centre des bords de Marne", the CDBM of Le Perreux / Marne, on March 16 and 17!
Since 1992, jazz has been one of the main axes of the "Centre des bords de Marne" programming. With the "Jazz Night" as a starting point, an important development work is conducted around the various forms and colors of Jazz. In this approach, Michel Lefeivre, director of the CDBM, appointed in 2010 Jean-Marie Machado as "associate composer". Then he develops a program outside the walls, the production of a creation per year and the organization of a highlight: La Biennale de Jazz.
True reflection of a protean jazz program, this Biennale is open to the world. Over two days are concentrated the three artistic axes of the regional jazz pole that the CDBM wishes to develop: 11 formations, 50 artists, for 10 hours of jazz music!
This program expresses the diversity of today's jazz colors.
Friday, March 16th:
Les Rugissants, modern jazz tentet led by the young pianist and composer Gregory Letouvet.
Richard Galliano solo, maestro of the accordion, recognized by his peers as a jazz musician as well as an adventurer of other musical genres.
Régis Huby, The Ellipse, music for large ensemble. A sound body echoing the journey and memory of each of the 16 musicians.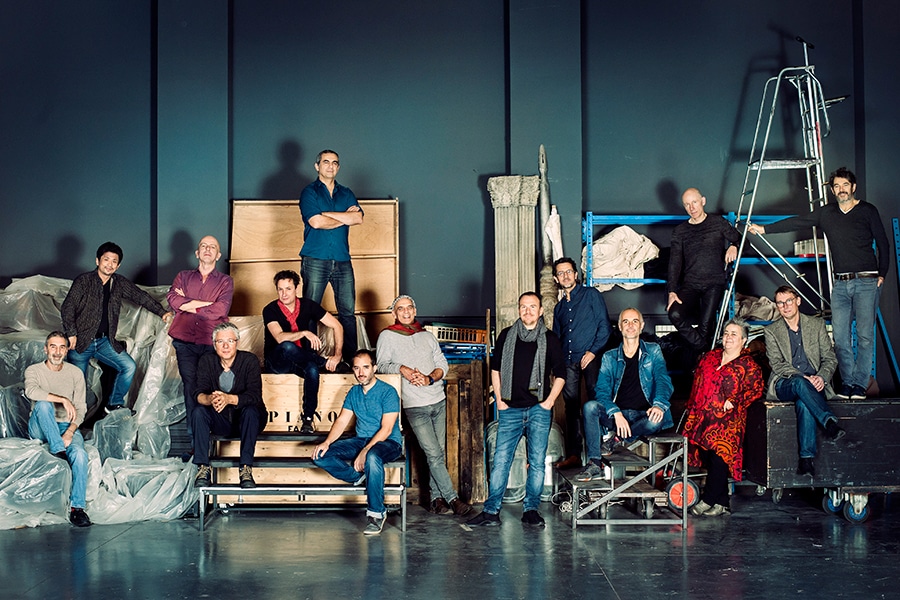 The Ellipse ©Photo Jérôme Prébois
Saturday, March 17th:
An afternoon under the sign of musical innovation:
Ozma, The lost world: live music and cinema. A silent film treasure that the ensemble Ozma dusts with the help of a current soundtrack, an adventurous jazz with electro accents.
Pol Belardi's quintet, Force. The group's compositions, sometimes atmospheric, sometimes explosive, offer an unprecedented sound journey on the borders of creation.
Leo and Jules Jassef, a trumpet & piano duet performed by two brothers, trained at the Marciac jazz college.
Richard Renan sextet; from the Paris conservatories, these young musicians present an original music with the concern of the collective game as much in the writing as in the improvisation.
An open evening, creative, rich of influences …
Stracho Temelkovski, musician of the world, whose originality, poetry and sound cosmopolitanism merge and transcend his different musical influences through multiple instruments. A unique moment!
Lionel Suarez quartet, a tribute concert to Carlos Gardel where jazz and tango embrace for the best. Without violin or piano, a specific color on chiselled arrangements and open to improvisation.
Henri Texier Hope Quartet, more than ever, at the heart of the world of Jazz music, we can discover new spaces and continue to be "sculptors of time passing".
A festival to discover for its diversity of programming in the same place over two days.
Centre des bords de Marne, from March 16th to 17th.