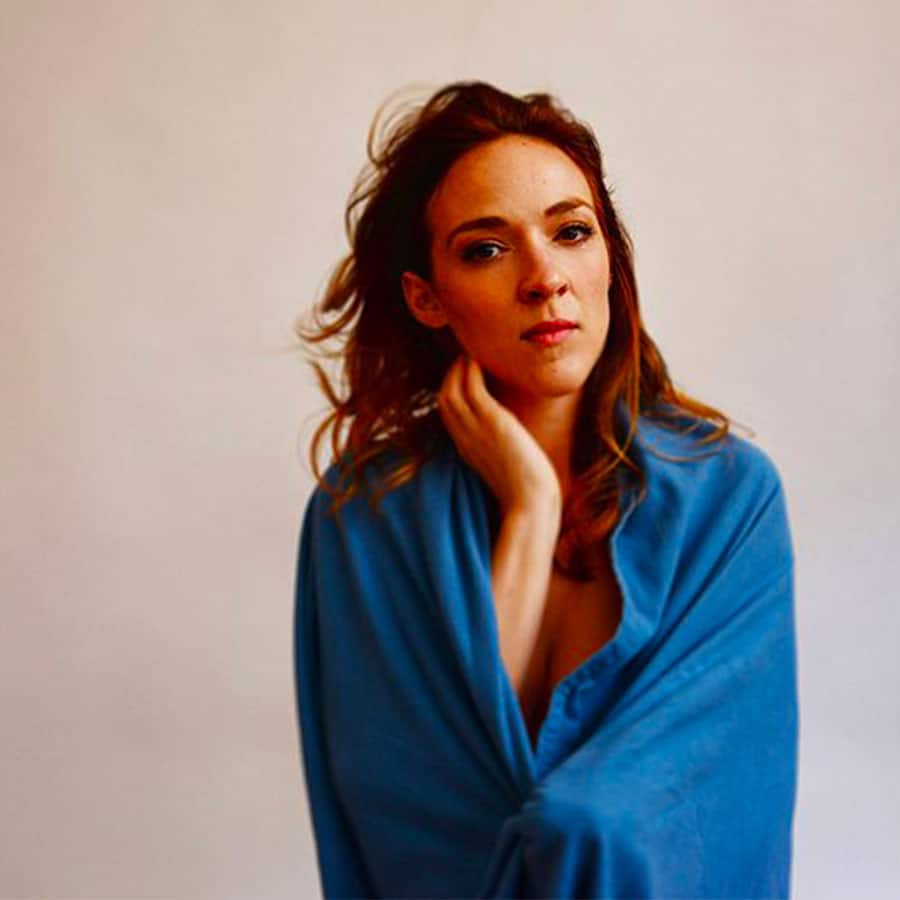 On October 12th, the audience of the New Morning was delighted to welcome the immensely talented Becca Stevens. An evening of unique colours: jazz, folk, electrifying, vocal, free and intimate.
The American-born singer-songwriter, who is visiting Paris on her European tour, has not released a new solo project since 2020. The evening's repertoire is, for the most part, new works due for release in 2024. This concert is already shaping up to be miraculous, and in the darkened auditorium we're already feeling a little lucky to be able to hear this music in preview.
Becca Stevens has chosen a tight but versatile trio format. There's Chris Tordini on acoustic and electric bass and vocal harmonies, Jordan Perlson on drums and percussion, and Becca Stevens on vocals, acoustic guitar and ukulele.
First-time listeners to the artist's work will appreciate her spicy compositions, harmonic surprises, explosive rhythms and musical expressiveness (Tillery), at the service of the text. The two-time Grammy Award-nominated artist's vocal agility – which shines through on Canyon Dust – will be sure to convince an audience already won over by these new compositions. We already know that the project, to be marketed in 2024, can only be as good as a career punctuated by collaborations with major figures in modern, precise, new jazz. Her recent collaborations include Michael League (Snarky Puppy), who co-produced her album Regina (2017 / Ground Up Music), Jacob Collier, with whom she features on Djesse Vol.2, Brad Mehldau, Ambrose Akinmusire, Esperanza Spalding and, finally, the late, acclaimed David Crosby, whose band she accompanied on his last live album David Crosby & the Lighthouse Band Live at the Capitol Theatre.
Those already familiar with the artist's work, on the other hand, will find themselves moved by new works invested with a darker sensibility and history. The writing of this new repertoire, explains the artist on stage, is linked to tragedy, grief. So compositions like Should Have Been There for me and Maple to paper have the added gravity and depth that this formidable artist manages to infuse into her musical vocabulary.
It's an evening of complete and intense emotion, from joy to mourning, from total commitment, to delicacy. While we await the next album, due out in 2024, we can't recommend enough that you listen to and explore Becca Stevens and her cameo of jazz colours.
Solo projects:
Wonderbloom (2020 / GroundUp Music), which includes the track Slow Burn, nominated for a 2021 Grammy Award for Best Vocal and Instrumental Arrangement.
Regina (2017 / GroundUp Music)
With other artists:
David Crosby and his Live at Capitol Theatre (2022 / Three Blind Mice)
Becca Stevens | Attacca Quartet (2022 / GroundUp Music)