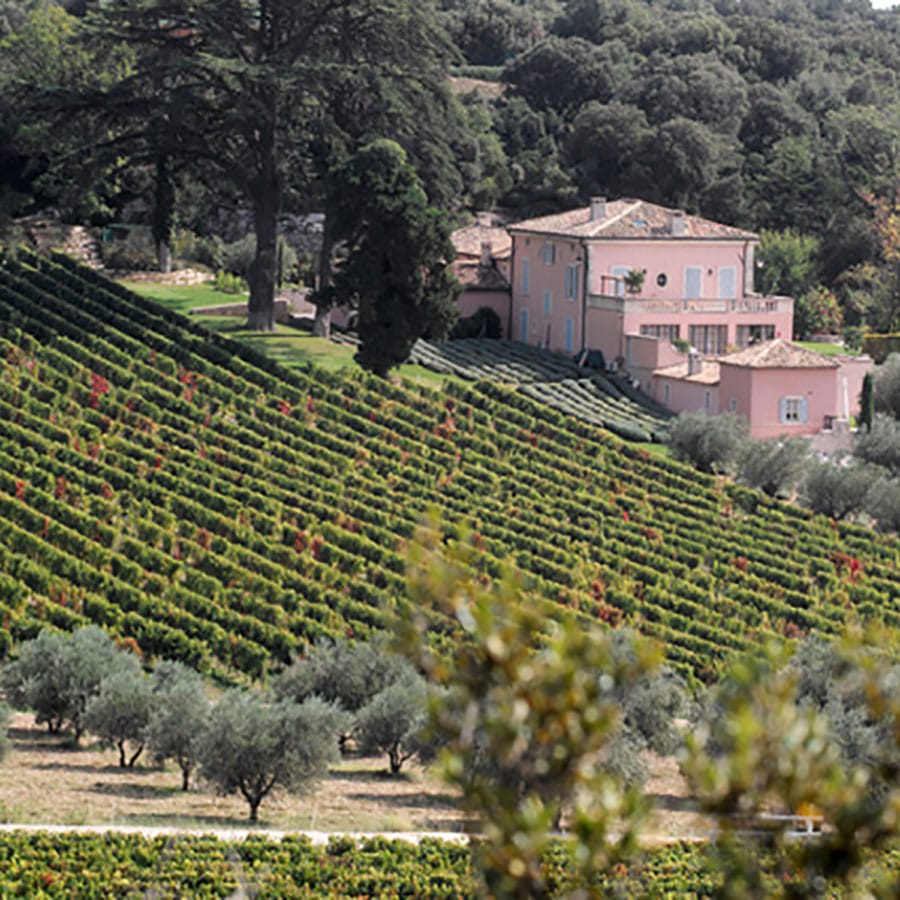 In this landscape of the Mediterranean border, at the gates of Ardeche Gorges, extends "Château des Amoureuses" vineyard.
At the confluence of Rhône and Ardèche rivers, you will discover a wild landscape, vibrant with hills and layered areas dating back to ancestry. The panorama is decorated with figs, juniper trees, olive trees, mulberries and lavender, a beautiful nature by its look and aromas.
A breath of fresh air has been blowing through the estate since it was purchased by Jean-Pierre and Florence Bedel in 2011. They are rethinking the entire vineyard and winery in an approach geared towards more qualitative production, capitalizing on the Ardèche terroirs diversity. The 95 hectares thus offer the possibility of adding to the classicism of Château des Amoureuses' cuvées, a range of creator wines, synonymous with innovation and freedom: Terre des Amoureuses.
The "classic" range declines with Les Amoureuses, its vintages through single-variety wines (Grenache, Syrah, Carignan or Merlot) then some wines from the Château des Amoureuses in Côtes-du-Rhône Appelation (Les Charmes, La Barbare) or IGP Ardèche (Le Liby).
More daring for the Terre des Amoureuses range!
The bottle is beautiful, a vertical sleek line, to enhance studied wines. Thanks to a wide range of "exotic" grape, the winemaker composes innovative and subtle blends, for cuvées with original names, rich in delicacy: from Loverose, refreshing and tangy, to vintage Rose, rich and soft, for the rosés. The white wines offer three cuvées ranging from the suave acidity of All White, a fresh amplitude for Pur White to the mineral power of Magic White. As for the reds, three cuvées allow our taste buds to charm our senses: the sweetness of black fruits and cocoa notes for the Dandy Black, an aromatic balance between fruit and tannins for the Black Sublim and a very aromatic silky texture for Absolu Black.
Always in search of new wine pairings, Jean-Pierre Bedel discovers the famous grape variety of Porto, the Touriga Nacional. In this Ardèche area, adapted to its culture, a piece of the vineyard is planted with Touriga vines. The first harvest was made in 2015, first vintage of this new cuvée of the Domaine.
Today, many winemakers innovate, both in their blends and in cultivated grapes, like the alchemists who invented new compositions. What a pleasure each time to discover innovative cuvées, fruits of research and beautiful work of a man seeking to magnify his soil.
This recent tasting of this Touriga 2015 proved to be worthy of the Château Les Amoureuses commitment in this project.
From the beautiful bottle that delivers the beverage, a sumptuous purple color is discovered in the glass, like a beautiful evening dress. The nose, a little ink with the first aroma, improves with oxygenation: very dark black fruits with hints of blueberries, rose and leather emerge. The wine is very powerful, with a beautiful structure in the mouth, mixing fruit and tannins. With a beautiful meat, it's a pleasure to taste. It is recommended to "carafe" it.
To taste listening Mark Giuliana 4tet. A superb energy emerges from improvised solos of this piece. A beautiful emotion with power.
Family property. Cellared and bottled by the winery.
95 hectares
To discover in restaurants or at the wine merchants: Château Les Amoureuses from 7 to 12 €, Terre des Amoureuses from 10 to 40 € including the Touriga to 20 €.