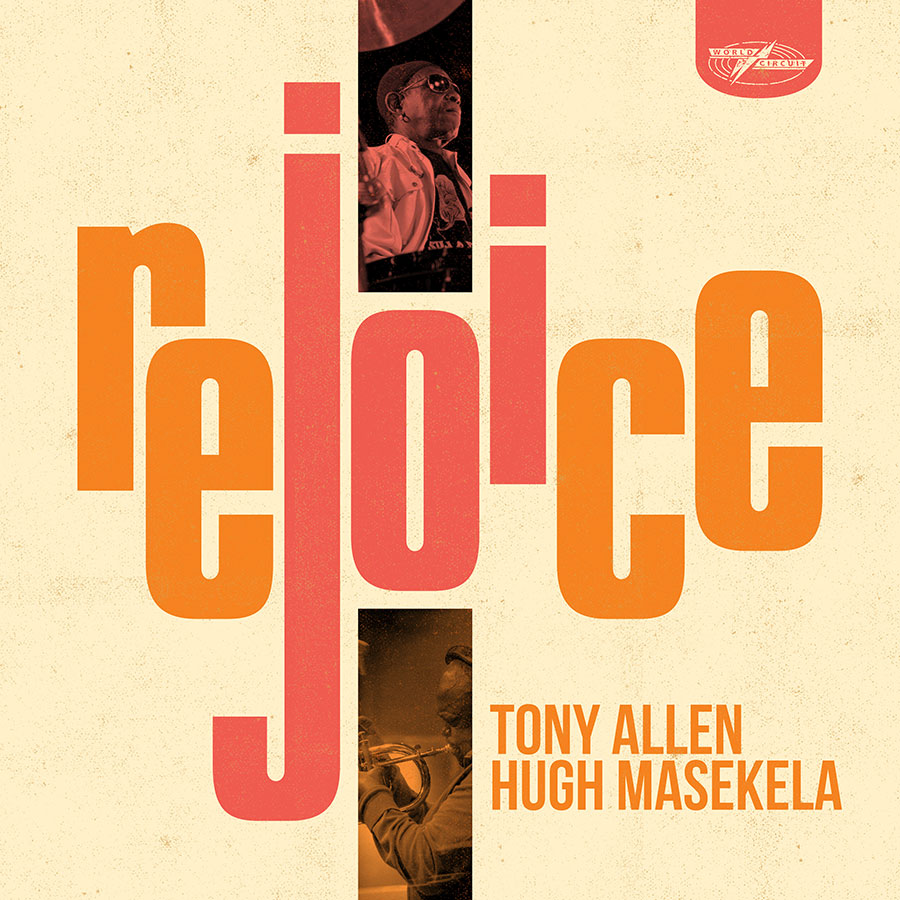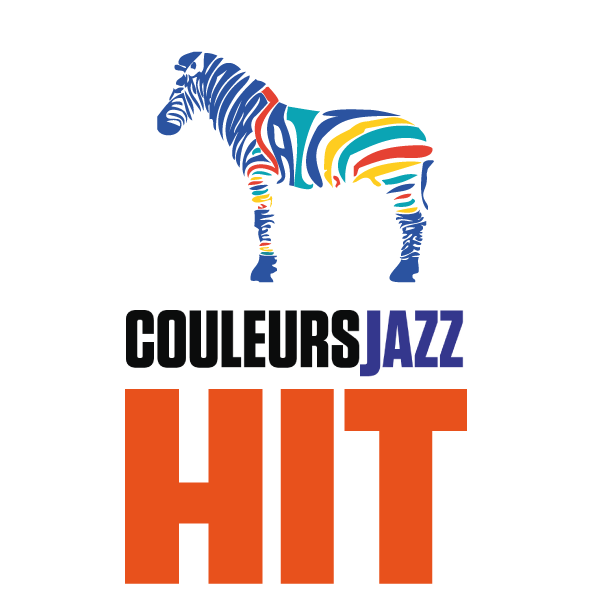 … Or when two African icons of jazz meet for a unique project. An idea that took root in the 1970s, then an encounter in 2010 to start planning and finally recording. Then Hugh Masekela died suddenly in 2018. On March 20, 2020, the album finally hits the shelves!
But as the fate of this project (and the Coronavirus) would have it: the proverbial shelves, at the time of writing and the album coming out, are closed. So it's doubly important that we share this African diamond and Couleurs Jazz Media Hit with you today.
Hugh Masekela is one of the most important figures of South African Jazz, together with Abdullah Ibrahim. As a child, a man of the Church offered Masekela a trumpet that belonged to Louis Armstrong. He went on to graduate from the Guildhall School of Music in London and work in the United States, where he was quickly noticed by Harry Belafonte, Dizzy Gillespie and Miles Davis.
We owe him song titles such as Grazing in the Grass, Bring Him Back Home, and the anthem of Nelson Mandela's liberation movement, Soweto Blues, sung by his former wife, Miriam Makeba. He spent a good portion of his life as an activist fighting for the values ​​of equality, for African music and against apartheid.
Tony Allen, Nigerian, is a well-known and -respected jazz drummer, and co-founder of the Afrobeat genre (with his master and friend Fela Anikulapo-Kuti). He was recognized in France very early on, recording for the electro label Comet Records with, among others, the Belmondo brothers.
These two main characters, introduced by their mutual friend Fela Kuti, had made plans to make an Afro Beat album together way back in the 1970s.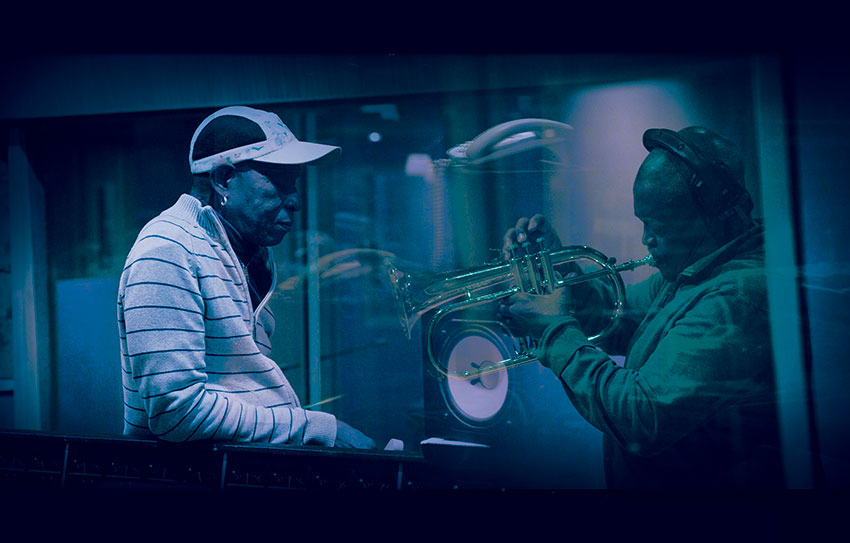 ©Photo Gavin Rodgers
The kind of plans that remain wishes for a long time despite how much we sincerely believe in them. Their respective world tours meant that the project got postponed time and time again. Even if Masekela and Allen crossed paths regularly on the European festivals' circuit, it was tough to set studio dates convenient for both. "Whenever we met, he would ask me, 'What's going on with this project? I would say, "I don't know"!
Until one day in 2010 when they found themselves touring the UK at the same time. Finally, they made a date at producer Nick Gold's Livingston Studios. Gold was more than happy to seize the chance to record the encounter of such giants. The sessions were made up entirely of original compositions by the two artists. But they didn't finish recording all the tracks so the tapes were set aside — until Hugh Masekela passed away in 2018.
©Photo Hugo Glendinning & Gavin Rodgers
Following which, Tony Allen and Nick Gold resolved to complete the recordings. Tony Allen added: "Finally, I asked Nick if I could hear the tapes, and that revived the project. Unfortunately, Hugh died soon after. "
With the blessing and participation of Hugh Masekela's estate, they unearthed the tapes and returned to the same London studio to finalize the album, in the summer of 2019.
Tony Allen declares he's very happy with the final results (he's not the only one!) and remains philosophical about the fact it took so long to make. "Ten years is a long time from the beginning to the end of an album, but my philosophy is that everything happens at a certain time for a reason."
About the album's last track, 'We've Landed', he says: "That song is dedicated to today's youth. The lyrics are specially for 17, 18 and 19 year olds who are slowly becoming adults, discovering who they are and realizing it's their generation's turn to act!"
They're accompanied by the cutting edge of contemporary jazz's younger generation:
Tom Herbert and Mutale Chashi of Kokoroko on bass, Elliot Galvin and Joe Armon-Jones of Ezra Collective, on keyboards, Steve Williamson on tenor saxophone, Lekan Bablola on percussion, Lewis Wright on vibes.
A meeting of powerful, founding African musical styles, a jubilant dialogue that swings between Nigeria and South Africa. Borders are erased, the trickling streams come together to form one large, powerful river of rhythms and captivating notes.
The voices of Hugh Masekela on Robbers, Thugs and Muggers (O'Glajani) in Zulu language, Never (Lagos Never Gonna Be The Same) in English, or Jabulani (Rejoice, Here Come Tony) and of Tony Allen on We've Landed , the title that closes the album, takes us away.
"We felt really good," recalls Tony Allen of the first recording sessions. "We all thought we would add on percussion overdubs, keyboards, vocals and so on. It was an exciting idea. "
Is 'Rejoice' an Afrobeat genre album?
Good question! In any case, the characteristic West African explosiveness and politicised mix of funk, polyrhythms and jazz are not always present. But Rejoice offers another vision, one which could be described as 'chamber Afrobeat', as in classical chamber music. A minimalist Afrobeat within a resolutely maximalist music, with guitar faders at zero and voices on low. Thereby giving center stage to Allen's percussion, rattles and syncopations, whose beat is sweet harmony to the sound of Masekela's breath on the brass.
So it sounds like you're listening to the music from within the band, which is a wonderful experience.
At the end of "Slow Bones", the sound of the bugle fades away gradually, as if Hugh Masekela left the room playing.
Note :
Tony Allen was supposed to perform songs from Rejoice with a specially formed group at concerts and festivals throughout 2020, including two concerts in London at the Church of Sound on March 12-13 and the Banlieues Bleues Festival final show on April 3 at the Embarcadère in Aubervilliers. No comment.
Rejoice is an album WORLD CIRCUIT RECORDS
©Photo Header : Brett Rubin & Bernard Benant
Translation editing: Eliz Corbett