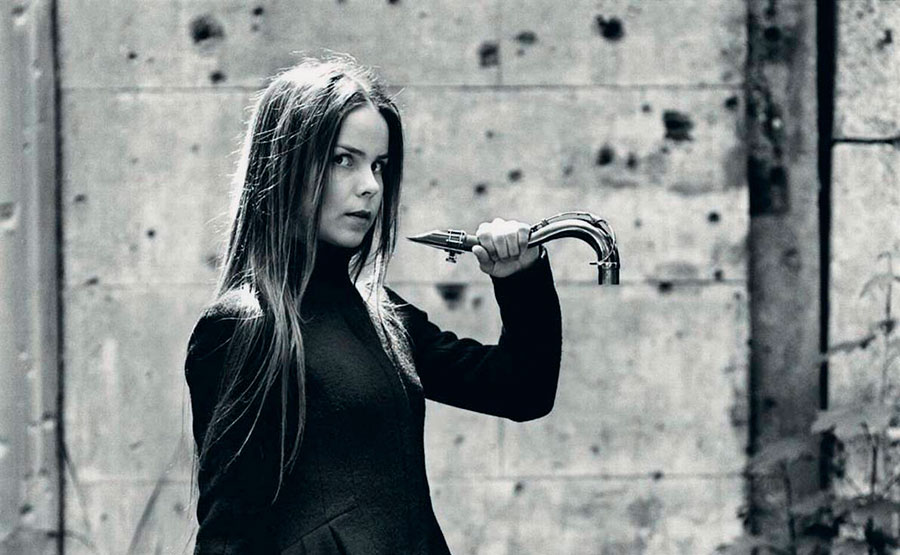 Mette Henriette Martedatter Rølvåg was sitting in a concert in Oslo. Next to her, Manfred Eicher, founder of the German record Label ECM. They started chatting. Next thing on the timeline is Mette Henriette debuting with a double-CD album under ECM's wing.
The Norwegian saxophonist's career has escalated quickly, and her debut album as a leader saxophonist sounds like nothing else around it. Elegant and soft, powerful within its delicacy, it shouts directly to the bowels and she succeeds in creating a personality that is reaffirmed by her live performances. During the third day of this years edition of the Jazzfest Berlin, Henriette shares stage with a whole new formation, presented in world premiere: Henrik Nørstebø on trombone, Lavik Larsen on trumpet, Johan Lindvall on piano, Andreas Rokseth on bandoneón, Odd Hannsidal and Karin Hellqvist on violins, Bendik Foss on viola, Gregor Riddell on cello, Per Zanussi on double bass and saw and Dag Erik Knedal Andersen on drums. On Thursday the 3rd of November, at 8pm, after Julia Hülsmann's Quartet, the light changes.
Ignitable, robust, powerful, raw, harsh, stripped, fresh, pointy, strong, hefty, delicate, intimate, talkative, legendary, magical, epic, ancestral, traditional, glacial, soft, meditative, controlled, curious, focused, carrying, invisible.
Invisible.
Yet it travels on the skin.
It is felt.
And it builds a castle. In sand and air and ice and out of the breaths kept inside of the lungs of the listeners: who are shocked and disconcerted, not knowing when exactly to applaud.
"I like sound because it is invisible, it finds its way through skin, it takes you to places, and time and space."
What places she is capable of building. What timelines, what scenarios, what progressions, what stories there are, travelling on her notes and harmonies, waiting to be told.
Mette Henriette was born 26 years ago, in the coldest and most northern ends of a Norwegian November. She was a lot of things as a kid, but mainly she was a listener. She listened to the sound of the birds, to the sound of her grandfather's record player, to the sound of the chocolate factory that was placed near her house. And then, she got a saxophone.
To listen to her say it; even in the way she pronounces the word. It sounds almost as if she said the word 'sex'. A fitting metaphor.
"And then I got a saxophone." So it began. "I could paint stories with no words. Time disappeared".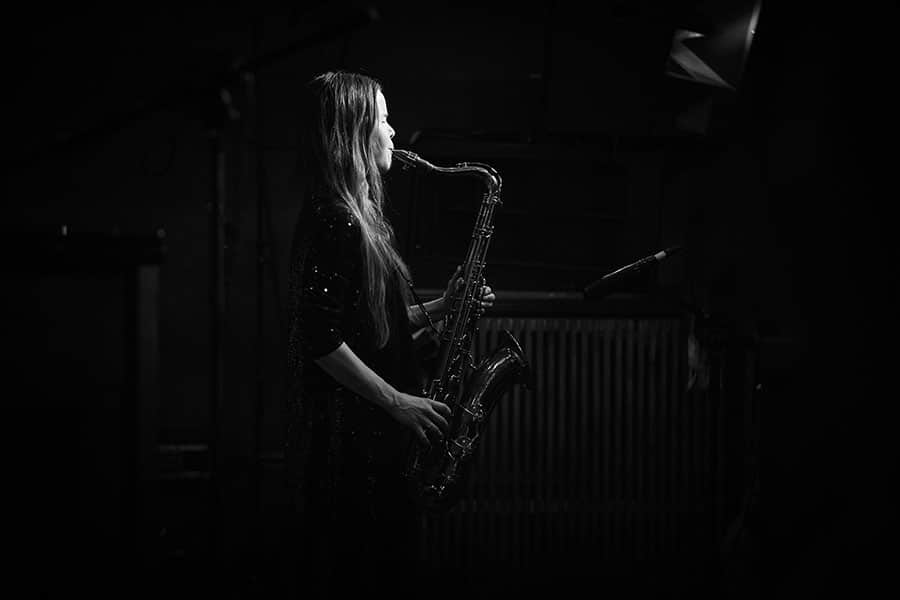 Mette Henriette's name carries the Sami heritage with pride. Metaphorically, she puts her ancestors in a glass bottle and throws them to travel, hidden in her blowing and inside compositions. She is powerful, core facing forward, eyes half closed, looking beyond the horizon.
And so she creates a character. She refuses applauses, like a Bob Dylan, she does not care.  She is a creature involved in some sort of meditation.
The whole auditorium is involved. Her ensemble, formed by eleven musicians in total (this is their world premiere), create this apparently non-communicative discourse. But there is communication. The space itself talks.
Talk, talk, talk, talk.
Like Mark Hollis' band.
Mark Hollis would like this.
There is a story being told. This is a journey. Mette Henriette is an orchestra director and with her sax and these subtle hand movements guides through this great adventure. Through this great concert hall, whose inches orbit around the band. All its features are used; a curtain drops and builds a translucent wall, lighted in red: and there Mette plays, centimetres away from it. The lighting changes from blue to grey to purple to pink.
To red.
Jazz in red. Like the red Ravi Coltrane would wear, playing two days later on the same spot. Like the red of his father's saxophone touch when it screamed in anger
and in pain
but mostly
in love.
But there is no echo of John Coltrane here. Not a single drop of his sweat or his path.
There is a mantra, though. Like A Love Supreme. Like the two last notes of that mythical sentence that John Coltrane repeated, in a trance.
A love su-preme.
A love su-preme.
A love su-preme.
Yet Mette Henriette dances inside no standards, true only to pure and epic improvisation.
And eventually, her jazz, too, gets red.
Because it sounds like the music of Hell.
Because in the middle of a maelstrom of strings and winds and percussion and covered in that thick red light, Mette Henriette and her ten soldiers make music that could be the melody to the end of the world.
A focused listening. A demand for delicacy that suddenly turns into a roar. Exploration of the sound avidly, deeply, engaged with heart and soul and skin and the tip of the tongue.
There is a sense of disorganization. But this is a fantasy. It is untrue. The once disconcerted public finally understands that this is all part of complete travelling. Like a train with no stops. There is no space for applause. There is no need to hold on. There has to be no breaking.
And so the crescendos happen. And come up and down and mantras repeat and the musicians communicate and Mette closes her eyes and never, never, never ever smiles.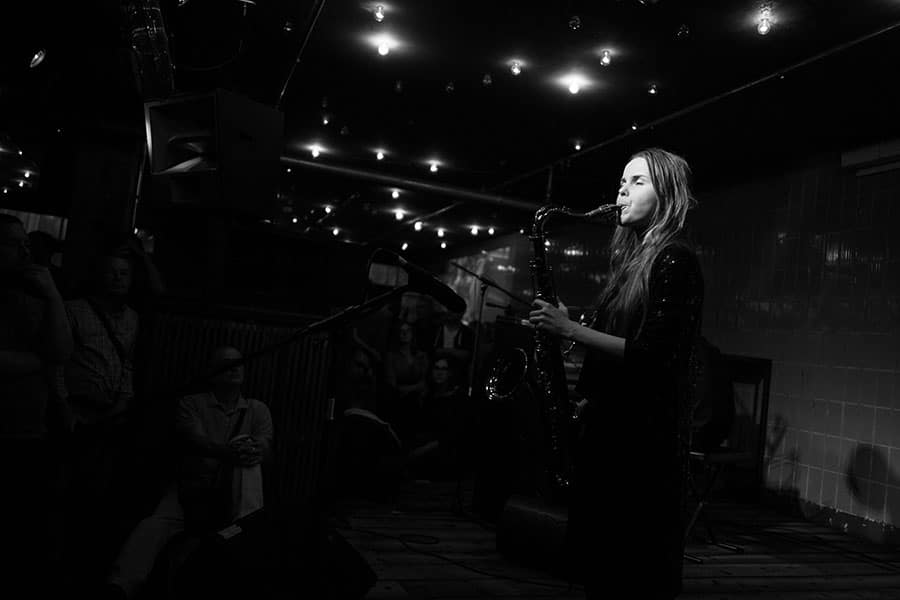 No smile.
No pain.
No looking at the people in the eyes.
She is a storyteller. The shaman. The pilot.
And weaves in emotion without any expectation.
Sensations play a great role, but her music is not conventional. It is not traditional but it carries tradition. It is not legendary but it sounds like a legend.
Musicians pulling music's boundaries in a desperate –quest-like- attempt to transform it into something that speaks from beyond.
Sami heritage carried with pride.
Sounds from childhood carried with love.
No fear of extremes. Be it either lows, or highs.
The travelling is so evident it makes everything sound exactly as it was meant to sound. Such a large ensemble and yet the control is absolute. An active study of the sound. Trances and ideas. A music that comes from beyond. Resonates and speaks as if it had existed before. As if it had already spoken these words before.
The first mantra reappears. Mette Henriette picks the first track.
Passé.
The past. It is past now, but turned into present. Again.
Piano carries. The most gentle sax incursions. The past.
Passé.
And it's the end. She smiles for the first time.
Half smiling, half serious. Her sax still rooted in the far beyond.
Like a Mona Lisa smile, entrenched in mystery.