December 19 2022, week
[The COULEURS JAZZ WEEK #154]
… The Best Of!
On air on COULEURS JAZZ RADIO, Monday at 4PM, Tuesday 5PM, Wednesday 6PM, Thursday 7PM, + at 08:00PM Monday 10:00PM Tuesday NYC time; and finally on BRAM' FM in the Tulle area, Tuesday at 9PM and Saturday at 4PM.
You will be able to discover the 12 best albums released these last days. An exclusive COULEURS JAZZ RADIO & BRAM FM with this week, after the credits " 21st Century Schizoïd Ma  , by Médéric Collignon, godfather of this Radio belonging to the musicians, we shall listen to an extract of :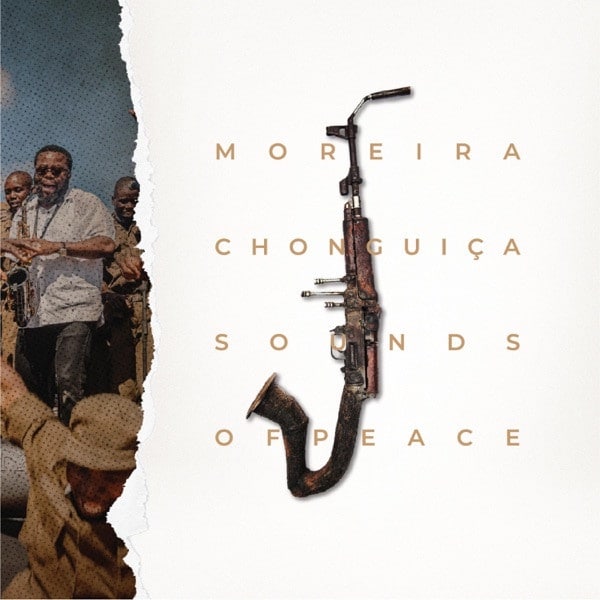 – «Sounds of Peace» by Mozambican saxophonist Moreira Chonguiça ;
« Sounds of Peace »  is the eighth CD by Mozambican saxophonist Moreira Chonguiça who, at 45, is a veteran of jazz on the African continent.
In this new opus he gives pride of place to the voice and on the first tracks the choirs are clearly in the foreground compared to an instrumental background mixing percussions and synthesizers where the saxophone hardly intervenes. It is thus a fusion made of a wise mixture of acoustic and electric, vocal and instrumental sounds, that Chonguiça proposes us. And this very modern vision, sometimes joyful and sometimes peaceful, of African music is not lacking in charm.
Charismatic leader and talented composer-arranger, Moreira Chonguiça is not a saxophonist adept of long choruses and we will have to wait until the last tracks of the CD to hear him as a soloist.
On the other hand, he has a sharp sound on both alto and soprano and a very sure rhythmic placement, qualities that – in addition to a lively phrasing – make his interventions interesting, although we would have liked to hear him more often. Heir to Fela and Manu Dibango – with whom he has collaborated – as well as South African musicians such as saxophonist Zim Ngqawana, Chonguiça deserves to be better known outside his Mozambican fiefdom.
Line Up :
Moreira Chonguiça : saxophones
Helder Gonzaga : bass
Vando Infante : drums
Nicolau Cauaneque : keyboard & synths
Alcidio Matavel : mbira, djembe & percussions
This review is signed Thierry Quénum for Couleurs Jazz
For our Couleurs Jazz Week, we have chosen to make you listen to "Reterdando/Slow Down" as an opening track and to close the show with the title: "Ndzakurhandza/I Love You".
« Sounds of Peace » is a « Hit Couleurs Jazz »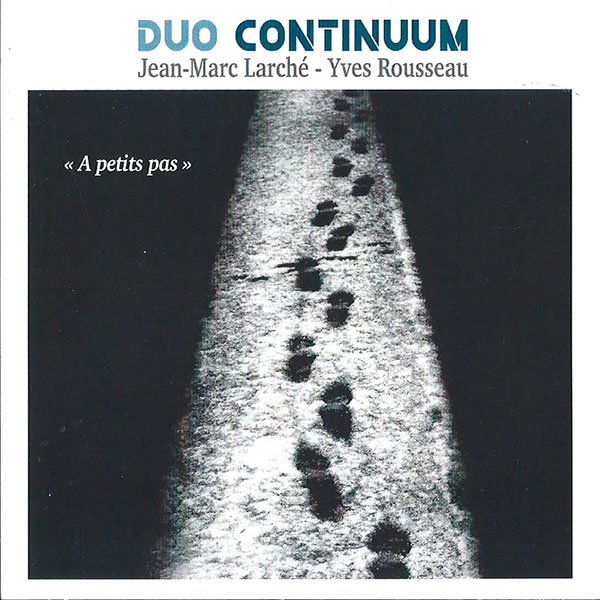 – « À Petits Pas » by Duo Continuum : Jean-Marc Larché & Yves Rousseau ;
Jean-Marc Larché and Yves Rousseau have known each other for a long time, and the saxophonist has been part of many of the groups assembled by the double bassist. On the other hand, this is the first time that their duo – which has existed since 2016 – has recorded a repertoire made up of compositions by the two companions. I might as well say it right away: this CD is a little wonder.
Larché's sound, on both alto and soprano – and probably more so on the straight horn – is unique and beautiful. The result of both classical and jazz training, his tone is fruity, ductile and very fine, which does not exclude a capacity to go up in power, and his improvisations are real sound tales, since Larché masters the art of telling a story when he takes a solo.
Yves Rousseau is a double bass player who needs no introduction. A sought-after sideman during the 90s, he has been a leader and composer since the beginning of the century, but he has mostly expressed himself in medium-sized bands. And it is a delight to hear him in duo, a formation where his sumptuous sound – in pizzicato as well as with bow – is marvelous and where his drive is particularly present on the medium tempos.
These are therefore fifteen little jewels sometimes barely more than 2mn long – including a splendidly demarcated track of the Aria from Bach's Goldberg Variations – that these two magicians offer us and once listening to the CD is over one has only one desire: to press the "replay" button.
Line Up:
Jean-Marc Larché : alto and soprano saxophone
Yves Rousseau : doublebass
This review is signed Thierry Quénum for Couleurs Jazz
For our show, we will listen to : « L'envol »
« À Petits Pas » is edited by MCO label, and is a Hit Couleurs Jazz.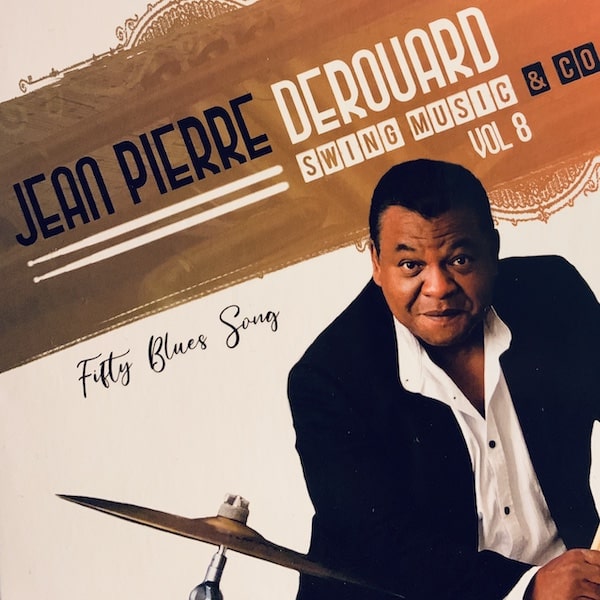 «Swing Music Vol.8 » by the trumpet player and drummer Jean-Pierre Derouard & Co ;
Jean-Pierre Derouard is a drummer considered as one of the best of his generation. He is also a self-taught trumpet player and singer, leader of several orchestras ranging from trio to big band, he is an advocate of swing.
Jean Pierre Derouard has played with many excellent French and foreign jazzmen: Dany Doriz, Marc Fosset, Patrick Saussois, Benny Vasseur, Marc Lafferrière, Ronald Baker, Claude Bolling Big Band, Duffy Jackson (one of Count Basie's drummers) etc. He has also toured Spain with the famous pianist Ignasi Terraza, Benny Golson and Art Blakey.
About twenty musicians participate in the album with various formations, "from trio to sextet. As for the style, it is chronologically vast: "There is swing, be-bop, hard-bop … It goes from Louis Armstrong to the Jazz Messengers of Art Blakey, through Duke Ellington, Count Basie … In this album, I am essentially the drummer. And thanks to the magic of the studio, on certain titles, I play the trumpet at the same time" confides Jean-Pierre Derouard. He adds: "I wanted to make this album for my 50th birthday and to please myself by bringing together some of my close friends.
Let us quote to finish, one of his admirers, drummer in life, also adept and great connoisseur of the jazz which swings. You listen to him regularly on Couleurs Jazz Radio: Guillaume Nouaux : " … This record transpires jazz in all its history, with its specific language and its omnipresent swing. An obviousness perhaps for many and for those who already know this outstanding drummer and trumpet player. But an assumed approach nevertheless very original nowadays, and maybe even a bit marginal!  Indeed, few are those who today assume to release a jazz record, where at no time, one needs to break away from it under the pretext of a certain creative originality.
If my little experience allows me today to note that the greatest jazzmen of the history, those of yesterday as those of today, do not absolutely need to reinvent everything to affirm their own style. Jean-Pierre is indeed one of them, a great among the greatest".
Many tracks are in selection on Couleurs Jazz Radio and we have chosen "Fifty Blues Sound" and "Happy Funky" for our Best-of of the week.
"Swing Music Vol. 8" is published under the Black & Blue label.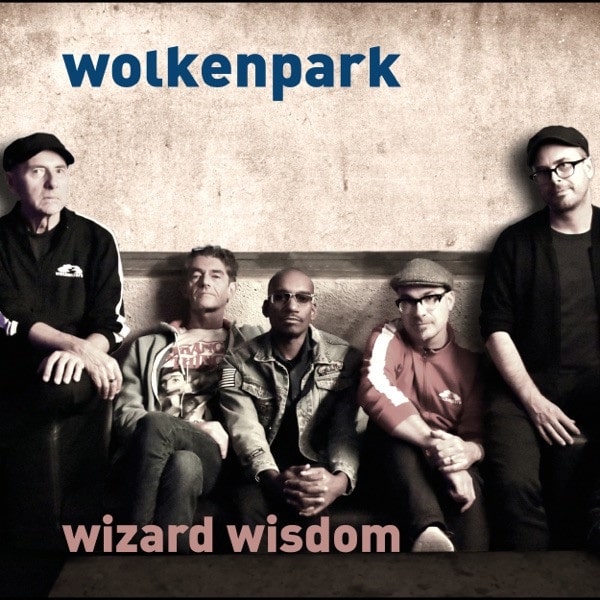 « Wizard Wisdom» by the Swiss band Wolkenpark ;
"Wizard Wisdom" is the first physical album of the band Wolkenpark after a decade of existence. All the tracks are originals composed by the different members of the band. The energy released by this Swiss band is contagious. Beware!
A curious mixture of synthetic sounds, acoustic trumpet, loops composed of funk, groove, drum'n'bass, hip-hop and modern urban jazz, mixing synthetic sounds, live loops and effects with the acoustic sound of their instruments. The musicians all have a strong jazz background, and three of them teach in jazz schools.
Wolkenpark is the result of experience gained from playing hundreds of concerts together in various combinations since the early 80s.
The quartet has a palette of colors that we wanted to share with our listeners. For our show move by listening to the eponymous track "Wizard Wisdom"…. The wisdom of wizards in a way. We'll end the show on "Lazy Day".
Line Up:
Kriz Flueler : trumpet
Julien Boss : rhodes  
Jean- Pierre Schaller : bass  
Andy Brugger : drums
"Wizard Wisdom" is in the selection o Couleurs Jazz Radio.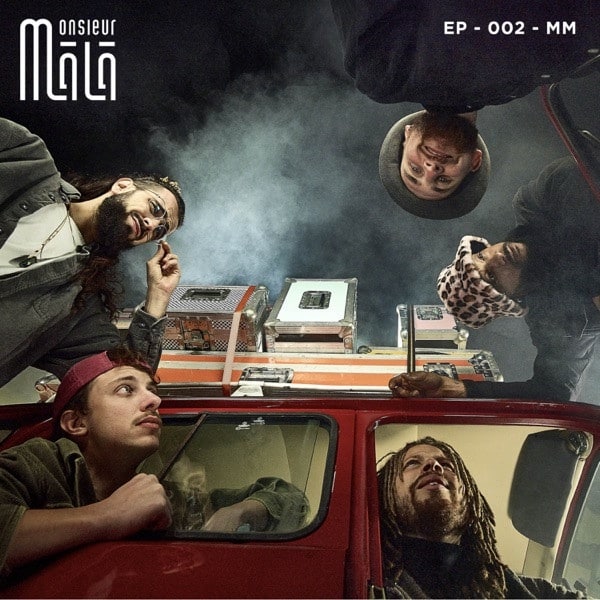 – " EP – 002 – MM " by Monsieur Mâlâ ;
If it is part of the current movement by its way of decompartmentalizing the styles, the impetuous group, Monsieur MÂLÂ distinguishes itself by its original instrumentation. Sublimated by the cultural diversity of the members of the group, the determining characteristic of its music (or rather its musics) is a musical approach with 360 degrees: the jazz, the rock, the funk, the electro, Africa, the Caribbean… With in common base, an infinite love for the grooves in all kinds and the improvised music.
The English horn alternates symphonic orchestra and electro jazz improvisations through baroque music and groove. An EP full of joyful and intriguing colors. To discover on Couleurs Jazz Radio.
Personnel :
Robin Antunes : violin, electric mandolin
Balthazar Naturel : english  horn, saxophone
Nicholas Vella : keyboards
Swaeli Mbappé : bass
Yoann Danier : drums
During the Couleurs Jazz week show we will listen to: « Instinct Pt. 2»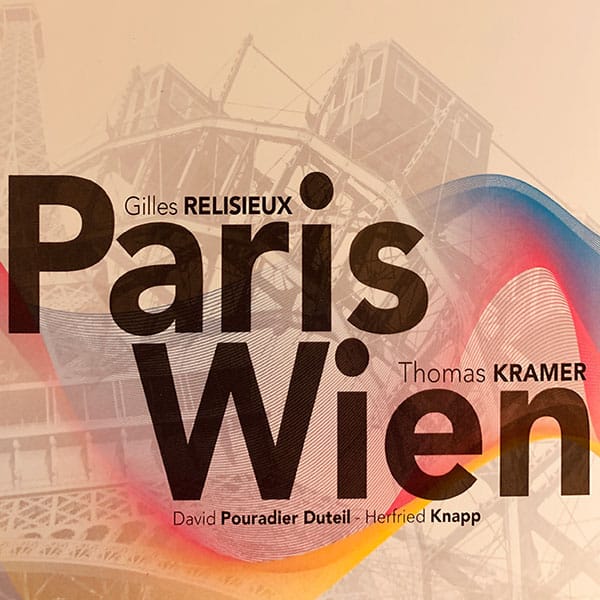 – « Paris-Wien» by the leaders: Gilles Relisieux & Thomas Kramer ;
Not much is known about the Austrian jazz scene in France. Since the famous and excellent Vienna Art Orchestra disappeared, we hardly see Harry Sokal (tenor saxophone), Wolfgang Puschnig (alto saxophone, flute) or Christian Muthspiel (trombone) on French stages.
The Austrian drummer Wolfgang Reisinger – unfortunately deceased a few months ago – has played on French stages and studios with Jean-Paul Celea (bass), François Couturier (piano), Dominique Pifarély (violin), Louis Sclavis (saxophone, clarinet) or Michel Godard (tuba), but this is basically the only contact that France had with Vienna. Two of our compatriots – Patrice Héral (drums, percussion) and Noël Akchoté (guitar) – have for a while settled in the Austrian capital, but their encounters with members of the local scene have not been visible in France.
That a French trumpet player, Gilles Relisieux, and an Austrian guitarist, Thomas Kramer, should meet and decide to collaborate is therefore good news.
Especially since each of them has an interesting background and the present recording is the well thought-out fruit of several years of exchange and sharing. Both have their own sound and their compositions are very interesting. The trumpeter's softness is combined with a fluidity of the best kind in the phrasing. Thomas Kramer's approach of the electric guitar is quiet, in chords as well as in single notes, and his phrasing is sometimes languorous and sometimes torrid. One could at times consider their music as soft jazz rock but in fact it is difficult to classify it because at certain moments it could evoke the collaboration of Chet Baker with Philip Catherine. This music is of a very high level and at the same time it flows naturally because it remains permanently cantabile.
The two partners chosen by Relisieux and Kramer – the Austrian bassist Herfried Knapp and the French drummer David Pouradier Duteil – bring them a quality support, solid and at the same time discreet, because it is clear that the two solo voices are the engines of this project. A total success, then, from which we can only hope that French programmers will allow us to hear these four exciting musicians on stage.
Line up:
Gilles Relisieux: trumpet
Thomas Kramer: guitar
Herfried Knapp: bass
David Pouradier Duteil: drums
This review is signed Thierry Quénum for Couleurs Jazz
During our show we will listen to the track : « Paris – Wien »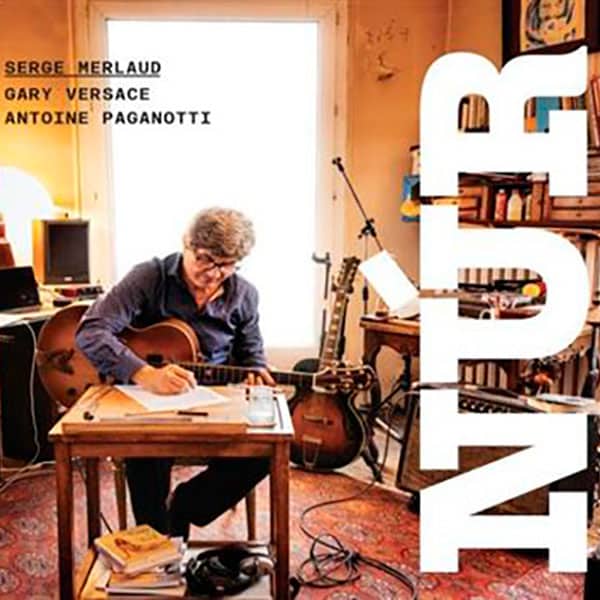 « 

Núr

», by the guitarist Serge Merlaud ;
« Núr » est le dernier album (un double album !) du guitariste Serge Merlaud en trio avec Gary Versace au piano et à l'orgue et Antoine Paganotti à la batterie.
Núr,  "Lumière" en arabe. Cette lumière qui résonne en moi comme étant celle de l'étoile du berger car elle représente ce guide, cette lueur qui nous conduit, nous pousse à réaliser nos rêves et nous donne la force de les concrétiser.
Cette lumière, c'est la somme des individus, des rencontres, des influences musicales qui me nourrissent depuis des années et dont ce disque est le fruit.Il aura fallu le confinement lié à cette pandémie que nous traversons pour que je m'accorde le temps de réunir et enregistrer certaines de mes compositions, très anciennes ou plus récentes. Mais si l'envie de réaliser ce CD sommeillait en moi depuis longtemps, la réelle impulsion donnée à ma motivation aura été celle apportée par la formidable énergie positive et les encouragements, subtils mais constants, de mes amis qui m'ont permis de puiser en moi suffisamment de confiance pour mener à bien ce projet. Ils sont une grande partie de cette lumière et je leur exprime ici toute ma gratitude.Je tiens à remercier tout particulièrement les merveilleux musiciens de cette session qui ont de toute évidence, avec beaucoup de générosité et de sincérité, enveloppé de leur personnalité chacune des musiques de ce disque. Gary Versace pour son enthousiasme, son implication dans le travail, son immense musicalité et sa respiration au service de la musique. Gary est venu de New York passer dix jours à Paris avec moi. Ce furent dix jours de travail et de plaisir de jouer durant lesquels il n'a pas été question une seule fois de… Notre-Dame ou de la tour Eiffel. Je n'oublierai jamais.
Antoine Paganotti pour son humanité, son écoute précieuse et si précise. Son jeu organique, sa concentration et, par-dessus tout, sa capacité à transformer chaque son en musique.
L'association des sonorités pleines d'un belle ondulation mêlées de la guitare, de l'orgue et de la batterie offre une couleur simplement belle et apatride.
Leur sens de l'espace apporte une réelle vitalité à l'ensemble qui ne manque ni de contretemps groovy dansants, ni d'un swing décalé sensuel.
Nous dégusterons une petite madeleine en buvant ou en écoutant : « Tea For Three ».
"Núr, is the latest album (a double album!) by guitarist Serge Merlaud in trio with Gary Versace on piano and organ and Antoine Paganotti on drums.
"Núr is "Light" in Arabic. This light resonates in me as being that of the shepherd's star because it represents this guide, this light that leads us, pushes us to realize our dreams and gives us the strength to make them come true.
This light is the sum of the individuals, the encounters, the musical influences that have nourished me for years and of which this record is the fruit. It took the confinement linked to this pandemic that we are going through for me to allow myself the time to gather and record some of my compositions, very old or more recent. But if the desire to make this CD had been slumbering in me for a long time, the real impulse given to my motivation was the one brought by the formidable positive energy and the encouragement, subtle but constant, of my friends who allowed me to draw in me enough confidence to carry out this project. They are a big part of this light and I would like to express my gratitude to them. I would especially like to thank the wonderful musicians of this session who have obviously, with great generosity and sincerity, enveloped each of the musics of this record with their personality. Gary Versace for his enthusiasm, his involvement in the work, his immense musicality and his breath at the service of the music. Gary came from New York to spend ten days in Paris with me. It was ten days of work and pleasure of playing during which there was not a single mention of… Notre-Dame or the Eiffel Tower. I will never forget.
Antoine Paganotti for his humanity, his precious and precise listening. His organic playing, his concentration and, above all, his ability to transform each sound into music.
The combination of the beautifully undulating sounds of guitar, organ and drums offers a simply beautiful and stateless color.
Their sense of space brings a real vitality to the ensemble which lacks neither groovy danceable off-beats nor a sensual offbeat swing.
We'll enjoy a little madeleine while drinking or listening to : " Tea For Three ".
« Núr » is a « Black & Blue » label edition, it is among the Couleurs Jazz Radio selection.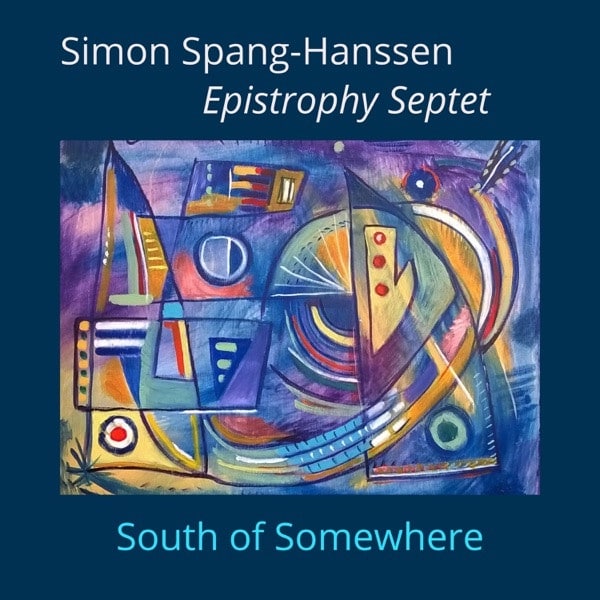 – « South Of Somewhere » by Danish saxophonist Simon Spang-Hanssen ;
Simon Spang-Hanssen is far from being unknown to us : he has lived in France for more than ten years and was even part of our ONJ (Denis Badault version). Moreover, he regularly comes back to visit us.
Since his return to his native Denmark Spang-Hanssen has multiplied projects, including the present septet which had already recorded "Plutonic Eclipse" in 2020 (still available on your favorite radio) with the same personnel except for the trombonist.
It is thus a well-trained formation that the saxophonist leader proposes to us. He composed and arranged the entire repertoire, which smells good of neo-hardbop, a style particularly appreciated by the Danes who, it is true, welcomed quite a few American musicians on their territory since the Sixties (Kenny Drew, Bud Powell, Dexter Gordon, Ed Thigpen, Horace Parlan, Doug Raney, Bob Rockwell…). This has definitely left its mark on a Denmark that otherwise gives an honorable place to free jazz.
It is thus to a historically dated idiom that Spang-Hanssen's music is attached, which does not prevent it from having its own flavor as well on the level of the composition as of the interpretation. It is true that the leader has recruited an international team (the pianist is Polish and the bassist Cuban, both residing in Copenhagen) of the highest calibre, whose members appear to be fervent heirs of hard bop rather than pale imitators. They are experienced and inventive instrumentalists whose impros, like those of the leader, are always interesting.
As for Spang-Hanssen's compositions and arrangements, they are beautifully crafted and one never gets bored while listening to them. At a time when many jazz musicians are flirting with electro, listening to some adepts of an acoustic jazz that's fleshy and full of verve is far from being unpleasant.
All the more so since the members of this septet are obviously sincere in their approach, which never sounds retro.
Line up:
Simon Spang-Hanssen: alto and soprano saxophones, compositions
Erik Kimestad: trumpet
Fredrik Lundin: tenor saxophone
Peter Dahlgren: trombone
Artur Tuznik: piano
Yasser Morejon Pino: double bass
Anders Mogensen: drums
This review is signed by Thierry Quénum for Couleurs Jazz.
South Of Somewhere is an Alisio Music label album and is on selection on Couleurs Jazz Radio.
————–=========————-
Chantons sous l'Appli ! (Chantons sous la Pluie... Singing on the Rain…)
AppsCouleurs Jazz Radio GooglePlay : https://bit.ly/CJRGooglePlay
Apps Couleurs Jazz Radio iOS Appstore : https://bit.ly/CJRAppstore
Spécial thanks to Patrick Martineau for the realization of the posters of the Best of the Couleurs Jazz Week every week and this last one, special Christmas!
Translated mainly with the help of www.DeepL.com/Translator