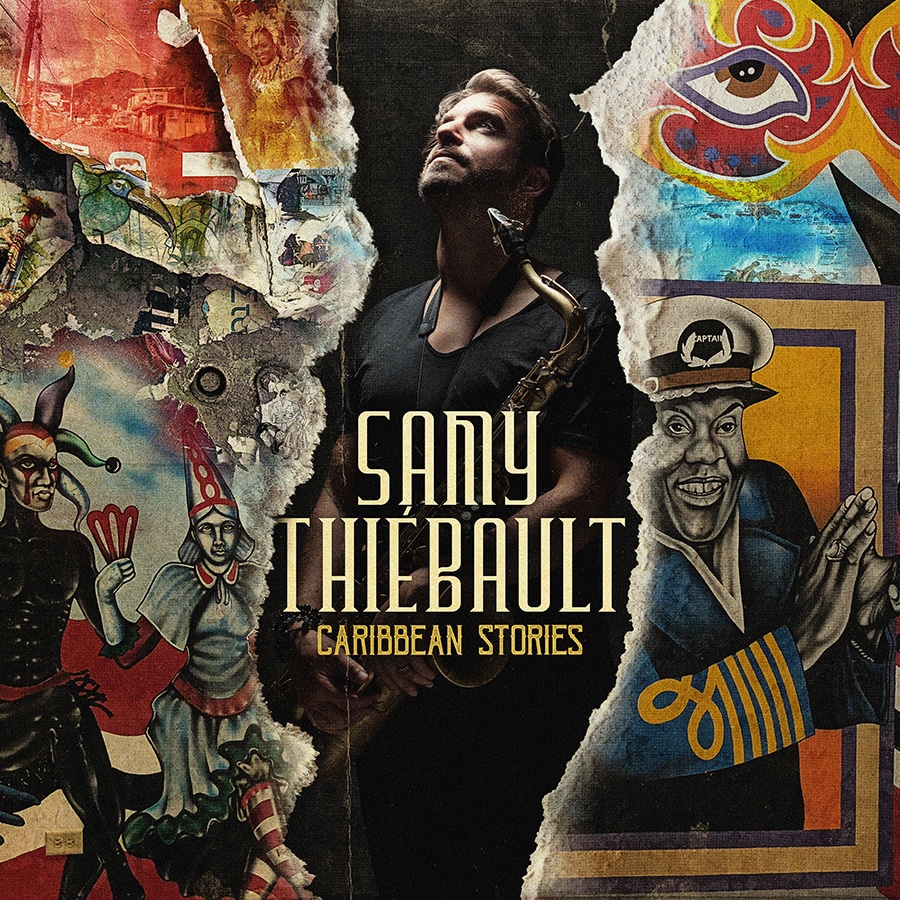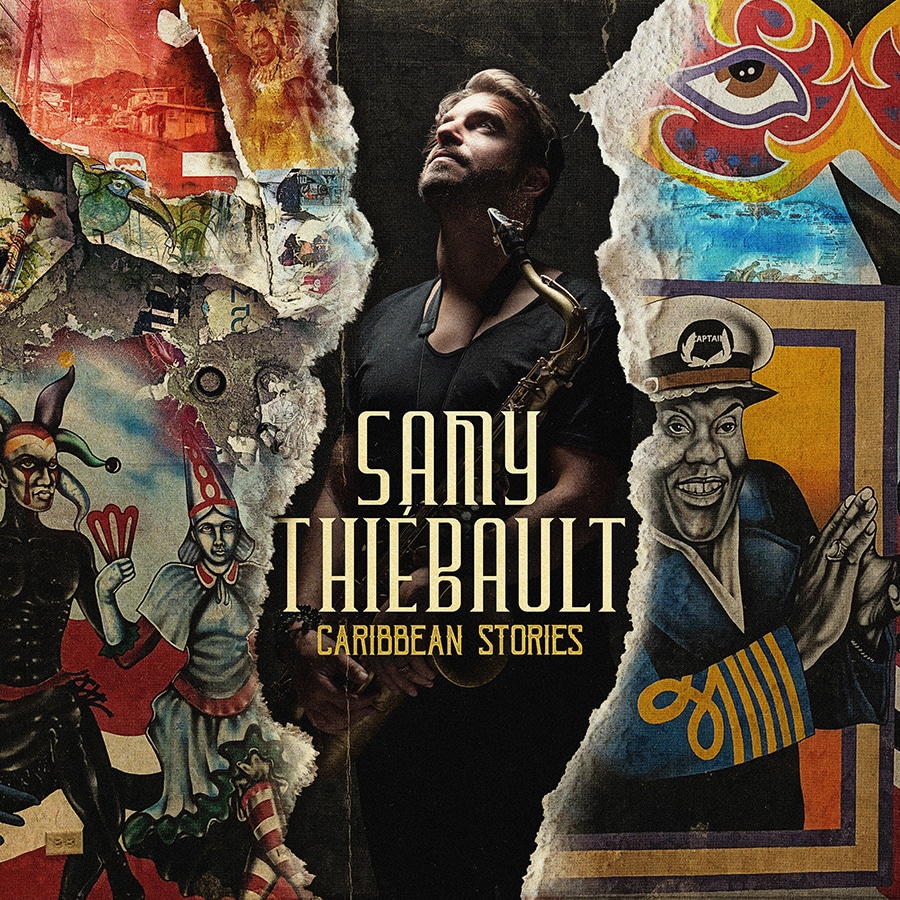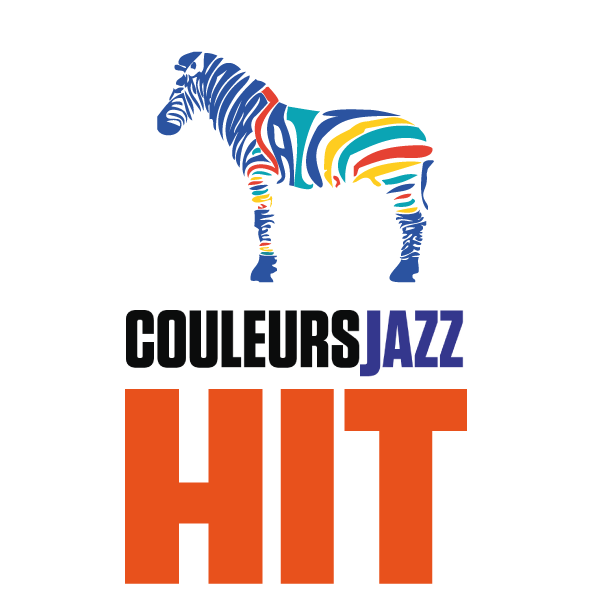 Samy Thiebault's last album, released this week under his own label, Gaya Music, marks a significant shift in the career of the brilliant saxophonist-composer.
They say that travel is youth … That's probably true.
In any case, even for a quadragenarian, stage recently reached by the artist, travelling often allows you to refreshen your mind.
Caribbean Stories is not "another album" (the seventh already) but a different album.
We had already said all the good that we thought of this musician-leader, on the occasion of his previous creations.
Listening eagerly to each of the ten titles of Caribbean Stories, we understand that it is not just a simple inspiration stemming from Latin American, Caribbean and Cuban music, but an assimilation, a perfect understanding of their very essence.
Jazz is a way of playing all kinds of music; the demonstration here is so spectacular! Samy Thiebault has got it all figured out.
He says he had an emotional shock while visiting Venezuela, meeting the musicians of El Sistema. I remember hearing him a few years ago just returned from this first important trip, excited by the music and the artists he met there. He subsequently returned to different Caribbean countries coming back to Paris, each time filled with strong emotions, new ideas.
So, the desire for creating this album was forged in a more precise way. He was able to gather a first-rate dream team with Cuban percussionist Inor Sotolongo, Antillean drummer Arnaud Dolmen and Cuban bassist Felipe Cabrera. Thus the ideal rhythm was assured. Because you better not joke with Latino and Caribbean rhythms! It can be learned, but it is recommended to be born into it …
And when you are invited to join guitarists like Hugo Lippi and Ralph Lavital, then you know that the arrangements, the colours will necessarily be brilliant and fluid. All that remained was to add a nice coppery sound, and so it is one of the most sought after trombonists of the Jazz scene, Fidel Fourneyron who is in charge.
Samy Thiebault at the tenor saxophone and alto flute only has to offer his flame and his own compositions, apart from a cover and a variation on a traditional Venezuelan theme "Pajarillo Verde".
From the first track "Santeria", the opening solo on the saxophone, which precedes the entry of the rhythmic, indicates what is to follow. A model of equilibrium, accuracy and emotions … We can only just sway and let yourself get carried  away.
Tip: play in a continuous loop to capture all the nuances: listen, amongst others, the magical notes that flow from Hugo Lippi's guitar …
And all the tracks follow one another like the pages in those beautiful image books of our childhood.
Have a nice trip !
The booklet of this neat edition, opens with a text from the poet, Christiane Taubira, fine jazz and Caribbean music connoisseur, Keeper of the Seals and Minister of Justice in France, from 2012 to 2016.
« It's a crossing. But not in the bottom of the ship's hold. Sometimes at full speed, although it starts calmly. As if to tame the offshore winds. The open sea notes. So far, so close. This is the magic of Cuban Santería, Brazilian Candomblé, like Haitian or Benin Vodûn: merging here with elsewhere. These "Caribbean Stories" represent so many stories created by history at the time of the "Grand Chambardement", (the great upheaval). In all likelihood, Samy Thiébault perceived the elasticity of these musical styles. They vary. They rarely shout, they heal their geographical roots as much as they maintain their cultural branches, much less however than they testify to the blows and ups and downs that gave birth to them, the abyss that they come from, the edge of the abyss they have regularly stood by, against their will. From the chaos that gave them substance. And a roaring serenity. »
Everything is said or almost…
We feel, listening to this great album, how much this music is important to Samy Thiebault. Because he perfectly understood the meaning. . What elegance in the arrangements and interpretation, avoiding to fall into the clichés but instead spreading these notes, these melodies with his own rhythms, with as much finesse.
Jubilatory is the word that comes to my mind, when I hear the solos with squelching phrasing saxophone or flute.
Caribbean Stories is undoubtedly one of the best and most cheerful news of this season.
Official launch in the racks, September 21.
The Release Concert, on November 15th, is scheduled at the Café de la Danse (which will be even better named on that day). And in preview, we announce that the first part will be ensured by a musician no less exceptional, the virtuoso Venezuelan cuatrist, Léo Rondon.