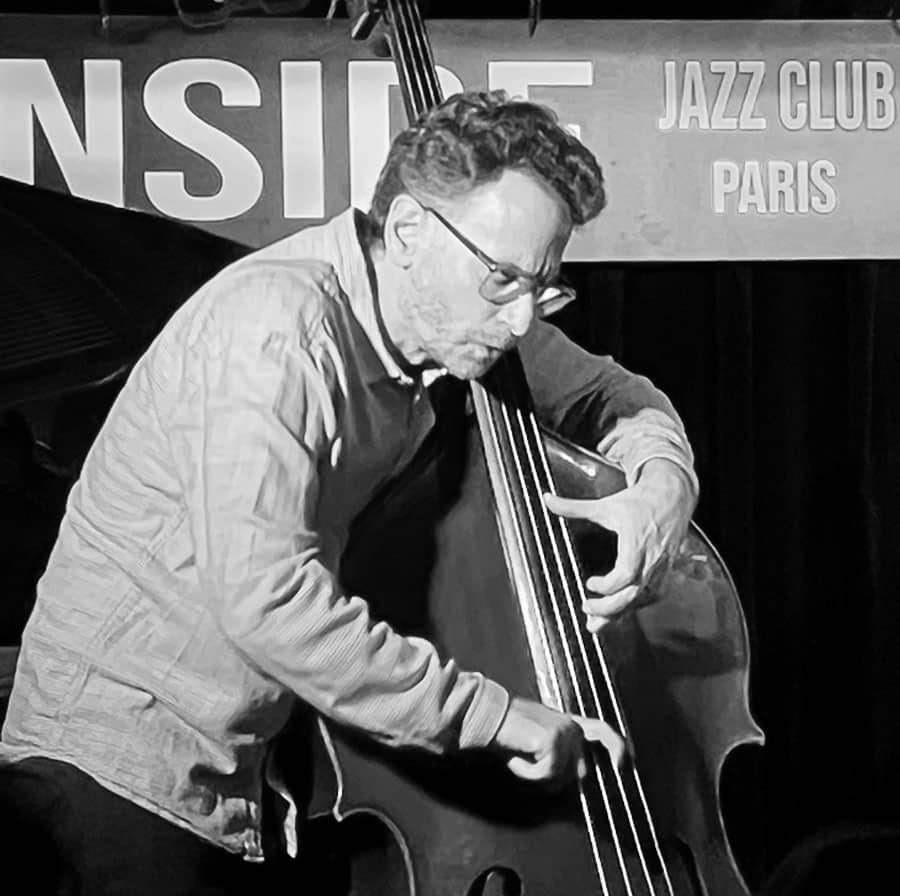 You really had to want to listen to live music this wednesday 12/21 by a torrential rain. The metro lines that lead from Sunside to my humble home being under construction from 10pm onwards, I had to take the scooter. Arrived soaked like a soup on rue des Lombards I have only one wish: that Rebecca Martin and Larry Grenadier play "Here's that Rainy Day" to help me dry off!
Larry Grenadier smiles when I make the suggestion. He doesn't remember me, but when I remind him that I interviewed him a few years ago with the Fly trio (Mark Turner on tenor sax and Jeff Ballard on drums) in their Parisian hotel, he remembers and introduces me to his son who is accompanying them on this tour. Rebecca Martin, for her part, is delighted to learn that I reviewed one of her records some time ago. But it's time for them to start the first set, which begins with a song of Blossom Dearie. Who remembers this delightful singer-pianist who lived in France for a while in the 60s? Rebecca's voice is fuller than Blossom Dearie's and although she doesn't give all her power in the intimate context of the duet, one feels that she is capable of a beautiful range of nuances.
Larry announces the program: standards, Rebecca's songs and some bass solos here and there. Rebecca's voice is halfway between a relaxed sprechgesang and a sappy jazz vocal that modulates the inflections with a phrasing full of twists and turns. At times she discreetly accompanies herself on the acoustic guitar and we switch to a rather folk atmosphere while Larry's support becomes more discreet. When the bass plays solo, on the other hand, it deploys in pizzicato an impressive drive doubled by a magnificently timbred sound. Grenadier's bowing is very accurate and he draws from the instrument very expressive inflections, far from any demonstration of virtuosity. We are used to hearing Grenadier with Brad Mehldau or with Fly, but here it is part of the repertoire of his superb solo CD (The Gleaners/ECM) that he offers us live and it is both very beautiful and very impressive.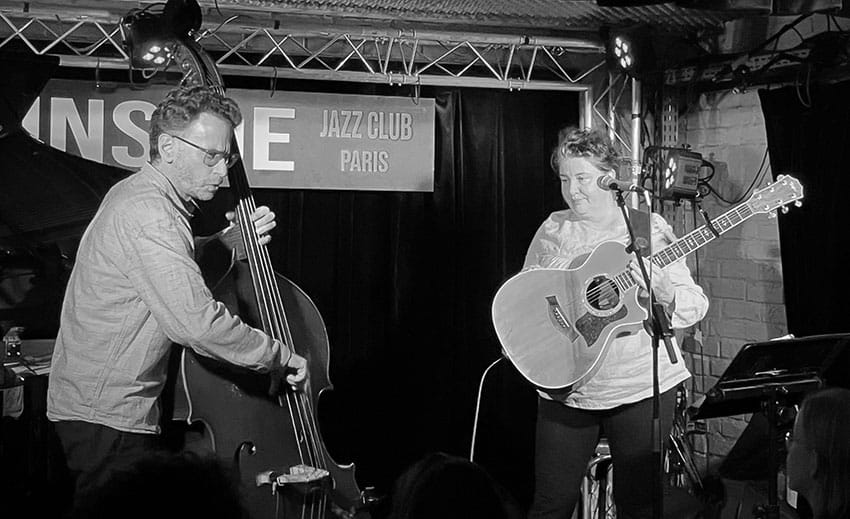 I won't teach you anything by telling you that Larry Grenadier is one of the greatest bassists on the world jazz scene! But let's go back to this couple who make us penetrate in the intimacy of their musical complicity. On "Brother, Can You Spare a Dime?" the singer's voice becomes a little hoarse, as if she were trying to convey the meaning of the lyrics, which unfortunately some of the audience must not understand. Rebecca Martin is not only a vocalist with an endearing personality, but also a great storyteller and each of the songs she interprets is a short story that unfolds during a few bewitching minutes accompanied by Larry Grenadier's supple walking bass. These two know how to set a mood and the audience is won over by the charm of this duo.  And when they play "Lush Life" (by Billy Strayhorn) of which we know dozens of versions (and of which I advise all non-English speakers to get the lyrics translated) the least I can say is that their version is one of the most moving I've ever heard. 
The second set starts with "Willow Weep for Me", a standard that we've heard a thousand times, among others sung by Billie Holiday, and Rebecca Martin and Larry Grenadier's version holds up well. If the voice is always touching, it must be said that we rarely have the opportunity to hear the bassist play on such classic chords and it is a delight to hear him express himself on these historical harmonies. The same goes for Gershwin's "But not for Me" which follows and on which Grenadier takes a peppy, cantabile solo that barely stands out from the melody before Rebecca picks up the lyrics with a totally relaxed phrasing.
But it's getting late and the duo attacks "Everything Happens to Me". It's good timing because what's happening to me is that I have to think about going back home.
If Couleurs Jazz' boss  succeeds in putting this article on line on Friday 12/22 the Parisians who will read it will still be able to rush to the Sunside where the duet will play again at 09:30pm.
©Photos Patrick Schuster