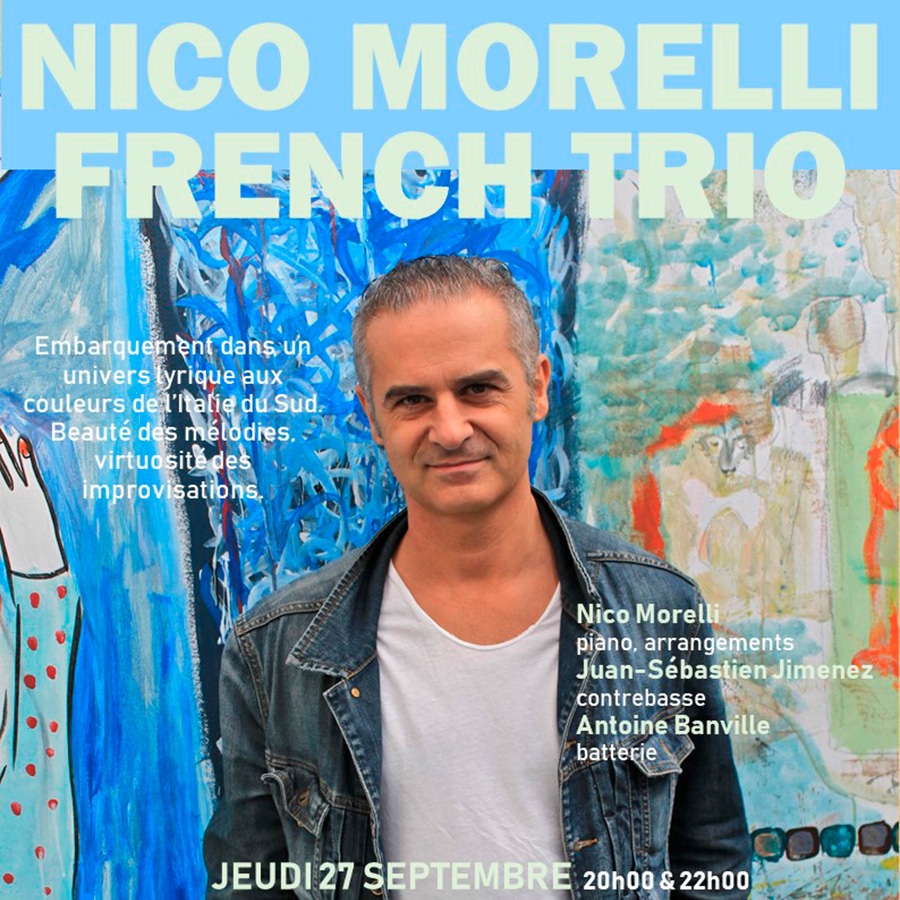 One of the most talented pianists of his generation, virtuoso but not only … Far from it; Excellent composer and arranger, in short a great musician!
Nico Morelli back again, this time in trio, a genre he likes, having practiced in the past with Roberto Gatto, drums and Marc Johnson, double bass "The Dreams" or Paolo Ghetti double bass and drummer Vincenzo Lanzo or the very famous album " Live in Morocco "with Aldo Romano on drums and Michel Benita, double bass.
Nico Morelli continues regularly to play his various repertoires with his "Italian Trio": Mimmo Campanale, drums and Camillo Pace, double bass (musicians that we find in his last album Hit Couleurs Jazz, Unfolkatable 2) or like here in trio at the Sunset Jazz Club in Paris.
or else with his "American Trio" : Darryl Hall drums and Greg Hutchinson, double bass. (They will play in Italy next November).
This time, his refined jazz, instinctive, melodious, it is with his "French Trio": Juan-Sebastien Jimenez on bass and Antoine Banville on drums that we can discover him or listen to, at the Nubia Jazz Club, at Boulogne Billancourt.
… For Parisians who miss the opportunity, or hesitate to cross the ring and the river, there is a catch-up session on October 17 at the House of Italy, the double bass being held this time by Matyas Szandai. It is also very very good!
Nico Morelli : piano, arrangements
Juan-Sébastien Jimenez : double bass
Antoine Banville : drums
Nubia Jazz Club
Septembre 27  -Shows at 08:00pm and 10:00pm