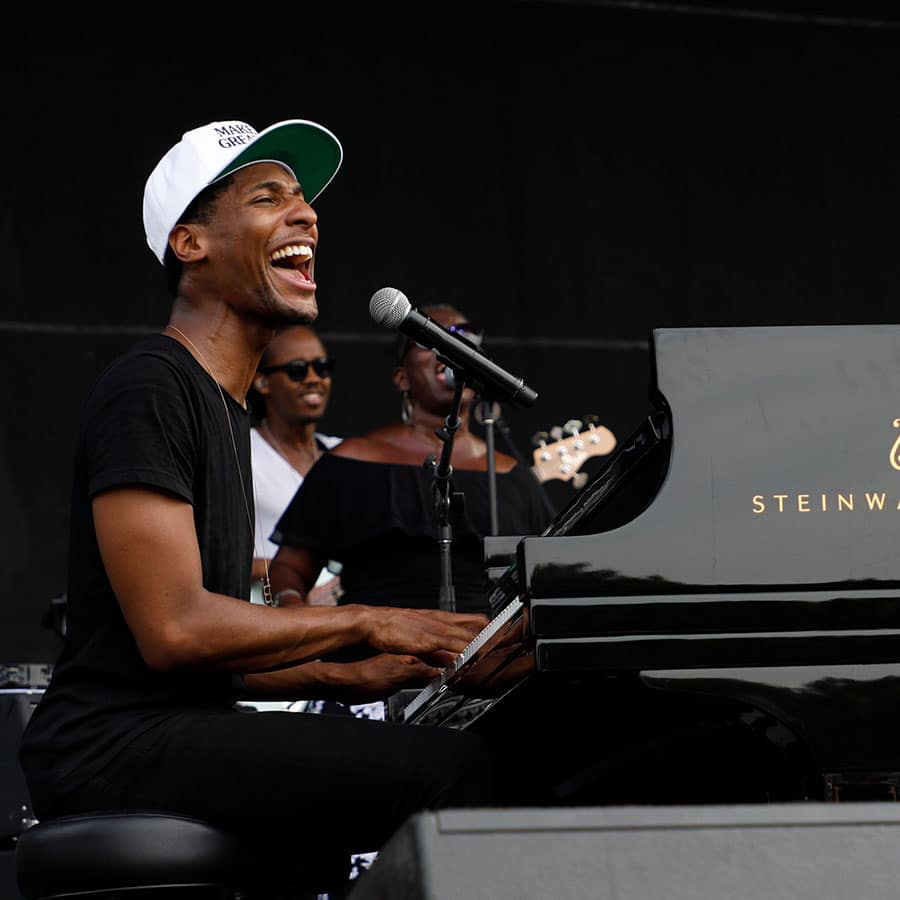 For the fourth annual Louis Armstrong Wonderful World of Music Festival, the Kupferberg Center for the Arts at Queens College asked New Orleans native Jon Batiste to curate the day's performances.
They couldn't have asked for a better steward to keep the spirit of Satchmo's belief that you need to listen to all types of music.
Jon Batiste has been a growing force in the New York music scene and nationally since he arrived in the Big Apple in 2005. In addition to regular gigging and recording, Batiste has been appointed Associate Artistic Director of the National Jazz Museum in Harlem and is music director and bandleader for The Late Show with Stephen Colbert with his house band Stay Human.
Taking the stage with a white baseball cap emblazoned with "Make Jazz Great Again," and showcasing his infectious smile and energy, Batiste accompanied the big band repertoire of Vince Giordano and The Nighthawks to open the afternoon. (Giordano and the Nighthawks were featured in the HBO period drama Boardwalk Empire). The band played on a sultry summer afternoon amidst the dragonflies of Flushing Meadow Park and the low flying jetliners making their descent to nearby LaGuardia Airport.
Batiste and Vince Giordano's Nighthawks worked seamlessly together and pulled the audience back to the roots of jazz. Trumpeter Jon-Erik Kellso's bell rang high and sweet and conjured up the best of "Pops's" tone, especially on "West End Blues," and "Strutting With Some Barbecue." Batiste displayed all his multi-threat talents singing, playing piano, scatting and playing melodica. He reveled in the performances of Kellso, Dan Levinson (clarinet) and Mike Fryer (trombone) as much as they drew from him. They traded licks and knowing glances on "Black and Blue," "Copenhagen," and Hoagy Carmichael's "Lazy River."
Giordano's superb musicianship and leadership of the Nighthawks is only matched by his liner-note quality insights that he delivers lovingly before each tune is performed. Together with Batiste, they offer a master class on why traditional jazz is still alive, relevant and breathing. The only question that remains after they played is why these two forces aren't paired together more often.
To round out the day, Batiste brought out the funky grooves and took the stage with the members of the Dap Kings, and his own band Stay Human (see video). He also accompanied free style rappers Don Flamingo, Avenue and Kris Kasanova. Batiste concluded the day by leading his signature "love riot" street parade through the crowd turning the Flushing Meadows grounds into a Parish of New Orleans.
This year's festival will be a hard one to top for next year. The Kupferberg Center should make it easy on themselves and invite Batiste back to reprise his performance.