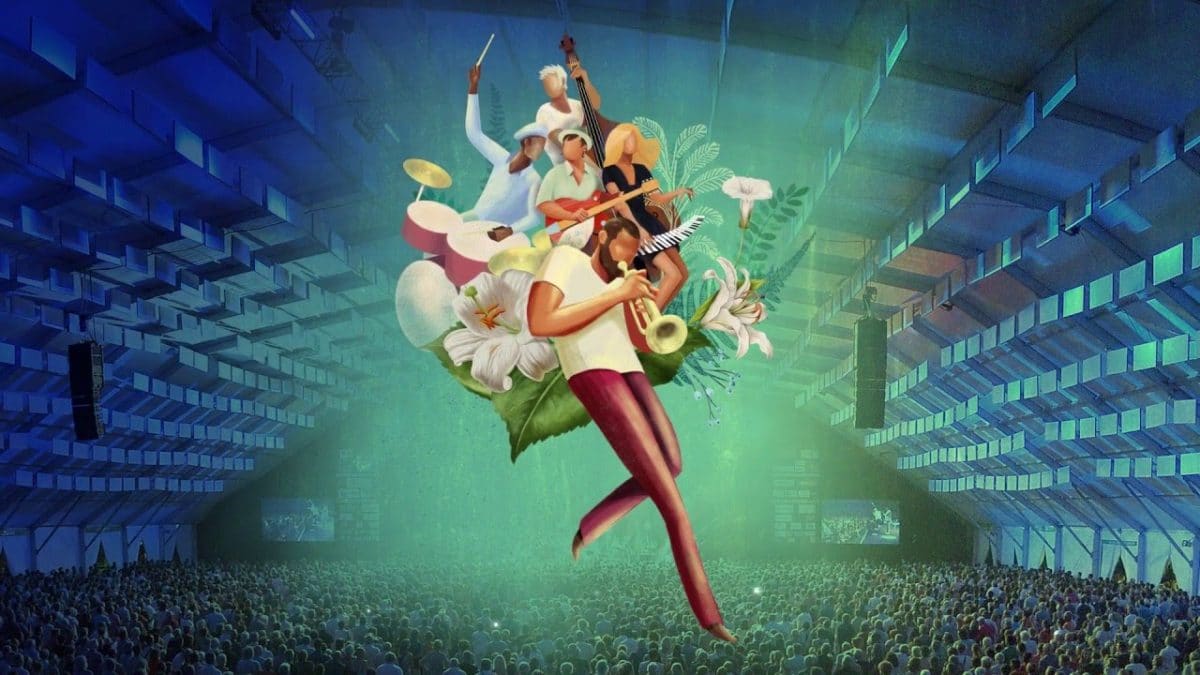 This year again for Couleurs Jazz, and for the last 11 years, I've been going every summer to the longest jazz festival in the world.
Jazz in Marciac knows no economic crisis: it beat its attendance record this year with 260,000 people livening up this small town of 1,350 inhabitants. I wanted to share my daily journal with you here.
Friday, July 29

… Marciac is unrecognizable. The inaugural evening.
We arrived on time on the flight to Toulouse. The airline Hop!, although a subsidiary of Air France, had the good idea to not go on strike. Off we go to Marciac, taking the road along the ridge. God, the Gers region is beautiful! The small Gascony village is looming on the horizon, but we get a surprise when we arrive, the village has changed. A police helicopter flies over the rooftops. Young soldiers are patrolling in fours, equipped with guns and helmets. Interior Minister Bernard Cazeneuve is around: he's come to launch the festival with the Minister of Culture Audrey Azoulay. Huge concrete blocks are barring some streets just in case, to prevent a truck running into the crowd. Very soon the ministers are gone again and we've become accustomed to the new face of Marciac in these times of terror.
The inaugural evening: opening by the brilliant and talkative Christian Scott, with his sirenette, a mix of trumpet, flugelhorn and cornet. As they say, he does the job, explaining to us at length the need to live together. Indeed, this is what he tells his children.
Then comes Diana Krall, the Canadian blonde. Rather sad, to the point of being boring. She delivers, without enthusiasm, a polished concert in the "Sunday afternoon at the holiday resort casino" mode. Ms. Krall, watch out, jazz is changing!
Saturday, July 30

, a great discovery, the pianist Yaron Herman and the outstanding Matthieu Chedid in tandem..
Unquestionably the first major discovery of Jazz in Marciac 2016, Panam Panic. There are five of them, led by Julien Alour, young man with a shaved head, terribly at ease even in Marciac, where he had immediate access to the big tent, bypassing the small concert hall, the Astrada. These five young men got together on Facebook and they self-produced their first CD.  Panam Panic got most of the 6,000 people in the audience up on their feet and dancing next to the stage. Commentary by Julien Adour: "You're all wonderful, how are we going to end the evening? We'll drink and have a really good time."
Same reaction from the crowd for the second concert: the pianist Yaron Herman attacks in classical style, with pieces that clearly reflect the difficulty of being Israeli. But all this completely changes when his guest arrives, "M", Matthieu Chedid, who admits at the outset he's not a jazz musician and thanks his jazz friends for the invitation. M attack his first piece by dragging a bow across the strings of his electric guitar. Why not, the sound is good. Then some infernal riffs that recall Jimmy Hendrix.
Also on stage, Emile Parisien, saxophonist who went to high school in Marciac. The public is mesmerized until the wee hours of the night. Without a doubt, a memorable evening.
Sunday, July 31

. Two discoveries: Gogo Penguin and Snarky Puppy.
Chris Illingworth of Gogo Penguin, born in Manchester, became known after his participation at the Mercury Prize, the big British music awards. With Nick Blacka and Rob Turner on drums. They dominate the stage effortlessly for an hour and a half.
Second part, Snarky Puppy: with eleven musicians on stage, we're far from the usual trios. The group came from New York to play just about anything, jazz of course, but also rock, pop, blues, gospel, hip hop. A hit because of their top level soloists. Don't miss these young dogs if you're in New York.
Monday August 1st: Stéphane Belmondo and Ibrahim Maalouf
Evening trumpet with Stéphane Belmondo playing his tribute to Chet Baker, the inventor of cool jazz he met in 1987 at the New Morning, who died a year later. With his two accomplices, bassist Bramerie Thomas and Jess Van Ruller on guitar, Stéphane prevails, leaving a sound of superb clarity floating in the huge tent.
Second trumpet: from the start, Ibrahim Maalouf mixes it up by playing the piano, which he does masterfully. He grabs the microphone and transforms the room into a gigantic happening, asking the audience to sing and dance, again and again. This festival in Marciac celebrates his ten years of Live and one of his last albums, "Red and Black Light". A tribute to women, including the ones in his family who have maintained the link between all the relatives scattered around the world during the civil war in Lebanon. You can hear Ibrahim everywhere in France this summer; he will complete his journey on December 14 at the Bercy concert hall in Paris. Thanks to him for a wonderful evening.
Tuesday, August 2

: John Scofield and John McLaughlin

Another trio. Steve Swallow on bass and Bill Stewart on drums surround the master John Scofield on guitar. These guys are also looking for new forms of jazz and they enchant us by interpreting very melodic themes inspired by their familiarity with the jazz greats like Charlie Mingus and Miles Davis. As for the elegant John McLaughlin, he doesn't forget he once recorded albums of Indian music. He puts the spotlight on the drummer Ranjit Barot who improvises scat in Hindi while bassist Etienne M'Bappé strums his guitar with gloves. Ultimately, the concert is very high quality, John McLaughlin being rightly considered one of the greatest guitarists in jazz history.
Wednesday, August 3

, Go girls !
Cyrille Aimée, young Franco-American woman, made an impression with her tight, low-cut gold dress. She sings jazz pieces in a style close to Django Reinhardt's Gypsy jazz. She spent her childhood in the village of Samois, where the most famous gypsy rests in peace. Her Dominican mother taught her the rhythms of her native country when she was little. Let's face it, Cyrille, it was a bit of a stretch for you to start out in the big tent, but your freshness moved us.
 Lisa Simone is next and the obvious question is, what was she doing in the US Army when she sings so well?
Lisa plays with the audience of Marciac, asking: whose daughter am I? It's all there, in this troubled relationship with her mother, Nina Simone. The girl has everything that makes a great performer, she's an actress, a dancer. She even left the stage, still singing, to dance in the crowd, a very strong moment for the singer with voices, a voice that plays both bass and treble.
Thursday, August 4th

 – Ahmad Jamal and his protégé Shahin Novrasli

Shahin Novrasli arrives at Marciac with Ahmad Jamal, definitely a point in his favor. When you look at his biography you find out the young man was born in Baku in Azerbaijan. That excites your curiosity! Then you discover he's completed extensive studies in classical music; and that's where the official communist biography ends. And behold, Shahin began to love jazz! The rebel plays a piece 55 minutes long, alone at the piano. We can feel in him the open wound of exile. This incantation Jazz fascinates, it's completely original.

It's now time to welcome the great Ahmad Jamal. We met him here in Marciac two years ago. 86 years old and still with his youthful smile. His immensely long fingers fly over the keys of the Steinway and give his musicians the order to play. They've been playing together for so long that they obey with enthusiasm. A special mention for the percussionist Manolo Badrena who is never separated from his collection of noise-making objects. This evening Jamal, who has composed a song about Marseille, shared the stage with the French-Beninese singer Mina Agossi and slam poet Abd Al Malik. Two important contributions to the development of jazz. A beautiful gift from the piano master who deigned to leave his Connecticut property to return to Marciac.
Friday, August 5

– Two bassists who lead their groups, which is rare. The Kyle Eastwood Quintet and the Avishai Cohen trio

Kyle Eastwood has already released seven albums. The bassist has composed music for some of his father's films. He now lives in France and has been working for several years with young English musicians. And he never misses an opportunity to pay tribute to jazz greats like Miles Davis or Art Blakey Jazz Messengers. We all appreciated his sunny smile.

Another engaging smile, Avishai Cohen's. He was accompanied this time by a virtuoso pianist, Omri Mor. Besides the big tent at Marciac, he has played on the biggest stages of the world. He said of his style and his mission: "I'm not here to deliver a specific message. I convey just what I like according to my desires. The only message is the music itself. It's pure emotion."
Saturday, August 6

– The Volcan trio followed by Roberto Fonseca

Let's not dwell on the Volcan trio, who from my point of view were having a bad day.

The Cuban pianist Roberto Fonseca, however, and his 11 musicians, sparked thunderous applause and had the whole audience dancing frenzied African mambo. All together they launched into the languorous Besame Mucho, and then they gave us the best bits of Fonseca's future CD Abuc (Cuba backwards), which comes out on October 24th. We discovered Roberto in 2005, when he was very young and Ibrahim Ferrer's pianist. Since then he's accumulated successes and become the darling of Marciac … and he still wears his little hat!
Sunday 7 August

– Cyrus Chestnut and his trio and Wynton Marsalis and The Young Stars of Jazz

Cyrus Chestnut is a great pianist, often compared to Art Tatum and Bud Powell. He's among the kings of melody composition. "What I do may seem simple, but when you listen, it's not as easy as you think…" We particularly enjoyed the simplicity of his arrangements.

Wynton Marsalis has ruled Marciac for 15 years – he even has his statue in the square. This year he put his efforts into youthful renewal. To accompany him, he brought 12 young musicians from the best American music schools, including French pianist Mathis Picard. And a tap dancer, Michela Marino Lerman.  The master remains as usual In the midst of his orchestra, alert and with a watchful eye even when Michela comes to dance in front of him. Congratulations on your choice, Wynton, the Young Stars of Jazz are brimming with promise and already at professional level.

A simple observation: The question, how is jazz doing? is easy to answer after listening to 22 groups in Marciac's big tent. Jazz is doing well and even very well. Jazz has changed. It's not afraid any more to incorporate sequences of blues, rhythm and blues, hip hop (yes!). It is completely mixed. Call it new jazz, cross jazz or total jazz because indeed it is global. Just look at the nationalities of the musicians in the groups: they come from everywhere and that's so fine. What you need to keep, and you do, ladies and gentlemen, is the element of improvisation, essential in a jazz concert!

Congratulations to Jean-Louis Guilhaumon for bringing to our attention this year some young people who are the future of jazz, like Panam Panic and Snarky Puppy. And now, please, prepare a lavish 40th anniversary for us!

Translation: Cathy Nolan