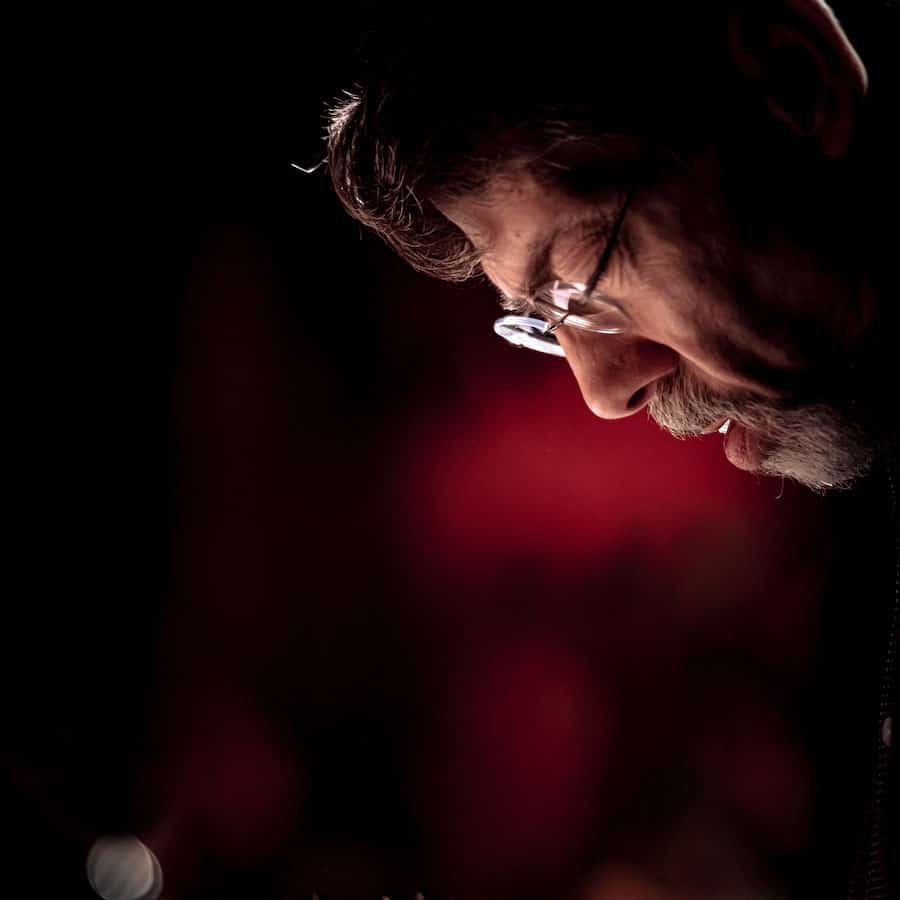 I arrive a little late at the Bal Blomet (try to get there on time, you, with the traffic jams caused, among other things, by the police who have been frantically combing Paris and its suburbs since last night, because Paname and the surrounding area is pretty much the Bronx these days).
I easily find a place in the balcony where I can set up my trusty Mac Book – because I always write while the concert is going on, and I don't want the brightness of my screen to disturb the audience, who have paid for their tickets – and I'm immediately drawn in by the magnificent sound of the piano under the fingers of Fred Hersch, who is a master of subtle and refined touch. As for the rhythm section (Drew Gress on double bass and Joey Baron on drums, if you please – and if it doesn't please you… but I won't insist on that point), it provides magnificent support as the tempo accelerates and the theme gains in intensity, without ever exceeding the medium tempo. After the short double-bass solo, Hersch re-exposes the theme: a pretty melody with swaying contours that the large audience applauds warmly. "This is my favorite place to play in Paris", says the pianist as he introduces his accompanists, and it's clear that he's at home here, although that doesn't mean he'll be putting on his slippers.
After this Kenny Wheeler theme, Hersch attacks one of his own compositions: a melody that could almost be described as simple, with a light-hearted rhythm. However, the rhythmically strong piano improvisation that follows shows that this little piece of music lends itself well to inventive treatment, with unexpected twists and turns that you'd never expect to find. It's the prerogative of great musicians to be able to extract harmonic, melodic and rhythmic nuggets from a seemingly innocuous theme, and Hersch is undeniably one of the greats of the 88 keys and jazz in general. The double bass purrs and vibrates merrily to the upbeat tempo, and Baron's drums crackle before beginning a series of pugnacious, detonating 4/4s with the leader, whose playing of plated chords and arpeggios remains comparatively serene compared to the raging drums. The audience, too, goes wild, applauding frantically.
This audience is obviously made up of connoisseurs, and I'm almost a virgin seeing Hersh live for the first time! The next piece, again by Hersch, is dedicated to Jobim, and it's the double bass that intones the melody with placid depth of tone and majestically slow phrasing. It's objectively beautiful, and becomes even more so when the piano takes a solo that magnifies the harmony and melodic line of the theme. These three musicians have a great sense of musical space. By this I mean that they organize an almost spatial distribution of voices, playing with silences, intensity, brief accelerations or decelerations of tempo…
In short, the interplay between the three of them is of staggering density and fluidity, and this trio clearly possesses its own group sound, over and above the sound of each of its members, such as Joey Baron, who now offers a solo in which he hits his toms and cymbals with his bare hands, alternating bombs and lighter strokes, while the piano and bass provide a repetitive chordal spin. A round of applause, richly deserved. If this first set maintains such a high level of creativity, I'm going to be jealous of the audience at the second concert, where the three guys are likely to be even hotter!
Baron, the trio's comic elf, drops or pretends to drop his drumsticks for a short interlude of hilarious humor. Then the piano chimes in with piquant arpeggios, while the bass rumbles in the low register and Baron makes his drums crackle in a seemingly haphazard fashion. There's no real melody here… but yes, one does appear after a few minutes, and it's a lovely theme with playful accents that explores the keyboard's middle and upper registers with a capricious phrasing to great effect. I mentioned above the trio's sense of space. It also masters the unfolding of the set, alternating tension and relaxation, acceleration and deceleration, softness and firmness, which makes this concert seem to follow a masterfully conceived script, while appearing totally spontaneous.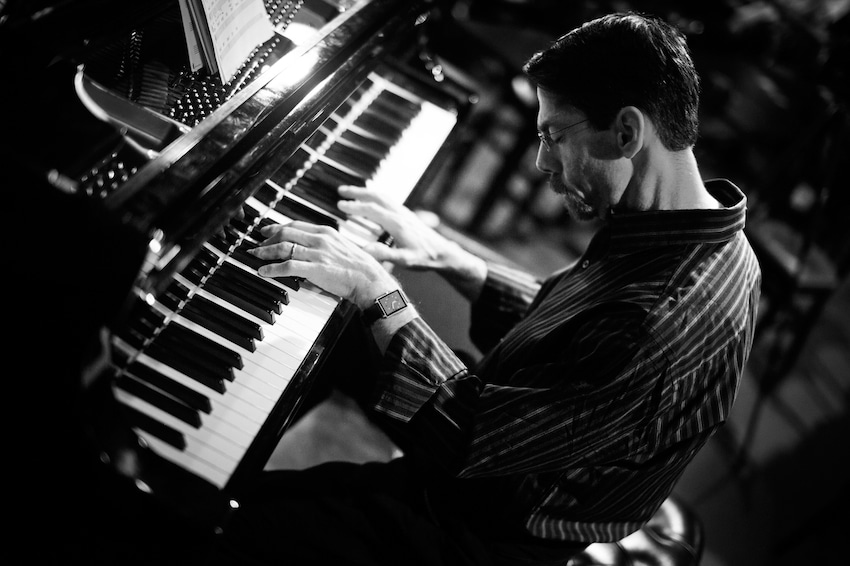 ©Photo Mark Niskanen
The piece the trio has just played is dedicated to French pianist Benoît Delbecq. I had no idea that Hersch knew or appreciated him. An American musician who takes an interest in his European counterparts is more or less a rare bird, and Hersch is obviously one of those.
The last time I witnessed such a phenomenon was the American pianist and singer Patricia Barber, who confided in me that she highly appreciates her Italian and French colleagues Enrico Pieranunzi and Jacky Terrasson. Like the Chicago musician, Fred Hersch is clearly an open-minded and cultured artist. This is evident in his playing, as he now sets out a sumptuous ballad which, like the first track I heard, builds in scope before becoming peacefully serene again.
And the last track is a standard, "Softly as in a Morning Sunrise", taken in medium tempo. I own a number of versions of this timeless theme, and I have to say that the one by Fred Hersch's trio – in which Joey Baron opts for brushes playing while Drew Gress rolls out an imperial walking bass – is one of the most inventive and interesting I've ever heard.
That contemporary musicians like Hersch are still eager to draw on the "Great American Songbook" is reassuring for the future of these songs, which younger musicians tend to neglect.
As Sonny Rollins said to me in an interview a few years ago, when I asked him what he thought about  the standards: "You don't have to play them in concert or on record, but you do have to know them!" And it's with telluric chords hammered into the bass of the piano that Hersch ends this set, at first alone. Then he lets the melody peek through in snatches, and it's easy to recognize Thelonious Monk's "Round Midnight". Typically, this is a theme that hundreds of musicians have played or recorded over more than half a century. Daring to cover it today without sounding corny implies having something to say about this complex harmonic grid, and Hersch pulls it off beautifully, alternating chords with rich voicings and melodic passages that stand out from the original theme.
The entry of the bass and drums after this long, magnificent solo intro clearly raises the tension, but breaks, in my opinion, the magic that the solo keyboard had installed. Don't get me wrong, this is still a very good trio, and I'm sure the audience, like me, will remember this almost hour and a half in the company of Fred Hersch, Drew Gress and Joey Baron as a dazzling experience. As we await the pianist's return to his favorite Parisian venue in a few months' time, you can bet on it. And, to the rapturous applause of his audience, Hersch graces us with a final encore: Leonard Bernstein's "Somewhere" from "West Side Story": a short but luminous performance that crowns an exceptional concert!
Line up :
Fred Hersch : piano
Drew Gress : double bass
Joey Baron : drums
©Photos Roberto Cifarelli