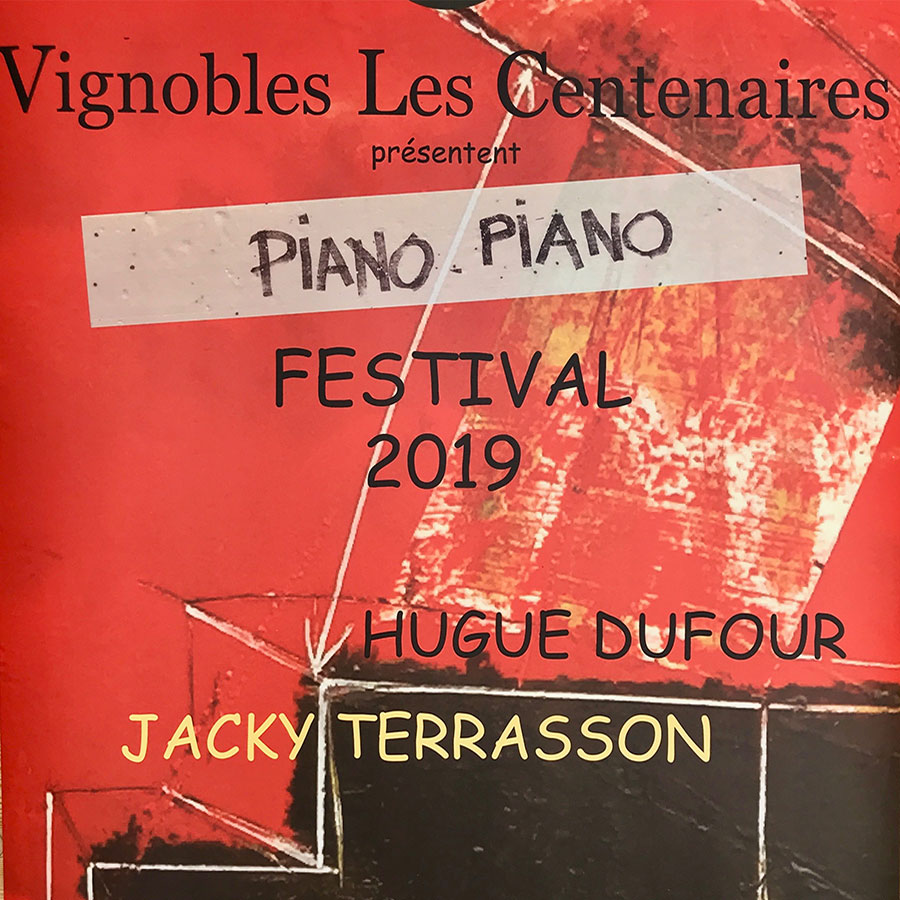 Chi va piano va sano, it's a little bit the adage that gives the emotions that bring together actors and spectators of this event, in the heart of the Costières de Nîmes vineyard.
The Festival Piano, Piano, which celebrated in May 2019, its second edition presents more of an originality. In addition to the Jazz associated with the discovery of wines of a terroir, are added, the gastronomy, but also the notion of sharing between friends.
The instigator of this beautiful project is none other than Luc Baudet, accompanied by his partner, Bruno François, owners of the Clos des Centenaires and who for this occasion, chose to share with the public a unique experience around music, wine and gastronomy. For this 2nd edition, they welcomed renowned Jazzmen, well known to the listeners and readers of Couleurs Jazz Media, and Couleurs Jazz Radio.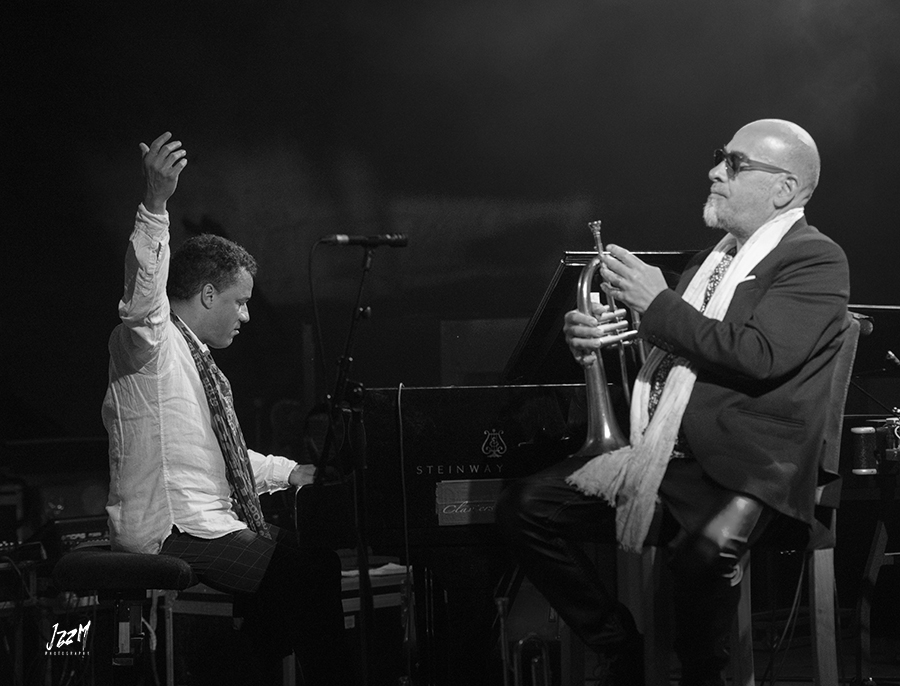 Jacky Terrasson, pianist and godfather of the event,
accompanied by his faithful friend, buglist and trumpet player, Stéphane Belmondo and featuring, the vibraphonist, Franck Tortiller (born elsewhere in a family of Burgundy winemakers!)
So 3 jazz stars to answer those of the heads of restaurants and pastry chefs who made this exceptional dinner.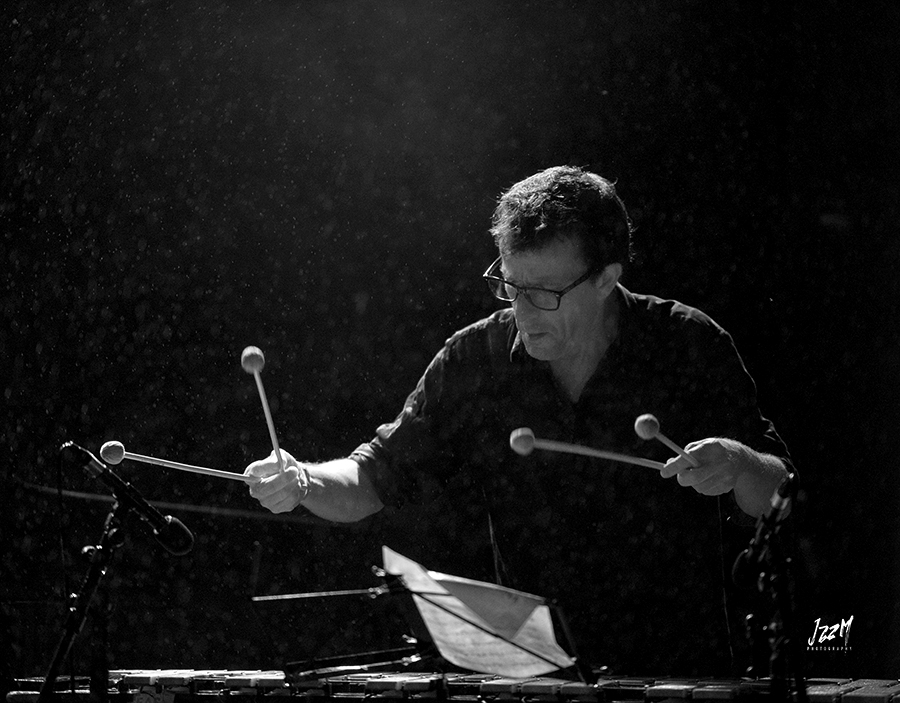 Let's meet these chefs and Luc Baudet who accepted to answer our questions:
Hugue Dufour – It is a little like vacation for me! Because I participated in the 1st edition last year, thanks to Luc Baudet who decided, after a meeting in my Steak House in New York, where there was already Jacky Terrasson who played, 4 or 5 years ago . Then the project around Luke's wine, my cooking, and Jacky's music got together over the course of the discussions. Play music, taste wine around a gourmet meal.
It is therefore a meeting between friends, just to saturate all of our senses.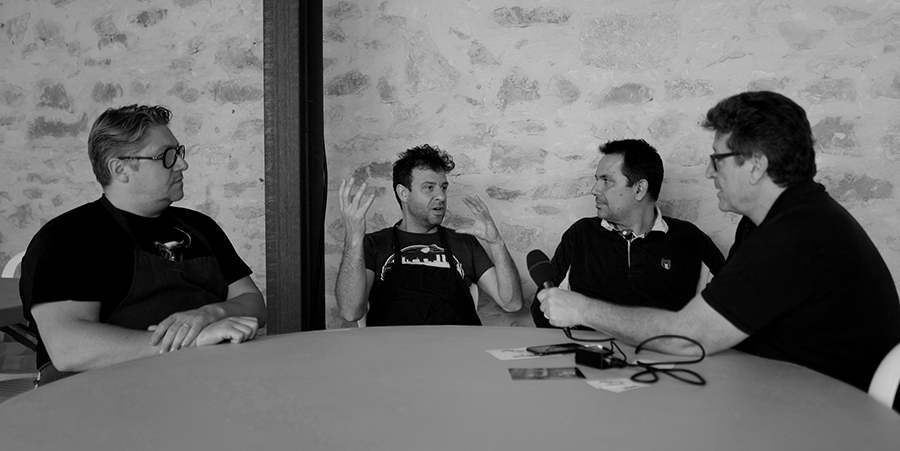 From left to right : Nicolas Michel, Hugue Dufour, Luc Baudet, Jacques Pauper
Couleurs Jazz Radio – And so it is Luc who allowed the realization of this pretty project?
Luc Baudet – Yes, it's the emulsifier, the mayonnaise. Around Jacky who loves cooking, Hugue who loves music too, and me who loves it all. And this was done because they are people of sharing, people extraordinarily open. There is no ego. They are willing to take risks, to take up this challenge. Even if there is not so much risk for Jacky to get behind a piano. He still agreed to be the godfather of this modest festival which does not have a very big gauge.
Let's say that we are very lucky to be able to do this "at home" among the vineyards. And the audience knows that it's a rare chance to see them in such intimate conditions.
Hugue Dufour – Yes and it is sure that those who were able to attend last year's first edition will also be here tonight!
Note that there was also an edition last month in New York. So like a round trip to my Steak House in Long Island City in Queens. It was two days of concerts with chefs from here (Gard). Michel Benet, Serge Chenet, Jerome Nutil and Pierre & Laure Francin who came.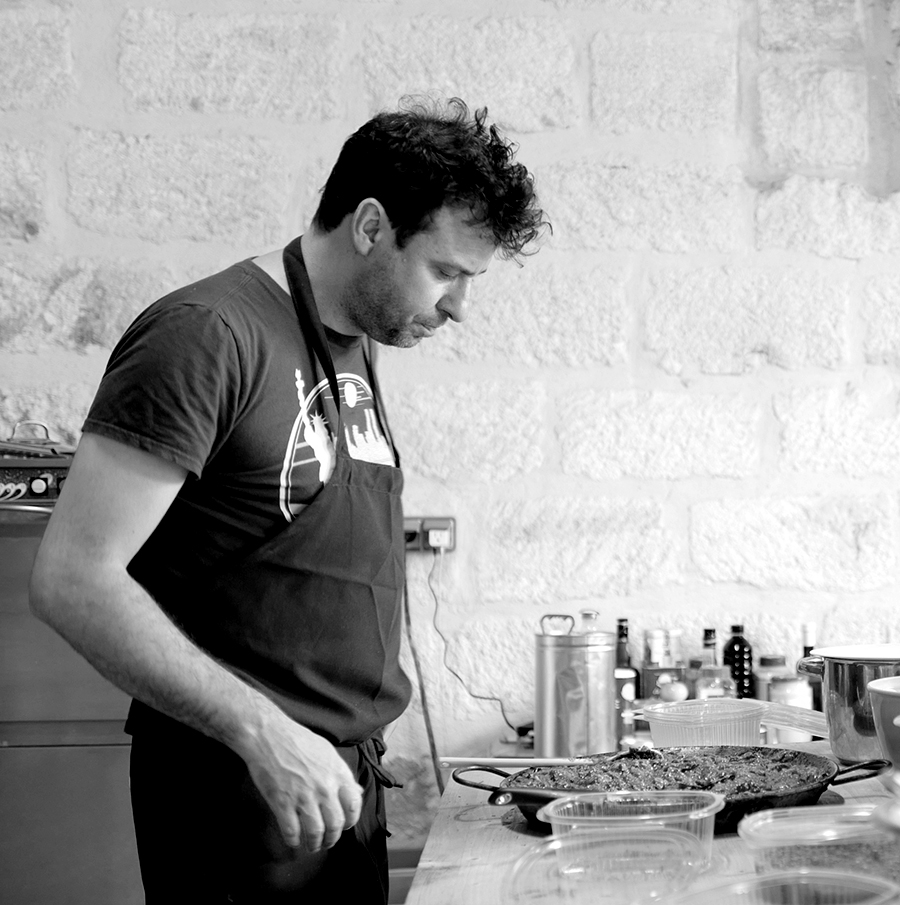 Couleurs Jazz Radio – And right here in les Côtières de Nîmes, there is also Nicolas Michel !
Nicolas Michel – Yes I am the good friend, the second batch that has just arrived. A great opportunity for me to come to participate in this beautiful performance and put a little bit of my leg.
Hugue Dufour – Yes and now everything is mixed, we do not know exactly who does what!
(note: indeed, each chef has decided to make a dish and other chefs, such as sidemen or luxury clerks, help with the realization. A very jazz attitude!)
Nicolas Michel – That's it, it's above all a bunch of friends who are there to share beautiful things in life.
I too have a restaurant but located near the Gare de Lyon "Le Cotte Rôti" which is very focused on wine culture. That's what brings us all together, the wines, the friends, the table and the emotions, with these great jazz artists today. The restaurant is unfortunately a little small to accommodate jazz concerts, unlike that of Hugue in New York.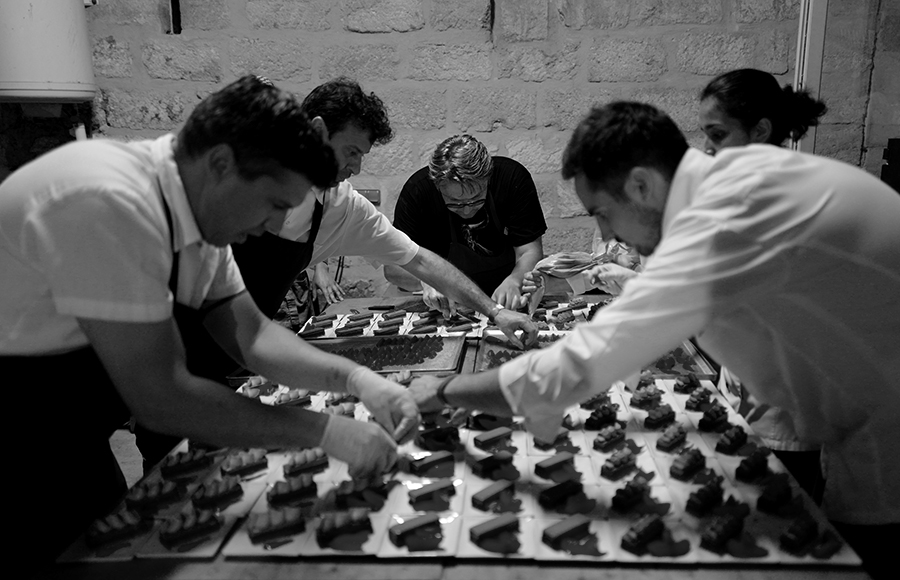 Hugue Dufour – Yes, my steak house is located in an old garage with skylights, in which the sound rushes in a rather incomprehensible way. There are many things, I also organize concerts of all kinds of music.
Luc Baudet – The place is quite magical. When for example Jacky came to play his solo piano, in addition to the warm welcome thanks from Hugue, the sound was magnificent! And jazz is a music that adapts very well with your cooking styles, this mix of rigor and creativity and variations thanks to the very solid technicians that you are, but with this touch of madness in change. For me, your cooking is a jazz cooking!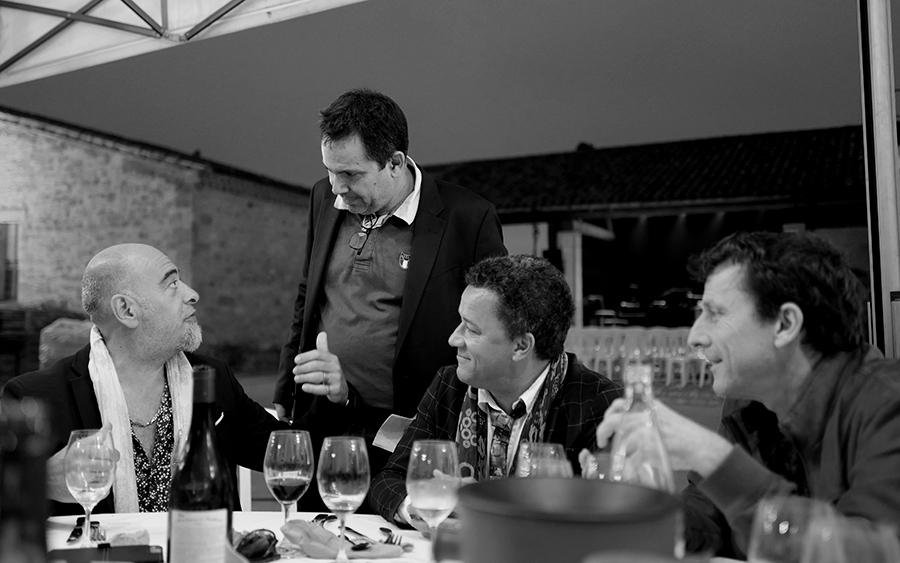 Couleurs Jazz Radio – Can we in your way of cooking, do as for jazz, get out of the score?
Luc Baudet – Yes, and as in music, to get out of the score you must already get in, master it, know what it is, otherwise we do not get out of it. But it's the same thing indeed.
Couleurs Jazz Radio – And it's a team work too, like in wine, cooking or jazz … We have to listen to each other, to look at each other …
Luc Baudet – Yes when I see them working, it is this ability to be very effective, even in the service, I find it fascinating to watch them do. This ability in such a short time to design and then realize these culinary masterpieces.
Hugue Dufour – Yes it's interesting these parallels. We often work alone as a chef in the kitchen and then during these experiences, there is an exchange between us, improvisations and even a symbiosis.
Nicolas Michel – Yes we come from different worlds with our own ideas and we exchange, propose and realize together. Points of detail in the other can be sources of inspiration. Everyone can add their touch.
Couleurs Jazz Radio  – And about the wine?
Luc Baudet – The wine is of course a work of craftsman, with much care in the details.
And then it remains a human activity: what the brain is able to add as creativity. We are basically all creative. Inspiration and care in detail. By the way, wine is a natural addition to the kitchen. Then music and especially jazz is something that touches us directly, emotionally. We like our wines to touch people too.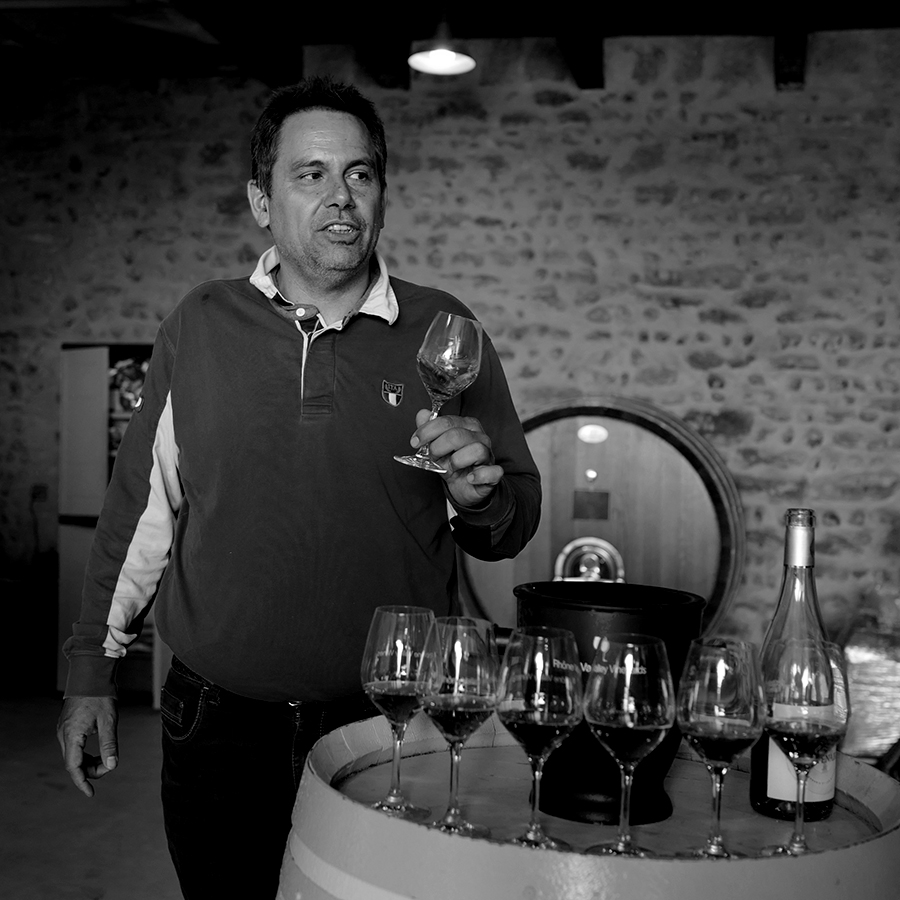 Couleurs Jazz Radio – You said at noon in the beautiful restaurant Jerome Nutile, that the wines never tasted better than with food. (Especially this one!) Is it the same with music?
Luc Baudet :
Of course because all the senses work in parallel. Sound is part of the receivers of our emotions too.
This is called positive reinforcement: we are with people we love, we listen to good music, we taste good food: everything converges to more inspirations and emotions.
Hugue Dufour : In my kitchen there is always music, we give birth to our ideas on music. Always.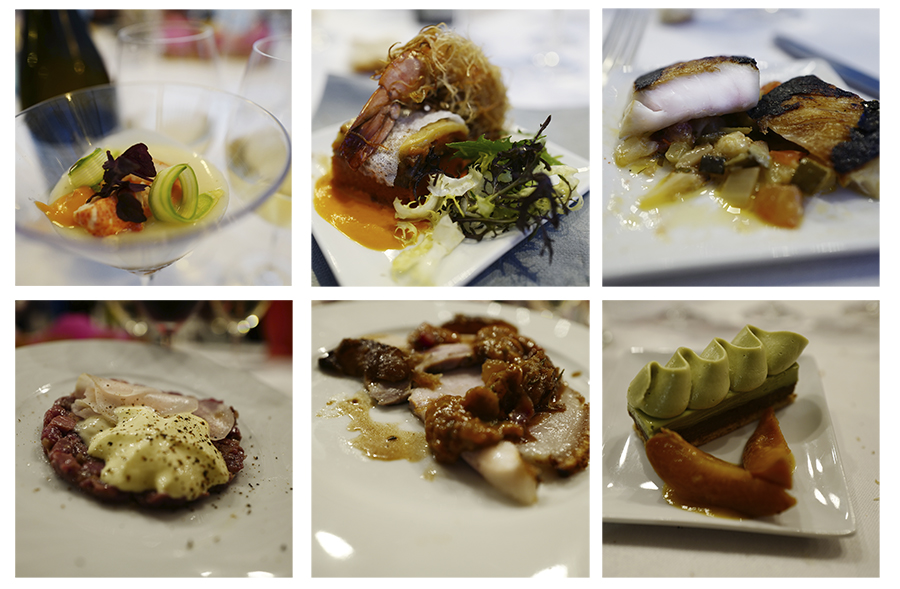 The Menu for the Festival !
Recepe by Serge Chenet – Entre Vigne & Garrigue – 1* Michelin, Pujaut :
Gâteau d'Aubergine Provençal, coulis de poivron doux, et croustillant de gambas.
Wine of Madame La Comtesse Lirac 2016 – Château de Montfaucon
Recepe by Jérôme Nutile – 1* Michelin, Nîmes :
Petit Salé de Homard sur un crémeux de primeurs, gelée claire de carapace et caviar Aruga.
Wine : Clos des Centenaires Roussanne 2018.
Recepe by Michel Benet  – La Vallergue Traiteur, Avignon :
Dos de mérou piqué au laurier sur son olivade de primeurs au basilic
Wine : Clos des Centenaires Cinsault 100% 2016
Recepe by Nicolas Michel – Le Cotte Rôti, Paris :
Tartare de toro fumé au couteau échalottes marinées sur un air de « Hollandaise »
Wine : Clos des Centenaires Cinsault Syrah 2017
Recepe by Hugue Dufour – Restaurant M.Wells 1* Michelin, New York, USA :
Le cochon de la ferme Beauregard
Wine : Clos des Centenaires Grenache 2016 – Magnum.
Recepe de Pierre et Laure Francin – Patisserie Pierre & Laure Franin, Nîmes :
Croustillant Prâliné pistache et abricot poché à la fève de Tonka.
Wine : Condrieu Tandem 2016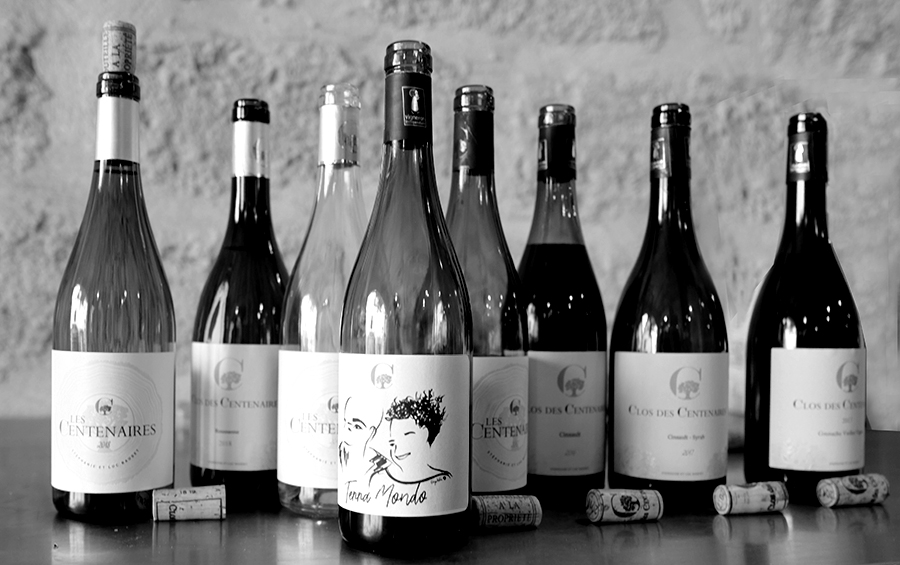 A word about these artisanal wines and this terroir of the South Rhone.
Sincere and deep wines of a gastronomic character are produced in an 18th century farmhouse, Château Haute Bergerade, facing the Mediterranean and the bodies of water in the Petite Camargue nature reserve.
Luc and Bruno continue to hoist their vineyard upwards and provoke in us, beautiful surprises and great emotions.
The Clos des Centenaires is born from the desire of the owners to create wines faithful to this terroir between land and sea. A valley in the hollow of hundred-year-old olive trees and majestic oaks. The assets are numerous: a maritime climate, draining and deep soils, pebbles shaped 3 million years ago by the Rhône, alluvial sands and a red breathable clay. But it is especially what time has offered them: powerful vines, rooted deep in the soil that give grapes that slowly reveal their generous complexity.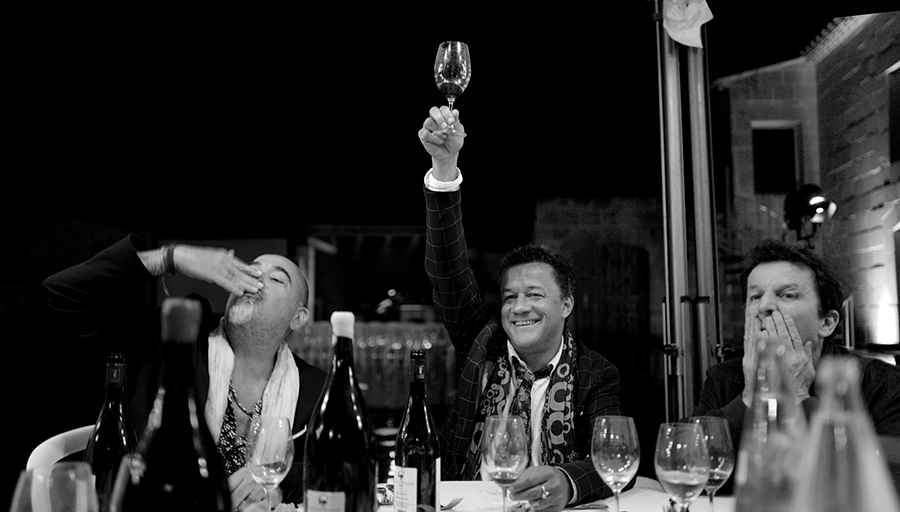 The duo Jacky Terrasson / Franck Tortiller in first set, then Jacky Terrasson / Stéphane Belmondo were up to the talent of chefs and wines! The pleasure of the place, of the good company of an audience of connoisseurs. Everything was brought together to showcase their expertise and talent: inspired improvisations and perfect mastery, despite the fine rain, which for a moment fell on the musicians and their instruments.
©Photos Patrick Martineau/JzzM