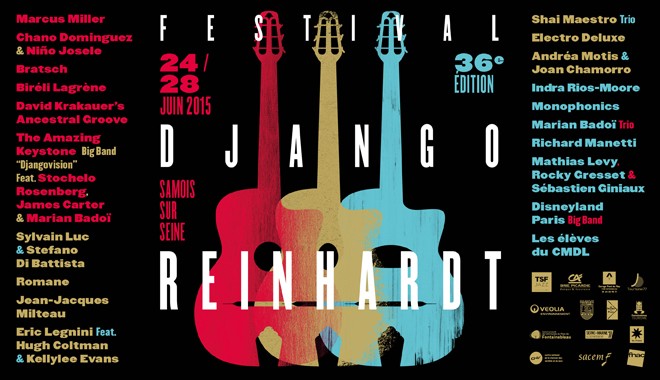 From June 24th to June 28th in Samois / France…
A very special Jazz Festival, certainly the best one, for Djangos's music !
This festival is one of the oldest jazz festivals, created in 1968, with 1/3 of foreign spectators from everywhere in the world.
More than one hundred official Jazz musicians playing all types of Jazz plus many others playing Django's music in the village and around, with an "Off Festival" this year
the beautiful village of Samois resonates to the sounds of  manouche guitars on the banks of the Seine and in the heart of the Forest of Fontainebleau.
An enchanting small island on a unique natural site: L'Ile du Berceau.
This village is where Django Reinhardt is buried.
There is also an open stage: springboard for young artists and a tent village on the island of 18 guitar makers, coming from 7 countries.
They will be in Samois this year  :
Electro Deluxe, Bireli Lagrène, Shai Maestro Trio, André Motis & Joan Chamorro, Le Disneyland Paris Big Band, Monophonics, David Krakauer, Jean-Jacques Milteau Quartet, Indra Rios-Moore ; Mathias Levy, Rocky Gresset, Sébastien Giniaux, Jazz Banditt,Marcus Miller, Chano Dominguez & Nino Josele, Richard Manetti Quintet, Brastch, Eric Legnini featuring Sandra N'Kakke & Kellylee Evans, Marian Badoi Trio ; The amazing Keystone Big Band featuring Stochelo Rosenberg, James Carter, Sylvain Luc & Stefano di Battista, Romane, …
Angelo supports the festival and sends a wink…

CROWDFUNDING !
As Samois Festival is an outdoor festival, and last year was surrounded by all the waters of the universe, the volunteers association needs your help. "Our festival is funded almost 80% from own resources" Georges Ferrone says. "Since this is an outdoor festival, the weather conditions strongly influence the public attendence. Our financial resources are therefore irregular. Sponsorship and crowdfunding can help us both to maintain affordable rates and to develop ambitious projects, including the promotion of young artists and the development of local talent. Through crowdfunding  and the Ulule platform  we have the opportunity to get directly into contact with you. Your support is invaluable !"
Here is the link, if you wish to help this incredible festival :
http://www.ulule.com/festival-djangoreinhardt/
Romane and his two sons will attend, they do support the Festival.