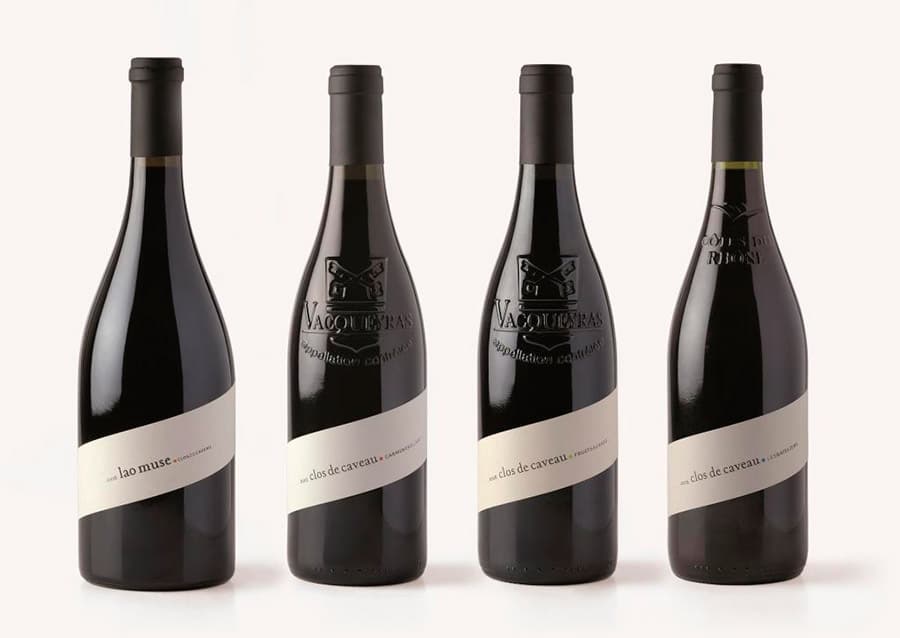 In this Rhone valley, always sunny, Henri Bungener welcomes me to convey his passion for his domain.
Since 1980, the Clos de Caveau was the regional first cellar to produce an organic wine, respecting the authenticity of the Provençal ecosystem long before the emergence of organic standards and regulations.
Just a few words about this bottle: the label is so modern, understated and terribly original. It embraces with sensuality a bottle of great elegance, proudly wearing the arms of Vacqueyras melted on the glass.
This time, the story begins with a course in geology, going back 3 million years ago, in the Oligocene. The vineyard, unlike the appellation, is located on hillside of Montmirail, famous for its lace. Strata are vertical on the hill while they are horizontal in the land. After a long and fastidious work, Henri discovered that his vineyard covered three main strata, spaced about three million years ago, each offering a very different terroir. The estate produces three cuvées with distinctive personalities. A few hectares are also cultivated in the land near Violès to produce a wine of appellation "Côte du Rhône".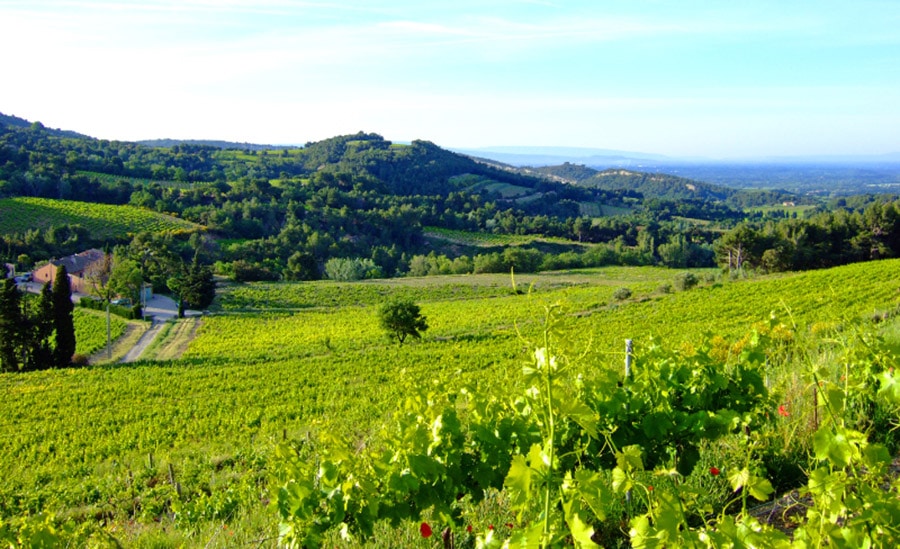 Two varieties are grown: Syrah and mainly Grenache. Mourvèdre vine stocks were planted in 2013 on a plot of land, to test new blendings.
The tasting is ordered by progressing in altitude.
We then wanted to listen to the magic and soft guitar of Yotam Silberstein accompanied on the piano by Aaron Goldberg and on the bass by Yasushi Nakamura. The magic trio .. that opens your taste buds and heart at the same time!
"Tea for Two" renamed on the occasion by the editorial team …. "Wine for two"
Les Bateliers – 2015 – grape: 70% Grenache, 30% Syrah – Côte du Rhône
A beautiful dark red colour, a nose of fresh fruit. Freshness and liveliness in the mouth with a soft palate. It is a light wine, ideal for pairing mixed salads and smoked fish. Henri also saw young sommeliers who "break" the rules, coupling this wine with a carpaccio of monkfish.
Fruits Sauvages 2015 – Vacqueyras
Grape:  60% Grenache, 40% Syrah –
First terroir in hillside. It is very loaded in soft limestone with a mixture of clay.
The dress is coloured with dark rubies, the nose hints fresh blackcurrant and sweet spices. The silky and elegant tannins melt in the palate.
Carmin Brillant 2014 – Vacqueyras
Grapes: 60% Grenache, 40% Syrah
We are higher on the hill. A deep purple ruby colour. The nose releases generous aromas of smoke, blackcurrant and fennel. Wine is powerful; the mouth is full-bodied, fleshy, structured. It's delicious …
Lao Muse 2013 – Vacqueyras  
Grape : 60% Grenache, 40% Syrah –
It is the top of the vineyard, both in altitude and in pleasure of tasting: "Sublime expression of nature" Henri discloses to me.
It is a black purple evening dress. Aromas of blackberry liqueur, notes of black cherry jam and vanilla spices blend into a seductive bouquet. It is very rich and soft with a nice length in the mouth: "It sticks everywhere," says Henri.
Also there is a fifth wine, a rosé, charmingly named "La Rose du Clos". It will be necessary to visit the vineyard to discover this "flower", whose elegance will certainly live up to the range elaborated by Henri and his team.
What a nice memory! I wish to take my sweetheart for a magical weekend of real discoveries in one of the vineyard's cottage…
I would like to share with you Henry Bungener's quote for his vineyard:
« I have a visceral relationship with the earth, I am amazed that it produces such jewels. In addition, I have a soul of researcher, I love to understand how it works.  »
Family vineyard. Cellared & bottled by the winery. 16 hectares.