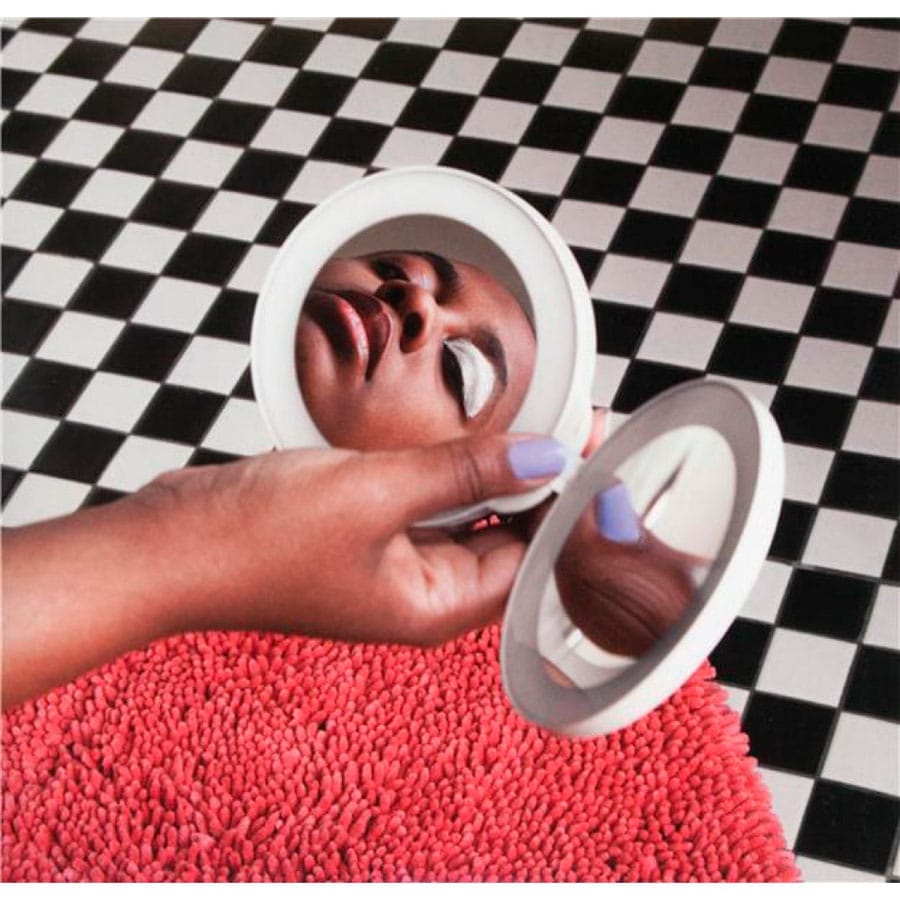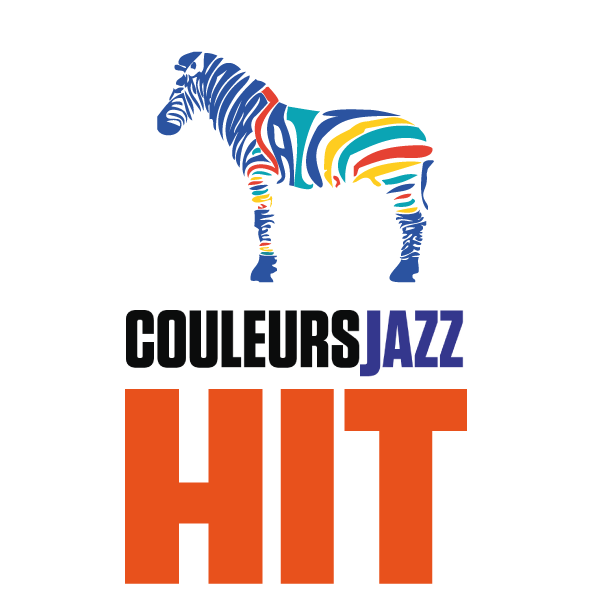 « I want to be mellow and outrageous and giving and thoughtful and provocative. I want it to feel like I'm whispering in someone's ear »
Wynton Marsalis said about her: « You get a singer like this once in a generation or two » . Today she comes back with a new album, almost fully recorded live at the Village Vanguard, the legendary jazz club of Greenwich Village, among the ghosts of John Coltrane and Betty Carter.
She won the first prize of the Thelonious Monk International Competition in 2010 and, ever since, revealed her amazing talent : an exceptional voice technique, a round, warm and colorful sound as well as a real capacity to move her audience. Cecile McLorin Salvant interprets her lyrics as an actress would, placing the words at the center of the performance.
« WomanChild » featured songs that had a personal link to her life, « For one to love », 2016 Grammy Award for vocal jazz album, was an ode to strong and independent women. « Dreams & Daggers » somehow fuses the subject of the two previous albums : she interrogates our society's values and shows how her life was affected by them : « I was fascinated with the idea of a dream, like a dream that you have at night when you're sleeping, and the whole idea of sleeping in to another world, and how that's still linked to your waking life, but also the idea of a dream as a hope, and so those songs explore those two elements of dreams. (…) A dagger to me is something that you can use against others but also against yourself, as a defense or as an attack, and so the idea of the songs that I sing as being both political songs, songs about identity, songs about self-worth, about self-hatred, self-love, all of those things are kind of comprised in the ideas of Dreams & Daggers. »
Most of the album was recorded live during the last set of the ending day of her residency at the Vanguard. The place is a real character belonging to this story: « It's part of the sound. And the people there — we should have written their names down. »
The complicity between Cécile and her audience, who laughs with her, supports her, and is moved by her, really contributes to the charm of the album. It was a full house : family, friends and beloved musicians were there to cheer the singer. We can hear her speak and joke around with them, or thank her mother to be ever-present.
The rest of the tunes were studio recorded.
Besides her regular trio:
Aaron Diehl (piano),
Paul Sikivie (double bass)  and
Lawrence Leathers (drums) 
a string quartet, the Catalyst Quartet, is invited. It plays on «  You're my thrill », the only tune on the album that has a featured videoclip.
For this occasion, Cecile is all dressed in black, and is the head of a great feast where the spectator seems to be the only other guest. Her lustful glance follows him as she whispers « Here's my heart on a silver platter » while a real heart on a plate is being shown, ready to be devoured.
Cecile says she's « fascinated » by color and the divisions that mankind invents, but also by women's role in our society. The Vanguard laughs during her interpretation of « If a girl isn't pretty », a fun but painful tune, that points out the injustice of physical appearance in people's eyes.
During a concert at the Paris Philharmonic in October 2016, Cecile picked Josephine Baker's song «  Moi si j'étais blanche  » ( « If I were white » ) that would next figure in the future album. She's in front of a French audience and she asks calmly : « Do I need to be white to please you better ? » the crowd answers unanimously « Mais non Cécile! We want to love you the way you are »
In spite of everything, the 28 years old singer reminds us that the ones suffering from disparity are still plentiful.
« I'm seeing it through sort of the mindset of, you know, questioning. More so than saying this is right or this is wrong. It's more of questioning. What do we think about how we treat each other? What do we think about how we identify other people and how we categorize other people, and how we give people certain roles in society? (…) There is very much an obsession with beauty: How am I presenting myself in society and how can I be acceptable and how can I be more desirable?(…) So for me, I like to laugh. I like to sort of just ask questions. I don't presume to have any of the answers. »
If Cecile McLorin Salvant edifies us in what the meaning of her work concerning the notion of « self-hatred » is, she also enlightens us on the concept of « self-love ». In opposition to « Moi si j'étais blanche » Cécile suggests the poem
« Fascination » by Langston Hughes, a XXth century African-American poet, in which he praises the beauty of the black woman. In « Sam Jones' Blues » she plays the role of a woman who decides to free herself from her husband's domination.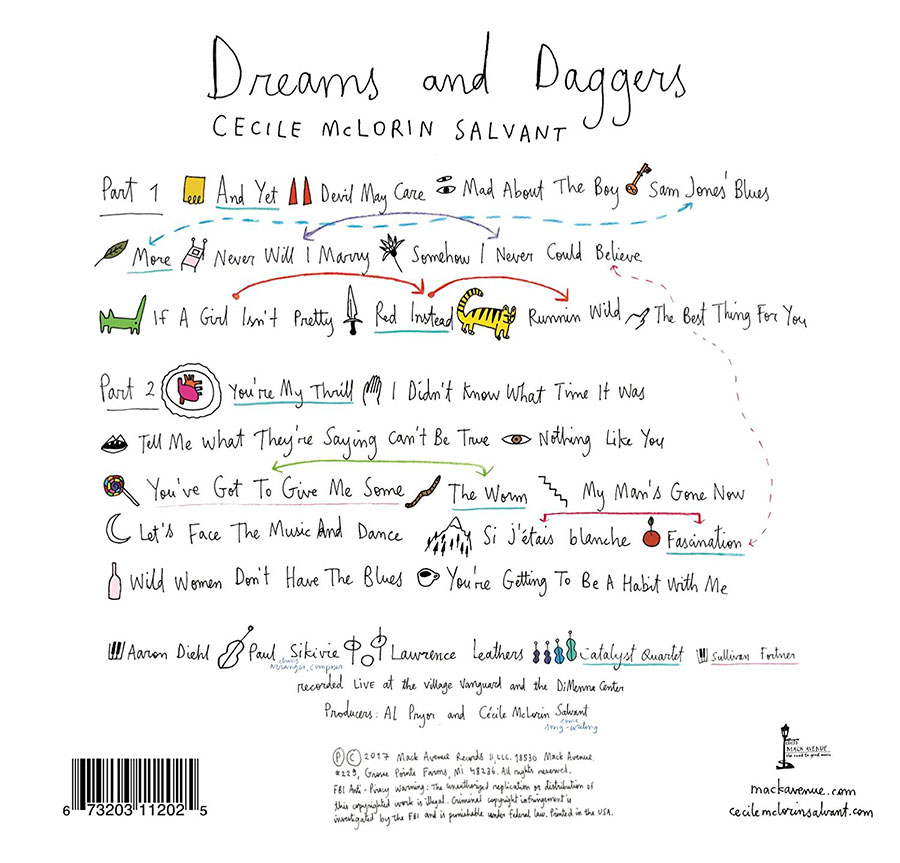 (in a duet setting with pianist Sullivan Fortner as a special guest) or « Mad about the boy » portray women who aren't afraid or ashamed to express their intimate desires. Just like Bessie Smith did, Cécile sings the blues with her guts : she's sensitive and fragile when she relates her sorrows, and unstoppable strength when she becomes the rising woman.
Cécile assures us that she hates to look at herself in the mirror, still the album sleeve shows her reflection on a small mirror, a gift from her father, where she is, with her eyes closed, her eyelids painted in white, in her own bathroom in New York City. The duality of the album is there : in between the woman who wants to hide and the one who knows she must assert herself.
Cécile McLorin Salvant also likes to read and draw, she often posts her creations on Instagram and likes to share her colorful world.
Isn't it what's ferociously human about her, that moves us every time?
Each time she gets on stage, she really offers her heart on a silver platter.
"Dreams and Daggers" is an album Mack Avenue Records 2017.
Cécile McLorin Salvant sings at La Seine Musicale next January 15 . (more details)