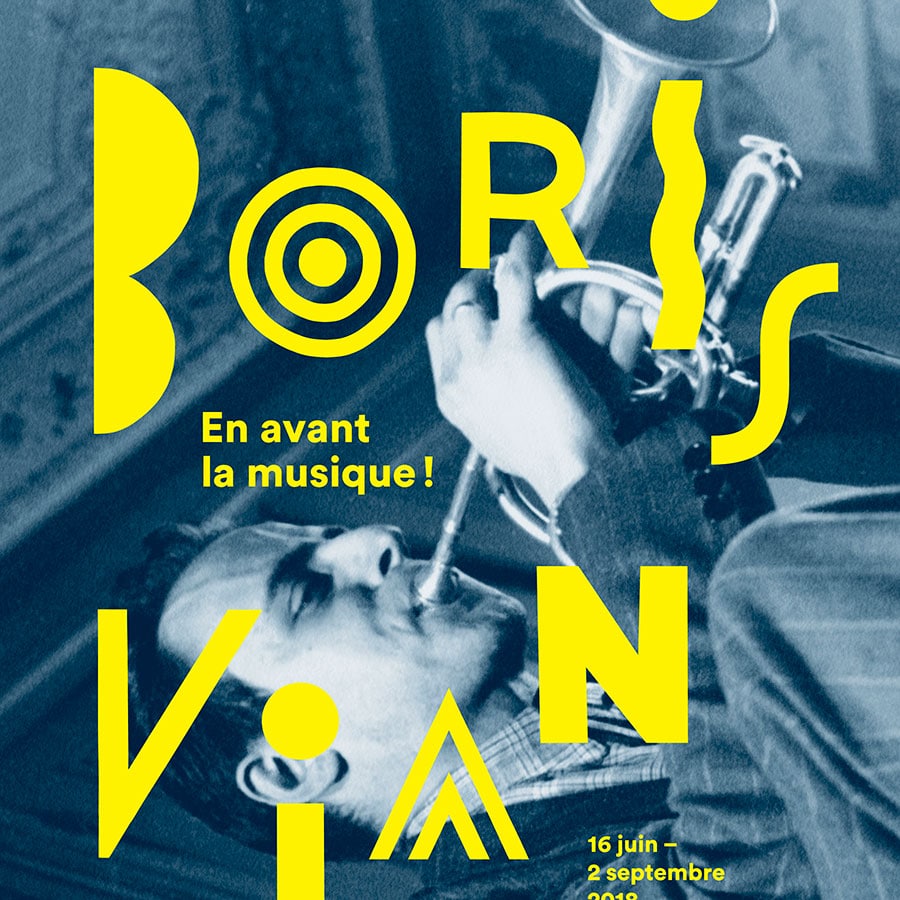 Exhibition Tribute to Boris Vian, entitled « En Avant la Musique » at the Jan Michalski Foundation in Montricher, Switzerland. Couleurs Jazz Digital Magazine was invited to this exhibition's opening a "vernissage musical », a term that would not have displeased the author, composer, pataphysician …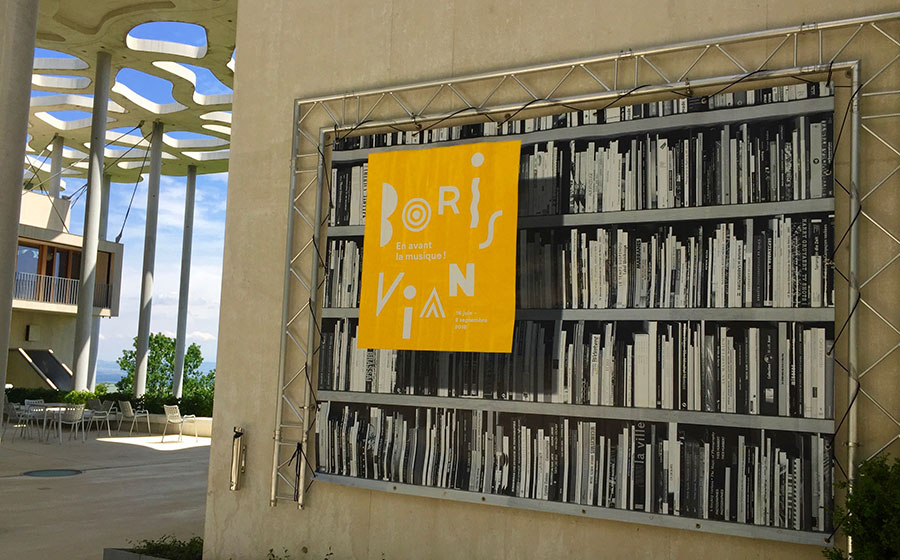 First of all, let us welcome the idea of a great exhibition devoted to this genius (delicate to use such an epithet, which would not have pleased him, that's for sure), this brilliant spirit, out of the ordinary, off the beaten track and straight lines or curves already drawn.
And when the place, the Jan Michalski Foundation, is the unusual setting, just like the artist to whom the homage is rendered, the planets are then aligned for a journey that is as imaginary as interstellar.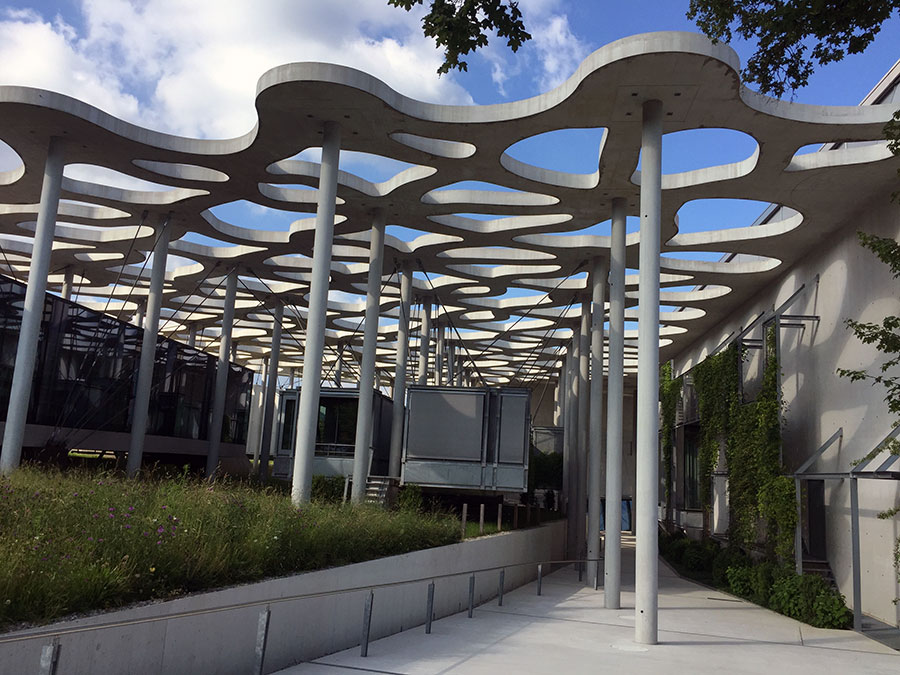 Boris Vian was, in the true sense of the word, an original, endowed with a rational scientific spirit, after a brilliant education, and a degree in engineering from one of the most prestigious schools of the country: Centrale.
He was primarily a multi inventiveness creator, musician – jazz of course – protean author of novels, short stories, translator of Shakespeare's language or rather of American culture, jazz columnist, author of multiple songs and music, opera librettos, theater and cabaret shows, artistic director …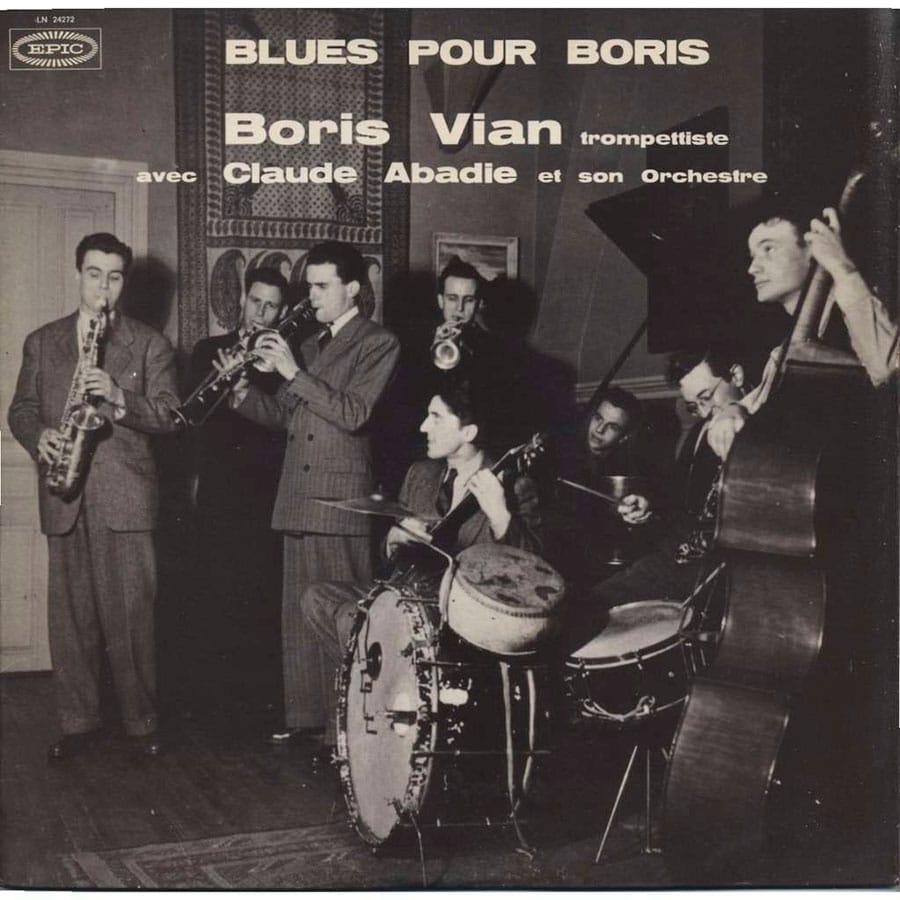 Born in between two wars (1920), he lived several lives in one and disappeared much too early (1959), like a comet, knowing himself beforehand condemned by a fragile health.
He was like the Jazz he loved, free.
As a teenager, he tends an interested ear and quickly warned to jazz music. His first love was imbibed by Duke Ellington. He collects records with passion, a passion he shares with his brothers. Together they organize party surprises – Jazz, in the family park of Ville d'Avray where they occur. Before attending and performing in the Jazz clubs of Saint Germain des Prés.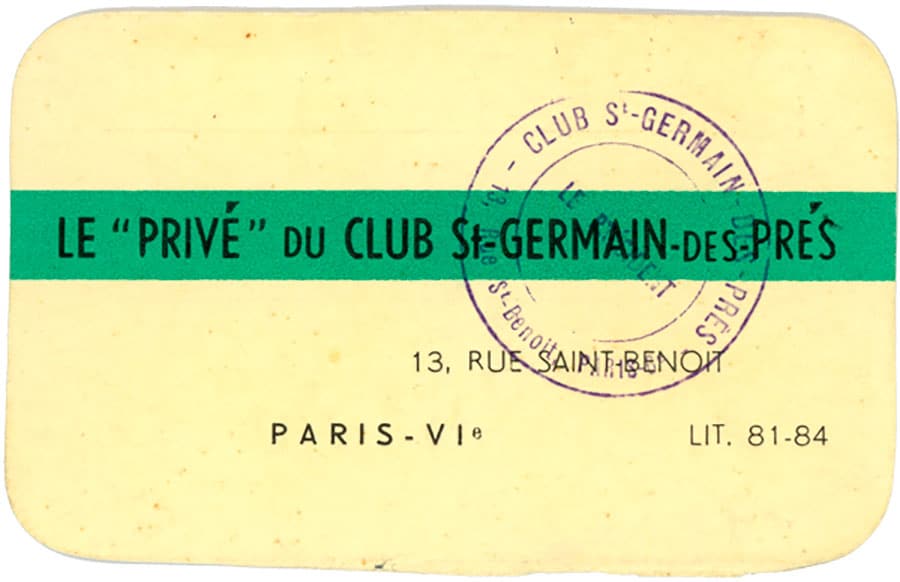 The "Prince" of the place, fighting against the conventions, not only playing the trumpet, eighteen rounds trumpet, the trumpinette, he was an enthusiastic defender and pedagogue of jazz culture. A talented and prolific critic, as scholar as he is fearless, he collaborates all his life with various Jazz magazines.
With Henri Salvador, he imported Rock Music in France. This music with simple rhythms amused him; so do the lyrics of songs that have become lighthearted, like « Va t'faire Cuire un Œuf, Man » or « Fais-moi mal Johnny »
Also a publisher, artistic director and programmer, he conveys his enthusiasm to his contemporaries for Miles Davis, Charlie Parker, Dizzy Gillespie and Bix Beiderbecke, and propels avant-garde be-bop to the forefront.
Fine critic, acerbic, funny, intelligent … Rereading his magnificent chronicles is jubilant:
Explain, explain! "I do not understand," says the spectator in front of abstract paintings; but it is not necessary to understand: one must look. What do others do, those who understand? Little thing: it turns out that for themselves, the vision of colors evokes a graphic reflex and the words flow, flow on the paper. But why this reflex? Why this? Why that? And why, or why not? False problem! In truth, sincere are those who, seized with enthusiasm, want to share it with others. And sometimes they get there: but what did they earn? not the support to the painting  or the record, but the support to their opinion.
Cf. Extract from « Chroniques de Jazz »  Pauvert Editions.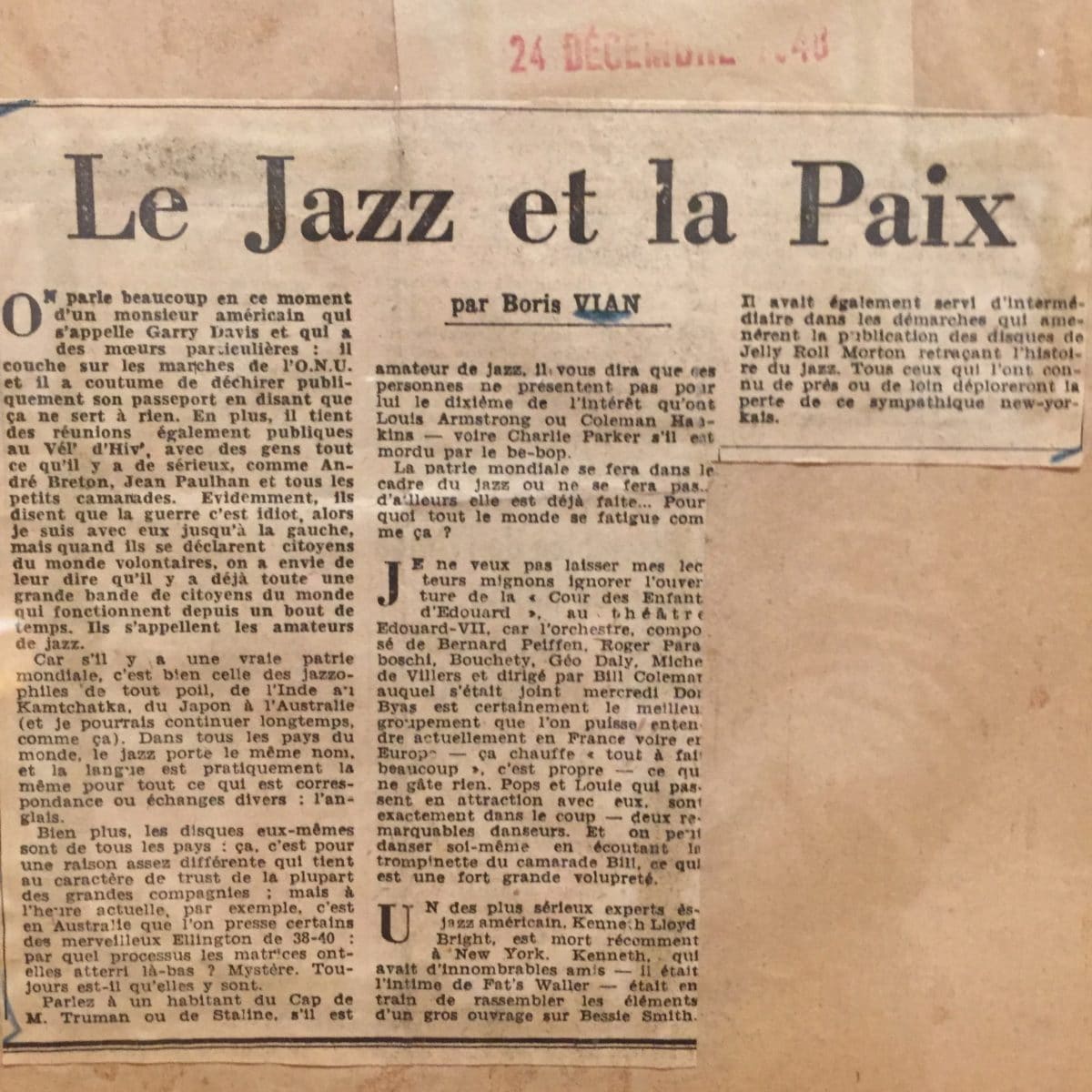 This music so essential to Boris Vian prints its tempo and its influences even in his literary works. "I will spit on your graves" will earn him sharp criticism of the well-thinking bourgeoisie and a trial with the motive " affront to public decency." Imagine the story in the form of the black novel featuring the rape of a black girl by whites … "The Deserter" also earned him the wrath of censorship and prohibitions antennas. The lack of literary success of his novels made him write songs: hundreds. Some are sung by him, accompanied on the piano by Alain Goraguer, whom we found for the inauguration, during a very moving recital, in the magnificent Jan Michalski Foundation auditorium. He was in trio with his son Patrick Goraguer on drums and Chris Jennings on bass.
Through numerous archival documents, photographs, recordings, manuscripts and original editions, the exhibition offers a visual and sound path to cross all the facets of Boris Vian, a man of music, beyond the man of letters: virtuoso and pointed jazzist feather. An exceptional man.
As for the setting chosen for this great exhibition, "The Jan Michalski Foundation for Writing and Literature", it is a real emotional shock, so much beauty, serenity and architectural art reign there.
We are in Montricher, at the foot of the Swiss Jura.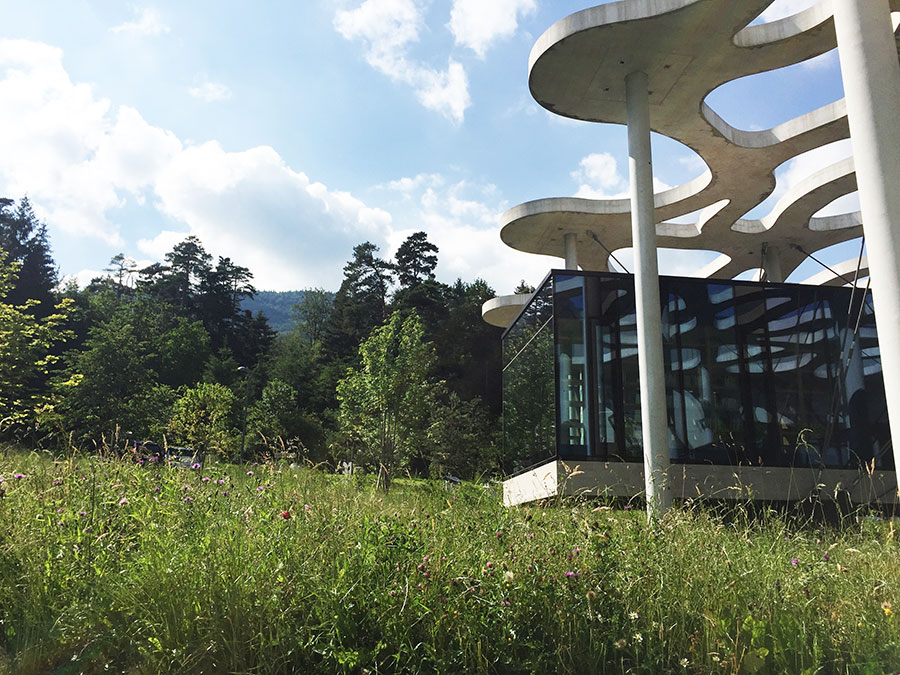 Vera Michalski-Hoffmann, publisher, in memory of her husband, who had the idea of this great work.
The mission of the Jan Michalski Foundation is to promote literary creation and encourage the practice of reading through various actions and activities, including the organization of exhibitions and cultural events related to writing and literature, making available to the public a large multilingual library, awarding an annual prize for world literature, providing financial support and hosting writers in residence.
Thought as a small city sheltered from a canopy, placed in the heart of an inspiring nature, the Jan Michalski Foundation opened its first spaces in 2013 and offers a unique meeting place, turned towards the world, where mingle writers, artists and public.
Another notable advantage: the natural beauty of the site! The Foundation extends the forest of Jura fir trees and offers a breathtaking view of Lake Geneva with the French Alps in the background.
It's very simple, especially after seeing the "writer's huts" suspended, and the library on five levels open to all, suddenly comes the urge, and almost the inspiration, if not the evidence, to come back here , write the novel of your life, or failing to read long and beautiful hours.
This summer, Jan Michalski Foundation with the temporary exhibition Boris Vian – « En Avant la Musique ! » is the most original destination and the most  culturally zen place, where to go.
———————
Practical details:
Documentary Fund : Cohérie Boris Vian (whose documents presented here)
Curated by : Nicole Bertolt, agent for the work and director of the heritage of Boris Vian, in collaboration with the Jan Michalski Foundation
Opening of the exhibition: 
From June 16 juin to September 2 – 2018
Tuesday to Friday, from 2 to 4:00pm
Saturday & Sunday, from 9 to 6:00pm
Tickets: CHF 5.- (full price) | CHF 3.-
(students, retirees, unemployed, groups, AI) | Free for children under 18 and the inhabitants of Montricher.
Our warm thanks to the Jan Michalski Foundation's team for its welcome and for providing us all the necessary means for this report, as well as Nicole Bertolt for her communicative passion for Boris Vian's life, for her erudition on the subject and for having allowed us to show here documents and essential objects.