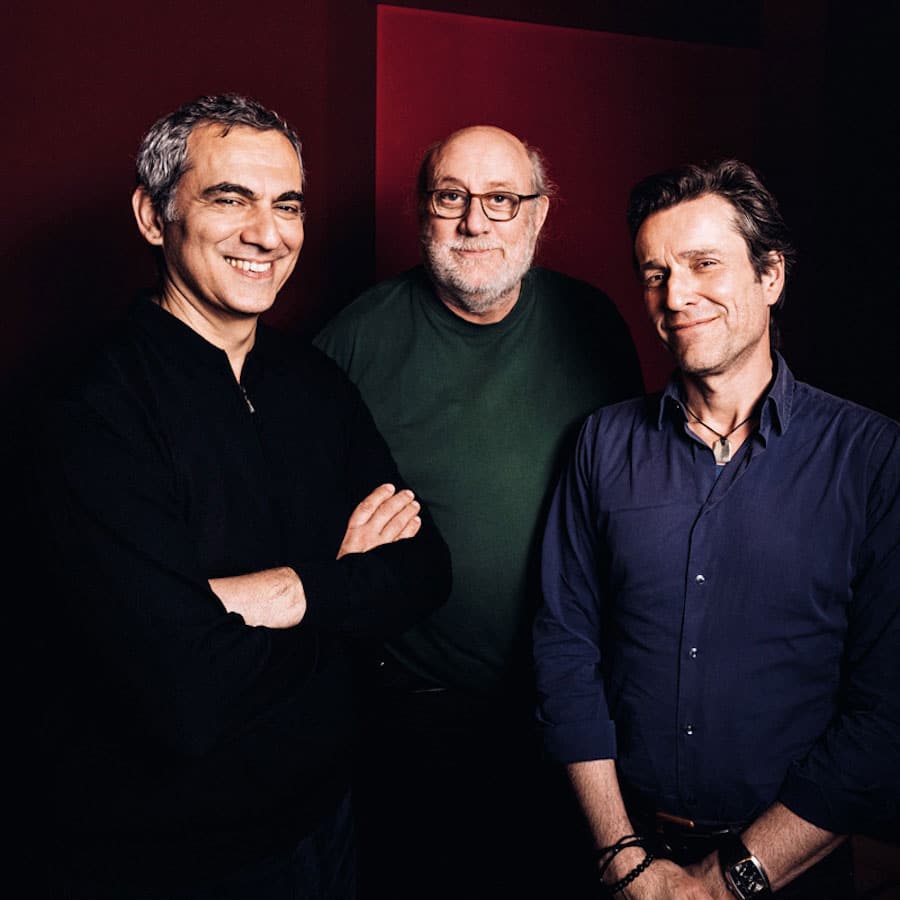 It's not every day that you can see Andy Emler at the Sunside (Paris), and it's not every day you hear his ETE trio (for Emler/Tchamitchian/Echampard). And it's a packed house at Sunside.
A rather young audience, mostly students from an American music school, which is a very good sign, and an enthusiastic one even before the concert begins. Andy, in and around Paris, is more likely to be seen at the Triton des Lilas, where he recently performed with two tuba players, then with eight clarinet players, and earlier in the year in a duo with another pianist of rather classical background but well-versed in improvisation: Jean-François Ziegel (see review on couleursjazz.fr, by yours truly).
The trio is the core of the MégaOctet, the magnificent group that celebrated its 30th anniversary a few years ago.
Andy announces the concert in English, then in French with a hilarious British accent. And off we go!
It begins in the deep with a totally haunting ostinato of double bass and piano, quickly joined by an abundance of drums. ETE clearly doesn't fit in with the aesthetic of the majority of trios that look to the Evans/Jarrett/Mehldau triad. No, with Andy we're immediately into the raw treatment of sound matter.
Then a swift piano launches a repetitive melody in the keyboard's mid-range, which evolves into a rapid, bewitching spinning of the three musicians. Tchamitchian's double bass bow calms things down with a discreet Echampard accompaniment, and Andy punctuates the whole with sparse chords that lead into a lively melodic improvisation. We're immediately swept away by this evolution of the piece, with its unexpected contours but without the slightest hiatus.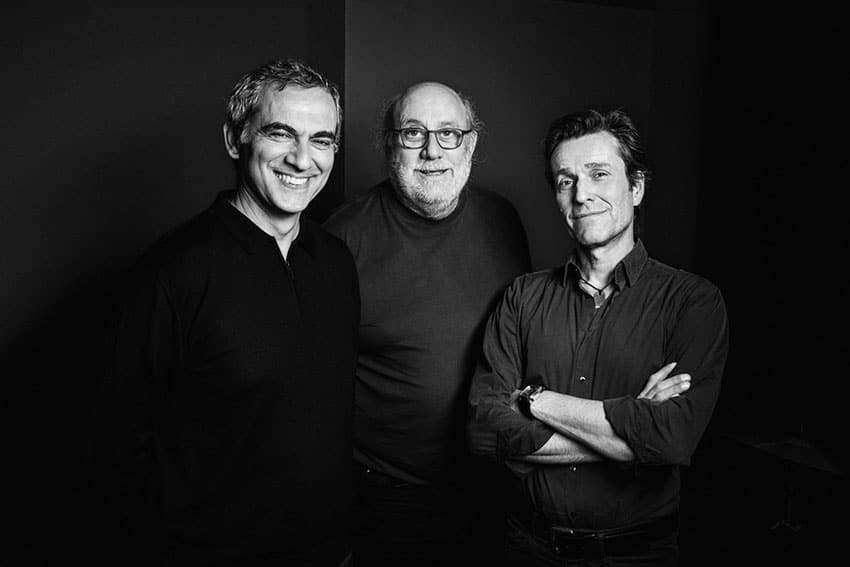 It's simply beautiful, and we can't wait to hear what's coming next, which we're sure will be full of delectable surprises.
Now we're totally into calm melody, and it's always the same piece that quickly becomes more pugnacious and repetitive, alternating plated chords and melodic snatches.
The great thing about Emler is that there's always a surprise ("the sound of surprise" is the definition of jazz, isn't it?).
The pianist is a great composer and an inspired improviser, and Tchamitchian & Echampard — who also have their own groups and play as luxury sidemen here and there — are in total osmosis with him.
After this long suite, the second piece is a composition by Tchamitchian and Emler, opens it with arpeggios and chords of sovereign elegance, supported by a bass pizzicato in the lower registers and supplely tonic drums. Here again, beauty rather than prettiness is the order of the day, and the theme develops into a fast-paced improv that leads into a bouncy double-bass solo that continues with Tchamitchian's inspired bowing virtuosity.
Then the trio picks up speed and momentum, boosted by crackling drums, and ends as it began, with arpeggios and airy chords from the piano, accompanied gently by the rhythm section.
The second set gets off to a gentle start, with melodious arpeggios and chords over a subtle, tonic rhythm section. From the outset, the interplay is masterful, and the imperial flow carries you along.
Emler is a great rhythmicist who never refrains from being a great melodist, which gives his music an incomparable fullness.
With fellow musicians like Tchamitchian and Echampard, he can go wherever he wants, but never anywhere.
I've been following his career for some thirty years now, and I'm still as enchanted, surprised and amazed as ever. There aren't many musicians, French or international, that you wish to follow that way! And the relative rarity of his trio performances is a constant source of delight. It's clear: this trio is unique and has no equivalent either in France or in any other country where I've heard bands of this kind.
I don't know how often does Andy play abroad, but if he does, there's a small chance that audiences who heard him will be disappointed.
The rest of the set is another long suite, different from that of the first one, and just as full of twists and turns. Unfortunately, my MacBook's ageing battery won't let me report on it in full. You're free to listen to it on the ETE trio's album on the La Buissonne label.
It's great stuff, and if you don't like it, don't expect me to refund your money.
You wouldn't deserve it!
©Photos Sylvain Gripoix