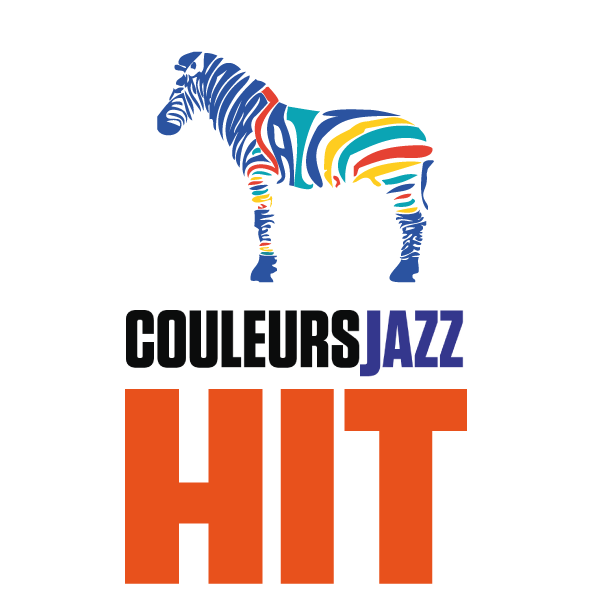 "Hello, I'm Valerie Chane Tef, pianist and composer of the Akoda trio. On this second opus we wanted to highlight the identity of our trio, our Souk, our sound, everything that makes the meeting of our three personalities. Here and there, the voice is revealed as an instrument, the voice as "Rakontèr de Zistoir". On this album we also wanted to share, to meet other artists who speak of a muzik pou lo kèr that touches us deeply. We hope you will enjoy it as much as the first one: it is always about Love, the present moment and also about dreams…" 
This is how Valérie Chane Tef, the pianist, leader and composer of the trio, talks about her music, in her own words, which are made entirely of crystalline and colorful musical notes.
Throughout the albums (Musik pou lo Kèr in 2019) Akoda writes and plays a music that does good everywhere, especially to the heart and brain through our ears, because it radiates positiveness.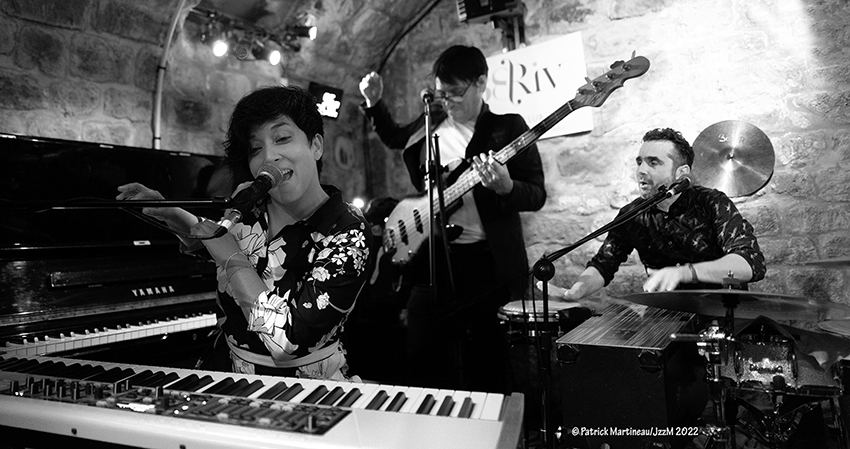 And we love nothing more than the jazz colors that make the difference between folk music and jazz, which is capable of absorbing music from all origins, making it its own, and then better restoring it. Creole music is so rich in all these innumerable artists and in all its culture, that it is almost easy (if one has the talent) to be inspired by it to enhance it with this jazz bonus which transports us.
To do this, you need cultural knowledge, to be impregnated with the music of Reunion, Guadeloupe, Martinique and the jazz of the South of the United States whose power has exceeded all borders.
The recipe: instrumentalists of great talent, virtuosos even, improvisation, which brings this touch of freedom, interplay, listening to the other, complicity, then the rhythms specific to these musics. In short, the Souk mixed with jazz.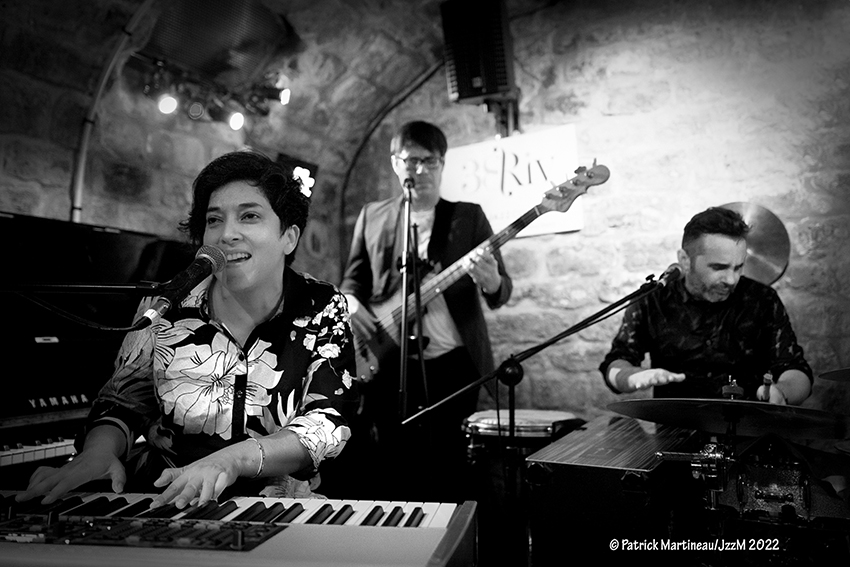 A great habit of playing together, shared pleasure, this is what immediately comes out when you listen to this album and especially when you have the chance to hear Akoda live. 
Valérie Chane Tef is in particular an excellent jazz pianist, trained as a child in classical music, as it happens. Then she turned to jazz, naturally, during her musicology studies. Meeting Frank Leymerégie, a percussionist specialized in Creole music from Guadeloupe and Martinique did the rest ; when they were soon joined by Benjamin Pellier on bass. They will make 4 EPs together between 2013 and 2017.
Thus was born a sound. Akoda's sound that is identifiable as a local product.
This is the recipe that makes us so excited to find them in this new opus, in their souk, in Nout'Souk.
Sur plusieurs titres, des musiciens de grand talent viennent également apporter leurs pierres précieuses à l'édifice, à commencer par Emmanuel Réveillé, virtuose du gwoka guadeloupéen dans Met' Ansanm, Olivier Ker Ourio figure de l'harmonica jazz actuel dans Soley Levé, Nita Alphonso au chant et à la danse dans Kabar Bankal.  
L'album se termine sur un poignant puis entrainant  « La Grev Baré Mwen », hommage à cette figure de l'histoire de la chanson créole, la Martiniquaise  Léona Gabriel.
Nout'Souk, un album à se procurer de toute urgence, à écouter chaque fois que l'on pense à tout ce qui ne tourne pas rond sur cette terre… donc très souvent. Un album qui donne à espérer et une irrépressible envie de danser ou de bouger son corps.
Il est depuis sa sortie en sélection sur Couleurs Jazz Radio, bien sûr.
On several tracks, talented musicians also contribute their precious stones to the edifice, starting with Emmanuel Réveillé, virtuoso of the Guadeloupean gwoka in Met' Ansanm, Olivier Ker Ourio, a figure of the current jazz accordion in Soley Levé, and Nita Alphonso, singing and dancing in Kabar Bankal.  
The album ends with a poignant and catchy "La Grev Baré Mwen", a tribute to the Martiniquan Léona Gabriel, a figure in the history of Creole song.
Nout'Souk, an album to get urgently, to listen to every time you think about everything that is wrong on this earth… so very often. An album that gives hope and an irrepressible desire to dance or to move his body.
It is since its release in selection on Couleurs Jazz Radio, of course.

Line Up :
Valérie Chane Tef, Piano, Rhodes, voice and compositions, except for the last track.
Benjamin Pellier, Bass Choirs
Franck Lemeyrégie, Percussions set, choirs, arrangements
Next concerts indications on  Valérie Chane Tefs site!
Nout' Souk is an album created under Aztec Musique label
©Photo Header – Lionel Maingueneau
©Photos Patrick Martineau/JzzM
Translated with www.DeepL.com/Translator (free version)