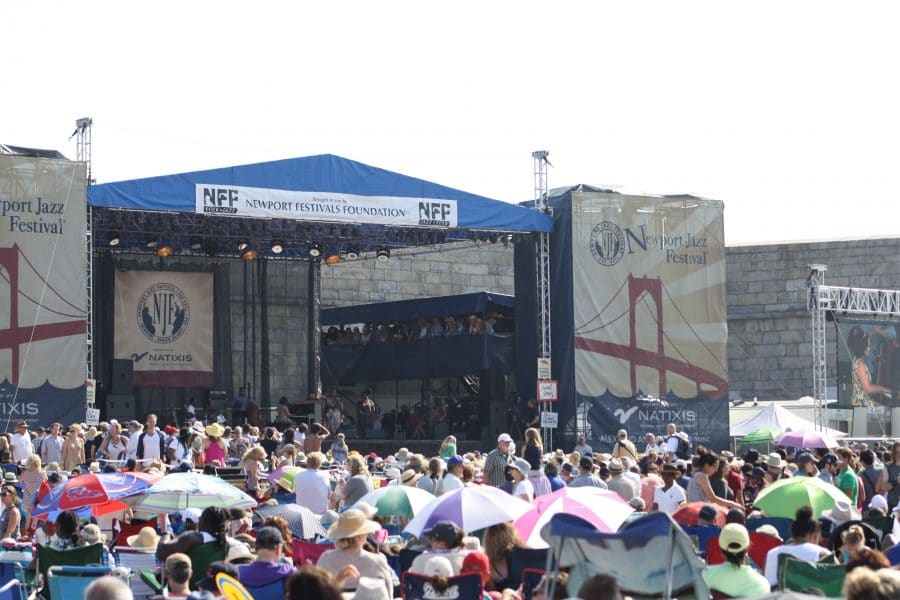 The forecast for Newport the weekend of the 62nd Jazz Festival called for mixed weather but in the end sunny skies and rising temperatures mirrored the performances from a high-powered lineup of today's best musicians. Kamasi Washington, Joey Alexander, Chick Corea, Gregory Porter, Galactic and Norah Jones were among the names to headline this year's three-day event, which featured a mix of the new guard and the more established names of jazz.
Festivalgoers came by land and by sea, and those that endured the infamous Newport traffic were rewarded by spirited performances fueled by an enthusiastic crowd and breezy ocean atmosphere. The festival was sold out for the first time in years on Saturday as 10,000 attendees, drawn in part by the popularity of Norah Jones, covered every square inch of lawn from the Fort Stage to the water's edge as they took in Jones' cabaret-like set and silk voice on pop hits, such as "Come Away with Me," "Sunrise," "Cold, Cold Heart" and "Don't Know Why," which are on their way to becoming modern standards.
The crowd was brought together in their appreciation of a year in which jazz is growing in prominence thanks to many of the artists performing that weekend. Festival attendance was 3,500 on Friday and 6,500 on Sunday.
Kamasi Washington brought a six-piece version of the West Coast Get Down to the Fort Stage on Friday and Quad Stage on Sunday. The group's ability to stay in the pocket of their own groove heightened their ability to deliver songs from Washington's debut album "The Epic" Watching them on stage, it's clear the band isn't just performing the tunes but living them. The creative energy that brought the musicians together to produce the three-disc album is still evident on stage as they explore and feel one another's musical contribution.
By now the background of some of songs are well documented, but Washington retells these stories as he introduces them with liner-note detail. "Change of the Guard" came to him in a dream. "Henrietta" inspired by an aunt who commanded the love and respect of everyone around her. With more than 160-hours of recordings still in the vaults from "The Epic" sessions, the beginning of what could be a new guard for jazz has arrived.
Joey Alexander Trio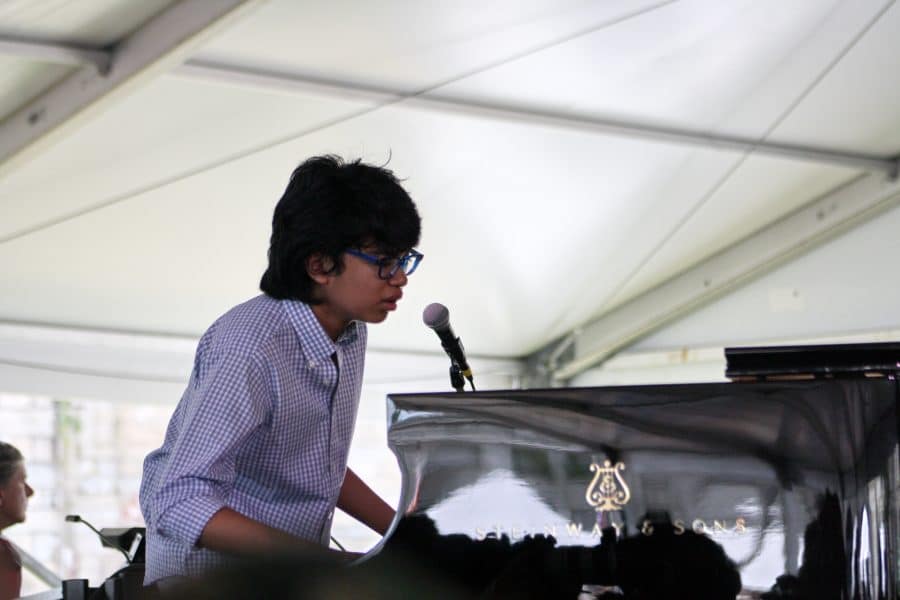 Seeing is believing. The 13-year-old phenom pianist took to the Quad Stage on Saturday with his trio that consisted of Dan "Chimey" Chmielinski on bass, and  Ulysses Owens on drums, and led them through a rousing set. Joey Alexander's infectious smile and focus were on display. At times he stood while he played to muscle a few more ounces of torque out of his diminutive frame as he wrestled the notes from his Steinway. Alexander is a gift from the Jazz Gods and shouldn't be viewed as a gimmick in any way. He plays with a maturity, intensity, and creativity of the best of them and his Newport performance offered another glimpse of the brilliance that lies ahead for this artist.
Chick Corea Trilogy
Chick Corea's set started late brought on by Newport's traffic congestion, however he showed freedom and tranquility on stage. He strolled on the Fort Stage, grinning and filming the Newport scene with iPhone in hand. After he tuned up bassist Christian Mcbride, he then tuned up the crowd. His trio, which also included Brian Blade on drums, played cool, confident and relaxed as if they had invited a few of their closest friends into their front parlor to listen. The trio worked through a tight Saturday afternoon set that included "500 Miles High," Miles Davis' "All Blues," "Recorda-Me," and "Fingerprints."  By the time Corea left the stage, his icon status remained in place and the crowd was left with another sterling performance from one of jazz's greats.
Gregory Porter, a festival favorite, closed out Saturday's performances by taking festivalgoers to the alley. Despite the sweltering temperature, the well-dressed gentleman of jazz, topped off his impeccable look with his trademark hat, and still managed to keep it cool. Porter was in command of his smooth, deep voice and delivered on gifts from the album "Take Me To The Alley" like "Holding on"  and "On My Way to Harlem." His band provided solid support helping Porter rise to new heights as the sun began to set above the New England waters before him.
New Orleans based Galactic sizzled on the Fort Stage closing out Friday. Fronted by vocalist Erica Falls, Galactic burned through a high energy set. Falls' voice possessed power and passion, and she held nothing back on full-throated renditions of "Does It Make a Difference," "Heart of Steal," and Bob Dylan's "Like a Rolling Stone." The six-piece group had the crowd up and dancing and helped kick the three-day weekend off with a burst of No'Leans brass funk and soul.
The Newport Jazz Festival was held on July 29 – 31 in Newport, Rhode Island, and is sponsored by Natixis Global Asset Management.