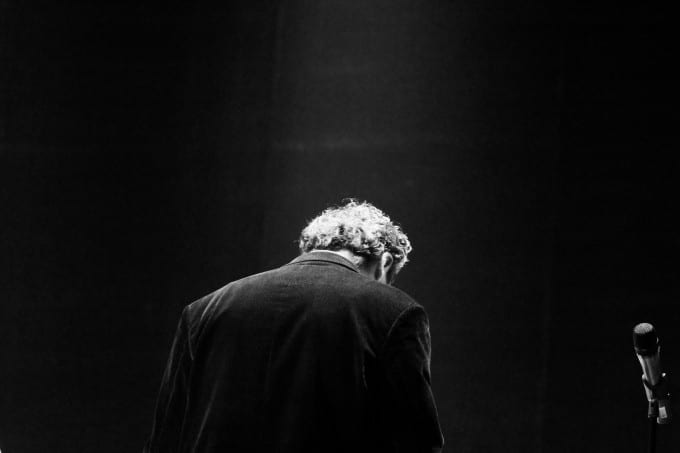 On  June 20, 1955 Martial Solal received the 1st prize of the French Jazz Academy.
The brochure of the 60th anniversary reminds us that Jean Cocteau wrote at that time : … "Jazz is a pulse. Jazz will be complicated or simplified according to passions. But it is not fashionable. Also I feel that a youth who grows up listening to jazz is different from a youth who grows up with, for example, the rhythm of Viennese waltzes. It is from this angle that it has to be investigated. "
(1955 – 2015)…
For its sixtieth edition the French  Jazz Academy has awarded  10 new trophies:
The Django Reinhardt award (French musician of the year): the 31-year-old pianist Paul Lay
The finalists were: Cécile Mc Lorin Salvant, Andy Emler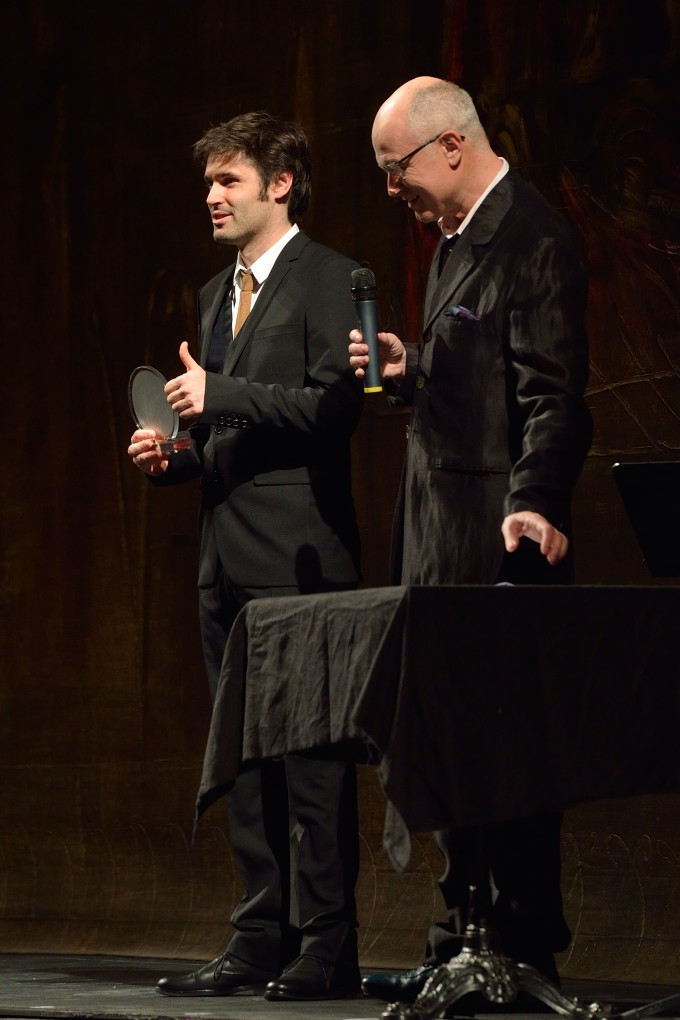 Paul Lay & François Lacharme ©Photo Philippe Marchin
The « Grand Prix » of the Académie du Jazz (best album of the year): Fred Hersch for his "Solo" album
The finalists were: Stanley Cowell, "Juneteenth," John Scotfield "Past Present", Ryan Truesdell / Gill Evans Project "Lines of Color"
The French album prize (best album recorded by a French musician or group) to Géraldine Laurent for her album "At Work".
The finalists were Eric Le Lann, "Life on Mars"; André Villéger / Philippe Milanta "For Duke and Paul"
The European Musician Award (awarded for overall career or recent achievements) the multi-instrumentalist John Surman (Sax and reeds)
Finalists: Samuel Blaser, Evan Parker
The Classical Jazz Award: André Villéger / Philippe Milanta "For Duke and Paul" for Camille Productions / Socadisc
Finalists: François Biensan Octet "Jazzin'Brassens"; Michel Pastre Quintet "Memories of You"
Jazz Vocal Award: Cécile McLorin Salvant for "For one to love" for Mack Avenue / Harmonia Mundi
Finalists: Linx – Fresu – Wissels / Heartland "The Whistleblowers" Virginia Teychené "Encore"
The Soul Price: Tad Robinson with "Day into Night" for Severn Records
Finalists: Bettye LaVette "Worthy"; Mighty Sam McClain & Knut Reiersrud "Tears of the World"
The Blues Price: Harrison Kennedy for the album "This is from here" with Dixiefrog / Harmonia Mundi
Finalists: Shemekia Copeland "Outskirts of Love"; Jackie Payne "I Saw the Blues"
The award for best reissue or best unreleased : Erroll Garner "The Complete Concert by the Sea"  by Columbia Legacy / Sony Music
Finalists: Daniel Richard for his work on  Joe Castro's  "Lush Life" (Sunnyside / Naïve), Fred Thomas for all his releases on Sam Records
The  Jazz Book prize: Julia Blackburn for "Lady in Satin" (Rivage Red / Payot)
Finalists: Aldo Romano "Do not play hard, play away," Richard Havers "Verve, the sound of America"
To mark this anniversary, François Lacharme the President and members of the illustrious Academy put on a concert in two parts for the unanimous joy of the 1,600 spectators at the beautiful Théâtre du Châtelet.
The first part : Eight previous winners of  Academy awards: the Django Reinhardt Prize "All Stars" including:
the master of Bebop piano, René Urtreger, 1961 winner ; Eric Le Lann, winner in 1983, trumpet;
Henri Texier, 1977 winner on bass;
Simon Goubert, winner in 1996, on drums, with cymbals perched high;
Pierrick Pedron alto saxophone, double winner in 2006; Stéphane Guillaume also with two awards from the Academy in 2009,  tenor saxophone;
Finally,  two women: Géraldine Laurent, 2008 winner, alto saxophone;
and the youngest, trumpeter Airelle Besson, winner last year for 2014.
8 talents with strong personalities who played for almost an hour, alternating solos, duets, trios, and an octet – pure happiness!
Then, in the second half, just after a stunning solo by the Django Reinhardt prize winner Paul Lay of "Cheek to cheek", rightly and widely applauded, began …
The DUKE ORCHESTRA and special guests, conducted by Laurent Mignard
As at ease and elegant with his baton as he was in his comments to the audience.
Most of the concert was dedicated to  the Duke's music, both his swinging standards and other compositions less often heard, of great finesse.
Two prestigious guests interspersed their contributions, the British winner of the year, John Surman who interpreted a beautiful "Passion Flower", and the great undisputed master of electric violin, Jean-Luc Ponty.
Such elegance and natural virtuosity emanated constantly from this orchestra and its various performers.
Duke Orchestra Line up:
Saxophones – clarinets: Didier Desbois, Aurélie Tropez, Fred Couderc, Carl Schlosser, Philippe Chagne
Trumpets: Claude Egea, Sylvain Gontard, Jérôme Etcheberry, Richard Blanchet
Trombones: Nicolas Grymonprez, Michaël Ballue, Jerry Edwards
Piano: Philippe Milanta
Bass: Bruno Rousselet
Drums: Julie Saury
Direction: Laurent Mignard
Perhaps all this was missing a bit of madness and humor … Not at all! Not with the last guest, San Severino, who came on stage with his own independent lighting, bringing his sincerity, originality, and bracing and liberating talent, just what we need in this time of self-righteousness, of politically correct and polished taste, when bearded types are even trying to prevent us from going to concerts.
I had a thought for the late cartoonist Cabu, who celebrated his first year in heaven and and was probably having a good laugh!
(As a gift and exclusively for Couleurs Jazz, San Severino in rehearsal, during the sound check.)
Another big thank you to our Academy, whose primary purpose  every year is to shine the spotlight not on the most "bankable" stars, for once, but on truly talented musicians who get their just reward here, as their brothers and sisters in the world of Jazz, equally deserving, sat in the audience. Very different from the "Victoires de la Musique" awards…
And we also salute those institutions and sponsors that help  jazz in so many ways, and in particular the first partner of this birthday party, the BNP Paribas Foundation, which among other actions has supported the Jazz Academy since 2010.