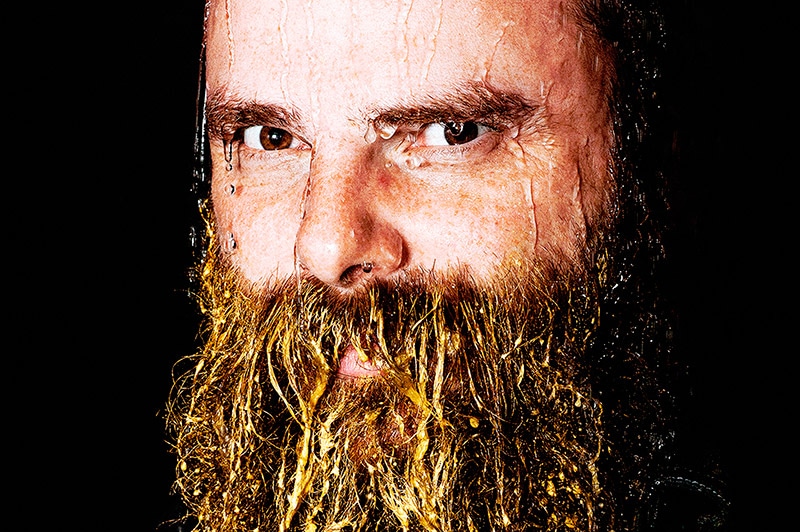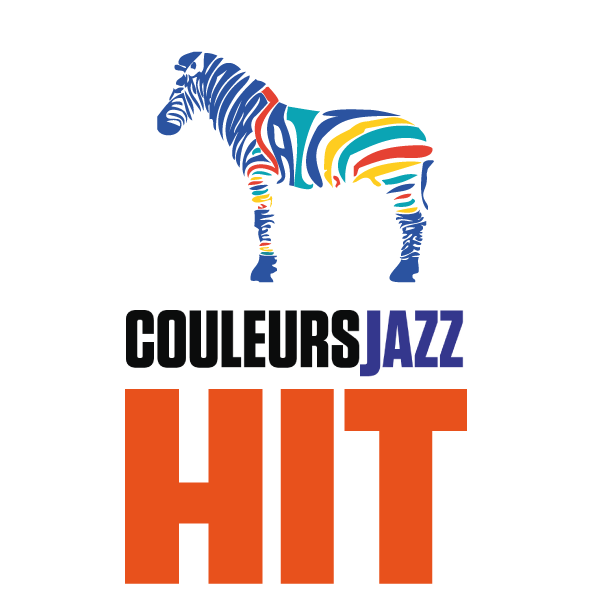 Text & itv by Rémy Fière for Couleurs Jazz.
Translation from French by Cathy Nolan
Wearing a big bushy beard is usually associated with being a "real man".
Thomas de Pourquery is living proof. It gives him the look of an ancient bard, a Scandinavian philosopher, a hipster buccaneer. He and his beard are sitting in a bar called "Le Canon" at the Place de la Nation in Paris, ready for questions from somebody who wants to know all about "Broadways", his latest offering, coming out any minute.
"Broadways", that sounds like he's talking about his New York, its musicals, Cole Porter, Gershwin and a few others that Thomas and his good friends in the Red Star Orchestra, "illustrious bastards" as he likes to call them, including himself in the pack, have revisited with the verve of men possessed.
"One day we got together and we were thinking, what if we played the best-known standards, the classics we all have in common? ".
Pieces that are "already replayed, overplayed", says our man, as full of words as he is of notes … "But if we dare hope to do something good, first we have to have a good time."
So they decided to get together and share happily, under the vibrant leadership of Johane Myran, roguish arranger.  "When we started talking and rehearsing, we were saying, No, we can't play this piece, it's not right, it's so outrageous!  And then we'd say, Yes we can, let's go."
And so they went.
There are certain voices as deep as the soul of a bumblebee. Thomas's voice rings out and resonates throughout this new album. But outside of it too. Because to have a voice, or a soul, is ultimately the same thing: using it becomes an obligation. Especially to turn towards other people, to understand and talk to them.
"Yes, we must never hesitate to look at each other, to share, to listen to each other, to not be afraid, at least not of your neighbor…"
We can feel that Thomas is sensitive to life's abrasions and the planet's mishaps. For one, there are the people who don't have the right to remain where they were born. Today they are called migrants. They are not the first, nor the last. Yesterday they were refugees, exiles, what they will be tomorrow? The issue torments him. "Migrants, what an intolerable word. Because we are all migrants. But for those humans who are living such tragedies, leaving a country at war, it's even worse. The suffering of the world is written on their faces."
Thomas has realized that music is actually a distillation of life. It's everywhere, universal, and should serve to bring people together, "because it makes us see how we are all the same, each of us is a whole universe, it's as if we are billions of beings who are alone in the world."
So helping other people becomes an inevitable necessity. For Thomas, one example is the Brain Festival launched six years ago….Concerts organized here and there, and money generated to support scientific research.  "You have to accept giving up part of the proceeds, your salary or fees for a day," to help people who suffer from neurodegenerative diseases. As a final tribute to his father who died too soon.
He discusses the subject with doctors, experts and researchers, whose company he appreciates. "Scientists are the most enlightened people on earth. They search in a world of darkness, and they light torches."
So Thomas Pourquery advances into the light that the knowledge seekers create, often for humility's sake keeping a low profile but not always. Because sometimes it's for very enjoyable reasons.
Normally constituted humans have ten fingers to enjoy the pleasures of life.
Sometimes the number diminishes ‒ digits are lost or broken. Thomas knows this well, having been a child of unusual versatility. Until one day…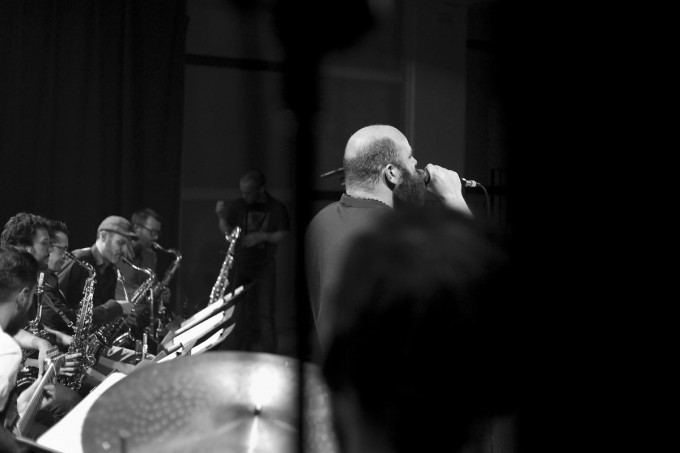 Photo © Marion Moulin
Rugby is a musicians' sport, they say, or rather, "There are those who move pianos, and those who play them," which is an old saying in rugby, making a distinction between the forwards, strong and coarse, and the backs, fast and creative. Just as well that Thomas is more of a saxophonist than a pianist. On the field, he started as three quarters, which means behind; and finished as hooker, out in front, in the fray.
Rather high level, with unwavering fervor and some outstanding injuries, as in that game his team played against the English, who are never bolder than when they play against us, the French.
He recalls the events with the precision of an entomologist scrutinizing himself under the microscope. Because under his jersey he was already the artist, the diehard and the analyst.  "I was seeking the trance state, I was involved, very very focused…."
The English, then. A rough and tumble match. "I tried to catch one by the collar and my finger got caught in the fabric. Triple fracture." Tough guys don't care about pain, they laugh it off. Except this time, "the doctor looked at my finger and told me I could probably play rugby again but I could forget about playing music."
Play, a nice verbal passage between sport and music. But for Thomas, it was like the rope bridge between the two disciplines had collapsed. Music, the young man's other passion, gone? Forget about his other precocious talent, the role of his father, of his Hammond organ and its R'n'B rhythms, his studies, the conservatory, etc.
In the throes of doubt and physical therapy, Thomas whispered to himself that OK, he would continue with sport.  But then – miracle of the human body or faulty diagnosis of a shameless quack – his right forefinger was again ready for action. "And now it's my strongest finger," he says, tapping the table.
Not insignificant when, having dropped rugby forever, the young man turned definitively to the saxophone and its enchanted arts.
Jazz rejoices, while rugby has found other gladiators to crush the English.
Ever since, with no end in sight, Thomas makes notes vibrate and brass shine; the rewards and experiences are brilliant too. Rarely alone, usually with others, because, he declares, "Collective pleasure is far superior to solitary pleasure." Our friend is so fond of imagery that his words sometimes come out like free verse: "If you like masturbation, you can become a soloist, but if you want an orgy, it's better to love your neighbor."
The questioner, still smiling, tries to think of one last question worthy of concluding this amazing interlude with a jazzman. But he fails.
The album Broadways by  the Red Star Orchestra Featuring Thomas de Pourquery
Text : Christian Grimauld
The excellent Johane Myran, artistic director of the Red Star Orchestra, had already teamed up with Thomas Pourquery for a previous project in which they had included Olivia Ruiz. The tour was a deserved success. The two friends naturally expressed the desire to do it again. And Thomas dared to share his crazy idea and desire to sing great and famous Jazz standards.
No sooner said … The idea was then to mix the swing of the 50s with the free jazz of the 70s and produce a really modern Jazz, expressive and warm. It sounds  great! And Thomas' voice, so special, so personal, makes this a hit, a collector's item, a tremendous Jazz album, something to listen to every time you  feel nostalgia for beauty, or your soul is happy or sad, either one. It works both ways. It's all in there: sweetness, tenderness, a quiet strength … a touch of humor that leaves the listener with a beatific smile.
Everything is enhanced by a terrific big band, from which you get the strong impression that the musicians are really playing together, while allowing each other to break free, creating wonderful overflows.
But what makes this album worthier of our enthusiasm than others? Let's go back to the singing and Thomas de Pourquery's voice, never forced, smooth, modulated, but powerful when necessary. The opposite of showing off… The opposite of the usual crooners who made these themes a success. Completely genuine. The grain of the voice, suggesting the fragility common to all artworks and producing what music is made for: emotion.
Broadways is a Label Bleu production
and it is a :