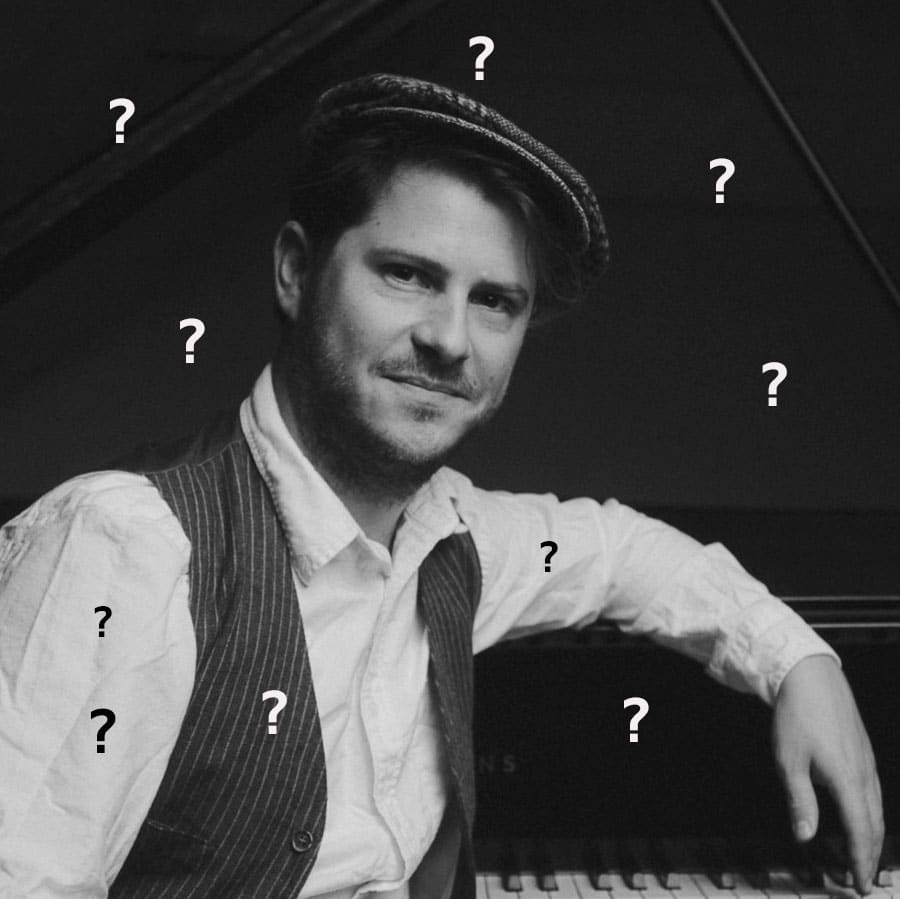 Stéphane Tsapis was kind enough to follow up this series of the famous Proust portraits-questionnaires, slightly revisited by Couleurs Jazz …
An original way to go up the first steps of the universe of these formidable Jazz musicians, artists of our century.
—–=====—–
-What is for you the height of musical misery?
Sectarianism and lack of curiosity
-Where would you like to live? 
I would like to live in the mountains
-Your ideal of terrestrial happiness?
Being totally in tune with myself and live the moment. It often happens in the mountains or in the beauty of a landscape, in the company of my half, a work of art, a concert or when I play the piano.
-For which false notes do you have the most indulgence?
Those that are played with accuracy!
–Who are your favorite fictional heros?
The Little Prince of St Exupery, The commissioner Montalbano from Andrea Camilieri's police novels, I feel like I know him…Gaston Lagaffe brilliant inventor (comics) !
-Who is your favorite classical musician? 
If we speak of composer, Ravel without a doubt. If we're talking about an interpreter, Glen Gould.
-Your favorite heroine or divas in real life?
My love, Billie Holiday, Abbey Lincoln, many Rosa, Rosa Parks, Rosa Luxembourg, Rosa Eskenazy, Angela Davis,In short, women who have them in their pants!
-Your heroines in fiction?
Adèle Blanc-sec, Alice in Wonderland, Mary Poppins.
-Your favorite painter? 
Vermeer
-Your favorite jazz musician?
Thelonious Monk
–Your favorite quality in man?
Humor
-Your favorite quaity in woman? 
Humor
-Your favorite virtue? 
Creativity
-Your favorite occupation? 
Music, drawing
–Who would you have liked to be?
Charlie Chaplin
–Your main character trait?
Irony
–What do you like most about your friends?
Their listening ability
-Your main fault ? 
Irony
-Your dream of happiness?
Life in the mountains
-Your greatest misfortune?
Not knowing how to fly
–What do you want to be?
A bird
-Your favorite color ? 
Cycladic blue
-The flower you love?
The fuchsia for its little funny lanterns
-The bird you prefer? 
The eagle, because it flies and often lives in the mountains
-Your favorite authors in prose?
Boris Vian, Nikos Kazantzakis, Gabriel Garcia Marquez, Mikhaïl Boulgakov, Raymond Queneau, Pierre Dac, Pierre Desproges
-Your favorite poets?
Baudelaire, Jacques Prévert, Georges Brassens, Yannis Ritsos, Bobby Lapointe
-Your heroes in real life?
Feee spirits
-Your héros in History? 
Jean Sebastien Bach, Thelonious Monk, Charlie Chaplin, Markos Vamvakaris, Pierre Dac, Jacques Tati, Bobby Lapointe, Marcel Gotlib.
-Your favorite names? 
Rouflaquettes, Roubignolles, Roudoudou
–What do you hate the most?
Foolishness
–The reform you admire the most?
The abolition of privileges, the abolition of slavery, the abolition of the death penalty
–The gift of nature you would like to have? 
To be able to fly
–How you would like to die?
Sleeping
-My définition of Jazz?
Play what you alone can play!
–The present state of your mind?
Tiredness
…And finally…. your motto?
"If the gray matter were more pink, the world would have less black ideas! "
Pierre Dac