sortiesJAZZnights.com,  le site Québecois du Jazz et Couleurs Jazz collaborent en vous offrant des articles, textes et contenus respectifs ! Voici donc une 1ère chronique CDJazz, sur le projet de Rémi Bolduc, musicien dont l'un des derniers albums faisait partie déjà, de la "Sélection Couleurs Jazz" . cf. Couleurs Jazz #6. L'album est produit par l'auteur : Les Productions Art and Soul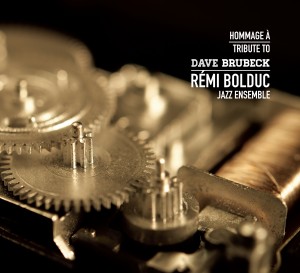 9 avril 2015
Je n'ai jamais aimé Dave Brubeck, trop poli, trop « mainstream », mais je savais fort bien qu'il était un formidable ambassadeur du jazz. Ce respect, je le devais aussi à son alter ego, l'altiste Paul Desmond, homme des phrases simples et…inimitables, tout comme le batteur, Joe Morello et le contrebassiste Eugene Wright. Cette « phalange » d'exception aura porté vers la note bleue, un nombre incalculable de spectateurs pour cette dernière, n'était visiblement pas leur tasse de thé.
Cette longue introduction nous conduit vers Rémi Bolduc, éminent saxophoniste alto montréalais, compositeur et professeur d'université qui en compagnie de quelques complices, se sont mis dans l'idée de rendre hommage au fondateur de Time Out. Un coup de chapeau ne veut pas dire une relecture, bien qu'il faille respecter certains codes. En premier lieu, l'interprète doit assoir le thème, le rythme, une partie de « la sève », pour que tout un chacun se reconnaisse. Comme il est aussi question d'arrangements, Rémi Bolduc a choisi d'y « injecter » un peu de sa science. Avec son crayon, il a revu légèrement : Rondo A la Turk, Far More Blues, Charles Matthew Halleeluja (deux titres peu connus), Everybody's Jumpin – cheval de bataille du grand saxophoniste Johnny Hodges etThree To Get Ready.
Entouré du pianiste François Bourassa, très swing en l'occurrence, du contrebassiste chantant Fraser Hollins et du batteurDave Laing, hélas beaucoup moins à l'aise dans ce registre, la machine Brubeck est sur les rails. Beaucoup moins diaphane que Paul Desmond et plus près de Julian Cannonball Adderley (son rond et charnu avec un tranchant qui évoque aussi le saxophoniste baryton Pepper Adams), Rémi Bolduc virevolte. Ajoutant plusieurs chorus, tout en rudoyant un peu les « espaces temps », il exprime une agilité parfois étonnante avec un sens du « personnel » qui est loin d'être négligeable. Toujours alerte, la section rythmique donne un bon coup de fouet, je redécouvre presque le pianiste François Bourassa, ce qui n'est pas le cas du batteur (n'est pas esprit de Joe Morello qui veut).
Malgré un manque de romantisme, Rémi Bolduc et ses corsaires ont trouvé un terrain d'entente qui est tout, sauf de l'amateurisme.
Pour en savoir plus, écouter des extraits de voir des vidéos de ce projet, visitez remibolduc.com
Par Christophe Rodriguez,
également chroniqueur/blogueur jazz, classique et livres au Journal de Montréal
La publication de cette chronique CDJAZZ  sur Couleursjazz.fr est un collaboration spéciale avec sortiesJAZZnights.com
______________
sortiesJAZZnights.com , the Jazz  website from Quebec and Couleurs Jazz digital magazine collaborate by offering articles, texts and respective contents ! Here is the first article CDJazz, to be published here. Rémi Bolduc, one of the musician whose latest album already was part of the "Selection Couleurs Jazz" in our issue #6. The album is produced by Productions Art and Soul
April 9, 2015
I never really liked Dave Brubeck, too polite, too mainstream, but I always knew that's he was one of the great ambassadors of jazz. Respect is equally due to his alter ego, altist Paul Desmand, a man of simple yet inimitable phrases, as well as drummer Joe Morella and bassist Eugene Wright. These great musicians and their new music attracted many new fans to jazz.
This long introduction leads us to Rémi Bolduc, eminent montreal alto saxophonist, composer and university professor, who, with the help of a few accomplices set out to render a "hommage" to the founder of Time Out. A tribute such as this does not imply just replaying the music, althought you have to respect a few guidelines. First of all, the player has to get the theme just right, as well as it's unique rhythm, and convey the sense of it all. Because arrangements are important here, Rémi Bolduc chose to inject some of his science, with
his pencil, slightly arranging : Rondo A la Turk, Far More Blues, Charles Matthew Halleeluja (two obscure titles),  Everybody's Jumpin – a Johnny Hodges trademark tune and Three To Get Ready.
Supported by pianist François Bourassa, who's got that swing, Fraser Hollins, the man with the singing bass, and drummerDave Laing, the Brubeck machine is on track. Less opalescent that Paul Desmond and closer to Julian Cannonball Adderley (a round, edgy and tick sound that also recalls baritone saxman Pepper Adams), Rémi Bolduc whirlwinds. Adding many choruses, pushing the rhythmics, he expresses with stunning agility his own take on the master's music. Always on it's toes the rhythm section pushes the enveloppe, and I rediscover pianist François Bourassa.
Even thought there's a lack of romanticism, Rémi Bolduc and his mates have found their common ground, which is everything.
By Christophe Rodriguez
also a columnist / jazz blogger , classic books at the Journal de Montréal
The publication of this paper CDJAZZ  on Couleursjazz.fr  is a special collaboration with sortiesJAZZnights.com
To find out more, listen to exctracts and see a few videos of the project, visit remibolduc.com