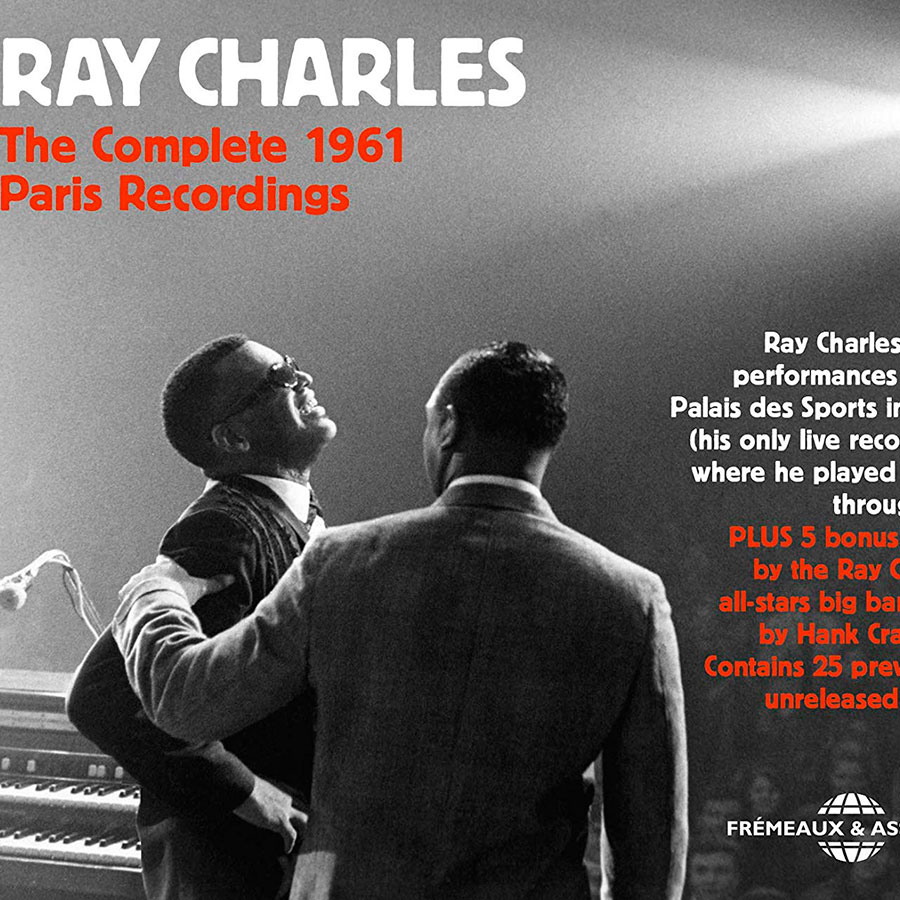 L'année 1961 fut particulièrement faste pour les amateurs français de Ray Charles qui avaient eu l'occasion d'applaudir leur idole avec son octette, l'été au festival de jazz d'Antibes / Juan-les-Pins (Ray Charles, Antibes 1961, Frémeaux & Associés FA 5433).
Pour leur plus grand plaisir, Ray était revenu à l'automne au Palais des Sports de Paris, entouré cette fois d'un big band constitué en partie de musiciens de Quincy Jones avec qui il venait d'enregistrer l'album « Genius + soul = jazz ».C'est l'intégralité de trois des six concerts parisiens, ceux des 21 et 22 octobre exactement, qui sont ici présentés accompagnés de cinq inédits.
Ces enregistrements sont d'une grande importance car le Genius officie à l'orgue Hammond, un instrument qu'il a peu utilisé au cours de sa carrière et sur lequel il s'exprimait de façon originale.
Le répertoire se répète presque à l'identique au cours des trois prestations en débutant par One Mint Julep et en se terminant avec What'd Say.
S' y trouvent deux blues d'anthologie, I've Got News For You et I'm Gonna Move to the Outskirts of Town qui figuraient dans « Genius + soul = jazz », des ballades magnifiées par les arrangements de Quincy Jones et la voix de Ray Charles (Just for a Thrill, Come Rain and Come Shine) et une belle version de Georgia on My Mind renouvelée par son jeu d'orgue. On entend aussi des classiques du jazz comme Moanin'et Doodlin'. Bref, nous tenons là un panorama complet de sa production mis en valeur par des solistes de premier plan (David "Fathead" Newman, Hank Crawford, Don Wilkerson, Marcus Belgrave, Phil Guilbeau) et les fameuses Raelettes menées par Margie Hendricks (Hit The Road Jack).
Ce document, conçu avec le plus grand soin par Joël Dufour, représente une période de transition de Ray Charles puisqu'il correspond à un sommet de son œuvre tout en annonçant la nouvelle orientation de sa production en direction d'un public encore plus large.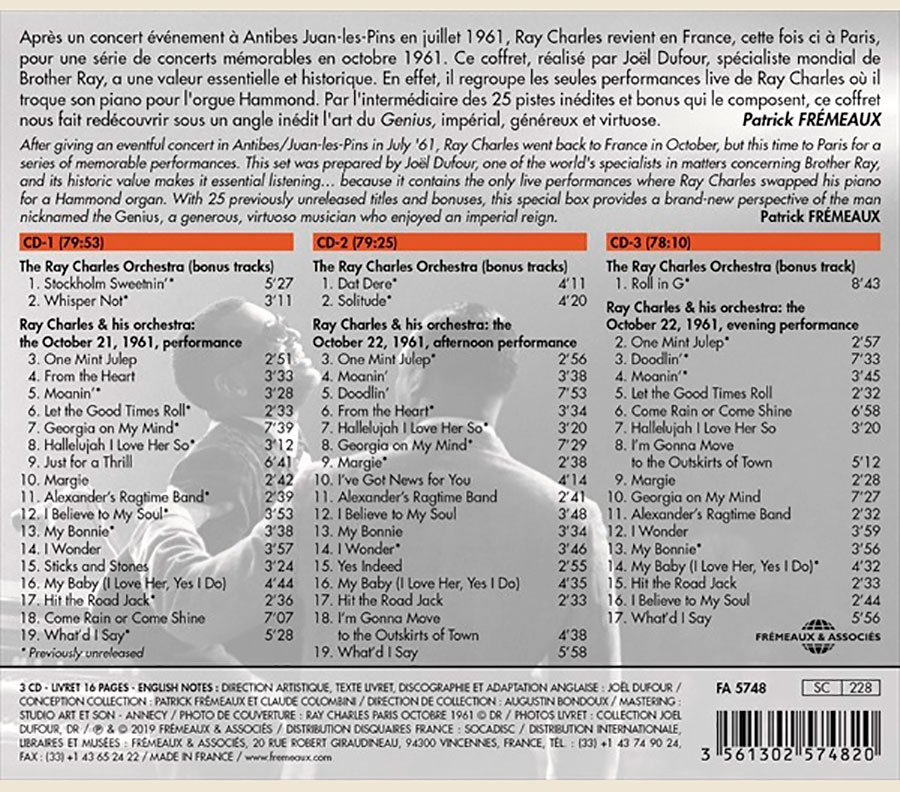 "RAY CHARLES, The Complete 1961 Paris Recordings 21 et 22 octobre, Live au Palais des Sports de Paris" est un album Frémeaux & Associés FA 5748