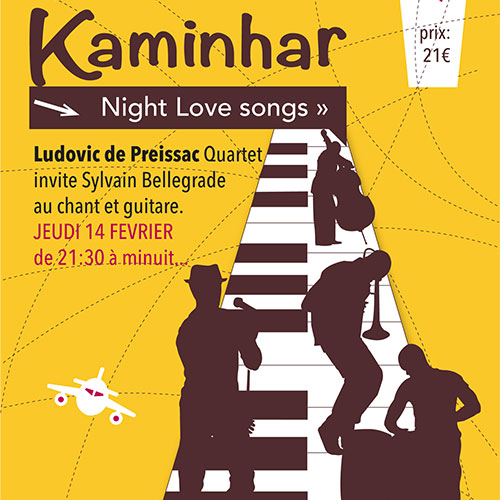 Two concerts, two evenings by Ludovic de Preissac at le Baiser Salé Jazz Club in Paris.
Kaminhar Trio « Night Love Songs » for Valentine's Day.
Love Songs  Thursday Fevruary 14th at 09:30pm
Line up :
Ludovic de Preissac, piano
Juan-Sebastian Jimenez, doublebass
Francis Arnaud, drums
+ guest Sylvain Bellegarde voice/guitar
When Ludovic De Preissac founded Kaminhar, he marked the paths of an expressive jazz with borders of Latin influences. For a special night, Kaminhar celebrates songs that speak of love. Nat King Cole, Frank Sinatra, Mark Murphy, the range is wide. Crooners and French songs, The repertoire particularly highlights the voice, with special guest Sylvain Bellegarde, crooner singer and guitarist from Quebec: we easily recognize the influence of two of his favorite singers, Mel Tormé and Kurt Elling.
Puis,
« Looking for M.P » – Tribute to Michel Petrucciani
Standards Friday February 15 at 09:30PM
Ludovic de Preissac, piano
Michael Joussein, trombone/congas,
Juan-Sebastian Jimenez, Double bass
Francis Arnaud, drums
+ Guest Francesco Bearzatti, saxophone
Michel Petrucciani left us 20 years ago, in January 1999. Ludovic de Preissac's quartet offers a tribute to this exceptional pianist through the songs he composed and which inspired him his most outstanding solos. Thanks to a work of arrangement and original instrumentation, Ludovic de Preissac plays with Petrucciani's melodic sense.