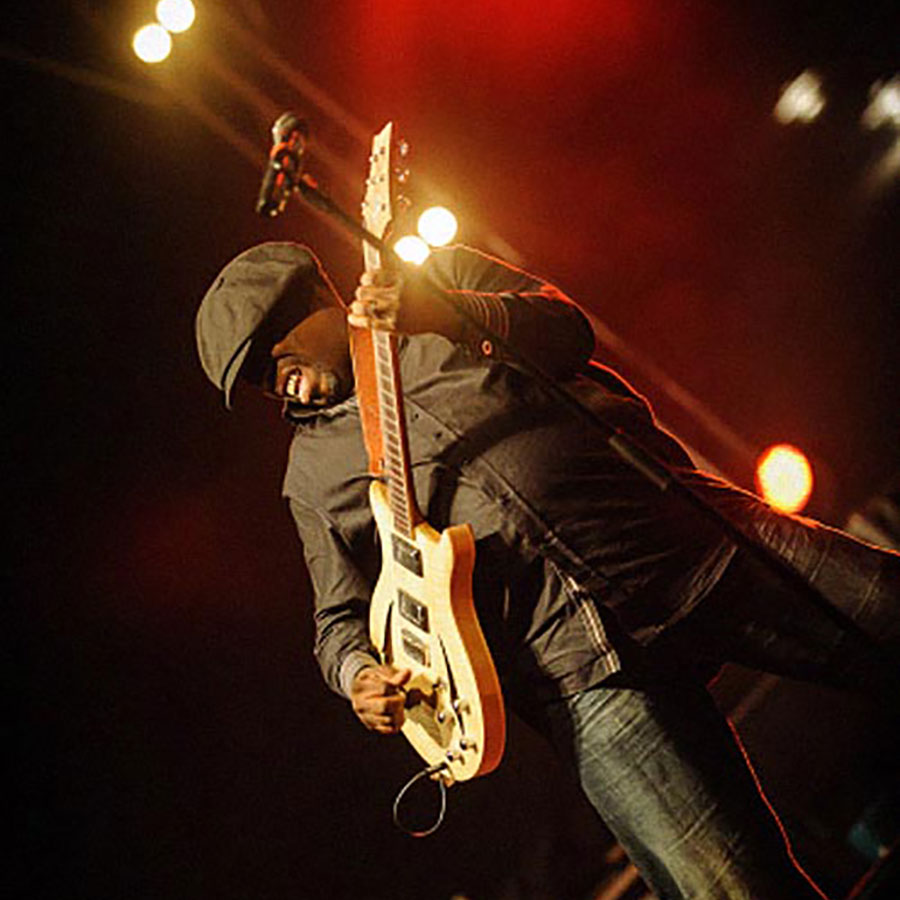 Gray suit, white shirt, Blues Brother-style hat, he's on stage at the Odéon theatre in Paris. He gets up on a platform and stretches out his arms in a V towards the sky to receive the audience's acclamation. A gesture of thanks, and he sits down at the Hammond organ awaiting him. With his hand resting lightly on the keyboard and a winning smile, he recklessly attacks the rhythm. Lucky Peterson has been a blues star since age five.
"I'm blues but I'm not so blues. I'm somewhere in between," he says at the start. He was indeed born into the blues, in Buffalo, New York, where his father James Peterson owned a famous blues & jazz club. He saw all the big names in the 1960s pass through: Muddy  Waters, Buddy Guy, Koko Taylor and so many others. It also happened that little Peterson played the organ better than anyone, to the amazement of producer and arranger Willie Dixon, himself a musical legend. And so Lucky soon joined this blues elite. On the stages of the American-style shows where he appeared in 1969 with a debut album (a bestseller that didn't earn him a dime), its title sounds like a prediction "Our future: 5 year old Lucky Peterson." Other children have known fame that early. In the blues world, he's the only one. Peterson still has a look in his eyes that is touchingly child-like, and his latest album "The son of a bluesman," is a tribute to his father who died in 2010.

The blues is my foundation
"The blues is my foundation even if there are many other types of music in me. Yet it's important to recognize the blues today and tell the world it's still there, because it's the inspiration, with gospel, of all this music, jazz, rock, pop." On stage he plays with the microphone, voice on and off. His fans are familiar with this way of recalling the source, the song heard with or without an amp, a husky voice that hits you in the guts. Another way to capture the listener. "Would you help me?" The audience raises an arm, claps, laughs. He amuses, pleases and disturbs, finishing in one breath. This music has held him since he was born and long before. He shouts: "She didn't let me go." A woman or the blues? Standing between the keyboards, he suddenly confides to the audience he's been playing as long as he can remember. Turning towards backstage, the music suspended as he moves, he asks, "Sister there, are you all right?" His wife and backup singer Tamara Stovall Peterson isn't far away.
A husky voice that hits you in the guts
Another blues rule, the guitar. His is a Gibson ES 335. Red lacquer, it stands out against his suit and the audience, ordered to stand up while he plays among them, between the rows. Balanced against the back of a chair, back to the stage, he sings without a microphone, shamelessly. The son of a bluesman knows how to heat up the room.

His is a Gibson ES 335
After Blues in my blood, he goes back up on stage to play Johnny Nash's I Can See Clearly Now on keyboard. No doubt about it, the place is jumping! Time for a bit of clowning, dark glasses on his nose, he imitates Stevie Wonder and there's laughter in the theatre. Then he starts talking. "I'm not Lucky, I'm blessed". The rhythm has picked up again and the backup singers chime in occasionally with the chorus I'm still here, as Lucky the child describes the Ahmad Jamal concert he'd taken part in the day before, the audience standing to sing "Happy birthday". Love, brotherhood, addiction to alcohol, sadness, the word "blues" is present in Peterson's voice, even when he's not singing. "I've been in a lot of bad places… I still have my heart, my soul, my shoes….God covered us. Can we feel what we're talking about? It's not a mistake that you're still here, there's something left to do for you, with you." Peterson went through a dark period, he doesn't hide it.
The son of a bluesman knows how to heat up the room
All the while, silence prevailed, the silence of certain music, but with the blues, it's a number of measures after which listeners don't even know if they're waiting for the music to start up again, or whether it's even supposed to. And suddenly there it is.
©Photos Mart Sepp
This text was previously published in Couleurs jazz Magazine on iPad.