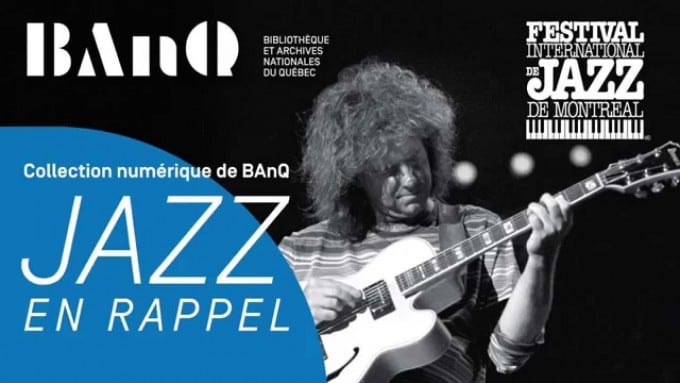 During the last edition of the Montreal International Jazz Festival , organizers made a nice gift at the Québec' society by giving their archival funds  (films, discs, posters. etc) to the Bibliothèque et archives nationales du Québec (BAnQ). Through technological tools available on the Web, you can reach part of this invaluable funds from everywhere on our planet. You only need an Internet connection and that's it !
The funds of the  Montréal  International  Jazz Festival contain archives from 1980 until 2008. According to the descriptive card of this funds, there are 2.660 magnetic tapes  and 2412 videos in digital format. Discovering jazz is becoming easy to everyone.
To have a precise idea of this particular collection, here is an extract according to the Pistard tool:
The funds gathers video productions showing the shows of many artists, from which great jazz names and popular artists (Susie Arioli, Gato Barbieri, Tony Bennett, Art Blakey, Dave Brubeck, Miles Davis, Willie Dixon, Maynard Ferguson, Stéphane Grappelli, Herbie Hancock, John Lee Hooker, Oliver Jones, B.B. King, Ramsey Lewis, Pat Metheny, Jaco Pastorius, Oscar Peterson, Astor Piazzolla, Jean-Luc Ponty, Buddy Rich, Zachary Richard, Sonny Rollins, Sonny Terry, Uzeb, Sarah Vaughan, Vic Vogel, Tom Waits, Muddy Waters, etc.) It also contains retrospectives, biographies and jazz shows, as well as integral versions shows from various interior and external scenes. Are added to these elements of many original turnings: interviews with the artists, segments in slide, press briefings with the artists and the organizers of the Festival, key-moments in the  Festival history, sequences with the production line team, scenes and external events  with the artists and the public. With the number of the interviews, let us mention new moments with inter alia B.B. King, Oscar Peterson, Charlie Haden, Stéphane Grappelli, Chick Corea, John McLaughlin, Pat Metheny, Dave Brubeck, Diana Krall, Oliver Jones and Vic Vogel, as well as collectings in slide or on the external sites with many artists, in particular Ginette Reno among the festival ones and Michel Legrand  back stage.