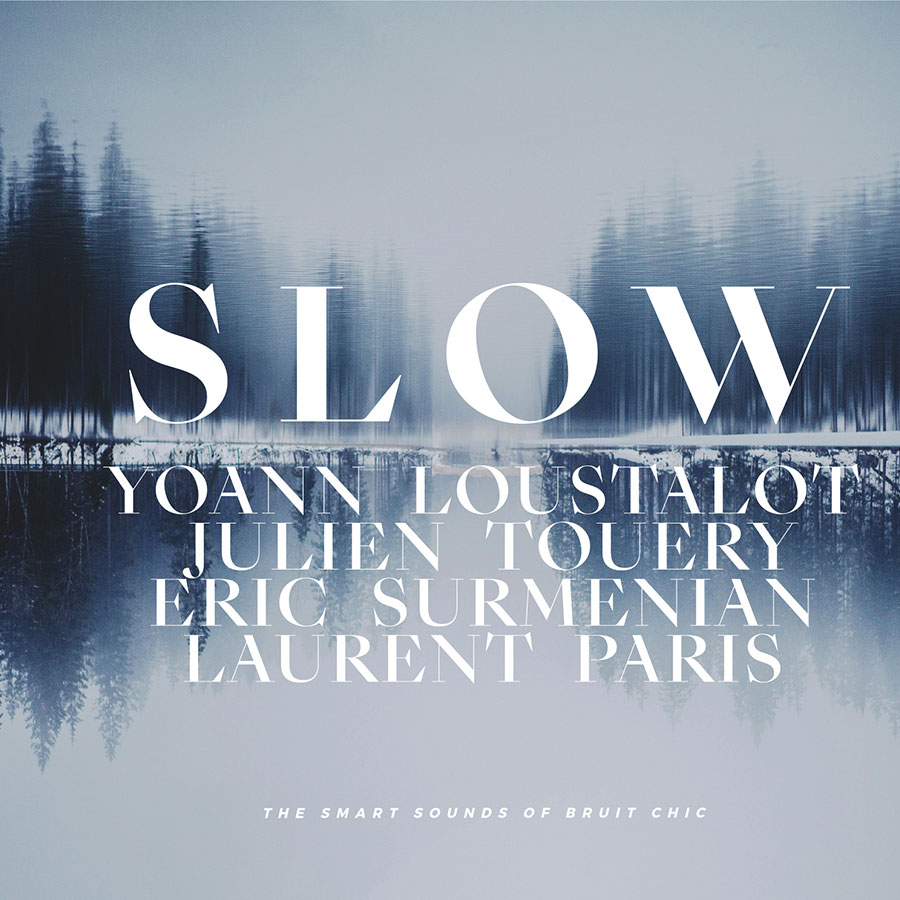 I had the priviledge to witness, on 20 Septembre at Le Triton, a performance as timeless as it was ecumenical by Yoann Loustalot's group, Slow. With Loustalot on trumpet and fuglehorn, Julien Touery on piano, Eric Surmenian on upright bass and Laurent Paris on drums and percussion, the ensemble produced an atmosphere bathed in a soft winter light; a welcome opposition to a summer of heat waves,  "our way of fighting global warming", as the trumpet player quipped, straightfaced.
We're familiar with this horn player creating plush, vaporous and poetic settings. His partnering up with Julien Touery, known for his work with Emilien Parisien, strengthens his uniqueness and gives birth to a whole new concept: slowness. In a world where speed is idealized and ubiquitous, this combo proposes to slow down the pace and reconnect with contemplativeness and Nature. Several tracks on their superb album — SLOW, released recently on the "Bruit Chic" label — are infused with a concern for the environment and nature at large.
Straight away the acoustic tones of this ethereal, atmospheric music grab the audience. Active listening is required to fully appreciate these musical statements, stripped of all stage artifice and stardust. Loustalot is once again being true to his own throughline, which can be heard and not seen throughout his musical narratives.
Loustalot's former album, 'Sounds like snowflakes' ('Pièces en forme de flocons'), created in the company of François Chesnel and Antoine Paganotti, seemed subtly inspired by Erik Satie's compositions. If we were to change one letter at a time, as Francis Ponge used to do, the word 'Slow' becomes Snow, then Show. A clever nod to the truth of how live performance adds a whole new dimension to experiencing the passage of time.
Here, each tune speaks for itself, providing an emotional landscape whose elements are jointly husbanded by the band's excellent musicians.
As if to counter current trends, the track titles recall cardinal directions (Vers l'Ouest, Vers le Nord) and glorify references to the cold and the ice (Fjords, Winter). Space and time join forces to provide us with a poetic and meditative dance (Sur le Tard, Saoul les Nuages) similar to the one seen in the film Local Hero, in which the northern lights take on a mythical aspect.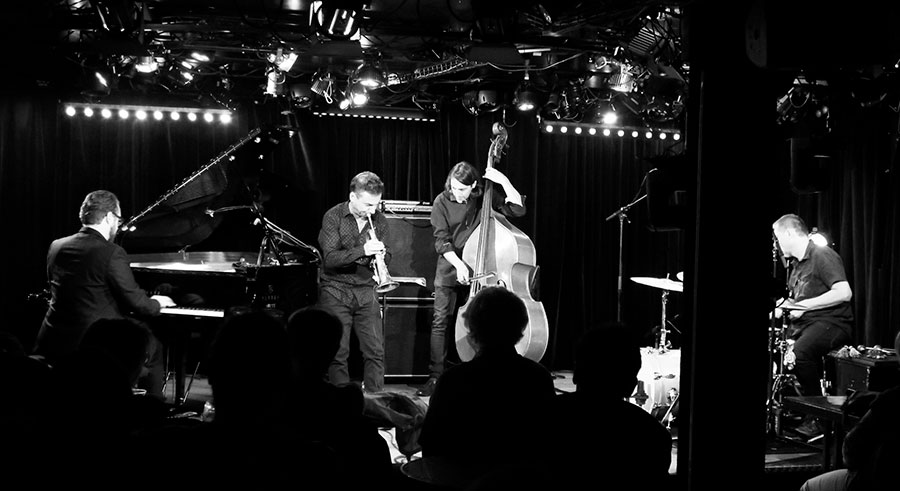 This music evokes the four elements and the slowing down of Time. But slowness here is not a cerebral effort, rather a letting go and a rekindling with one's deeper nature. The author Alan Watts comes to mind.
The poetic nature of this concert was disarming. All the more so thanks to there being no intermission, since a break might have lessened the spellbinding impact on the audience.
Eric Surmenian and Laurent Paris' contribution, also composers, is immeasurable. The highly industrial atmosphere of Metal Contact allows the drummer a noisy performance while scraping, friction, shrill whistles and percussion, absolutely unique because totally integrated about, and generating a static movement that makes you want to get up to support its development .
The long notes, outfits, and bow play that characterize Eric Surmenian's play culminate in the gravity-like atmospheres associated with fundamental topographic points, such as that described in Michel Serres' The North West Passage.
The piano prepared by Julien Touery provides an obvious occurrence of parentage with contemporary art, although this music is in itself elaborate enough to dispense with any reference. The only way in which Yohann Loustalot installs a melodic pattern by playing the tone would be rather reminiscent of Prokofiev's late attempts, even of the Hungarian mode without Bartok's resolution (a judicious way of evoking the circumnavigators' norte), while the way in which Julien Touery recalls in leitmotiv the theme, after having played it in unison with the copper, says a lot about the capacities of renewal of the collective (the tabula rasa of the old ones), which makes use of the diversity of its geographical origins for asserting an identity that stands out above all in the spirit of jazz, regardless of the classical prior knowledge that musicians use.
Outside, the dark night air allows for a slow reconnection with the energy of the city. I feel more alert and relaxed at once after the primal, intimate experience which has just taken place.
It was as extraordinary, rare and precious an experience as seeing the Northern Lights.
©Photos Jan-Pierre Alenda.
Traduction : Eliz Corbett