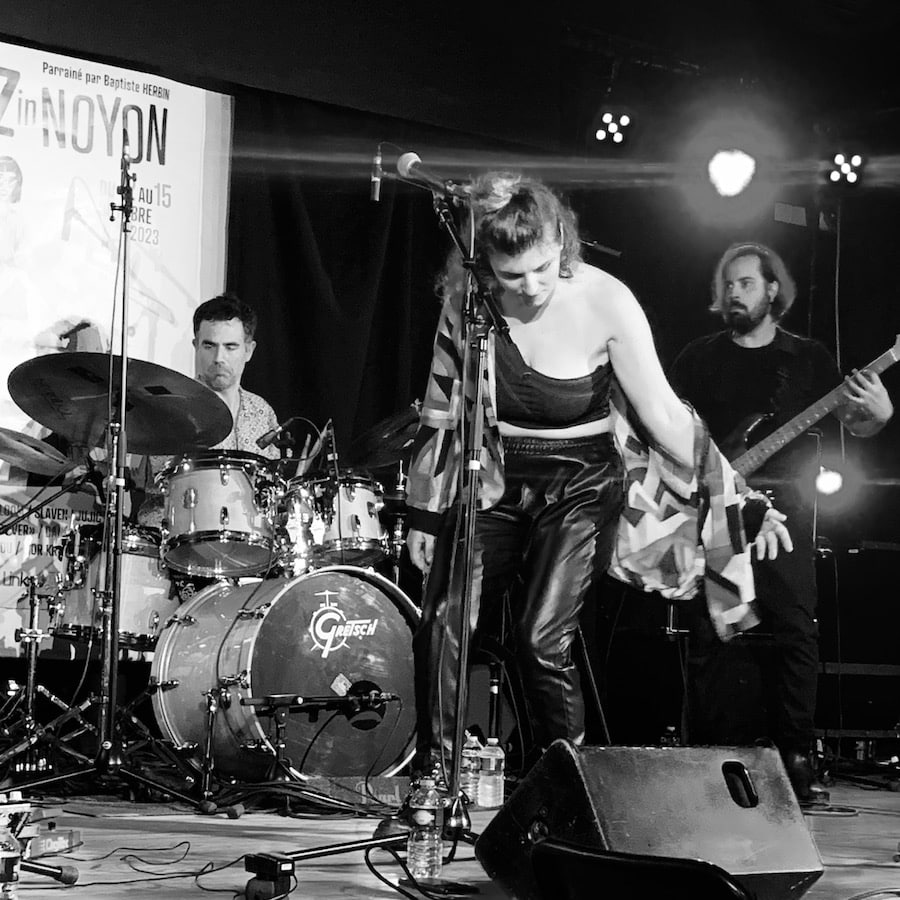 Jazz in Noyon 2023 has just turned off the last of its spotlights. A great festival in terms of the quality of its programming and the diversity of colors it represents. A Festival of limited means, given that grants and funding are hard to come by when you're young. It's also a small festival, considering what's just been said. But according to the adage, Small is beautiful, this was a fine edition.
For its 3rd edition, Jazz in Noyon began under the shimmering colors of the Island of Cuba, with the great Damian Nueva leading a high-flying quintet.
Thursday, October 12, 2023
The official launch took place when Philippe Laredo, President and passionate instigator of this young Festival, and Baptiste Herbin, the virtuoso saxophonist and patron of Jazz in Noyon 2023, took to the stage at the Centre Culturel de Noyon.
For this opening concert, the Festival sold out. The enthusiastic audience who regularly attend the year-round Jazz à Noyon concerts organized by Couleurs Jazz and directed by Philippe Laredo are loyal connoisseurs of today's jazz, and for this opening concert, a good number of Hispanics, most of them Latin-Americans.
Damian Nueva Quintet
It's a pleasure and a relief to welcome Damian Nueva and his band as the opening act, since he was already scheduled to perform last year, when a reminiscence of Covid decimated part of the Festival's organizing team and prevented the second half of the event from taking place. Finally, this year, Damian Nueva was able to perform in full.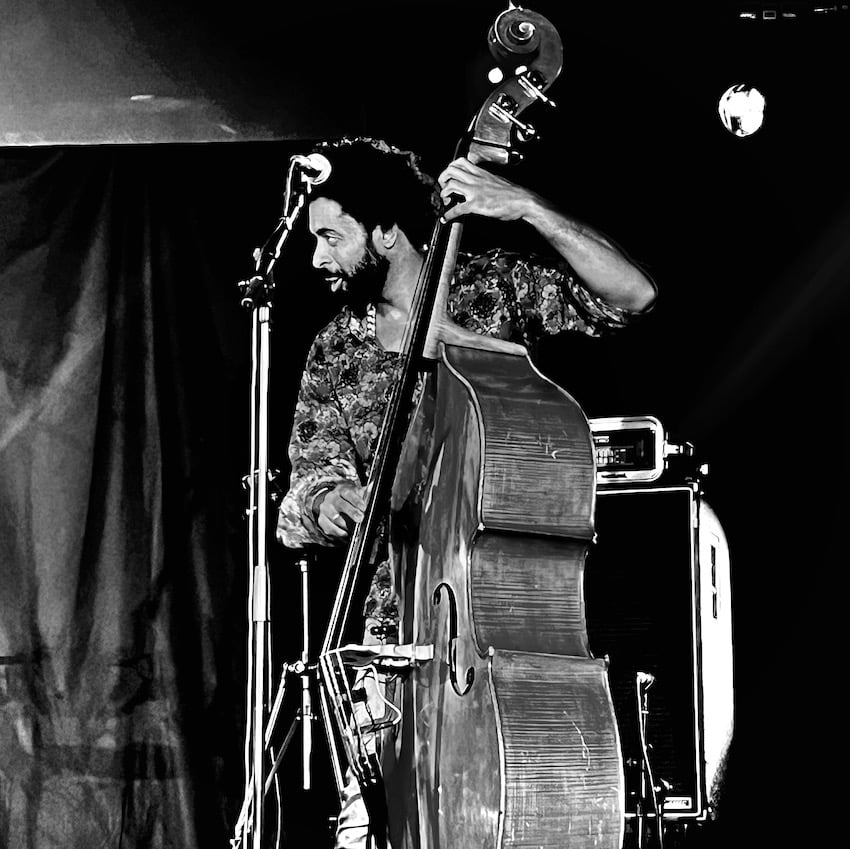 Damian Nueva
He brought with him the crème de la crème of musicians, starting with Arnaud Dolmen on drums, a rising star who has already reached the top of his game. Diego Lipnisky on guitar, for his great complicity and inimitable riffs. Amar Chaoui, Derbouka teacher and magnificent percussionist, then Carlos Mejias, Cuban saxophonist, for whom the music written by Damian Nueva is a natural fit.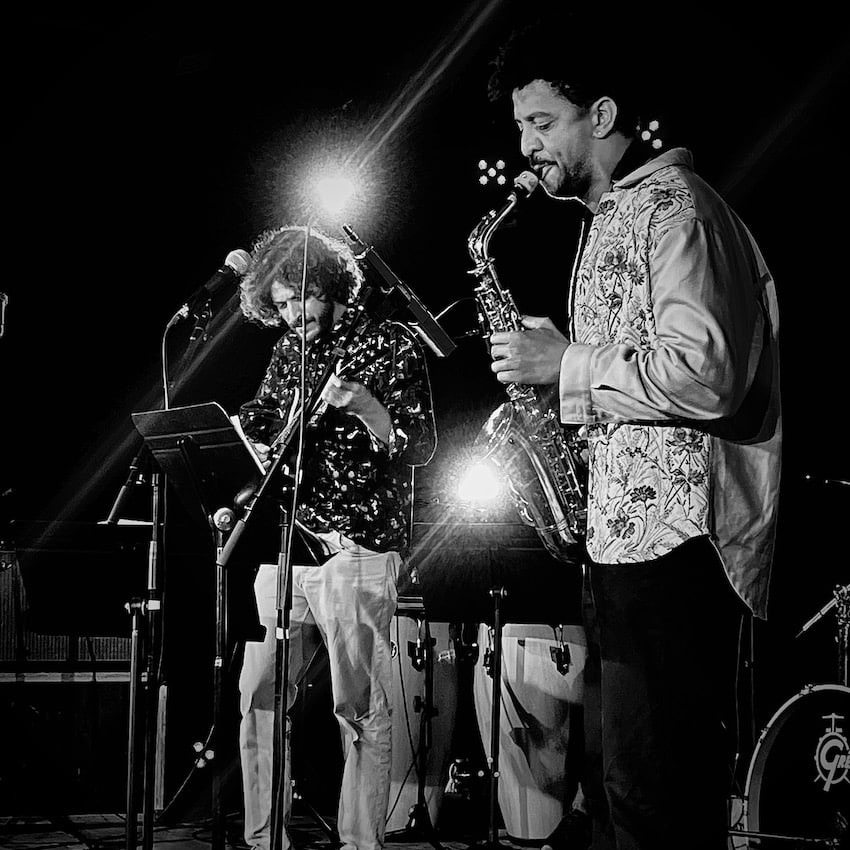 Carlos Mejias & Diego Lipnisky
The concert begins with a clavé (as on the Orisun album), "Toda la Gente".
The songs flow seamlessly into one another. Damian narrates the background to his creations, his inspirations, his culture, the women who have counted in his life, starting with his grandmother ……. The colorful tracks follow on from "Esto es Tuyo", then "Comentarios", the continuous and joyful conversations in his Havana neighborhood, where chatterboxes are legion and give their opinion on everything. Diego Lipnisky's wah-wah electric guitar perfectly illustrates the intention. Arnaud Dolmen is his usual masterful self.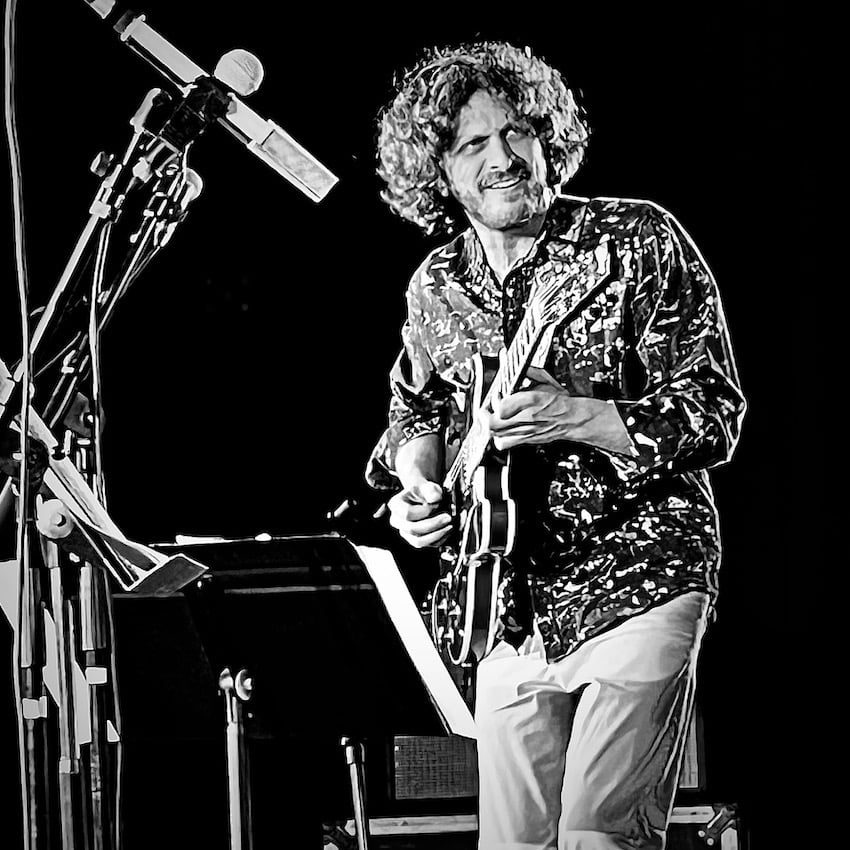 Diego Lipnisky
« Viñales »is a city with a cool, humid climate and absolute calm, the ideal place to make the famous cigars and also to find calm, serenity and inspiration for our musicians. This is the occasion for a magnificent duet between Damian on double bass and Amar Chaoui on percussion.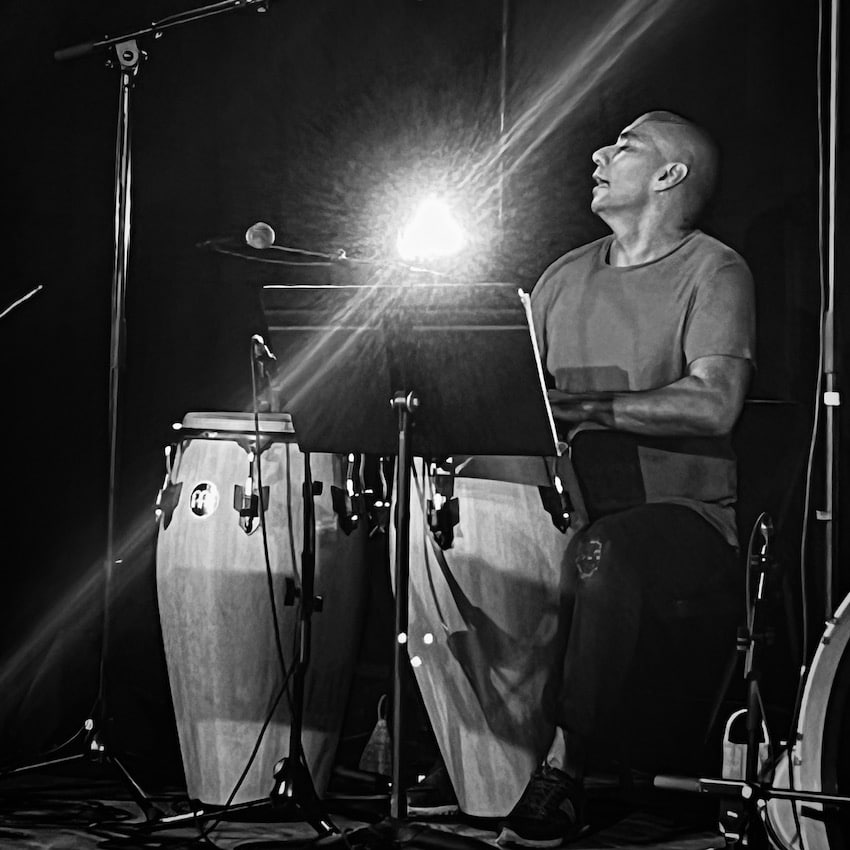 Amar Chaoui
The audience responds fully to this performance.
Another revelation is Carlos Mejias on saxophone, previously unknown to us, who replaces Baptiste Herbin on the Orisun album.
In this Rugby World Cup season, I can't help but think of Super Antoine Dupont, magnificently replaced in his position by Maxime Lucu.
Substitutes often bring different talents to the fore. (The rest, as this text is published, will remind us that Super Dupont can't do everything, as there was also a 16th man on the pitch, from the perfidious Albion. That can change everything…)
Let's get back on stage and take a closer look at Carlos Meijas!
Arnaud Dolmen makes his drums sing to punctuate Diego Lipnisky's choruses.
On "Yéyéo", a song Damian wrote for his wife (who, the author confides, prefers another, far less romantic track on the album).
We, who are Damian fans and not his wife, since we don't have the honor of knowing her, really like this track dedicated to him. Then comes "Shango Oni Oni", the very one she likes best. No argument there. Madame is undeniably a woman of taste.
This first concert of the Festival then ends to a standing ovation from the audience, won over by the album's star track, "Orisun".
You can still listen to it on Couleurs Jazz Radio. You'll never forget this lovely theme.
Xénos – Jovana Krstevska & Srdjan Ivanovic.
The concert opens with an extremely moving a cappella lament by Jovana Krstevska. We're plunged into the Balkans, colored by Hugo Corbin's guitar, quickly joined by the drums of leader Srdjan Ivanovic.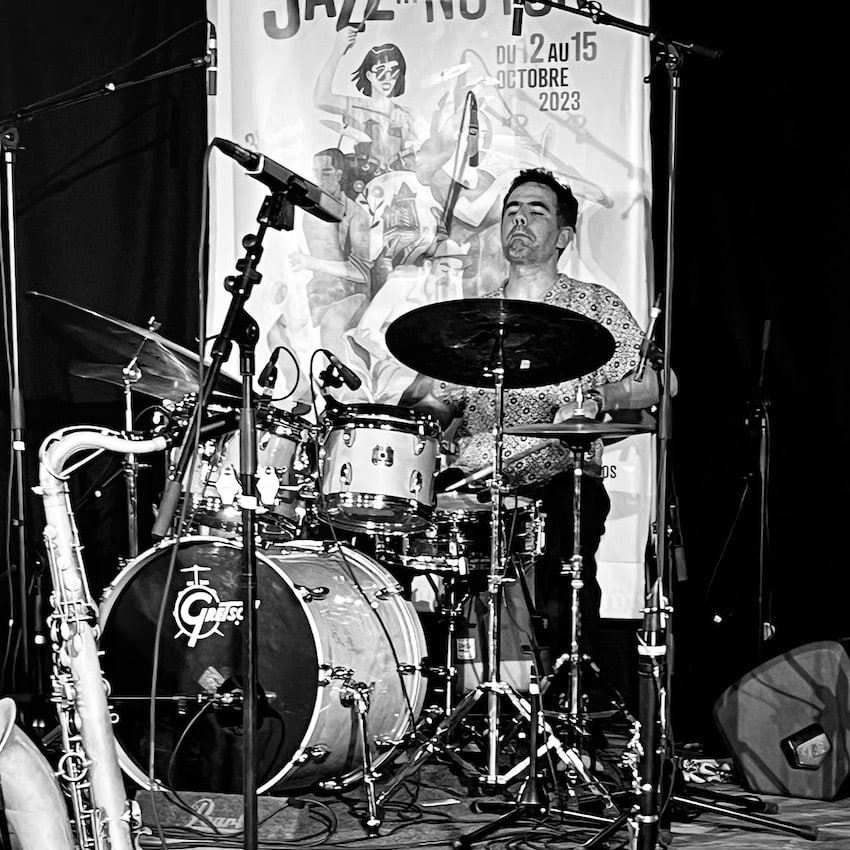 Srdjan Ivanovic
Robby Marshall on clarinet adds an extra touch of color. The man must have been born in Eastern Europe in another life.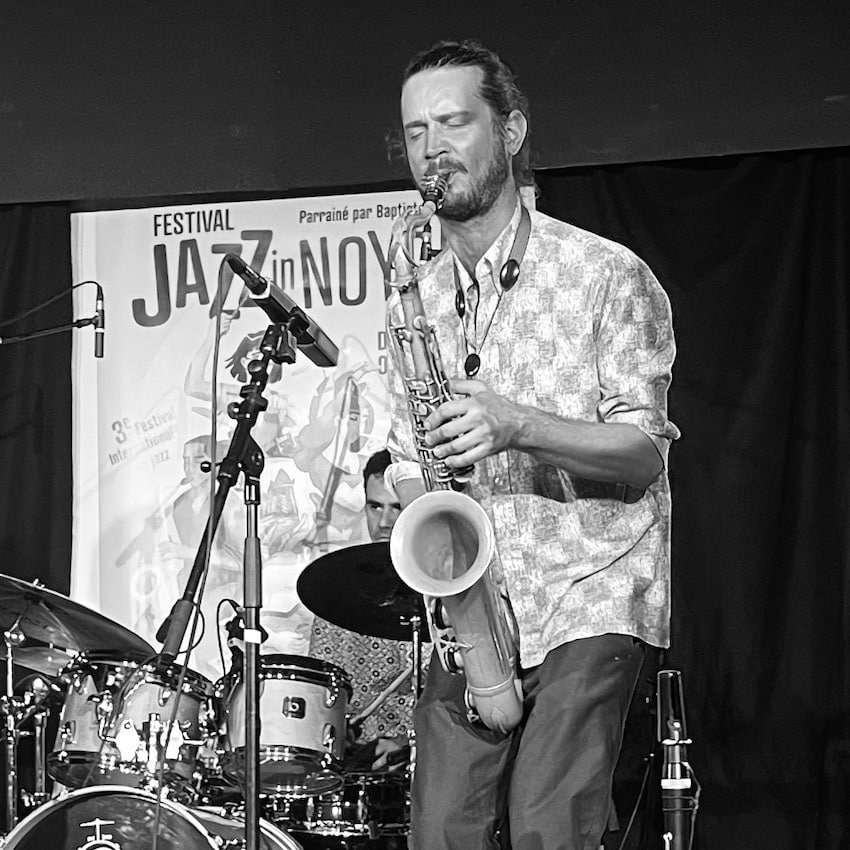 Robby Marshall
Balkan Jazz has its own fertile, poignant identity. The rock tones of the Xénos project bring a new and original energy.
Xénos is as much a show as a concert. We can't help but be fascinated by Jovana's improvised choreography, dressed in black leather pants, an asymmetrical strap, a colorful blouse and black leather boots with chains. A real Jazz style!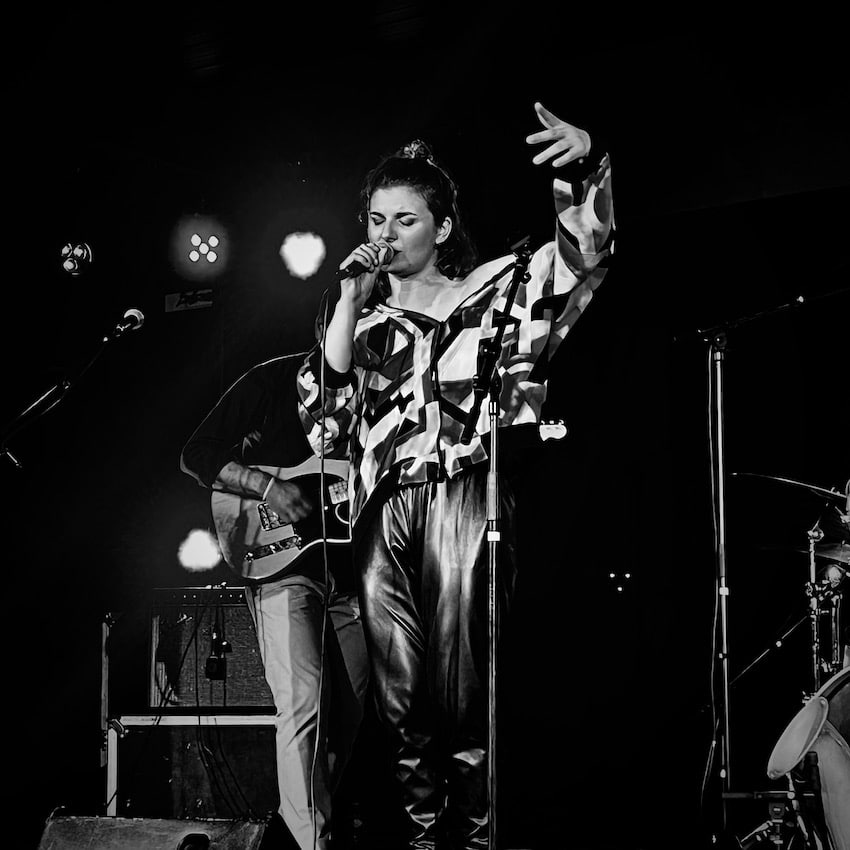 Jovana Krstevska
How can we describe this original jazz color? … Modern Balkan jazz-rock?
Clearly, the energy of rock on melodies drawn from traditional Balkan folklore, and jazz-arranged by Srdjan Ivanovic, invades the room.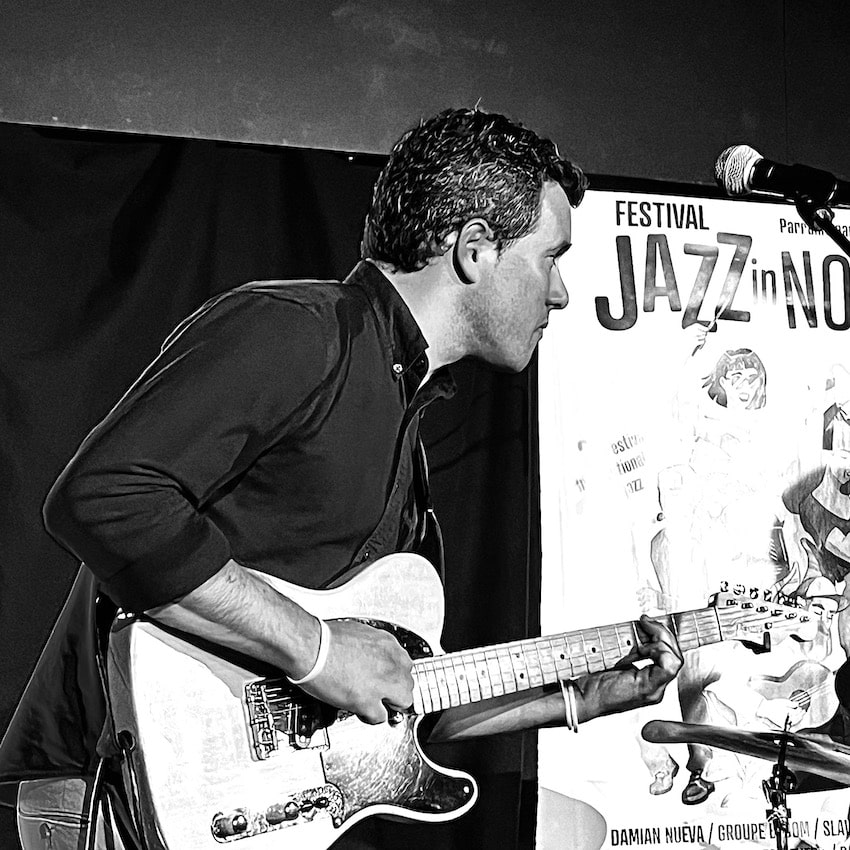 Hugo Corbin
Xénos illustrates how one feels like a foreigner everywhere, whether in one's adopted country or when returning to one's native land (on this subject, read Vassilis Alexakis's book Paris-Athènes, published by Gallimard in France and translated in several languages).
Jovana Krstevska sings in Macedonian first, in Greek, French, Serbo-Croatian, English… She also speaks perfect Spanish.
It's easy to see how culture can bring people together in a region that was torn apart not so long ago, and how jazz music in particular can unite men and women of good will.
Jazz also has a way of forcing us to listen to others, to be attentive to their musical phrasing and intentions, so as to be able to respond, support and assist them. The benevolent glances between the musicians further underline this point.
Jazz, a land without borders…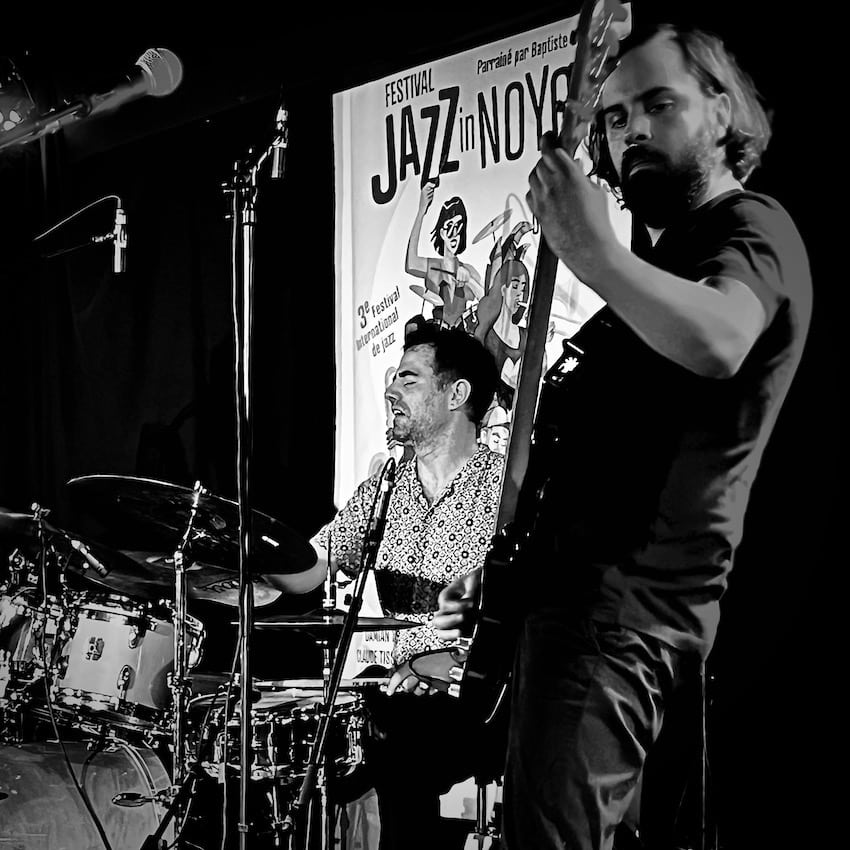 Friday October13 2023
Bloom Band – Three voices, a doublebass, a drums.
Line Up:
Mélina Tobiana: voice
Léa Castro: voice
Laurence Ilous: voice & ukulele
Arthur Henn: doublebass
Ariel Tessier: drums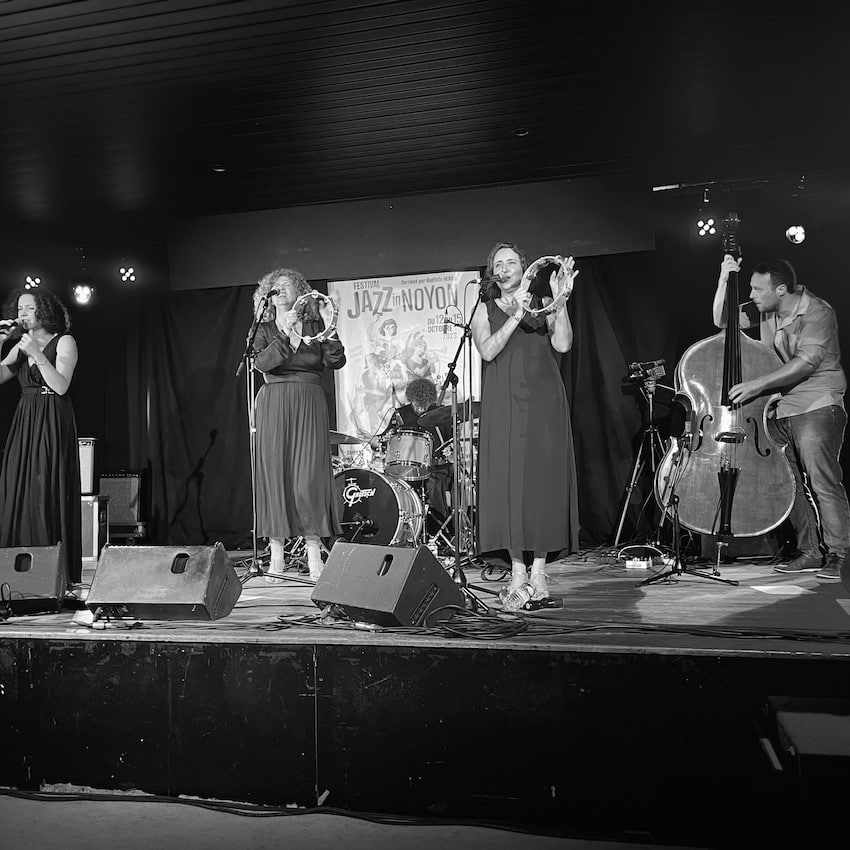 Groupe Bloom
The compositions, often original, are swinging and supported by an impeccable, elegant rhythm section. This is jazz that can be described as easy listening, but only in the good sense of the word. A statement to be taken as a compliment. At times, it verges on pop, as in Sting's "Shape of My Heart". But it's all in very good taste. There's a bit of swaying of the buttocks on the chairs in the room, but on the whole it's a very quiet affair. No one dares get up to dance in front of this real band, this quintet that isn't just a trio plus a rhythm section. The boys often have their say, too, and can express all the finesse of their playing.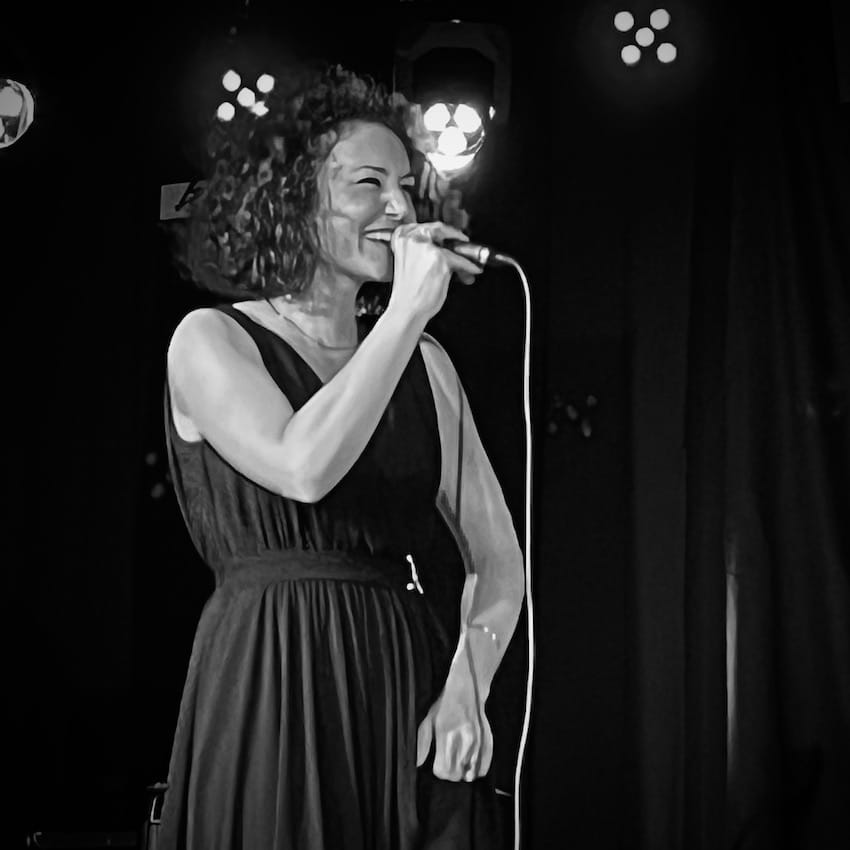 Mélina Tobiana
Then there's "Drinking or Driving"… (you have to choose!) a superb composition by Léa Castro… who doesn't have a license. But does she only drink to excess? She's certainly respectful of the beat and the pulse, aided and abetted by two excellent rhythmists who are at the helm with their expert hands and drumsticks.
In short, a joyous vocal jazz that kicks off with the eponymous track "#1", a beautiful 3-part scat. Then Arthur Henn joins in.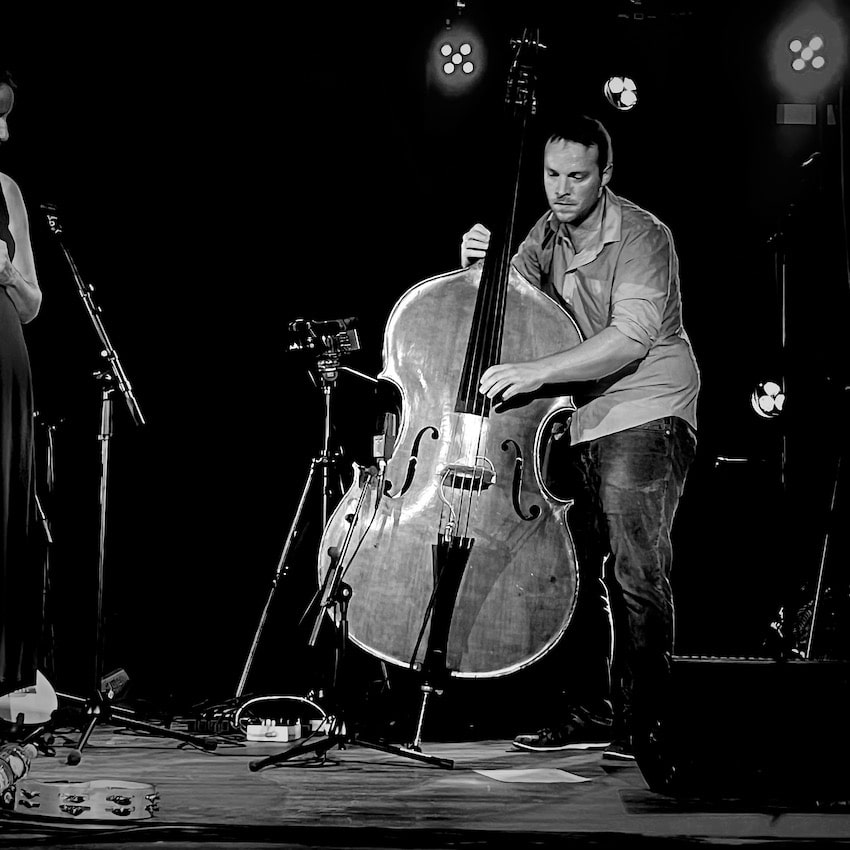 Arthur Henn
We've all heard the wink: "The crowd always takes the opportunity to chat during the double bass solo…". But not this time!
Then comes an incursion into soul, also a very tasteful piece, led by Mélina Tobiana.
Then follows a beautiful intro by Arthur Henn, full of harmonic artistry.
One word comes to mind: joyful elegance.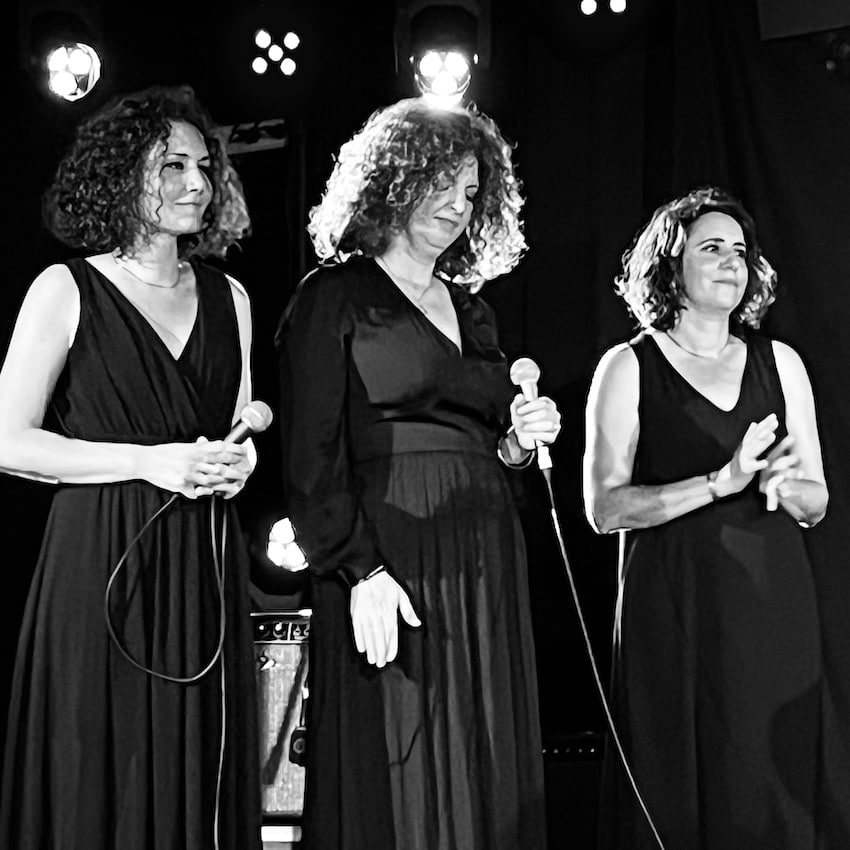 For the finale, the standard "Don't Cry for Louis", which opens album #1, delighted the packed audience once again.
François Poitou feat. Pumpkin
Line Up:
PUMPKIN: rap
Olivier LAISNEY: trumpet
Maxime BERTON: tenor saxophone
Stéphane ADSUAR: drums
François POITOU: doublebass
François Poitou has partly hidden his thick black hair under a half-rap, half-baseball style cap.
Couleurs Jazz has been supporting and following this highly original project for over a year now. And for several years now, we've been following François Poitou's very different projects with determination.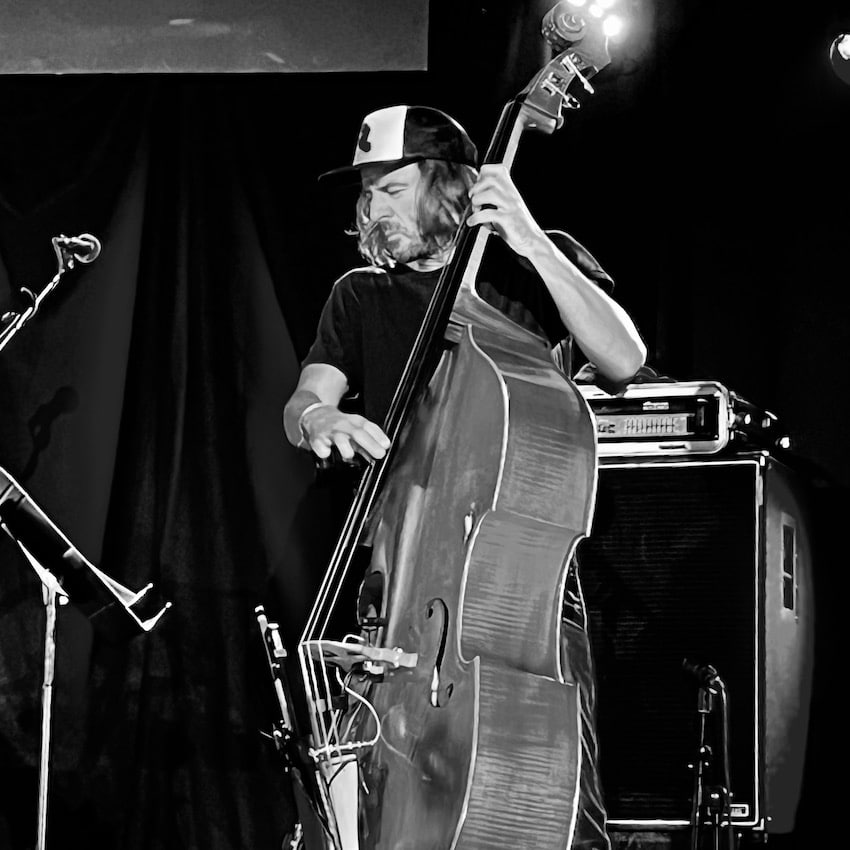 François Poitou
His latest jazz-rap album is now a fantastic, perfectly oiled vehicle. The cogs and wheels are honed and the automatisms integrated.
The choruses by Olivier Laisney on trumpet and Maxime Berton on tenor sax are, to put it mildly, "killer". Olivier has further refined his features.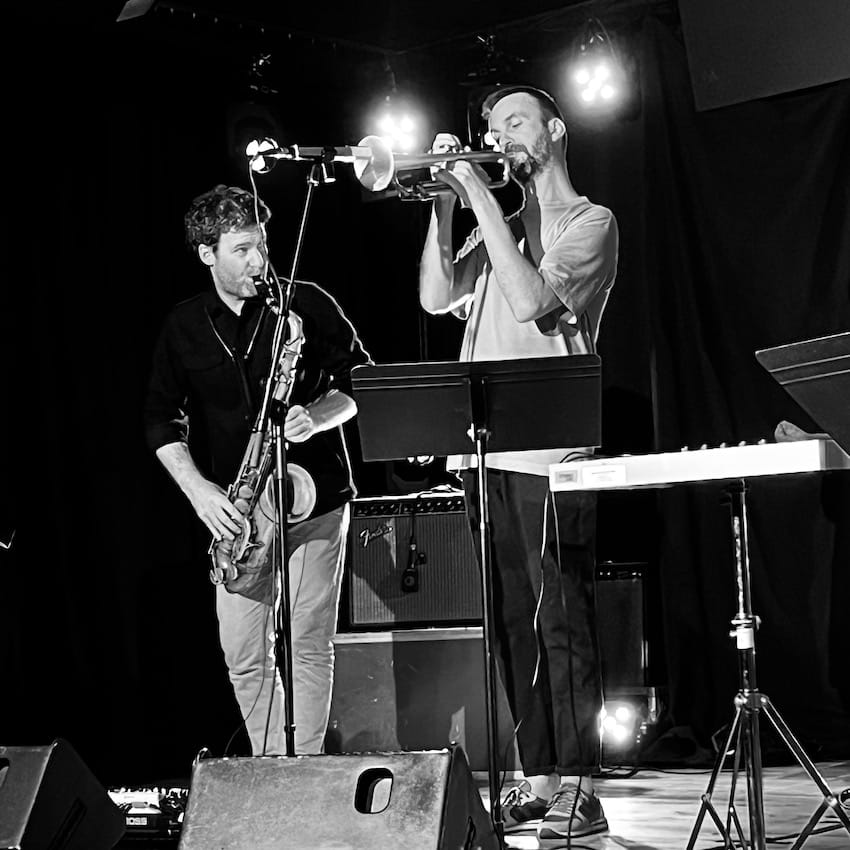 Maxime Berton & Olivier Laisney
As for Pumpkin, she's sailing like a fish in François Poitou's jazz afterlife. In my opinion, one of her most successful contributions is on the track "Rue Daguerre", a composition about the cheerful Paris cafés that have regained their special atmosphere after confinement. Pumpkin wasn't scheduled to appear on this track (cf. the album), but on stage that evening, you'll find yourself wishing she hadn't, as her verse cuts through.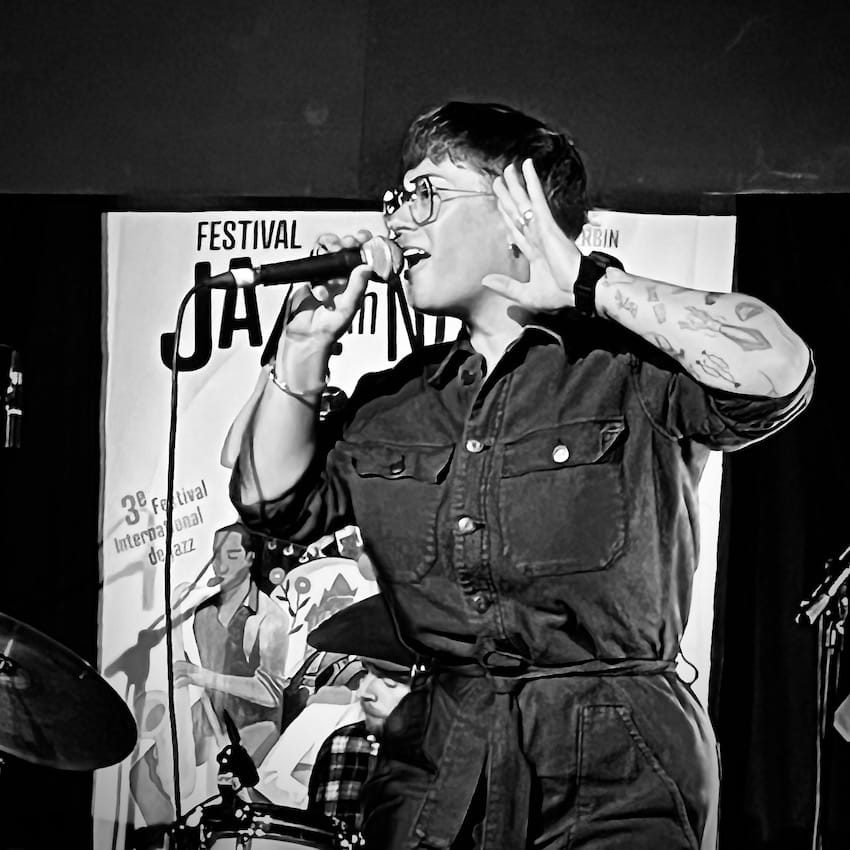 We invite you to listen or listen again to "Arômes Complexes" on Couleurs Jazz Radio and on specialized platforms. Or buy the album yourself.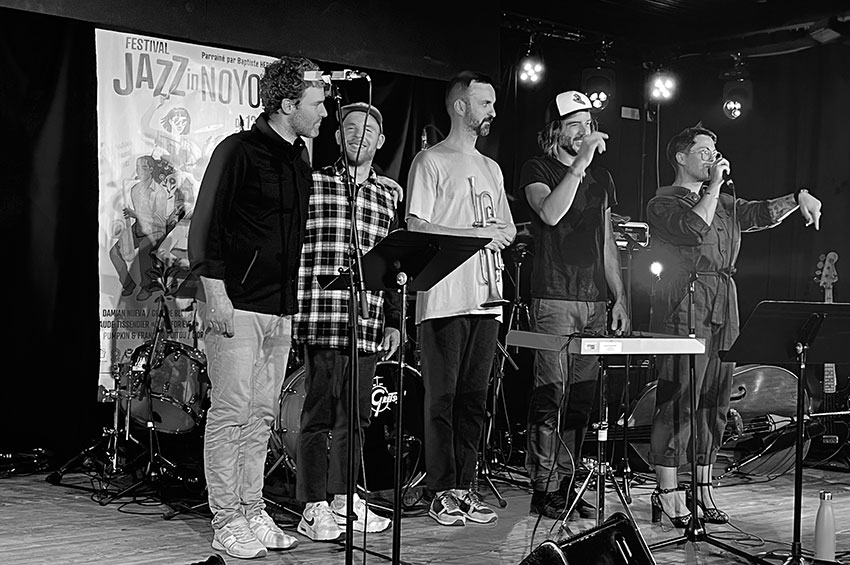 Saturday October 14 2023
Slaven Ljujic Trio feat. Baptiste Herbin
A second Balkan concert to open the 3rd day of the Jazz in Noyon Festival!
The Montenegrin trio of avant-garde musicians offer a conceptual jazz rich in acoustic innovation, whether in their free compositions such as "Free" or in their original covers of standards.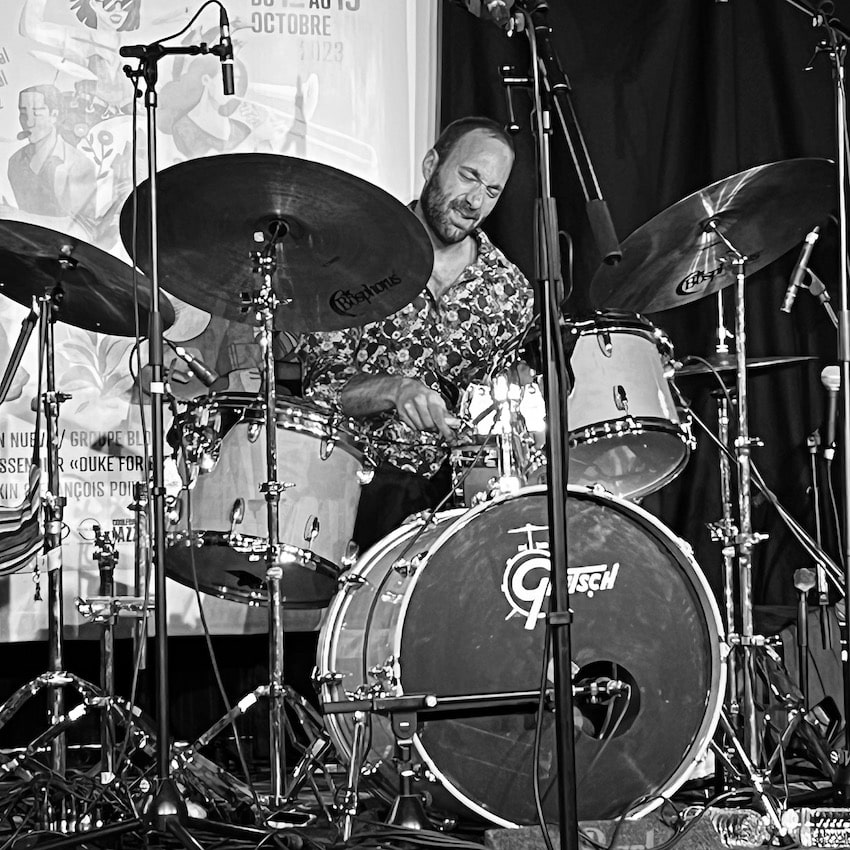 Slaven Ljujic
The Noyon audience was enthusiastic from the very first track, and let themselves be carried away and surprised by these harmonious, strange, modern sounds.
Pure improvisation, that may surprise you. It's flying without a net. Improvising alone during a chorus on an established grid is one thing. Improvising alone in a chorus on an established grid is one thing, but to launch into a whole piece with three people… Difficult and successful.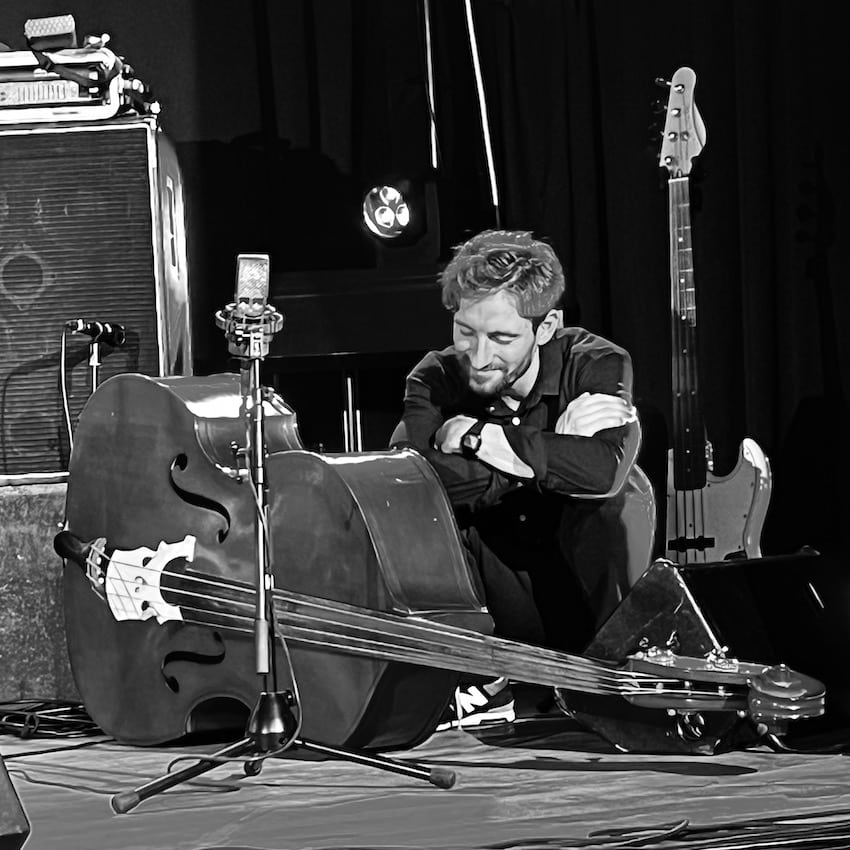 Tin Dzaferovic
Slaven Ljujic, direct from Podgorica in Montenegro, hovers over his drums, happy to be reunited with his compatriots based for the rest of the year in Vienna and Berlin. The three of them are gathered here especially for the Jazz in Noyon Festival as part of the "Jazz France-Balkans Network". Ivan Marovic draws the audience into his highly personal, spellbinding guitar playing. Tin Dzaferovic not only makes his double bass sing, he makes it dance. The audience joins in and travels with this original-sounding trio.
Then comes "Softly, as in a Morning Sunrise", a gentle romantic ballad in a fresh version.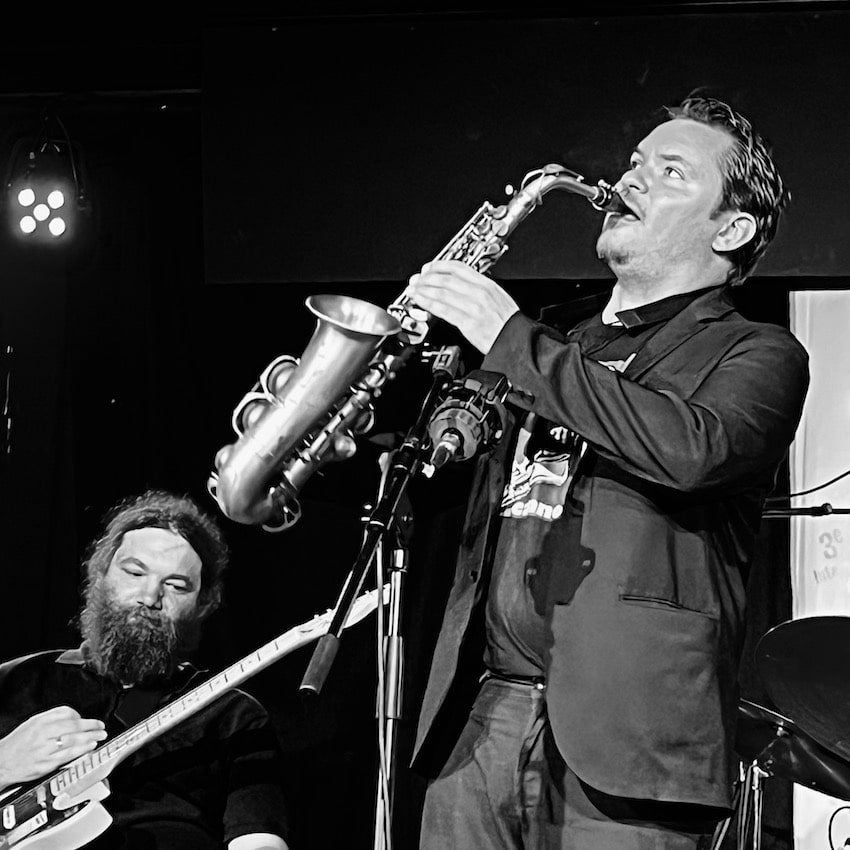 Then guest saxophonist Baptiste Herbin, the festival's godfather who has accompanied the trio since its creation and its first concert in Podgorica, then in Bitola in Northern Macedonia. New improvisations on Baptiste's own compositions, such as "Henriette", written for his Mauritian mother-in-law, immediately won over the audience. It's very rare to write such beautiful music for your mother-in-law, isn't it? I could have done it, written an ode to Yvette, my mother-in-law, if I'd had the talent. Henriette could well become a jazz standard one day.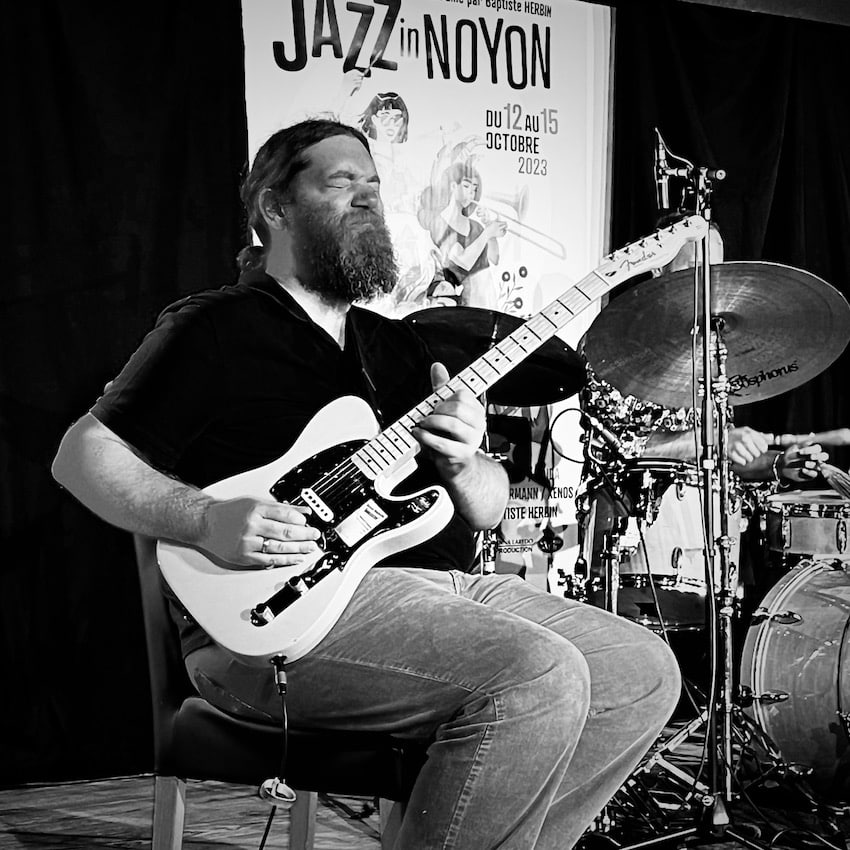 Ivan Marovic
The trio plus Baptiste Herbin then performed Thelonious Monk's magnificent "Bright Mississipi", so well arranged in this piano-less version that you'd have thought they'd just created it. The choruses of each of the four musicians in turn were splendid.
A superb concert of "Original Jazz".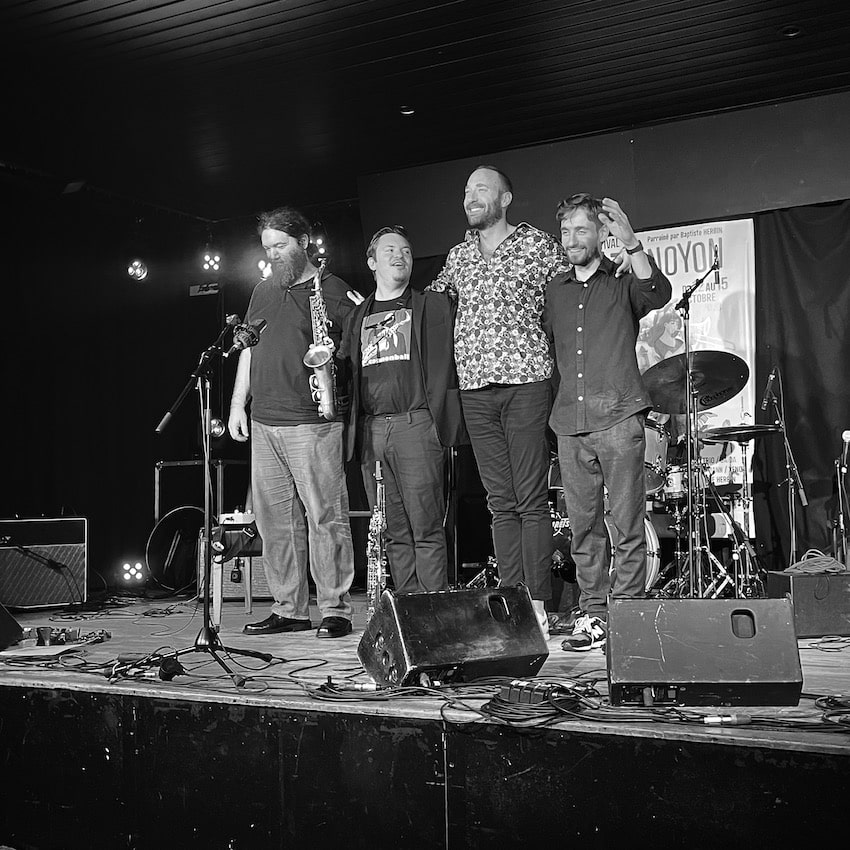 Daniel Zimmermann 4tet – L'Homme à Tête de Chou in Uruguay
"A destructured Gainsbourg and a major digression" Daniel Zimmermann announces , who has chosen to arrange for trombone and reinterpret in his own way, songs by Serge Gainsbourg from the Jazz period, well before the Gainsbarre period during which the handsome Serge no longer sang, but spoke over his music…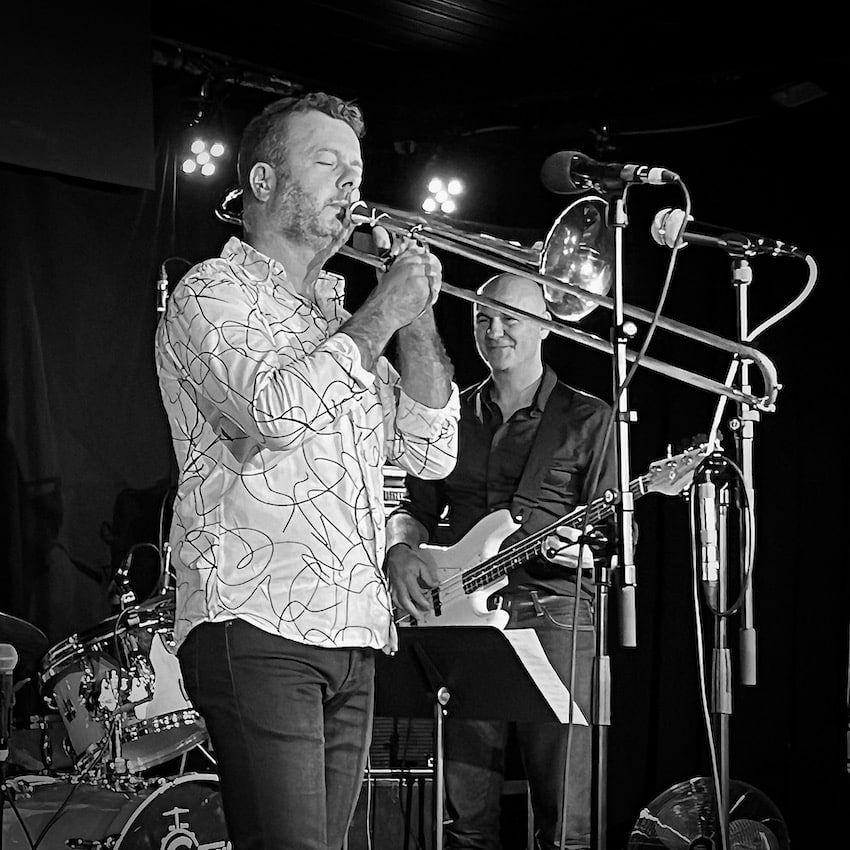 Daniel Zimmermann & Jérôme Regard
Other periods are also covered, such as the beauty of "New-York USA". A masterpiece! or "Machins Choses", a tender piece to be savored with a sharp knife. Daniel Zimmermann always makes judicious use of different mutes on the bell of his trombone, for as many variations in timbre. We enjoyed a totally dismembered "Comic Strip" or the magnificent "Les Amours Perdues". Emotion takes hold of a good part of the audience, who then (perhaps) feel concerned. There's a real feeling in this evocation. The cadence is slower than in Gainsbourg's original. The effect is poignant.
This sublime rendition of "La Balade de Melody Nelson" also highlights Gainsbourg as a great melodist. A sumptuous version of the lesser-known "Chez les Yéyé".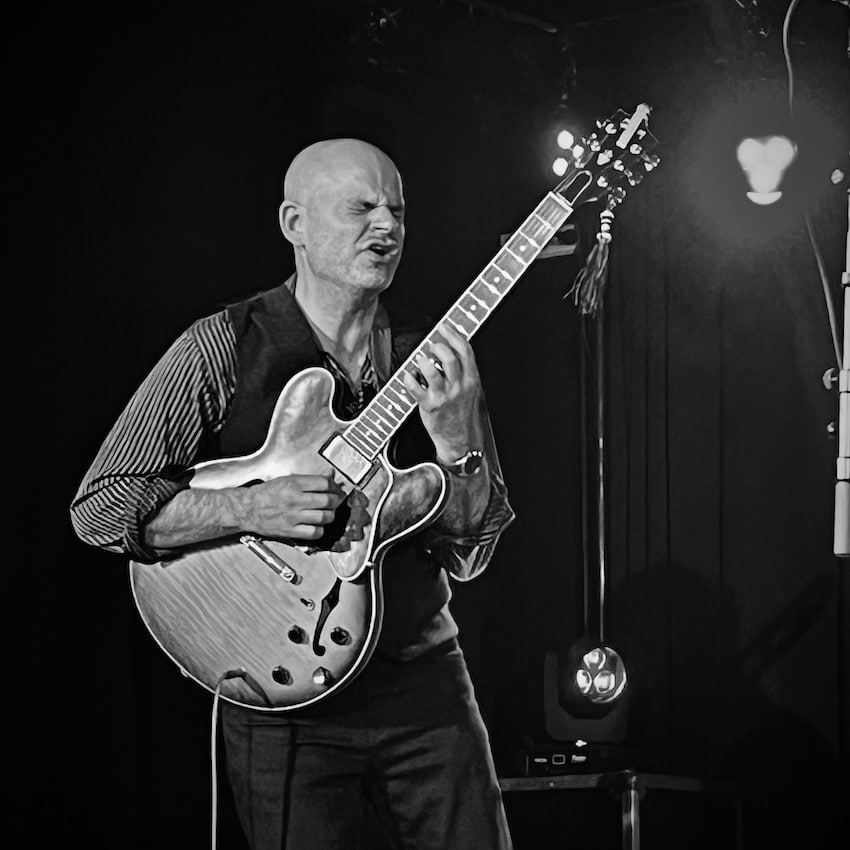 Pierre Durand
Pierre Durand on guitar is breathtaking. He is totally immersed in his art, in his interpretation. His jaw movements during his solos are spectacular. And what about that incredible rhythm section? Jérôme Regard on electric bass, unflappable, and Julien Charlet on drums, imperial.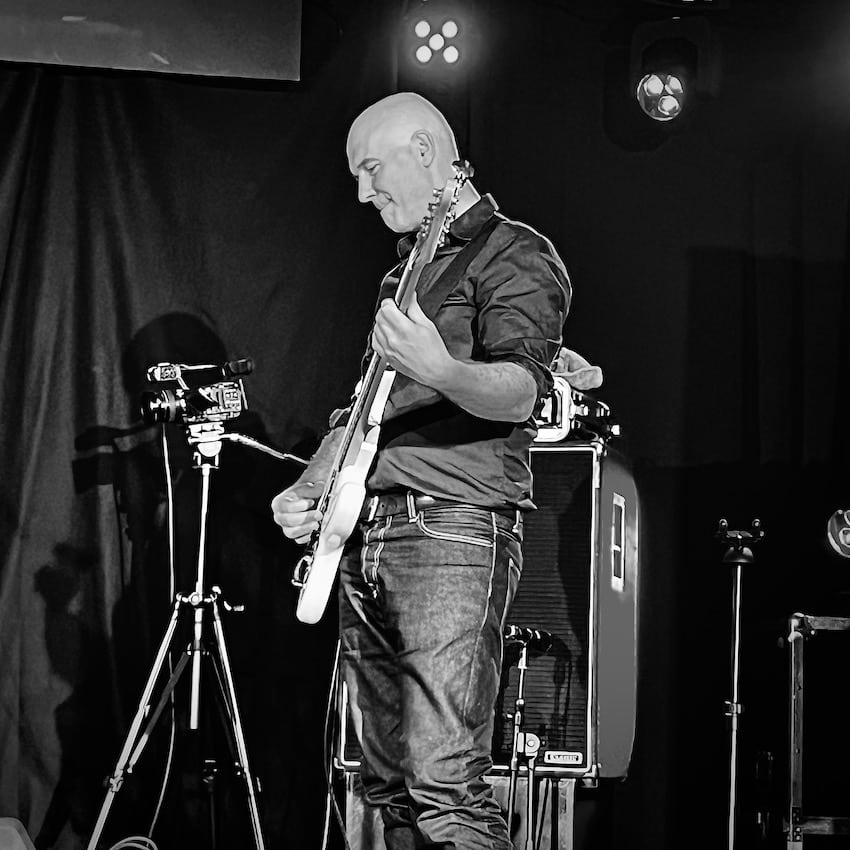 Jérôme Regard
It's a blast! As they say in certain authorized circles, I can only tell you one thing: go and listen to this quartet live, and in the meantime, get hold of the album as soon as you can, or, failing that, you can listen to extracts from it on Couleurs Jazz Radio.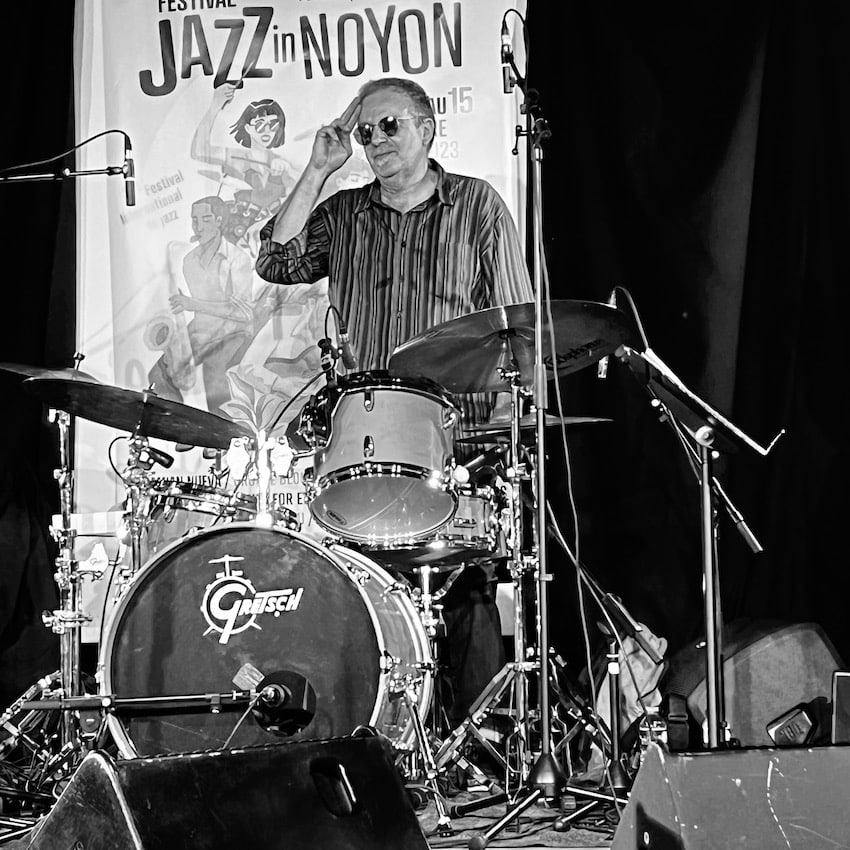 Julien Charlet
Le rappel après la standing ovation réservée aux musiciens est une surprise que je ne dévoilerai pas. Allez donc voir ce spectacle !
Après ce concert, j'ai comme une envie de réécouter l'intégrale de Gainsbourg que j'ai la chance de posséder comme celle de Daniel Zimmermann, qu'il faut écouter souvent. Dont Montagnes Russes, sorti en 2016 et dont, chanceux festivaliers de Jazz in Noyon, nous pûmes apprécier une version du titre éponyme.
Daniel Zimmermann : trombone
Pierre Durand : guitare
Jérôme Regard : basse
Julien Charlet : batterie
Et d'ailleurs, comme me souffla Jovana Krstevska la veille si vous souhaitez écouter ces musiques : Ecoutez vos parents et écoutez Couleurs Jazz Radio.
The encore after the standing ovation reserved for the musicians is a surprise I won't reveal. Go and see this show!
After this concert, I feel like listening again to the complete Gainsbourg works that I'm lucky enough to own, like Daniel Zimmermann's, which should be listened to often. Including "Montagnes Russes", released in 2016, which lucky Jazz in Noyon festival-goers w
ere able to enjoy in a version of the eponymous track.
Daniel Zimmermann: trombone
Pierre Durand: guitar
Jérôme Regard: bass
Julien Charlet: drums
And by the way, as Jovana Krstevska told me the day before, if you want to listen to this music: Listen to your parents and listen to Couleurs Jazz Radio.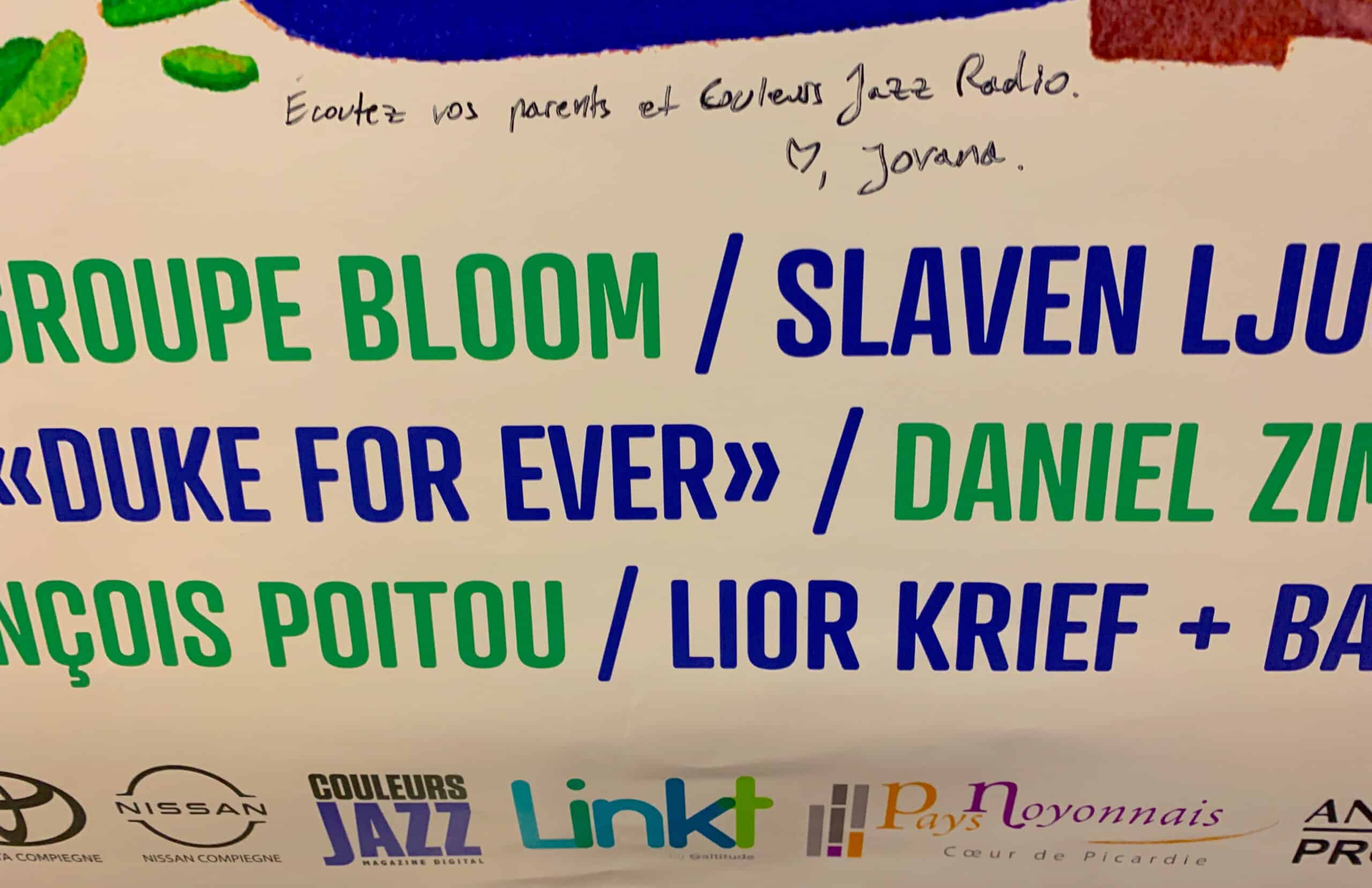 Lior Krief Quartet feat. Baptiste Herbin
With Couleurs Jazz having somewhat facilitated the meeting between young virtuoso guitarist Lior Krief and Baptiste Herbin, whose reputation is well established, we are fortunate to be able to follow this project, which has now been in progress for over a year. An album is due to be released shortly.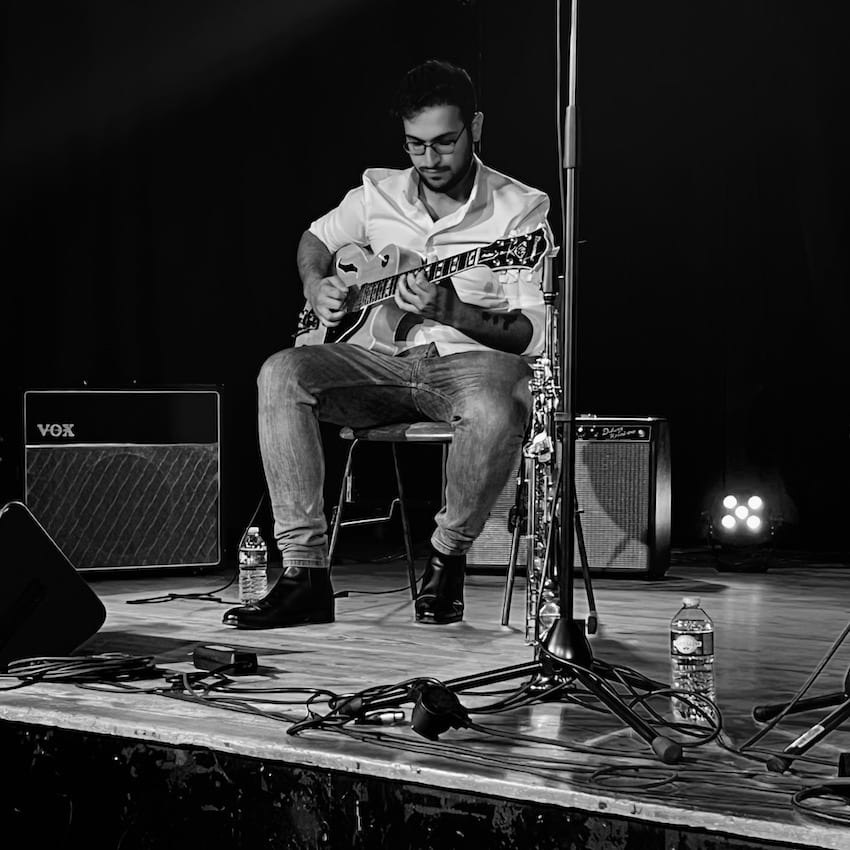 Lior Krief
The set begins with the standard "Night and Day". Lior Krief's virtuoso playing is immediately appreciated. Baptiste Herbin is as much at home in the Gipsy style as in other forms of jazz music, on his many projects, as a leader or as a guest.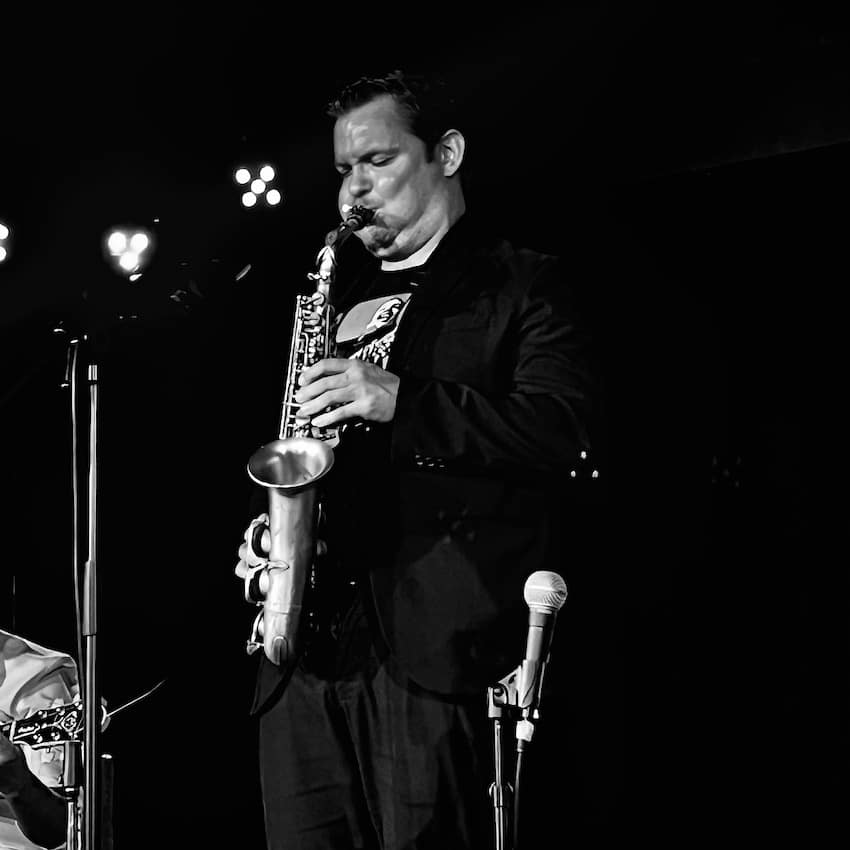 Baptiste Herbin
It's as if he's been playing Django's music all his life. He recently confided to us, "I don't see that much difference between Be-bop and gypsy jazz". Django would probably not have contradicted this statement, and would even have appreciated it, for sure.
On the occasion of this late-night concert, the walls of the large hall at the Centre Culturel would have had to be pushed back, as the people of noyonnais had come in such numbers to listen to this superb quartet. Failing that, volunteers from the association that runs the young festival recruited rows of chairs in the surrounding halls.
So the pleasure was amply shared.
The themes they interpreted that evening, whether standards or by Baptiste Herbin, or by Lior Krief's father, the famous Serge Krief, are an integral part of the great family of swinging jazz. Like the magnificent Serge Krief track "Sea Breeze".
In the dazzling Bossa track, composed by Hank Mobley "Recado Bossa", we're blown away. A game of aliens!
"Les Fenêtres de Moscou" also sent shivers down the spine of the enthusiastic audience… as Baptiste Herbin confided to us, yet right at the heart of the action.
For "La Montagne Ste Geneviève", Django's famous standard, Baptiste left his three companions to perform it on their own, as he admitted he hadn't worked on it enough yet (the man, in addition to his virtuosity and the enormous amount of work he does with his instrument every day, is a perfectionist and a modest one).
Ah! Django… What a magnificent composer!
I didn't ask Lior how long he'd been working on this track himself, but 20/20 is a unanimous score.
Then came "Zazou", a departure from "Swing Guitar", again composed by Serge Krief.
As a surprise gift, the audience was treated to an improvised solo from another planet by Baptiste Herbin.
A word and a tip of the hat to the infallible metronome at the pump, Benji Winterstein, who could never be faulted whatever the tempo. We would have liked a little chord chorus of his own. We'll ask him next time.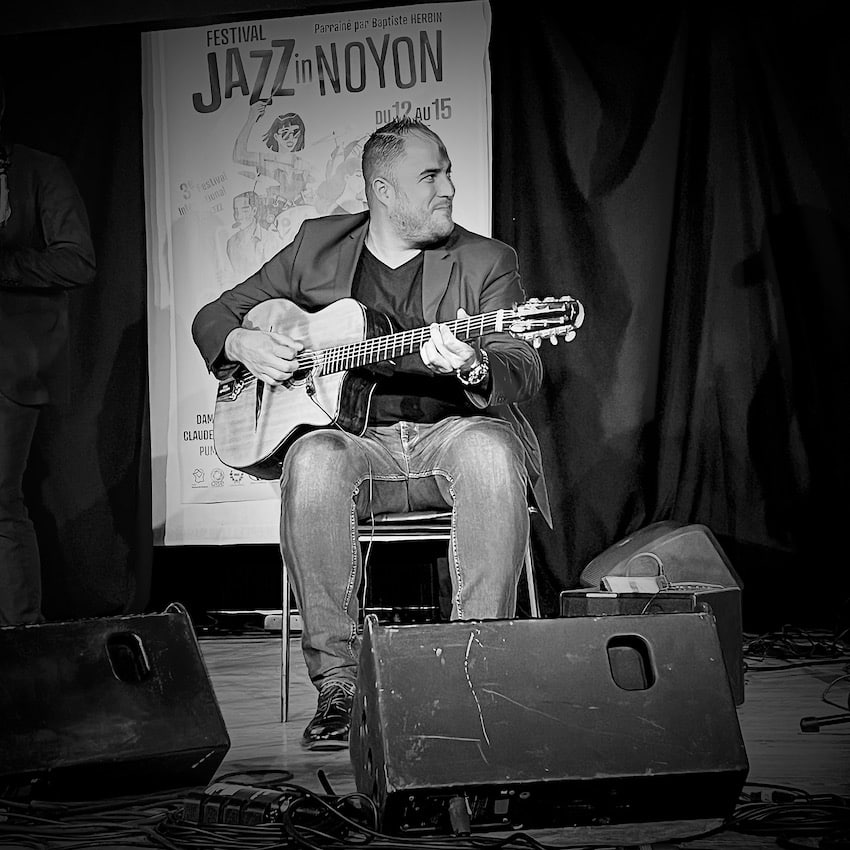 Benji Winterstein
Inspired double bass solos, on the other hand, were offered to the astonishing Colombian-French double bassist Fabricio Nicolas Garcia, who refused none, much to our delight.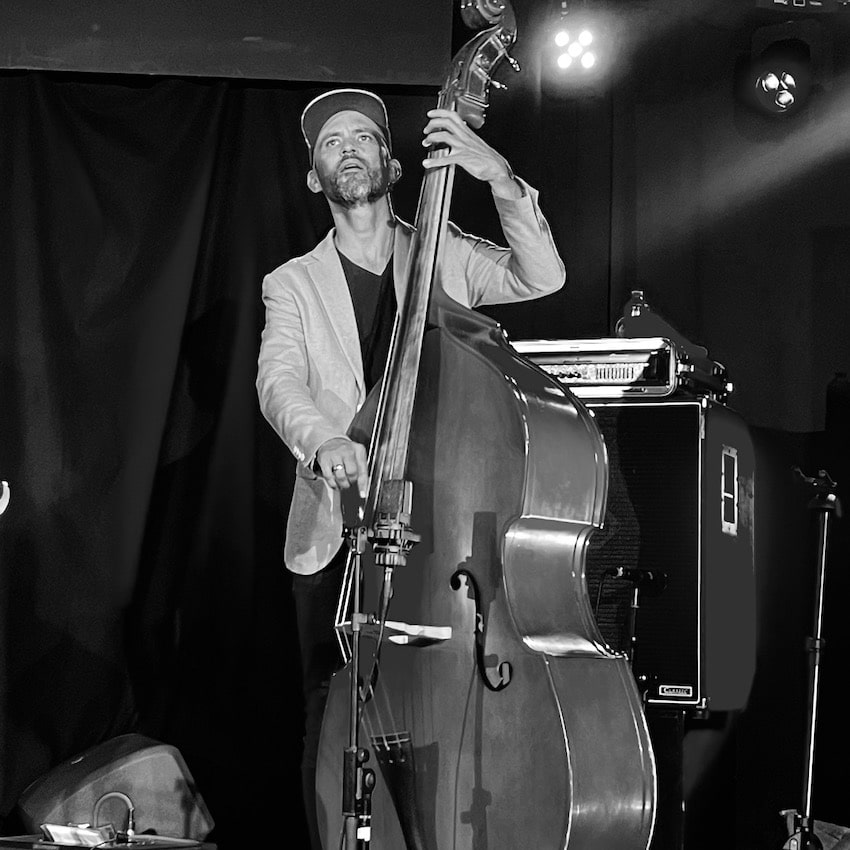 Fabricio Nicolas Garcia
For the encore, a cherry on the cake (it's been my favorite song for many years, even as a young child), Minor Swing!
Clearly, I'm not alone in my appreciation of this standard, judging by the success of the first version, which was filmed in Noyon almost a year ago, once again with Lior Krief and Baptiste Herbin: I'll let you judge for yourself here.
Line up:
Lead guitar: Lior Krief
Rhythm guitar: Benji Winterstein
Double bass: Fabricio Nicolas Garcia
Saxophones: Baptiste Herbin
Sunday 14 – Last day of the Festival, then a sad evening for the French rugby team against South Africa…
Claude Tissendier – "Duke For Ever"
Claude Tissendier has written extensively for saxophone ensembles. In 1987, there was his Saxomania (2 altos, 2 tenors), then more recently, the New Saxomania (soprano, alto, 2 tenors, baritone).
For "Duke For Ever", the continuation of this wonderful adventure, Claude was inspired by the leading role played by the alto and baritone in the arrangements conceived by Duke Ellington for the saxophone section of his big band (2 altos, 2 tenors, baritone). The tour de force here is to restore the fullness of these arrangements by skilfully reducing the original five voices to just two, those of the alto and baritone. This is what the listener feels when listening to Take the A Train and Happy Go Lucky Local, which give the impression of being performed by a fuller sax section.
(introduction taken from Alain Tomas's review of the album's release)
We're at the Théâtre du Chevalet, a magnificent auditorium in downtown Noyon.
In the morning, Claude Tissendier's quintet will be giving a master class for students from the École de Musique à Rayonnement Municipal.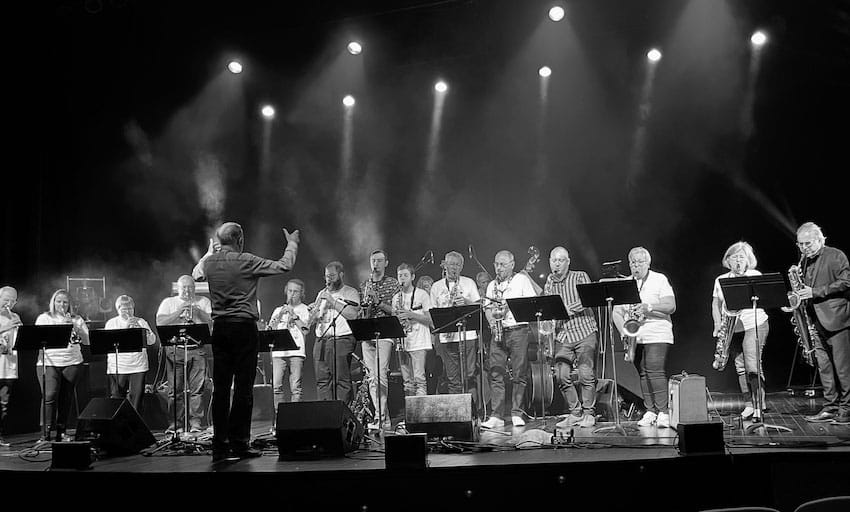 On this occasion, they prepared three pieces which they played in the Auditorium to open the concert: Perdido, Night Train and Satin Doll.
What a joy it was to see all these musicians, young and not so young, forming a united big band under Claude's conducting, and among them, this quintet of "experts" joining in the party. A breath of fresh air and happiness to which the audience, like us, was very receptive.
We should also mention the excellent sound concocted by the festival's team of engineers and the superb acoustics of the hall.
What a delight!
These pieces by the great Duke Ellington, well known to fans of great 20th-century music, were a huge crowd-pleaser, so well chiselled were the arrangements. This quartet, which I had already heard at the Péniche Le Marcounet in Paris, works wonders.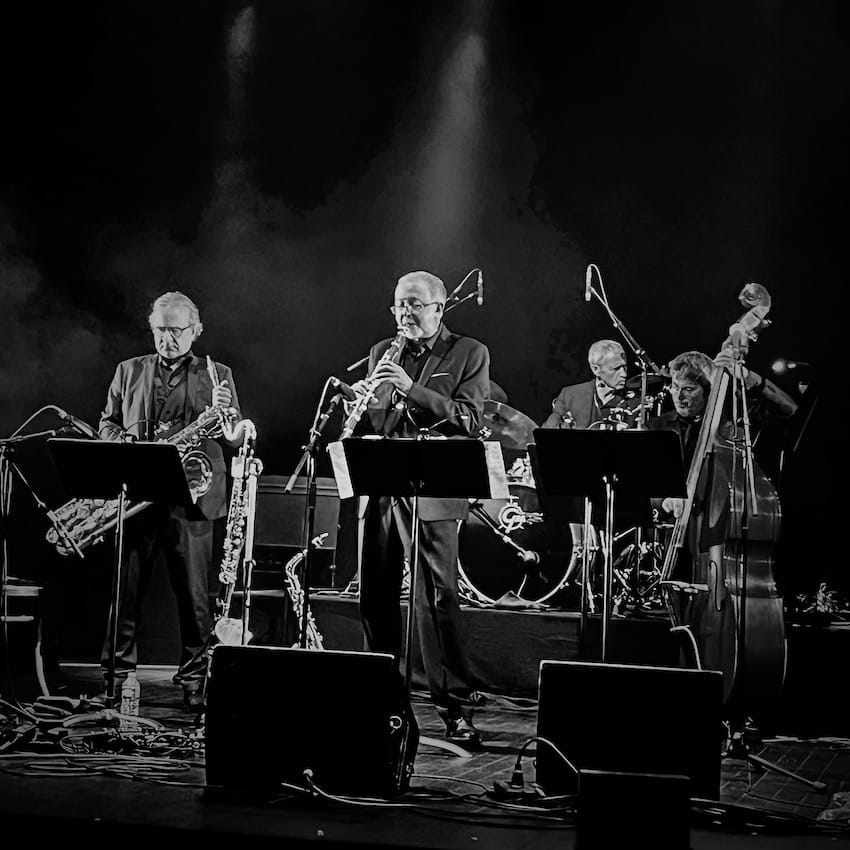 Then comes on the stage, Laurence Allison, a singer who deserves more airplay. Superb version of "Caravan".
Philippe Chagne on baritone saxophone and bass clarinet produces sounds and choruses of great depth!
On rhythm, an expert duo: Jean-Pierre Rebillard on double bass and Alain Chaudron on drums.
These musicians deliver music that's never about demonstrative virtuosity, but about precision and perfection. A sort of return to the fundamentals of beautiful, eternal music.
They close with "It don't mean a thing (if it Ain't Got that Swing)".
You can't get enough of it, especially when it's played like this.
encore – standing ovation. Then we say goodbye to "Duke's Place".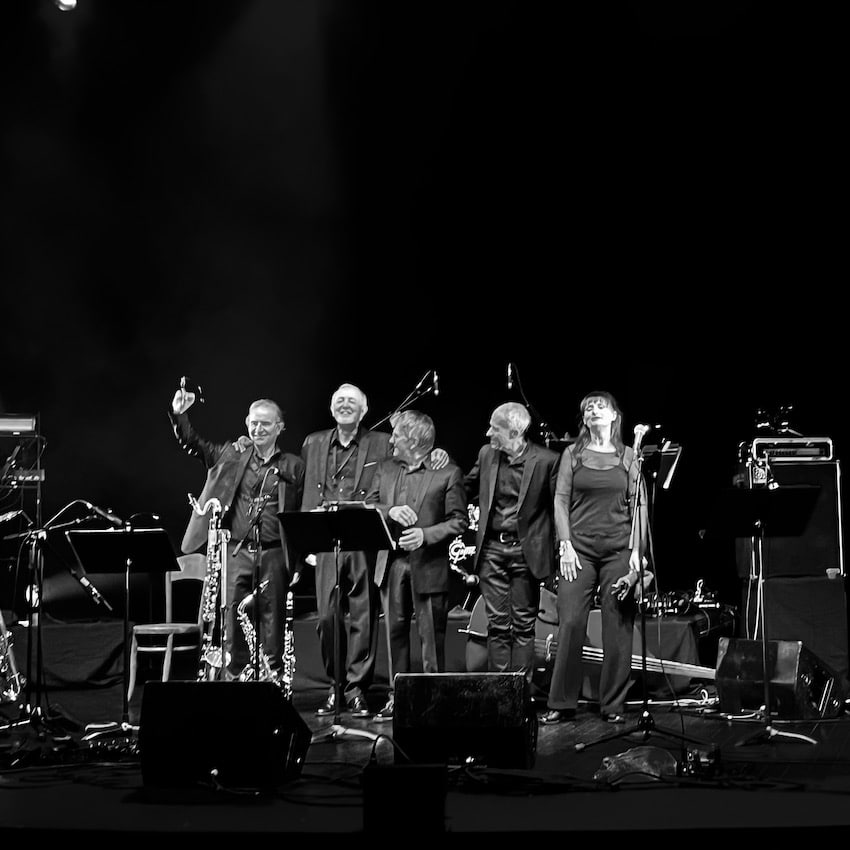 Line Up :
Claude

TISSENDIER: alto saxophone, clarinet

Philippe CHAGNE

: baritone saxophone, bass clarinet

Jean-Pierre REBILLARD

: double bass

Alain CHAUDRON

: drums

Laurence ALLISON

: voice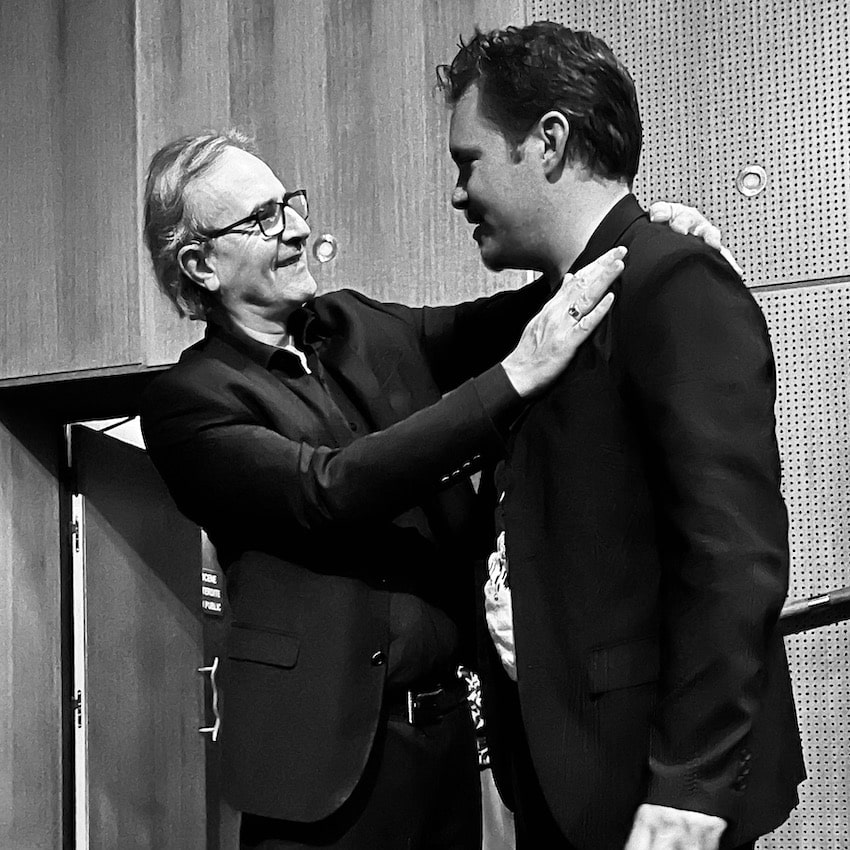 Philippe Chagne & Baptiste Herbin
And to close this third edition of the Jazz in Noyon Festival, the Group Daïda.
Daïda
A totally different register from the concert in the first part of the day.
The staging is meticulous, the atmosphere very dark and successful. Chic black clothing, Arno de Casanove's kilt, Samuel F'hima's black double bass.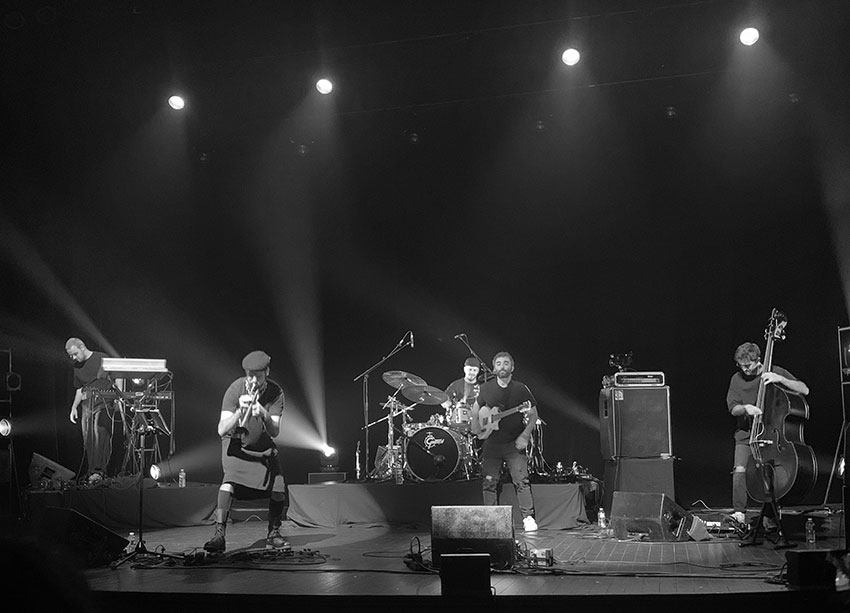 Daïda
The result of this conditioning is a jazz sound that's over-the-top, even a little angry and furious at times.
The audience of a certain age is a little stunned, not too used to it. Younger people seem more receptive to the overflowing energy of other genres, such as rock, metal or punk.
For our part, we defend all the colors of modern jazz. And Daïda's jazz is an integral part of the jazz music of our century.
Line Up:
Auxane CARTIGNY

: Synthetysors

Arno de CASANOVE

: trumpet

Samuel F'HIMA

: double bass

Antonin FRESSON

: guitar

Vincent TORTILLER

: drums
As Parisians depending on public transport, we were unfortunately obliged to leave the hall before the end of the concert.
The rest of the story belongs to the music lovers of Noyon, who turned out in force throughout this superb festival.
See you next year!
©Photos Gaby Sanchez pour Couleurs Jazz
©Photos Couverture et Header, Jacques Pauper
Translated with the help of DeepL