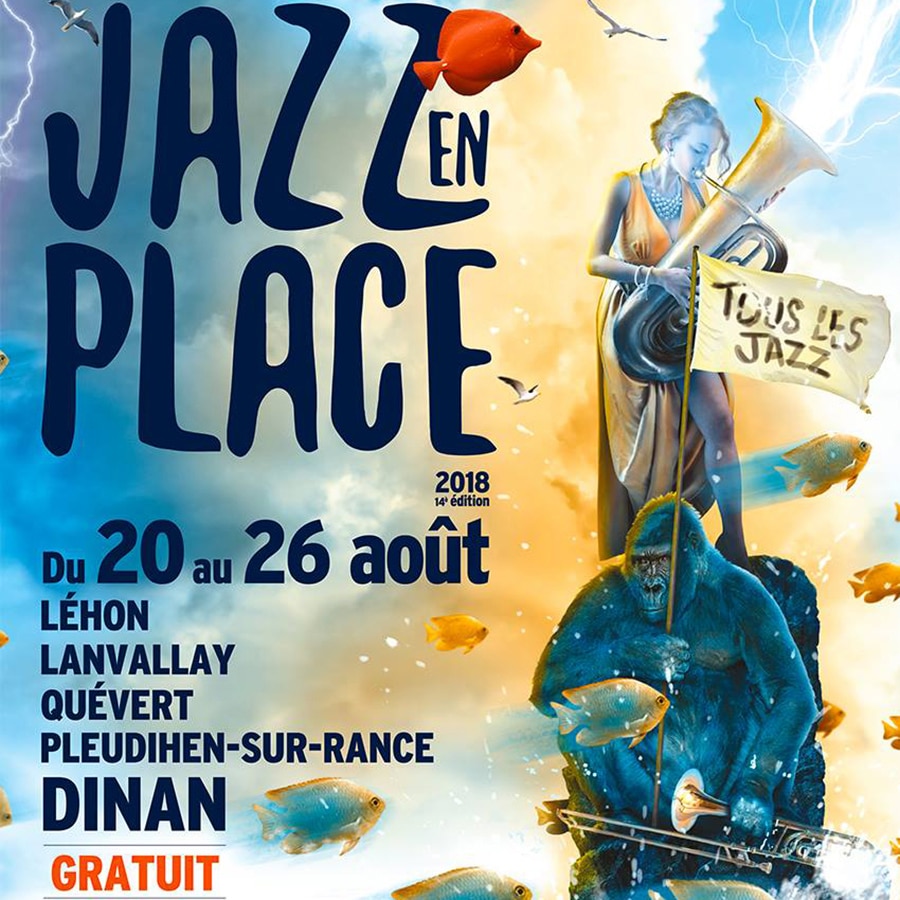 This is the 14th year that Jazz en Place is ringing the Dinan's fortifications and the surrounding villages. A week of festival where all concerts are free!
Patrick Jouannic, who is the director and instigator, has always wanted to promote the expression of jazz in all its colors.
From Monday tuntil Thursday, two concerts are organized each evening, outdoors, on the various sites and from Friday, the Place St-Sauveur, in the historic center of Dinan, hosts concerts and the final dancing party on Sunday evening.
Other places (inside) are also invested: the Municipal Library of Dinan, the Emerald cinema, restaurants La Goulue and Zag.
Monday August 20
-07:00PM : Ludovic Ernault Quartet  opens the festival on Léhon feudal hill. The setting is splendid, the public numerous, the sun at the rendezvous…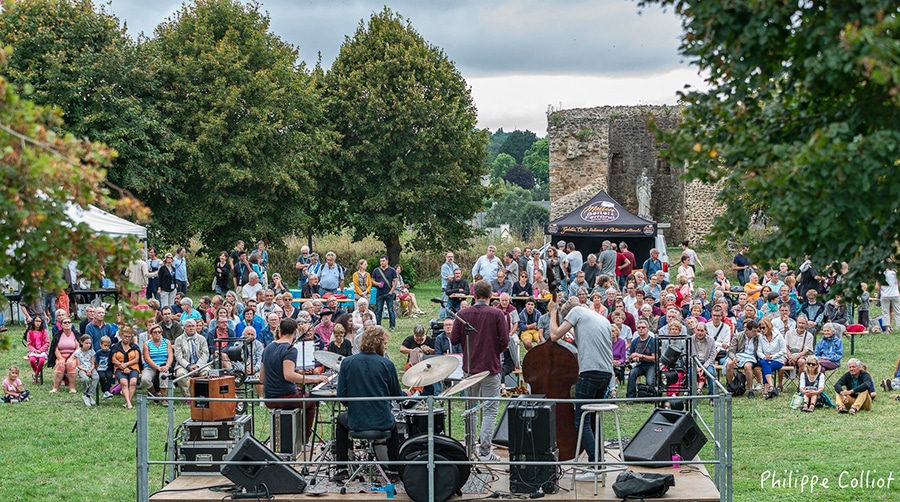 Ludovic Ernault (sax alto) and his fellow friends, Enzo Carniel (piano), Florent Nisse (double bass), Simon Bernier (drums), are part of this new generation of jazzmen who do not cease to surprise us, by their instrumental mastery and by their musical maturity. Ludovic Ernault's compositions attract public support.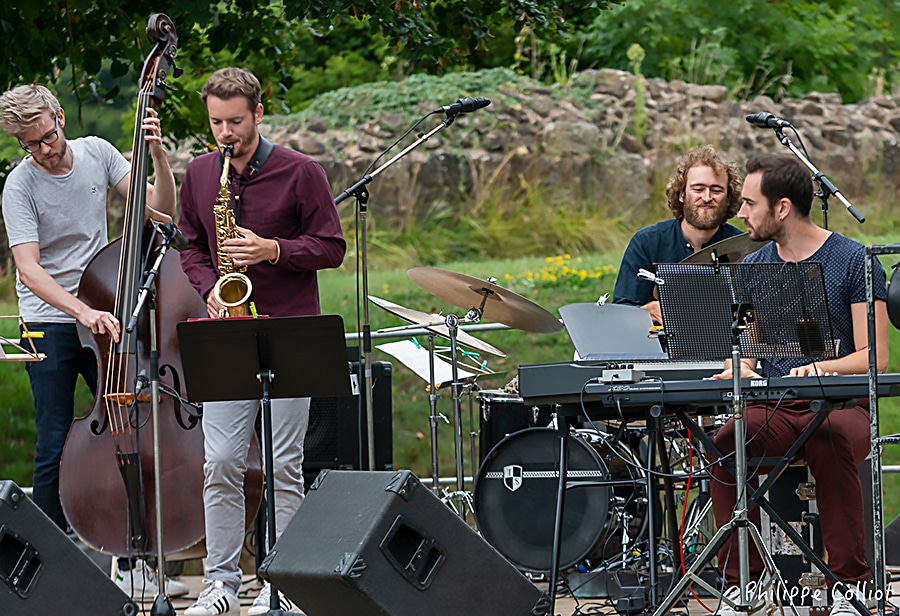 -08:30PM: Michel Edelin's trio (flutes), Peter Giron (double bass), John Betsch (drums) invites the flutist from the "Côtes d'Armor, Jean-Mathias Pietri .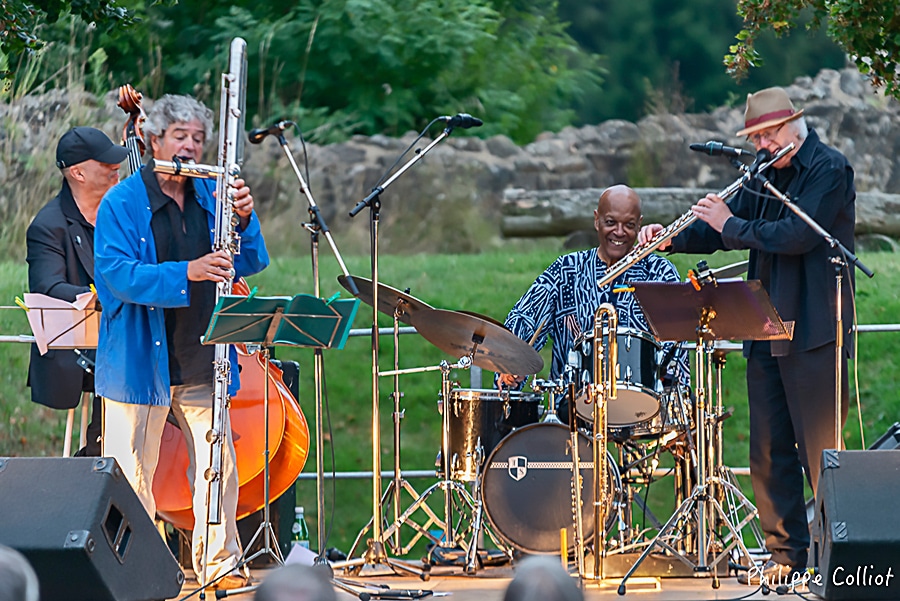 It is an atypical band, in which the two flutists make us discover the universe extent of their instruments. Jean-Mathias Pietri even using a double bass flute! A rather intimate music, punctuated by Michel Edelin's subtle humor. Note the extraordinary performance of the rhythmic provided by Giron and Betsch.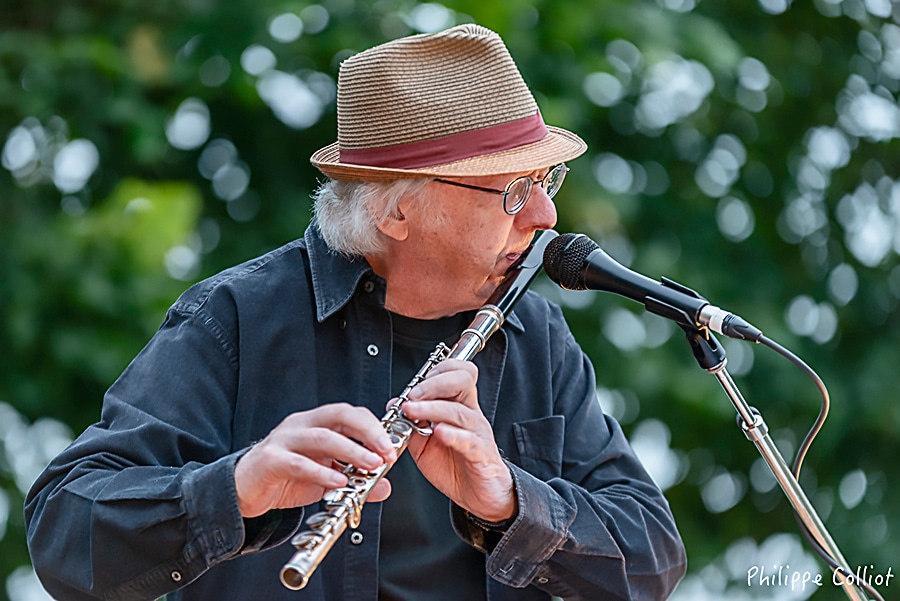 For fans, the evening ends at La Goulue, with a jam session hosted by Sophie Druais (double bass), Edouard Leys (piano) and Stéphane Stanger (drums
Tuesday August 21.
-07:00PM: Le Jardin de St-Solen, at Lanvallay, welcomes Benjamin Coum trio, with Arnaud Grosfiley, double bass and Richard Housset on drums.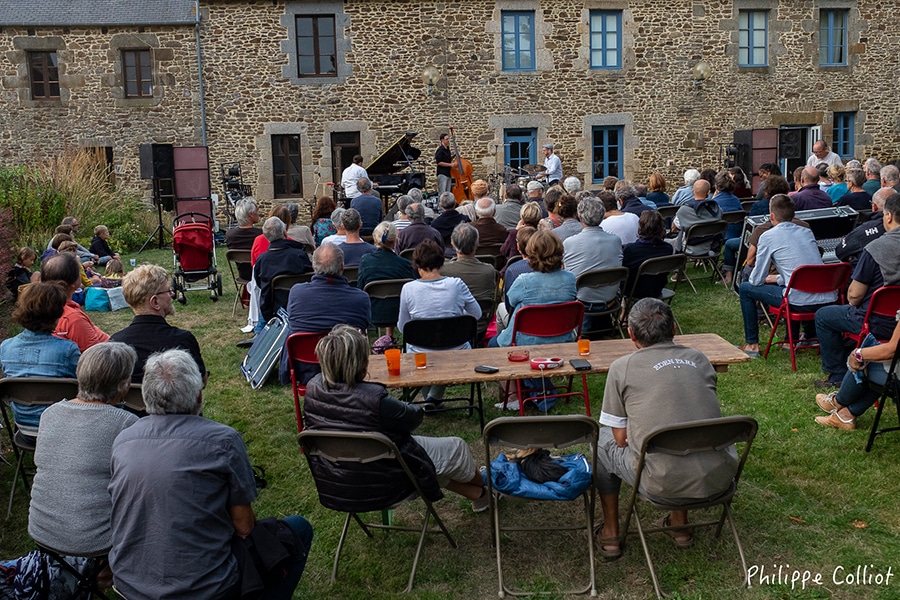 It is the discovery of a multicolored music, sometimes haunting, energetic or intimate that Benjamin Coum (piano and compositions) invites us. The music comes from his latest album "Memento Mori", released late 2017.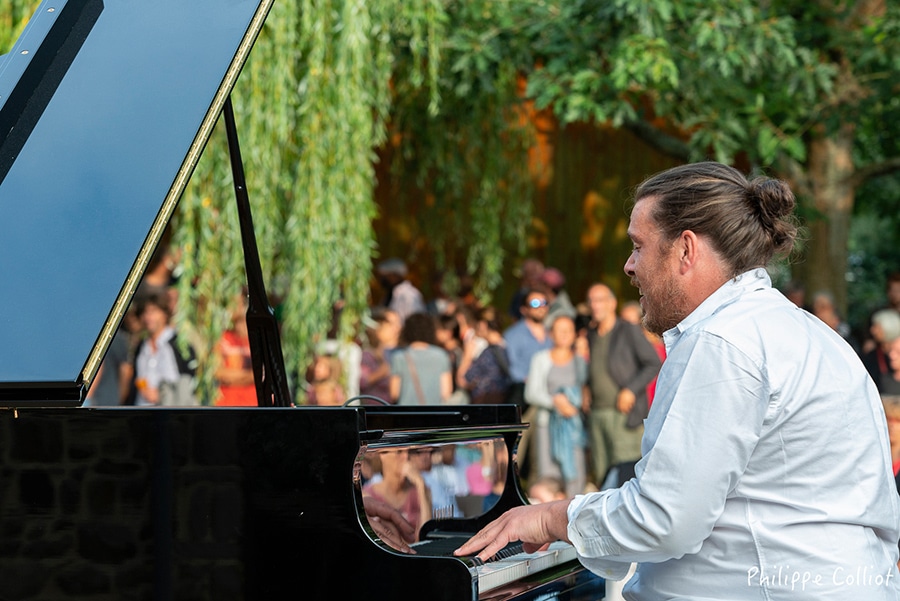 -08:30PM: Abbe Ngayihi « Atan » septet. This is a meeting between Cameroonian music and jazz! With an amazing orchestra and an unparalleled copper section, Abbe transports us to Yaoundé with his mixed jazz, which invites the public to dance. Too bad he's so talkative between each piece…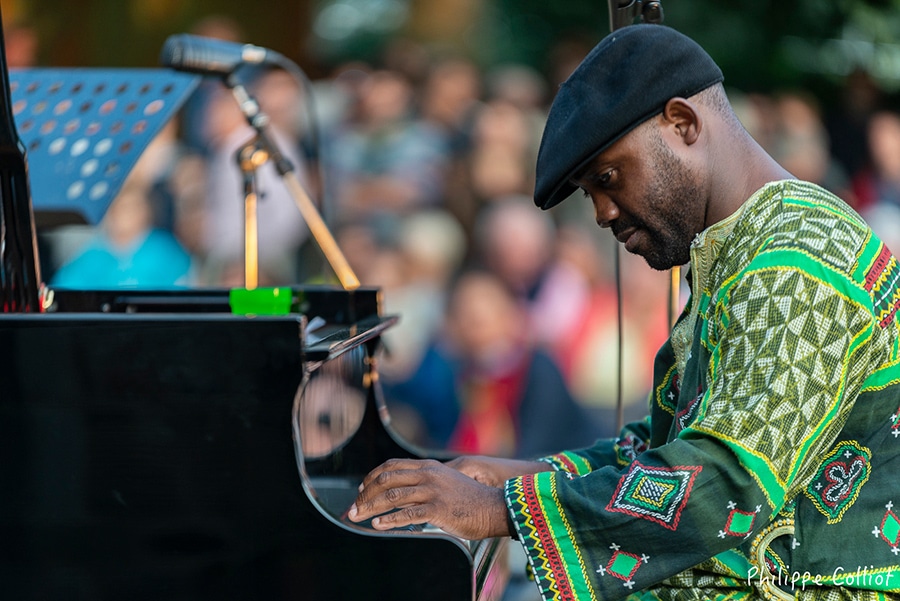 Line up : Abbe Ngayihi (piano), Jean-Baptiste André (double bass), Ronan Després (drums), Jean-Baptiste Tarot (saxophones), Jean-Jacques Elangué (saxophone), Ronald Baker (trumpet), David Rabiller (percussions).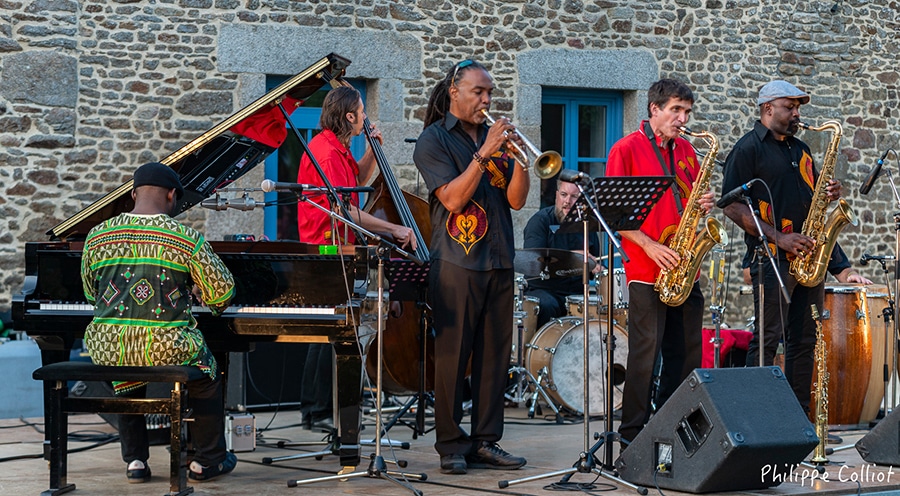 -End of the day at the Zag, bar-restaurant in Dinan's harbor, with Pat Jouannic trio ;
Pat Jouannic (drums), Philémon Régnault (double bass), et Eric Richard (piano).
Wednesday August 22
– 02:30PM at l'Emeraude Cinéma : projection of Robert Wise's masterpiece« West Side Story » before the concert scheduled for the evening at Quévert, Courtil des Senteurs, around Ludovic de Preissac's  new project « West Side Suite ».
-07:00PM: Victim of an accident, Ludovic de Preissac is replaced by …, Ludovic Allainmat (piano) who off the cuff takes the lead.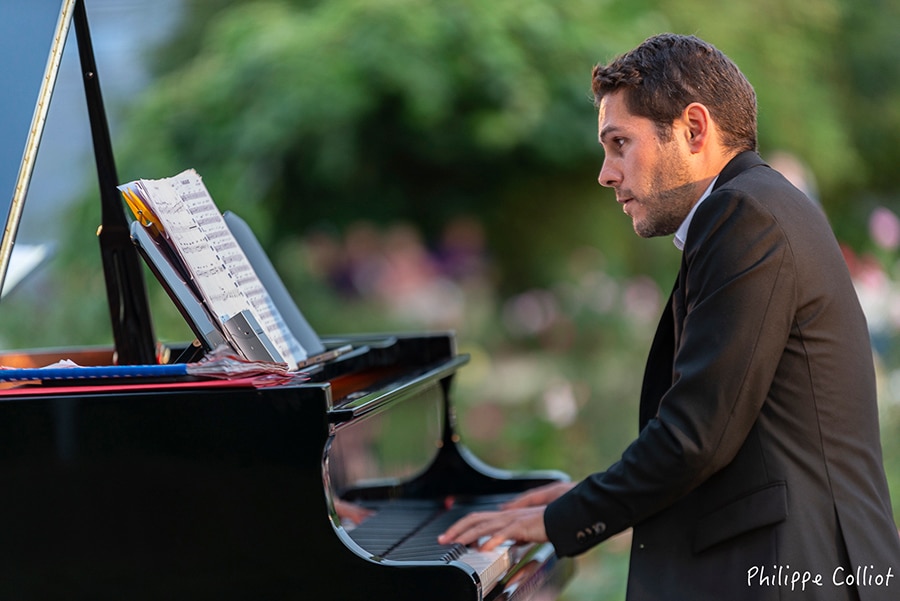 Line up : Samuel Hubert (double bass), Andreas Michelutti (drums),Olivier Defayes (saxophone), Arno de Cazenave (trumpet), Stéphane Audard (guitar) and Valéry Haumont (songs). The setting of the rose garden echoes the arrangements of this suite. Valéry Haumont's (what a trombonist!) singing and vocal improvisations complete the picture.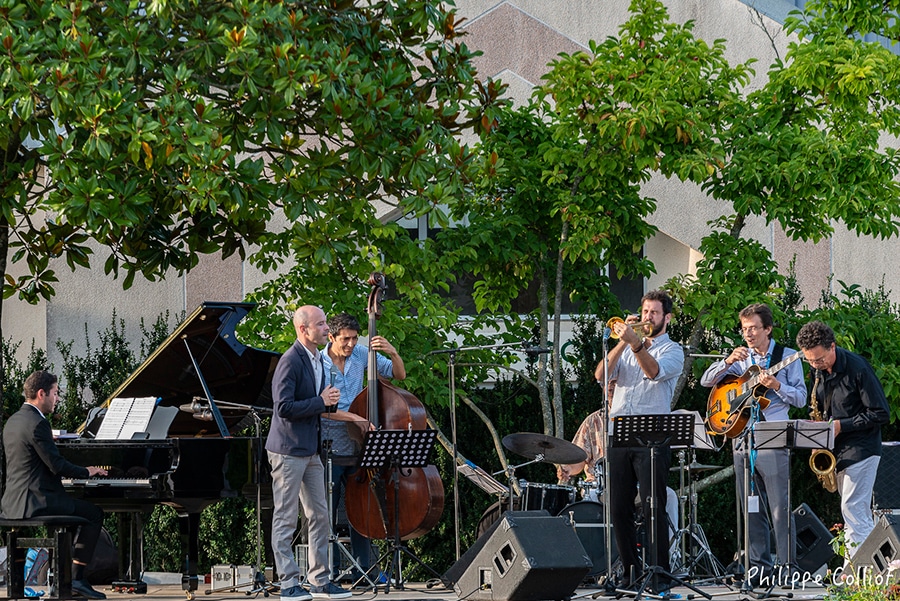 -The bar-restaurant welcomes the jam session organized around Mathieu Crochemore (guitar), Jean-Patrick Cosset (keyboards) and Bob Gullotti (drums).
Thursday August 23
-07:30PM: The weather is deteriorating with showers appeared an hour earlier. We are in Brittany .. in Pleudihen, esplanade of the Town Hall, sheltered under a small barnum, Yvan Knorst (guitar) and Sebastien Charlier (harmonica) will distill their enchanting and intimist music, mixed and warm .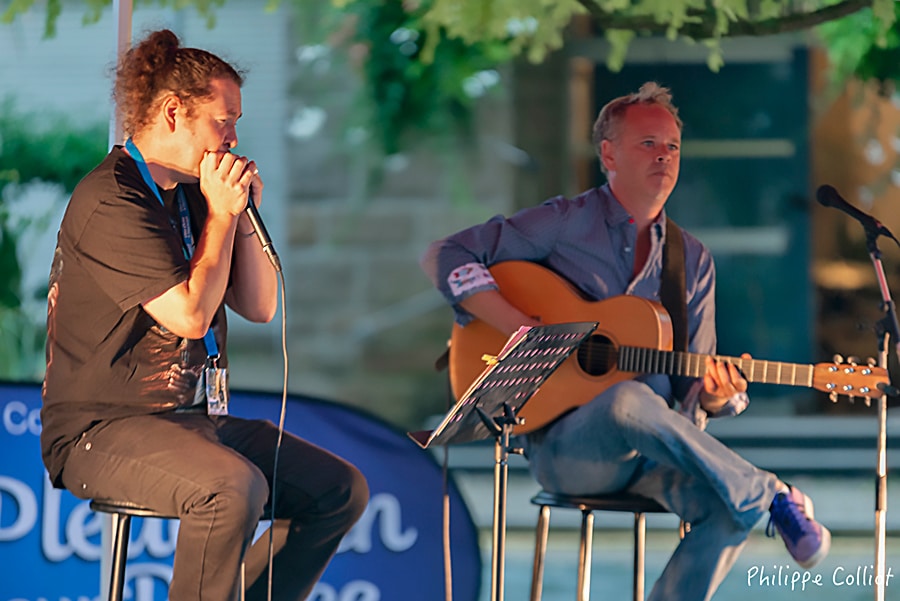 -08:30PM : The rains having stopped and having refreshed the atmosphere, the jazz fusion and the urban frenzy rock and funk of Dominique Carré's quartet are welcome to warm the enthusiastic audience.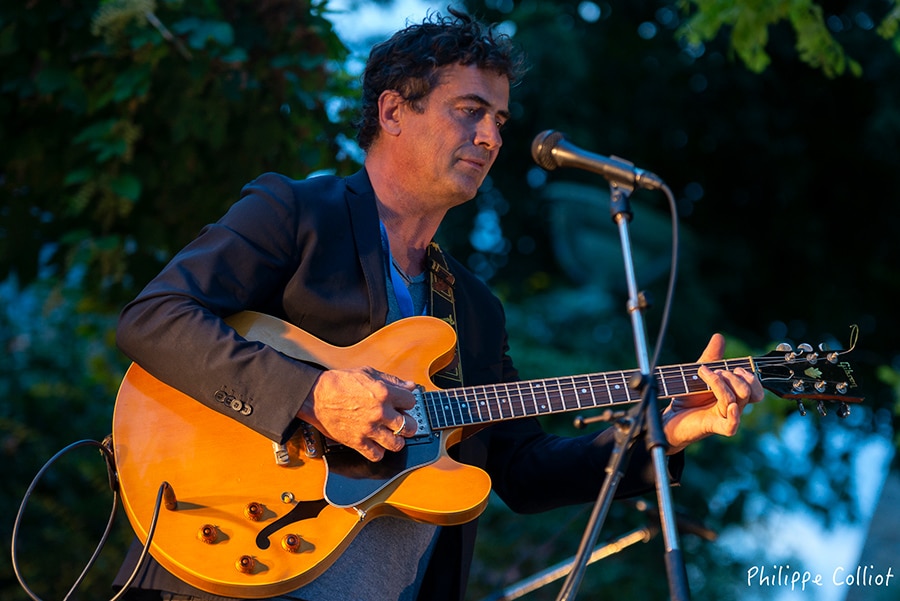 Spécial congratulations to Fred Burgazzi, trombone, with besides him, Dominique Carré guitar, Pierrick Biffot, bass et Michel Jamier, drums.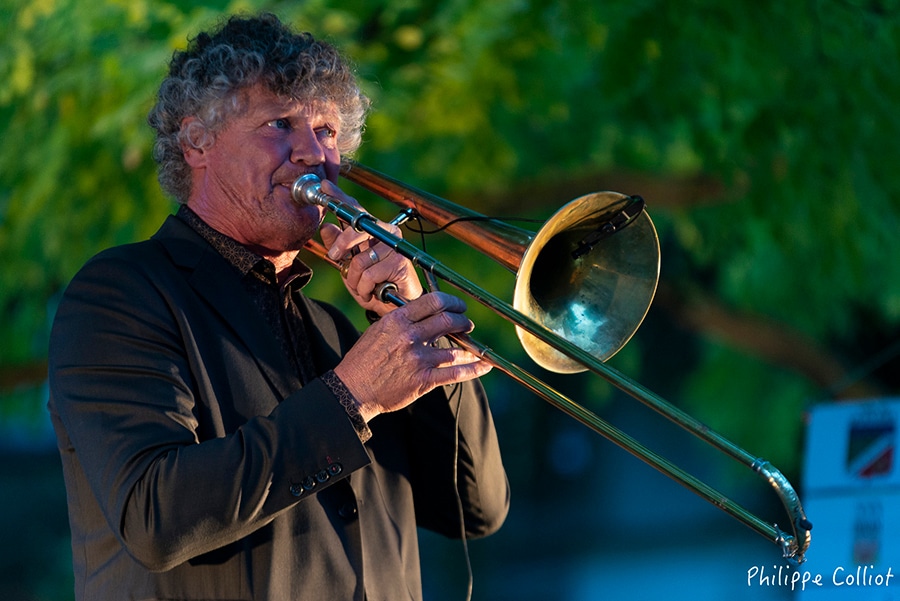 Friday August 24
The festival comes downtown, the heart of the medieval city. Friday's day is traditionally devoted to these music on the margins of jazz. The place is full.
-20h : Leïla and the Koalas starts. Double bass, guitar and voice for a directory with American folks accents, bluegrass, without forgetting the gospel inspiration. Leila's pure and deep voice transports us into this universe. Paul Manoeuvrier guitar and Guillaume Jurkiewicz double bass accompany Leila Chevrollier-Aissaoui's singing.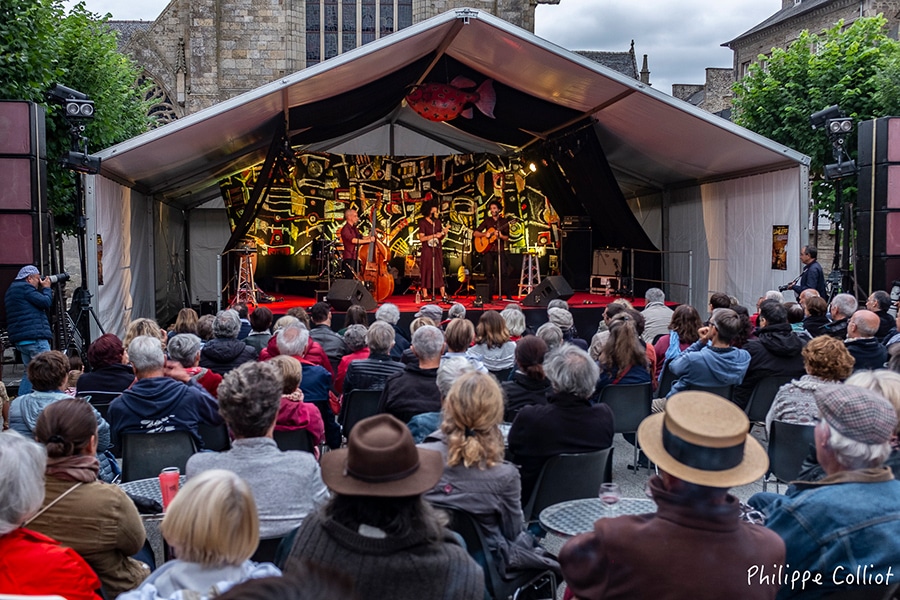 10:00PM: Lucia de Carvalho and her musicians propose a free and traveling music, mixing her native land sounds, Angola and Brazil, to the rhythms of the world and contemporary music.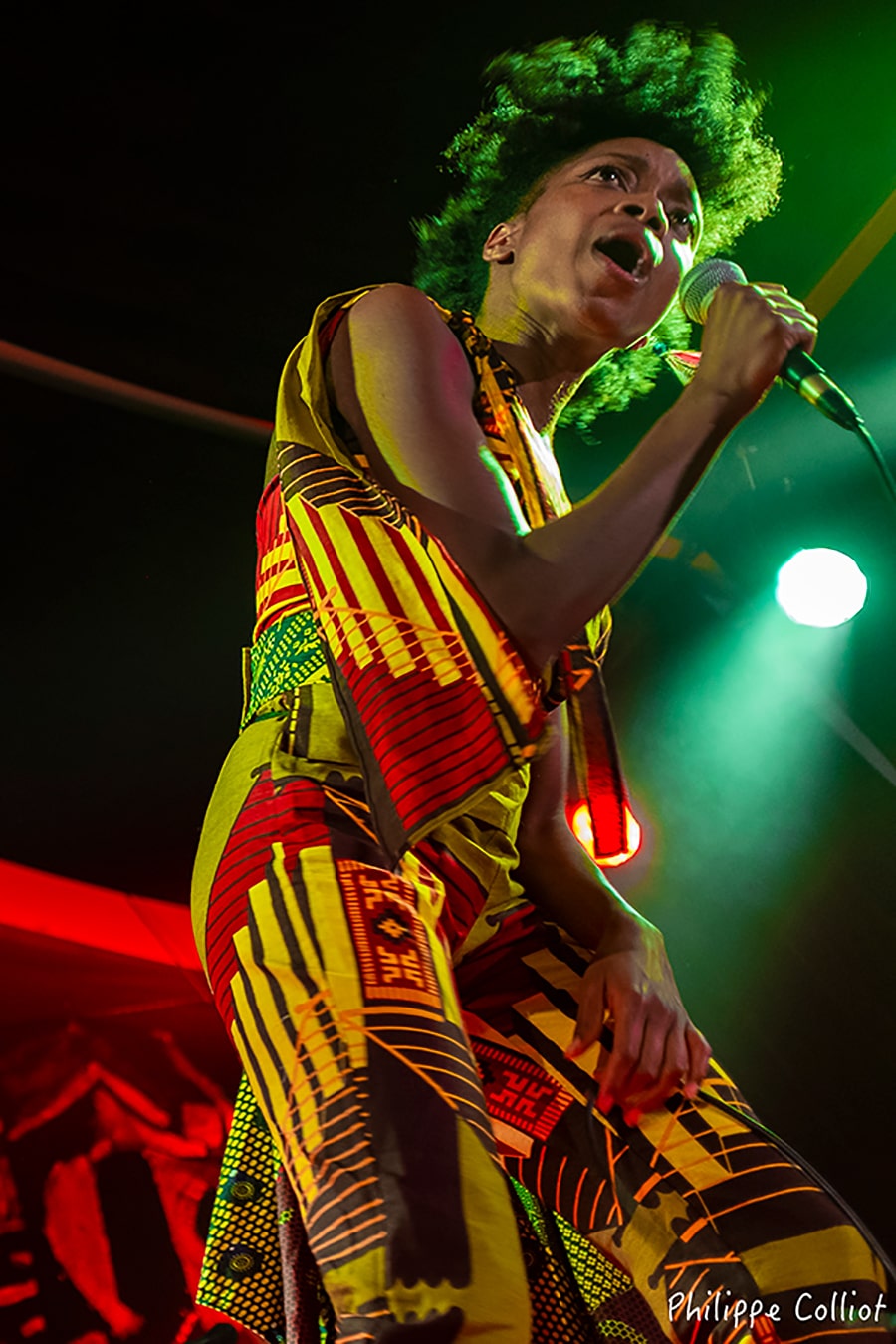 St-Sauveur's place capsizes and launches on these "furious rhythms".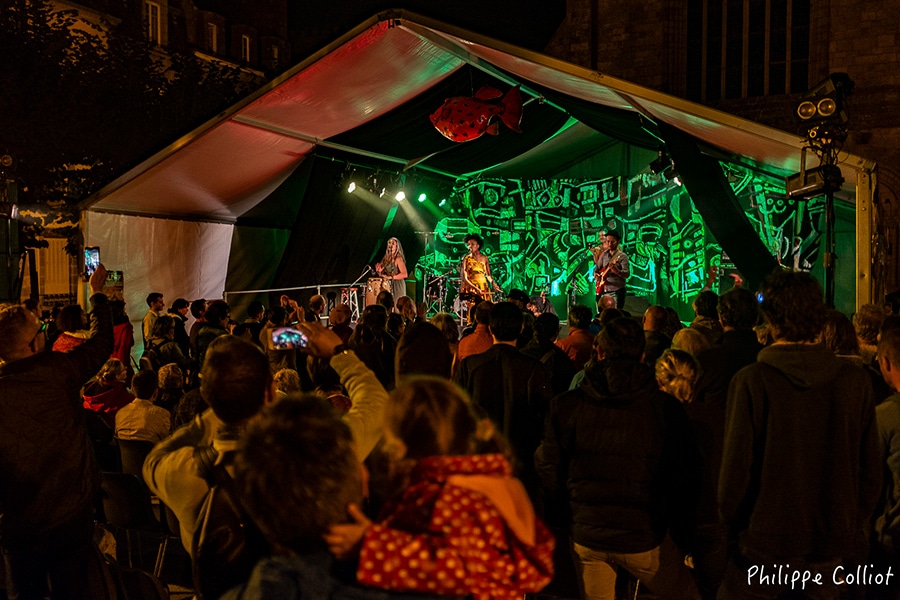 Saturday August 24
-The evening begins at 06:00PM at Dinan Municipal Library. Benjamin Coum and Tobie Koppe, lead a conference "Claves in Jazz". Theoretical presentation, sometimes difficult for the neophytes, but largely illustrated by musical interludes.
-08:00PM : Manu Borghi trio gets on stage in place St-Sauveur. In his highly identified music, the influence of the great masters, Bill Evans and Mc Coy Tyner in particular, is squeezed. He is admirably accompanied by two goldsmiths: Michel Zenino on bass and Philippe Soirat on drums.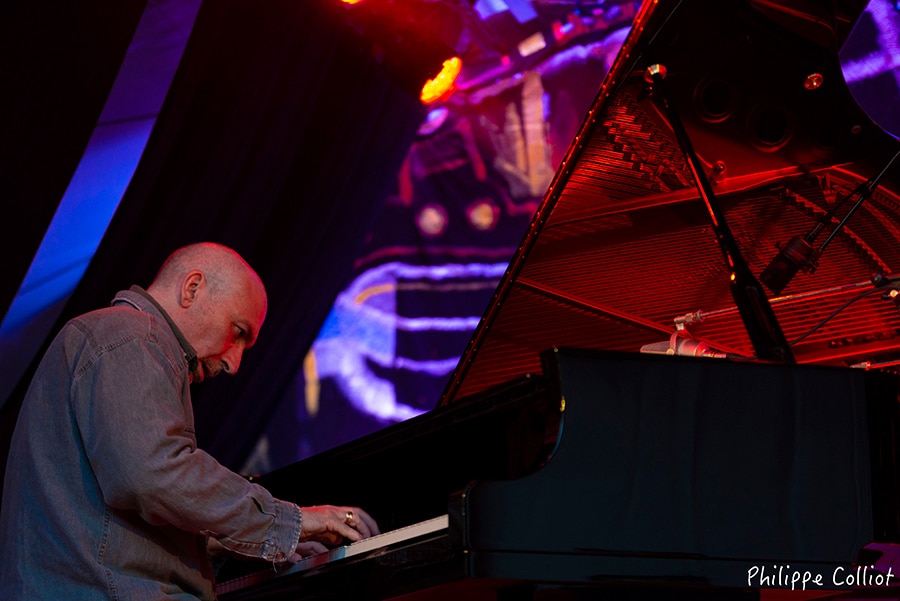 -10:00PM, Pierrick Pédron replaces at the last minute Eric Le Lann.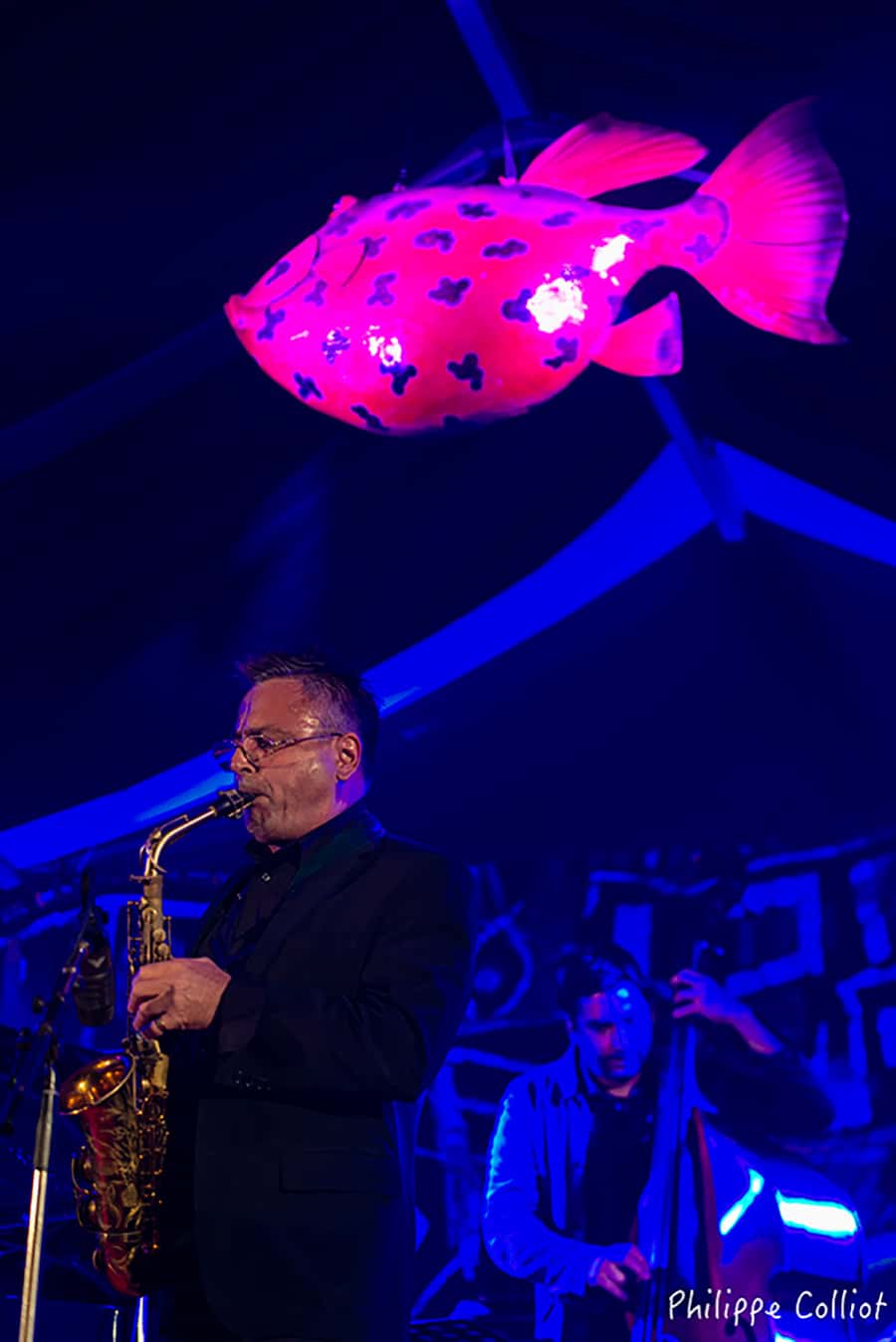 The rest of the quartet with brilliant musicians is present: Vincent Bourgeix, piano; Matyas Szandaï, double bass and Tony Rabeson, drums. Opening of the "Round Midnight" concert, with a long and inspired solo introduction by Pierrick Pédron. What sound ! What lyricism! The rest of the concert revolves around Mr Monk and some compositions from Pierrick Pédron's latest opus, "Unknown". An unforgettable concert.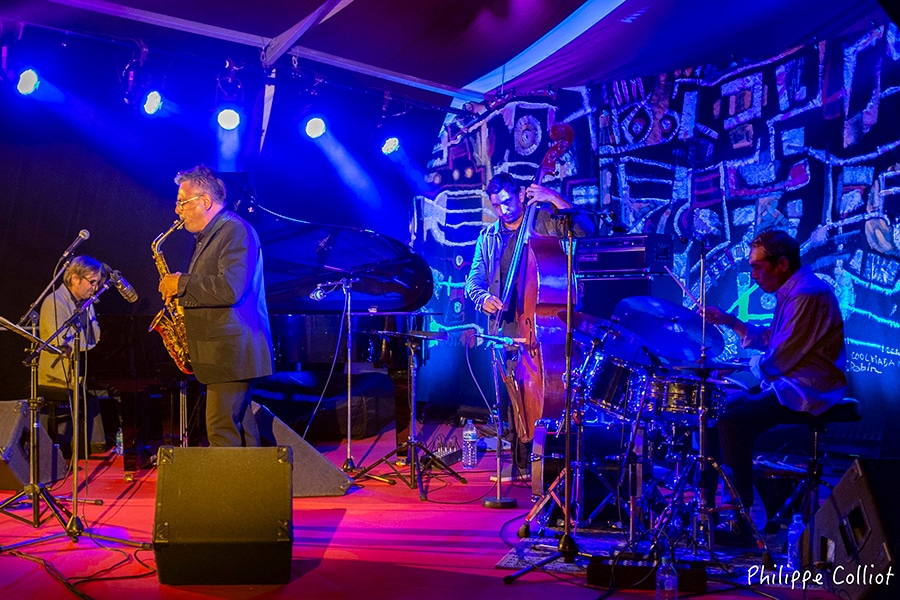 Sunday August 25
« Everybody on the deck»it is the Sunday afternoon rendezvous that became unavoidable.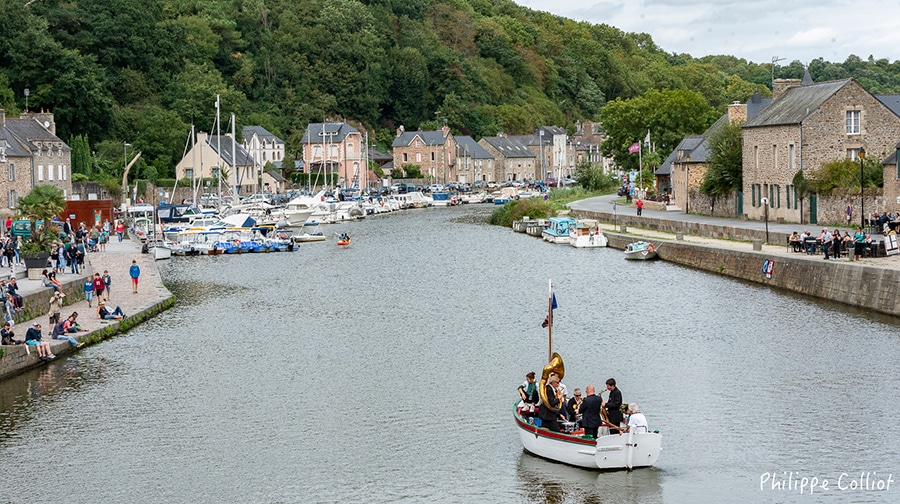 Departure from the port of Dinan aboard the boat La Passagère for the Blue Note Brass Band which, quay dock, will animate the port and the cafés terraces. The last step is for the Brass Band, to go up, 2nd line, the famous street du Jerzual, over more than half a kilometer, with percentages between 10 and 18%, to the place St-Sauveur.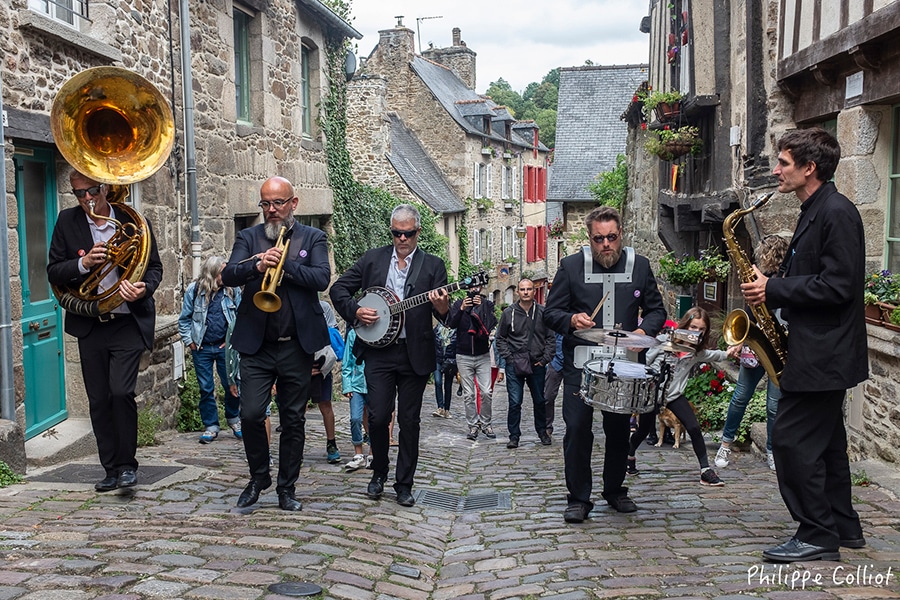 Jean-Baptiste Tarot, saxophone, Benoit Gaudiche, trumpet, Mathieu Letournel, soubassophone, Erwan Boivent, banjo and Ronan Després, percussions, will rise to the challenge with flying colors.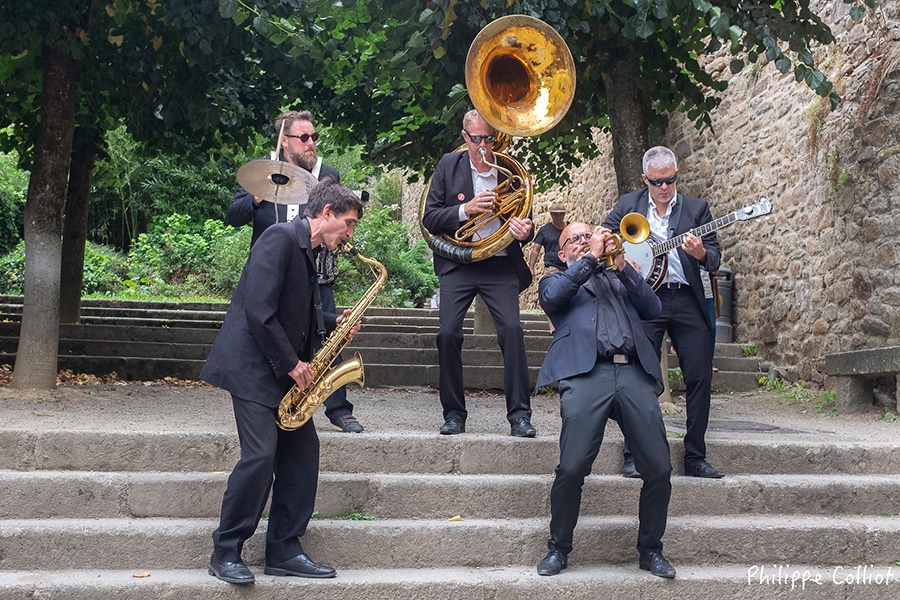 -07:00PM: Gabacho Maroc closes this 14th Festival Jazz en Place edition.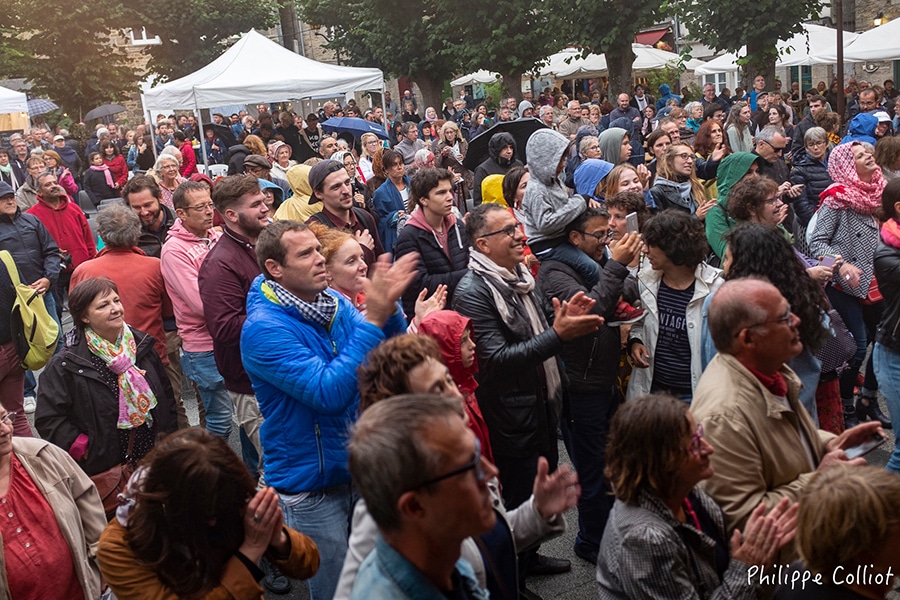 Despite a threatening sky, the moment is festive; a good part of the public invests the stage and dances to the sounds of western, African and oriental instruments which dialogue in a joyful and colorful alchemy. Final in apotheosis. With Hamid Moumen (voice, guembri), Aziz Fayet (voice, oud), Vincent Thomas (drums), Mathieu Lucas (bass), Frédéric Faure (percussions, n'goni, choirs), Illyes Ferfera (saxophone, choirs), Pierre Cherbero (keyboards, choirs).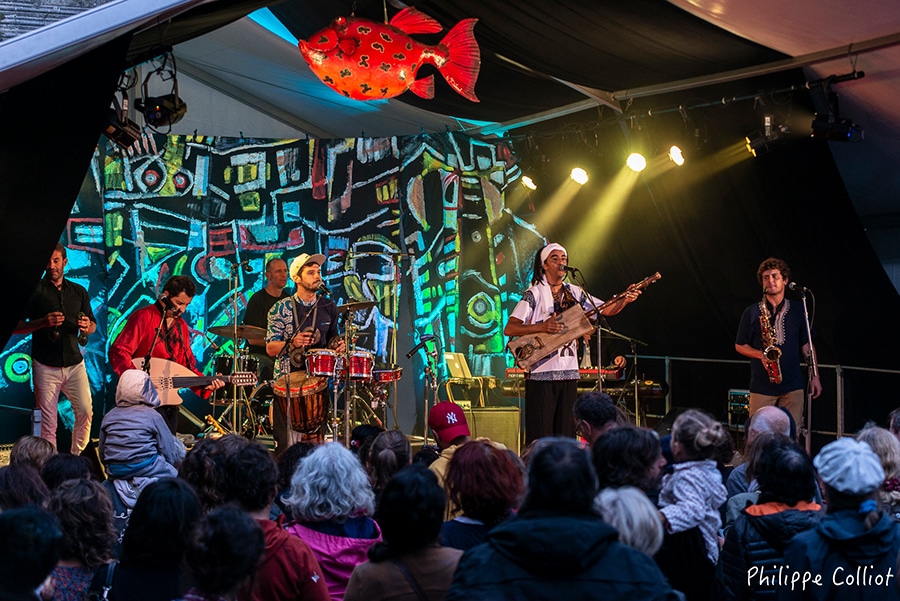 Text & Photos ©Philippe Colliot