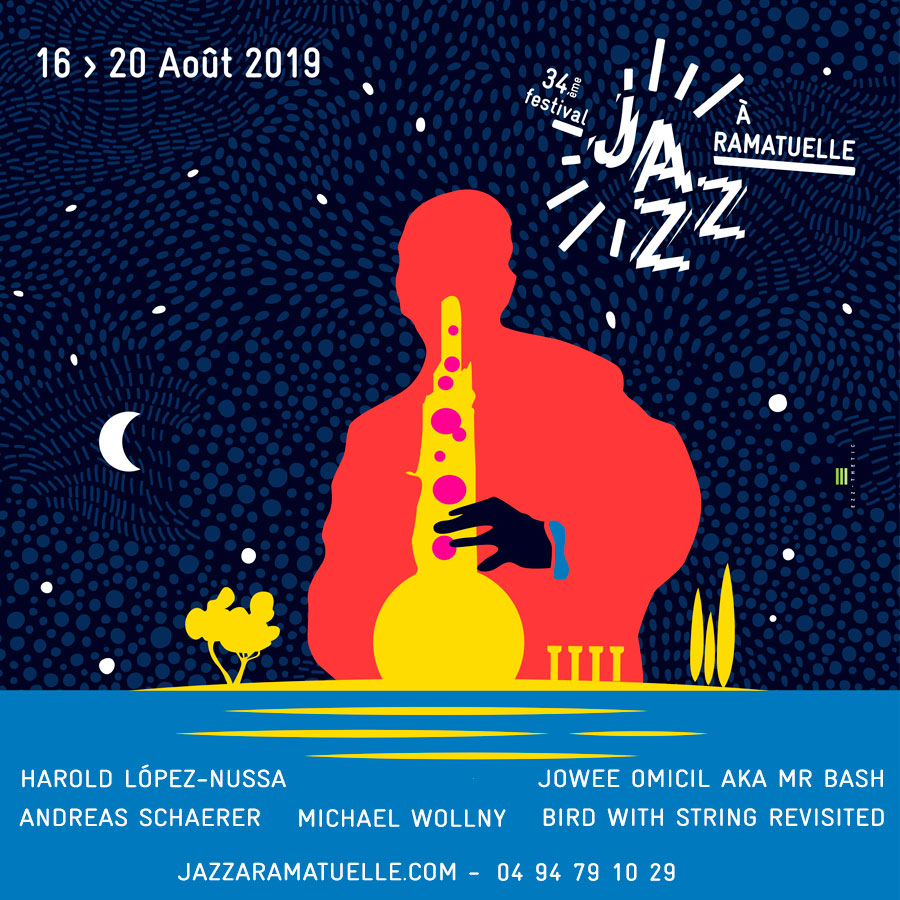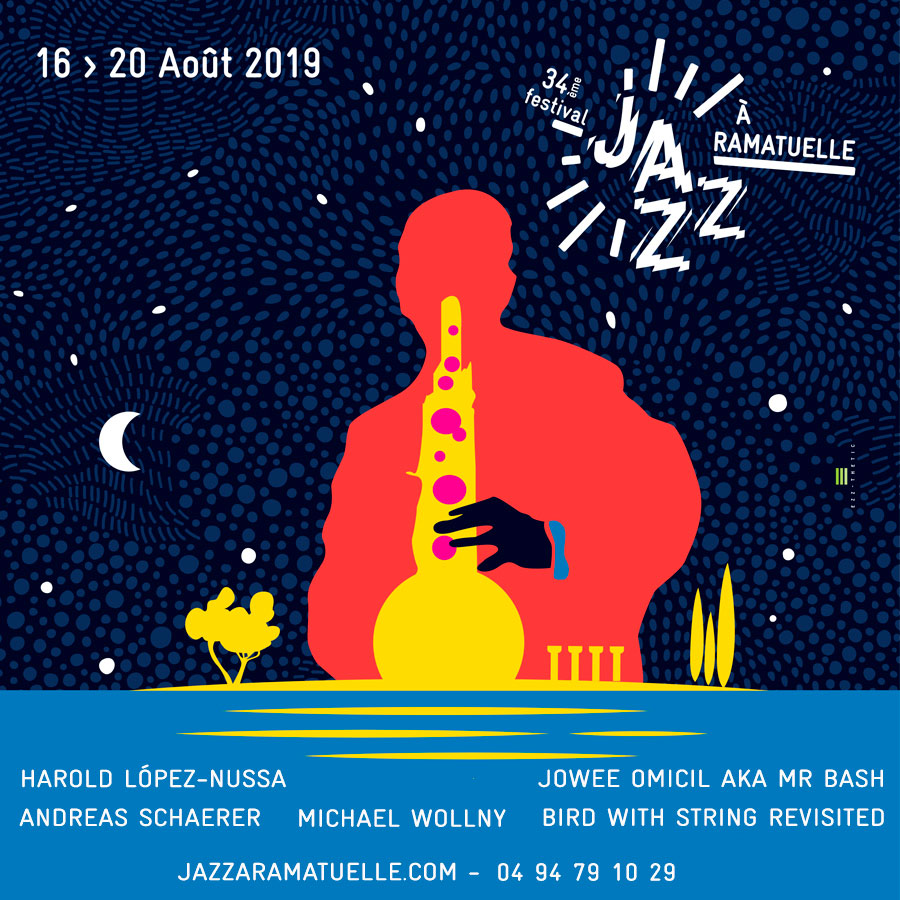 The Jazz à Ramatuelle festival has always represented the full rainbow of jazz colors. This is thanks to the hard work, good taste and bold convictions of one man: Denis Antoine, assisted by a solid team of volunteers.
As proof, the opening night of this year's festival (Aug. 16) gave center stage to Harold López Nussa, one of today's brightest rising stars of Cuban jazz.
Cuban jazz is a well-known color of the world's jazz scene. The island has given birth to an uncanny number of brilliant jazz musicians, and in particular some of our most virtuoso pianists: Chucho Valdes, Roberto Fonseca, Gonzalo Rubalcaba, Omar Sosa, Alfredo Rodriguez, just to name a few.
Harold López Nussa is a rightful heir to the Cuban jazz heritage. We particularly liked his album "Havana-Paris-Dakar", which explored African traditions with Senegalese bassist & singer Alune Wade. His latest album, "Un Día Cualquiera" is a curent favorite on Couleurs Jazz Radio. On it he plays with his regular all-Cuban trio: his brother Ruy Adrian on drums & percussion and Gaston Joya on bass.
Without a doubt, López-Nussa and his clan kicked of the 2019 edition of the Ramatuelle festival with an unforgettable evening in the outdoor venue Theatre de Verdure.
In addition to the evenings at the Théâtre de Verdure, Ramatuelle also organizes a jazz club, a kind of "festival off" every evening at 18:30, surrounded by terraces lined with olive trees.
You can eat there and taste the local wines thanks to the winemaking partners of the region.
Musically, regional groups will perform every evening before and after the main concert of the Théâtre de Verdure, at 6:30pm  & 10:45pm.
It is Sed Trio, 2019 revelation of the young festival L'Ascension pour le Jazz who will inaugurate this festival Off, in the Jardins du Théâtre at 6:30 pm
The Sed Trio comes from Montpelier.
Line up:
Samuel Housse piano, Damien Cathala, bass and Erwann Suard, drums.
A contemporary jazz, inspired as much by musicians as Avishai Cohen, Chucho Valdes, Tigran Hamasyan or historical figures like Bill Evans.
A very Cuban color for this first evening of the Festival.
On august 17, it is a Jowee Omicil evening in the Théâtre de Verdure at 09:00pm
This whimsical Jazzman, multi-instrumentalist and colorful will for sure thrill the Ramatuelle festival-goers.
Jowee Omicil has this freedom of tone in the expression, this commitment in what he undertakes, that he brings you into his universe which goes from the Caribbean, Haitian music, to Africa while passing by joyous interpretations of the classics, Mozart or Bach.
A jazz that transports you, invites you to happiness, dance and groove.
A music that you can easily make listen to those who still think that jazz is only for an intellectual elite.
As a starter and dessert, this evening, as part of the Off festival, we will be able to discover Soul's Goudes, a jazz with soul & funk accents.
Soul's Goudes, are based in Marseilles (Les Goudes). There leaders are drummer Serge Fidani and guitarist Jean-Pierre Mille who claim the Go-go style, from Washington DC in the 70's and whose flag bearer would be Chuck Brown … Add a touch of Marseille madness and mayonnaise immediately for original compositions and covers of the 30s.
Line Up :
Patricia Schnell, Voice
Jean-Pierre Mille, Guitar
Serge Fidani, Drums
Johan Rodier, Keyboards
Viviane Gouesat, Bass
Dimanche August 18 at 09:00pm, it is the jazz singer without borders, Andreas Schaerer who will make the sweet air vibrate in the Théâtre de Verdure.
No need to describe this original personality, also colorful.
He had totally seduced the audience who came to listen to him last year in Ramatuelle and accompanied by some sacred monsters: Émile Parisien, Vincent Peirani, Bojan Z and Michel Portal!
He will be accompanied this evening of August 18, 2019 to present his latest project, "A Novel of Anomaly": with Lucas Nigli, drums; Kalle Kalima, electric guitar and Luciano Biondini, accordion.
Le Festival Off will start with Quartet Belzaii at the Jardins du Théâtre at 06:30pm.
Belzaii is a young quartet, who claims the gypsy music of Django Reinhardt, and like many groups have managed to escape and continue to enhance it through the American Jazz, the "musette" or Debussy …
The Line Up is: Olivier Tassëel, guitar solo, Cédric Meunier, saxophone, Anthony Gutierrez, doublebass and Nicolas Gavotto, rythmic guitar.
Monday August 19, one of the great jazz pianists of today, in the person of Michaël Wollny, who will be the high point or rather piano of this "JazzàRama 2019", (for regulars and intimate).
A great evening therefore, which will open at 9 pm, the poetry, elegance and creativity of this modern music that we love so much.
Michael Wollny is very much listened to by the European jazz scene in particular. He knew how to make himself popular, while creating and innovating constantly, to offer us a modern jazz very often jubilant.
Note that he had already greatly excited the public of Ramatuelle with his concert given in 2017.
His influences are quite eclectic: cinematographic, from Robert Schumann to David Lynch to Björk and the tales of the Grimm brothers! Between intimate ballads and riotous energy, romantic harmonies and hypnotic grooves, his trio performances take the listener on a journey where anything can happen, especially the unexpected.
If you were there two years ago, you already know what to expect; if you listen to Couleurs Jazz Radio, it will be an opportunity to discover him live. This is the opportunity to discover a key artist on the European scene.
Line Up:
Michaël Wollny, piano, Christian Weber,doublebass, Eric Schaefer, drums.
Festival Off with Olivier Pinto Septet, at 6:30pm at the Jardins du Théâtre.
Olivier Pinto, young bassist from Marseille passionate about hard-bop, is the leader of a septet, from which he uses all the resources to propose an aesthetic reinterpretation of jazz of this period. Arrangements and original compositions for a jazz at once subtle and full of a beautiful energy.
Line Up:
Olivier Pinto, Doublebass
Dimitri Alexaline, Trumpet
Gerard Murphy, Saxophone,
Jean Charles Parisi, Tenor Saxophone
Romain Morello, Trombone
Jérôme Mathevon, Piano
Raphaël Sonntag, Drums
Tuesday August 20 août at 09:00pm, the closing evening of this rich Festival Jazz à Ramatuelle 2019 will be a tribute to Charlie Parker with incredible musicians:
Bird with Strings Revisited…Charlie Parker.
The Bird is obviously an essential reference. Tribute will be returned with:
Bastien Stil Orchestra Direction and Christophe Dal Sasso for the musical arrangements.
Youri Bessières, Claire Bucelle, Akemi Fillon, Johan Renard violons;
Marie Legendre et Jérémy Pasquier, altos;
Jean-Philippe Feiss, cello;
Anne-Cécile Cuniot flute and alto flute;
Hélène Gueret au oboe and English horn;
Thomas Savy clarinet et clarinet bass;
Baptiste Gemser horn;
Cécile Hardouin bassoon;
Pierrick Pédron, Thomas de Pourquery, Géraldine Laurent, Olivier Bogé saxophones ;
Thomas Bramerie doublebass ;
And finally, Ali Jackson drums.
Four of the most flamboyant French saxophonists celebrate the genius of Charlie Parker (1920-1955) by revisiting the repertoire of the standards of the mythical recordings of "Bird With Strings", in a spectacularly rearranged version for soloists, strings and woods, at the confluence of jazz and classical.
1949: Charlie Parker, "Bird", alto saxophone giant and bebop inventor, realizes one of his dreams by recording with a string orchestra under the direction of producer Norman Granz. The album "Charlie Parker with Strings" remains a reference, a kind of aesthetic ideal midway between jazz expressiveness and classic refinement.
For the sixty years of this monument, the opportunity is to revisit the repertoire in the company of some of the major voices of the current saxophone alto, many of which are also not unknown to the Jazz audience in Ramatuelle … A recreation Alike ? What nay! Disregarding all pastism, it is in expert arranger that Christophe Dal Sasso has devised new finery to these timeless standards, respecting the spirit of the original more than the letter. A lyrical music, dreamy, silky, to make you melt of pleasure!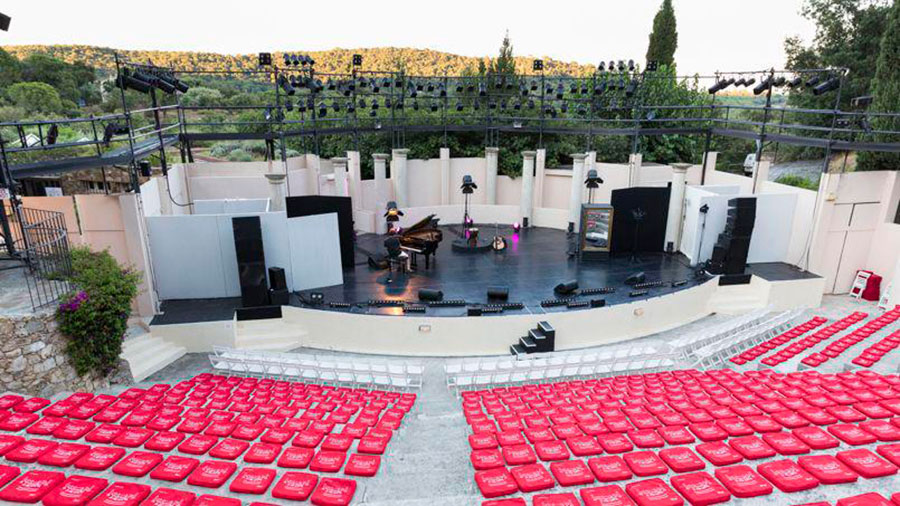 The last Festival Off of this 2019 edition 2019 will welcome:
Jean-Marie Carniel & Olivier Chaussade Quartet at the Jardins du Théâtre at 06:30pm.
Standards and original compositions will be performed by four impeccable instrumentalists whose musical cohesion and imagination are continually in play, with solos as warm as they are inspired.
Line Up :
Olivier Chaussade, saxophone ;
Jean-Marie Carniel, doublebass ;
Vincent Strazzieri, piano ;
Philippe Mejean, drums.
Another edition of Jazz in Ramatuelle, more than promising!
Editing with Eliz Corbett's special talent.