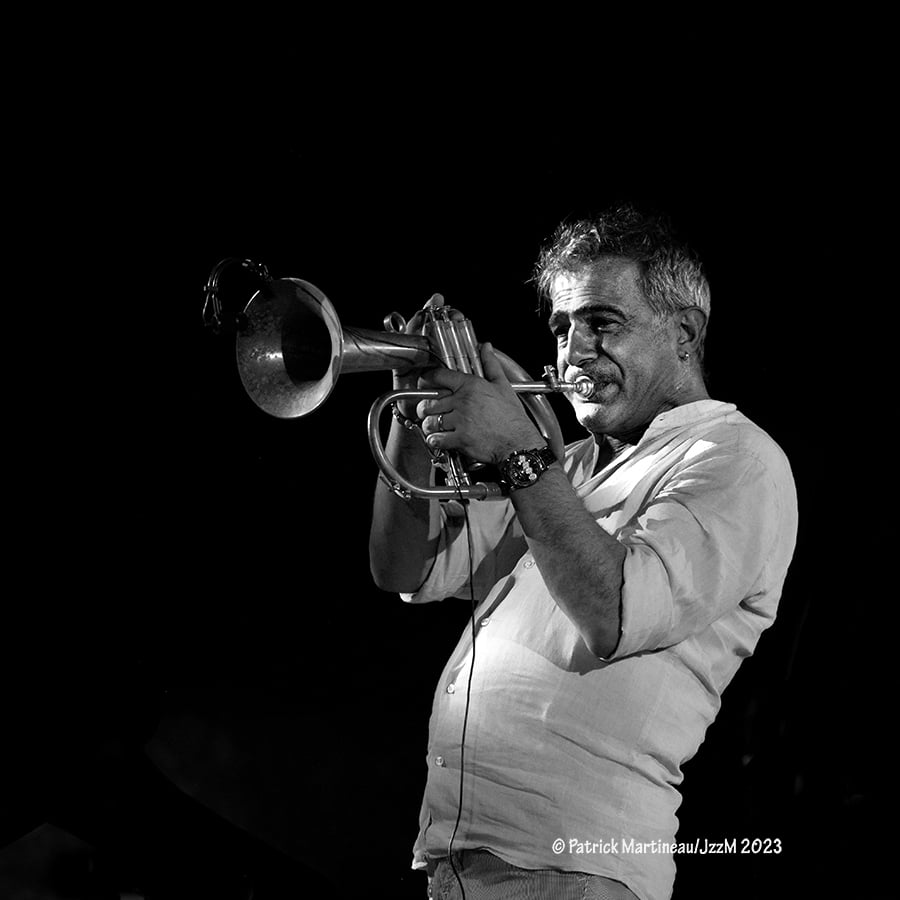 The Jazz à Junas festival, which celebrates its 30th anniversary this year, is first and foremost the story of a wonderful adventure orchestrated by a formidable team of volunteers.
Comme le déclare Fabrice Manuel, l'actuel président et co-créateur du festival avec Stéphane Pessina et Pascal Domenech, "Tout est parti de l'association "Les copains d'abord" dont j'étais le président. Notre but était de faire vivre le village. D'abord, en renforçant son unité par un retour à la tradition, par exemple en relançant les Feux de la Saint-Jean. Ensuite, en développant les activités sportives avec une équipe de foot. Enfin, par l'idée d'une rencontre avec l'autre qui est passée par une ouverture à l'Europe. En 1995, nous avons organisé un concert de free jazz avec des musiciens lithuaniens dont le pays venait d'échapper à l'emprise soviétique. Puis nous avons élargi la programmation au blues, au swing, au be bop, le tout au travers de la production jazzistique de différents pays : en 1995, la Catalogne avec Pete Montoliu, l'Italie en 1996 (Paolo Frésu), un an plus tard, la Belgique avec Philippe Catherine, Toots Thielmans… Au cours des années, le festival a ainsi pu acquérir une assise de plus en plus solide.
Nous travaillons sur la durée en développant des actions pédagogiques sous la forme d'expositions et d'ateliers où 150 stagiaires (surtout des jeunes) pratiquent, le slam, le chant ou un instrument. À Junas, 50 rues portent déjà le nom d'un musicien de jazz, le jazz est présent toute l'année. Tout ceci a été rendu possible par les hommes et les femmes du village qui représente la matrice de notre action."
As Fabrice Manuel, current president and co-creator of the festival with Stéphane Pessina and Pascal Domenech, explains, "It all started with the association 'Les copains d'abord', of which I was president. Our aim was to bring the village to life. Firstly, by strengthening its unity through a return to tradition, for example by reviving the Midsummer Fires. Secondly, by developing sporting activities with a soccer team. And lastly, through the idea of meeting others, by opening up to Europe. In 1995, we organized a free jazz concert with Lithuanian musicians whose country had just escaped Soviet control. Then we broadened the program to include blues, swing and bebop, all featuring jazz from different countries: in 1995, Catalonia with Pete Montoliu, Italy in 1996 (Paolo Frésu), and a year later, Belgium with Philippe Catherine, Toots Thielmans… Over the years, the festival has grown from strength to strength.
We're working on a long-term basis, developing educational initiatives in the form of exhibitions and workshops where 150 trainees (mostly young people) practice slam, singing or playing an instrument. In Junas, 50 streets already bear the name of a jazz musician, and jazz is present all year round. All this has been made possible by the men and women of the village, which represents the matrix of our action."
– Tuesday July 18
Place de l'Avenir at 06:00pm: Les Petits Loups de Junas & Jérôme Viollet Sextet "Geronimo" :
Jérôme Viollet: percussions, arrangements, Samantha Eyssette, Akemis Acosta: vocals, Christian Fromentin : violon, Jean-Pierre Alamy: doublebass, Nicolas Larossi: cello.
It was the turn of the "Geronimo" sextet to kick off the festival with a danceable rendition of music driven by Akemis Acosta's expressive voice, which smacks of Africa and the Caribbean. Then, illustrating Fabrice Manuel's words, children from the Junas/Aujargues elementary school took to the stage for a performance representing the fruit of two years' work.
Carrières du Bon Temps at 09:00pm: Pansanel, Salis, Andersen, Héral Quartet
Gérard Pansanel: guitar, Antonello Salis: piano, accordion, Arild Andersen: doublebass, Patrice Héral: drums, percussions, vocal improvisation and electronic effects.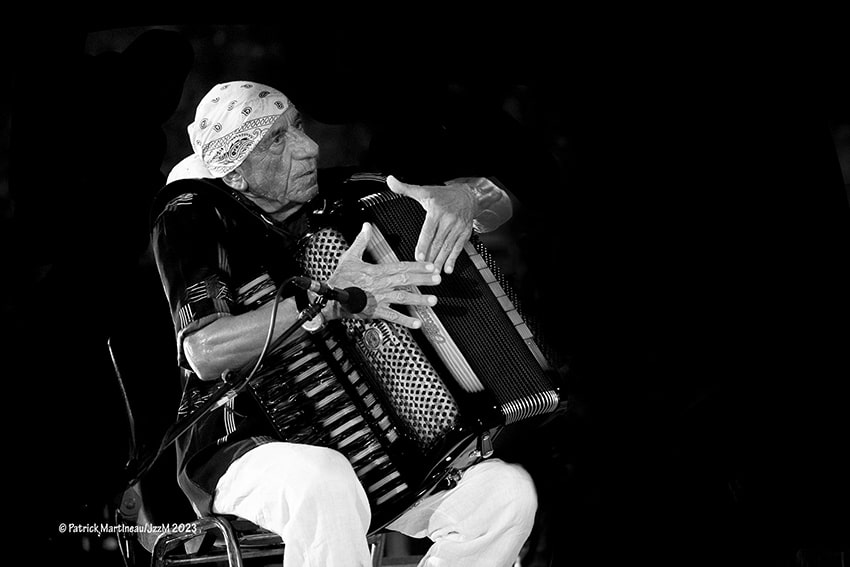 Carrières du Bon Temps at 10:00pm: Paolo Fresu Quartet "Ferlinghetti" :
Paolo Fresu: trumpet, flugelhorn, effects, Dino Rubino: piano, Marco Bardoscia: doublebass, Daniele Di Bonaventura: bandoneon.
Festival regulars guitarist Gérard Pansanel, Norwegian double bassist Arild Andersen, Italian accordionist-pianist Antonello Salis and drummer Patrice Héral kicked off the 30th edition with a few of their own compositions.
In the magnificent setting of Les Carrières, long-time accomplices developed a playful, inspired music, open to exchange and animated by the breath of jazz.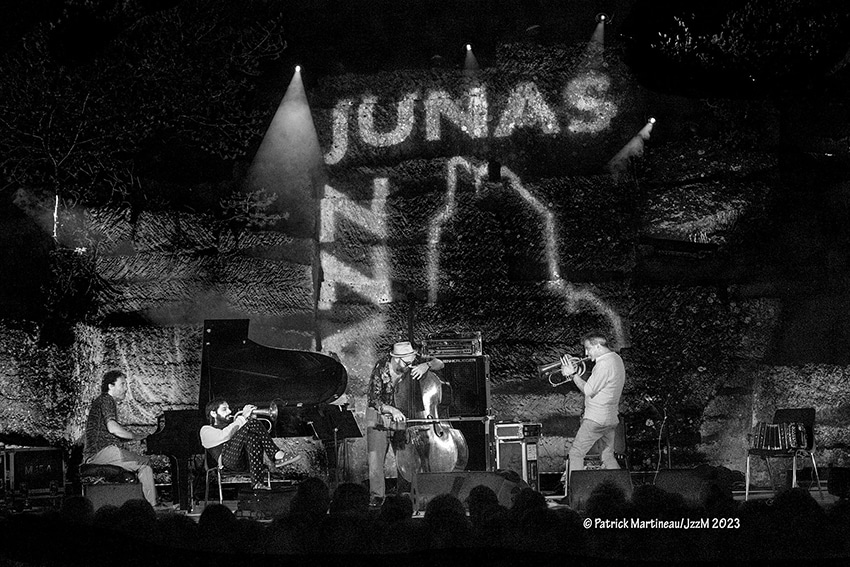 This was followed by trumpeter Paolo Fresu, another regular at the venue, who performed the repertoire from his album featuring the soundtrack to a documentary by Ferdinando Vicentini Orgnani devoted to Beat Generation figure Lawrence Ferlinghetti. All of this was carried by the fragile, delicate breath of highly expressive music, evoking the world of a great poet in the intimate conversations between the band members.
– Wednesday July 18 
Temple de Junas at 06:00pm: Daniele Di Bonaventura Solo
Inspired music, as if touched by the touch, a bandoneon exploring, in the warm intimacy of the temple, the intimate recesses of highly personalized melodies (Michel Legrand, Bill Evans), an audience in resonance made Daniele Di Bonaventura's performance a moment of grace!
Carrières du Bon Temps at 09:00pm: Anne Paceo "S.h.a.m.a.n.e.s." :
Anne Paceo: drums, voice, compositions, Isabel Sorling, Cynthia Abraham: voice, Christophe Panzani: tenor saxophone, bass clarinet, Tony Paeleman: piano, claviers, Benjamin Flament: percussions.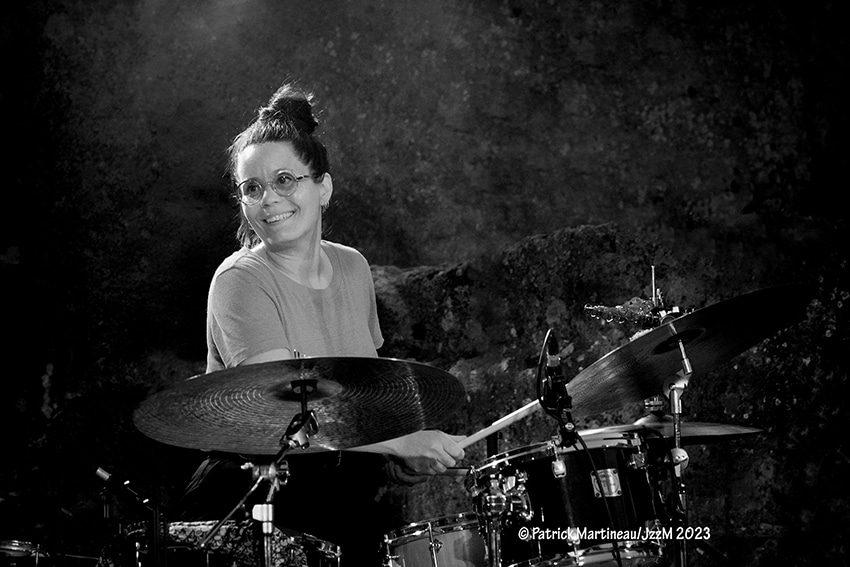 Carrières du Bon Temps at 10:30 – Sandra Nkaké "Scars" :
Sandra Nkaké: voice, guitar, Mathilda Haynes: bass, Paul Colomb: cello, Ji Drû: flute, Jérôme Perez: guitar, Mathieu Penot: drums.
Anne Paceo's "S.h.a.m.a.n.e.s." project, named after her 2022 album, is in a different mood. Rhythmically rich music, beautiful melodies, diaphanous harmonies and a successful symbiosis of vocals, percussion and instruments release, between reality and imagination, a message that seems to come from the original drum but is clearly topical in form. All this in the enchanting setting of Les Carrières.
Sandra Nkaké brings the evening to a close with her expressive voice.  Her expressive voice, which cries out the scars and suffering but also the hopes of a lifetime, the strength of her songs, the flute of Jî Drû, the bass of Mathilda Haynes, the guitar of Jérôme Pérez and the color of the cello of Paul Colomb combine to form a coherent whole. The show is well-polished, the staging discreet, and the message conveyed with a mixture of anger and humor. A show that ends in a climax in the middle of the audience.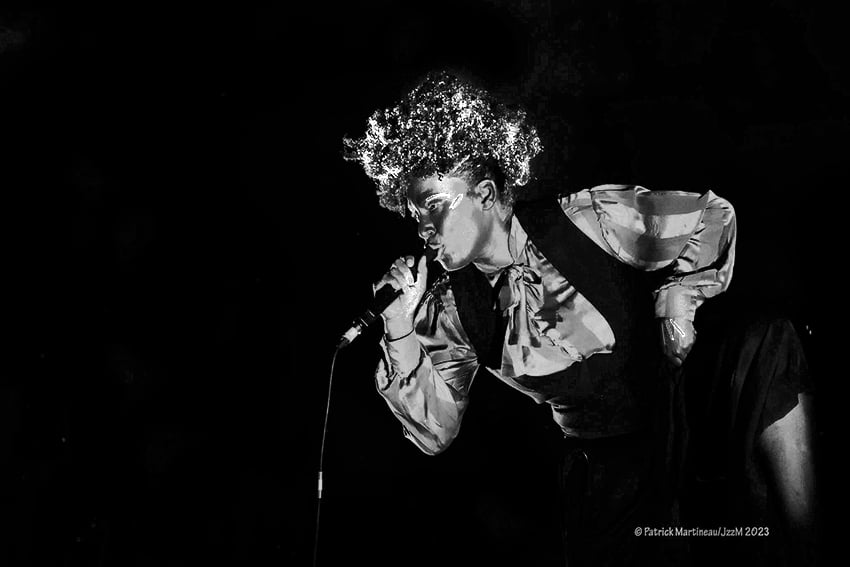 ©Photos Patrick Martineau pour Couleurs Jazz