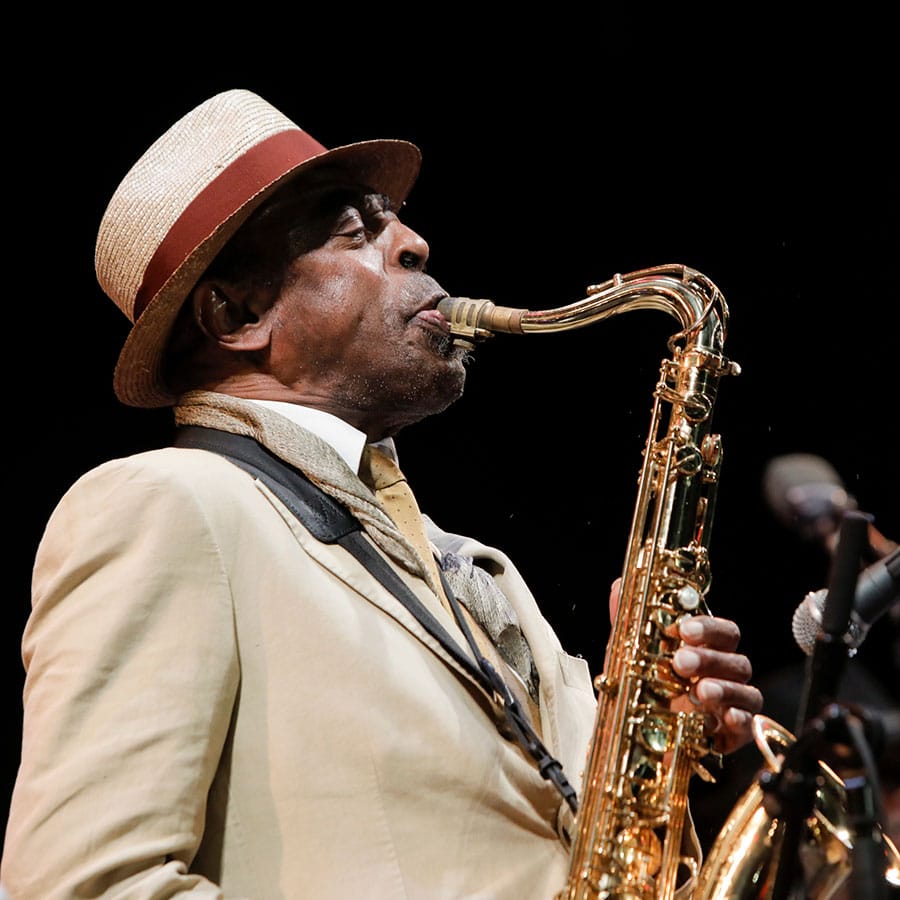 In this year of the 50th anniversary commemoration of John Coltrane disappearance, he returned to the 2017 "Jazz à Juan" edition – where the legendary saxophonist had given a historic concert in 1965 – to focus on the saxes by programming two Legends – Wayne Shorter and Archie Shepp – a family size – Branford Marsalis – and a revelation of the new generation – Shabaka Hutchings.
Almost 84 years old (August 25), Wayne Shorter is a jazzman who defies time and music. Each of his concerts is a mystery: sometimes hermetic in which each note is counted or even saved; sometimes unbridled with the emission of large and beautiful musical phrases. This was the case during the July evening's tribute to one of my three recently deceased spiritual fathers, Michel Delorme, journalist, label manager and friend of the jazzmen.
Surrounded by his close guards, the same for more than fifteen years – Danilo Perez (piano), John Patitucci (double bass) and Brian Blade (drums) – Wayne Shorter, seated near the piano, plays his saxophone-soprano in long choruses that took off facing the sea. And very quickly he pushes the limits of improvisation thanks to an abundant of innovative and energetic ideas. Assisted by this magnificent rhythmic section which supports each of the steps and research of a living leader – sometimes to the soprano, sometimes to the tenor – sometimes on the edge of the mystic, for whom each note is chosen, weighed, studied to reach a kind of pure jazz nirvana! This master ex-saxophones is also the master of the tempo.
Pure jazz was also discussed this evening with Branford Marsalis and her guest of honor, vocalist Kurt Elling. At the top of his very tight formation, from which emerges an exceptional pianist in the perfectly accomplished, voluble and extroverted game in the person of Joey Calderazzo, the leader embarked on long and seductive improvisations where the swing was omnipresent. Before being joined by Kurt Elling. A true jazz singer, not necessarily a crooner, he is the worthy heir of Mel Tormé, Mark Murphy and Johnny Hartmann. With him, we are in the tradition of standards sung and scouted with brilliance and a voice with a clear and muscular timbre. No frills, no notion of "entertainment", vocal jazz in his mind and essence.
A legend and a revelation.
After sold out evenings dominated by Macy Gray, Gregory Porter and Sting, Jazz was back – before a sparse audience! – with another legend, Archie Shepp, and two revelations of the new generation, the keyboard player Robert Glasper and the saxophonist Shabaka Hutchings.
Shabaka Hutchings, 33, is one of the most active members of London's underground jazz scene, born in the United Kingdom but belonging to the imposing diaspora of the West Indies (the Anglo-Saxon Caribbean). Now headed by a group called "The Ancestors", composed of many South African musicians and a reciter, the young man practices colorful, rhythmic and varied music, combining multiple roots with free accents, reminds one of the post-Coltrane period.
Voluntarily, I will pass over in silence the performance of Robert Glasper and his Experiment which was only an avalanche, a surge, a tidal wave of sounds and rhythms binary and hip hop hopes hyper electrified and amplified until nausea!
Now 80, Archie Shepp is still a legend of modern and contemporary jazz. Even if he no longer has the physical and breathing capacities of his youth in the precursors of Free Jazz and New Thing, he still possesses that recognizable tone of all, skinned sharp, rough, shaking and knocking. Far from the tumult of sonorous years of embers, he now sounds his own compositions and standards, paying homage to Billie Holiday or the be-pop and hard-bop pianist Elmo Hope.
Just a word to say that the 57th "Jazz à Juan" edition ended in joy and madness with the amazing concert given by the British singer and pianist Jamie Cullum, who transported the audience by his vivacity, overflowing energy, his gift of self, his tubes and his overflowing communication.
The next edition of "Jazz à Juan" will take place from July 14 to 22, 2018.
© Photos Gilles Lefrancq for OTC Antibes Juan-Les-Pins