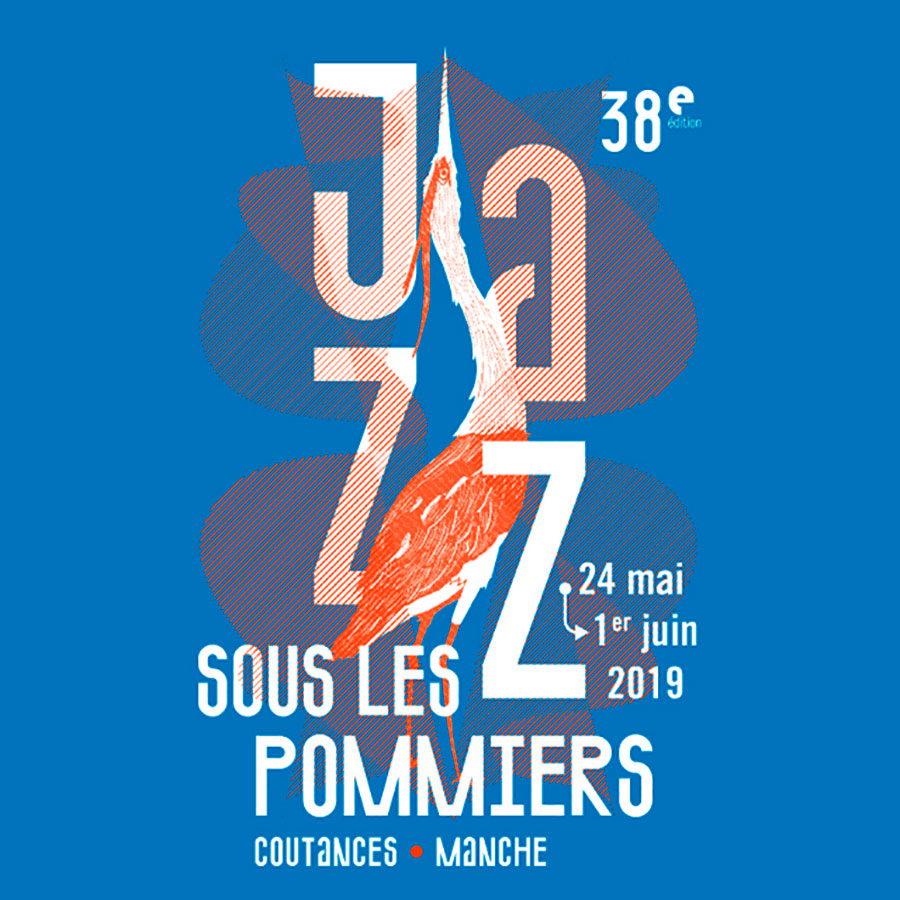 "Artistic quality, user-friendliness, attendance records and box office receipts…
The festival team (434 volunteers and 147 professionals) smiles at the closing of the 38th edition: 51 full concerts of 68, 41 000 spectators, 3 127 subscribers … "
… said Séverine Hédouin, head of communication and media at the festival, during her first speach reviewing this  Jazz sous les Pommiers 2019 edition.
Here is my souvenir book as a photograper-reporter for Couleurs Jazz Médias:
It was for me a very rich week of meetings, exchanges, sharing, conviviality, rendez-vous… And especially a rich week full of all the musics, all that jazz!
A week when Coutances, sub-prefecture of province (it's not scornful, I live in a sub-prefecture of province and I feel very good) is transformed: the crowd, the atmosphere, the surroundings, federated by the jazz and the show present at all the corners of the streets.
In terms of quantities, I was able to attend thirty concerts and shot over 1000 photos to sort, edit, classify. Impossible to give a detailed account of all the concerts I attended, the exercise would have been too long and probably tedious to read. But I would like to share with you readers, snapshots, moments of grace, favorites, and some disappointments over the course of my week.
First, I had a great pleasure to attend the creation of Raphaël Imbert for Jazz Sous les Pommiers, under the Magic Mirrors marquee.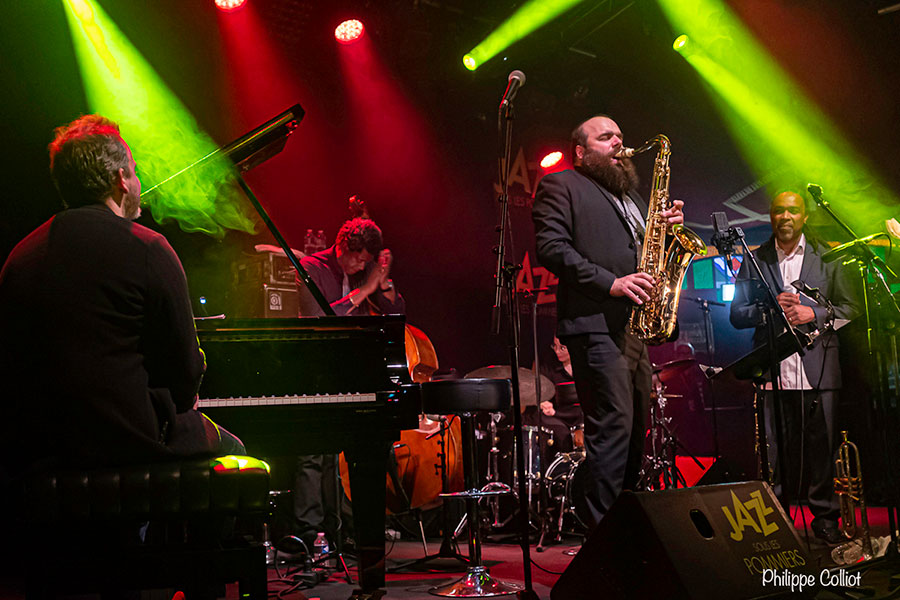 Parce que c'était l'occasion du 75ème anniversaire du débarquement, Raphaël Imbert nous convia à une véritable conférence musi-contée : le  musicien arrive du fond du chapiteau avec son soprano, nous raconte l'histoire des V-Disc, Albert Ayler, chante le tube de Rina Ketty , et le standard « All The Things You Are »  pour finir… En tout, 2 heures de spectacle, paroles et musiques comprises !
Philip Catherine revient, après 2 mois sans sa guitare. Il semble heureux de ce retour sur scène. Que de fraîcheur, de spontanéité et d'humour. Un grand Monsieur, un grand concert en compagnie de son complice, le trompettiste Bert Joris et de 2 pianistes dos à dos.
Because it was the occasion of the 75th anniversary of the D Day in Normandy, Raphaël Imbert invited us to a real conference musi-contée: the musician arrives from the bottom of the big top with his soprano, tells us the history of V-Disc, Albert Ayler, sing Rina Ketty's tube, and the "All The Things You Are" standard to finish … In all, 2 hours of show, lyrics and music included!
Philip Catherine returns, after 2 months without his guitar. He seems happy with this return on stage. What freshness, spontaneity and humor. A big gentleman, a big concert with his accomplice, trumpet player Bert Joris and 2 pianists back to back.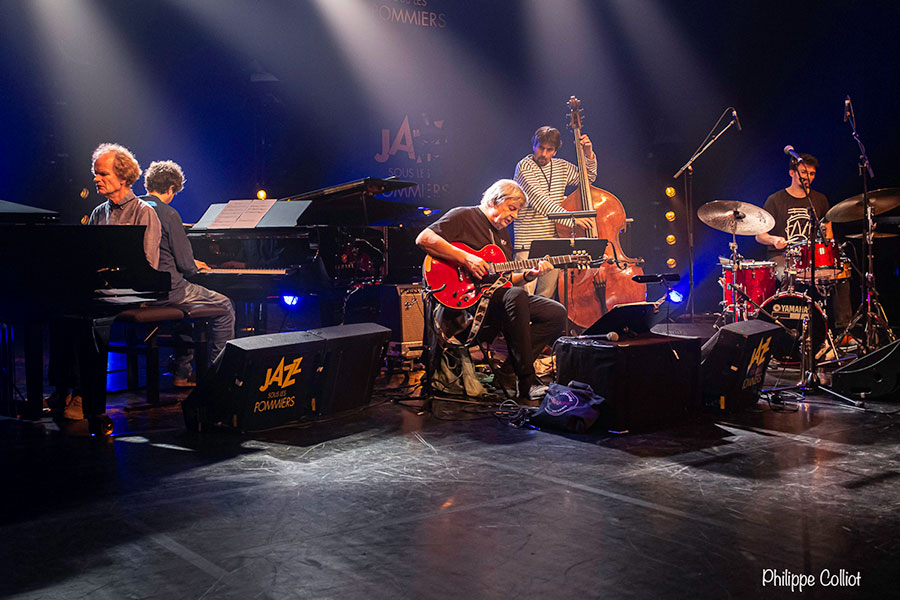 Joshua Redman and Michel Reis trio. I really appreciated the cohesion of this trio, the brilliant compositions, very melodic with complex structures. It seemed to me that Joshua Redman took a long time to find his rhythm to express all his talent. But when the temperature of his tenor was reached …. !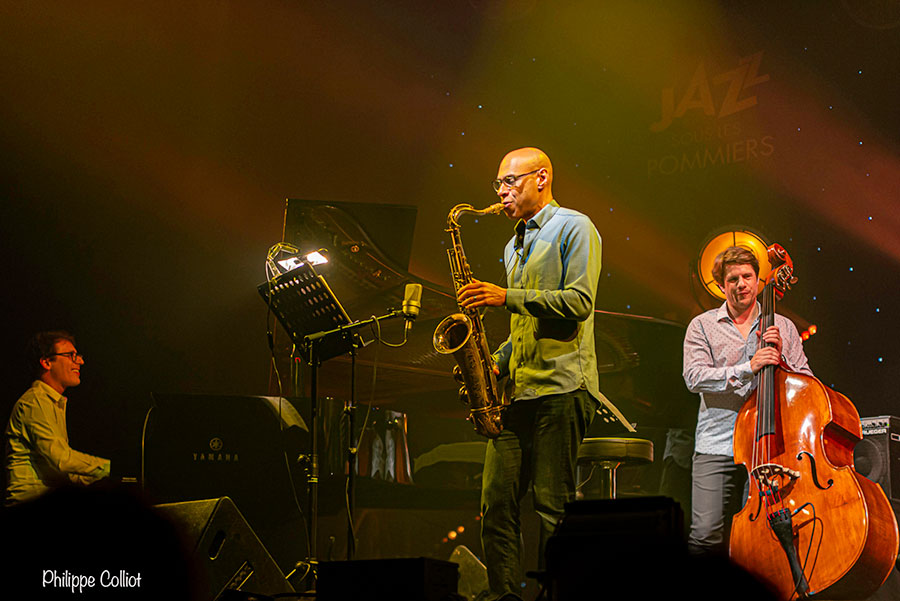 L'Impérial Quartet at the Caves des Unelles, using 4 saxophones of this great family, including a bass saxophone, offering the ensemble, an original sound for a resolutely open jazz and supported by an energetic bass-electric drums rhythm.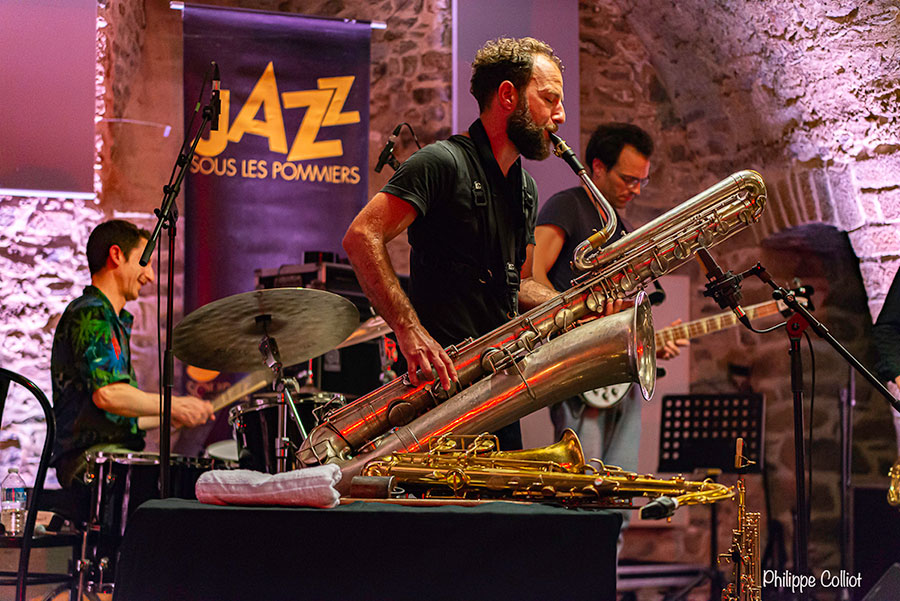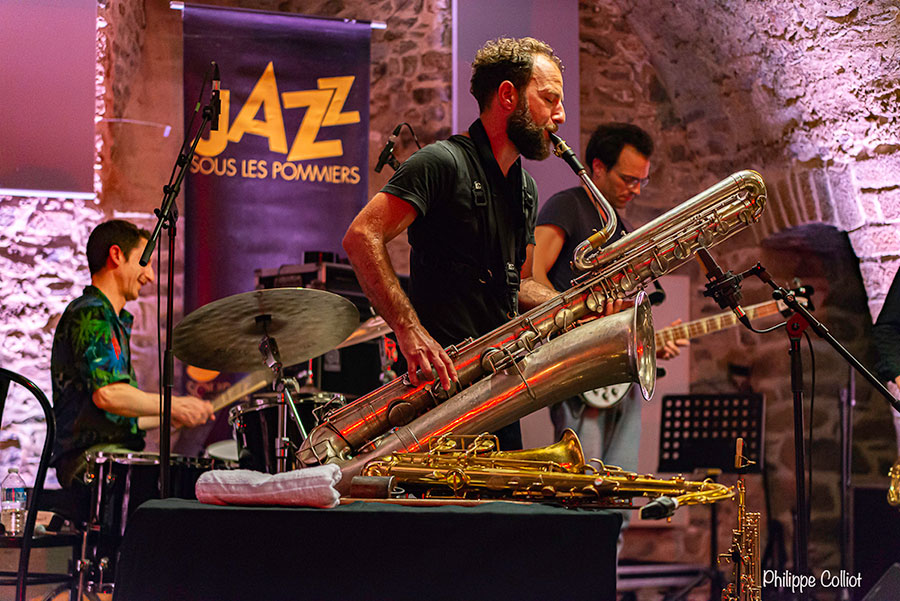 Sophie Alourfor the presentation of her latest opus "Exils" with the presence of Mohamed Abozékry on oud. The Quimperian saxophonist brilliantly succeeds in offering an open music with oriental sounds.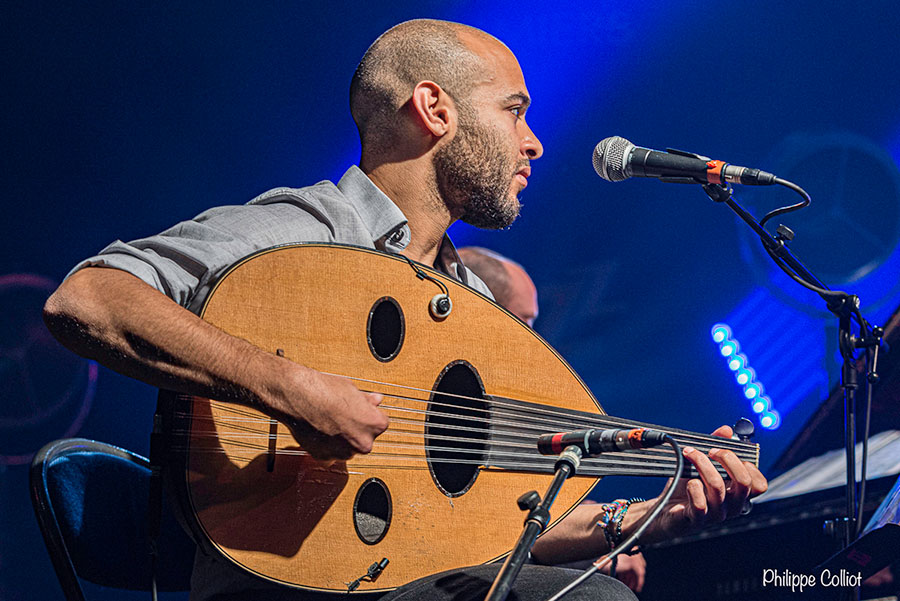 Donald Kontomanou (also present at Jazz Sous les Pommiers with Laurent de Wilde) proves, if it was needed, that he is a great drummer.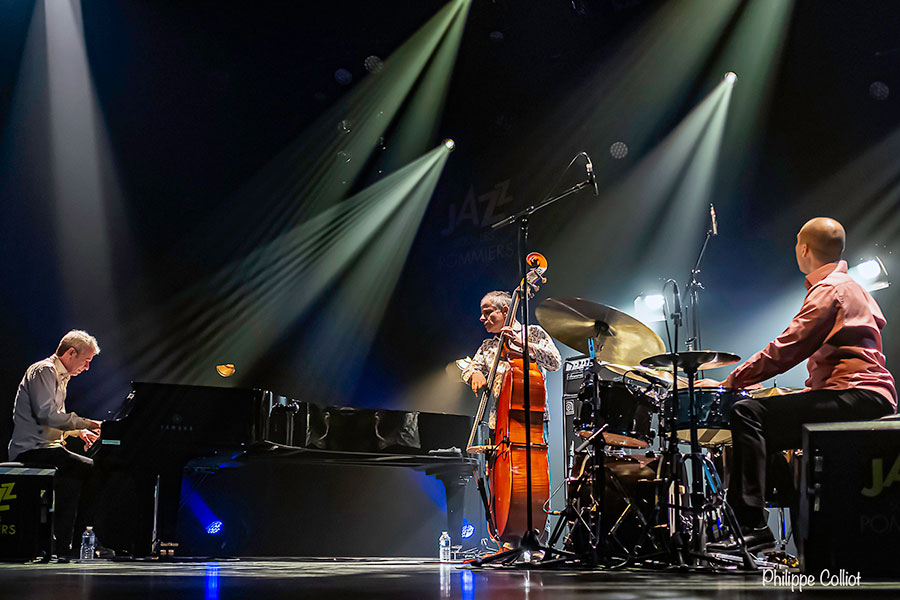 That same evening, followed a fantastic duo, haunting: Cécile McLorin Salvant and pianist Sullivan Fortner. Let's note a new look for Cécile: finished the big-frame glasses, and brilliant personal compositions thus offering to the public an original repertoire. And also a clear complicity between the two artists.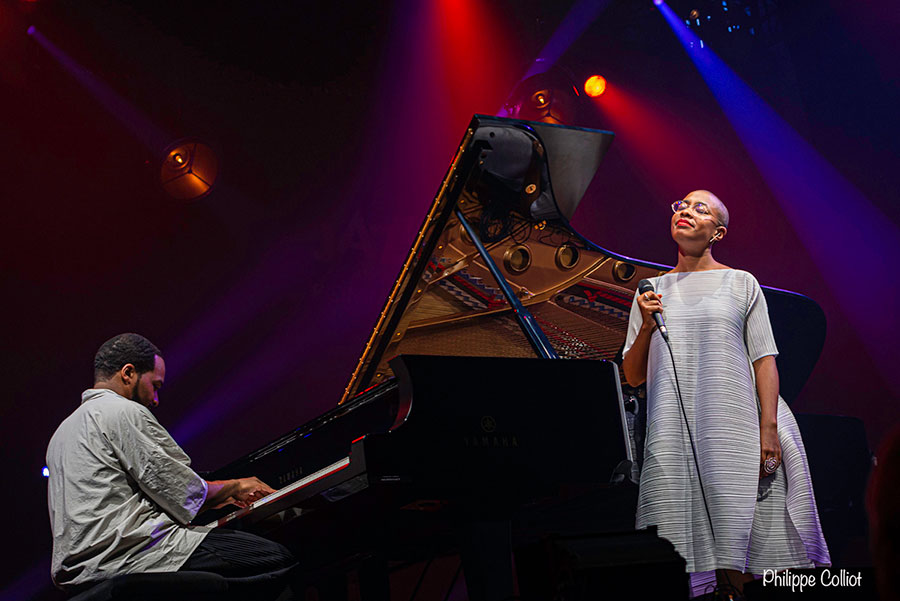 Rabih Abou Khalil's humor, the saxophonist and Sardinian singer Gavino Murgia, the American drummer and percussionist Jarrod Cagwin who offered a mixed high quality music.
The Quartets Evenings  at the Théâtre with:
–Pierrick Pédron and his guys : Carl-Henri Morisset, Etienne Renard and Elie-Martin Charrière played a jazz full of energy and lyricism. At this occasion Pierrick Pédron talked about his first venue at Jazz Sous les Pommiers 1994. 25 years ago!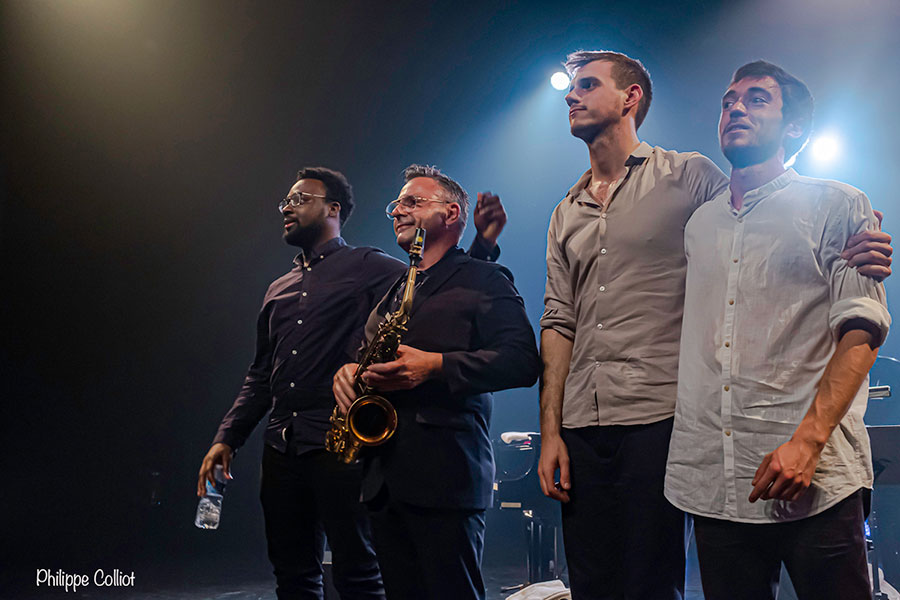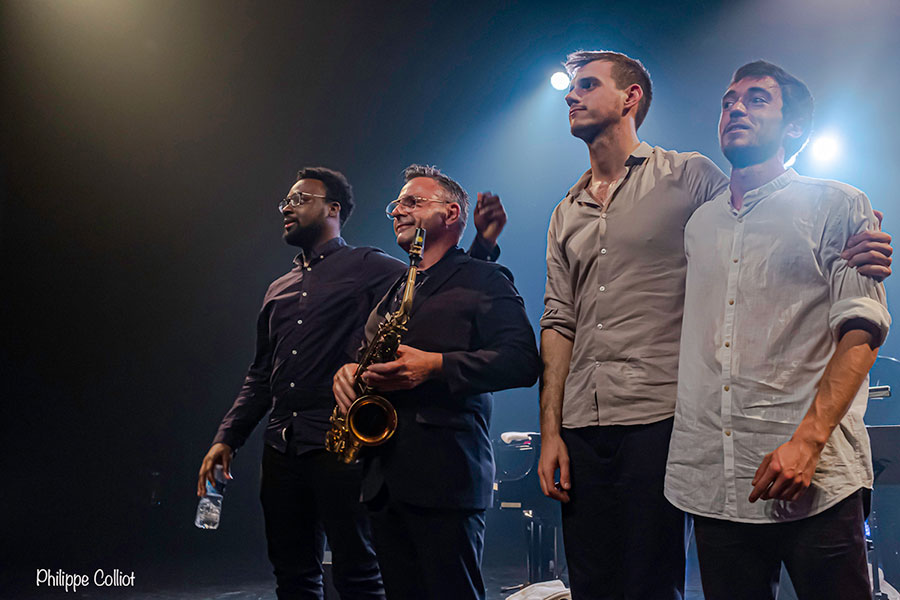 -The Art of The Quartet with Kenny Werner, Peter Erskine, Benjamin Koppel and Scott Colley. Wouahhh… ! Complicity, obvious happiness to play together. A few chopsticks "à la papa" on the snare drum and the concert starts. Everything becomes obvious, easy. What a pleasure, what a treat!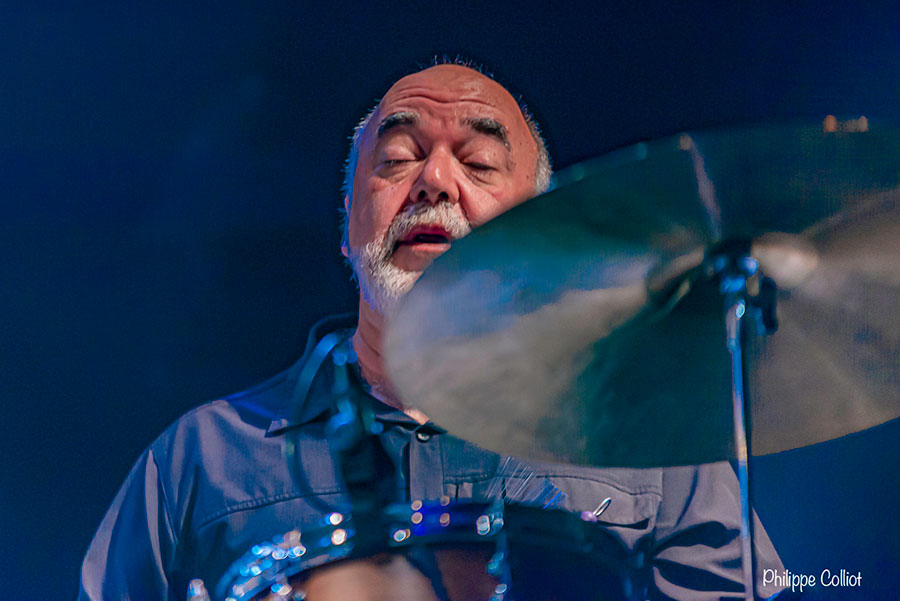 A living legend, Ron Carter, 82 years old and no osteoarthritis in his fingers! Remarkably surrounded, Ron Carter is the center of this quartet and he delivered a great concert. So Smart!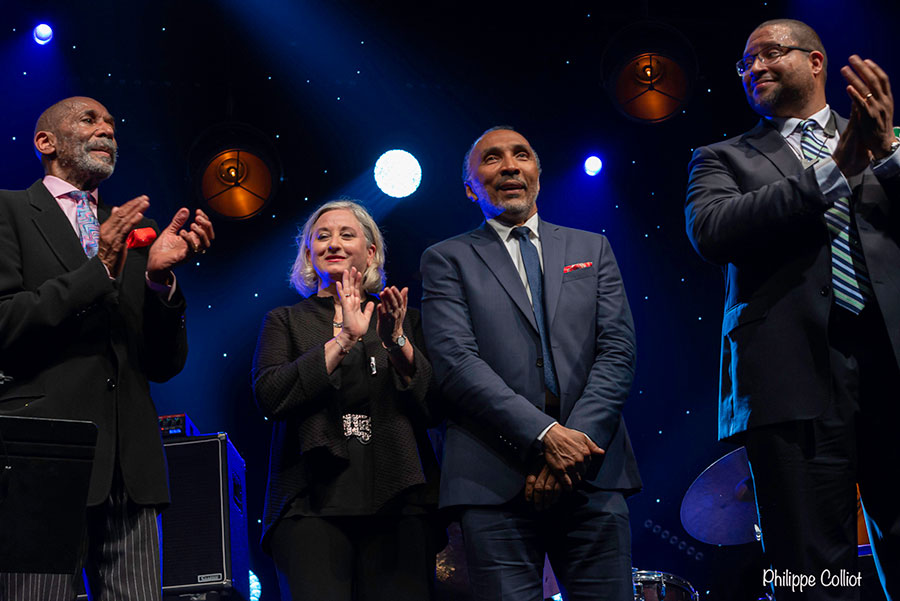 Other beautiful rendez-vous who would have deserved a development: Laurent de Wilde, Festen, Jacques Schwarz-Bart, le duo Liebman-Emler at the Cathedral…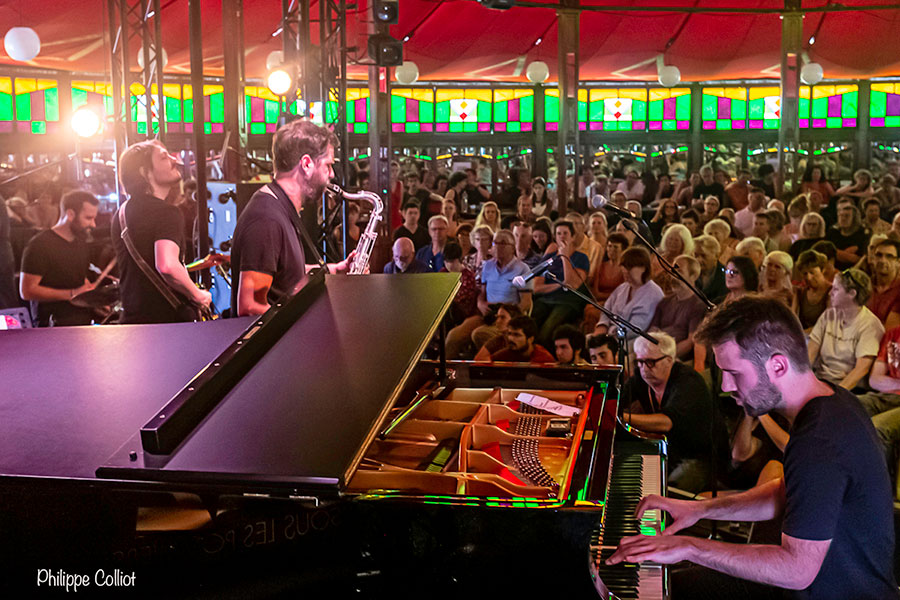 Festen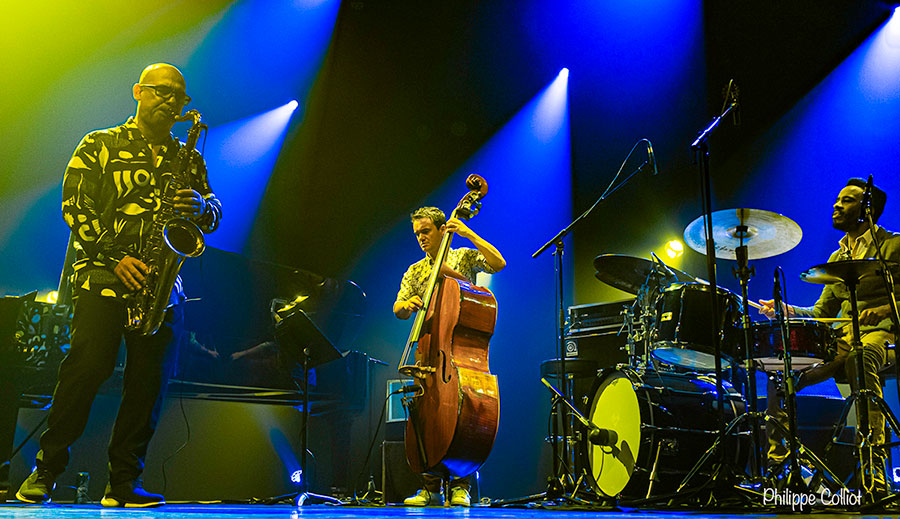 J- Schwartz-Bart
Some disappointments including the concert of Angélique Kidjo with the presence of Eric Truffaz who seemed to wonder what he was doing there; ("I play, I do not play?"), Avishai Cohen's Big Vicious formula that did not convince me ….
The frustration of having to make choices and not being able to attend certain concerts.
Finally, I want to highlight the presence of Anne Pacéo, in residence at Coutances, and presented all week, participating in projects, initiating others. A great jazz Lady!