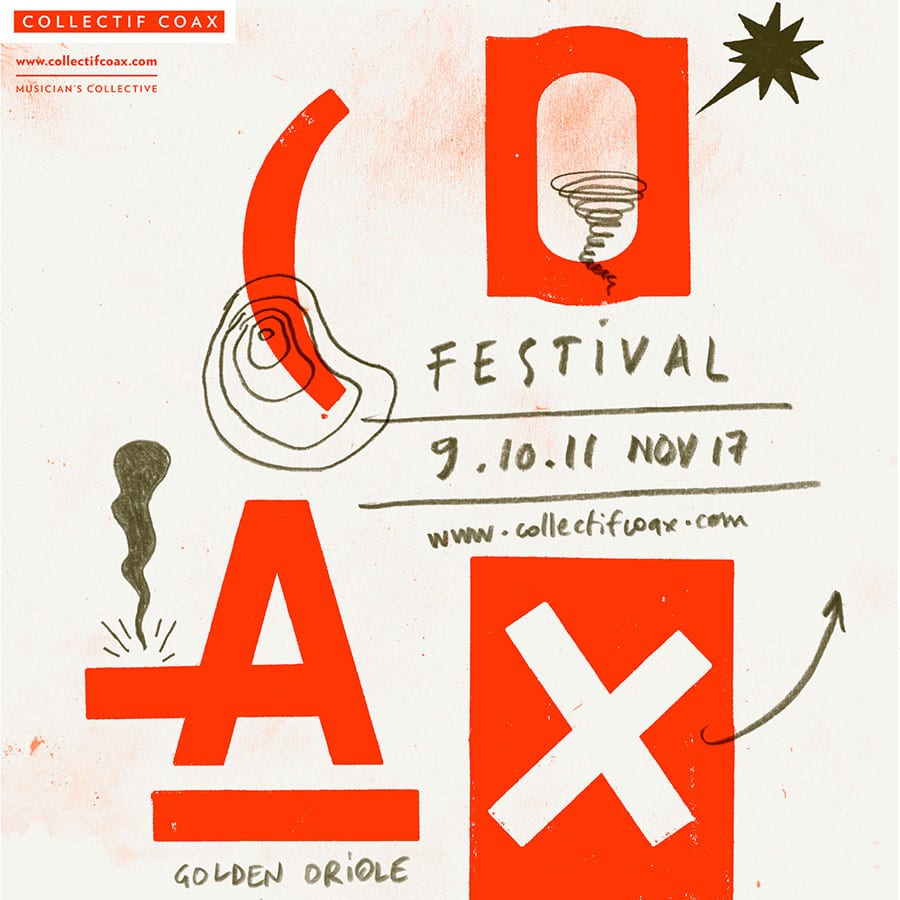 The Coax Festival, it is 2017 November, 9 to 11:
Three concert venues:
Eglise Ste Merry, Paris
Fgo Barbara, Paris
Instants Chavirés, Montreuil 
« Three days of festivities as noisy as exciting» * Through its festival, the Coax collective offers a program that reflects what fascinates, influences and inspires in its artistic practice. Noise, jazz, rock, free or experimental, the intense 3 days of this 5th edition reflect all the underlying worlds within the Coax galaxy, those that can be heard and seen in the background of the various proposals of the collective since its creation in 2008.
 « Launch of the mixtape Coax / La Souterraine » : « Compagnie Nationale »10 years of recordings. We need a party. And this new edition of the Festival will be marked by an unprecedented collaboration with the "non-label of French experimental song": La Souterraine. A mixtape bringing together the history and future of the collective scheduled for November 9 and available for free download: the opportunity to bring together about fifteen musicians for a performance in situ.
« To follow the trace of the Coaxiens is … » * « to enter a garden with paths that branch off. It is to bang against the wall of sound. (…) Three days of perspiration between the sound pores, three days of inspiration for the brains, three days of seraphic conspiracies, we do not find at every street corner. (…) This cooperative of massive testosterone sound workers is not there to joke. But to shake it up!
To sbscribe and read more, here is a  Face Book page