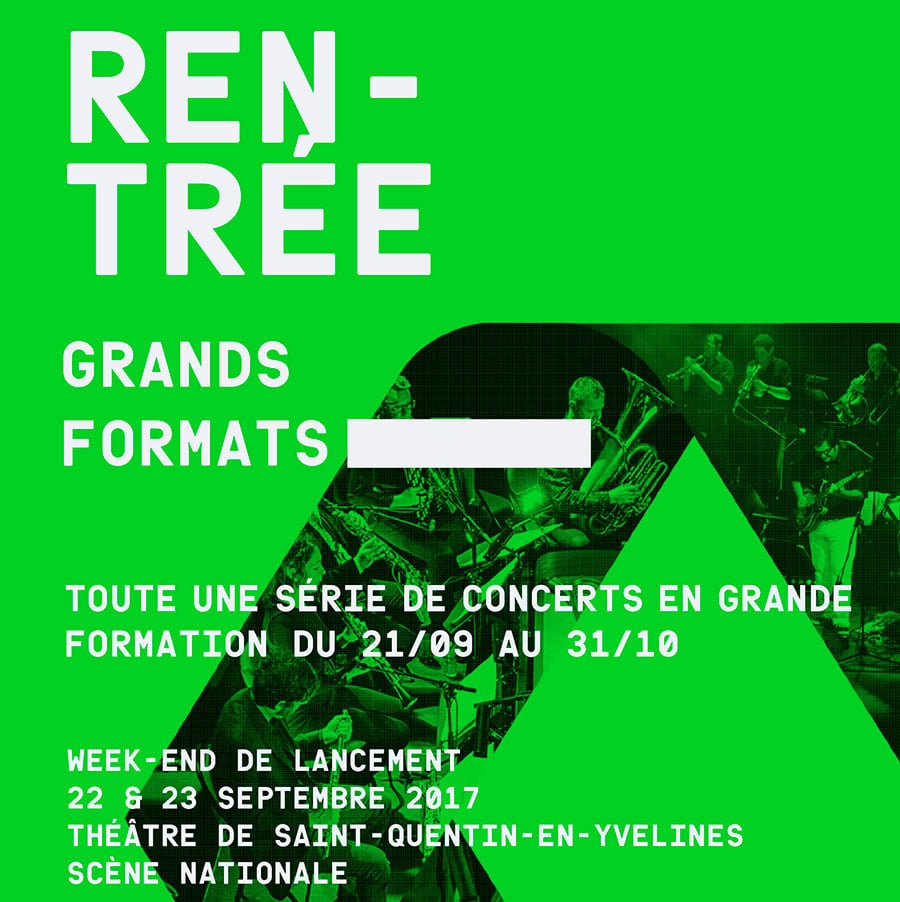 For the big bands lovers, … Musicians who do not consider an orchestra with fewer than 30 musicians, this is for you: the Grands Formats association proposes Friday & Saturday September 22, 23 at the Théâtre de St-Quentin-en-Yvelines, National stage.
Loïc LANTOINE & Le very Big Experimental Toubifri  ORCHESTRA
Fred PALLEM & LE SACRE DU TYMPAN – Print  & Friends  / Sylvain CATHALA
Par ailleurs,
More than 30 concerts from September 21 to October 31 in France to discover Big Bands!
Grands Formats Is a federation of artists that brings together 48 major ensembles representative of the extraordinary artistic diversity of jazz, improvisational music and other aesthetic forms of music. They are in total close to 1,000 musicians and conductors, carried by an irresistible musical desire and a good dose of unconsciousness, united for 14 years to defend the existence and the continuity of the music in big.
Program: 
Théâtre de Saint-Quentin-en Yvelines, Scène Nationale 3 place Georges Pompidou – 78180 Montigny-le-Bretonneux Infos et résas : 01 30 96 99 00 – accueil@tsqy.org www.theatresqy.org
Thursday September 22:
• 08:30PM / CONCERT  Loïc LANTOINE & LE VERY BIG EXPERIMENTAL TOUBIFRI ORCHESTRA
Saturday September 23:
04:30PM / Meeting with the artists
Fred PALLEM, Sylvain CATHALA and the other conductors of the federation make you discover the crazy and daring gamble of music in great formation.
6PM / FAMILY CONCERT
Fred PALLEM & LE SACRE DU TYMPAN
8:30PM / CONCERT
PRINT & FRIENDS / Sylvain CATHALA