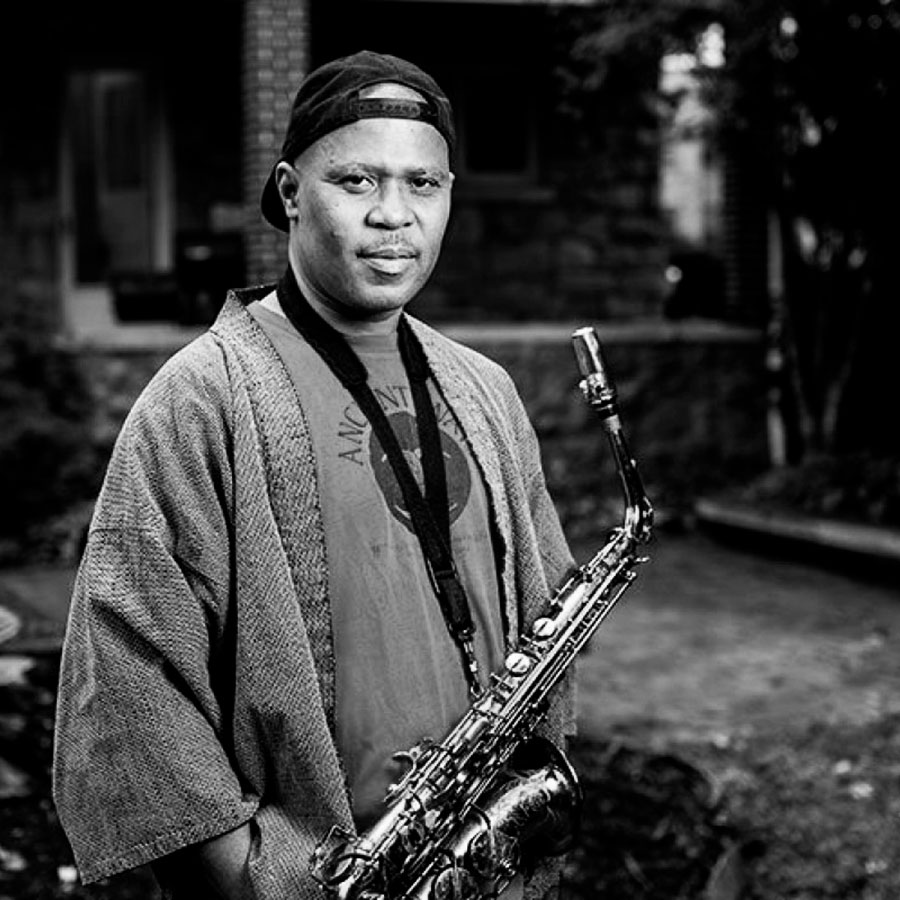 His saxophone around his neck, the American Steve Coleman travels around the halls of France and Navarre since the late 70's.
Unclassifiable, this improviser broke the codes of jazz revolutionized the environment by following a path that transcends the sound to consider the philosophical angle. He is one of the founders of M-Base, a collective that brings together musicians with shared ideas and aspirations: the creation of experimental music based on improvisation and structure. It's probably this quest that makes each of Steve Coleman's concert unique and deeply rooted in the moment. Research takes shape before our very eyes. The groove contaminates us and causes a fire that only needs to be fanned. Accompanied by his band The Five Elements and rapper free demonic style Kokayi, he burned the Carmin carpet New Morning Wednesday, October 16 on the occasion of his concert given in the Festival Jazz sur Seine 2019. A few minutes earlier, he agreed to answer our questions. Which, as simple as they seem, seemed to him complex …
« The place does not matter. The music we are playing, that's what's important. »
Who influenced you most musically during your journey?
I grew up in Chicago, a city with a strong musical culture, in a family that did not have musicians. I started playing saxophone in high school around the age of 14. There are so many people who have fed this voice! The list would be too long. I listened to a lot of saxophonists, starting with Maceo Parker, and sounds from all over the world: Ghana, Nigeria, Indonesia … I like Stevie Wonder, Dinha Washington, Aretha Franklin, and so many other musicians that it is impossible for me to really define the origin of my influences. Perhaps the living artist I've listened to most is saxophonist Von Freeman. Before, there was Charlie Parker and John Coltrane, of course.
If you could play with anyone anywhere, with whom and where would it be?
I do not know, it's hard to say. No doubt with John Coltrane and the band he played with in the 60s. Anywhere, the place does not matter. Whether playing at New Morning, Village Vanguard or on the street, it's the same thing, as long as you play for people. The game and the music we play, that's what's important.
Do you have a favorite musical place to introduce to our readers?
Not really. I like playing everywhere, in Paris, Munich, London, New York or Chicago. We used to play hot brass in Paris (the current Trabendo) in the 90s, I have great memories there. It's hard for me to answer that question. The first time I went on stage was in 1976! I have played in many places and listened to good music around the world since then, so I have a hard time taking a step back and giving you a great address. Music is everywhere.
"3 questions to…" is a section that allows our readers to discover an artist through brief confessions about his relationship to travel and music. Nadia Aci, the author, has a nice blog: « Hit The Road » (in French only) in which she proposes to travel the world through his music.