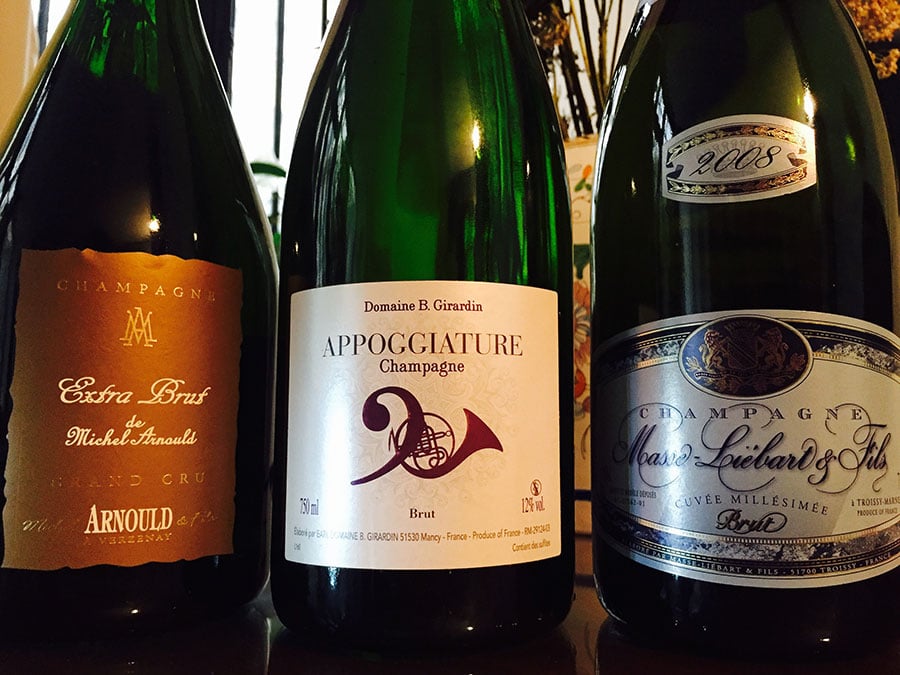 Champagne is not only a case of large groups and prestigious and beautiful brands, it is also matter of winegrowers and winemakers, Champagne terroirs , they represent a group of 5000 in a single brand "Les Champagnes de Vignerons ".
These champagnes are from family farms, vineyards are cultivated by the winemakers themselves and vinified on their own domain, unique, rare and expressive. Here are three different styles that we associate with three special Jazz music.
Champagne Extra-Brut Grand Cru from Michel Arnould

White & Fresh type
Grape variety : 100% Pinot Black. on the Montagne de Reims, Harvest 2010 mainly cuves.Repos winemaking cellar 40 months.
Gold colored dress, pale yellow, fine bubbles with aromas of cherry, honeysuckle and a slight peppery note.
The attack is supple and fresh. Champagne full of elegance with a long finish and fresh notes.
Price at the cellar: € 19.90
To sample listening in a spirit of levity, Cloud Ballad of the new album Esperança from the young Vagalume group, composed by Jean-François Merlin bass with Pascal Aignan -Saxophone tenor, Yoann Combe – piano and Julien Heurtel – drums.
——=====—–
Champagne Brut "Appogiature" from Domaine B.Girardin.

de type White & bodied
Grapes 10% Pinot Black, 30% Meunier, 60% Chardonnay from 45 years vines  from la Côte des Blancs. 2010 crop principally tanks vinification. Maléolactic fermentation. Rest in the cellar since 2011.
Dress color Straw yellow with emerald reflections, fine bubbles with white peach aromas, strawberry and lemon.
The attack is soft and crisp, creamy effervescence. There is fruit and a nice acidity, giving the mash and a nice length on the palate with tasty notes at the end.
Price at the cellar: € 20
NB: in music, the appoggiatura is a melodic ornament for delaying the next note, the main note on which we want to emphasize.
Agreement: to savor listening with a touch of happy nostalgia, "He Loves and She Loves" (Gershwin) latest album All My Life – A Musical Tribute to Woody Allen from Laurent Courthaliac – piano, Jerôme Portal, bass and Fabien Mary – trumpet.
——=====—–
Le Champagne Masse-Liebart & Fils, cuvée 2008

White & Round type
Cépage 1/3 Pinot Noir, 1/3 Meunier, 1/3 Chardonnay dans la Vallée de la Marne. Récolte 2008, vinification en cuves. Repos en cave 7 ans.
Robe de couleur Or, jaune pâle, bulles fines avec des arômes de bergamote et de tilleul, de fenouil , de reine Claude… une légère note de poivre de la Jamaïque.
L'attaque est riche et franche. Nous avons à faire à un champagne généreux et gourmand avec de l'harmonie, tout en nuances épicées.
Grapes Pinot Noir 1/3, Meunier 1/3, Chardonnay 1/3 – in the Marne Valley. 2008 harvest, winemaking vats. Rest cellar in 7 years.
Gold colored dress, pale yellow, fine bubbles with aromas of bergamot and lime, fennel, Plums Queen Claude … a slight hint of allspice.
The attack is rich and frank. Here we have a generous and delicious champagne with harmony, while spicy nuances.
Price at the cellar: € 20,30
To enjoy listening comfortably installed in a good club armchair, "The Mysterious Person" from the new album Joussour the Franco-Palestinian oud player, Issa Murad.
——=====—–
The wines, even the best are to be enjoyed in moderation; However music can be listened to your heart …!